Read Time:
16 Minute, 33 Second
Sunraysia Table Tennis Winter Pennant
Results semi finals: –
PENNANT ONE:
– First Semi Final: Mallee Bearings 6 (Wayne Carmichael 3, Kevin Johns, Jackson Tung 1) d Weightmans Packaging 5 (Andrew Cannard 2, Joel Dorman, Graeme O'Neill 1);
-Second Semi Final: Pinnacle Packers 6 (Gavin Carmichael, Mark Ljubic 2) d Max Miller Carpets 3 (Shannon Bowen 2, Mark Dorman 1):
Max Miller Carpets vs. Mallee Bearings play in the Preliminary Final on Wednesday.
PENNANT TWO:
– First Semi Final: Mallee Bearings 6 (Arthur Paar, Mathew Burns, Sony Sefer 2) d Tankard Dental 5 (Damien Ford 2, Andrew Jones 1)
-Second Semi Final: Fishers IGA 6 (Lee Thomas3, Nick Barlow, Robert Chiswell 1) d Spanline 3 (Daniel Jansen 2):
Spanline vs. Mallee Bearings in the Preliminary Final on Wednesday.
PENNANT THREE:
– First Semi Final: Fishers IGA 6 (Laurie Plummer, Leon Brown 2) d Pinnacle Packers 2 (Colin Moore, Steve Pongrac 1)
-Second Semi Final: Mallee Bearings 6 (Alex Keegan, Tahir Khurshid 2, Peter Fitzpatrick 1) d Weightmans Packaging 3 (Jackson Murphy 2):
Weightmans Packaging vs. Fishers IGA in the Preliminary Final on Wednesday.
PENNANT FOUR:
– First Semi Final: Mallee Bearings 7 (Jeremy Corrin 3, Sam Hensgen 2, Nikki Mayger 1) d Bishop Builders 4 (Karly Leach 2, Mick Bacon 1)
-Second Semi Final: Max Miller Carpets 6 (Andrew Lewis 3, Sabrina Fitzpatrick 2) d Fishers IGA 4 (Damen Southgate 2, Leonie Dunkley 1):
Fishers IGA vs. Mallee Bearings in the Preliminary Final on Wednesday.
PENNANT ONE
1 -Semi Final (Double chance) – Max Miller Carpets v Pinnacle Packers
Second placed Pinnacle Packers with a 6-3 win over ladder leaders Max Miller Carpets have advanced to the 2011 Sunraysia Table Tennis pennant one grand final. This, as expected, was a hard fought match with the victory in both doubles being the key to the Packers victory.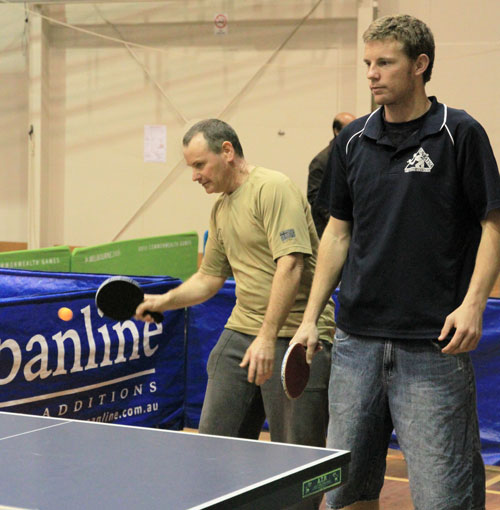 Max Miller Carpets took the early advantage 2-1 after the third singles when Shannon Bowen recovered from a two games to love deficit against Gavin Carmichael to record an excellent victory 11-13 8-11 11-4 11-6 12-10. In their three meetings this season Bowen has had Carmichael's measure and despite a slow start Bowen again controlled this match.
The first doubles was important and the Packers were able to level the match at two rubbers all when Mark Ljubic and Gavin Carmichael outlasted Mark Dorman and Shannon Bowen in a tough four setter 11-6 11-5 7-11 13-11. Ljubic in particular played a disciplined role and was instrumental in his team's victory. The very next match featured Ljubic against Mark Dorman and this proved to be a real highlight for the spectators and was close all the way as both players traded many fine rallies. Both players fought the match right out to the end with Ljubic recovering from a 1-2 deficit to win impressively in five sets against a very difficult opponent in Dorman 11-13 15-13 8-11 11-9 11-9.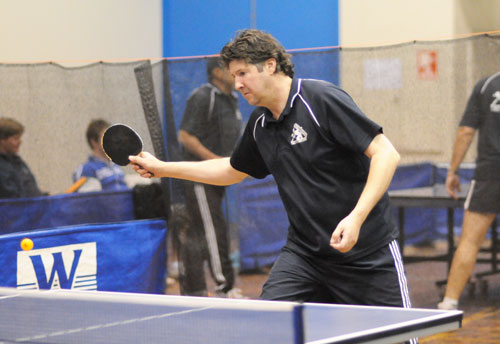 The second doubles again was crucial and with Pinnacle Packers leading 4-3 going into this contest victory was vital for both teams in particular Max Miller Carpets. The Carpeters duo of Dorman and Ed Hung started impressively to take the first game however opponents John Gray and Gavin Carmichael were able to steady and grab the next two games. The fourth was a beauty with Dorman and Hung fighting hard to take the match to a fifth however it wasn't to be and a victory to Carmichael and Gray 6-11 11-8 11-6 14-12 saw the Packers go to a 5-3 lead.
The next singles featured the skippers Mark Dorman and Gavin Carmichael meet in what was to be a lengthy five setter consisting of many long rallies. Carmichael recovered from an early deficit in a match which could have gone either way to win 5-11 11-3 10-12 11-8 11-7 which enabled Pinnacle Packers to advance to the grand final. Carmichael and Mark Ljubic both won two singles for the victors while Shannon Bowen played well to win the two singles matches he played.

2 -Elimination Final – Mallee Bearings v Weightmans Packaging
The elimination first semi final had several twists with third placed Mallee Bearings looking down and out against Weightmans Packaging before recovering to grab a last gasp victory and knock the plucky Weightmans out of the finals race. The 6-5 victory was a real credit to the never say die attitude from Wayne Carmichael, Jackson Tung and Kevin Johns.
The very first game of the night was a five set slog between the two veterans Graeme O'Neill and Kevin Johns. O'Neill has had John's measure this season and the determined Johns lifted a gear knowing this was a knockout final however in the end O'Neill prevailed in what was a great spectacle 11-7 8-11 11-9 8-11 11-7. Weightmans then took a 2-0 lead courtesy of skipper Andrew Cannard just outlasting Jackson Tung in another tremendous five set contest. Cannard took an early lead and looked comfortable before Tung bounced back to win game three and four impressively before Cannard regained control in the fifth to win 11-5 12-10 7-11 4-11 11-6. Wayne Carmichael then registered his team's first success by defeating the talented Joel Dorman in four sets.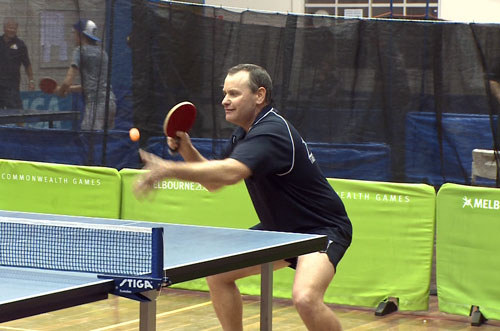 When Carmichael and Jackson Tung combined to defeat Joel Dorman and Graeme O'Neill in four sets in the first doubles the match was level at two rubbers all. The next round of three singles went as expected and at the beginning of the second doubles Weightmans enjoyed a 4-3 lead. Cannard and Graeme O'Neill combined well in the second doubles and a straight sets win over experienced pair Wayne Carmichael  and Kevin Johns was outstanding and more importantly gave their team a 5-3 lead.
Weightmans Cannard then played Wayne Carmichael and while Cannard tried hard to win his third singles of the night Carmichael was able to take the points in four, his team now trailed 4-5. Mallee Bearings were still under the pump and it was now Kevin Johns against Joel Dorman. Johns knowing his season was over if he could not take the points was off to a great start winning the first before young Dorman fought back with some outstanding play to win the next two games. The battle was really on now and in an outstanding battle for survival, the experienced Johns drew on his vast finals experience to stay in the match and then hang on to win 11-9 in the fifth: an inspiring effort for his team mates. The score was now five rubbers all.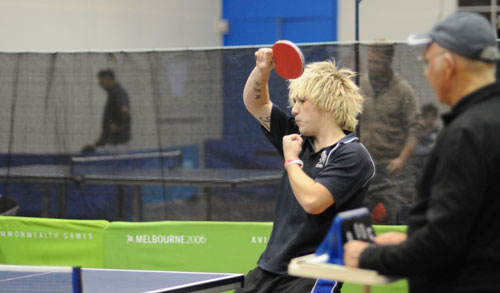 The last was a real struggle between youngster Jackson Tung and Graeme O'Neill. Each game was close as both players attacked and it was the youngster Tung who was able to prevail 11-9 11-9 11-9 in what had been a nerve wracking final match for both players, their team mates and interested spectators.
Mallee Bearings will now take great confidence in this win into their match against Max Miller Carpets in this week's preliminary final. The Carpeters will start slight favourites given they played well to finish on top of the ladder however any team with Wayne Carmichael in the line up cannot be without a chance. Bring on the preliminary final!!
PENNANT TWO
1 – Semi Final (Double chance) : Fishers  IGA v Spanline

FISHERS IGA vs. SPANLINE
Ladder leader Fishers IGA led by skipper Lee Thomas, who won three singles, proved too strong for Spanline winning 6-3 and in doing so have advanced to the grand final.
Thomas has enjoyed a good season and along with Nick Barlow and Rob Chiswell has proved to be a formidable combination. Fishers were off to a good start leading 2-0 and later 4-1. Early in the night Robert Chiswell matched up against Spanline's Anthony Fox. Only two nights earlier these two had fought out a marathon in the Super 8's when Chiswell was victorious 15-13 in the fifth. On this occasion Chiswell was able to maintain control from the outset to win in three sets
It was the steadiness of Thomas under pressure which kept Spanline at bay as "Lethal" Lee was able to withstand a real challenge by Seval Fuat to cause an upset in the second game of the night. Thomas grabbed the first game narrowly before the determined Fuat took the next two. The fourth was tense as Thomas won it narrowly before taking complete control in the fifth to win 11-9 7-11 8-11 11-9 11-1. Thomas and doubles partner Nick Barlow kept their good season record intact by taking the first doubles 11-8 11-9 11-5 against Daniel Jansen and Anthony Fox.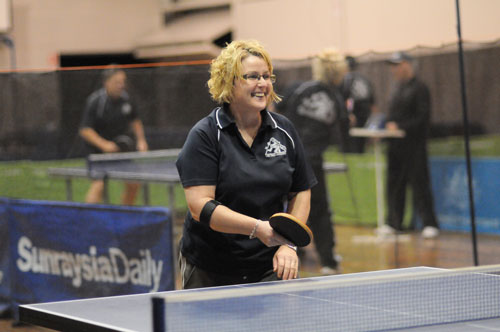 Immediately after this match Thomas accounted for Fox in straight sets to enable Fishers to grab a good lead before Spanline skipper Daniel Jansen fought hard against his good mate Rob Chiswell to win 10-12 11-5 11-7 7-11 11-8 in what was a great contest. This win slowed Fishers momentum briefly before Nick Barlow recorded a three set win against Seval Fuat  which allowed Fishers to take a 5-2 lead.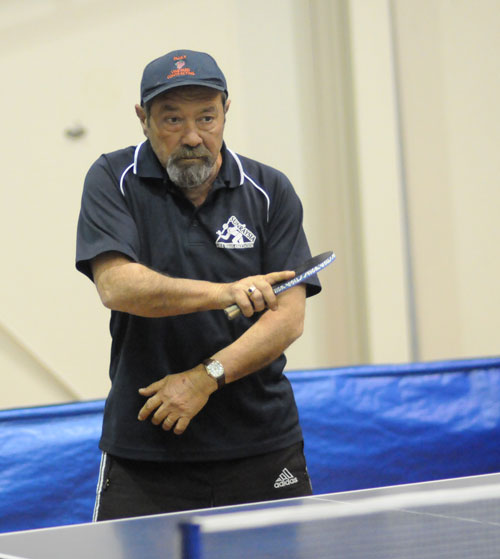 Spanline duo Daniel Jansen and Seval Fuat reduced the deficit to 3-5 when they defeated Thomas and Chiswell in the second doubles in four sets. Thomas then played opposing skipper Daniel Jansen knowing she had an opportunity to take her side into the grand final. This was a good match of concentration with Thomas managing to maintain control and eventually grab a four set victory from Jansen who had tried desperately to keep his side alive.
Thomas brought up a 6-3 victory and more importantly a berth in the grand final with an 11-9 11-6 7-11 11-9 win, her third singles victory for the night. Team mates Barlow and Chiswell won a singles each while the doubles were shared. Jansen had fought hard for his team winning two singles and partnering Fuat to a victory in the second doubles.
2- Elimination Final : Mallee Bearings v Tankard Dental
MALLEE BEARINGS vs. TANKARD DENTAL
The first semi in pennant two was a thriller just as it was in pennant one as both teams battled to stay alive in the finals race. Going into this match these two sides could not be separated on the ladder winning eight matches each for the year and amazingly the same amount of rubbers for and against. This was a real topsy turvy match with Mallee Bearings racing out to 4-1 lead. Unperturbed Tankards clawed their way back and when five set King Damien Ford defeated a game Arthur Paar  in a tremendous five setter Tankard Dental were to lead 5-4 in a great turnaround.
Earlier in the third singles of the night Matt Burns for Mallee Bearings was to play a key role when he accounted for the fancied Ford in a decisive four set victory 8-11 13-11 11-6 12-10. This gave his team a 3-0 lead after the first round of singles: a tremendous start in a knockout final.
Ford and skipper Andrew Jones took back the momentum momentarily when they combined in the first doubles to record a 11-6 11-9 11-9 victory over Sony Sefer and Matt Burns, however Arthur Paar then just got over the line in a lengthy five setter against Samuel McDonnell 11-5 10-12 12-10 4-11 11-8 to take the lead to a commanding 4-1 lead however from here Tankard's were able to regroup and impressively won the next four rubbers. All of a sudden the match had turned with Tankards now leading 5-4 in a stirring comeback.
Included in this string of four successive victories was a four set victory by Damien Ford over Sony Sefer. Tankard skipper Andrew Jones then had to withstand a real challenge from Matt Burns before taking the points in a marathon 11-3 10-12 8-11 11-5 15-13. The second doubles saw success for Damien Ford and Sam McDonnell in four sets over Sefer and Paar. The score was now four rubbers all and tension was mounting as Mallee Bearings could feel the match slipping after an excellent start.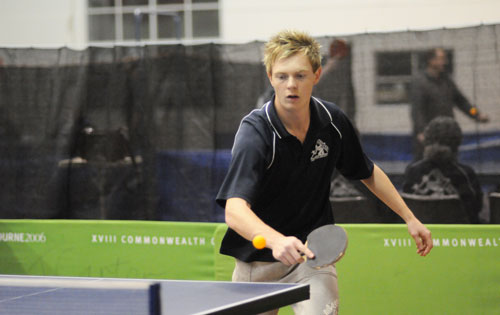 The next singles was a beauty with 19 year old Damien Ford taking on the seventy one year old Arthur Paar in what was to be another tremendous five set spectacle. The agile Paar belies his years and is on the move the whole game, no wonder he needs two cans of coke each match night. Ford was off to an early start and grabbed a 2-1 lead before experience shone through and Paar levelled the match. Again Ford came good in a five setter and all of a sudden Tankards had hit the front to lead 5-4 in a tremendous comeback. Ford prevailed 11-9 4-11 11-8 11-13 11-5 against the hardworking Paar.
Matt Burns capped off a good night for himself to win his second singles for the night this time at the expense of Sam McDonnell in straight sets. The match was now five rubbers all with Sony Sefer matching up against Andrew Jones and this was a lengthy struggle with many long rallies with Sefer attempting to set up an opportunity to attack. Sefer took the first and Jones the second as the tension grew.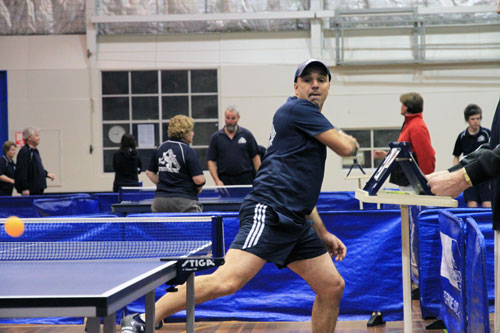 Sefer narrowly maintained the lead in the third and fourth and his ability to hit a forehand winner from time to time proved to be the difference. Sefer took the match in the fourth much to the delight of his nervous team mates. In an even display Sefer, Paar and Burns had won two singles each. They will be disappointed not to win a doubles however they remain alive in the finals race. Tankard had fought back bravely to get to a winning position but it was the steadiness of Mallee Bearings in the end which enabled them to continue on in the finals campaign.
PENNANT THREE
Pennant 3 :
1 – Semi Final (Double chance) : Mallee Bearings v Weightmans
MALLEE BEARINGS vs. WEIGHTMANS PACKAGING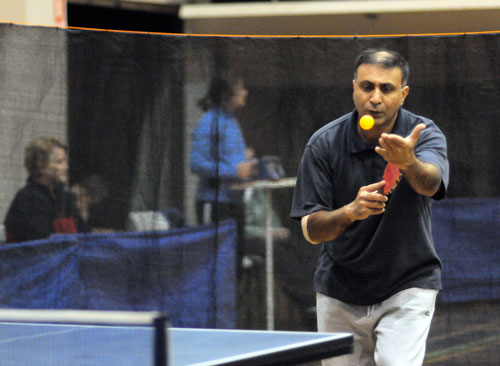 With a convincing display, ladder leaders Mallee Bearings have advanced to the pennant three grand final with a 6-3 victory over Weightmans Packaging. Both Tahir Khurshid and Alex Keegan won two singles each as well as combining in the first doubles to defeat Jackson Murphy and Darren Greaves 11-2 5-11 12-10 11-9. Team mate Peter Fitzpatrick also played his part winning one singles. Mallee Bearings dominance was evident early when they led 5-1 and they did not allow Weightmans a chance to settle.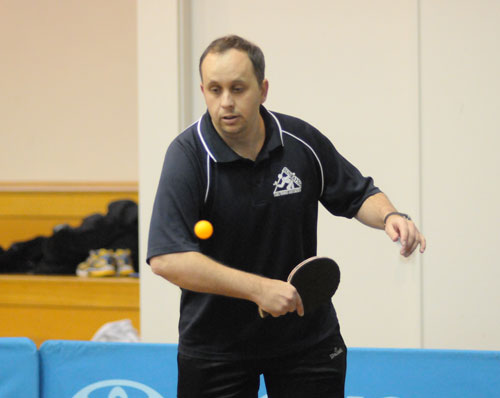 Jackson Murphy for Weightmans continued his good form winning the two singles he played as well as combining with Zubair Shahzad to win the second doubles in three sets over Khurshid and Shahzad. Weightmans will live to fight another day and they will look for a rematch in two weeks by regrouping in the preliminary final next week.
2 – Elimination Final : Pinnacle v Fishers
PINNACLE PACKERS VS. FISHERS IGA.
After fighting to hold fourth position on the ladder over the past few weeks Fishers IGA have advanced a further week by defeating Pinnacle Packers 6-2 in a match where the experienced Fishers captain Laurie Plummer was the influencing factor. He won two singles as well as taking part in both doubles victories. In the very first game of the night Packers Colin Moore tried hard to unsettle Plummer forcing the match to a fifth before Plummer took the points 11-4 11-5 11-13 6-11 11-6, a game effort by Moore against a tough opponent.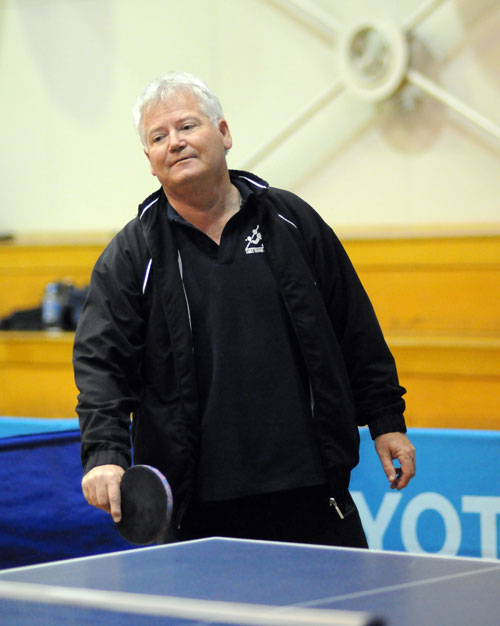 The first doubles was another marathon when Plummer and the exciting Gary Hughes joined forces to defeat Moore and Tom Murphy in a beauty 11-6 11-9 5-11 8-11 11-9. Murphy was filling in for the absent Henry Hornsby. These five setters were crucial in the end result and in total three were played with them all going to Fishers. The other five setter featured Steve Pongrac for the Packers up against Leon Brown. Pongrac lost the first two games but fought back bravely to level the match before Brown narrowly won 12-10 11-8 9-11 7-11 11-9 which now made the task too difficult for Pinnacle Packers.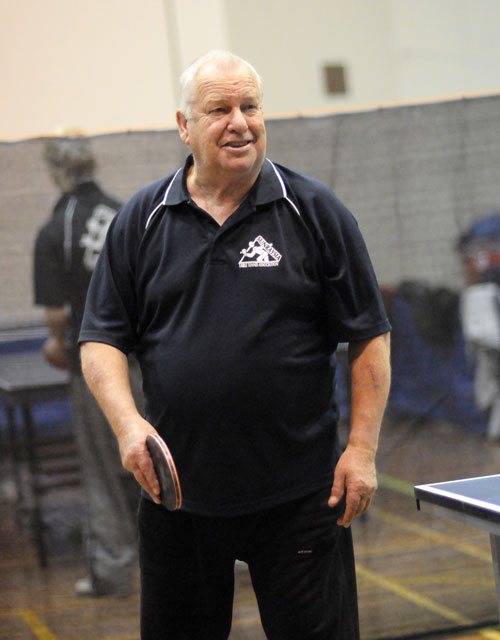 Going into the second doubles Fishers led 5-2. Laurie Plummer and Brown then proved too steady for Tom Murphy and Steve Pongrac winning 11-9 11-9 11-8. Brown had proven to be a good back up to his skipper winning two singles and playing an excellent role in this doubles victory. Fishers had taken the match 6-2 and booked a spot in the preliminary final against Weightmans Packaging.
PENNANT FOUR

1 – Semi Final (Double chance) : Fishers IGA v Max Miller

Ladder leaders Fishers IGA went into this match without skipper Brian Hosking who is out for the remainder of the season however replacement Damen Southgate acquitted himself well to win two singles and partner Leonie Dunkley to win the first doubles.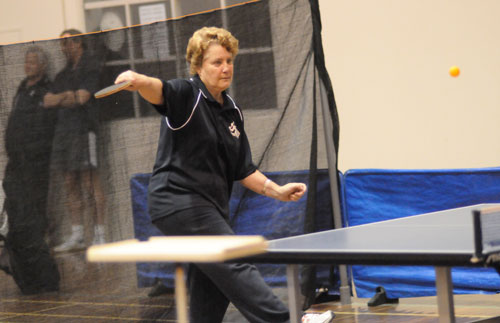 Max Miller Carpets duo Andrew Lewis and Sabrina Fitzpatrick are in form and were responsible for the Carpeters taking victory 6-4 to advance to the grand final. With the scores at two rubbers all Lewis scored an important victory after being in trouble early against Southgate. This was an entertaining five setter with Lewis fighting back to take victory 11-4 6-11 5-11 11-9 11-6. Lewis and Fitzpatrick combined in the second doubles to defeat Southgate and Gabriel McDonnell in straight sets to take the Carpeters to a 5-3 lead.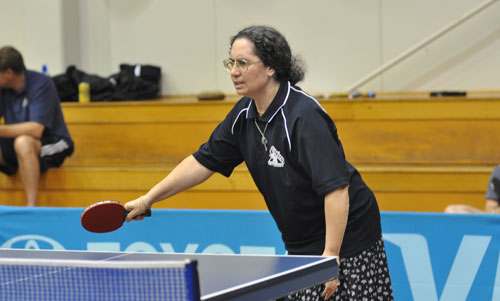 Damen Southgate then played an excellent match to keep Fishers alive when he outpointed singles aggregate runner up Sabrina Fitzpatrick in a lengthy five setter 11-4 11-9 8-11 9-11 11-7. Andrew Lewis then booked his team a spot in the grand final when he accounted for Leonie Dunkley 11-9 11-2 11-6. For the victors Lewis had won three singles and Fitzpatrick two.
2 – Elimination Final : Bishop Builders v Mallee Bearings
Bishop Builders surprised their opponents Mallee Bearings scoring a 7-4 win to remove the Bearings from the finals campaign.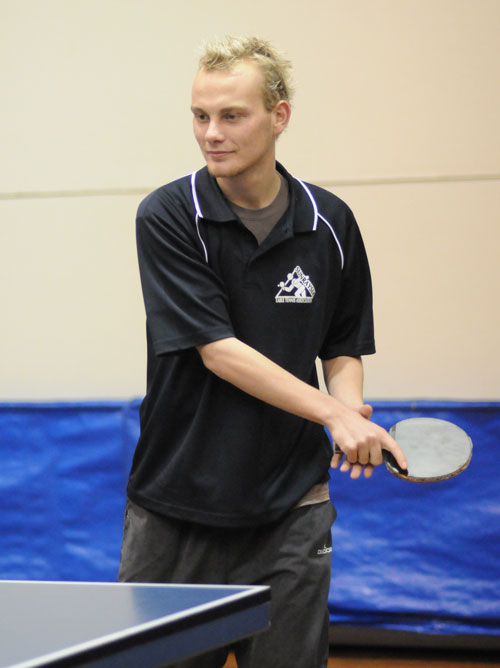 Jeremy Corrin was the star for his team winning three singles while improving team mate Sam Hensgen won two important singles. Corrin who has trained well on a Monday night during the season saved his best form for this important knockout final. In the first match of the night he proved too good for Mick Bacon winning in four sets. His second singles was important against Karly Leach and this turned out to be a highlight with the match going to five sets and close all the way. Corrin took the points 11-7 8-11 11-7 11-13 11-9 in a thriller. Later Corrin defeated Kerryn Symons in three sets to give his team a 6-4 lead and victory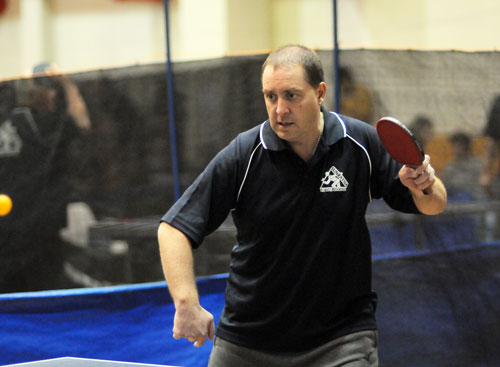 For Mallee Bearings Karly Leach won two singles while Mick Bacon won one as did Bishop Builders skipper Nikki Mayger. Leach and Bacon combined in the first doubles in one of the highlight matches to defeat Mayger and Corrin 1-11 5-11 11-4 11-9 12-10 a great win after a horror start. It was the inability to counter Corrin's fine singles play which was costly for Mallee Bearings as they contemplated what could have been.