Read Time:
2 Minute, 16 Second
In a dominant 3-0 display the Australia Women's Team secured the Bronze Medal at the 2022 Commonwealth Games.
Jian Fang Lay and Min Hyung Jee keeping composed during their doubles match to cruise to a 3-0 win [11-5, 11-5, 11-8].
Debutant Yangzi Liu set the tone for the singles with a performance of pure class against Anna Hursey. After a tight first set, Yangzi remained in control winning to win the game 3-0 [15-13, 11-9, 11-9].
To close the match Jian Fang Lay put on a masterclass for Wales's Charlotte Carey to secure her eighth career medal. A tight second set saw Carey put up a fight, but Jian cruised to a 3-0 victory [11-7, 12-10, 11-4].
National Head Coach (Able-bodied) John Murphy was delighted with the team's performance and said that the medal wasn't just for them but for the effort and work of the entire team and program back home in Australia.
"I think the women have put in a huge effort over a number of years to come here in the shape that they did and to be able to perform the way they did," he said.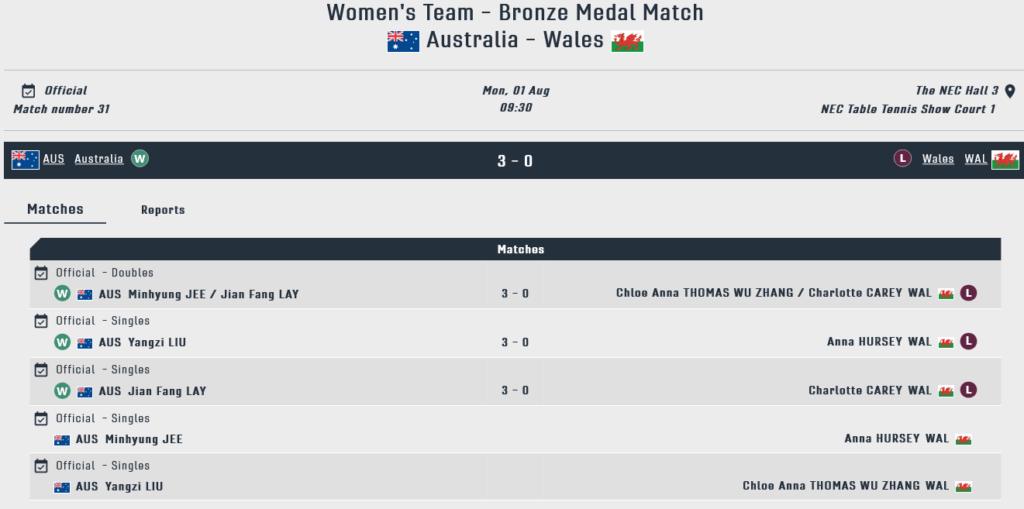 "To win the bronze medal match as convincingly as we did and to win every match with a clear advantage, I am very proud of what they did."
The focus now shifts to the Men's and Women's singles events.
"We know it won't be easy but the goal is to be as close to the podium at the end of the event."
The Para Team will step out on court for the first time on Wednesday 3 August when the Singles Event begins.
Photos: Michael Loveder.
Day 4 results:
Bronze medal match
AUS v Wales 3-0
For more detailed results click here.
Wednesday 3 August Matches (all times AEST)
6:30 pm: Finn Luu v Zak Wilson (NIR)
7:40 pm: Danni di Toro v Bahavia Patel (IND)
                  Amanda Tscharke v Chinenye Obiora (NGR)
                  Qian Yang v Gloria Wong Sze (MAS)
                  Li Na Lei v Grace Williams (WAL)
9:25 pm: Jessy Chen v Jack Humer-Spivey (ENG)
                  Lin Ma v Asad Syed (CAN)
11:35 pm: Finn Luu v Jonathan van Lange (GUY)
1:35 am: Dillon Chambers v Theo Cogill (RSA)
2:10 am: Li Na Lei v Felicity Pickard (ENG)
                  Qian Yang v Faith Obazuaye (NGR)
2:45 am: Danni di Toro v Akanisi Latu (FIJ)
                  Amanda Tscharke v Sonalben Patel (IND)
4:30 am: Jessy Chen v Muhammed Mudassar (CAN)
                  Lin Ma v Ross Williams (ENG)
5:40 am Dillon Chambers v Javier Sotomayer (FLK)
---