Read Time:
5 Minute, 55 Second
The Winter 2022 Super 8's playoff was held on Monday, 1st August. Of the twenty four players who qualified to play, only three could not make it, and they were replaced by enthusiastic and able contestants. Thanks to all those who took part, and helped on the night.
PENNANT ONE
This pennant was hotly contested, the top eight players all turning out for this end-of-season play off.
Matt Ljubic won the aggregate, finishing the season undefeated, but Kate Carmichael reminded him that that accounted for nothing in this competition, downing him in the first match of the night in five sets. If Matt was to have any chance of the gold shirt he was going to have to play another two matches to reach the final.
By virtue of her win, Kate went straight to the semi-final stage where she faced Shannon Bowen. Shannon lost to Wayne Carmichael in the first round in four sets, then faced one of the best retrievers in the club, Jackson Tung. Tung took the first two sets 15-13, 14-12 before Shannon found his rhythm, and when he did he controlled the match, taking the last three sets 11-6, 11-9, 11-9.
Like Kate, Wayne Carmichael went straight to the semi-finals, where he met Ljubic. In the interim Matt defeated Gavin Carmichael in four sets. After dropping the first set 11-7, which perhaps gave Gavin the inkling Matt might be beatable again, Ljubic threw the switch, and dropped just nine points in the next three sets to win convincingly. Ljubic now really had his "eyes on", and meeting Wayne Carmichael at the semi-final stage was no small thing,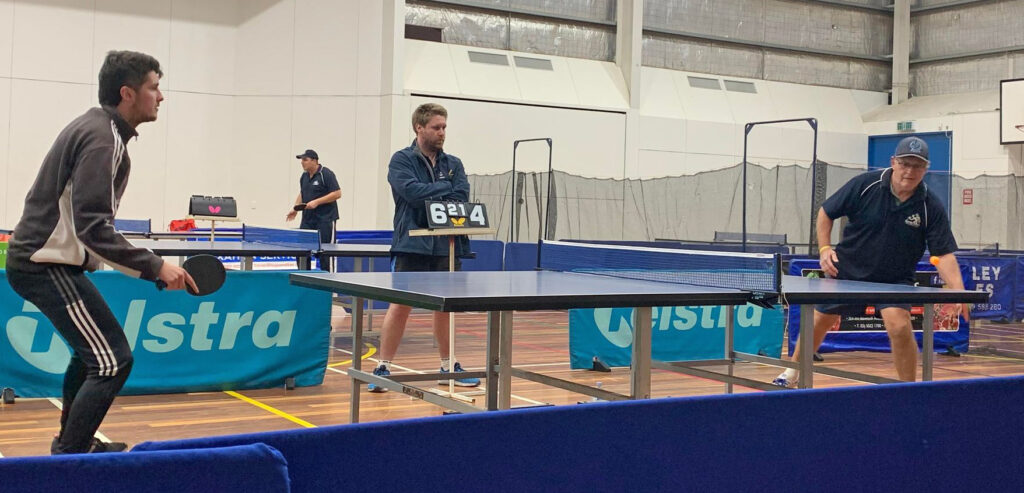 Carmichael being a multiple Super 8 champion in the past. Ljubic dominated the first set 11-3, had to work hard for the second 14-12, Carmichael was resurgent in the fourth to take it 11-7, but Ljubic settled again to take the four 11-5 and book a spot in the final.
The Kate Carmichael – Shannon Bowen semi-final was a five set beauty. With Kate's penchant for cutting balls off as soon as they hit the table, Shannon decided to go high, so as to make that manoeuvre more difficult, and he obviously decided that the higher he hit the ball the better too!! A very entertaining game ensued with Bowen emerging victor 11-7, 9-11, 4-11, 11-9, 11-4.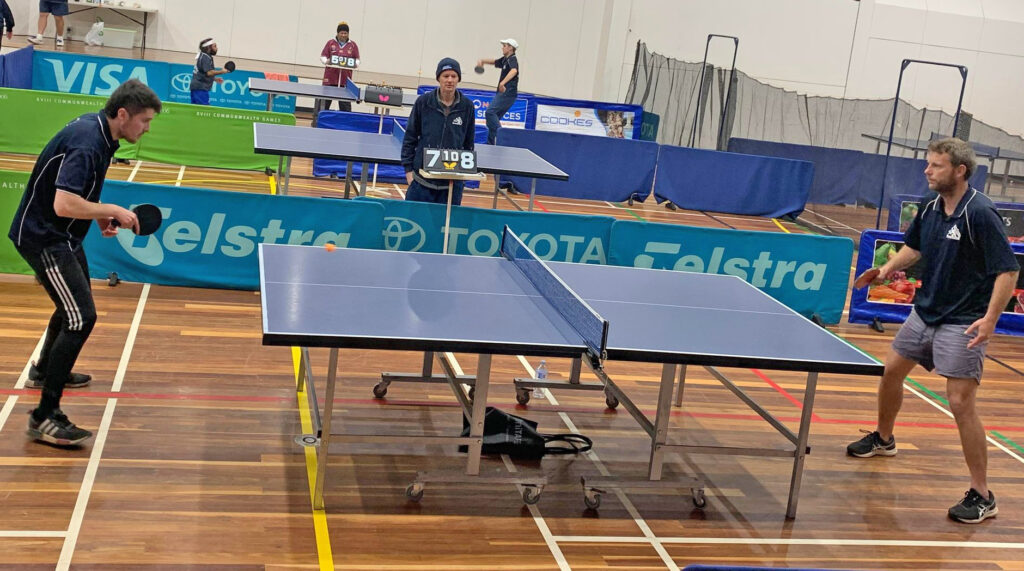 And so to the final, Matt Ljubic v. Shannon Bowen. Ljubic was back to his clinical best, eliminating mistakes, taking advantage of every opportunity to deliver his vicious forehand, and edged the first two sets 11-9, 14-12, then dominated the third 11-3 to take the title. If Matt's team can win the Pennant One Grand Final, he will get the gold shirt, having won two of the three competitions which qualify.
PENNANT TWO
In circumstances similar to Pennant One, this pennant had a runaway aggregate winner in Casper McCarthy. Whilst he was not undefeated, Casper dominated, losing just twice during the season.
His first match against Quentin Clark demonstrated his mind-set for this competition, defeating Clark in straight sets to go straight to the semi-final, where he met Jason Gifkins, the man who had led the aggregate for the majority of the season before a late season slump.
Gifkins played Rohan Reimers in his first round match, but was unable to upset the consistent Reimers, losing in four sets. Gifkins found form again in the second round, playing Terry Martin, warming to the occasion, winning 11-6, 12-10, 13-11 to earn that spot with McCarthy.
Reimers, already in the semi-final, had to wait for either Quentin Clark (defeated by McCarthy), and Raymund Manzanares to play, to determine his opponent. These two finished the season closely matched, but Clark dominated this match, taking a first set 14-12, then not giving Manzanares a look-in, winning the next two 11-6, 11-4. Clark continued his winning ways when he eventually met Reimers, and although he lost the first set, got better as the game went on, eventually running out winner 6-11, 11-9, 11-8, 11-6.
So the final was a replay of the first round match between McCarthy and Clark, and McCarthy had lost none of his desire to dominate this pennant. McCarthy won again, with an almost identical score. In the first round he won 11-5, 11-7, 11-9, this time round he won 11-6, 11-5, 11-9, conceding one less point in the final. A worthy champion, and hopefully Casper will get a chance in Pennant One before too long.
PENNANT THREE
Steve Pongrac and Ben Hosking were unable to play, and Rodney Galvin and Tom Gilmour stepped in to replace them.
Shaun Gifford was the aggregate winner in this pennant, and he was drawn to play Nhat Dat, who finished fourth, five games behind. In this clash, however, Dat was pretty much untroubled to go straight to the semi-final with an 11-9, 11-6, 11-8 win.
Second and third on the ladder, Karly Leach and Sabrina Fitzpatrick slugged it out for five sets, Karly getting home 11-6 in the fifth to go to the semi-final.
Gifford kept his hopes alive, defeating Rodney Galvin in straight sets, whilst Fitzpatrick did the same to Gilmour.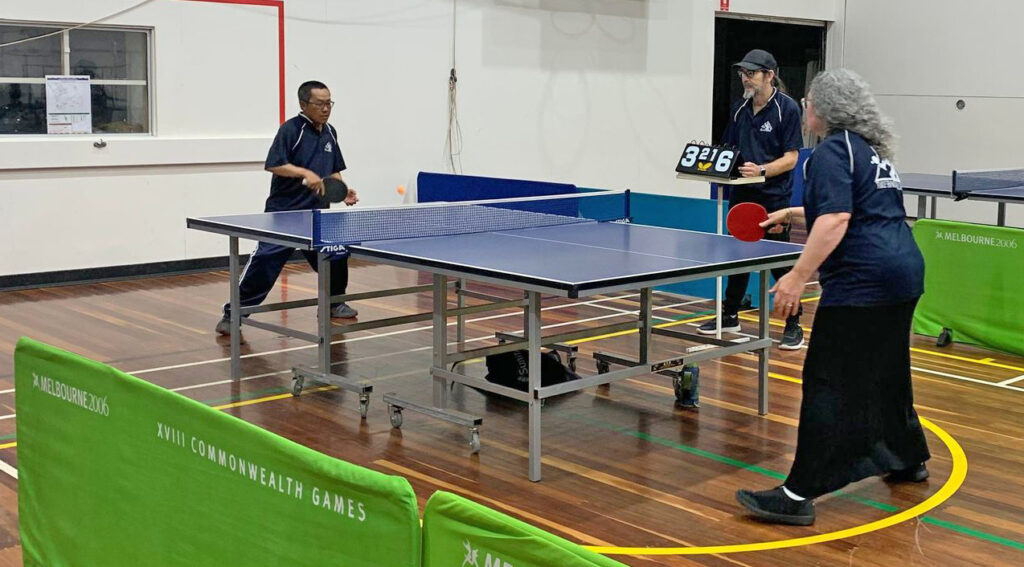 That pitted Dat against Fitzpatrick in the first semi-final, and after losing the first set 4-11, Fitzpatrick became much more competitive, sharing the next two sets 11-8, 8-11 to go into the fourth set, two sets to one down. It became a game of endurance, some long rallies, desperate returns, but Fitzpatrick prevailed over the ever-smiling Nhat to take the last two sets 11-7, 14-12.
In the second semi-final, Gifford started off strongly against Leach taking the first set 11-7. Karly settled in for the long haul, denying Shaun the second set 14-12, before her consistent chop returns paid dividends in the third, and easy 11-4 win. The fourth was much closer, but once again, Karly had the answers to take it 12-10 to book her spot in the final.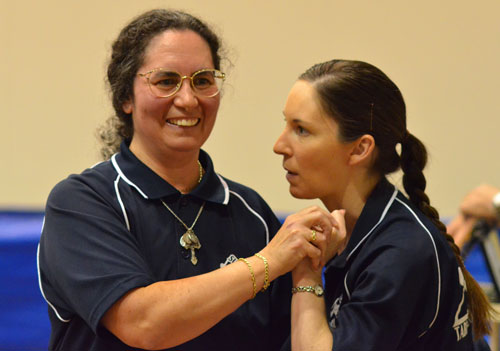 So the final was an all-ladies affair, and it looked like being a repeat of the earlier match. Things started much better for Sabrina however, as she took the first two sets 11-8, 11-8. When she led 9-5 in the third it looked like the end was near, but Karly fought back brilliantly. It became 10-8, then 10 all, 11 all, 12 all, 13 all, with Sabrina having three match points, before Karly clinched it at 15-13. Then, to everyone's surprise, Sabrina walked to the other end of the table and conceded the match to Karly. Sabrina was done in!! Sabrina was happy with her performance, but could give no more
and was happy to concede. After all, the purpose of playing table tennis is to enjoy it. Well done Karly!!