Read Time:
13 Minute, 27 Second
After a short break table tennis has resumed at the Irymple Leisure Centre with round one of the Sunraysia Table Tennis "Cash Converters" summer pennant taking place.

On a positive note for the association twenty four teams are taking part over four pennants, the most teams for some time and twelve players are taking part for the first time.
Results are up and in Pennants tabs.
PENNANT ONE:
On the table the feature of pennant one matches in the first round was that all three were decided by a 6-5 margin indicating a close season ahead. Leading players Wayne Carmichael, Shannon Bowen and Matt Avers all started well winning three singles each. With Sunraysia's number one player Joel Thomas not playing this competition it will be a three way race between Carmichael, Bowen and Avers to win the singles aggregate over the ten week season.
– Weightmans Packaging 6 (Wayne Carmichael 3, Leslie Ncube 1) d Tankard Dental Rebels 5 (Darren Robinson, Andrew Cannard 2, Shane Carmichael 1)
The Wayne Carmichael led Weightmans Packaging sit at the head of the ladder albeit by percentage after their 6-5 win over Tankard Dental. The loss of both doubles was costly to the Tankard Dental trio of Andrew Cannard, Darren Robinson and Shane Carmichael who won two, two and one singles respectively to come up one rubber short.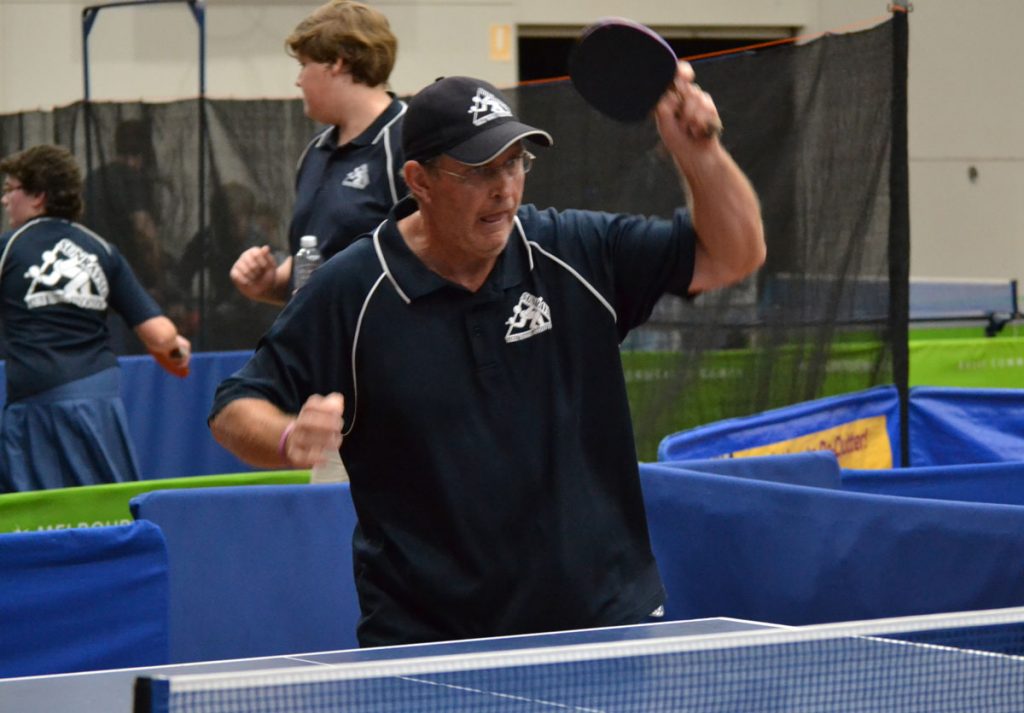 Wayne Carmichael had an outstanding night for the victors winning three singles and then taking part in both doubles victories with team mates Leslie Ncube and Bernadette Fitzpatrick. Ncube had an interesting night winning his doubles a singles and then against Andrew Cannard and Darren Robinson he took a two games to love lead against both in their singles matches only to go down in five narrowly in both.
Cannard and Robinson are both returning after a lengthy break and will be an asset to the association as they are proven performers at this level and along with Shane Carmichael their team will be thereabouts at the business end of the season.
– Exposed Signage/Apparel 6 (Matt Avers 3, Kate Carmichael 1) d Cash Converters 5 (Mark Dorman, Mark Ljubic 2, Michael Hogarth 1)
With Matt Avers in outstanding form Exposed Signage/Apparel are second on the ladder after defeating Cash Converters 6-5.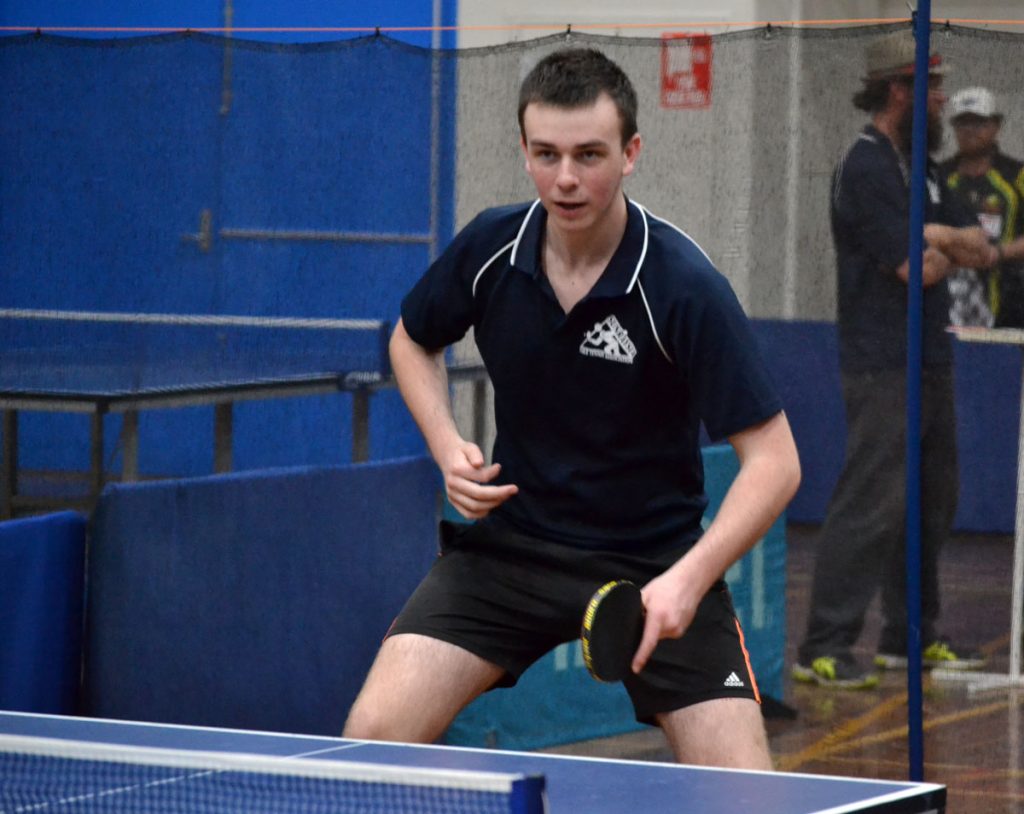 Avers won his three singles against experienced campaigners, Mark Dorman, Mark Ljubic and Michael Hogarth. Avers also combined with team mates Kate Carmichael and Lee Thomas to win both doubles against tough opposition.
For Cash Converters Dorman and Ljubic won two singles each while Michael Hogarth won one however their inability to pick up a doubles proved costly.
Dorman recovered well in his singles against Kate Carmichael after trailing two games to love, in a top match he took the points 4-11 6-11 12-10 11-9 11-9. Carmichael fought back later to win her match against Michael Hogarth in three hard fought games in what proved to be important in the overall result for her team.
– Mallee Bearings 6 (Shannon Bowen 3, Reece Kurrle, Ed Hung 1) d Regional Taxation Services 5 (Gavin Carmichael, Matt Ljubic 2)
In the final 6-5 result Mallee Bearings scored a narrow victory over Regional Taxation Services.
For Mallee Bearings skipper Shannon Bowen won three singles to lead the way. Team mates Reece Kurrle and Ed Hung won a singles each both five set victories over the unlucky Leon Brown who tried hard and had chances in both matches.
For RTS both Matt Ljubic and Gavin Carmichael won two singles in their teams' narrow defeat.
PENNANT TWO:
Six players from the recent Pennant Three Winter Competition have been promoted to this grade for this Summer Competition.  It will be interesting to see how they fare against their tougher Pennant Two opponents as the season progresses.  If this round is any indication, it is going to be a steep learning curve for them, and wins may be hard to come by, because the only wins they took were against their former opponents from Pennant Three.
– Mallee Meats 7 (Peter Midgley, Andrew Jones 2, Peter Fitzpatrick 1) d Weightmans Packaging 4(Jackson Murphy 3, Tony Malycha 1)
Despite Weightmans Packaging captain Jackson Murphy remaining undefeated in singles play, Mallee Meats got off to a good start with a solid 7-4 win.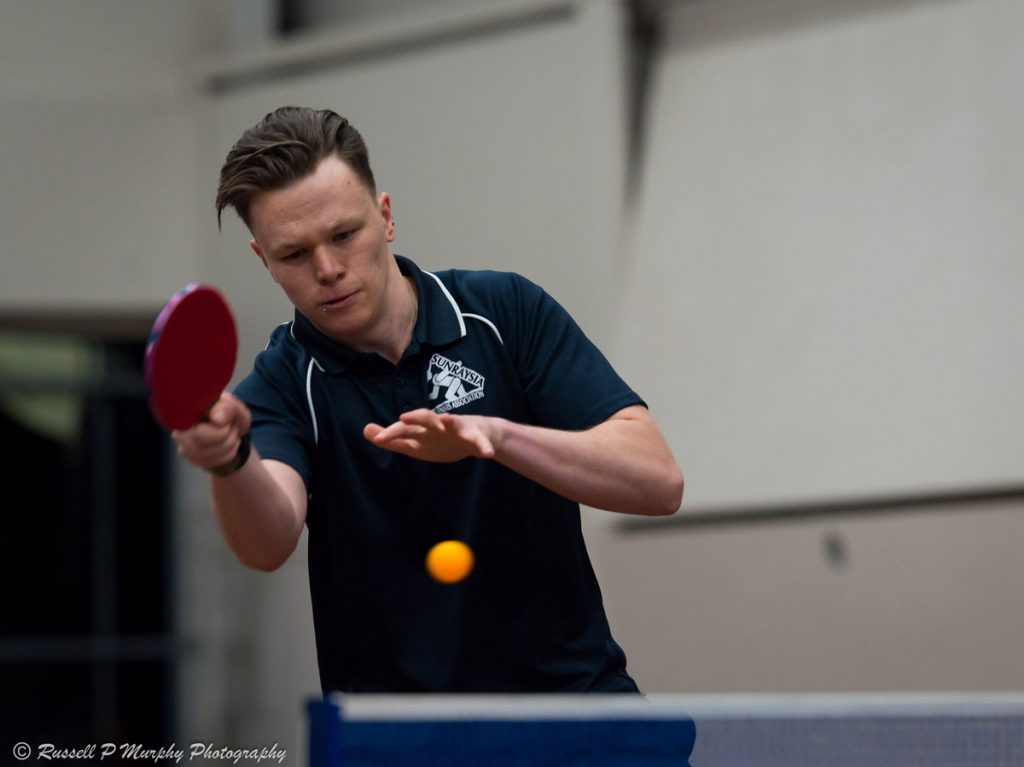 Only Mallee Meats captain Peter Midgley worried Murphy; and although going down in four sets, the game was a close-fought contest, the winning score being 13-11, 11-8, 19-21, 11-7.
Both Midgley and Andrew Jones picked up two wins each against Tony Malycha and Paul Fitzpatrick, and wins in both doubles assured Mallee Meats of the win; however the second doubles was a nip and tuck affair all the way, with Midgley and Peter Fitzpatrick hanging on for the five set win against Murphy and Paul Fitzpatrick 9-11, 12-10, 11-5, 9-11, 18-16.  That win gave Mallee Meats a 5-3 lead, but the game was such that the score could just as easily have been 4-4.
Andrew Jones and Peter Fitzpatrick took wins for Mallee Meats in the last round of singles to make it 7-4.
Final scores:  7 rubbers to 4 and 23 games to 16.
– Max Miller Carpets 6 (Jason Gifkins 3, Russell Walder 2) d Pinnacle Packers 5 (Ashley Morrison 2, Rod Healy, Anthony Fox 1)
In the closest game of the round for this grade, Max Miller Carpets took the win against Pinnacle Packers 6-5.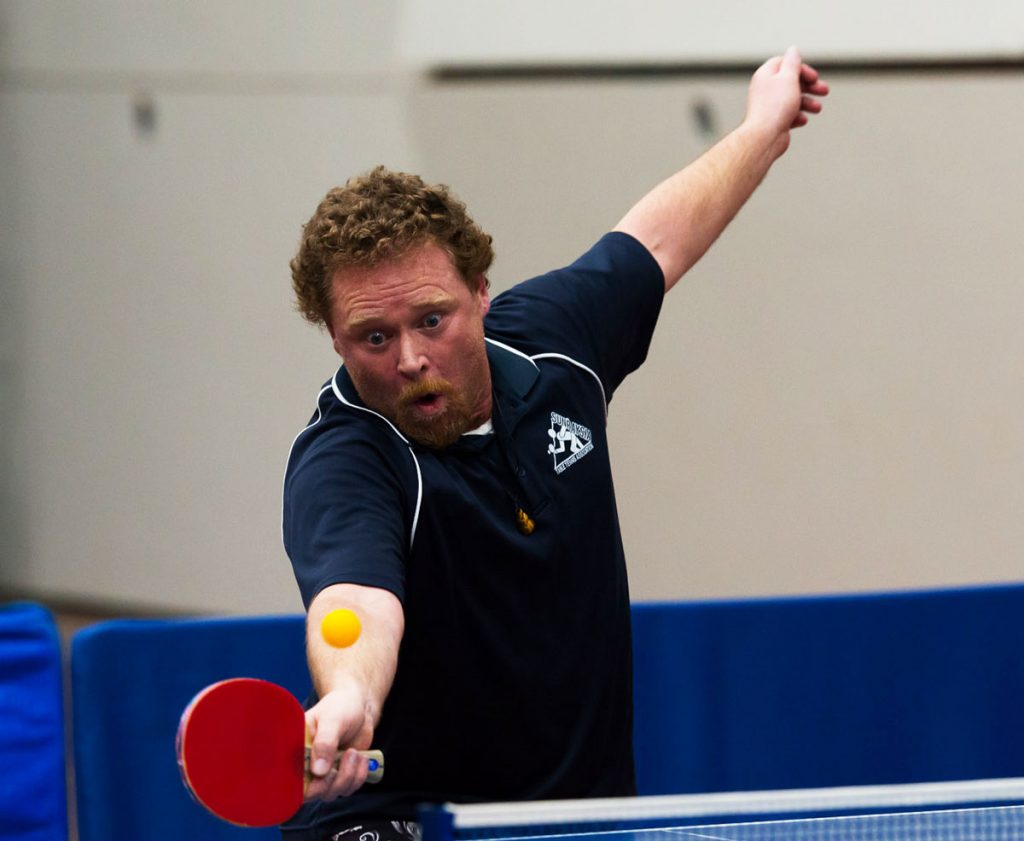 Jason Gifkins was pretty pleased with himself, out-shining his captain Russell Walder, in a good performance, taking three singles wins, to his captain's two.
That was the match-winning performance, because the doubles were shared – Walder and Gifkins much too good for Ashley Morrison and Anthony Fox, but the Pinnacle Packers pair of Morrison and Rod Healy made amends in the second doubles, downing Gifkins and Quentin Clark in five to set up an interesting final round of singles with the scores at that point locked at 4-4.
Needing two of the final three rubbers, Gifkins took his third with an impressive four set win against Pinnacle Packers captain Ashley Morrison 11-9, 9-11, 11-9, 14-12.  Walder followed up with a straight sets win against Rod Healy, recent Pennant Three aggregate winner.
Final scores:  6 rubbers to 5 and 23 games to 19.
– Mallee Bearings 7 (Kevin Johns 3, Terry Martin 2)d MJM Automotive 4 (Arthur Paar 2, Zac Healy, Michael Hensgen 1)
 Kevin Johns led Mallee Bearings to this first round win against Arthur Paar's MJM Automotive side.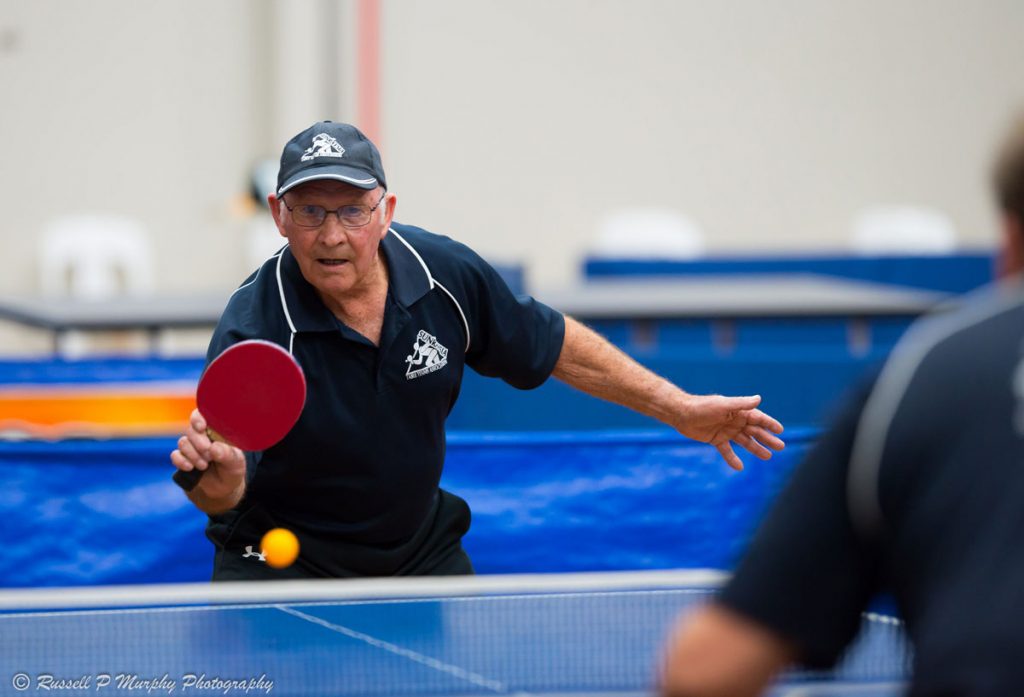 Johns, in taking all his singles rubbers, dropped just one set, that to Paar in their clash in the first round of singles.
Terry Martin, playing in the number two spot for Mallee Bearings, looked like he too, might take three wins, but was denied by a tenacious Paar.  Martin led two sets to love, almost closed the game out in the third, but try what he might, he could not finish Paar off, eventually losing11-8, 11-7, 10-12, 7-11, 9-11.
Wins in both doubles added more shine to the Mallee Bearings win:  Johns and Martin had to come from behind to down Paar and Zac Healy winning 11-8, 8-11, 6-11, 11-3, 11-7.  Later Johns and Claire Ljubic proved to be a steadier combination than Paar and Michael Hensgen, with a four set 11-9, 6-11, 11-5, 11-6 victory.
Final scores:  7 rubbers to 4 and 26 games to 17.
PENNANT THREE:
All matches in this grade ended with an 8-3 result, and whilst that is obviously good news for the winners, the teams which lost this time round have plenty of potential to see that it does not happen again.
– Regional Taxation Services 8 (Karly Leach, Jeremy Corrin 3, Anthony Sergi 1) d MJM Automotive 3 (David Sergi, Gary Hughes 1)
Jeremy Corrin and Karly Leach starred for Regional Taxation Services in this win against MJM Automotive, both taking three singles rubbers.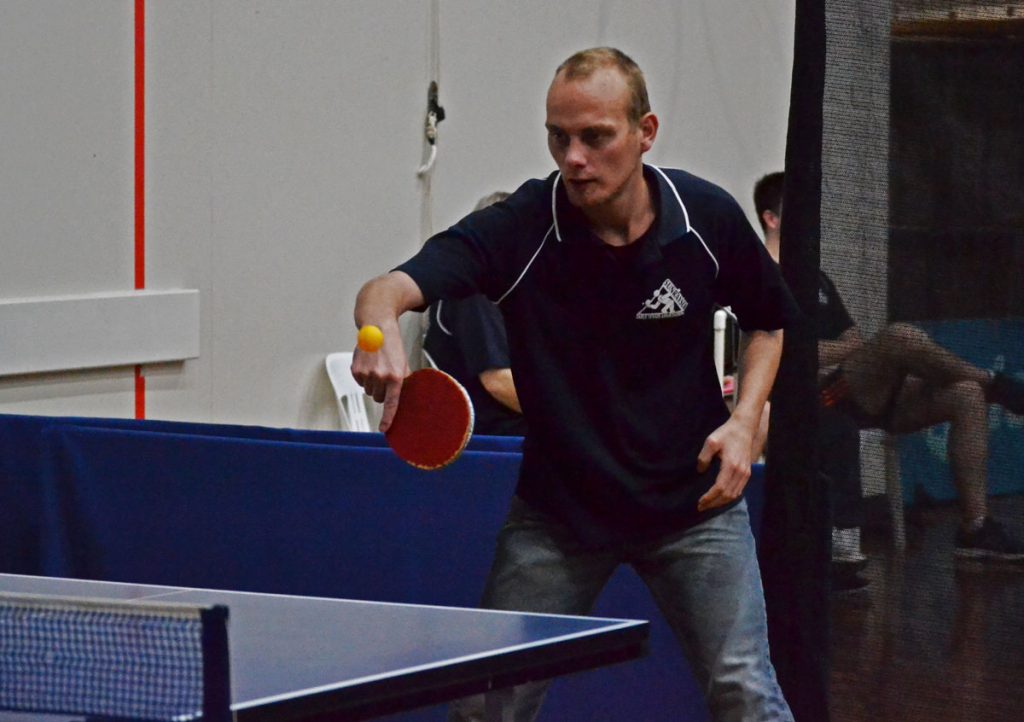 Corrin led from the front, including a good five set win against Rohan Reimers, when he had to come back from two sets to love down.  He also kept David Sergi at bay, finishing that game in three sets, 8, 8 and 7.
Karly Leach, meanwhile, demonstrated that persistence pays.  First up against David Sergi she recorded a five set win 6-11, 12-10, 9-11, 11-5, 14-12.  Then she defeated Gary Hughes, who hasn't played for a while, but doesn't seem to be any the worse for it … Karly won a very tight contest 9-11, 11-8, 16-14, 17-15.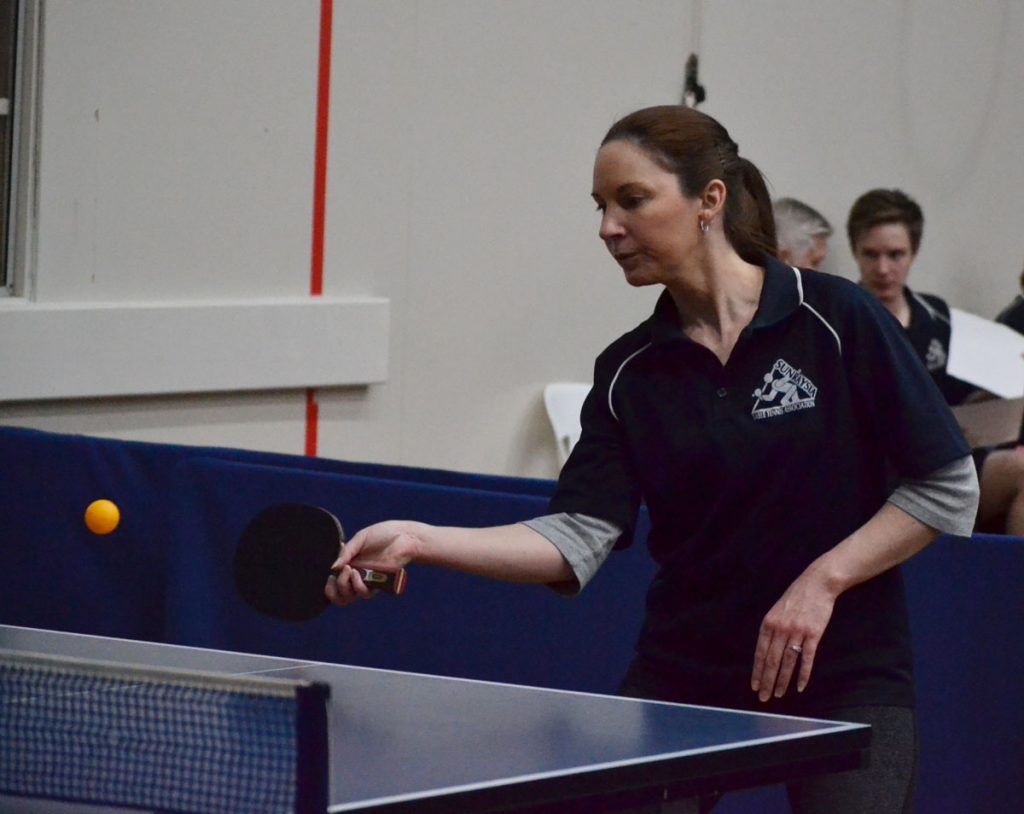 Then to top her night off, she hung on against MJM Automotive captain Reimers, winning, again in five 11-9, 11-9, 11-13, 8-11, 11-9.  To top her night off, she and Corrin took the second doubles rubber against Reimers and Hughes.
So whilst there was good news at that end of the table, the form of Reimers was a bit of a disappointment.  Reimers accounted for Corrin, Leach and Anthony Sergi all fairly easily during the recent winter comp, so there is no doubt he will bounce back.
Final scores:  8 rubbers to 3 and 28 games to 18.
– Mallee Meats 8 (Ajay Chowdhry 3, Marcus Cimino, Helen Frania 2) d Tankard Dental 3 (Sam Hensgen 2)
Ajay Chowdry subbed for Mallee Meats captain Cambell McKenzie in this game, and has given McKenzie something to live up to when he returns.
Chowdry last played twelve months ago, but returned with a bang, winning three singles rubbers and with Helen Frania, the second doubles.
Chowdry got better as the night went on; he and Leonie Dunkley had a great five setter in Ajay's first rubber, the score 11-6, 11-2, 15-17, 6-11. 15-13.  Later on he dealt with Daniel Griffiths and Sam Hensgen both in four sets.
Ajay was backed up well by team-mates Marcus Cimino and Helen Frania, who both took two singles rubbers, both defeating Griffiths and Dunkley.
At Tankard Dental, only Sam Hensgen broke through for singles wins, downing Cimino and Frania, and with Griffiths in the first doubles, the team took their third rubber.
This is a team which will improve over the course of the season – Griffiths in particular, once he gets a few rounds under his belt will be challenging all players for wins.
Final scores:  8 rubbers to 3 and 28 games to 18.
– Weightmans Packaging 8 (Mark Kerr, Thanh Nyugen 3) d Dunkley Scales 3 (Rachel Fitzpatrick, John Fitzpatrick, Sabrina Fitzpatrick 1)
Weightmans Packaging could be the team to beat this season, if their form in this game is anything to go by.
Captain Mark Kerr was a known quantity from past seasons, however his number two Thanh Nyugen, in taking three singles rubbers here, has certainly shown that he is already probably the best of the number two's.
These two players took six singles rubbers, and with both doubles also going to them, one in straight sets, the other in five, they finished with a very handsome scoreline.
A very disappointed Team Fitzpatrick at the other end of the table, however, with Rachel leading, John number two, and Sabrina at three, their fortunes will surely improve as the season progresses.
Final scores:  8 rubbers to 3 and 27 games to 15.
PENNANT FOUR:
In a positive for the association we have 20 players taking part in this pennant this season. There are 6 teams fighting it out for premiership glory which is one up on the winter pennant. Welcome to the eight new players taking part, enjoy your season!!

Like the results in pennant one every match in pennant four was decided by a 6-5 result. Two players managed to win three singles both stars of the future, Stephan Ljubic and Therese Fitzpatrick, well done to you both.
– Tankard Dental 6 (Ben Hosking, Peter Lock 2, Miya Lock 1) d Dunkley Scales 5 (Stephan Ljubic 3, Jolene Healy 1)
Despite holding a small lead for most of the match Dunkley's Scales were unable to hang on despite Stephan Ljubic winning three singles. As a result of Stephan winning his third singles against opposing captain Ben Hosking and giving Dunkley's a 5-4 lead, Tankard Dental were just too steady at the end with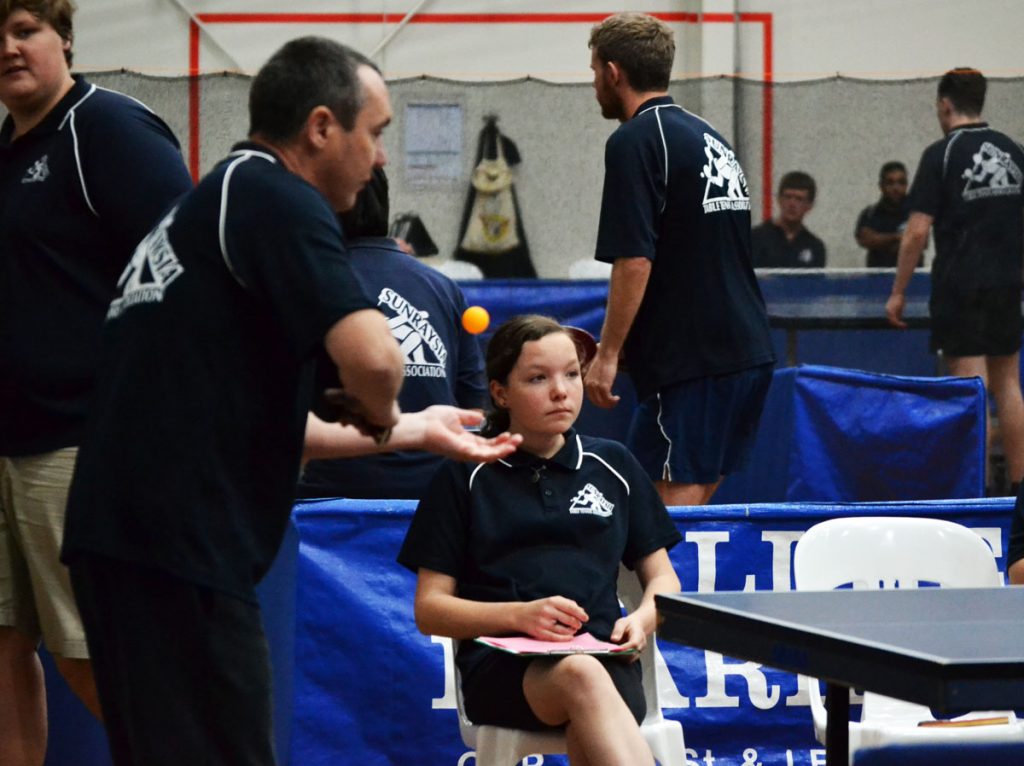 Peter Lock and his daughter Miya winning their last two singles matches respectively.
Miya played a key role defeating Cy Romeo in an entertaining four setter when the scores were five all. Both will face up against each in the junior grand final coming up shortly. Earlier in Miya teamed up with Ben Hosking to win the second doubles just when it was needed for Dunkley's to stay in the contest.
Miya's team mates Ben Hosking and Peter Lock both won two singles each in what was a close match all the way.
– Regional Taxation Services 6 (Kim Avers, Sarah Hogarth 2, Tom Cooper 1) d MJM Automotive 5(Gary Hughes 2, Shirley Whitecross, Paul Kerr 1)
The highlight in this match was the return of past player Gary Hughes who came into the MJM team to cover Joel Hogarth who was out for this round.
Gary performed well winning two singles as well as teaming up with new player Paul Kerr in the second doubles victory over Kim Avers and Tom Cooper. This was a four set win and kept MJM in the race for the points.
Regional Taxation Services with Kim Avers and Sarah Hogarth both winning two singles as well combining to win the first doubles in a marathon proved to be the difference and their team were able to narrowly grab the four points with a good 6-5 victory.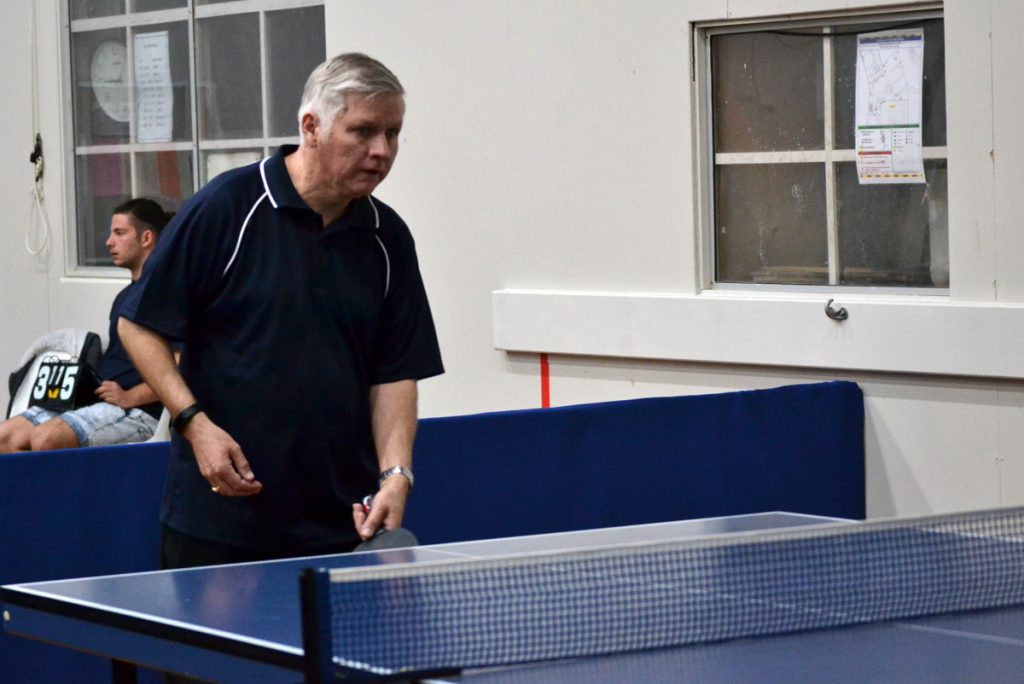 In his first match Paul Kerr tried hard for MJM playing well to win a singles and the doubles he participated in.
– Mallee Meats 6 (Tom Morrison 2, Dave Tanner, Mike Sheather 1) d Weightmans Packaging 5(Therese Fitzpatrick 3, Brice Lock 2)
In an exciting match Mallee Meats were able to win 6-5 against Weightmans Packaging with a marathon five setter in the last deciding the four points.
The win came despite Weightmans Therese Fitzpatrick and Brice Lock winning three and two singles respectively. Therese had a fight on her hands against Dave Tanner in a five setter which went on and on. In the end Therese was able to take the points 11-8 7-11 9-11 11-13 11-4 a great match. As always the doubles are important and in this match Mallee Meats were able to win both. The first was a beauty with Tom Morrison and Dave Tanner defeating Therese Fitzpatrick and Brice Lock in another great five set contest 5-11 11-4 11-8 6-11 12-10.
On his return to table tennis Tom Morrison played a big part in his team getting the points. Tom won two singles and as skipper took part in both doubles victories. He has played juniors for some time up until last year and has good form and it won't be long before he advances grades.
Weightmans had done well to recover from a 2-4 deficit to level the match at five rubber all. New players, Weightmans Tazz Tassone and Mallee Meats Mike Sheather took to the table to decide the match. What a great match this turned out to be with many long rallies.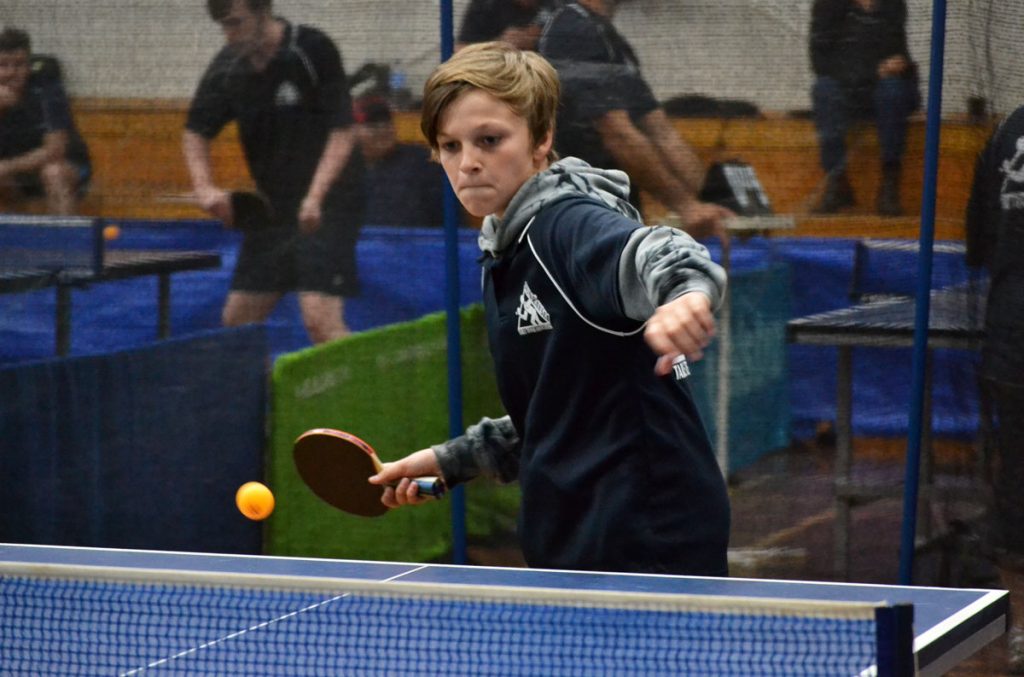 In the end it was Mike who was able to sneak away with the points winning 11-7 9-11 11-8 7-11 11-7 in a match that could have gone any way. Tazz had tried hard and went oh so close to a win.
Mallee Meats grabbed second place by percentage with this win.