Read Time:
12 Minute, 18 Second
2019-Winter-Prelim-Scoresheets.pdf
PENNANT ONE:
Exposed Signage & Apparel marched into the Sunraysia Table Tennis Association Winter Pennant Grand Final after a dominant win over Mallee Bearings.

– Exposed Signage/Apparel 6 (Nicholas Dorman 2, Kate Carmichael, Leslie Ncube 1) d Mallee Bearings 2 (Shannon Bowen 2)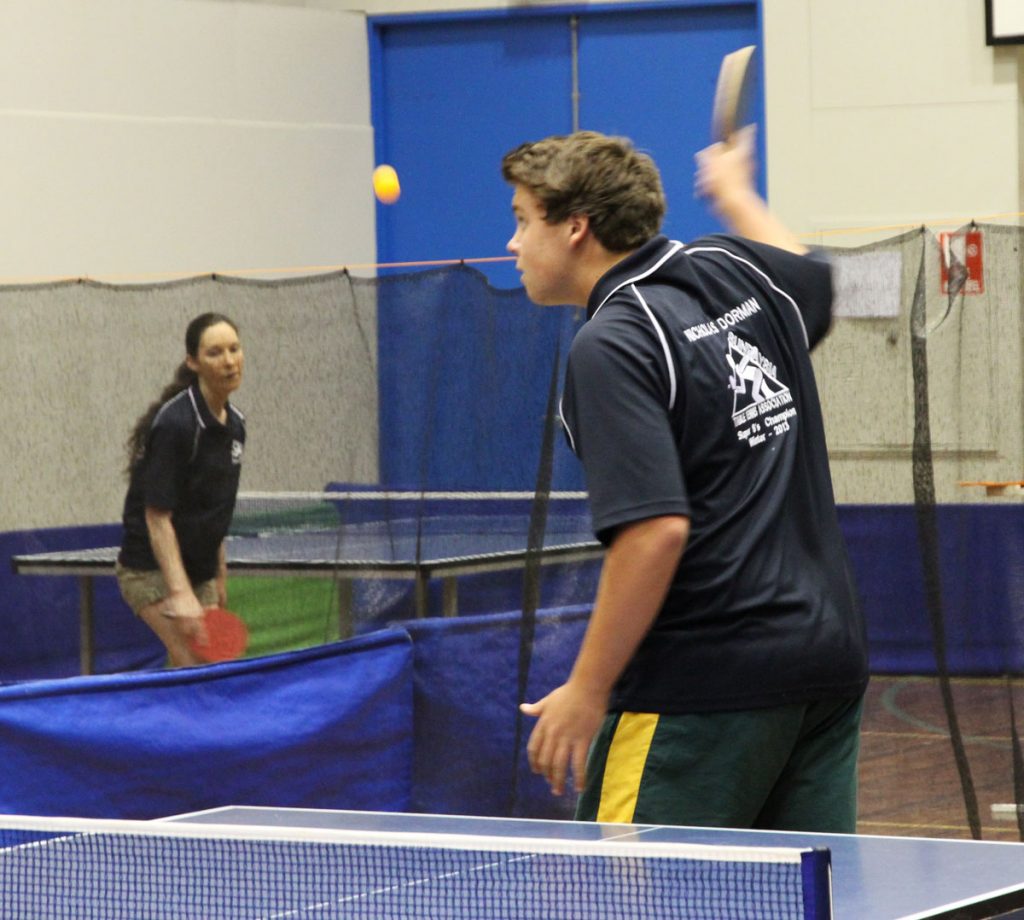 Mallee Bearings finished on top of the ladder after fifteen rounds of competition, with twelve wins. Exposed Signage & Apparel trailed behind with eight wins, and in third spot, but in this game, Exposed Signage & Apparel made it look like it was they who had finished with those twelve wins.
Mallee Bearings were at a severe disadvantage, as they were without captain Joel Thomas, the aggregate winner, and a player capable of taking control of doubles rubbers.
Although Mallee Bearings finished well ahead on the ladder, the results were always close when the two sides met during the season. Mallee Bearings won twice, Exposed Signage & Apparel once, and all occasions the winning margin was 6-5. So, nothing in it, and it is fair to say that Joel Thomas was a big part of the success of this team.
Shannon Bowen subbed for Thomas, and whilst he won both the singles rubbers he played, he and his team-mates just could not get over the line in the doubles rubbers. He and Reece Kurrle led two sets to one 5-11, 11-7, 16-14 against Nick Dorman and Kate Carmichael, only to see the Exposed Signage & Apparel pair finish stronger, taking the last two sets 8 and 6. Later, he and Lee Thomas got off to a flyer of a start in their match against Dorman and Leslie Ncube. Leading two sets to love ,11-4, 11-6, they looked secure, but Dorman and Ncube turned the tables, taking the last three sets 9, 6 and 8.
Dorman had a good night, as in addition to those two doubles rubbers, he defeated both Reece Kurrle and Lee Thomas in three sets.
The final two rubbers came from Kate Carmichael and Ncube, both these players winning one of their singles games, Carmichael defeating Lee Thomas in straight sets, and Ncube downing Kurrle in a very entertaining four set contest.
Mallee Bearings left disappointed then, only Shannon Bowen able to get any traction on the score board. He defeated both Ncube and Carmichael in four sets. His match with Ncube was tight, Bowen winning 12-10, 9-11, 11-9, 11-8, but Bowen was clearly enjoying himself in his match with Carmichael, retrieving balls inches from the ground, lobbing them onto the table, and waiting for Carmichael to make a mistake, which she invariably did to end the point.
Exposed Signage & Apparel will play Regional Taxation Services in the Grand Final on Wednesday, and it will be anybody's match. On the three occasions they met during the season, Regional Taxation Services won twice, 6-5 each time, whilst in round 10 Exposed Signage & Apparel won in a canter 8-3.
Final scores: 6 rubbers to 2 and 20 games to 11.
PENNANT TWO:
Peter Midgley returned to the Pinnacle Packers line-up for this do-or-die match, and led his side into this year's Grand Final.

– Pinnacle Packers 6 (Peter Midgley 3, Michael Hensgen 1) d Weightmans Packaging 3 (Kevin Johns 2, Quentin Clark 1)
A weakened Pinnacle Packers side was outplayed in last week's Second Semi-Final by Max Miller Carpets. Pinnacle Packers captain Peter Midgley was absent, and could do little to prevent their 3-6 loss.
Weightmans Packaging, on the other hand, had played a tough nail-biter to get into this match, downing Mallee Meats.
The stage was set then for a close contest. Could Pinnacle Packers regroup to take on Weightmans Packaging, and could Weightmans lift their game another notch to defeat Pinnacle Packers?
The score at the end was 6-3, but that alone does not give any indication of the closeness of the competition.
Weightmans Packaging took first blood, Quentin Clark defeating David Sergi. For a while, it looked like an upset could be coming, when Weightmans Packaging number three Peter Fitzpatrick led the returning Peter Midgley two sets to one. Midgley had admitted not being "100 percent fit", and Fitzpatrick certainly exploited that. However, the longer the match went, the better Midgley got, and perhaps Fitzpatrick did Midgley a favour by taking the game to five sets, allowing Midgley to play himself back in. In the end, Midgley restored things to their rightful order, winning 8-11, 11-3, 8-11, 11-6, 11-4.
Weightmans Packaging took the third rubber, Kevin Johns surviving a scary start against Michael Hensgen. Johns recovered from two sets to love down to win in five.
The first doubles was next, and the two players who had just lost singles rubbers (David Sergi and Michael Hensgen), were up against the two who had just beaten them (Quentin Clark and Kevin Johns). Of course, winning a singles rubber does not always translate into an automatic win in doubles, and so it was proved yet again in this match. Sergi and Hensgen took the first two sets easily 11-8, 11-3 before the Weightmans pair got their act together. They took the third set 11-9, but could not hold off the Pinnacle Packers pair in the fourth, Sergi and Hensgen taking that set 11-9. Two rubbers each.
Quentin Clark started brightly against Peter Midgley in the next rubber 11-6. Clark almost took the second set, but Midgley crept over the line 13-11, and after that powered away to take the next two sets too, 11-5, 11-7.
Weightmans Packaging Kevin Johns brought the score back to three rubbers all with a defeat of David Sergi in four sets. Once again Peter Fitzpatrick upstaged a more fancied opponent, taking the first set from Michael Hensgen in the next rubber 11-7. The loss of that set obviously hit a nerve, as Hensgen blasted Fitzpatrick off the court in the next set 11-1. He took the next two also, although Fitzpatrick did not let him get away to the same extent. Pinnacle Packers now led four rubbers to three.
Bearing in mind the score, the next rubber, the second doubles took on a greater significance. If Pinnacle Packers won, they would lead 5-3, and so just one rubber away from the win, and Weightmans Packaging needed the rubber to stay in the game.
Midgley and Hensgen teamed for Pinnacle Packers against Johns and Fitzpatrick for Weightmans Packaging. The game was close, all players playing with the thought of the consequence in the back of their mind, or perhaps it was in the front of their mind. Pinnacle Packers took the first set 11-8, Weightmans the second 11-3, Weightmans then took the third 15-13, and it seemed they might have broken the Pinnacle Packers duo. Not to be outdone, Midgley and Hensgen came back, and took the fourth set 11-6. There seemed to be more than the usual average of nets and edges in this match, and so the last set contained a few that favoured one side or the other, both pairings now hoping that Lady Luck would favour them. In the end Midgley and Hensgen were looked upon more favourably, and took the fifth set 11-9, knowing full well that it could have just as easily gone the other way. A great match.
Weightmans Packaging really had an uphill battle now, needing to win the last three rubbers, Pinnacle Packers needing just one.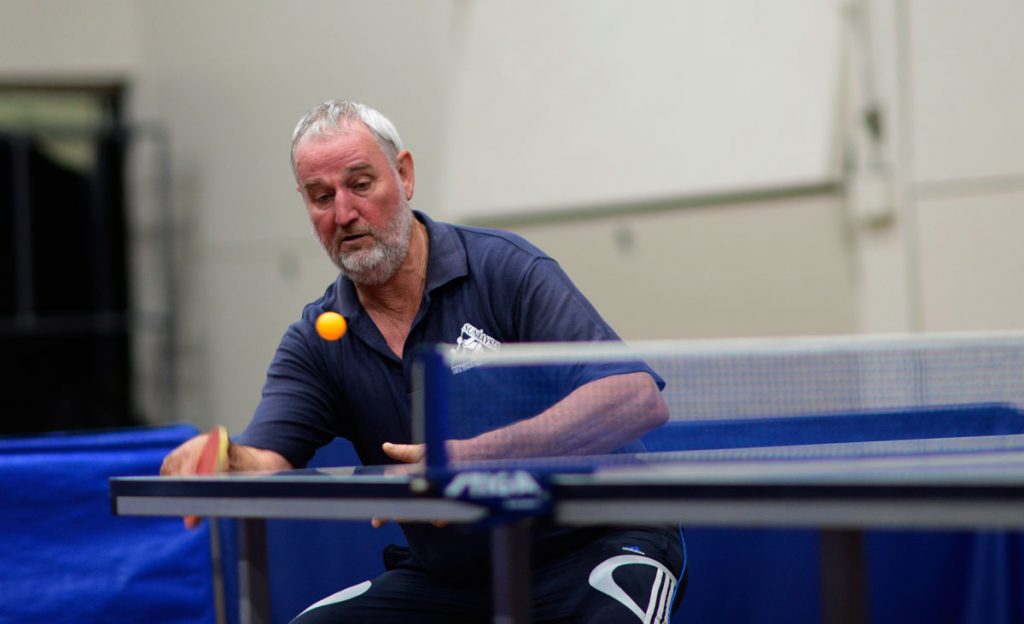 The two captains met in the next rubber, and it was clear that Midgley was pretty much back to his best. Although this match went to five sets, Midgley won, by a long margin, more points than his opponent, 53 to 44. Midgley had an opportunity to take the match in the fourth set, when at 9 all, he swung and missed a "simple" smash at the net. That let Johns out of gaol, and he promptly took the next point too, to level at two sets all. Midgley berated himself after that missed shot, and hardly lost a point in the fifth, winning, appropriately, with an edge, 11-4.
So, Pinnacle Packers will play Max Miller Carpets in the Grand Final next Wednesday, and we can expect a close contest. On the three occasions they played during the season, Max Miller Carpets won twice, both 6-5, but in round 11 Pinnacle Packers took a solid 7-4 win.
Final scores: 6 rubbers to 3 and 21 games to 18.
PENNANT THREE:
Mallee Meats continue to improve, and this week disposed of the undisputed ladder leaders Sammy's Slammers to book a spot in the Grand Final.

– Mallee Meats 6 (Marcus Cimino 3, Leonie Dunkley 1) d Sammy's Slammers 3 (Aiden Riordan 2, Ryan Hensgen 1)
Marcus Cimino really has his team firing, this week needing just nine rubbers to account for Sammy's Slammers, who were without their captain Casper McCarthy (Aiden Riordan subbed for him), and this only helped Mallee Meats in the doubles rubbers.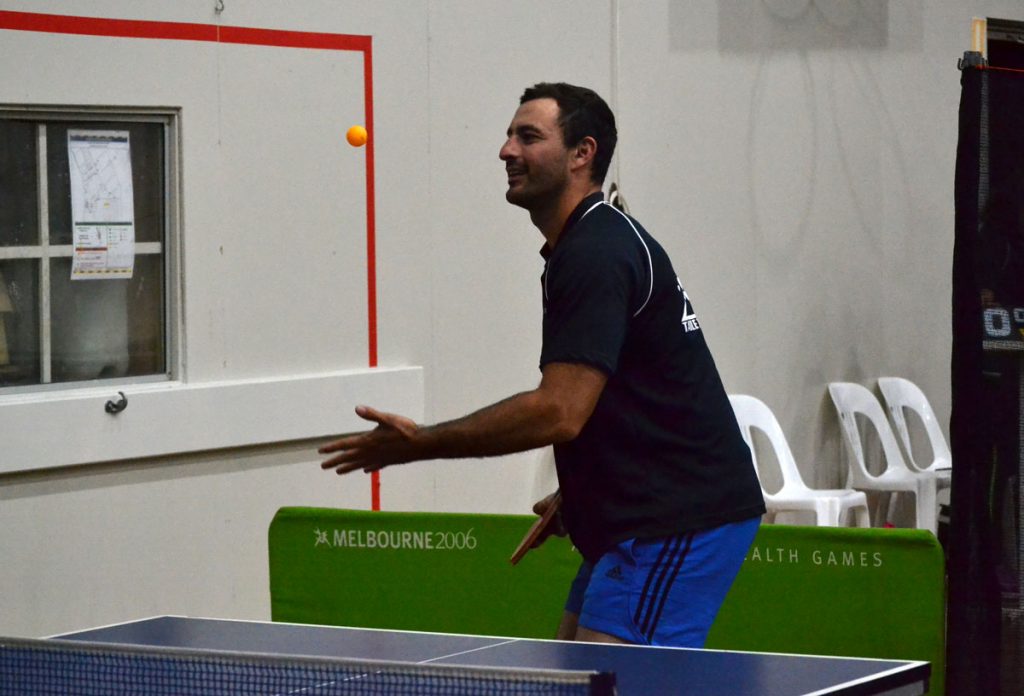 Cimino won everything he played in, and aided and abetted by his team-mates, the team ran out 6-3 winners.
After a close first set 12-10, he ran out an easy three set winner against Ryan Hensgen, then a straight set victory against Huseyin Ismail, who can be difficult to get away, and in the ninth rubber he took a four set win over Riordan.
In amongst those matches, he and Leonie Dunkley kept their heads when things tightened up towards the end of the first doubles rubber with Riordan and Ismail. Cimino and Dunkley led 11-6, 11-5, but then the Sammy's Slammers pair staged a comeback in the third, taking it 13-11. The fourth set was closer than the first two, but the Mallee Meats pair closed it out 11-8 to put their side 3-1 at that stage.
The second doubles rubber featured Cimino and Ayden Costa against Riordan and Ryan Hensgen. The Sammy's Slammers pair only conceded the first set 10-12, but could not hold Cimino and Costa after that, the Mallee Meats pair winning the next two sets 11-8, 11-5 to push the score out to 5 rubbers to 3.
As well as those five rubbers, Leonie Dunkley chipped in with one for her side, defeating Ismail in the tense first rubber 9-11, 13-11, 11-9, 11-7.
For Sammy's Slammers, Aiden Riordan won two, defeating Dunkley and Costa, and Ryan Hensgen also defeated Costa in a great five set tussle 9-11, 11-7, 11-7, 5-11, 11-9.
Mallee Meats will play Regional Taxation Services in the Grand Final, a team they defeated in round 1 six rubbers to five, but then lost by that score in round 6, and lost again in round 11 seven rubbers to four.
Final scores: 6 rubbers to 3 and 21 games to 12.
Pennant Four:
Mallee Meats have progressed to the grand final next week with what would seem on paper to be a comfortable 6-2 win against Tankard Dental.
Mallee Meats 6 (Dave Tanner, Costa Skiadas 2) def Tankard Dental 2 (Wendy Simpson, Glenn Leeson 1)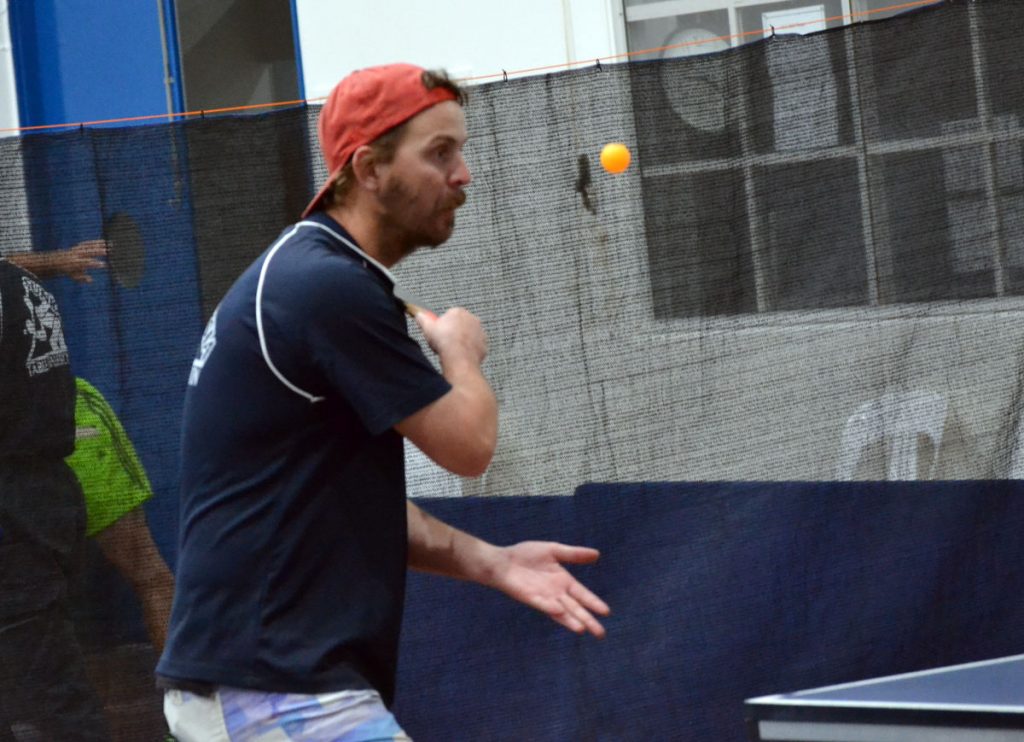 The first three games of the night were decided late in gripping five set battles. First up for Tankard was Jacinta Ljubic up against Mallee Meats Costa Skiadas. Both players hate giving away cheap points and this game was punctuated with extremely long rallies with neither willing to concede. Ljubic took her chances and took the first two sets 11-9, 17-15 before Skiadas steadied to level taking the next two 11-6, 11-5. The last set took an eternity with the last point of the match lasting at least a minute and a half. This rally may still be going if it wasn't for a little bit of good fortune for Skiadas as he finally hit the edge to penetrate Ljubic's defenses and in doing so won this match 12-10 in the fifth.
The next match saw Mallee Meats Brian White against Tankard's Wendy Simpson. Simpson was caught off guard as White took the opening two sets comfortably 11-3, 11-8. Simpson then ramped up her game to turn the tide and won the last three sets 11-7, 11-8, 11-9. Up next was Dave Tanner against Glenn Leeson. Last week Leeson surprised Miya Lock in pushing her all the way to a fifth set, however it was unclear if he could repeat the dose against Tanner given he came into this match with a heavy flu. Tanner, with some concerns of his own was looking to test his suspect shoulder injury. The first set had a few momentum swings as Leeson started the better but faded late to give Tanner the set 12-10. Leeson was furious with himself but remained focused to win the next two 11-8, 11-6 and an upset looked on. Tanner threw caution to the wind and started hitting his characteristic flat forehand missile that found the mark often enough for him to win the next two sets and the match 11-6, 11-8.
With the game score now 2-1 in favour of Mallee Meats it was now time for the doubles. Tankard Dental have struggled all season in doubles play and this was no exception with Tanner and White taking this in three comfortable sets against Ljubic and Leeson. With Skiadas and Tanner recording wins in the next two singles the writing was clearly on the wall for Tankard Dental as they now trailed 1-5. Leeson fought hard to keep his team afloat with a four set victory over White.
The knockout blow came in the second doubles match. Tanner and Skiadas winning the first set 11-4 looked set for an easy victory. Ljubic and Simpson put everything into the next four sets to be pipped at the post with Mallee Meats Prevailing 11-4, 7-11, 11-8, 9-11, 11-9 to win their way into next week's grand final.
Well done to Tankard Dental on a very good season that was highlighted by their Country Championship Win. Next week we look forward to Mallee Meats who take on a well-rested MJM Automotive. We look forward to seeing a big crowd cheer on (and help umpire) these grand final combatants next week