ROUND 4
PENNANT ONE:
After the school holiday break round four of the Sunraysia Table Tennis senior pennant featured the battle of the previously undefeated Mallee Bearings up against second placed Tankard Dental.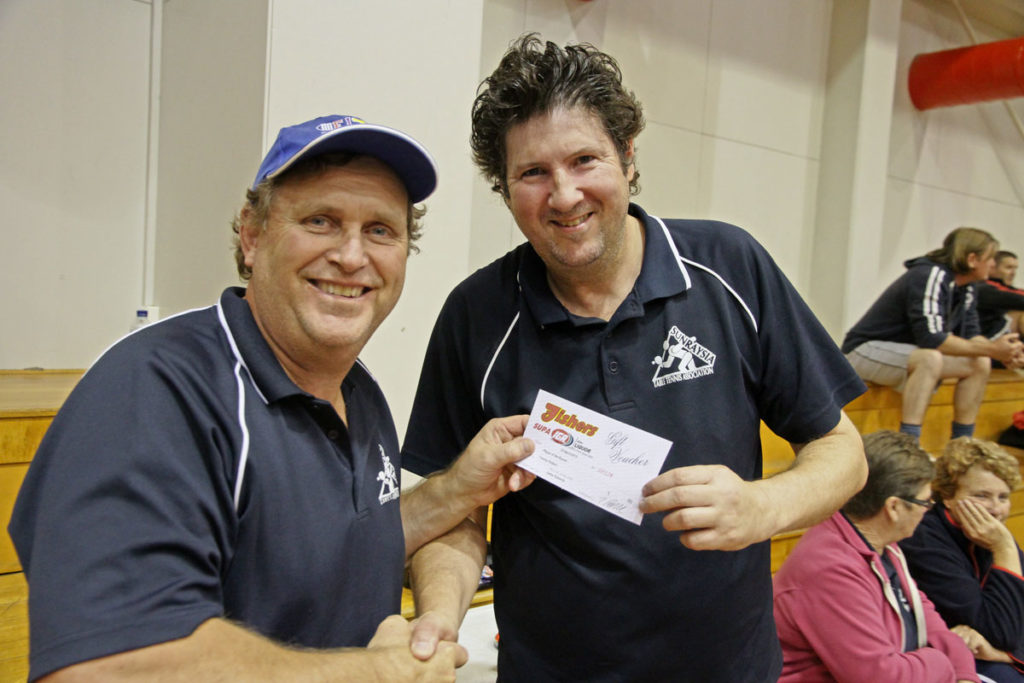 – Tankard Dental 6 (Matt Ljubic 3, Mark Ljubic 2) d Mallee Bearings 5 (Leon Brown 2, Wayne Carmichael, Russell Walder 1)
Both teams were missing a regular player with Bearings number two Jackson Tung replaced by Leon Brown while Mark Ljubic came out of retirement to replace the absent Gavin Carmichael.
Tankards were off to a flyer and raced to a five rubbers to one lead courtesy of a narrow 11-9 in the fifth victory in the first doubles by Matt Ljubic and father Mark over opponents Wayne Carmichael and Leon Brown in an entertaining contest.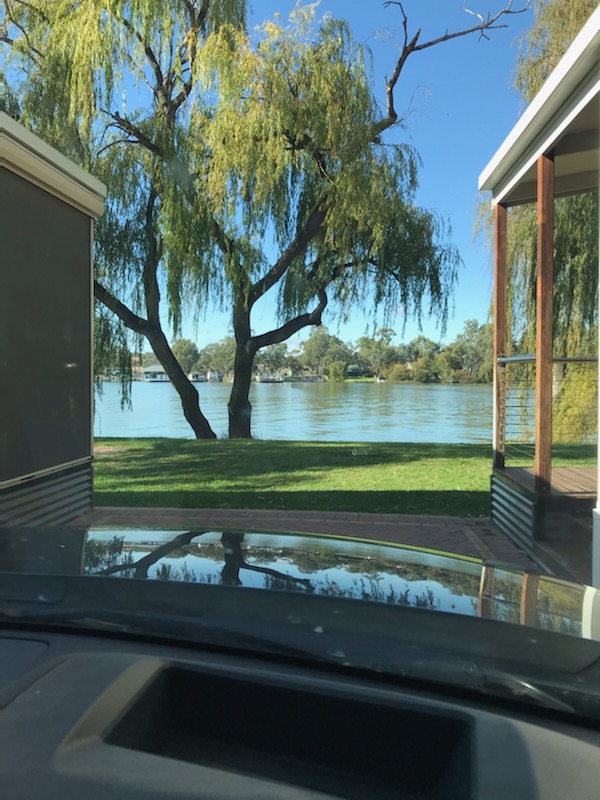 Ljubic senior then followed this up with a major upset defeating the more fancied Wayne Carmichael in a four set tussle which was crucial for Tankards.
From this point Mallee Bearings were able to improve the scoreboard however when Matt Ljubic won his third singles, in four sets over Wayne Carmichael, Tankards had won 6-5 and took top position on the ladder by a narrow percentage.
– Max Miller Carpets 6 (Nicholas Dorman 3, Ed Hung 2) d Exposed Signage/Apparel 3 (Mark Dorman 2, Kevin Johns 1)
Max Miller Carpets scored their second win of the season securing the four points 6-3 over Exposed / Signage Apparel in a match where both teams were missing a regular player.
In this victory Carpeters captain Nicholas Dorman won three singles and in the only doubles played, Dorman partnered teammate Ed Hung to defeat Mark Dorman and Kevin Johns 9-11 11-9 12-10 7-11 11-8 in a thriller.
This victory has allowed Max Miller Carpets to occupy fourth position on the ladder.
– Cookes Pools & Spas 7 (Joel Thomas 3, Leon Brown. Lee Leeson 1) d Regional Taxation Services 4 (Joel Dorman, Reece Kurrle 2)
Third placed Cookes Pools & Spas proved too strong for Regional Taxation Services winning 7-4 and it was skipper Joel Thomas who showed the way winning his three singles as well as participating in both of his team's doubles victories. Teammates Leon Brown and Lee Leeson each also chipped in with an important singles win.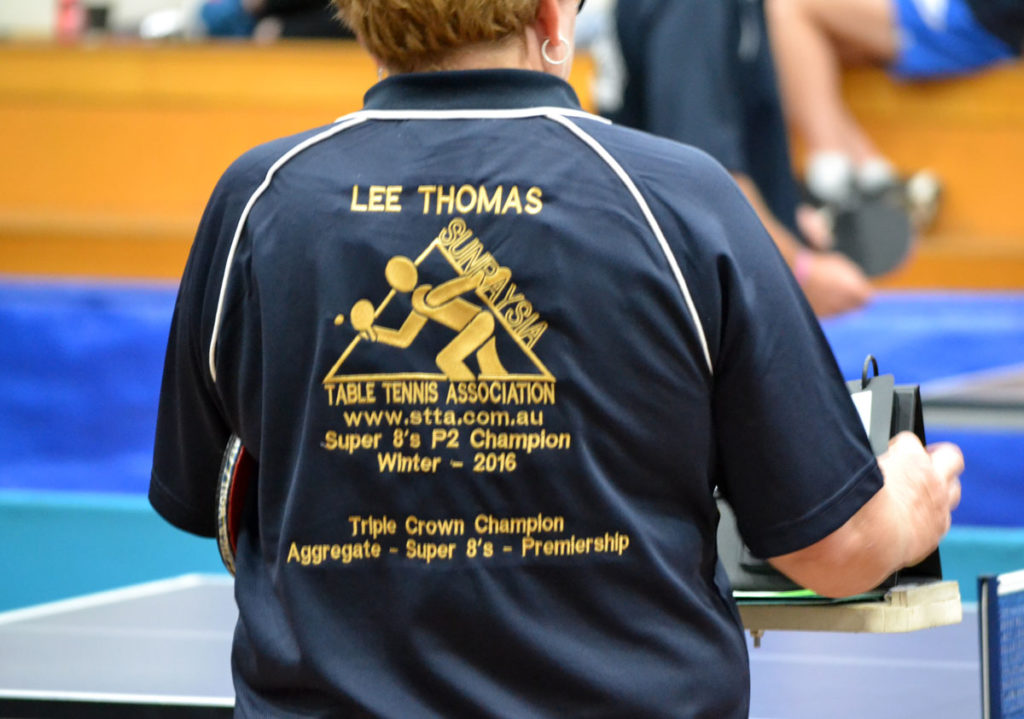 For Regional Taxation Services Joel Dorman subbing for Kate Carmichael and Reece Kurrle both won two singles each. The lack of success in the doubles was costly for the RTS combination.
PENNANT TWO:
Top side Cookes Pools & Spas got home in the final rubber against bottom side Weightmans Packaging; Max Miller Carpets handed out a drubbing to Mallee Meats; and MJM Automotive recorded their first win for the season with a solid victory against Pinnacle Packers.
– Cookes Pools & Spas 6 (Ash Morrison 2, John Fitzpatrick, Rohan Reimers 1) d Weightmans Packaging 5 (Jason Gifkins 3, Andrew Jones 2)
Cookes Pools & Spas captain Ashley Morrison lost his first singles rubber of the season in this round, in a good five set contest to Weightmans Packaging captain Jason Gifkins. That win ensured that Gifkins won all his singles matches, and puts him in equal second spot on the aggregate ladder, one win behind Morrison.
Despite that great work, Weightmans Packaging did do enough to earn the win, going down narrowly 6 rubbers to 5, the win going to Cookes in the eleventh rubber.
With Morrison taking two wins, and John Fitzpatrick and Rohan Reimers one each, Cookes Pools & Spas had to rely on the doubles to accumulate the required 6 rubbers. Morrison and Fitzpatrick won their doubles in four sets against Gifkins and Andrew Jones, while Morrison and Reimers had it somewhat easier, a straight sets win against Gifkins and Steve Pongrac.
Gifkins had good support from Andrew Jones, who won two singles, but the loss of both doubles hurt the team badly.
Final scores: 6 rubbers to 5 and 23 games to 17.
– Max Miller Carpets 8 (Kieren McRae, Casper McCarthy 3, Andrew Kremor 1) d Mallee Meats 3 (Terry Martin, Quentin Clark 1)
Max Miller Carpets handed out a table-tennis lesson to Mallee Meats in this encounter.
Both Kieren McRae and Casper McCarthy were undefeated in their singles match-ups, and number three Andrew Kremor won the battle of the number threes. Added to this McRae and McCarthy won their doubles contest, a close five setter against Terry Martin and Quentin Clark.
Max Miller Carpets are already looking like the team-most-likely in this competition, as captain McRae sits equal second on the aggregate on 10
wins out of 12 played, and McCarthy is 8 won from 12 – a statistic not bettered by any other captain/number two at this stage.
McRae went through the night without dropping a set in singles play, and McCarthy dropped only one.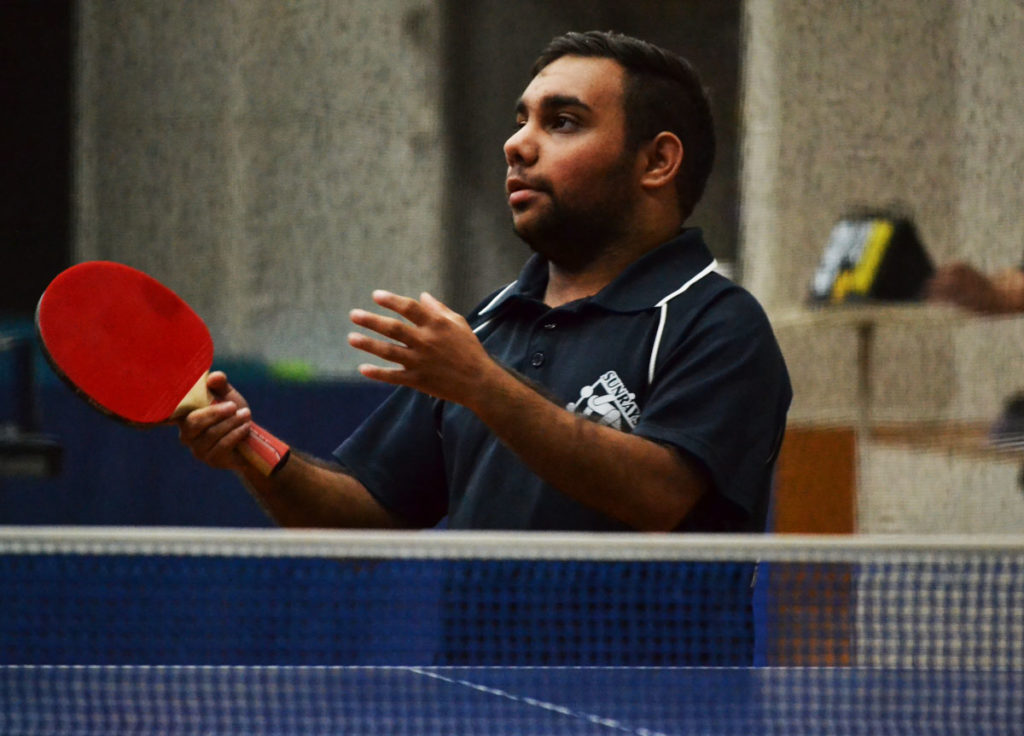 The only crumbs that Max Miller Carpets left for their opponents were victories to Martin and Clark over their number three Kremor, whilst Clark and Peter Fitzpatrick did record a decent four set win against McRae and Kremor in the second doubles.
Final scores: 8 rubbers to 3 and 27 games to 12.
– MJM Automotive 7 (Dylan Wood 3, Jeremy Corrin 2, Marcus Cimino 1) d Pinnacle Packers 4 (Peter Midgley 2, Raymond Manzanares 1)
MJM Automotive took their first win for the season, and also lifted themselves from bottom of the ladder, displacing Weightmans Packaging, to fifth, by virtue of better percentages, albeit a single game.
The match was all tied up at 4 rubbers all after the second doubles, but when the captains met, Dylan Wood quickly disposed of Peter Midgley in straight sets, number two Jeremy Corrin did the same to his opposite number Raymond Manzanares, and Marcus Cimino only took a set longer to get the decision against David Sergi – impressive stuff.
Games hand gone as expected, and perhaps the clue was in the first doubles rubber when Wood and Corrin downed Midgley and Manzanares in four sets – that gave MJM Automotive a 3-1 lead; Pinnacle Packers won two of the next three singles rubbers to trail 3-4 going into the second doubles, at which point Pinnacle Packers captain Peter Midgley rolled the dice and substituted Manzanares to play with Sergi against Wood and Cimino. It proved the correct call, his two younger team-mates winning a close five set contest 11-6, 6-11, 11-7, 9-11, 11-9. That put them back on an equal footing, but the MJM Automotive steam-roller took care of any chance of victory in those final three rubbers.
For MJM Automotive Wood won three, Corrin two and Cimino one, and for Pinnacle Packers Midgley won two, and Manzanares one.
Final scores: 7 rubbers to 4 and 26 games to 15
PENNANT THREE:
MJM Automotive helped themselves to a big win against Weightmans Packaging; and Mallee Meats hung on to defeat the still winless Sammy's Slammers.
– MJM Automotive 8 (Nick Kiapekos 3, Sabrina Fitzpatrick, Isaiah Bettess 2) d Weightmans Packaging 3 (James Jarvis 2)
MJM Automotive easily beat Mallee Meats in this round 4 clash, conceding just two of the nine singles rubbers, and one of the doubles.
Led by aggregate leader Nick Kiapekos, MJM Automotive recorded their fourth straight win, and already are two games clear of their nearest rivals.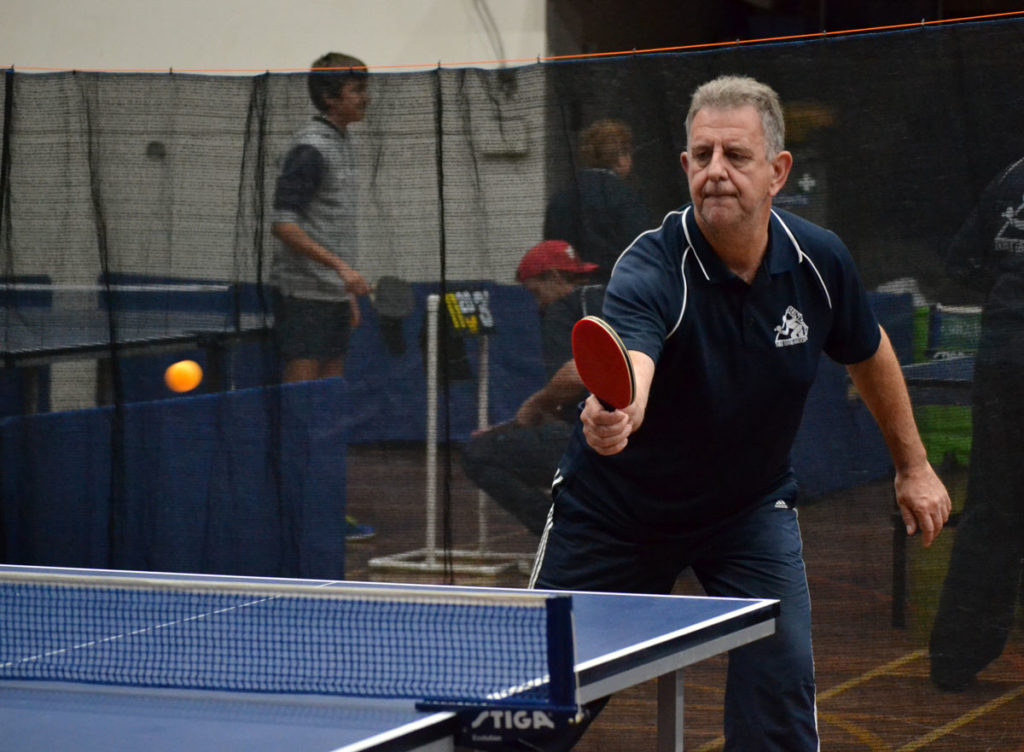 Kiapekos is in great form, once again dropping just one set in the course of the evening; he was backed up by his captain Sabrina Fitzpatrick and number three Isaiah Bettess, who both took two wins. Kiapekos and Fitzpatrick won the first doubles against James Jarvis and Shane Willis in straight sets, however the tables were turned later in the night, Jarvis and Karly Leach downing Kiapekos and Bettess in four sets.
That said, the match was pretty much one sided, it took Weightmans Packaging six rubbers to record a win, and then conceded the contest with a loss in the seventh. All was not lost though, with that win in the second doubles, and then a fighting five set win by Jarvis over opposing captain Fitzpatrick. MJM Automotive bounced right back though, with wins to Kiapekos and Bettess in the tenth and eleventh rubbers.
Final scores: 8 rubbers to 3 and 27 games to 11.
– Mallee Meats 6 (Therese Fitzpatrick 3, Ryan Hensgen 2, Ben Hosking 1) d Sammy's Slammers 5 (Dave Tanner 2, Anthony Fox 1)
Wins in both doubles contests kept Sammy's Slammers in this match, with the win going to Mallee Meats in the final rubber.
Anthony Fox subbed for the absent Sammy's Slammers captain Huseyin Ismail, but he was kept quiet by the Mallee Meats trio. His experience came to the fore in those doubles contests, partnering Dave Tanner to defeat Therese Fitzpatrick and Ben Hosking in five sets, and with Brian White downing Fitzpatrick and Ryan Hensgen in straight sets.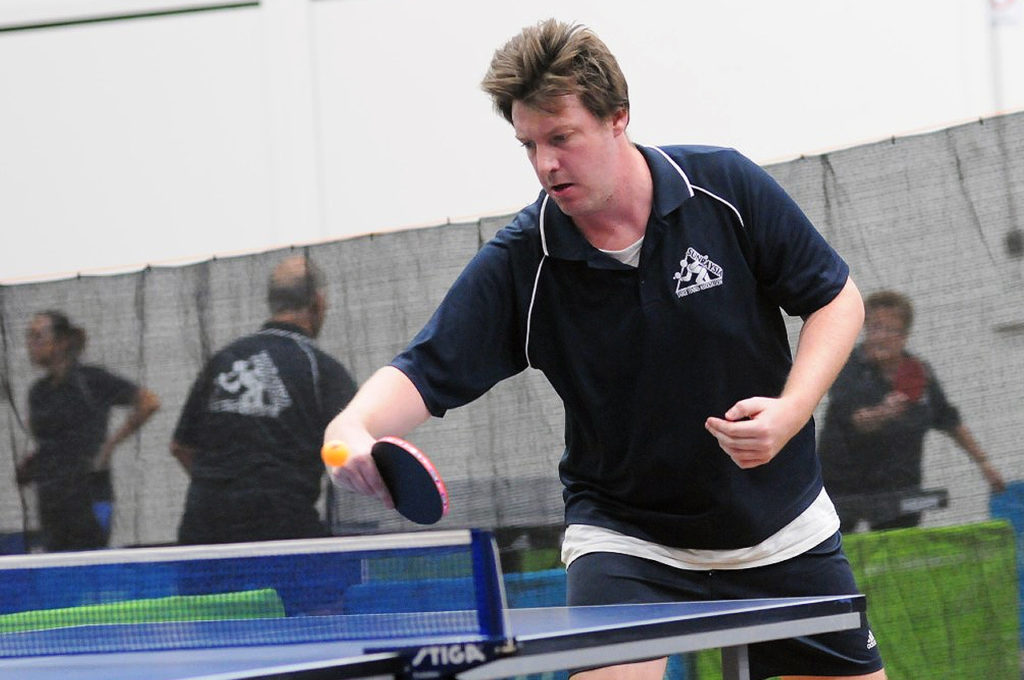 With Therese Fitzpatrick undefeated in singles play. Ryan Hensgen winning two and Ben Hosking one, those were the only high-lights for Sammy's Slammers.
Final scores: 6 rubbers to 5 and 20 games to 21.
PENNANT FOUR – Round 1:
Hi all and welcome to the long awaited return to Pennant Four Action.
This year three teams will be slugging it out vying for the Carmichael Shield come season's end. Sunraysia Table Tennis Association warmly welcomes first time players Nhat Dat, Maria Starikov, Ildi Healy, Phuong Hung Nguyen and Tom Gilmour to our table tennis family. Okay enough of the warm fuzzies; let's get down to the serious business….
–– Dunkley Scales 6 (Wendy Simpson, Ildi Healy, Phuong Hung Nguyen 2) d Tankard Dental 5 (Garry Tanner 3)
With all three teams having a bye round during the first three weeks we are finally underway in round four. Dunkley Scales have defeated Tankard Dental by the barest of margins with some great table tennis played during the night.
In an even team display team Captain Wendy Simpson set the tone in winning two of her singles matches which was mirrored by her teammates Ildi Healy and Hung Nguyen. For the vanquished Tankard's Garry Healy (filling in for Jacinta Ljubic) was on fire and won his three singles as well as contributing to his team's two doubles victories.
The night got off to the perfect start with a classic five set battle between Nguyen and Gilmour. Nguyen took the first set 11-9 before Gilmour found his range and levelled by taking the second 11-5. Nguyen then took the third 11-9 and Gilmour the fourth 11-6. With the match levelled at 2 sets all it would be the more consistent Nguyen who would take the fifth deciding set 11-7 to propel his team Dunkley Scales to an early advantage – an advantage they did not surrender for the remainder of the evening.
In another great match the first doubles match of the night was a great feature. Even though it didn't go the five set distance it was still a fine match. The Tankard duo of Tanner and Vale took on Dunkley's pairing of Simpson and Healy. The first set was a real arm wrestle with the set looking towards a tiebreak before Tankard's just broke free to take it 11-9. This seem to fire up Simpson and Healy as they raced through the second 11-4 to take all the momentum into the third. Tanner and Vale had other ideas as Tanner ramped up his attacking game and Vale was resolute in defence to steer Tankard Dental home in the final two sets 11-8 11-9 and secure a much needed win.
Although Tankard Dental tried their best during the evening, they came up just short to an in form Dunkley Scales team. So well done to Dunkley Scales on their narrow win 6 – 5 (21 games to 19 games). Just a reminder that Dunkley Scales will have the bye next week.