ROUND 5
Pennant One:
The feature of round five matches of the Sunraysia Table Tennis Association was the form of three of the veterans of the association.
Two of  three matches were very close while ladder leaders Tankard Dental scored a solid 8-3 win over Cookes Pools and Spas who were with out star player Joel Thomas this round.
Turning back the clock veterans Mark Dorman , Wayne Carmichael and Gavin Carmichael each won three singles for their respective teams and a search of the record books revealed what was a common occurrence many years ago  was the first occasion this had taken place since round 5 of the 2015 Summer Pennant, many matches ago.
– Regional Taxation Services 6 (Kate Carmichael 2, Reece Kurrle, Thahn Nguyen 1) d Exposed Signage/Apparel 5 (Mark Dorman 3, Lau Yee Huang 2)
Dorman was on fire for Exposed  Signage/ Apparel accounting for both Thahn Nguyen and opposing number one Kate Carmichael in four sets.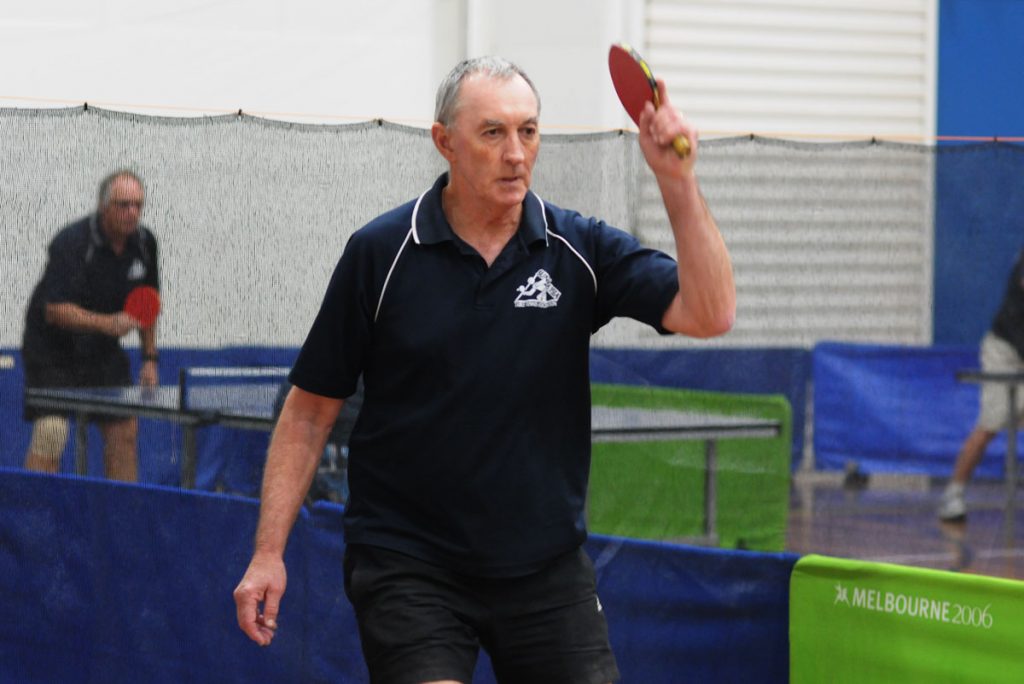 Spectators then witnessed the Dorman of old smashing many thumping forehands in his straight sets victory over Reece Kurrle. Despite his excellent form and team mate Lau Yee Haung winning two singles it was not to be for their team going down narrowly 5-6, oh so close to their first victory!
After losing to Dorman , Regional Taxation Services skipper Kate Carmichael fought out an excellent match against Haung. This was a ding dong affair with many fine rallies with Carmichael taking the points 12-10 11-9 3-11 12-10. Carmichael was instrumental in her team's victory by also partnering team mates Kurrle and Nguyen to victory in both doubles.
– Tankard Dental 8 (Matt Ljubic, Gavin Carmichael 3, Michael Hensgen 1) d Cookes Pools & Spas 3 (Joel Dorman, Leon Brown 1)
With both Matt Ljubic and Gavin Carmichael winning three singles each Tankard Dental proved too strong for Cookes Pools & Spas winning 8-3. Cookes were without leading player Joel Thomas who this week welcomed a new addition to the family.
Tankards victory enables them to hold first position on the ladder albeit by percentage from Mallee Bearings.
–  Mallee Bearings 6 (Wayne Carmichael 3, Jackson Tung 1) d Max Miller Carpets 5 (Nicholas Dorman, Jackson Murphy 2)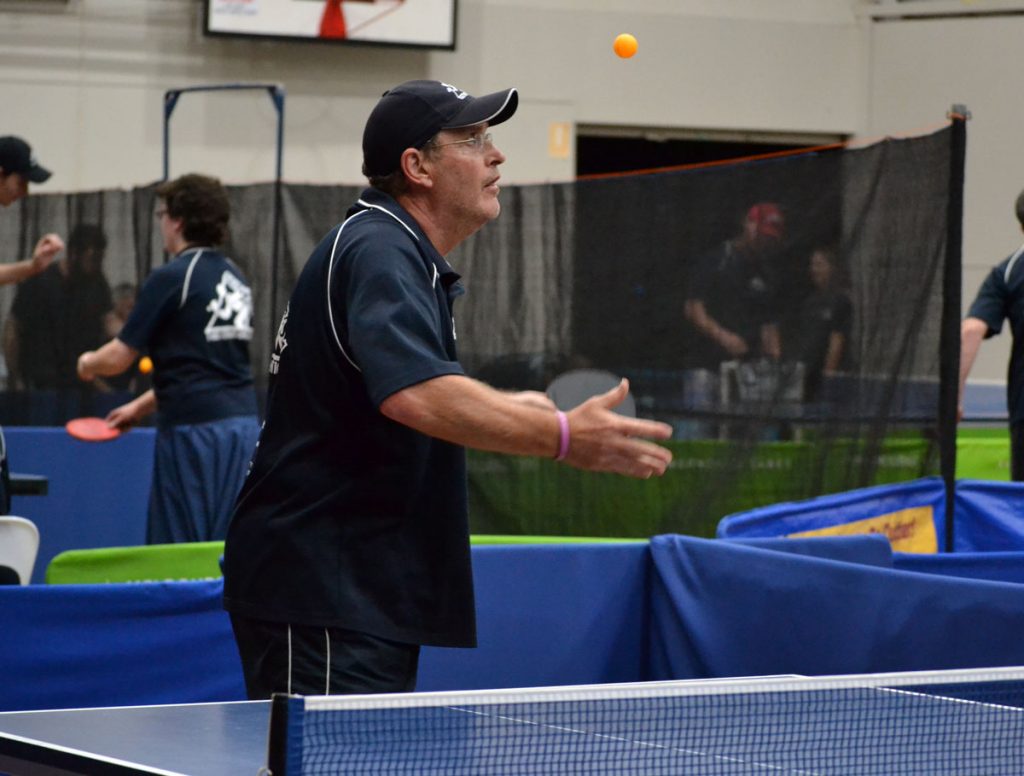 After their first loss last round Mallee Bearings bounced back this week to defeat Max Miller Carpets 6-5. Skipper Wayne Carmichael showed the way winning three singles and taking part in both doubles.
Pennant Two:
In defeating Weightmans Packaging, Max Miller took the lead on the ladder this week; Cookes Pools & Spas dropped from the top of the ladder to second after their defeat by Pinnacle Packers; MJM Automotive continued their move up the ladder, this week up to fourth after they thrashed Mallee Meats.
– Max Miller Carpets 7 (Kieren McRae, Casper McCarthy, Andrew Kremor 2) d Weightmans Packaging 4 (Jason Gifkins 3)
Max Miller Carpets now sit a game clear at the top of the ladder after round 5. having won four of the five games played. All teams have now played each other once, so this gives an indication of their form.
The three Max Miller Carpets players all won two singles rubbers – captain Kieren McRae now sitting second on the singles aggregate, number two Casper McCarthy keeping his average up with a solid two games per match, and number three Andrew Kremor enjoying his best night yet with his two wins.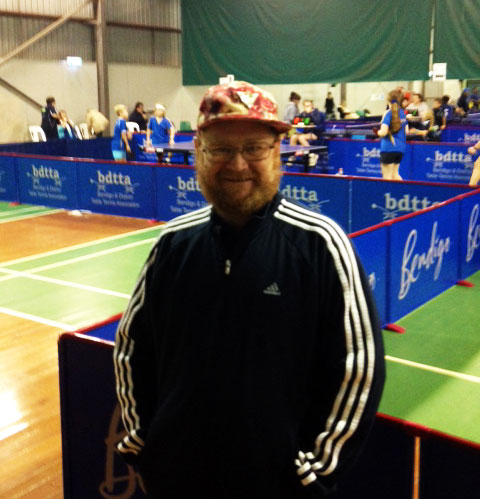 But none of this trio could get the better of Weightmans Packaging captain Jason Gifkins, who for the fourth week in a row took three wins, and moved to joint leader, with Ashley Morrison, on the aggregate table.
Weightmans Packaging only won one other rubber, the first doubles encounter between Gifkins and Andrew Jones against McRae and McCarthy. Considering that the Max Miller Carpets pair are equal leaders on the doubles aggregate, this was a good win.
Weightmans number three Steve Pongrac was absent, and Jamila Belbaze subbed for him, and acquitted herself well. Her first match for the night was against her opposite number Andrew Kremor, from whom she managed to take a set. Had that match been played later in the night, Kremor might not have got the win, as Belbaze, although losing her subsequent matches, gave a good account of herself against number two Casper McCarthy in the second last rubber.
Final scores: 7 rubbers to 4 and 23 games to 14.
– Pinnacle Packers 6 (Peter Midgley, Raymond Manzanares 2) d Cookes Pools & Spas 5 (Ashley Morrison, Rohan Reimers 2, John Fitzpatrick 1)
These teams went into this round first (Cookes Pools and Spas) and fourth (Pinnacle Packers) on the ladder. At the end of the night, Cooks were second and Pinnacle Packers had moved up a spot to third.
The stand out performance here was that of Pinnacle Packers number two Raymond Manzanares. After losing to the difficult-to-get-away Rohan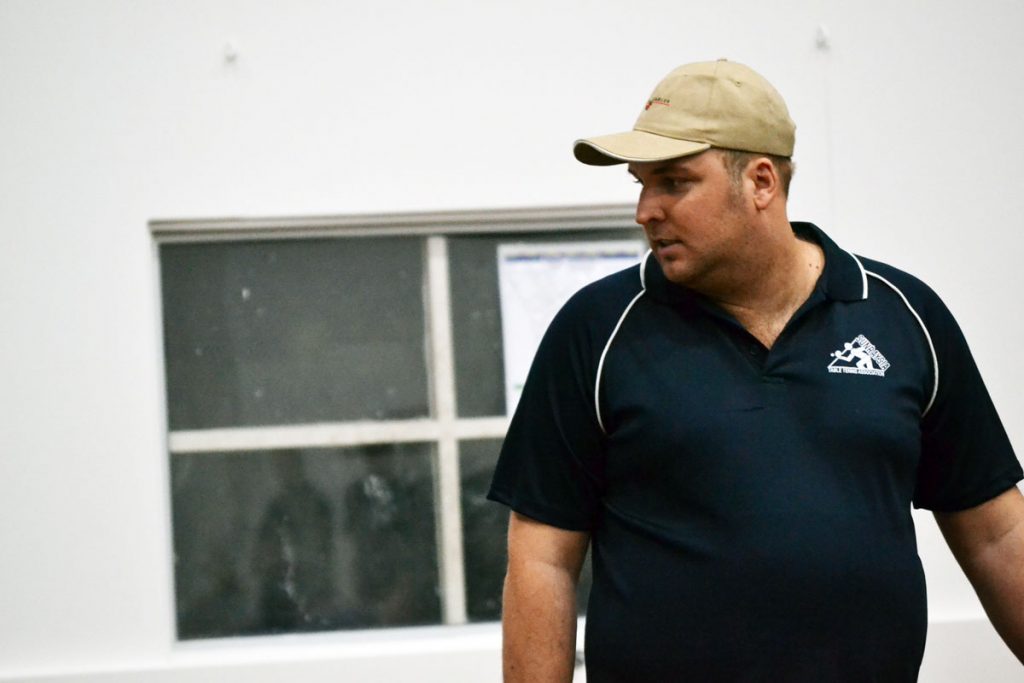 Reimers in the first rubber, Manzanares remained undefeated for the rest of the night. He played both doubles – firstly with his captain Peter Midgley, and later with David Sergi, winning both.
So what did he do? His biggest scalp was that of the aggregate leader Ashley Morrison. Up to this round, Morrison had dropped just one singles rubber (to Jason Gifkins in the previous round). Here, Manzanares seem to adopt the attitude of making Morrison "hit one more ball". This went on for five sets, Manzanares winning 9-11, 11-7, 11-4, 6-11. 11-6. The decision by captain Midgley to have Manzanares play the second doubles in his place was a good one, Manzanares and David Sergi defeated the previously undefeated pairing of Morrison and Reimers in a great five set battle.
Midgley, like Manzanares, won two singles rubbers, and with the doubles wins, this was enough to get them the win. It was just as well that Manzanares was playing so well as all the Cookes Pools & Spas players took wins, Morrison and Reimers two each, and John Fitzpatrick one.
Final scores: 6 rubbers to 5 and 25 games to 19.
– MJM Automotive 9 (Dylan Wood, Jeremy Corrin 3, Marcus Cimino 1) d Mallee Meats 2 (Terry Martin, Quentin Clark 1)
In the space of two rounds, MJM Automotive have moved from bottom of the ladder to fourth, this week thrashing Mallee Meats, who seem to be presently in free fall.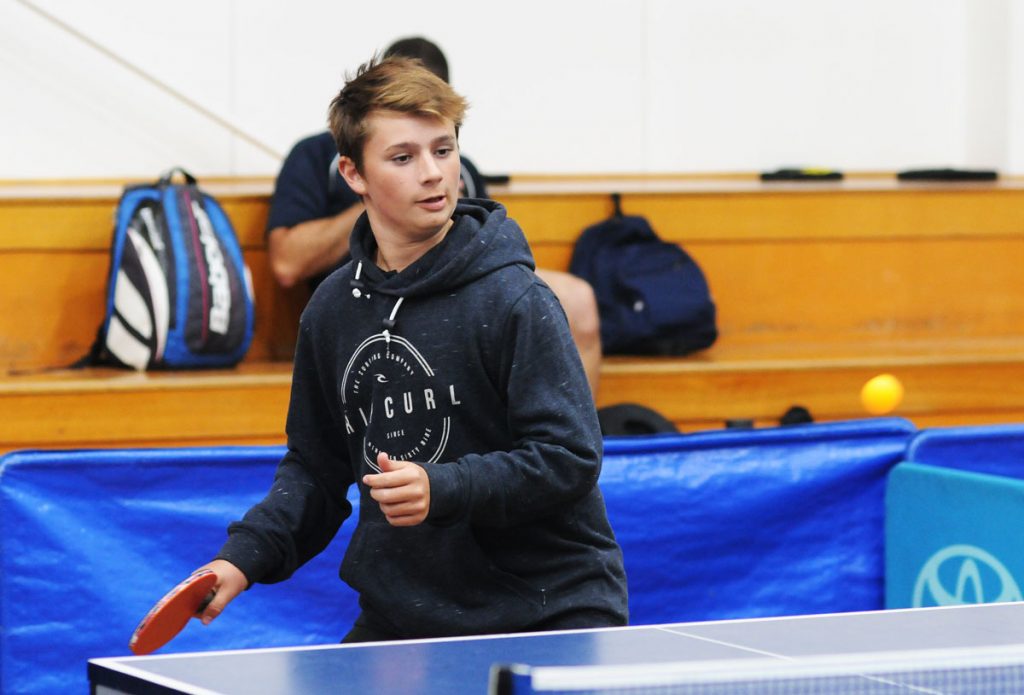 The MJM Automotive pair of captain Dylan Wood and number two Jeremy Corrin both won three singles rubbers, Marcus Cimino took one, and the side had little trouble winning both doubles.
This side had a slow start to the season, losing the first three matches, and now winning the last two. Two of their losses were 5-6, and in that same period number two Corrin has been improving, scoring 1, 1, 2 and 3 in his last four outings. So things are looking up for this side, and Wood is equal second on the aggregate.
Mallee Meats were unable to match their opposition, captain Terry Martin only defeating MJM Automotive number three Marcus Cimino, and losing to both Wood and Corrin in five sets. Likewise Quentin Clark, he defeated number three Cimino in four sets, the fourth going to 18-16 for decision.
Final scores: 9 rubbers to 2 and 28 games to 14.
Pennant Three:
MJM remain undefeated at the top of the ladder; and second placed Mallee Meats defeated Weightmans Packaging and moved a game clear of them in second spot.
– MJM Automotive 6 (Sabrina Fitzpatrick, Nick Kiapekos 2, Isaiah Bettess 1) d Sammy's Slammers 5 (Bryan Ormesher 3, Dave Tanner 1)
MJM Automotive recorded their fifth straight win in this round, defeating bottom side Sammy's Slammers.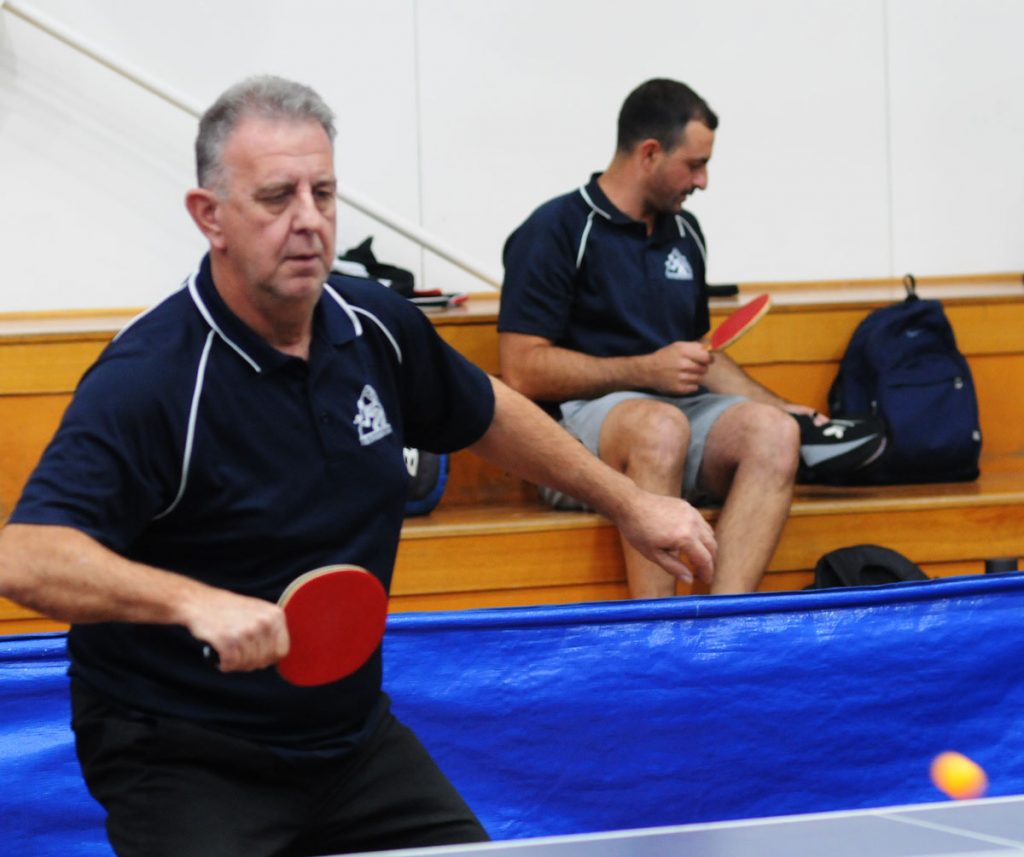 MJM Automotive number two Nick Kiapekos is having a stand-out season, currently leading the aggregate by two, and accumulating another two wins in this match.
The side did not have things all their own way, however, as Sammy's Slammers, this week captained by Bryan Ormesher took the fight to the final rubber.
Ormesher racked up three singles wins, defeating Sabrina Fitzpatrick in four sets, Isaiah Bettess in five, and Kiapekos in just three. Added to these three, Ormesher and Dave Tanner won the first doubles against Fitzpatrick and Kiapekos in four sets.
The improving Tanner defeated Bettess in the first round of singles, and helped give his side a real chance.
With the scores level at 4-4 after the second doubles, MJM Automotive steadied, Fitzpatrick defeated Tanner in four sets, and Isaiah Bettess won the final rubber in three against Brian White, to give their side the win.
Final scores: 6 rubbers to 5 and 24 games to 16.
– Mallee Meats 6 (Therese Fitzpatrick, Ben Hosking 2, Ryan Hensgen 1) d Weightmans Packaging 5 (Karly Leach, James Jarvis 2)
These two side were second (Mallee Meats) and third (Weightmans Packaging) on the ladder going into this round, and although they remain in those positions after this match, Mallee Meats are now a game clear of their opponents here, now having three wins to Weightmans Packaging's two.
In a very even contest, four players won two singles rubbers. The two captains, Therese Fitzpatrick for Mallee Meats and James Jarvis for Weightmans Packaging are also neck-a-neck on the aggregate ladder,
although Therese has accumulated her 10 wins from four games, as against James's five.
Having seen off Jarvis in the second round of singles in a tough five setter, Therese could not shake off the persistent Karly Leach in the ninth rubber, falling to her in four sets.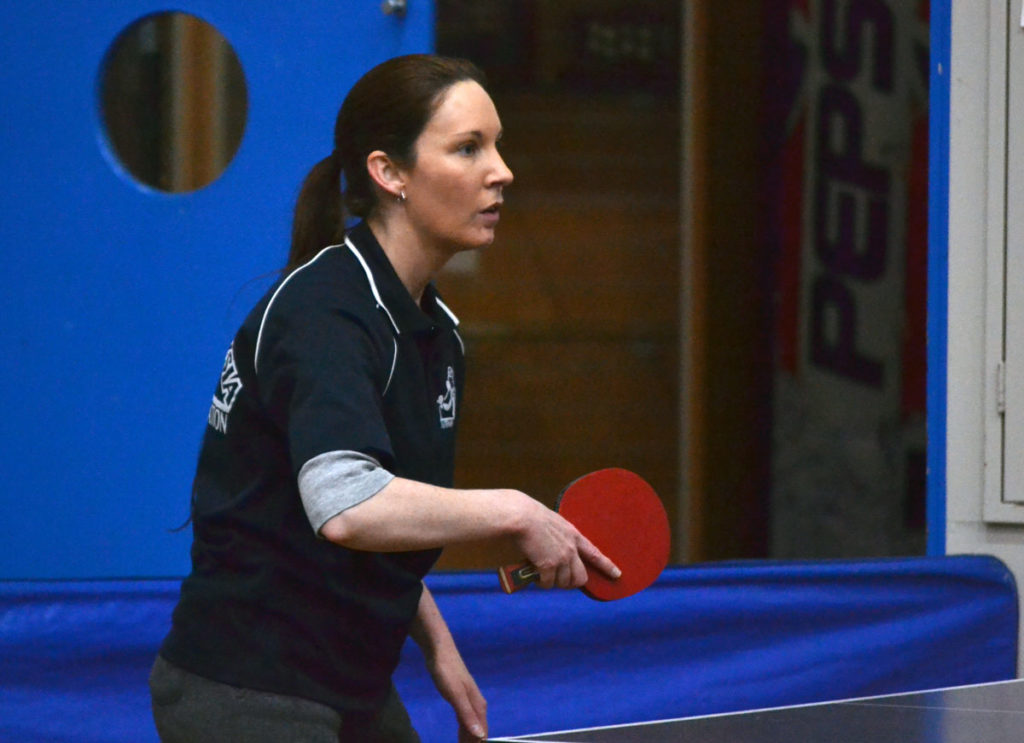 Mallee Meats had winners in the rest of the team though: Ben Hosking disposed of Leach in straight sets, and Shane Willis in four, and Ryan Hensgen won the decider when he too defeated Willis.
The doubles rubbers were shared, Jarvis pairing himself with his number three Willis in the first, against Fitzpatrick and Hosking, and saving his stronger pairing of himself and Karly Leach for the match-up against Fitzpatrick and Hensgen, which they won.
Final scores: 6 rubbers to 5 and 23 games to 19.
Pennant Four:
In round 5 action we saw another great night of close, uncompromising table tennis on display.
Tankard Dental 6 (Ildi Healy 2, Tom Gilmour, Jim Vale 1) defeated MJM Automotive 5 (Garry Tanner 3, Nhat Dat 2)
Garry Tanner continued his excellent early season form in winning his three singles for the second week in succession but it was not enough to secure victory for MJM Automotive. The story of the night was the first doubles match that saw the pairing of Tankard players Gilmour and Vale taking on MJM's duo of Nhat and Tanner. Gilmour and Vale ground out the first set 14-12 before losing their way to surrender the second 7-11 and third 6 –11. This change in the match was attributed to a more attacking brand of table tennis from both Nhat and Tanner as they landed some great shots to race through these sets. The fourth and fifth set were both tightly contested with Vale showing all his experience by slowing the play down and guiding his team through to win 11-9, 12-10 in a great win for his team.
In another great match, Tankard's Ildi Healy (filling in for Jacinta Ljubic) won a crunch game against MJM's Nhat Dat. This also went the distance with Healy being the more consistent of the two players winning 13-11, 6-11, 7-11, 11-5, 11-7. It should be noted that Nhat was very busy during the night being involved in all of the three five set matches played during the evening – unfortunately for his team he was involved in one win from these five set matches.
In conclusion Tankard Dental have scrapped through by the barest of margins by defeating a gallant MJM Automotive by 6 – 5 (21 games to 19 games). After such a tussle, Tankard Dental can now have a week off as they have the bye in Round 6.