Read Time:
12 Minute, 49 Second
Sunraysia Table Tennis Winter Pennant results preliminary final: –
PENNANT ONE:
– Max Miller Carpets 6 (Mark Dorman 3, Shannon Bowen, Ed Hung 1) d Mallee Bearings 5 (Wayne Carmichael, Jackson Tung 2)
PENNANT TWO:
– Spanline 6 (Daniel Jansen, Anthony Fox 2, Seval Fuat 1) d Mallee Bearings 1 (Mathew Burns 1)
Nerves played a decisive role in the Pennant 2 preliminary final when Spanline ran out to a 5-0 lead against Mallee Bearings.
Spanline's Seval Fuat downed Sony Sefer in four sets, Daniel Jansen was far too strong in defence for bustling Arthur Paar, and Anthony Fox outlasted Matt Burns in five.
Jansen and Fox made it 4-0 with a four-set win over Paar and Sefer in the first doubles.
Sony Sefer matched it with Spanline's No 1 Daniel Jansen over five sets, and held match point five times in the last set, but failed to put his man away and ended up losing by the remarkable scoreline of 19-17 . Young Matt Burns eclipsed Fuat in straight sets to deny Spanline a clean sweep, but Fox dispatched Paar by the same margin to clinch victory for his side.
PENNANT THREE:
– Weightmans Packaging 6 (Jackson Murphy 3, Zubair Shahzad, Darren Greaves 1) d Fishers IGA 5 (Laurie Plummer, Leon Brown 2)
In Pennant 3, the match came down to 5-all, leaving rising junior stars Jackson Murphy (Weightman's Packaging) and Leon Brown (Fishers IGA) to decide which team would go into the final.
Leon Brown, the most improved player in the competition, sprinted to a two-set lead before the nerves set in; Murphy won the next three to put his side in the grand final.
PENNANT FOUR:
– Fishers IGA 6 (Damen Southgate, Leonie Dunkley 2, Gabriel McDonnell 1) d Bishop Builders 5 (Jeremy Corrin 3, Nikki Mayger 1)
The Pennant 4 final also went down to wire, before Leonie Dunkley (Fishers IGA) defeated Sam Hensgen (Bishop Builders). Sam Hensgen won three three singles for Bishops Builders.
We are getting to the business end of the season now !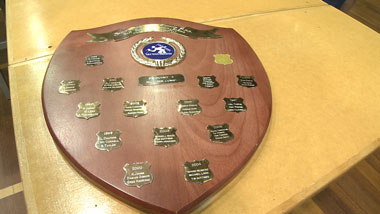 UNSUNG Ed Hung got Max Miller's Carpets over the line in a tense preliminary final of the Sunraysia Table Tennis Association's Winter Pennant Preliminary final last week.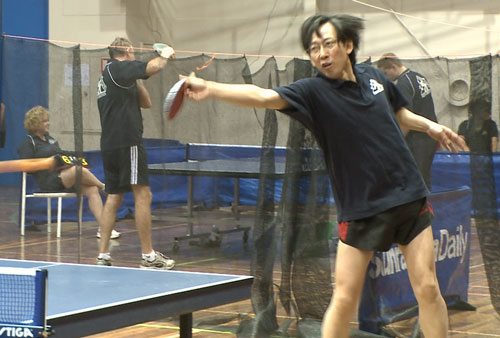 With the scoreline at 5-all, Hung's four-set victory over veteran Kevin Johns, hero of the previous week's elimination final, earned the Carpeters another crack at their semi-final conquerors, Pinnacle Packers in Wednesday's grand final.
MMC established a 2-0 lead when Jackson Tung accounted for Hung 11-7, 11-7, 11-5, and skipper Mark Dorman downed Kevin Johns in four sets, in a game marked by long defensive exchanges.
Johns unsettled Dorman, keeping him onto the defensive with his own patient defence, and waiting patiently to blast big forehands past his stronger opponent if he floated one high.
Dorman, who has been the form player of the finals, eventually won 11-6, 4-11, 11-5, 13-11.
MMC had a golden opportunity set up an overall win when Shannon Bowen split the first four sets with Mallee Bearings skipper Wayne Carmichael.
Bowen's unpredictable attack troubles the best players in the competition, and his speed and uncanny hand-eye coordination in deep defence allows him to return balls that few other players could lay a bat on.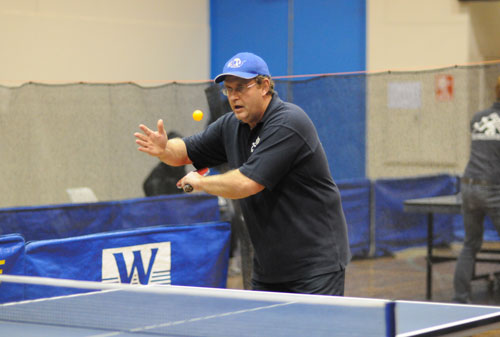 But three times on set ball, including in the final set, Bowen committed the fatal error of serving faults. Two consecutive faults at 9-all  gifted the win to Carmichael.
Dorman and Bowen drew  on all  their experience to secure four set win over Carmichael and Tung in the crucial first doubles, 8-11, 13-11, 13-11, 11-6.
Dorman had a comfortable win over Tung in the following singles, 11-7, 11-7, 11-4, and Carmichael duly evened the scoreline at 3-3  by downing Hung 11-4, 11-6, 11-5.
Shannon Bowen, who is uncomfortable against patient defence, had problems with Kevin Johns before winning 12-10, 11-9, 13-11, before Carmichael and Johns found some of the form that has eluded them in recent games to beat Dorman and Hung in the second doubles.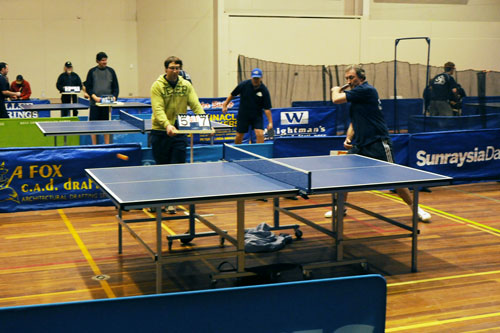 With the match score at 4-all, the clash of the No 1s putted the competitions best lefties against each other.
Dorman led 2-1  before Carmichael found top gear and allowed his opponent only two points in the fourth set. Dorman steadied to reach 11-all in the final set, and reached match point on an unreachable net cord.
Carmichael put the match ball into the net, giving Dorman a 7.11, 11-5, 11-8, 2-11, 13-11 win, and giving MMC a 5-4 lead. In the past two weeks, Dorman has beaten both Gavin and Wayne Carmichael with his consistent defence and counter-attack.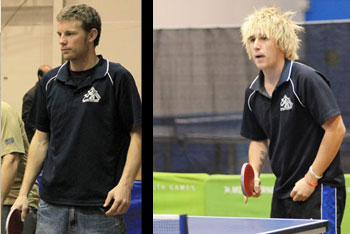 MMC looked likely to win 6-4 when Shannon Bowen took on Jackson Tung, and blitzed his less experienced opponent in the first two sets.
But Tung found profit in soft chopped defence, and deprived of the length and bounce he requires to attack, Bowen's game became hit and miss, and lost the next two sets 5-11, 9-11.
At 9-all in the final set, and on his own serve, Bowen missed a drive then faulted again on match point, to lose 11-9.
Suddenly, the Dream Team and minor premiers were in danger of not making the final,  with Johns needing to beat Ed Hung to book Mallee Bearings an unlikely berth in the grand final.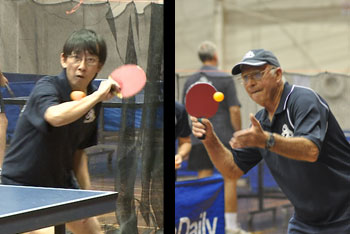 Both players are erratic in attack, but Johns is usually more reliable in defence. But rather than trying to outlast Hung in long defensive exchanges, he attacked, only to hit several big forehands off the table at critical points,  giving Hung the vital win, 9-11, 11-6, 13-11, 11-9.
Pennant  2 :
Preliminary Final
Spanline vs. Mallee Bearings
Spanline grabbed the ascendancy right from the first game in this contest and never let their opponents Mallee Bearings into the match going on to win strongly 6-1 in a tremendous workout for Wednesday nights grand finale.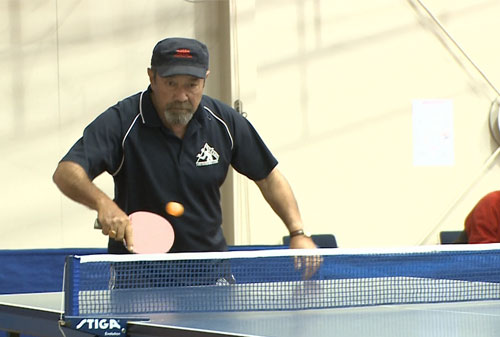 Seval Fuat started confidently against Sony Sefer and despite dropping the second game was always able to keep his nose in front with steady methodic play to win 11-9 8-11 11-8 11-9 to give his team the ideal start. The two skippers then met with Spanline's Daniel Jansen remaining calm and outpointing the experienced Arthur Paar 11-5 11-6 11-5. Spanline now 2-0.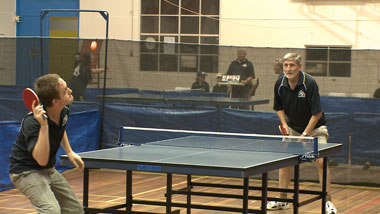 The next match featured Anthony Fox for Spanline up against the very steady Matt Burns and what a match this turned out to be. Fox started well to take a two nil lead. At this point Burns lifted knowing the preliminary final was slipping away at this early stage. Burns grabbed the next two games in an attempt to keep his team alive. The cunning Fox then played consistent table tennis to maintain an edge and grab the fifth narrowly 11-8 13-11 5-11 8-11 11-8.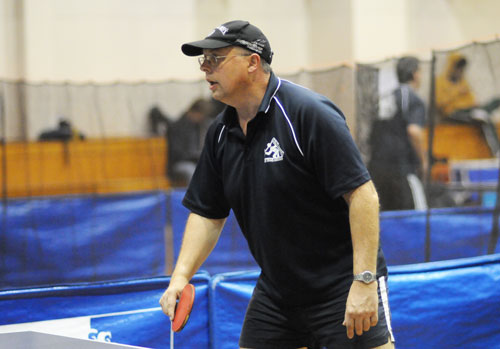 The feeling was that despite being down 0-3 if Mallee Bearings pair Paar and Sefer could grab the first doubles they would still be a chance to come back, however Spanline players Daniel Jansen and Anthony Fox despite dropping the first game easily, had other ideas and with plenty of confidence won in four sets 4-11 12-10 11-6 11-8. Mallee Bearings despite giving their all could not get into the match. Had the past few weeks of knowing they had to win each time they played to stay in the finals race taken its toll?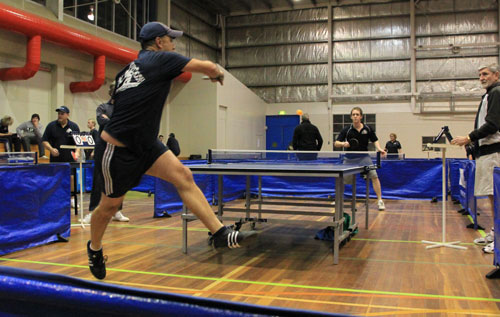 The next singles was the match of the night when Daniel Jansen showed that he is one of the most improved in this pennant when he survived an early deficit and then late match points to win in an exciting five setter 5-11 11-6 5-11 12-10 and an amazing 19-17. Sefer tried hard and had his chances as the final game went on and on however Jansen showed a maturity beyond his years and excellent leadership to take his team to a 5-0 lead.
Matt Burns then provided Mallee Bearings their only joy for the night when he played well to defeat Seval Fuat 11-8 11-7 11-9 to reduce the score line to a 5-1 lead by Spanline.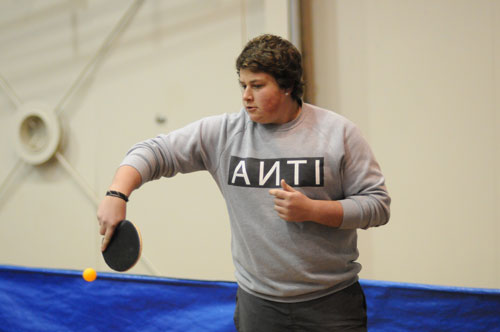 Anthony Fox then booked Spanline a spot in the 2011 grand final with an excellent 11-9 11-9 11-2 victory over Arthur Paar. Fox along with skipper Daniel Jansen had enjoyed a great match winning the two singles they played as well as the doubles they paired up in. Spanline had won 6-1 and will take a lot of confidence into their match against Fishers IGA in an attempt to reverse their loss from last weeks second semi final.
Pennant 3 :
Preliminary Final
Weightmans Packaging vs. Fishers IGA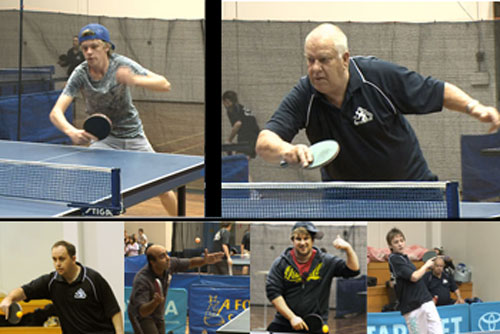 This was an outstanding match going right down to the wire with Weightmans Packaging grabbing control right at the last moment due to an outstanding come back by skipper Jackson Murphy in the final match of the night to enable his team to record a 6-5 win over the game Fishers IGA combination who were unlucky on the night.
The first three singles featured some excellent match ups with the two number one players up against each other in the very first match of the night. Laurie Plummer took the initiative early to win the first game against Jackson Murphy. Murphy then bounced back to take control and win the match 10-12 11-5 11-7 11-5. Murphy showed why he was the aggregate winner in this pennant by going on to win three singles in a decisive result for his team. In the next match Leon Brown put Fishers on the board when he defeated Darren Greaves in straight sets.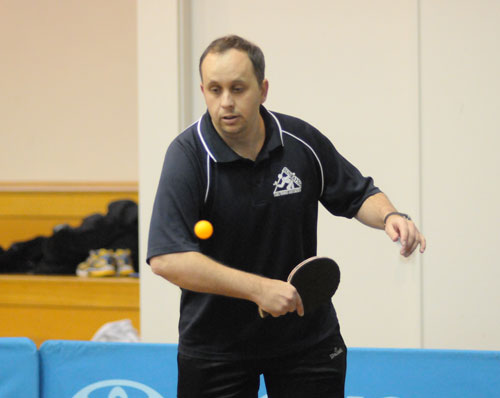 In a crucial result in the third singles Weightmans Zubair Shahzad won a tough match against Garry Hughes 11-6 11-9 11-9 to give Weightmans a 2-1 edge. The first doubles was a beauty and levelled the preliminary at two rubbers all when Laurie Plummer and Leon Brown for Fishers combined to defeat Jackson Murphy and Zubair Shahzad 11-6 9-11 2-11 11-6 11-6 a good comeback in a crucial game.
The next three singles went as anticipated when Fishers Laurie Plummer accounted for Darren Greaves, Weightmans Jackson Murphy defeated Garry Hughes in straight sets and then Leon Brown gave Fishers a 4-3 lead when he defeated Zubair Shahzad.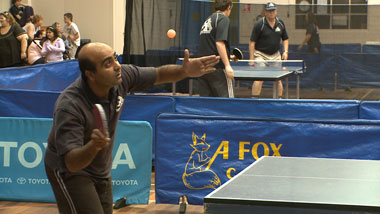 The next two matches featured some unbelievable table tennis and was tense all the way. Weightmans virtually booked their spot in the grand final as a result of these two matches. Firstly in the second doubles Weightmans Jackson Murphy and Darren Greaves fought back from an early deficit to win narrowly over Plummer and Hughes 5-11 11-7 7-11 11-8 12-10. A slip up here would have taken Fishers to a 5-3 lead with Laurie Plummer still to play a singles. A slip up would have been curtains for Weightmans as it would have been in the next game as well.
The first of the last round of singles was an amazing match with Weightmans Darren Greaves knowing he needed victory against Garry Hughes. Greaves could not have had a worse start and dropped the first two games as the determined Hughes played well. In a tense third game Greaves survived narrowly and then took the fourth comfortably. The fifth was nerve wracking for both teams and what a finish it proved to be with Greaves keeping his team alive by winning 8-11 4-11 15-13 11-5 18-16 in a match where both players had won 56 points each:- a marathon!!!!!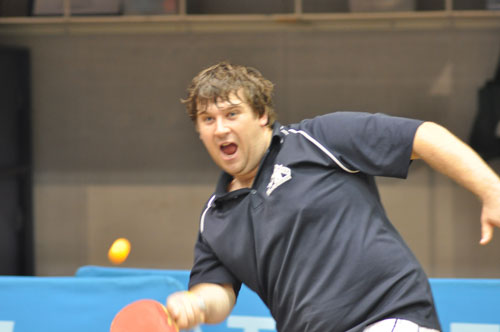 Fishers skipper Plummer then as expected accounted for Zubair Shahzad in straight sets to level the match at five rubbers all. The last singles featured Weightmans skipper Jackson Murphy up against the improving Leon Brown and what a match this was with Brown out of the blocks early to take a two game lead. This match was a beauty with some fantastic forehand rallies where both players unleashed some fine shots. Murphy regrouped at two games down and then proceeded to work his way into the match and despite a close fourth he was able to shift the momentum and in a great comeback win 11-13 5-11 11-6 11-9 11-3 against a game Leon Brown. His was a great effort to almost get his team over the line.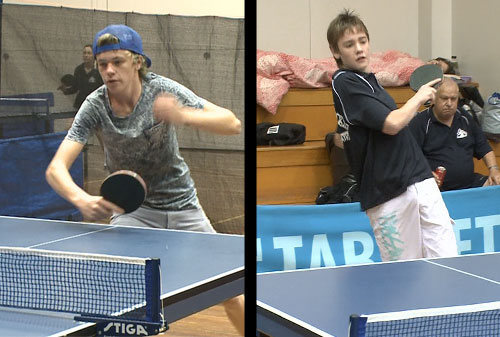 Weightman had finished the match strongly winning three of the last four rubbers, unluckily for Fishers these three were all in five with two decided by the narrowest of margins. Weightmans now have the chance to have another crack at Mallee Bearings who they lost to 3-6 in the second semi final.
Pennant 4 :
Preliminary Final
Fishers IGA vs. Bishop Builders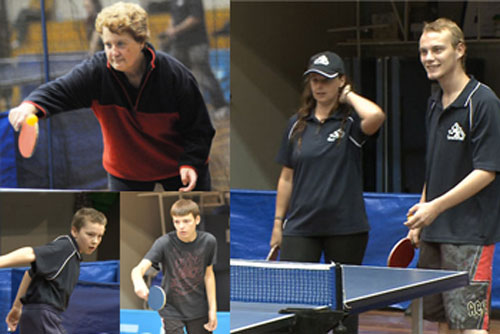 After being ladder leaders all season Fishers IGA managed to claw their way into the 2011 Grand Final with a 6-5 win over the hardworking Bishop Builders who at one stage led 4-1 before Fishers managed to reel them in in a great fight back victory. For Fishers both Damen Southgate and Leonie Dunkley played well to win two singles each while Jeremy Corrin did all he could for the Builders winning three singles and the doubles he played in.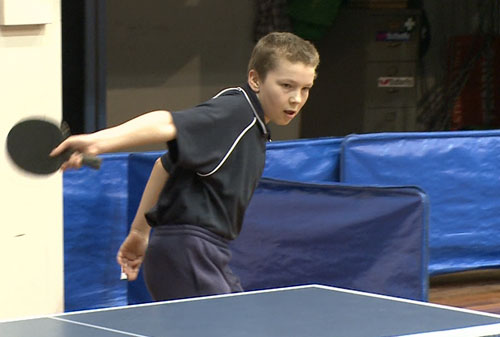 Corrin defeated Southgate in the first singles after the first doubles to take Bishop Builders to a 4-1 lead and then amazingly the top team stirred into action to win the next four rubbers to take a 5-4 lead. Two of these four wins in succession were in five sets and decided by the narrowest of margins which indicates how the result could have been reversed so easily. In a tremendous struggle the first of these featured a win by Gabriel McDonnell 16-14 13-11 4-11 11-13 11-9 in a real struggle against Sam Hensgen who earlier had played great table tennis to just go down against Damen Southgate in another five setter. Hensgen has improved greatly in his first year of table tennis.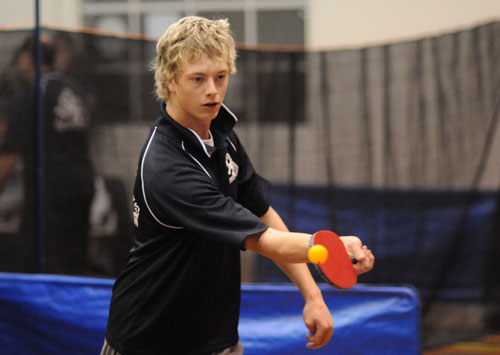 In the first singles after the second doubles Damen Southgate for Fishers won another crucial five setter against Bishops skipper Nikki Mayger 9-11 11-6 8-11 11-9 11-9 in a tremendous arm wrestle. With the score at five rubbers all first year player Leonie Dunkley fought off the determined Sam Hensgen in a tough four setter to give Fishers a narrow 6-5 victory and an opportunity to play Max Miller Carpets in the grand final this week in what will be another close one.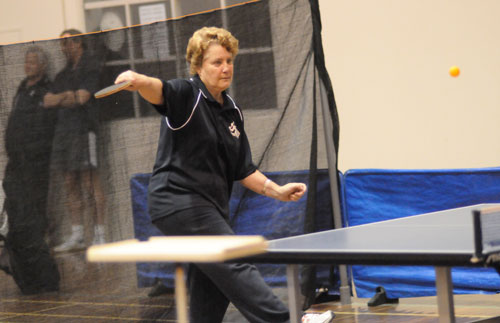 Bishop Builders had been game in defeat and early looked the goods. Overall there were five five setters in this match with Fishers successful in three of them.
GRAND FINAL DRAW
Pennant 1:
Grand Final
Pinnacle Packers v Max Miller Carpets
Pennant  2 :
Grand Final
Fishers IGA v Spanline
Pennant 3 :
Grand Final
Mallee Bearings v Weightmans
Pennant 4 :
Grand Final
Max Miller Carpets v Fishers IGA