Read Time:
4 Minute, 22 Second
We are getting to the business end of the season now !
 This week's draw for the Preliminary finals is below.
It would be fantastic for those players not participating to come along and create a great atmosphere for these knockout finals.
Let's give the players a rest from umpiring and volunteer to do a few games to enable them to concentrate on their table tennis !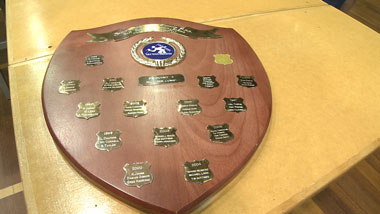 The Sunraysia Table Tennis Association go into Preliminary Finals this week . We look at the match ups !
Pennant 1:
Max Miller Carpets  vs.  Mallee Bearings
This will be a top clash with the singles aggregate winner Wayne Carmichael (Mallee Bearings) and the aggregate runner up Mark Dorman ( Max Miller Carpets) leading their respective teams from the front.
The Carpeters will start favourites courtesy of finishing first on the ladder however Mallee Bearings will be very competitive and have turned their season around since going down badly 2-9 against the Carpeters way back in round one. Head to head over the season Max Miller Carpets lead 2-1. In round six the Carpeters again proved too good winning 7-4 however in round 11 Mallee Bearings were on fire going on to win 8-3.
The doubles will be crucial in the result and the number one pairing on each team Dorman and Bowen for the Carpeters have combined well as have Carmichael and Tung for Mallee Bearings.
Don't be surprised to see this match go to five rubbers all with an exciting finish to take place!!
Mark Dorman                 Wayne Carmichael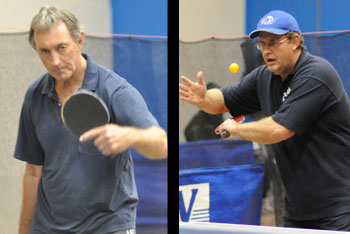 Shannon Bowen               Jackson Tung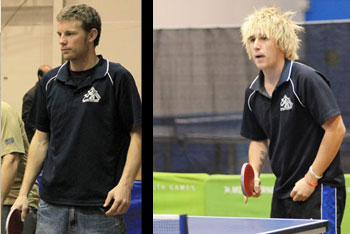 Ed Hung                           Kevin Johns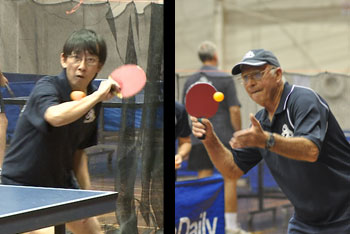 Pennant  2 :
Spanline       vs.                 Mallee Bearings
Daniel Jansen                       Arthur Paar
Seval Fuat                             Sony Sefer
Anthony Fox                          Matt Burns
Mallee Bearings virtually began their finals campaign three weeks ago as any slip up would have seen them out of the race. They started brilliantly last week in the first semi final and will be looking to do the same in this knockout final. These two teams are evenly matched and only four points separated them at the end of the home and away games.
Spanline skipper Daniel Jansen will play a key role in this match as he finished well up in the singles aggregate however he did go down to opposing skipper Arthur Paar in five sets in the Super 8's last week. Collectively Jansen and his team mates finished slightly ahead in singles victories however the Mallee Bearings trio of Arthur Paar, Sony Sefer and Matt Burns hold the edge in the doubles. Their record in this important aspect of the game is very good and this could be where the match is won and lost.
Head to head over the season Spanline lead 2-1 with all matches decided by the barest margin.
Round 1
Spanline 6 d Mallee Bearings 5
Round 6
Spanline 6 d Mallee Bearings 5
Round 11
Mallee Bearings 6 d Spanline 5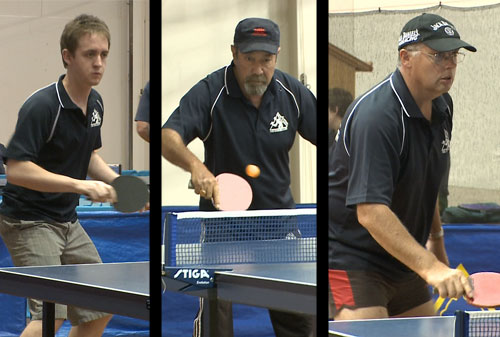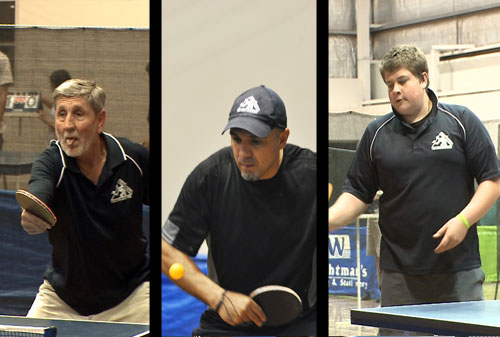 Pennant 3 :

Weightmans Packaging   vs.     Fishers IGA
Jackson Murphy                        Laurie Plummer
Darren Greaves                         Garry Hughes
Zubair Shahzad                           Leon Brown
Expect another close tussle in this pennant. There are excellent match ups right through. Look for the singles contest between aggregate winner Jackson Murphy against the experienced runner up Laurie Plummer. The singles between the greatly improved Leon Brown and the reliable Darren Greaves will be a beauty and of course Zubair Shahzad will have his hands full up against the unpredictable Gary Hughes. What surprises will Hughes have up his sleeve or down his pants!!!
Weightmans will start as favourites given they finished two games clear of their opponents at the end of the home and away season but again expect another close result as head to head over the season Fishers IGA actually lead 2-1.
Round 5
Weightmans Packaging 8 d Fishers IGA 3
Round 10
Fishers IGA 6 d Weightmans Packaging 5
Round 15
Fishers IGA 9 d Weightmans Packaging 2
(Jackson Murphy was unavailable in this match)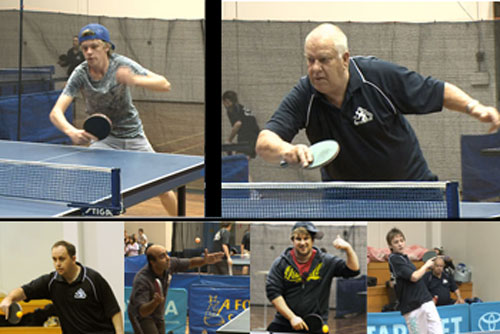 Pennant 4 :

Fishers IGA         vs.        Bishop Builders
Damen Southgate             Nikki Mayger       
Leonie Dunkley                 Jeremy Corrin
Gabriel McDonnell            Sam Hensgen
Bishop Builders will go into this match with confidence after winning only their fifth match of the season in the first semi final. Jeremy Corrin was a real star for the Builders showing his best form for the season in a knockout final. He was given great support by Sam Hensgen who won two singles while skipper Nikki Mayger won one match. Both Corrin and Hensgen are improving each week and this match could now be a lot close with Fishers skipper Brian Hosking unavailable.
Hosking's replacement Damen Southgate played well last week winning two singles and just missing a third and he will be all the better with this hit under his belt. All match ups will be interesting in this contest and it could come down to Gabriel McDonnell in his match up against Sam Hensgen. Fishers Leonie Dunkley and Jeremy Corrin will also have key roles to play for their respective teams in both singles and doubles.
Head to head over the season Fishers IGA hold a commanding 5-0 lead however given team changes and player improvement this will not be an easy match for Fishers.