Read Time:
3 Minute, 28 Second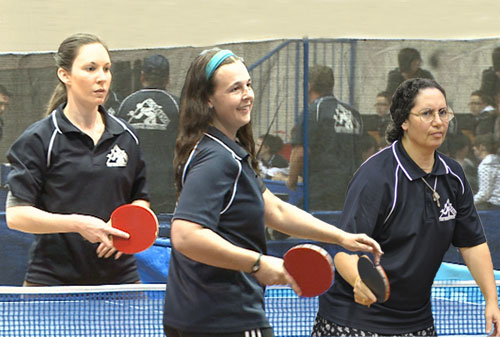 PENNANT 4 – 2011
Four rounds gone and we have an opportunity to have a look at the Pennant Four teams and their chances for 2011. Again this season there are four teams in this pennant and Denise Henderson is very impressed as there are six females taking part of the twelve players in this pennant. In fact three of the four number one players are of the fairer sex.
Eight of the twelve players participating are new to table tennis this season and are showing great improvement each week which all goes well for a good competitive season.
One thing we know for sure is that every team in this pennant will play finals table tennis.
Already FISHERS IGA are the hot favourites for the flag as they are in first place on the ladder two games clear however with eleven rounds to play there is plenty of time for their opponents to dissect Fishers game plan. A week is a long time in table tennis and Brian Hosking, Gabriel McDonnell and Leonie Dunkley know the other teams will be working hard to catch them. Brian Hosking has made a very successful return to table tennis after a six season break and to date is undefeated in singles. Brian has the ability to keep the ball in play and waits for his opponent to make the mistakes. Young Gabriel McDonnell is the number two ranked player and is consistently picking up a win each night to support his skipper Brian. Gabriel is showing improvement from last year and only will get better as the season goes on. New player Leonie Dunkley has started extremely well and looks like a real natural at the game and these three players have already proved to be a formidable combination.
Second placed BISHOP BUILDERS are probably the hardest trainers in the competition with skipper Nikki Mayger and Jeremy Corrin regulars on a Monday night working hard to improve their games. Since commencing table tennis only a short time ago Nikki has shown tremendous improvement and she is one of three players leading the singles aggregate currently. Team mate Jeremy Corrin is only playing his second season of competition table tennis and he too has shown dramatic improvement which would be attributed to the time he spends practicing on a Monday night. The Builders number three Sam Hensgen playing his first season has proven to be consistent and looks to be on the improve and has shown real enthusiasm toward the game. The question is can the Builders construct a match plan that will bring Fishers down, time will tell!!!
MALLEE BEARINGS are well led by Karly Leach and while off to a slow start this team have the ability to shape the four. Karly is an experienced campaigner and will prove to be a good leader for both Mick Bacon and Kerryn Symons who are both in their first season. Mick has proven to be a consistent player already and Kerryn has been also practising hard on a Monday night. Karly is capable of winning three singles on any night and if she is able to do this regularly it won't be long before her team brings up a victory.
MAX MILLER CARPETS will be thereabouts on August 10th (Grand final night) given they have the most experienced player in this pennant in their team. Yes Sabrina Fitzpatrick will play her 50th winter pennant match during this season and she brings a very steady game to the table. She currently shares the lead in the singles aggregate and is a proven performer in finals. She will rally her troops and have her team firing at the business end of the season. Her number two player Andrew Lewis is also a new starter this year and he has been on fire picking up three wins in round three. He is also working hard on Monday nights and particular developing a good variation of serves. Number three Teniel Lang is playing her first season of competition table tennis and has a good teacher in Sabrina. This team will gel well and expect good things late in the season.