Read Time:
4 Minute, 18 Second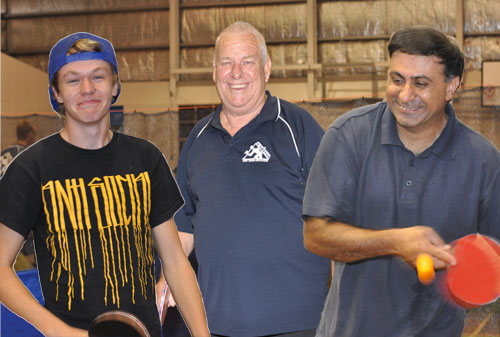 PENNANT 3 – 2011
 There are five competitive teams in pennant three this season and our lovely Denise has been checking the form of each player and she has also been busy on her lap top typing up her thoughts on each team and how they will fare in 2011. She is a busy girl as not only is she collecting your money each week she has to make sure the drinks are cold and the chocolates are plentiful. Luckily she has Bob!!!!!!!!  
"Denise's wise thoughts"
 In my view FISHERS IGA would start as a favourite to finish in the top four purely because of their number one player Laurie Plummer who moulded a premiership team together this time last year. He has the experience and knowledge and will help his young team mates Garry Hughes and Leon Brown as the season goes on. Laurie is an excellent teacher just like my favourite coach Mick Malthouse. Sorry Bucks just bide your time.
Of course Laurie also won the singles aggregate last year. Garry Hughes is on the improve each time he plays and his sneaky chop and humorous antics can at times be too much for his opponents. Leon Brown is playing his first full winter pennant and since he arrived on the scene late last year he has improved dramatically and is developing quite a good variety of serves. He is at training each Monday and only will improve further as the season goes on.
Jackson Murphy had a big year last year showing excellent form and his teamWEIGHTMANS PACKAGING will, in my view, definitely feature when it comes to finals time. Murphy has a good all round game in particular a strong forehand which can overwhelm his opponents. If he can maintain this form and improve further this season he will have a big influence on the shape of the four. His team mates Darren Greaves and Zubair Shahzad are consistent players who will always give one hundred percent. Greaves enjoyed a very good 2010 claiming many top scalps and his consistency is a feature along with the excellent angle he puts on both forehand and backhand shots. Shahzad plays a steady game keeping the ball in play and forcing his opponents into mistakes. This is a good balanced team and expect to see Murphy and Greaves combine well in the doubles which is a really important feature of our game.
MAX MILLER CARPETS on paper look to me to be a good combination. Led by Tom Murphy who was unlucky to miss out on selection in Pennant two I feel this team will be thereabouts when it comes to finals time. Murphy finished top five in last years aggregate and he well be looking to be right up there again in 2011. Number two player Karina Sullivan will offer good support as she continues to improve each season. She is enthusiastic and will be flying the flag for female table tennis players being the only female in this pennant. Peter Kelly is a strong number three and he rounds off a good balanced team, who have a tough draw early along with a bye, but should feature in the finals just like my beloved Pies.
My tip is that Tahir Khurshid will have a big year and his team MALLEE BEARINGS has an excellent opportunity to feature on August 10th. Khurshid is an excellent player and is capable of beating anyone in this pennant when he is playing at the top of his game. He is fortunate to have the backing of the reliable Peter Fitzpatrick and the fast improving Alex Keegan. Fitzpatrick has a very consistent game keeping the ball in play at every opportunity. He does not have the killer shots but wears his opponent down. He will team well with Khurshid in the doubles. Young Alex Keegan has earned his promotion from pennant four with some fantastic grading nights form. He has improved dramatically since his debut last year. If this team play to their potential and are available consistently each week they will be difficult to stop.
PINNACLE PACKERS, led by another exciting youngster Henry Hornsby, will also be a force to be reckoned with. Henry is an excellent tennis player and has adapted quite easily to table tennis. He possesses a good all round game and is quite happy on both sides of the body. He has two very experienced team mates in Steve Pongrac and Colin Moore who won't let him down when the pressure is on. Pongrac is a proven finals campaigner while Moore plays a very consistent game. The Packers will be tough opponents to all their opposition during 2011.
Denise has looked into her magic ball and come up with the following for 2011
Premiers: Mallee Bearings
Runners Up: Pinnacle Packers
Singles Aggregate: Jackson Murphy
Number two aggregate: Karina Sullivan (Go Girl)
Number three aggregate: Alex Keegan
Most Improved: Alex Keegan
Other Tips: Gary Hughes will play many many five setters and the Pies for the flag again
Thanks Denise for taking the time out of your busy schedule to put your thought together on 2011 (Editor)