Read Time:
1 Minute, 49 Second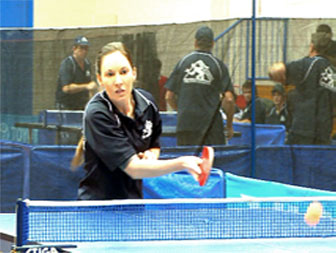 It has been an eventful summer for the Sunraysia district. Two major rain events had left the Irymple Leisure Centre ( Home of the STTA ) looking more like a lake than an arena.
Febuary 4th will stay etched in the memories of all with the heavens opening up on friday afternoon and dropping 5.5 inches of rain in little over two hours. The subsequent 2 weeks of slow draining waters forced the arena to be closed to all members of the public including Monday night training sessions for STTA members. The last 2 weeks has seen a shift in momentum and now round one draws closer.
Players in all divisions have attended the grading sessions in greater numbers each week and once again we look to have tight competion in the top end of each pennant.
Pennant 1 will see the quickly improving Dylan Chambers challenging a cagey warrior and STTA superchampion in Wayne Carmichael for the title. The next three or so challengers are fairly handy as well with Gavin Carmichael, Mark Dorman and Andrew Cannard all in a tight cluster at the top.
Pennant 2 claims two super consistent performers in Denise Henderson and Lee Thomas again vying for top honors. Throw in Arthur Parr, Graeme ONeill and this aggregate may not be decided until late in the season.
Pennant 3 will showcase the McDonnell brothers. Both Samuel and Abraham dominated the summer comp. and one senses that young Abraham may have a few surprises for his senior. Both are fierce competitors and consistensy will determinethe the Aggregate. It may even come down to their head to heads to decide it.
Pennant 4 usually dominated by the Fitzpatrick crew will only have Sabrina in competition with the kids heavilly commited in studies. Nikki Mayger may be ready for her breakout season after some improved form in the preseason. This pennant usually unearths a couple of surprises so expect a smokey or two to be vying for honors as well.
The dust has been wiped off the gear, the stadium floors polished, lighting and equipment improved and 70 hungry table tennis nuts ready to do battle.
Let the 2011 games begin !