Read Time:
12 Minute, 6 Second
Sunraysia Table Tennis Winter Pennant results round 13: –
PENNANT ONE:
– Max Miller Carpets 6 (Mark Dorman 3, Shannon Bowen 2) D Weightmans Packaging 5 (Joel Dorman 2, Stuart Kilmister, Graeme O'Neill 1)
-Mallee Bearings 7 (Wayne Carmichael 3, Jackson Tung, Kevin Johns 1) d Fishers IGA 4 (Gavin Carmichael 2, Gavin Minter, Shane Carmichael 1)
PENNANT TWO: – Spanline 9 (Daniel Jansen 3, Anthony Fox, Seval Fuat 2) d Tankard Dental 2 (Damien Ford, Andrew Jones 1)
-Pinnacle Packers 6 (Peter Midgley 3, Arnold Jago 2, David Balshaw 1) d Fishers IGA 5 (Lee Thomas 2, Robert Chiswell 1)
– Max Miller Carpets 6 (Sam Foreman 3, Ashley Morrison 2) d Mallee Bearings Arthur Paar 2, Mathew Burns, Sony Sefer 1)
PENNANT THREE: –
-Weightmans Packaging 8 (Jackson Murphy 3, Darren Greaves 2, Zubair Shahzad 1) d Max Miller Carpets 3 (Tom Murphy 2, Damen Southgate 1)
-Mallee Bearings 7 (Colin Moore, Tahir Khurshid 2, Peter Fitzpatrick 1) d Fishers IGA 4 (Laurie Plummer 3, Leon Brown 1)
PENNANT FOUR: –
-Fishers IGA 6 (Brian Hosking 3, Gabriel McDonnell, Leonie Dunkley 1) d Max Miller Carpets 5 (Sabrina Fitzpatrick, Andrew Lewis 2)
-Bishop Builders 6 (Jeremy Corrin 2, Nikki Mayger, Sam Hensgen 1) d Mallee Bearings 5 (Karly Leach 3, Mick Bacon 2)
MALLEE BURGER PLAYERS OF THE ROUND
PENNANT ONE: Mark Dorman
PENNANT TWO:  Ashley Morrison
PENNANT THREE: Jackson Murphy
PENNANT FOUR: Jeremy Corrin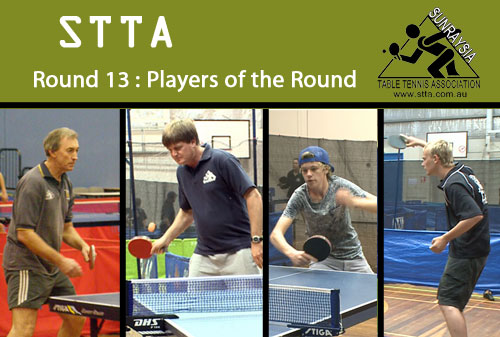 PENNANT ONE
Max Miller Carpets v Weightmans Packaging
After losing four matches in succession Max Miller Carpets returned to the winners circle in round thirteen action of Sunraysia Table Tennis. After dominating early in the season and remaining undefeated for the first five rounds the Carpeters looked like they would sweep everything before them; however their season was slowed by a month of defeats.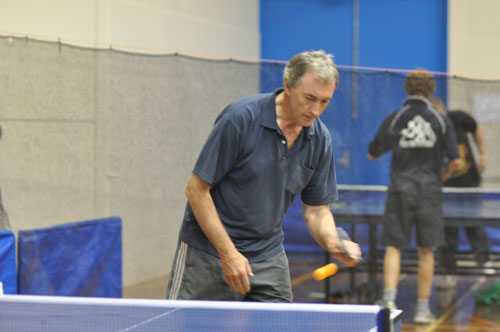 Carpeters skipper Mark Dorman came to the fore this round to win three singles and get his team back on track. Early the Carpeters led Weightmans Packaging 5-1 and eventually took the match 6-5 as Weightmans won two late rubbers to make the score more respectable. Dorman's team mate Shannon Bowen also stood up winning two singles while together they combined in the first doubles to defeat Joel Dorman and fill in Stuart Kilmister in four sets 11-7 7-11 11-7 11-6.
With his side up 5-3 Dorman finished the contest with a tough four set win over Kilmister who tried hard. The final score line in Dorman's favour 9-11 11-8 11-8 11-9. This victory will take Max Miller Carpets to second on the ladder albeit by percentage and will allow them to open up a two game break on their opponents Weightmans. For Weightmans Joel Dorman continued his consistent form to win two singles.
Fishers IGA v Mallee Bearings
With Dillon Chambers out of the Fishers IGA team they were always struggling against Mallee Bearings and with a 7-4 win Mallee Bearings have moved a game clear at the head of a congested ladder with two rounds to play. Wayne Carmichael was again a dominant force in his team's success by winning three singles and participating in both doubles victories. With two rounds to play Carmichael is six wins clear in the singles aggregate. Amazingly when the season concludes this will be his twenty first singles aggregate success in the past twenty four winter pennants, an outstanding record!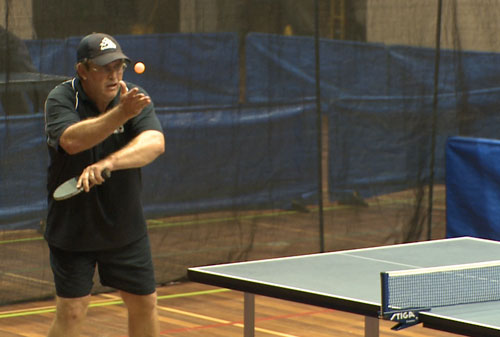 Carmichael's team mate Jackson Tung recorded an important win in the first singles of the night against Shane Carmichael. These two have had many close tussles of late and this was no exception with Tung taking a narrow victory in five good sets 11-7 6-11 11-6 7-11 11-9. With his team up 4-2 Mallee Bearings number three Kevin Johns won another important five setter over Gavin Minter 11-9 12-14 11-3 6-11 11-5. Later in the match Minter downed Tung in yet another five set slog 9-11 12-10 2-11 11-4 11-9. Shane Carmichael then defeated Kevin Johns in straight sets to make the score more presentable for Fishers however it was their lack of success in the doubles and the loss of Chambers which turned out to be their Achilles heel. Despite losing, Fishers who are in last place mathematically can still grab a spot in the four with two rounds to play.
PENNANT TWO
Two 6-5 results were not a surprise in this close pennant however second last defeated second 9-2 not a surprise result but maybe the margin??
The end result in all the matches was that each home team were victorious.
Pinnacle Packers vs. Fishers IGA
This was a great contest all the way and at five all could have gone either way. Pinnacle Packers held on to win 6-5 against Fishers IGA which was the first defeat inflicted on Fishers in the past seven rounds. Victory came for the Packers despite not winning a doubles.
Skipper Peter Midgley led the way for the Packers with three singles victories for the eighth time this season and in doing so he has moved two wins clear of Damien Ford in the singles aggregate race with two rounds to go. Interestingly they will play each other in round fifteen. Could it come down to this match to decide the winner? Time will tell!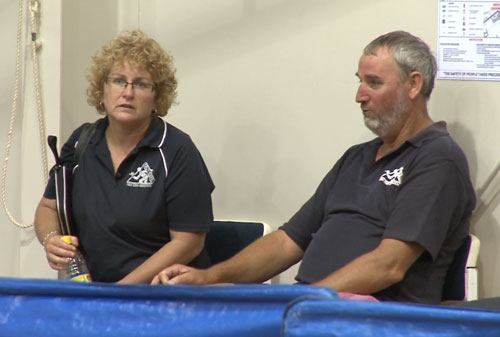 Midgley's team mate's Arnold Jago and David Balshaw won two and one singles respectively. At five rubbers all Jago scored a really important victory against fill in Jackson Murphy who was up from pennant three. Murphy is leading the singles aggregate in pennant three and got his chance when Fishers Nick Barlow was unavailable. Murphy raced to a two games to love lead against Jago and the Packers chances were slipping away. Jago narrowly grabbed the third 13-11 and in a real arm wrestle was able to draw on all his experience to take the points and the match 8-11 7-11 13-11 11-9 12-10 in what was a thrilling finish to a top contest. Murphy showed that he could be ready to make a permanent move to pennant two.
This was an important win for the Packers as going into this match they were one of three teams with a 6-6 win loss ratio.
Max Miller Carpets vs. Mallee Bearings   
The Carpeters are on fire and recorded their second successive win this time at the expense of Mallee Bearings 6-5. After going eleven rounds without a win there is some excitement in their camp. Again this match could have gone either way with five five setters a feature.
Sam Foreman and Ashley Morrison were the key contributors to the victory with three and two singles respectively. In the very first match of the night Mallee Bearings' Arthur Paar outlasted Morrison in an entertaining five setter. Foreman then levelled the match when he took the points against Sony Sefer as they fought out an excellent five setter of their own. Foreman had control early however Sefer fought back brilliantly before Foreman won narrowly 11-5 12-10 5-11 8-11 11-9.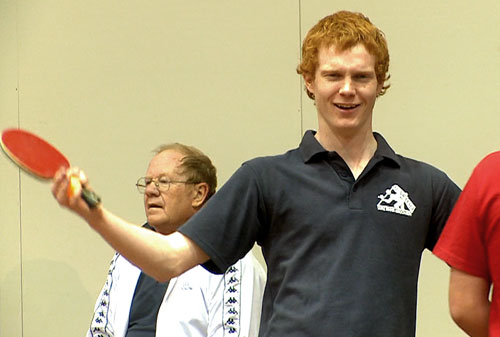 Not only did they do well in the singles Foreman and Morrison combined in the important first doubles to defeat Arthur Paar and Sony Sefer in another five set thriller 13-11 9-11 14-16 11-8 12-10 another amazing nail biter. In the next match and in the fourth five setter in the first five matches Foreman then outlasted Arthur Paar 11-7 11-7 7-11 11-13 11-7 and a brilliant contest was developing.
The second doubles saw Paar and Matt Burns level the match at four rubbers all when they defeated Foreman and Abraham McDonnell in straight sets. In the next two singles, results went as expected when Sam Foreman proved too good for Matt Burns and Arthur Paar defeated Abraham O'Donnell to again level the match at five rubbers all.
At five all Ashley Morrison took on Sony Sefer to decide the match. Head to head in their two previous encounters each had enjoyed a five set victory each. Again it was a tough lengthy encounter and in the end Morison took the match in four close sets 11-9 11-13 11-9 13-11 to bring his team their second victory and leave Mallee Bearings one win out of the four with two rounds to play.
What an intriguing finish is looming to an even season.
Spanline vs. Tankard Dental
This may be the match that kick starts Spanline's campaign to make the finals. In a comprehensive statement they proved far too good for second placed Tankard Dental 9-2 in an outstanding team effort. Skipper Jansen led the way winning three singles including an impressive five set victory over Damien Ford. Jansen capped off an outstanding night by taking part in both doubles victories.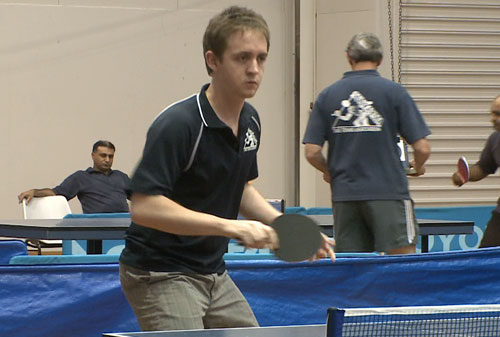 Team mates Anthony Fox and Seval Fuat backed up their skipper by winning two singles each in a dominant display. Fox was only a couple of points away from three singles victories as he narrowly went down to Andrew Jones 10-12 in the exciting fifth. With this victory Spanline have grabbed a spot in the four one win clear of Mallee Bearings however they will have their hands full next round as they are scheduled to meet the in form Carpeters. Victory could book them a spot in the finals.
PENNANT THREE
Results in this pennant saw first defeat fourth and second defeat fifth while third placed Pinnacle Packers had the bye. Only one win separates fourth and fifth with two rounds to play
Mallee Bearings vs. Fishers IGA
In an even team performance with Tahir Khurshid and fill in Colin Moore winning two singles each and Peter Fitzpatrick one, Mallee Bearings retained top position on the ladder with a solid 7-4 victory over Fishers IGA. Laurie Plummer continued his good form for Fishers winning three singles but again his side were unable to break through in the doubles and this was crucial in their quest for victory.
Fishers actually led 2-1 after the first round of singles however from that point it became a struggle as Mallee Bearings gained momentum to win six of the next seven rubbers. Fourth placed Fishers play fifth placed Max Miller Carpets this week in what will be a big match. Victory to Fishers will ensure they hold fourth spot going into the finals.
Weightmans Packaging vs. Max Miller Carpets
With an 8-3 victory over Max Miller Carpets, Weightmans Packaging has moved one game clear of Pinnacle Packers who had the bye this round however Weightmans have the bye themselves next round.
Weightmans skipper Jackson Murphy controlled this match by winning his three singles and then combining with team mates Darren Greaves and Zubair Shahzad to win both doubles as well.
For the Carpeters Tom Murphy tried hard to win two singles however his team was always going to be in trouble with both his regulars out. Fill in Damen Southgate played well in his first match coming back from two games to love down to defeat Zubair Shahzad 4-11 8-11 11-7 11-9 12-10 in a thriller. Later Shahzad had a five set win of his own against the busy Gary Hughes who was doubling up. Shahzad won 11-7 11-4 6-11 6-11 12-10 in another close one.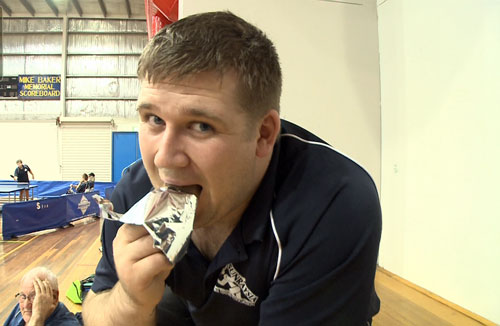 Darren Greaves did well to win two singles and was not far away from three going down to Tom Murphy in another five set marathon 5-11 11-7 12-10 9-11 10-12 a great tussle which could have gone either way.
PENNANT FOUR
Two close results were a highlight this round both going to five all as team one played team two and third place played fourth.
Fishers IGA vs. Max Miller Carpets
Ladder leaders Fishers IGA again found a way to keep their opponents at bay to win 6-5 over Max Miller Carpets. The Carpeters were all over Fishers early and an upset was brewing at 4-2 however the ladder leaders were able to steady as they have managed to do all season and bravely fought back to grab the points.
For Fishers Brian Hosking was his reliable self winning three singles while team mates Leonie Dunkley and Gabriel McDonnell won one each. The first doubles was a great contest with Hosking and Dunkley combining to combat Sabrina Fitzpatrick and Andrew Lewis. This was a tremendous contest with Hosking and Dunkley tasking control early and winning the first two games before their opponents took control. The Fitzpatrick/Lewis combination was impressive in their 3-11 7-11 11-6 11-6 11-9 come from behind victory.
Apart from their doubles victory both Sabrina and Andrew tried hard to bring their team victory by winning two singles each but they were unable to crack hard nut Hosking when it counted.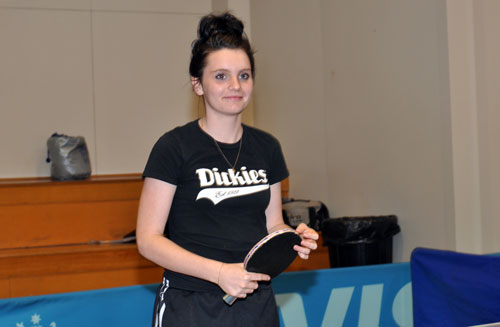 Bishop Builders vs. Mallee Bearings
Success in both doubles was the key in third placed Bishop Builders taking the points 6-5 over fourth placed Mallee Bearings in what was an entertaining contest and an indication of the closeness of the pennant. Despite Karly Leach playing well to win three singles and Mick Bacon two it was their inability to win a doubles which enabled the Builders to grab victory.
Sam Hensgen for the Builders showed again that his Monday night training is helping his game by pushing Mick Bacon to five sets before going down 11-9 9-11 7-11 11-8 5-11. Later Sam defeated Kerryn Symons when the scores were locked at five rubbers all. This was another five set struggle with Sam prevailing 11-7 9-11 11-2 10-12 11-4 to decide the night. Team mate Jeremy Corrin also had a good night winning two singles, he defeated Mick Bacon 11-9 11-9 11-3 to level the match at five rubbers all.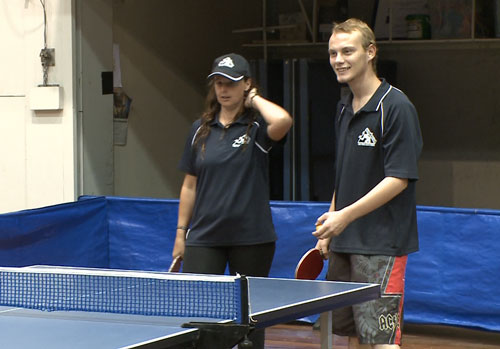 Earlier Corrin combined with skipper Nikki Mayger in the first doubles to defeat tough combination Karly Leach and Mick Bacon 11-7 8-11 13-11 11-5. Apart from her one singles victory which was important, it was the role of Mayger in both doubles which proved vital in her team's success.