Read Time:
8 Minute, 55 Second
Gavin Carmichael's Wrap :
The Sunraysia Table Tennis Association successfully competed at the 60th Victorian Country Championships held at the Melbourne Sports and Aquatic Centre last weekend with two teams coming home with shields.
 In the B1 Riversdale Shield grade Joel Thomas, Wayne Carmichael and thirteen year old Dillon Chambers were undefeated defeating Ballarat on Monday morning 7-4 to claim the title. This is the second highest grade at the Championships and the standard of play excellent. Joel Thomas was the aggregate winner only being defeated once in twelve matches. Wayne Carmichael finished with a 9-3 singles record while Dillon Chambers won six from twelve singles in his debut in this grade. In the final all players won two singles each in a fantastic team effort.  Along with Wayne Carmichael, Thomas was undefeated in their doubles matches.
In the E2 grade Sony Sefer, David Balshaw and Matt Burns were also undefeated bringing home the Bill Hawley Shield. Skipper Sony Sefer tied for the singles aggregate in this grade.
Leon Brown was the singles aggregate winner in the E5 grade winning 14 out of fifteen matches.
In total there were sixteen associations from country Victoria taking part spread over 97 teams (almost 300 players)
Mark Dorman's Wrap :
Well another country week under the belt for Sunraysia. This time sending 7 teams away and coming home with two shields. Some would say after winning 4 shields the previous year that this was dissappointing on face value but i can assure anyone thinking that the performance of the teams was nothing short of sensational.
The effort required by a player from Mildura just to commit to the three days is in itself a huge committment. Taking the day off travelling on the bus staying with people you do not normally mix with and playing three days of solid table tennis is testament to the committment they have made.
What an effort by Wayne Carri Joel Thomas and Dillon Chambers to win the B1 shield. This is the Riversdale shield which we won 50 years ago and then in 2007 showing how hard it is to win it. Congratulations to Joel in winning the aggregate for this grade. An unbelievable effort considering his lack of match play prior.
Sony Sefer David Balshaw and Matt Burns also won the Bill Hawley Shield in E2 not dropping a match.To maintain that level of play over the three days is the ultimate test and the lads did that. Obviously led by Sony who also won the aggregate for this grade. This will give these boys a lot of confidence to carry into the local competition.
Well done to the three of them. Gavin Mark and Andrew came runners up in B3 whilst Lee, Jackson Tung and Arthur Karina, Jackson Murphy and Garry Hughes Robert Chiswell, Daniel Jansen and Nick Barlow and Leon Brown, Nikki Mayger and Karly Leech all put in fantastic efforts over the weekend with all teams being extremely competitive.
Well done to Leon Brown for also winning the aggregate in his grade showing that the practice he and Sonny put in prior to Melbourne paid off . Personally i would like to express my thanks to all who went especially given the bad news of Josh Simpsons accident.
To Anthony Fox, thankyou for your efforts over the weekend.
Anthony Fox was busy scouting around the Arena snapping the Table Tennis Action. We look at some of the great pics he has provided !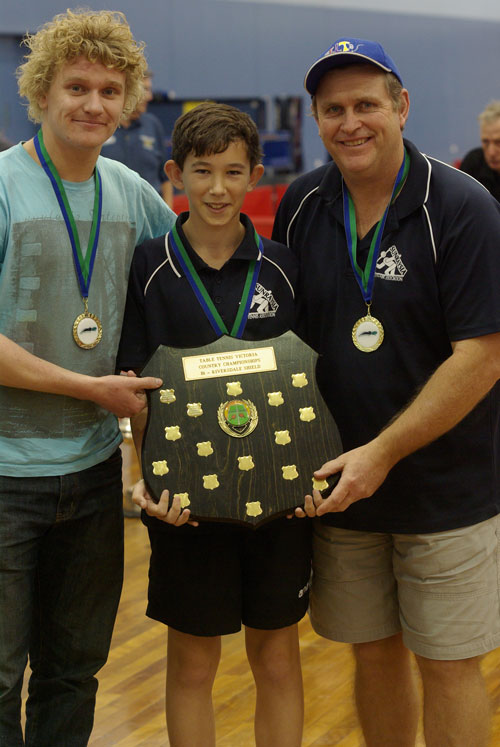 B1 Winners : Joel Thomas, Dillon Chambers & Wayne Carmichael. The Team went through undefeated and were in good touch against Ballarat on the final day to take the Title. Congrats to young Dillon on getting a Sponsorship with Rob at Andro. Now to grow into those size 16 shorts !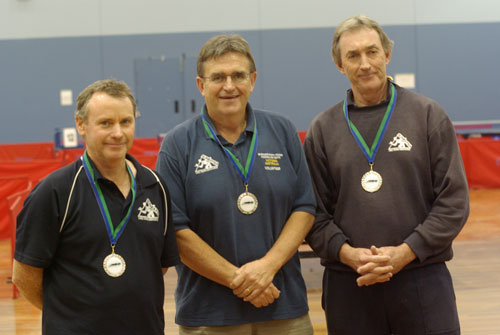 B3 Runners Up : Andrew Cannard, Gavin Carmichael & Mark Dorman. The look on Dormo's face says it all. Silver just doesnt have the same feel around the neck !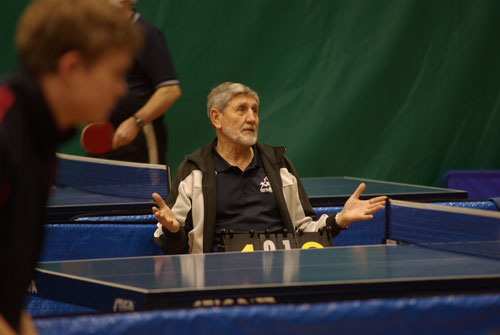 Arthur Paar : Praying to the heavens for a form reversal. As Arthur explained, it was a tough Division and so many 5 setters that could have gone either way !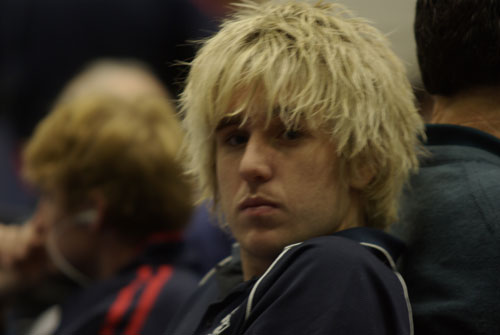 Jackson Tung : Not sure whether its the hangover or the opposition. He had his hands full all weekend, literally !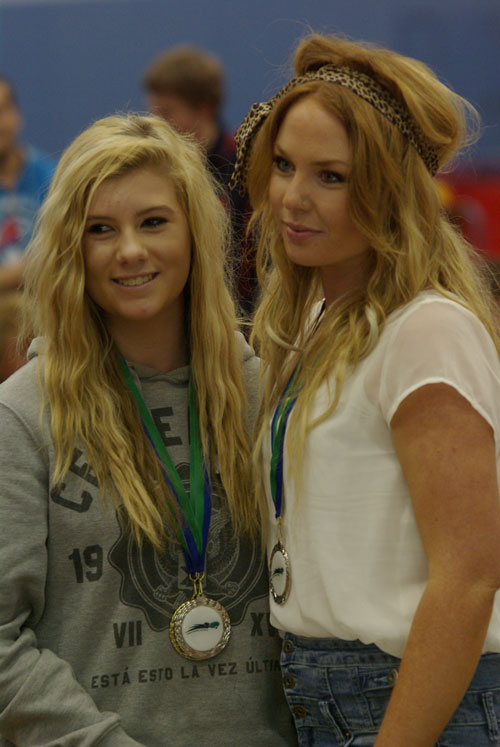 Girl Power : Maybe this is what was distracting Jackson !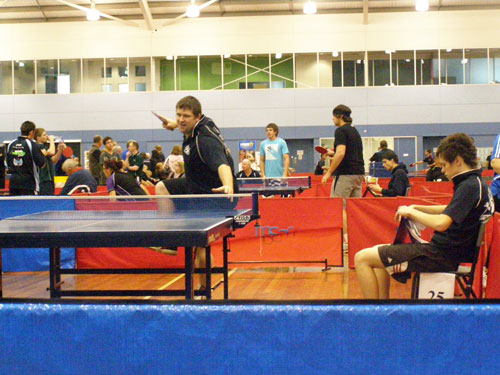 Rise to the Occasion : Gary Hughes on fire raising his game to a new level ? Jackson Murphy seems uninpressed !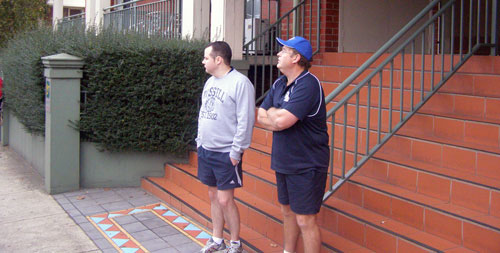 Early Start : David and Wayne waiting for the bus for day 1 Action. 8.30am for Table Tennis seems a dedicated task.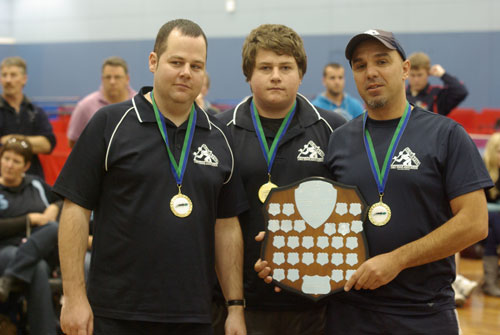 E2 Winners : David Balshaw, Matt Burns & Sony Sefer went through undefeated. Although Sefer was puzzled at losing to his names sake Sunny Singh on the final day !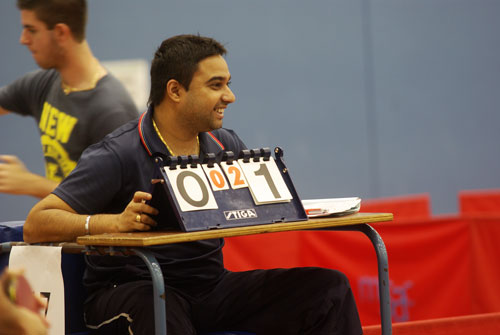 Yes thats him : Sunny Singh feeling quite good about himself after taking out Sony Sefer in 3. Sefer hopes to catch up next year with Singh and settle the score !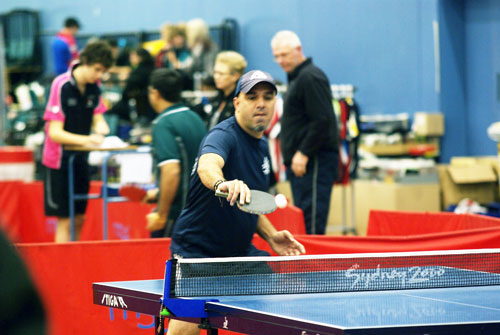 Cut it off ! Maybe its that two finger backhand that is the issue !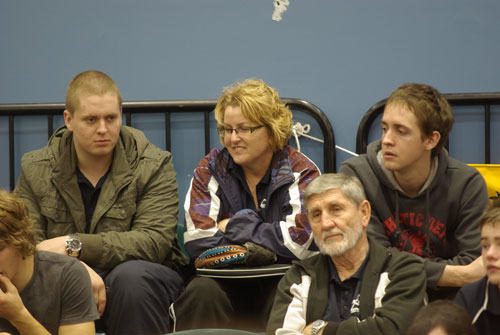 It was tough out there : Nick Barlow still wondering what happened, Lee Thomas had other things on her mind, Daniel Jansen popped a kneecap & Arthur Parr contemplating what could have been !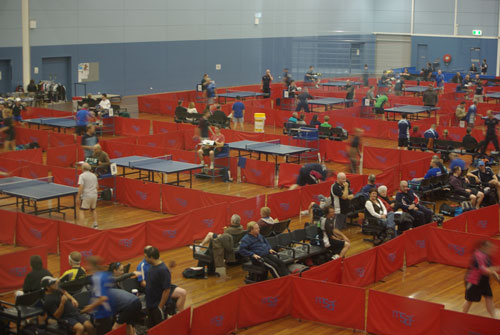 The Aquatic Centre was host to 300 plus Country Table Tennis Nuts !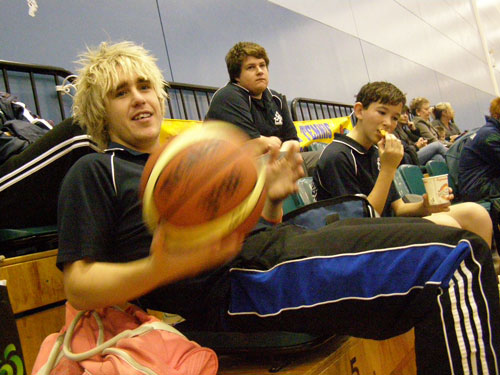 Maybe it was Jackson's ball preparation that set him on the wrong path. Dillon needed to eat and Monty Burns is as non plussed as per usual .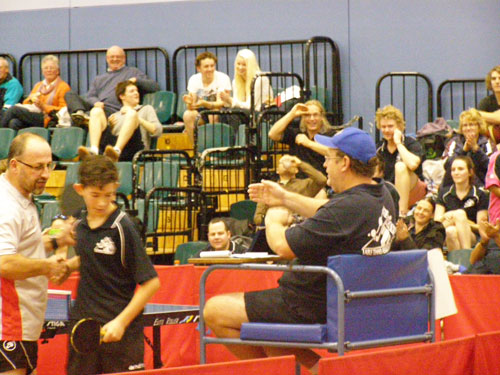 Learning the finer Art : Dillon Chambers showed great sportsmanship in losing to Rob in 5. Seems the kid has learnt very quickly that you dont roll your new sponsor on the first outing. Hope to see a bright future on both fronts !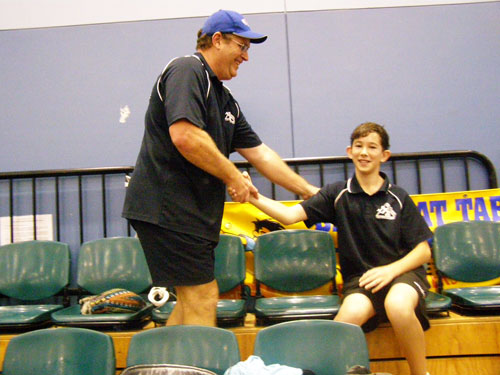 The true Warrior : Wayne seen here asking Dillon why he let that match slip. It seems Wayne has not been spoilt with the riches of sponsorship, nor do we think he would care. 'A win is a win' he might say !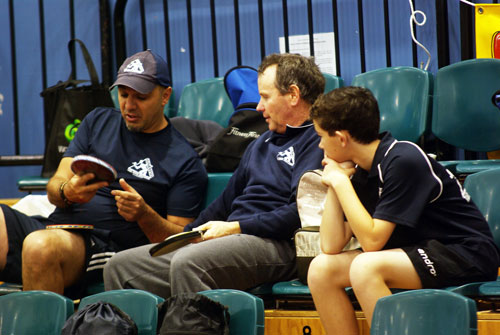 All that Glitters : Sony admiring Dillons new bat, Andrew looking at the finer details and Dillon, well, whatever !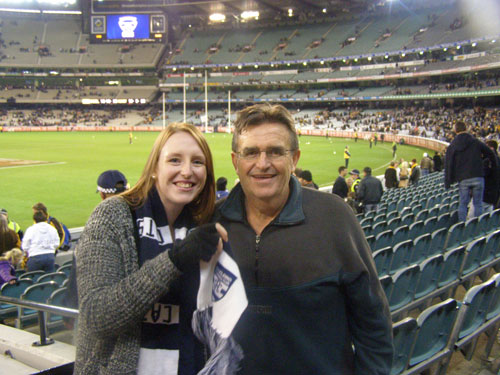 Hawthorn v Geelong : Gavin with daughter Megan on Saturday night at the 'G'.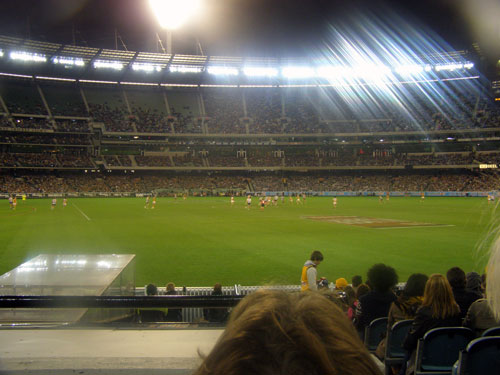 Nice shot Gavin. Not the only talented photographer on the Stta circuit !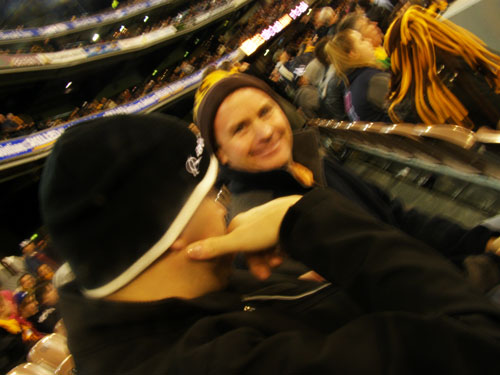 Grin and bear it : Andrew Cannard having to deal with Gavin after the Hawks lost by 5 points after leading most of the night. The walk home was a difficult one !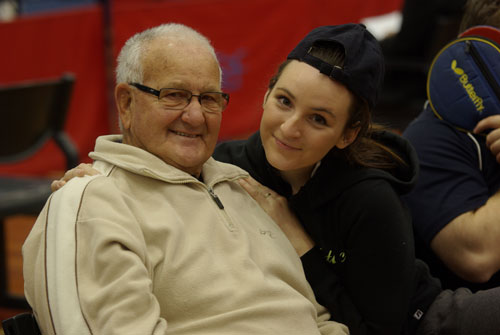 A quieter moment : John Duscher and Karina Sullivan summed up the good spirit that the Tournament was played in !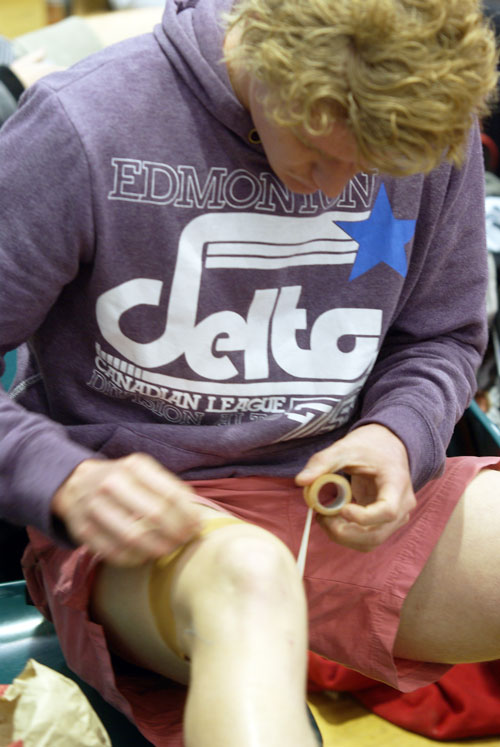 The Maintenance Program : Joel Thomas preparing his bung knee before battle. Only losing one game is remarkable given that he has not hit a ball for months !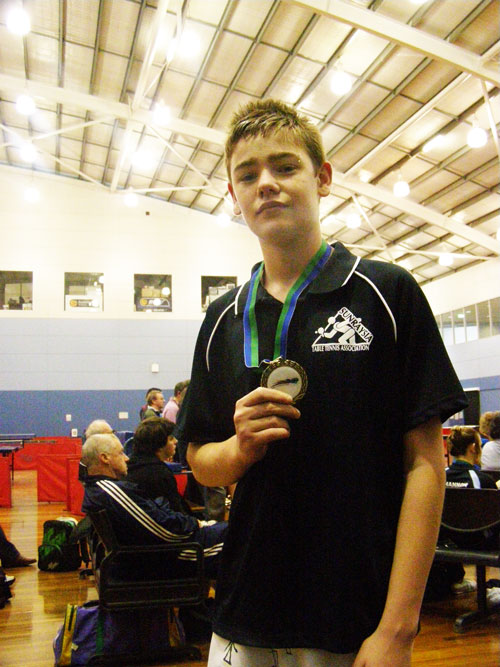 Hmmm : If it is confidence that brings out your best then Leon 'The Money Man' Brown fits the bill, seen here feeling quite smug about his new bling. He celebrated long and hard after this aggregate win. Ps: Leon you still owe Nikki $20 for your special celebration loan !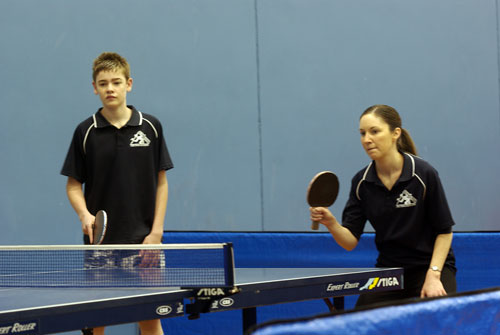 What Talent : Leon ' The Money Man' Brown and Karly Leach in Doubles battle. He lived up to his reputation as 'The Money Man'. And boy did he let us know on the bus trip home. Must have been that dozen Powerades he knocked off during the Competition.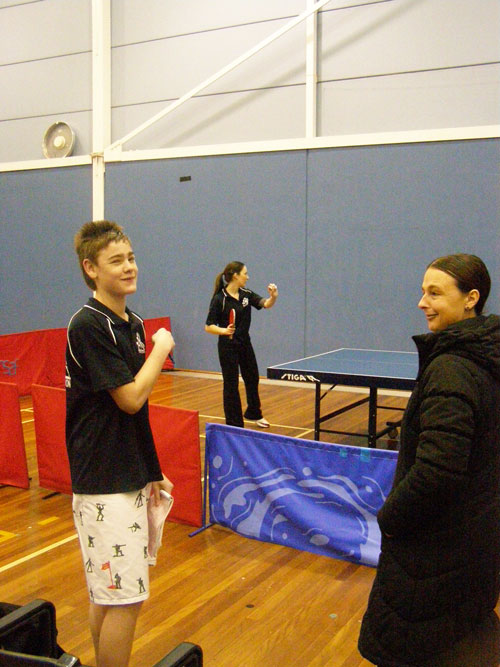 The Main Event : Have we seen enough of the 'Money Man'. I think Nikki's face says it all !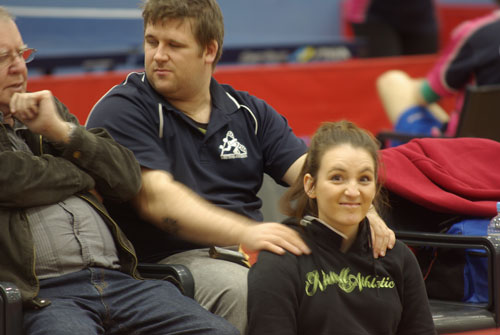 Thats it, just there : Karina Sullivan looking bemused whilst Gary Hughes, as per usual, trying to do two things at once !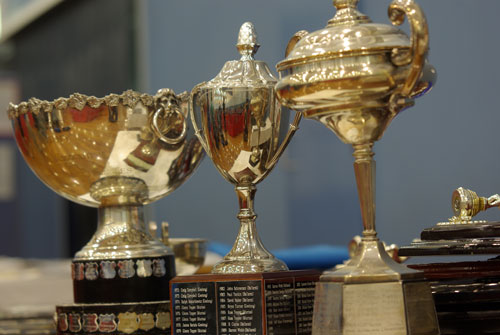 The Holy Grail : Some of the Silverware we were all vying for !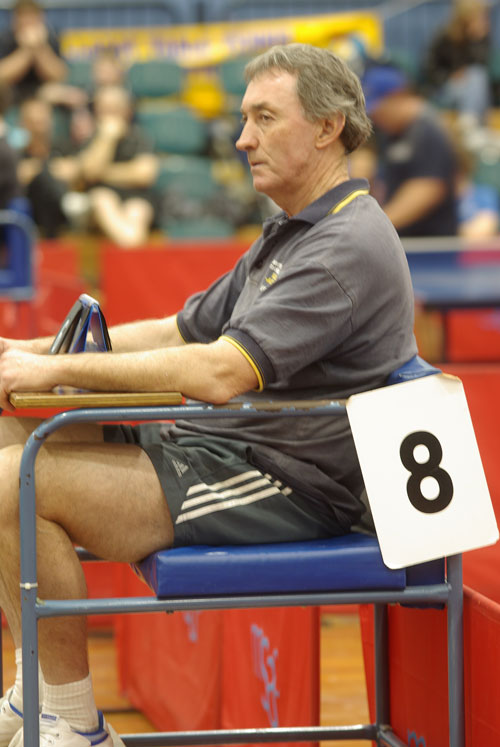 The final word : Mark Dorman officiating during the weekends action !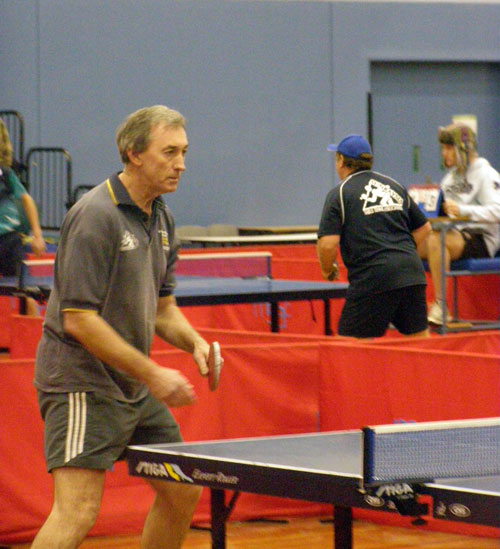 The boy can play : Yes Mark Dorman did manage to get some Table Tennis in over the weekend whilst managing the Team !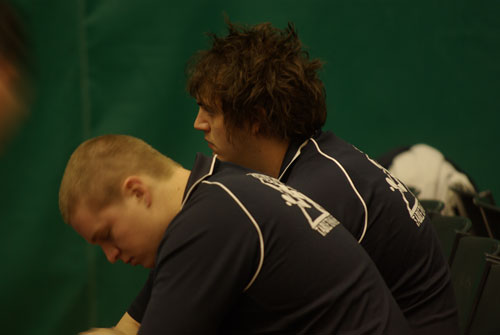 The pressure of it all : Nick Barlow and Robert Chiswell in thought during a tough match against Bendigo !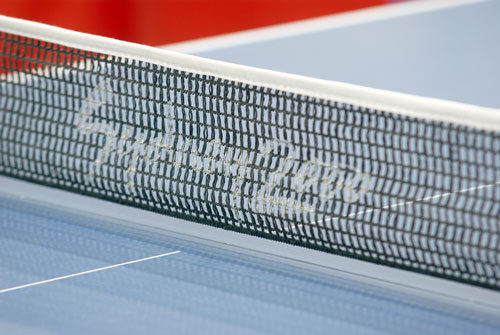 Foxy with some of his artistic best !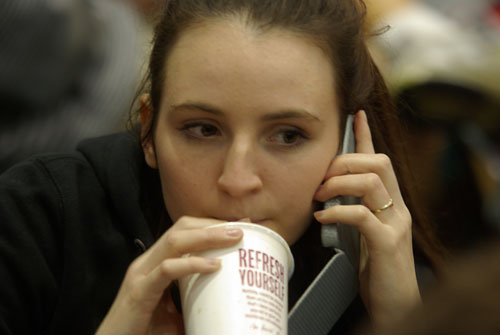 And now a Word from our Sponsor : Karina Sullivan trying to hold a conversation and give McDonalds a plug at the same time !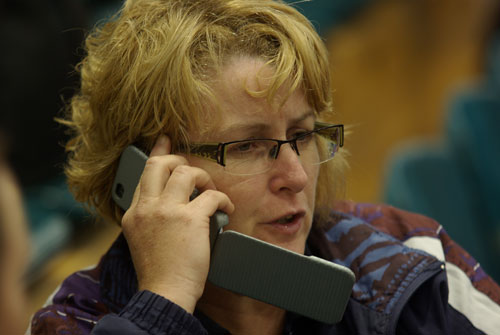 Stop Slurping Karina : Lee Thomas on the phone. Yes they were in the same venue but couldnt always catch up in person. Argghhh the wonders of modern technology !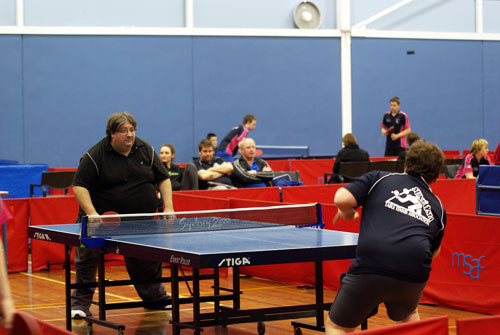 The Battle : 'Monty' Burns in battle with Melton's captain. Not much movement but some of the angles were unbelievable !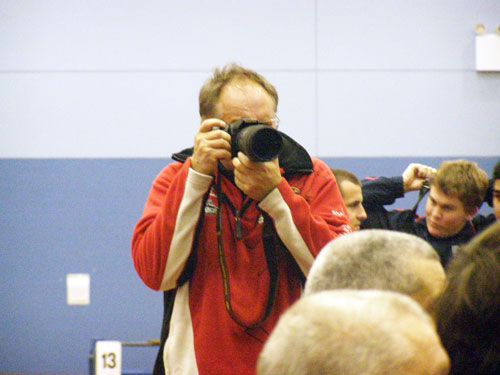 Mr Papparazzi Himself : 'Anthony Fox' , might have worked with the CIA in his early days. One minute the coast is clear and then click, he's got you from 40 paces !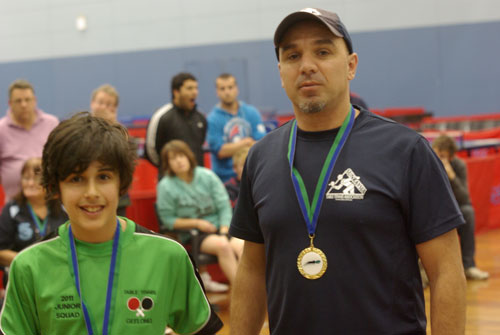 The future & the past : E2 Aggregate Winners Jake and Sony. One has all before him and the other trying to squeeze in as much as time will allow !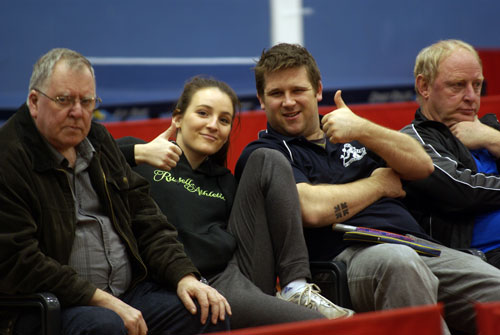 Thumbs Up : Karina & Gary on the final day. Gary looks forward to Country Week as it allows him to be at his Larrikin Best !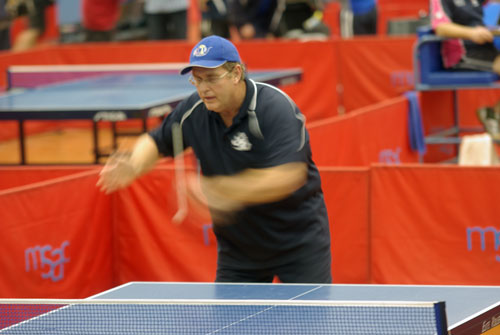 The Dynasty Continues : Yes another medal and shield. Wayne Carmichael has lost none of his hunger and is quite the joker on the Bus !
Curious Onlookers : David and Craig sizing each other up before they do battle !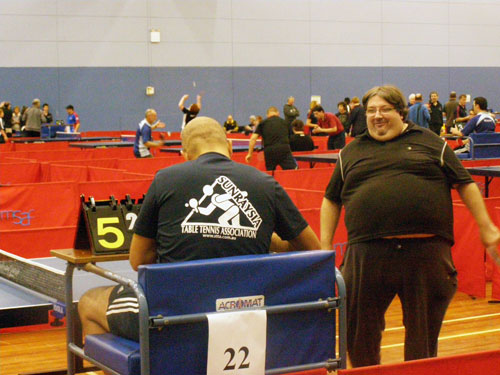 That's what I'm talkin About : Melton's captain Craig gets up in 5 and ready to break out into a jig. Some of the chop and backspin was amazing. Talk about working the Wizardry !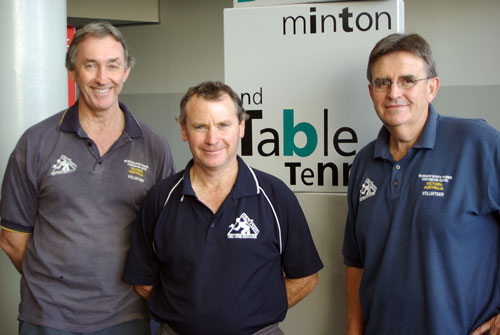 Three Wise Men : Experienced trio Mark, Andrew and Gavin have done it all before enjoying a lighter moment !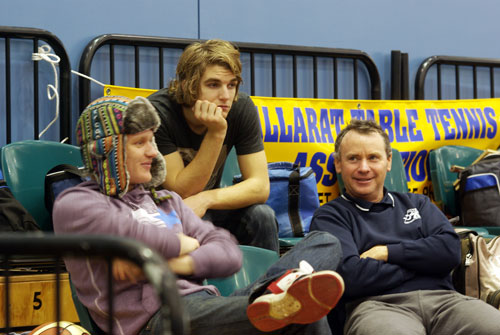 Whats all the fuss : Joel, Brodie and Andrew wind down after a pressure packed tournament. Nice hat Pocahontas !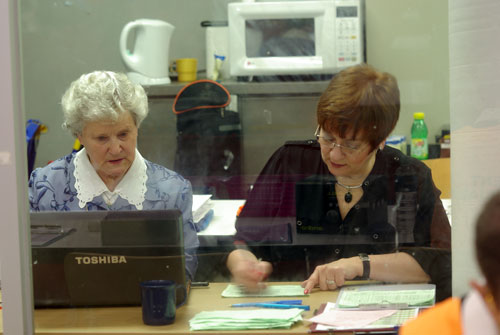 The Engine Room : Officials were under the pump to get those scores uploaded. All in all, things flowed well !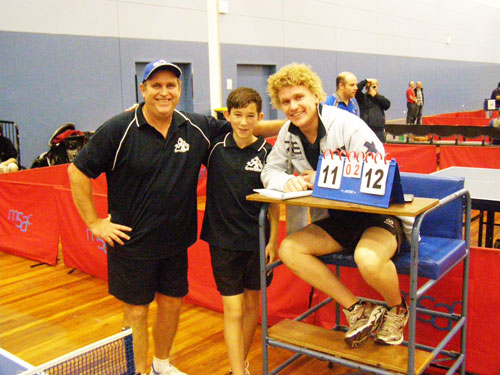 Yes, yes, Winners are Grinners. Would have brought a tear to Denise's eye !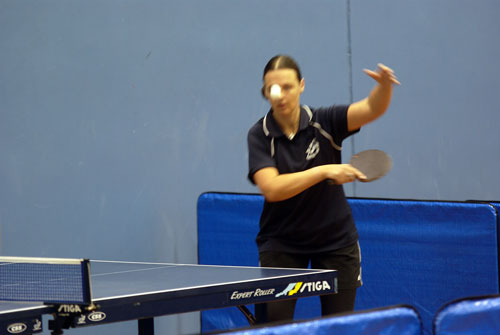 Oh the concentration : It was Nikki Mayger's first Country Week tour. Word on the street is that she has learnt plenty and is already refining her game after watching the big guns !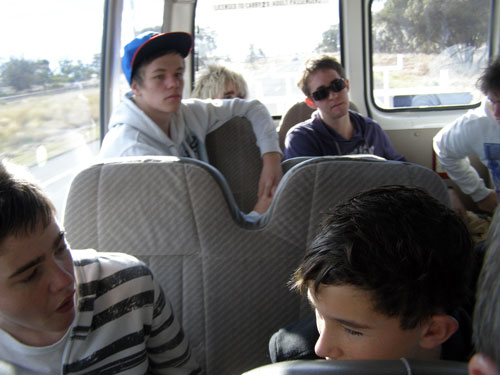 Post Mortem : The trip home and yes Dillon has to hear all about 'The Money Man's' exploits. He was also heard asking Dillon what else he has to do to get a Sponsorship ! Dillon's response was to just wait by the phone and Rob will ring !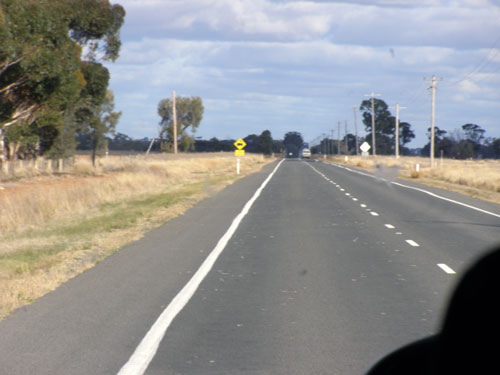 World record pace : Foxy as driver was like being at the Thunderdome. In fact we almost stopped in for a power lap !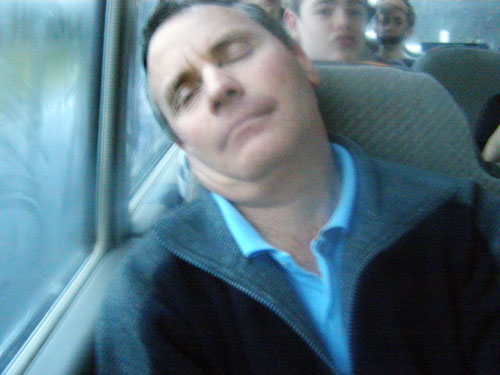 The Sandman : He did say that he trusts no b_st__d ! Andrew sleeps with one eye open !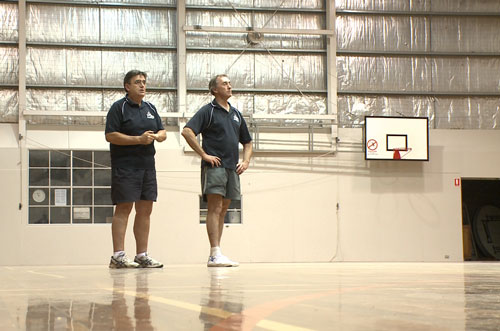 Home sweet home : Gavin & Mark reviewing the weekends activities and setting up for Wednesday night competition. See you all next Season !