Read Time:
10 Minute, 48 Second
Pennant 1
– Max Miller Carpets (Dillon Chambers 3, Gavin Minter 1) d Sunraysia Daily (Mark Dorman, Sam Foreman 2, Graeme O'Neill 1) 6-5.
Pennant 2
– Fishers IGA (Jackson Murphy 2, Robert Chiswell 2) d Tankard Dental (Sony Sefer 2, Henry Hornsby 1, Abraham McDonnell 1) 6-4.
Pennant 3
– Pinnacle Packers (Bernadette Fitzpatrick 2, Mary Fitzpatrick, Peter Kelly 1) d Sunraysia Daily (Sabrina Fitzpatrick 1), 6-2.
Pennant 4
– Mallee Bearings (Lachlan Kelly, Ben Hosking 2, Ryan Hensgen 1) d Bishop Builders (Leonie Dunkley 1) 6-2.
PENNANT ONE
Grand Final
(1) SUNRAYSIA DAILY – Mark Dorman(3), Graeme O'Neill(11), Sam Foreman(9) vs (2) MAX MILLER CARPETS – Dillon Chambers(1), Gavin Minter(10), Daniel Jansen(17)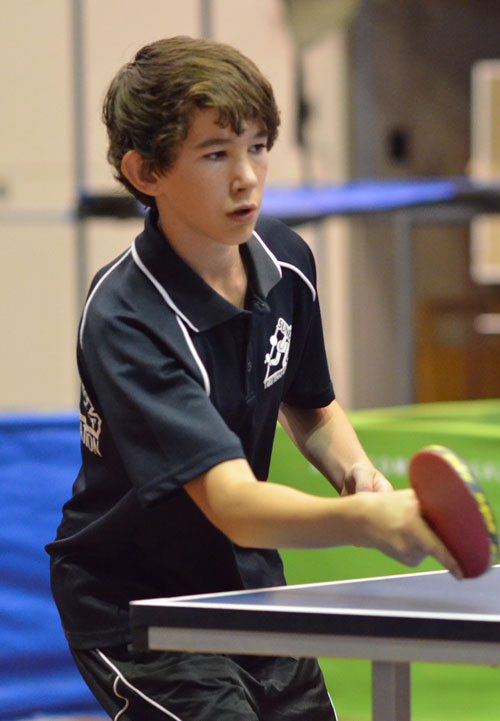 Dillon Chambers who has just turned 13 has had an unbelievable run this season. Competions all over Australia and the most feared opponent in Pennant 1. Will lead his side in Wednesday nights Grand Final Showdown.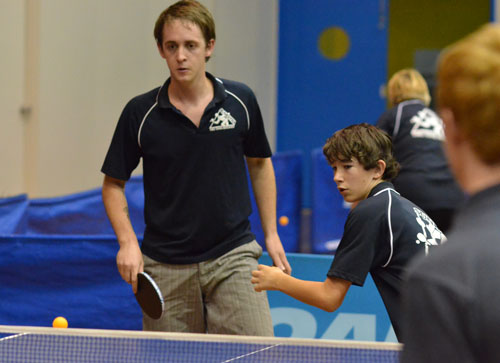 Chambers won his three singles without dropping a set, but it was his performance guiding his side to win both doubles, in combination with Gavin Minter, then Daniel Jansen, that set up a 6-4 victory over the season's minor premiers, Sunraysia Daily .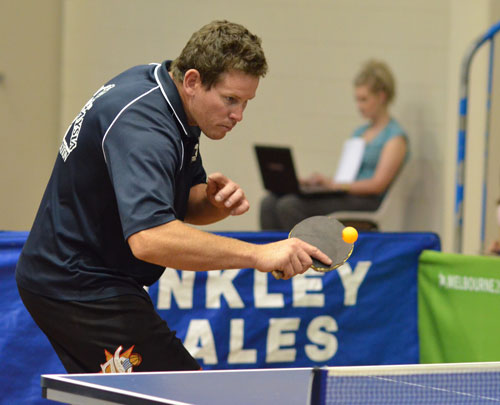 Sunraysia Daily' contract was simple, but intimidating: all three players, Mark Dorman, Graeme O'Neill and Sam Foreman, had to win two singles each; a doubles win would be a bonus.
The grand final was a cliffhanger, and in the end, the result pivoted on a just few points.
As expected Chambers was unstoppable, after winning all his singles matches during the season.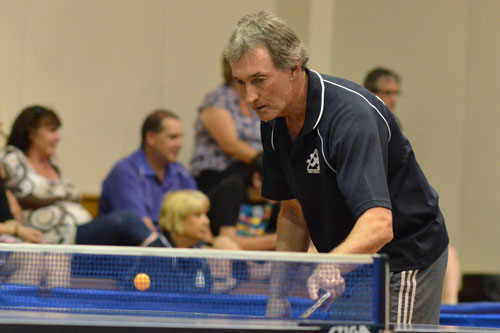 Only Mark Dorman gave him any trouble, with dour defence and brilliant blocking, but Chambers stormed back from 8-5 down in the first set to win without conceding another point, and reeled in a 7-2 deficit in the second to win it 11-9, before steamrolling through the final set 11-2.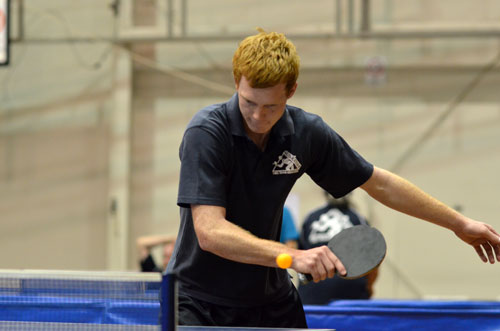 Foreman downed a nervous Minter in straight sets, and Dorman did the same to Jansen, to give Sunny Daily a promising start.
Chambers showed no mercy to O'Neill, and then combined with Minter to win the first doubles in four close sets.
Dorman downed Minter in straight sets, then Chambers did the same to Foreman to lock up the score at 3-3.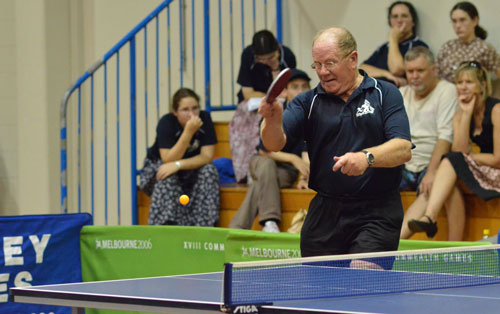 O'Neill had too many shots for a nervous Jansen, winning in four sets, but Chambers then took his side to a 5-4 lead by combining with Jansen to beat Dorman and Foreman in four sets in the second doubles.
The title hinged on the second-lalast singles. Minter needed to defeat O'Neill to get the Carpeteers over the line, because Foreman was going to have Jansen's measure if it came down to 5-all.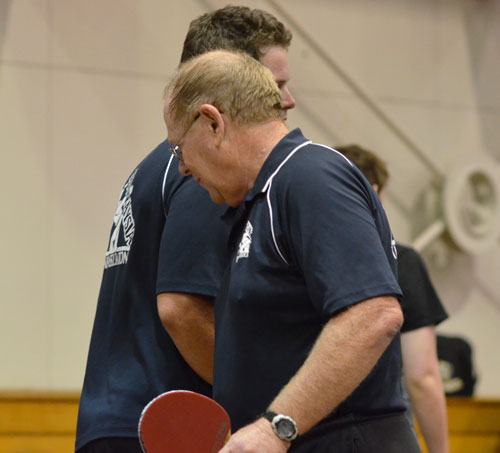 O'Neill overwhelmed Minter to win the first set easily, 11-5, but Minter holstered his unreliable big shots and retreated into pure defence, minimising errors and hoping to outlast his opponent.
He defended grimly, and occasionally spectacularly, winning the second set 12-10 when a desperate forehand retrieve landed short on the table and spun sharply sideways, causing his opponent to to miss a forehand kill.
Minter stuck to his game plan, winning the third 11-9, then established a solid lead in the fourth before O'Neill hauled in the deficit to reach 10-all with bold attacking play. But Minter won the next point, and then lofted a high defensive ball back onto the table to see O'Neill drive his smash long, giving Max Miller Carpets its 6-4 victory.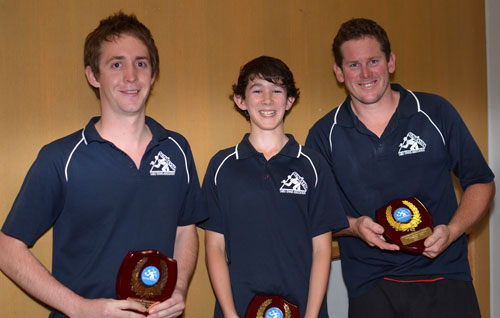 PENNANT TWO
Grand Final
(1) TANKARD DENTAL – Sony Sefer(3), Abraham McDonnell(4), Henry Hornsby(5) vs (2) FISHERS IGA – Robert Chiswell(9), Jackson Murphy(1), Tahir Khurshid(17)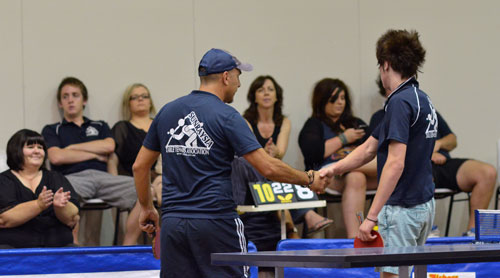 An epic Pennant 2 grand final also came down to a knife-edge five-set singles – one of five full-length contests that dragged the contest out until late in the night.
The record will show that Fishers IGA defeated Tankard Dental 6-4 on the night, but the scoreline reveals nothing of the high drama of the night, particularly the decisive match between Tankard's Sony Sefer and Fishers' Robert Chiswell.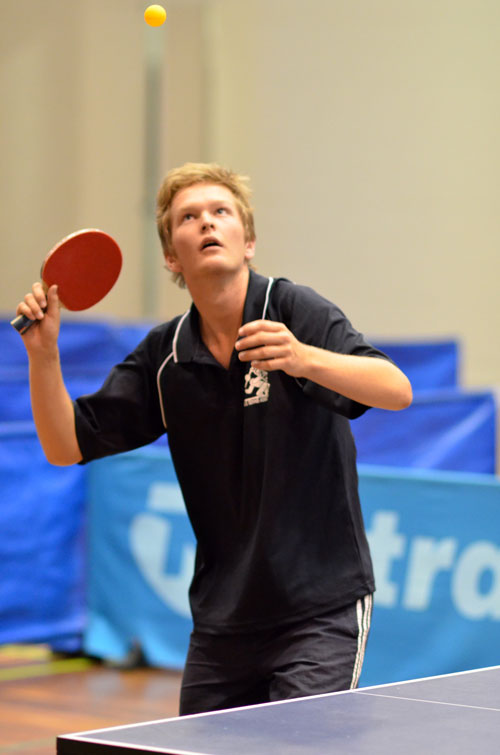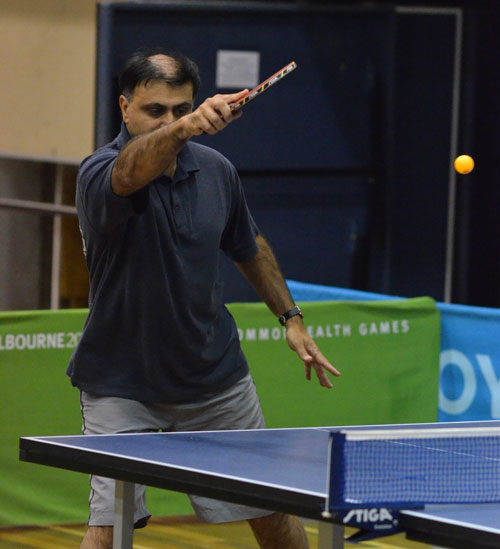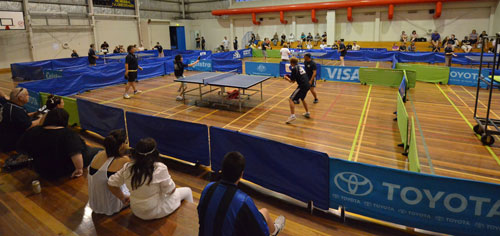 Tankard Dental went out to a 3-0 lead, before Robert Chiswell and rising junior star Jackson Murphy held out for a last-gasp win over Sony Sefer and promising youngster Henry Hornsby, 16-14 in the fifth.
Chiswell defeated McDonnell, and Jackson beat Hornsby, but Tahir Khursid went down in a four-setter to Sefer, to make the scoreline 3-4, and Chiswell and Khursid evened the score at 4-all by defeating Sefer and McDonnell in a five-set thriller.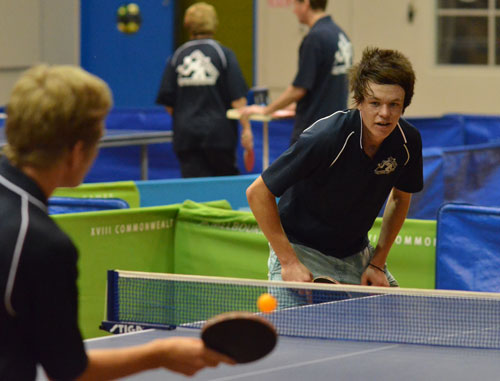 Chiswell and Sefer then went toe-to-toe in a seesawing match marked by long periods of defensive exchanges, as nerves neutered both players' attacking games.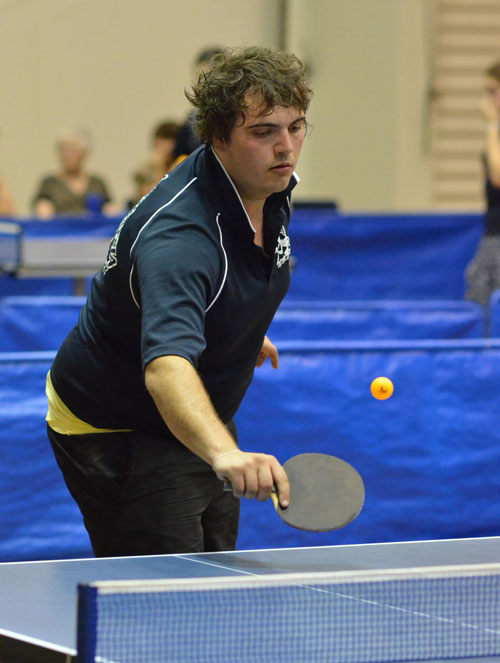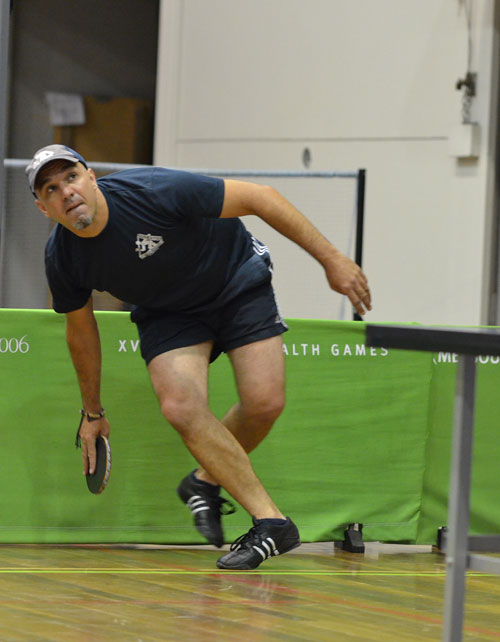 Sefer hung on grimly, coming back inthe fourth set to level the match, but Chiswell made fewer errors in very long rallies in the fifth, to win 11-8.
Abraham McDonnell fought bravely to keep Tankard Dental in the hunt, but Jackson Murphy's big forehand won him a decisive straight sets win giving Fishers a 6-4 win and the title.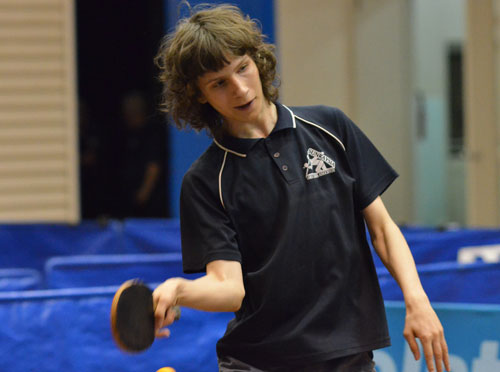 McDonnell, who hails from Walpeup has improved rapidly this year. His family makes a 250km round trip from Walpeup every week to play in the Sunraysia competition.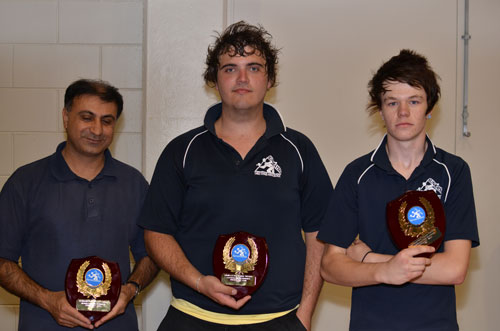 PENNANT THREE
Grand Final
(2) SUNRAYSIA DAILY – Mark Kerr(1), Sabrina Fitzpatrick(16), Karly Leach(12) vs (4) PINNACLE PACKERS – Bernadette Fitzpatrick(8), Peter Kelly(13), Mary Fitzpatrick(11)
SUNRAYSIA DAILY   6   
PINNACLE PACKERS 2
The Collins English Dictionary gives the word "stun" three definitions;  1. To shock or overwhelm;  2. To surprise or astound; and  3. To render unconscious, as by a heavy blow or fall.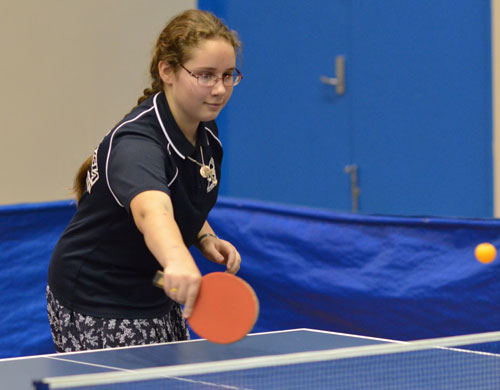 In the Pennant Three Summer Grand Final it could be said that after administering the first and second definitions to Sunraysia Daily, Pinnacle Packers led by twelve year old Bernadette Fitzpatrick, then finished them off with the third.  In short, Sunraysia Daily were never really in this match.  Boasting the aggregate winner, Mark Kerr for their captain, the Dailies could not stop the steady flow of games to their opposition.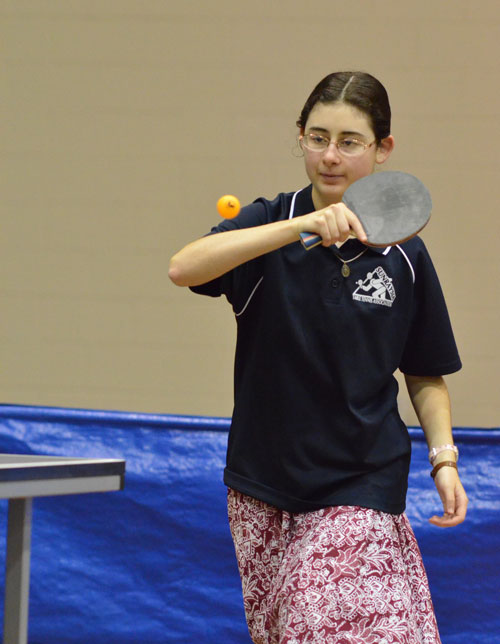 In the first match of the night, Mary Fitzpatrick had her top-spin forehands landing all over the table in her defeat of her mother Sabrina in four sets 11-7, 8-11, 11-6, 11-4.  One-nil.  Likewise her sister and captain Bernadette made short work of Karly Leach in just three sets 11-6, 11-4, 11-9.  Two-nil.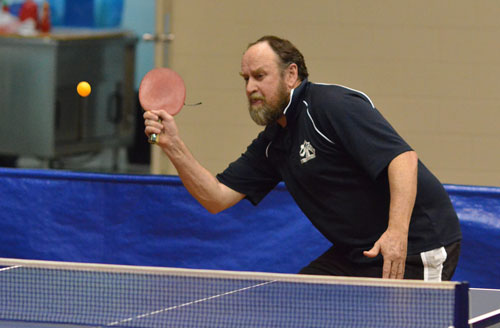 Team number two Peter Kelly could not keep the numbers ticking up when he went down to Mark Kerr 8-11, 8-11, 4-11.  Two-one.  Then the first of the doubles, in what was possibly the turning point for the Dailies; Bernadette and Peter played and won a hard-fought five setter against Mark and Sabrina 11-7, 8-11, 13-11, 12-14, 11-8.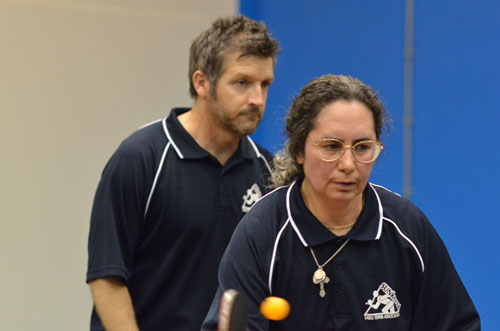 Bernadette's big forehand drive was only hitting the table about fifty percent of the time, but when it did hit, it was usually irretrievable.  At about this point the Dailies could see that the Packers had their measure, and knew they could do little to stop them.  Three-one.  The next match and Sabrina was back on the table again for her third match of the night, and once again she had to play one of her children, this time Bernadette, and Bernadette showed no mercy in brushing her aside 12-10, 11-4, 11-8.  Four-one.  Mark Kerr played his second singles, this time against Mary and registered another score for the Dailies after a three set win.  Four-two.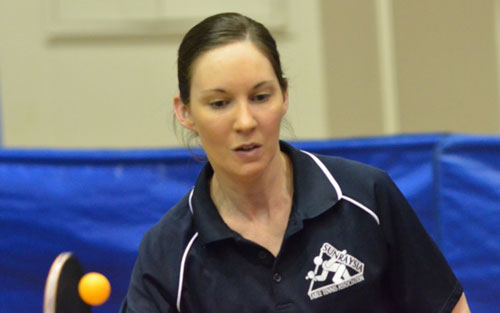 Peter versus Karly.  Peter won in four sets; the sets he won, he won easily 11-3, 11-3, 11-5, and Karly had to work hard to take the second from him 12-10.  Five-two and by now the Sunraysia Daily side were certainly dispirited.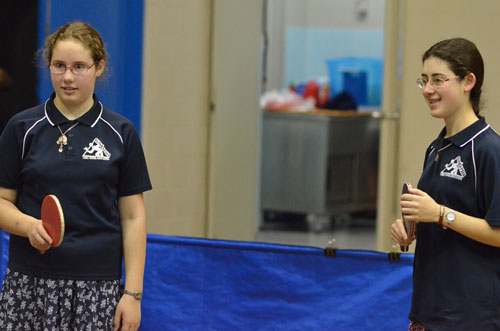 Bernadette and Mary Fitzpatrick mercifully finished them off in the second doubles quickly and with as little pain as possible 11-9, 11-5, 11-8.  Six-two, game, set, match, Grand Final.  The match took a little under two hours, and was completed before 9:30pm.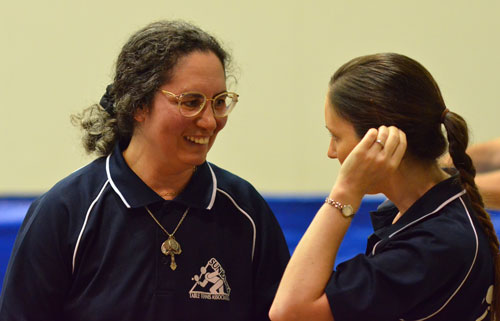 This is probably the earliest these two sides have finished all season.  It is hard not to be impressed by the demolition job the Packers did on the highly rated Sunraysia Daily team.  The Packers only made the finals in fourth spot, and on percentage.  But once in the finals their collective games lifted, firstly with a win over the Minor Premiers Max Miller Carpets in the First Semi Final, and then victory here in the Grand Final.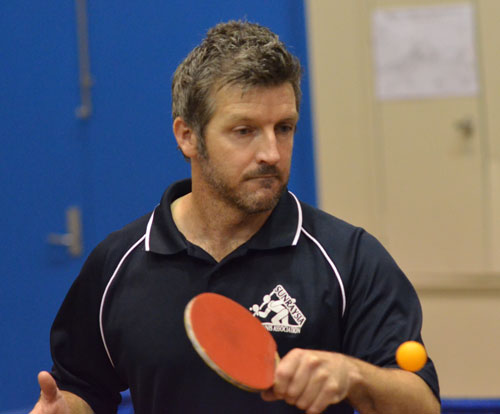 The only games the Dailies won were the two singles by captain Mark Kerr.  In all the other singles rubbers, plus the second doubles, Pinnacle Packers were all over the Sunraysia Daily trio, and in only the first doubles, was there any real contest to their onward march towards the flag.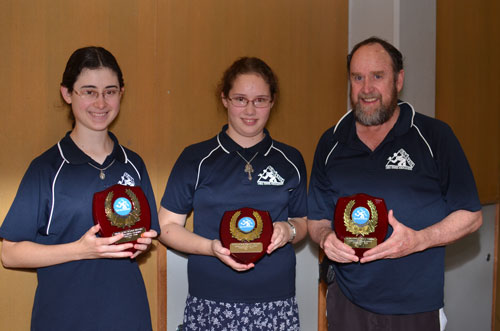 PENNANT FOUR
Grand Final
(1) BISHOP BUILDERS – Leonie Dunkley(3), Paul Fitzpatrick(6), Sandra Southgate(10) vs (3) MALLEE BEARINGS – Lachlan Kelly(2), Ryan Hensgen(5), Ben Hosking(8)
BISHOP BUILDERS   6
MALLEE BEARINGS 2
Minor Premiers Bishop Builders were no match for the always improving Mallee Bearings side in the Pennant Four Summer Grand Final.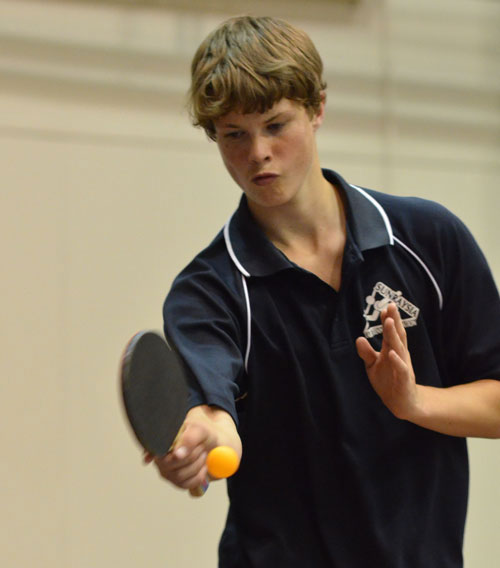 Mallee Bearings finished third on the ladder at the end of the home-and-away games, with five wins and five losses compared to the Builders eight wins and two losses.  The feeling was that the Minor Premiers had the measure of the Mallee Bearings trio.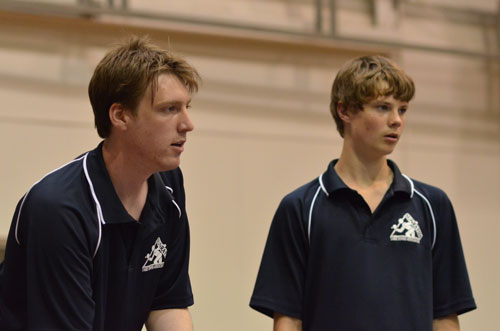 That was to ignore the fact that captain Ryan Hensgen finished fifth in the aggregate and Lachlan Kelly second.  The Builders had been consistent throughout the season, whereas their opponents had improved little by little.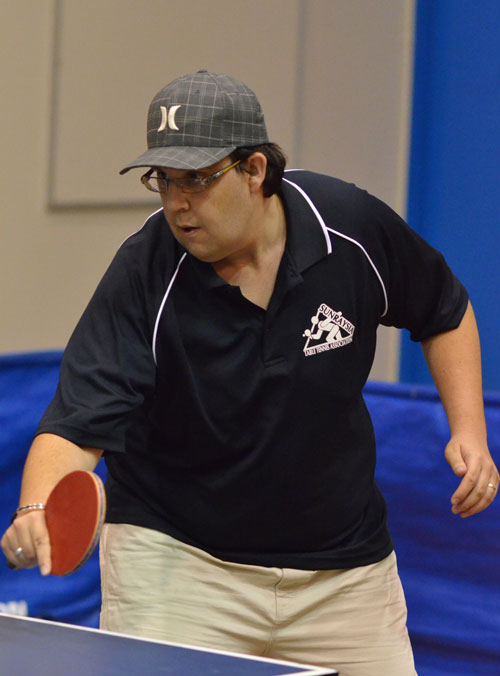 Ben Hosking, playing for Mallee Bearings in his first season of table tennis, played the night of his life, defeating Bishop's Leonie Dunkley in a very committed five setter in the third rubber of the night to give his side a three love score-line at that stage.  Despite his third-ranked status, Hosking did not let the occasion overcome him , and he battled it out with Dunkley going set for set 12-10, 7-11, 11-4, 9-11, before a nail-biting fifth set win 12-10.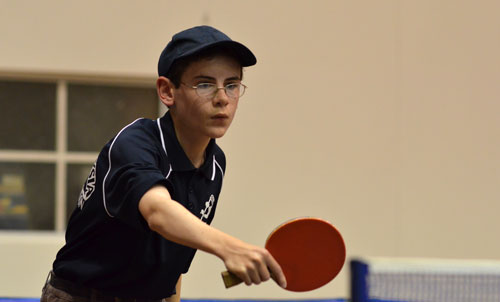 The first rubber of the night between Builders Paul Fitzpatrick and Bearings Ryan Hensgen pretty much set the tone for the night, the Builders being close to getting wins, but the Mallee Bearing side overcoming their more fancied opponents.  Fitzpatrick led two games to one 9-11, 11-9, 11-5, but could not go on with it; Hensgen fought back to take the fourth 11-8, and then continued on in the fifth to take it also 11-8. 
After a nervous start in her match against Lachlan Kelly losing the first 11-2, it looked like Sandra Southgate might take the fight to her opposition when she won the second 12-10, then even though she lost the third 10-12, she was still not out of it, but Kelly took full advantage of his two sets to one lead to easily take the fourth set and the rubber 11-4.  The Builders put their first score on the board with a three set win in the first of the doubles,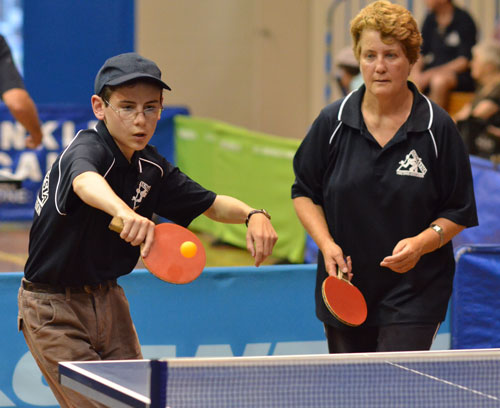 Dunkley and Fitzpatrick comfortably defeating Kelly and Hensgen 11-5, 12-10, 11-7.  But Mallee Bearings bounced right back to take the next rubber courtesy of a four set win to Kelly over Fitzpatrick 11-5, 11-8, 8-11, 11-6.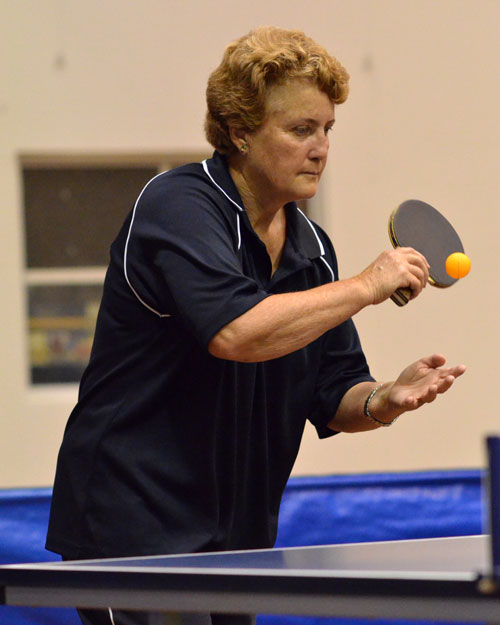 The Builders did not give up though, Dunkley needing five sets to overcome Hensgen 11-9, 12-10, 3-11, 9-11, 11-9, after looking to have the match in the bag after the second set.  That sadly, was the last rubber to go the Builders way, Hosking keeping his concentration up with a four set win over Sandra Southgate 12-10, 8-11, 11-5, 12-10.  Not that the Builders conceded defeat, the second doubles, which was ultimately the last rubber, went to five sets, and the Builders fought back two match points in the fourth set when they were down 10-8 to level at 10-10 and then take the set 13-11.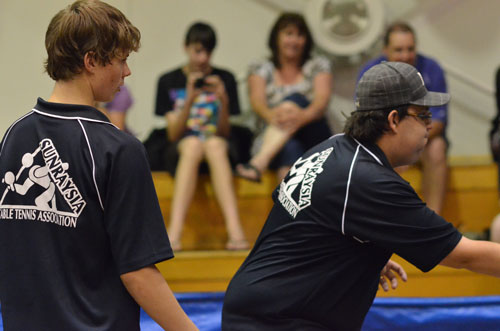 But it was too little too late, and brimful of confidence, Kelly and Hosking confidently took the fifth set away from Dunkley and Southgate 11-9 to claim the flag.  It was generally agreed that Ben Hosking played his best table tennis of the season this night, and as opposing captain Leonie Dunkley said, "He would have to, wouldn't he !!"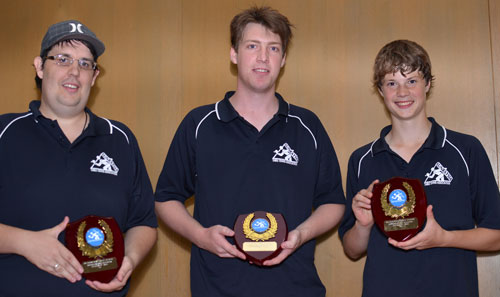 For further information contact Gavin Carmichael 0408 237 907 or 5023 7907 / Sony Sefer 0400318199 / Mark Dorman 0417 566 463
**************************************************************