Read Time:
7 Minute, 15 Second
PENNANT ONE
Grand Final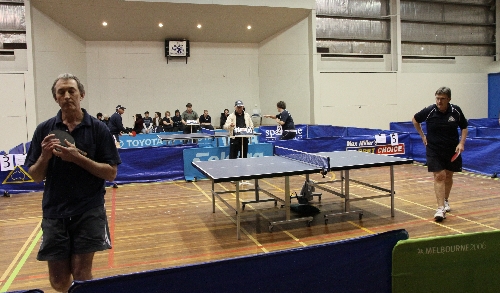 Mark Dorman wrapping up the Winer Pennant Grand Final … A seasoned campainer who knows how to produce his best on the big occasion. Can Dorman's experience overcome the kid dynamo with his raging forehand.
(1) SUNRAYSIA DAILY – Mark Dorman(3), Graeme O'Neill(11), Sam Foreman(9) vs (2) MAX MILLER CARPETS – Dillon Chambers(1), Gavin Minter(10), Daniel Jansen(17)
In tonight's grand final, Chambers will be unbackable to win his three singles, leaving Sunraysia Daily the task of winning at least one doubles to set up a win.
The Daily's chances would then rest on Dorman, O'Neill and Foreman being able to win two singles each against the Carpeteers No 2, Gavin Minter, and No 3 Daniel Jansen – no simple task.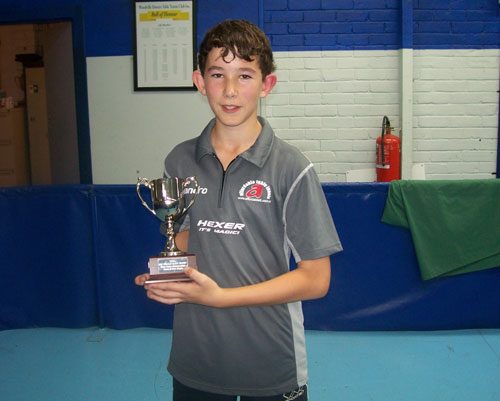 Dillon Chambers who has just turned 13 has had an unbelievable run this season. Competions all over Australia and the most feared opponent in Pennant 1. Will lead his side in Wednesday nights Grand Final Showdown.
PENNANT TWO
Grand Final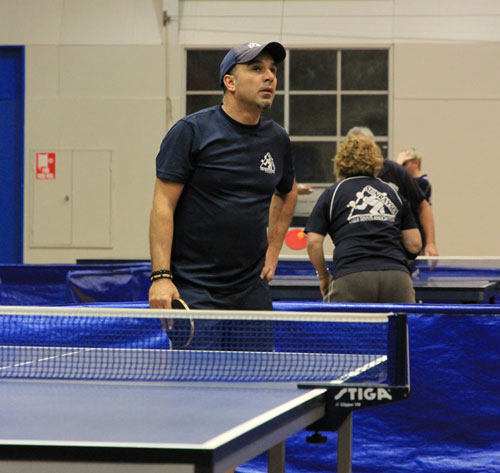 Sony Sefer had to pull out all stops against nemesis Arthur Paar in last weeks Semi. Tankard got over the line 6-5, and will hopefully settle a little earlier this week. Deep breathes Abraham, deep breathes !
(1) TANKARD DENTAL – Sony Sefer(3), Abraham McDonnell(4), Henry Hornsby(5) vs (2) FISHERS IGA – Robert Chiswell(9), Jackson Murphy(1), Tahir Khurshid(17)
The Pennant 2 final tonight will pit Fishers IGA against Tankard Dental.
Tankard Dental, which dominated the home-and-away season, winning nine matches to one, looked in big strife when Pinnacle Packers ran out to a 5-2  lead before the second doubles, after junior Leon Brown got the Packers off to a flier with a five-set win over Henry Hornsby.
But the in-form Sony Sefer, a big improver this season, stood up for his side, winning three singles including a vital five-setter over the awkward Arthur Parr, runner-up up in the singles aggregate this season – Sefer's win ultimately turned the match.
After losing his first two singles to David Balshaw and Paar, Abraham McDonnell regrouped to defeat Brown in five, and Hornsby completed the fight-back by defeating David Balshaw in straight sets.

Fishers was too consistent for Spanline in the second semi-final, with junior Jackson Murphy and Robert Chiswell winning two each, and veteran Laurie Plummer contributing with a singles win over Arnold Jago, and winning an epic five-set doubles with Plummer over Jago and McDonnell to keep Fisher's flame flickering.
Fishers looks a well-balanced side, and the final could well come down to wire – Sony Sefer's match against rising star Jackson Murphy could be the decisive contest.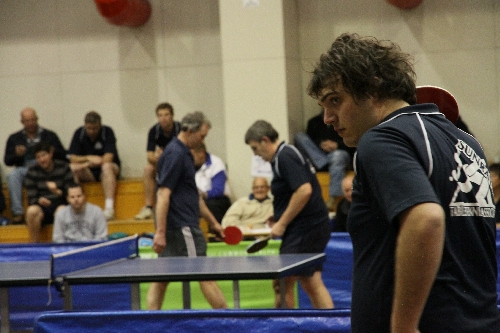 Robert Chiswell has the luxury of P2 aggregate winner Jackson Murphy as his no 2, coupled with the return of the missing link Tahir Khurshid this Gf might not be decided till late in the evening.
PENNANT THREE
Grand Final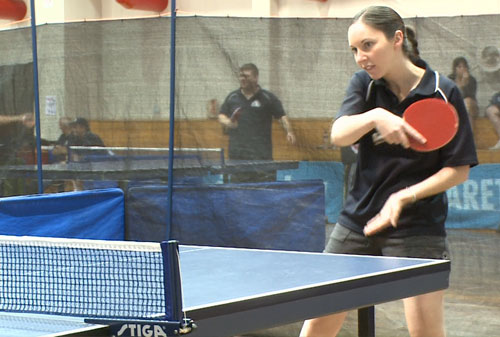 Karly Leach could be the real X factor as the no 3 … A very even team with Sabrina Fitzpatrick in very good late season form. Mark Kerr will have to get the ball rolling early.
(2) SUNRAYSIA DAILY – Mark Kerr(1), Sabrina Fitzpatrick(16), Karly Leach(12) vs (4) PINNACLE PACKERS – Bernadette Fitzpatrick(8), Peter Kelly(13), Mary Fitzpatrick(11)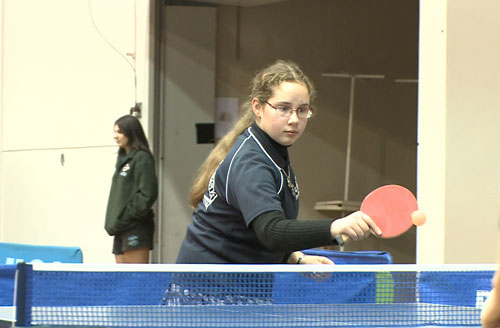 Leading her P3 team, Bernadette Fitzpatrick shows nerves of steel for someone so young . She may need it too going up against Mum in what is sure to be a nailbiter.
SUNRAYSIA DAILY   v.   PINNACLE PACKERS
These sides finished second and fourth respectively, on the ladder.  Mark Kerr's Sunraysia Daily team-mates Sabrina Fitzpatrick and Karly Leach accounted for third-placed Mallee Bearings with a strong six to three win in the First Semi last week.  Pinnacle Packers Bernadette and Mary Fitzpatrick, and Peter Kelly surprised the Minor Premiers Max Miller Carpets when they downed them six-four in an unexpected result in their Semi Final.  These two sides met twice during the competition, with the wins being one-a-piece.  The first occasion was probably not any sort of indication of the relative strengths of the teams as all the Fitzpatrick's were away – that match went to the Packers six to five.  The second match saw both sides at full strength, with the exception of the absence of Sabrina Fitzpatrick replaced by the very capable Mark Johnson in the Dailies side.  The Dailies won that match seven rubbers to four.  So how will this Grand Final shape up?  The Dailies would expect, and the Packers would probably concede that Mark Kerr will take three singles wins.  He has only lost two singles for the season (the first to Gary Hughes in the very first game of the season, and Mark's first match of the season, and the second to Nick Dorman in round five).  Mark's team-mates Karly and Sabrina finished twelfth and sixteenth respectively on the aggregate table.  Sabrina is capable of rising to the occasion as she showed in the First Semi-Final with her five set win over Mallee Bearings captain Colin Moore. Her flat-low style of play makes retrieving difficult.  That same night she hung on in another five set match to down Andrew Lewis.  Karly's strength is her dogged determination.  Her game is fairly plain, but balls come back with unnerving consistency for anyone thinking that she is a pushover.  This quality alone will account a few points in every set.  At the other end of the table, unorthodox Peter Kelly will find ways of winning points when everyone else thinks all is lost.  He missed a few games in the middle of the season, but his play last week shows that he is back to his best.  Team-mate and team number one Bernadette Fitzpatrick's strength is her consistency, and she has a devastating forehand when she gets her game going.  She would be expected to win two singles, and she combines well in doubles.  Feisty Mary Fitzpatrick only knows one way to play – fierce topspin forehand.  When her game is on, she is very hard to control, and harder still to take the game away from.  The contest between her and Karly in particular should be interesting.  It is very hard to make a prediction in this match, because apart from Mark Kerr, the spread of talent and match ability is very even, but for this writer, given that Kerr will give the Dailies a three match start, they would have to be favourites to take the flag.
PENNANT FOUR
Grand Final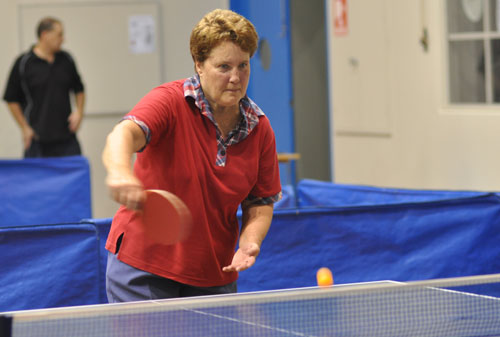 A fiercly determined Leonie Dunkley will need to show a calm face leading her charges in the Pennant 4 Grand Final.
(1) BISHOP BUILDERS – Leonie Dunkley(3), Paul Fitzpatrick(6), Sandra Southgate(10) vs (3) MALLEE BEARINGS – Lachlan Kelly(2), Ryan Hensgen(5), Ben Hosking(8)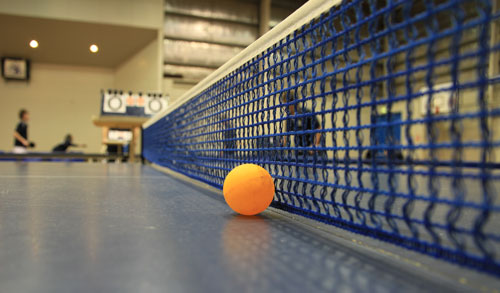 The luxury of two very strong juniors with Lachlan Kelly an Ryan Hensgen leading an unpreditable Mallee Bearings Team. Big chance for an upset !
One plays three.  Minor Premiers' Bishop Builders Leonie Dunkley, Paul Fitzpatrick and Sandra Southgate will meet Mallee Bearings Ryan Hensgen, Lachlan Kelly and Ben Hosking to decide the 2011 Summer Pennant Four.  The two sides are contrasting, Bishop Builders relying on consistency, and Mallee Bearings having real fire-power with Lachlan Kelly and Ryan Hensgen.  Leonie Dunkley, though, is a formidable opponent, as she defeated Kelly in the Grand Final of the Super Eights only a week ago.  These two sides played each other four times during the course of the season, and the Builders combination have a better win record having won in rounds one (6-5), seven (7-4) and ten (6-5).  Mallee Bearings did have a good win in round four (6-5) on a night when they failed to win either doubles.  Expect this to be a very close match – Lachlan Kelly and Ryan Hensgen having been playing well recently and will take the game right up to Leonie Dunkley and her team.  Paul Fitzpatrick plays a good attacking game, and has been a very consistent number two, having won 15 games in 8 matches this season.  Bearings Ben Hosking appears to be the better number three, having won eight rubbers to Sandra Southgate's two during the season.  So, on paper the Mallee Bearings side looks the more balanced, but Bishop Builders have proved they are a winning combination.  Looking for a tip?  Too hard to call – past performances don't count for much in a Grand Final !!
For further information on finals contact Gavin Carmichael 0408 237 907 or 5023 7907 / Sony Sefer 0400318199 / Mark Dorman 0417 566 463
**************************************************************