Read Time:
12 Minute, 11 Second
PENNANT ONE
First Semi Final
(1) SUNRAYSIA DAILY – Mark Dorman(3), Graeme O'Neill(11), Sam Foreman(9) vs (4) MALLEE BEARINGS – Wayne Carmichael(2), Ed Hung(12), Damien Ford(18)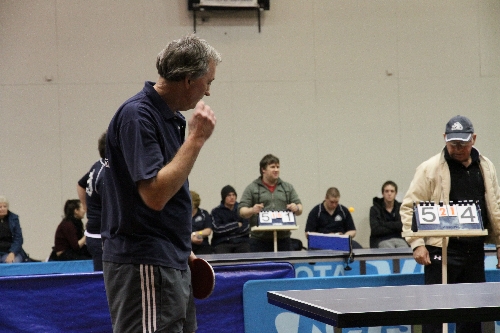 MARK Dorman's Sunraysia Daily side have to be at the top of its game to  take out the Sunraysia Table Tennis Association Pennant 1 grand final tonight from Max Miller Carpets, led by junior star Dillon Chambers.
In the other semi-final, redoubtable penholder Ed Hung got Mallee Bearings off to a flier with a win over Sunny Daily's Sam Foreman, with his blend of patient defence and sidespin.
With Mallee Bearings No 1 Wayne Carmichael likely to win his three singles on the night, that left the top side with the task of winning both doubles, and losing no more than one singles, to reach the grand final.
Carmichael duly delivered, dominating Graeme O'Neill and Foreman in straight sets, and downing opposite number Mark Dorman in four sets, after dropping the first.
But Dorman and Graeme O'Neill, who have been a strong doubles combination through the season, defeated Carmichael and Hung in four sets, and Dorman backed up with Foreman to win in five sets over Carmichael and Damien Ford.
Dorman was uncharacteristically shaky against Ed Hung, who has had a good season, and conceded two sets before falling over the line 11-7 in the fifth.
The result came down to a contest between O'Neill and Hung; Hung was the victor the last time they met, but O'Neill defended patiently and waited for opportunities to knock off winners with his main weapon, a potent topspin backhand. After coming from behind to close out the first set, he dominated to win in straight sets.
Second Semi Final
(2) MAX MILLER CARPETS – Dillon Chambers(1), Gavin Minter(10), Daniel Jansen(17) vs (3) FISHERS IGA – Gavin Carmichael(4), Jackson Tung(6), Peter Bishop(16)
The Carpeteers were ruthless in dispatching third-placed Fishers IGA 6-3 in last week's semi-final, while the Daily, after some nervous moments rolled over Mallee Bearings 6-4.
At 13, Chambers, is already the best player to come out of Sunraysia, and he is in intimidating form after honing his skills against Australia's best juniors over the past year.  He is currently ranked eighth in his age group nationally.
After going through two home-and-away rounds undefeated, he blitzed the field in last week's Super 8 Singles title.
He won his three singles easily in last week's semi-final, taking his side over the line with an 11-3, 11-4, 12-10 eclipse of Fishers No 1 Mark Ljubic, whose unconventional mix of attack and defence troubles most opponents.
Only Fishers No 2 Jackson Tung, a big improver this season, managed to steal a set from Chambers – a rare and relative triumph among the long list of Pennant 1 players who have been blown off the table by Chambers' blistering topspin attack and blocked defence. Chambers ended up beating Tung 11-4, 10-12, 11-9, 11-4.
Mark Ljubic contributed two of Fishers' wins, defeating Gavin Minter in four close sets, and dismissing Daniel Jansen in straight sets. Tung's four-set win over MMC No 3 Daniel Jansen was the only other win for Fishers.
Gavin Minter also defeated Jansen, in four sets, but it was MMC's dominance in the doubles that sealed the win – Chambers and Minter beat Ljubic and Tung in straight sets, and Chambers then combined with Jansen to eke out a five-set win over Peter Bishop and Ljubic.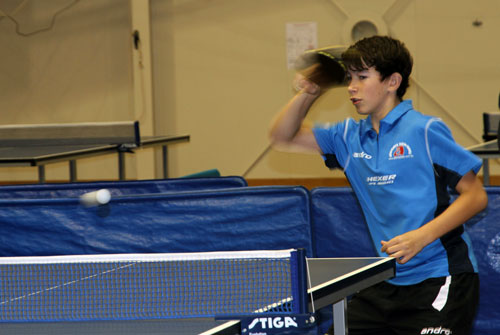 PENNANT TWO
First Semi Final
(1) TANKARD DENTAL – Sony Sefer(3), Abraham McDonnell(4), Henry Hornsby(5) vs (4) PINNACLE PACKERS – Arthur Paar(2), David Balshaw(14), Leon Brown(12)
The Pennant 2 final tonight will pit Fishers IGA against Tankard Dental.
Tankard Dental, which dominated the home-and-away season, winning nine matches to one, looked in big strife when Pinnacle Packers ran out to a 4-3  lead before the first doubles, after junior Leon Brown got the Packers off to a flier with a five-set win over Henry Hornsby.
But the in-form Sony Sefer, a big improver this season, stood up for his side, winning three singles including a vital five-setter over the awkward Arthur Parr, runner-up up in the singles aggregate this season – Sefer's win ultimately turned the match.
After losing his first two singles to David Balshaw and Paar, Abraham McDonnell regrouped to defeat Brown in five, and Hornsby completed the fight-back by defeating David Balshaw in straight sets.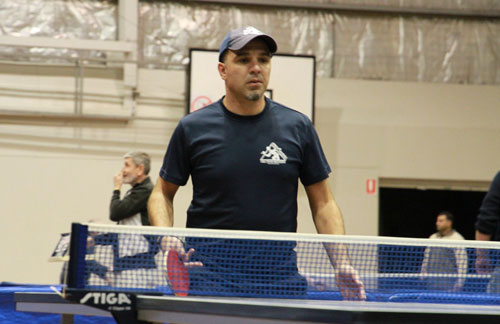 Second Semi Final
(2) FISHERS IGA – Robert Chiswell(9), Jackson Murphy(1), Laurie Plummer(13) vs (3) SPANLINE – Arnold Jago(7), Nick Barlow(11), Trevor Gebert(15)
Fishers was too consistent for Spanline in the second semi-final, with junior Jackson Murphy and Robert Chiswell winning two each, and veteran Laurie Plummer contributing n with a singles win over Arnold Jago, and winning an epic five-set doubles with Plummer over Jago and McDonnell to keep Fisher's flame flickering.
Fishers looks a well-balanced side, and the final could well come down to wire – Sony Sefer's match against rising star Jackson Murphy could be the decisive contest.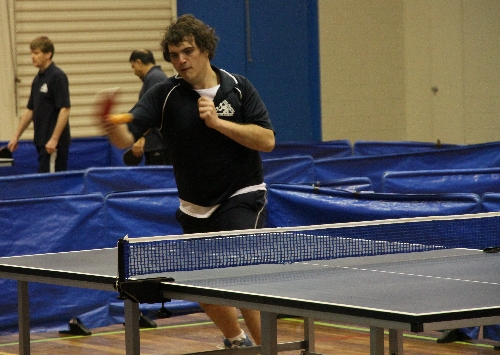 PENNANT THREE
An upset in one match, and the return to form of Sabrina Fitzpatrick in the other.
First Semi Final
(1) MAX MILLER CARPETS – Karina Sullivan(5), Gary Hughes(2), Damon Southgate(7) vs (4) PINNACLE PACKERS – Bernadette Fitzpatrick(8), Peter Kelly(13), Mary Fitzpatrick(11)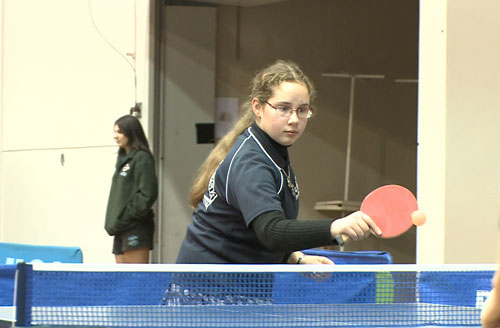 First placed Max Miller Carpets won eight of their ten preliminary matches and in this game were pitted against Pinnacle Packers who had only won half that number.  Unfortunately for the Minor Premiers, number three Damen Southgate was still sidelined through injury, and for only the third time, required a fill-in, this time Rachel Fitzpatrick doing the honours.  The opposition consisting of Bernadette and Mary Fitzpatrick and Peter Kelly rose to the occasion and eliminated the Carpeters from the finals race.  This was an upset in that the Carpeters had more wins on the board, but the Packers were well aware that they came within one rubber of defeating their opposition only three games before, in Round 8, when they only had two players, Mary Fitzpatrick doubling up as Peter Kelly !!  This time round Peter Kelly was there in person, his unorthodox style giving him wins in his singles against Rachel Fitzpatrick (four sets), in the doubles with Bernadette (five sets) and then at the end defeating a surprised Gary Hughes in four sets, giving the Packers the match.  Bernadette had earlier in the night contributed two rubbers, against sister Rachel, and frustrating Gary Hughes to take a four set win.  For the Carpeters, Karina Sullivan did her best to keep her team in the game, winning the two singles matches she played, firstly against Peter Kelly (four sets) and Mary Fitzpatrick (three sets).  She combined well with Rachel Fitzpatrick in the second of the doubles to come from behind in no less than three of the sets to defeat Bernadette and Mary in a nerve-wracking four set win 5-11, 11-6, 12-10, 11-9.  A good win to the Packers, and if they continue this form, they may well be premiers next Wednesday night.
Second Semi Final
(2) SUNRAYSIA DAILY – Mark Kerr(1), Sabrina Fitzpatrick(16), Karly Leach(12) vs (3) MALLEE BEARINGS – Colin Moore(4), Duncan Kelly(17), Delaney Murphy(10)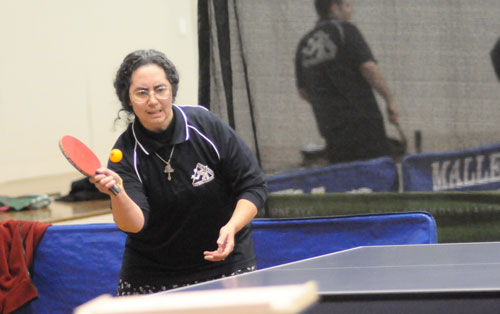 Second placed Sunraysia Daily led by Mark Kerr played Colin Moore's Mallee Bearings side.  For various reasons, Moore has had fill-in's almost every week, leaving the side unstable to say the least.  In this First Semi though, he was assisted by Andrew Lewis and Jeremy Corrin, the number two and three from the eliminated Weightmans Packaging team.  Scores were locked at three all after six rubbers, and the Dailies took the next three to win comfortably six to three.  Sabrina Fitzpatrick contributed two singles wins in those six rubbers, the first one being unexpected – she took Colin Moore to five sets and emerged victorious.  Moore had great difficulty in handling Sabrina's flat low shots, and was forced into more errors than he was able to make winners from the balls that came to his end of the table.  Fitzpatrick took the first two sets, but Moore steadied to take the next two, and bearing in mind their respective positions on the aggregate table (4th and 16th) it was not too unkind to think that maybe, Moore would continue on and take the fifth.  But no, it was he who faltered, and Fitzpatrick took the fifth fairly easily 11-6.  Sabrina later in the night won another five setter against hard-working left-hander Andrew Lewis.  This match was touch and go, Lewis going all out when the opportunities arose to pelt down his forehand smashes.  But for all that, he had to work harder to win his sets, than Sabrina did to win hers, and she won 11-8, 7-11, 11-13, 11-9, 11-6.  In the first match of the night neither Karly Leach nor opponent Jeremy Corrin wanted to concede any points, and the match was a lengthy 12-14, 11-6, 9-11, 12-10, 12-10 win to Corrin.  By the time the ninth match came around, the Dailies were leading five rubbers to three, and Mark Kerr and Colin Moore came to the table in the first of the final round of singles matches.  Only two nights before Moore had defeated Kerr in their clash in the Super Eights, and he fancied his chances of doing it again.  Kerr, however, would have none of it, and after a nervous first set going in his favour 15-13, he finished Moore off in the next two 11-4, 11-9 to seal the win.
PENNANT FOUR
One predictable result, and a good contest in the other.
First Semi Final
(1) BISHOP BUILDERS – Leonie Dunkley(3), Paul Fitzpatrick(6), Sandra Southgate(10) vs (4) MAX MILLER CARPETS – Sam Hensgen(4),Wendy Simpson(11), Gabriel McDonnell(7)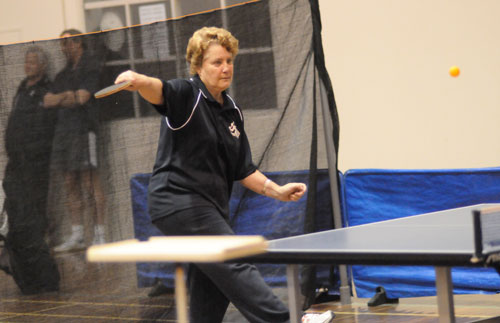 Bishop Builders have been the form side of the season, only dropping two matches of the ten home-and-away games.  Ably led by Leonie Dunkley and backed up by energetic Paul Fitzpatrick, this team has been consistent throughout the season.  Max Miller Carpets on the other hand, just do not yet have the fire-power to take games up to their opponents.  Their captain Sam Hensgen has had a good season, finishing only three games behind Dunkley on the aggregate in fourth spot, and Gabriel McDonnell improves with every outing.  On this night though, everything went the Builders' way.  The match was wrapped up after the seventh rubber; Bishop Builders running up five wins before the Carpeters could get a score on the board.  It was not, however, a walk-over.  The Carpeters put up a great fight, taking the Minor Premiers to five set matches in three of the rubbers, Sam Hensgen and Wendy Simpson unlucky not to win the doubles against Leonie Dunkley and Paul Fitzpatrick, when they went down 12-10 in the fifth.  Sam Hensgen registered the Carpeters' only win with a five set victory over Sandra Southgate, knowing that a loss would have given the Builders' a whitewash 6-0 victory.  And the very next match Gabriel McDonnell and Paul Fitzpatrick both played as though their lives depended on it, the match see-sawing, but Paul prevailing to win and take the night for his team with a score 11-6, 11-13, 11-4, 6-11, 11-9.  Earlier in the night Gabriel stole a set from Leonie Dunkley before she settled, but she came back strongly in the next three to take this game 9-11, 11-2, 11-3, 11-3.  The Builders will need to be on their game next week, and this win will keep them in trim for the Grand Final.
Second Semi Final
(2) FISHERS IGA – Mick Bacon(1), Laura Priestley(12), Shirley Whitecross(9) vs (3) MALLEE BEARINGS – Lachlan Kelly(2), Ryan Hensgen(5), Ben Hosking(8)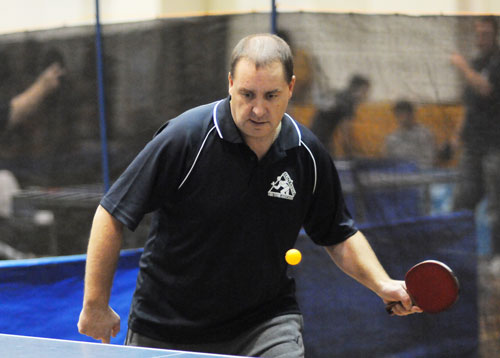 These teams played each other three times during the season: Mallee Bearings winning twice (6-5 and 8-3) and Fishers taking the win on their first meeting in Round Two, 6-5.  Fishers finished second on the ladder with six wins and Mallee Bearings third, one game behind on five.  Mallee Bearings have two good players in Ryan Hensgen and Lachlan Kelly, these two being second and fifth on the aggregate.  For Fishers, Mick Bacon always performs well, but his side lacks the overall consistency of his opponents.  On this night, Fishers got off to a flyer, and after five rubbers led four to one, Shirley Whitecross defeating Ben Hosking in a five match after Hosking led two sets to one.  Bacon accounted for his opposite number Ryan Hensgen in a high quality three set match, winning 12-10, 14-12, 11-9.  Bacon and Laura Priestly combined in the doubles to overcome Lachlan Kelly and Ryan Hensgen in a five set encounter.  Bacon then took his second win, this time over Ben Hosking in another three set affair.  The only win for Mallee Bearings up to this point was a win to Lachlan Kelly over Laura Priestly in straight sets 11-7, 11-9, 11-9.  Mallee Bearings from that point on were unbeatable, and they took the next five rubbers to rout Fishers six rubbers to four.  Lachlan Kelly continued on his winning way, taking a further two singles wins, including a defeat of Mick Bacon in four sets.  Bacon lost the first two, then got his game going to take an easy third set 11-1.  He almost stayed in the match, but had given Kelly too much start and lost in the fourth 12-10.  Kelly was backed up by further wins by team-mates Ryan Hensgen and Ben Hosking.  Kelly and Hosking had a good tussle in the second doubles with Bacon and Whitecross before taking the match in four 12-10, 7-11, 11-5 and a marathon fourth set 18-16.  This was a good all-round performance from the Mallee Bearings players, and will put them in good stead for the Grand Final.
For further information on finals contact Gavin Carmichael 0408 237 907 or 5023 7907 / Sony Sefer 0400318199 / Mark Dorman 0417 566 463
**************************************************************