Read Time:
17 Minute, 59 Second
Sunraysia Table Tennis Summer Pennant results round 7: –
PENNANT ONE:
– Fishers IGA 7 (Gavin Carmichael 3, Jackson Tung 2) d Pinnacle Packers 4 (Kevin Johns 2, Mark Ljubic, Darren Robinson 1);
Mallee Bearings 7 (Wayne Carmichael 3, Ed Hung, Sony Sefer 1) d Sunraysia Daily 4 (Mark Dorman, Sam Foreman 2);
Max Miller Carpets 8 (Dillon Chambers 3, Gavin Minter 2, Jackson Murphy 1) d Weightmans Packaging 3 (Andrew Cannard 2, Joel Dorman 1)
PENNANT TWO:
– Spanline 5 (Anthony Fox 3, Nick Barlow 1) d Fishers IGA 4 (Jackson Murphy, Robert Chiswell 2);
Mallee Bearings 7 (Seval Fuat 3, Mathew Burns 2, Mark Kerr 1) d Pinnacle Packers 4 (Arthur Paar 2, Leon Brown 1);
Tankard Dental 8 (Sony Sefer, Abraham McDonnell 3, Henry Hornsby 1) d Max Miller Carpets 3 (Ashley Morrison, Laurie Plummer 1)
PENNANT THREE:
– Max Miller Carpets 7 (Karina Sullivan, Gary Hughes 2, Damen Southgate 1) d Weightmans Packaging 4 (Peter Fitzpatrick 3, Andrew Lewis 1);
Sunraysia Daily 8 (Mark Kerr 3, Karly Leach 2, Sabrina Fitzpatrick 1) d Mallee Bearings 3 (Colin Moore 2, Delaney Murphy 1);
Pinnacle Packers 7 (Bernadette Fitzpatrick, Gary Hughes 2, Mary Fitzpatrick 1) d Fishers IGA 4 (Nicholas Dorman 3, George Papanicolaou 1)
PENNANT FOUR:
– Bishop Builders 7 (Leonie Dunkley 3, Paul Fitzpatrick, Sandra Southgate 1) d Mallee Bearings 4 (Lachlan Kelly, Matt Ljubic 2);
Fishers IGA 5 (Mick Bacon 3, Shirley Whitecross 1) d Max Miller Carpets 4 (Sam Hensgen, Gabriel McDonnell 2)
PENNANT ONE
After remaining winless for the first five rounds of the pennant one summer table tennis competition Mallee Bearings have won their second match on the trot, this time amazingly accounting for top team Sunraysia Daily 7-4, who had not tasted defeat for the past five rounds. This victory by the bottom team against the top team has evened the competition with first to fourth only separated by one win.
MALLEE BEARINGS VS SUNRAYSIA DAILY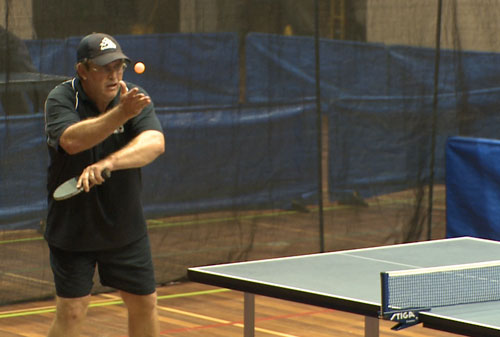 With Mallee Bearings skipper Wayne Carmichael controlling the match by winning three singles and participating in both doubles victories, Mallee Bearings were always comfortable after a slow start. At one stage early they did trail 1-3 however they then rattled off five victories in succession to shut their opponents out of the match. Included in these five was an excellent four set victory by pennant two fill in Sony Sefer over Graeme O'Neill who has been in form of late. Sefer in an interesting score line defeated O'Neill 11-8 0-11 11-4 11-8. Sefer later partnered Carmichael in the second doubles to defeat Mark Dorman and Sam Foreman in a lengthy five set contest 13-11 8-11 11-9 8-11 11-8. These two victories were vital in Mallee Bearings success.
For Sunraysia Daily Mark Dorman won two singles as did Sam Foreman who is enjoying a consistent season.
MAX MILLER CARPETS VS WEIGHTMANS PACKAGING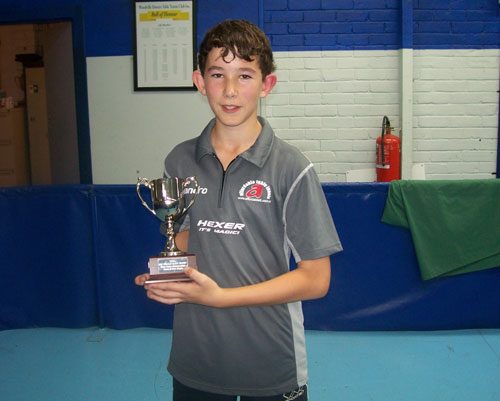 Fourth team Max Miller Carpets opened up a two game break over fifth team Weightmans Packaging by defeating them 8-3 in a strong display. With three rounds to play this victory gives the Carpeters a little breathing space. Dillon Chambers again was on fire winning three singles. He defeated both Andrew Cannard and Joel Dorman in four sets. Cannard played well to keep the pressure on however Chambers was always able to keep his nose in front winning 11-7 9-11 11-9 11-9 in a close one.
Chambers also participated in both doubles victories as his team took control. The second doubles was a highlight when Chambers was joined by the fast improving Jackson Murphy up from pennant two to defeat Andrew Cannard and Lee Thomas 11-13 15-17 11-8 11-6 13-11 a great comeback from two games to love down.
Murphy later defeated the in form Lee Thomas in four sets in the final game of the night to finish well in his first match at this level. Sadly this was the last match for this season for Lee Thomas who has gone under the knife and we look forward to seeing her back next season. Good luck Lee!!!  Gavin Minter for the Carpeters also enjoyed a good night winning two singles bouncing back to form after a couple of quiet weeks.
FISHERS IGA VS PINNACLE PACKERS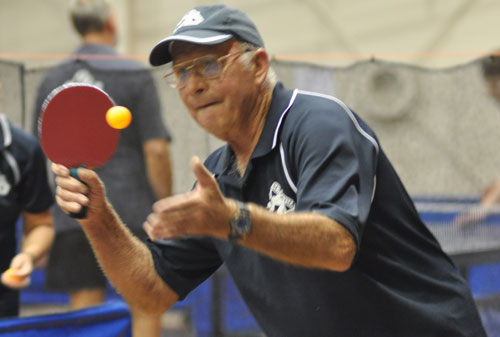 Fishers IGA proved too steady for Pinnacle Packers winning 7-4. The Packers started well to lead two rubbers to nil courtesy of a good win by veteran Kevin Johns in straight sets over the in form Jackson Tung. John's team mate Mark Ljubic then defeated Peter Bishop in four sets to give the Packers the early upper hand. Fishers then took control of the contest winning the next four matches. The highlight in these four victories was the five set win by Jackson Tung over the five set king Mark Ljubic. Tung, licking his wounds from the earlier defeat at the hands of Johns, bounced back against Ljubic as they traded many five rallies. Tung took an early two game break and then had to weather the storm as Ljubic charged back into the match to level at two rubbers all. Tung remained focused and calm in the fifth to go on and win 14-12 11-9 9-11 6-11 11-9 in what had been a great contest.
Later Tung fought back from a two game deficit to win another five setter 9-11 13-15 11-6 11-8 11-5 this time at the expense of Darren Robinson. Tung's team mate Gavin Carmichael won three singles in his team's win as well as participating in both doubles victories by the Fishers combination. For the Packers Kevin Johns played extremely well to win two singles, his most successful night for the season however the lack of success in the doubles and Tung's form was costly for the Packers.
PENNANT TWO
Five teams are fighting it out for four spots with three rounds remaining as this pennant continues to hot up.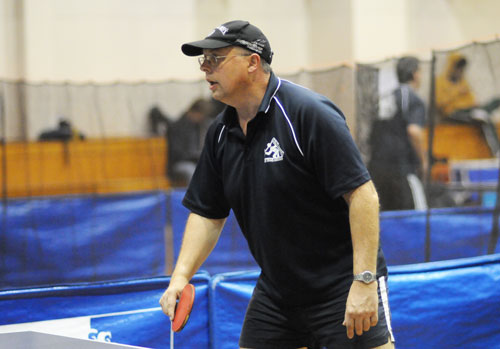 SPANLINE vs. FISHERS IGA
Due to player unavailability this match saw two players match up against each other with some excellent table tennis taking place in a close encounter. After filling in against Spanline last round Anthony Fox this round came to the aid of his favourite team and continued his impressive form from the previous week to again win all his matches.
Fox defeated the fast improving Jackson Murphy in three sets but all were separated by the barest margin, the score line 11-9 14-12 11-9. This was a good win as young Murphy is in form and has enjoyed an impressive season. Fox later enjoyed a rare victory over Robert Chiswell winning in five sets 11-8 11-4 6-11 7-11 11-5 in what was the decider for the night.
Fox capped off a successful night for himself personally as earlier in the only doubles he combined with Nick Barlow to defeat Chiswell and Murphy 7-11 11-3 11-7 14-16 12-10 in a great tussle. The victory to Spanline after their 1-10 debacle last round was important as they have moved to second one game clear of third and two games clear of fourth. This win may have sealed their chances of playing finals table tennis in December while Fishers now sit in third position and will probably need two wins to hold a spot in the top four.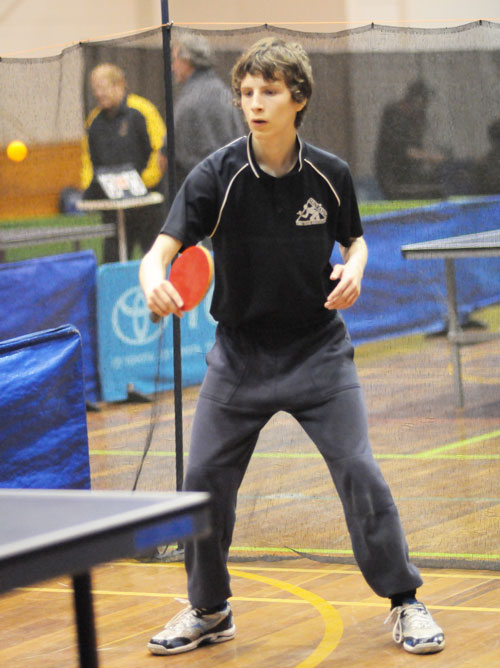 TANKARD DENTAL vs. MAX MILLER CARPETS
This was always going to be tough for the Carpeters as they lined up against the top team Tankard Dental and despite putting in a brave performance the Carpeters went down 3-8. Tankard's skipper Sony Sefer has his troops well disciplined at the minute and this week young Abraham McDonnell came to the fore winning three singles although he did have a titanic struggle with Laurie Plummer after winning the first two games comfortably. Plummer fought back well to level the match and then in the last Abraham just managed to keep his nose in front to win 11-5 11-5 9-11 9-11 11-9.
Sefer also bounced back to form this week, as his appearance in pennant one indicates. He won three singles in this match and teamed with young Macca to win the first doubles. For the Carpeters Laurie Plummer and Ash Morrison won a singles each and together played well in the second doubles to record a 4-11 13-11 8-11 11-9 11-5 victory over Henry Hornsby and Abraham McDonnell.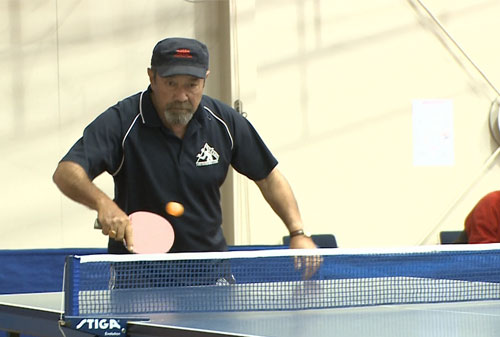 PINNACLE PACKERS vs. MALLEE BEARINGS
The wash up of this 7-4 victory to Mallee Bearings over the Packers is that they now both sit on three wins from seven starts in fourth and fifth position separated by only one rubber in Mallee Bearings favour as the battle for fourth position hots up with three rounds to play.
Mallee Bearings skipper Seval Fuat played a key role in the victory winning three singles and his 11-4 12-10 11-9 victory over aggregate leader Arthur Paar helped his team to get off to a flying 4-0 lead early in the night. Included in these victories were two crucial five setters, the first when fill in from pennant three mark kerr outlasted David Balshaw 11-9 11-4 6-11 10-12 11-9 continuing the history of many five set tussles between this pair.
The first doubles featured Fuat and Matt Burns up against Paar and Leon brown and this was a beauty with the Mallee Bearings pair of Fuat and Burns narrowly taking the points 11-9 3-11 6-11 16-14 12-10 a great contest. Burns, who sits fourth on the singles aggregate, continued his good form winning two singles to support his skipper.
Pinnacle Packers skipper Arthur Paar won two singles to remain two games clear on the singles aggregate however both these came in tough five sets. In particular his last match was a victory from the jaws of defeat when he matched up against the leader of the singles aggregate in pennant three Mark Kerr who had kindly offered to double up. Paar was under pressure the whole way with Kerr's defence blunting many of his attacking shots while Kerr's sliced serve was also causing frustration for Paar.  The match went to five and in the fifth with consistent play Kerr had worked his way to a 10-6 lead and Paar looked gone however to his credit he probably put together his most consistent table tennis for the match to claw his way back and in a massive turn around he was able to get up 13-11 in an exciting conclusion. What a boil over it almost was and an encouraging sign for kerr to show he is more than competitive at this level. Earlier Paar had to survive another tight five setter defeating Matt Burns 5-11 11-5 6-11 11-4 14-12.
PENNANT THREE
With only three rounds remaining before the finals, the ladder is being sorted into the contenders for the flag.  As a result of this week's play, Weightmans Packaging, by virtue of their loss, are now unable to make the finals.  Going into the night's play, Max Miller Carpets were two games clear at the top with five wins, followed by four teams on three wins, and the hapless Weightmans Packaging with one.  At the end of the night that had become Max Millers still on top by a margin of two, Pinnacle Packers and Sunraysia Daily two games behind after winning their matches, then a further game to Fishers IGA and Mallee Bearings.  Weightmans remained at the bottom.  Over at the aggregate ladder, the top half dozen spots are fairly well settled (for play in the Super Eights) Mark Kerr on top with 19 games from a possible 21, then Colin Moore, Gary Hughes and Nicholas Dorman all on 14, Damen Southgate (13), and Karina Sullivan on 12 but there is a squabble over seventh and eighth spots between four players, Delaney Murphy (10), Karly Leach, and Bernadette and Peter Fitzpatrick all on 9.  Of course, anything could happen…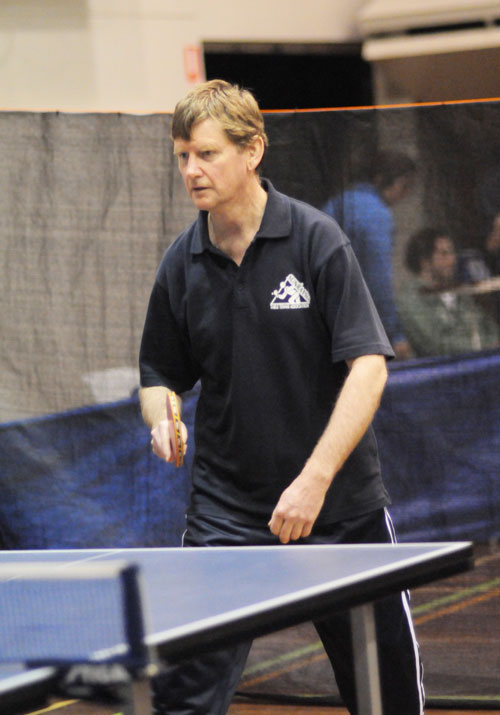 WEIGHTMANS PACKAGING vs.   MAX MILLER CARPETS
Going into this round, Max Miller Carpets were two wins clear at the top of the ladder, and another win saw them retain that margin.  The Carpeters were much too good for Weightmans; the match was decided at the conclusion of the second doubles, and they went on to win seven rubbers to four.
The importance of the doubles is often pointed out; Weightmans on this occasion unable to win either, in fact winning only one set in the two matches.  The sole highlight for the losers was Peter Fitzpatrick's win in all his singles, defeating Karina Sullivan and Damen Southgate both in four sets, but having a lot of trouble with Gary Hughes before winning in a five set match in which there was never more than two points separating them in the score.
Weightmans' fourth rubber was courtesy of hard-working Andrew Lewis who defeated Damen Southgate in the penultimate match of the night in four sets 12-10, 8-11, 11-9, 11-7.  As well as winning both the doubles, all the Max Miller players contributed to the win, Hughes winning his two other matches against Andrew Lewis in straight sets and Jeremy Corrin in five.  Damen Southgate won one match, the five set opening match of the night against an unlucky Jeremy Corrin.  Corrin was leading comfortably two sets to nil 11-5, 11-8 before Southgate hit his straps to take the next three 11-8, 11-5, 11-9.  Karina Sullivan also won two, defeating both Andrew Lewis and Corrin in straight sets.  Surely an inform team are the Carpeters.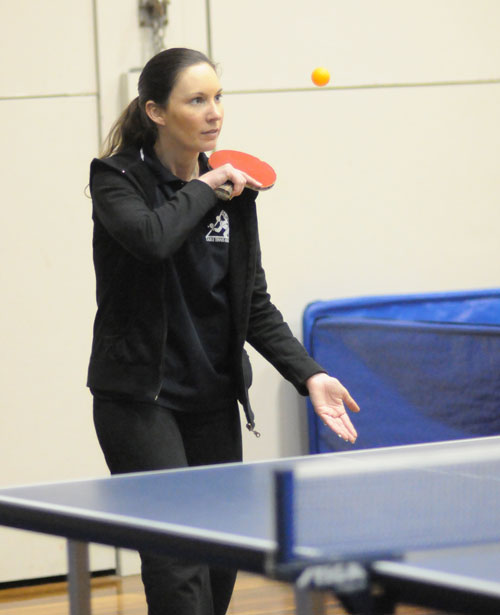 SUNRAYSIA DAILY   vs.   MALLEE BEARINGS
Sunraysia Daily, led by Mark Kerr, had a good win, this time against Mallee Bearings, who had been equal with them on three wins on the ladder.  Aggregate leader Kerr picked up another three singles haul, team-mate Karly Leach two, and Sabrina Fitzpatrick, now fully refreshed from holidays, doing well to snare one.  Kerr was untroubled in his singles, taking all his singles matches in just three sets.  He then combined with his team-mates in winning both the doubles, only giving away one set in the process, to take this match eight rubbers to Colin Moore's Mallee Bearings team three.  As with the Max Miller side in their game in this round, all players contributed to the win.  There were just two five set matches in this game, and they both featured Delaney Murphy.  Both were good matches, the first one, in which she defeated Sabrina, featured a good fight-back from Delaney, after being two sets down 14-16, 9-11.  Delaney put everything into the third set, Sabrina had a chance to take the match, but Delaney was able to sneak through 12-10.  After that Sabrina faded, and Delaney took the last two sets 11-3, 11-4.  Her other five set match was with Karly Leach.  This was a very even match, sets going either way to two all, before Karly took the fifth 11-8.  Captain Colin Moore took two singles wins, defeating Karly in three, but losing a set to Sabrina, in Sabrina's first match of the night.  Moore took a close first set 12-10, breezed through the second 11-1, before Sabrina started to find some form in the third to take it 11-9.  Moore regrouped however, and took the fourth 11-9.
If Kerr's team-mates can attain the same consistency as the Max Miller trio of Karina Sullivan, Gary Hughes and Damen Southgate, then it is probable that these two teams will be the grand finalists. Time will tell!!!!!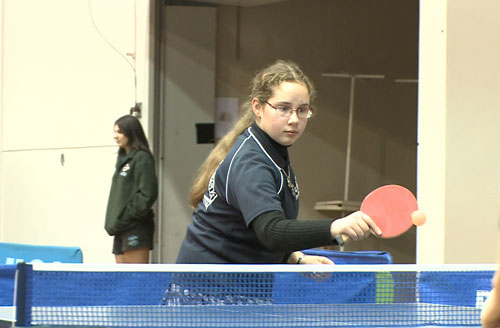 PINNACLE PACKERS vs.  FISHERS IGA
The result of this match was a little surprising, in that the losers Fishers IGA have probably got the two biggest-hitting players in this competition in Nicholas (Missile) Dorman and George Papanicolaou.  On this night however, their sheer speed was not enough, and the Pinnacle Packers side of sisters Bernadette and Mary Fitzpatrick assisted by the ever-competitive Gary Hughes (filling in for the Packers Peter Kelly), was too good.
This gave the Packers a very even side for the night, captain Bernadette Fitzpatrick won two singles, Hughes won two, and Mary Fitzpatrick chimed in with one.  Add to that both the doubles, yes both, and the Packers ran out a very handy seven rubbers to four winners.  Bernadette had an up and down night in the singles, accounting for her sister Rachel in three sets, but then being beaten by Dorman in three.
Later in the night she played the match which would win them the round, when she played Papanicolaou.  This was a very good match between two players who have just come off Pennant One in the junior competition.  Their styles are somewhat similar in that they both hit the ball hard, but Bernadette probably has the edge in her ability to keep the ball in play.  George was playing to keep his side in the match, at the time they were down 5-2.  They both played their natural game, Bernadette winning the first set 13-11 in a very even contest.  The winning margins in the next four sets were a reflection of whose game was in the ascendency at the time.  George took the second 11-8, Bernadette the third 11-4, George the fourth 11-5, and Bernadette the fifth 11-6.  There were some tremendous rallies is this match, balls retrieved from smashes of which Pennant One players would be proud!!
Our aforementioned big-hitters did not combine at all in the doubles going down meekly to Bernadette and Gary in three sets 13-11, 11-3, 11-1.  Dorman and Rachel Fitzpatrick fared a little better, getting one set in their doubles match against Bernadette and Mary, but losing 9-11, 11-7, 8-11, 9-11.  The strength of this side is however with young Dorman, who for the fourth week in a row won his three singles matches.
PENNANT FOUR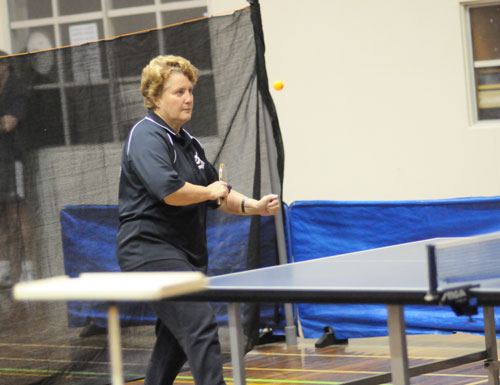 BISHOP BUILDERS vs. MALLEE BEARINGS
Bishop Builders opened up a two game break on their opponents Mallee Bearings on the pennant four ladder courtesy of their 7-4 victory. These two teams sit second and third respectively.
Bishop's skipper Leonie Dunkley was the standout player winning three singles as well as appearing in both doubles victories. This was the second time this pennant that Leonie won three singles and she sits two wins behind joint leaders Lachlan Kelly and Mick Bacon. Dunkley's match against Kelly this round was a beauty as they fought out a tremendous five setter with Leonie winning 11-7 7-11 14-12 9-11 11-6. Earlier Kelly had his hands full with Paul Fitzpatrick with Lachlan getting up in five sets 15-13 4-11 9-11 14-12 11-8 a real marathon from the two youngsters.
Matt Ljubic filling in for Mallee Bearings played well to win two singles as did Kelly however opponents Bishop Builders after early leading four rubbers to one were always able to maintain control.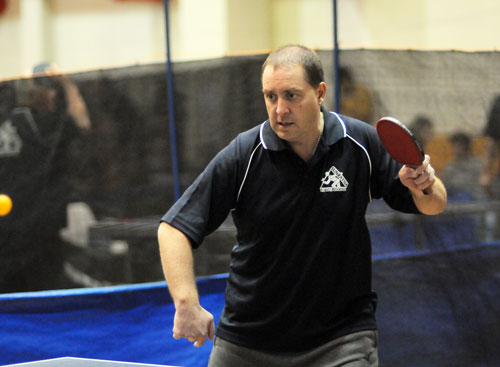 FISHERS IGA vs. MAX MILLER CARPETS.
Both teams went into this match a player short and what a good contest this was, being decided by the one and only doubles. For Fishers Mick Bacon and Shirley Whitecross outlasted young opponents Sam Hensgen and Gabriel McDonnell 6-11 19-17 11-4 11-5.
Fishers were able to win 5-4 with Mick Bacon later outlasting Sam Hensgen 13-15 11-9 11-9 8-11 11-4 in a tough slog which was to prove vital for Fishers in their quest for victory and  to maintain their ladder leadership.
**************************************************************
Sunraysia Table Tennis Summer Pennant results round 7: –
PENNANT ONE:
– Fishers IGA 7 (Gavin Carmichael 3, Jackson Tung 2) d Pinnacle Packers 4 (Kevin Johns 2, Mark Ljubic, Darren Robinson 1);
Mallee Bearings 7 (Wayne Carmichael 3, Ed Hung, Sony Sefer 1) d Sunraysia Daily 4 (Mark Dorman, Sam Foreman 2);
Max Miller Carpets 8 (Dillon Chambers 3, Gavin Minter 2, Jackson Murphy 1) d Weightmans Packaging 3 (Andrew Cannard 2, Joel Dorman 1)
PENNANT TWO:
– Spanline 5 (Anthony Fox 3, Nick Barlow 1) d Fishers IGA 4 (Jackson Murphy, Robert Chiswell 2);
Mallee Bearings 7 (Seval Fuat 3, Mathew Burns 2, Mark Kerr 1) d Pinnacle Packers 4 (Arthur Paar 2, Leon Brown 1);
Tankard Dental 8 (Sony Sefer, Abraham McDonnell 3, Henry Hornsby 1) d Max Miller Carpets 3 (Ashley Morrison, Laurie Plummer 1)
PENNANT THREE:
– Max Miller Carpets 7 (Karina Sullivan, Gary Hughes 2, Damen Southgate 1) d Weightmans Packaging 4 (Peter Fitzpatrick 3, Andrew Lewis 1);
Sunraysia Daily 8 (Mark Kerr 3, Karly Leach 2, Sabrina Fitzpatrick 1) d Mallee Bearings 3 (Colin Moore 2, Delaney Murphy 1);
Pinnacle Packers 7 (Bernadette Fitzpatrick, Gary Hughes 2, Mary Fitzpatrick 1) d Fishers IGA 4 (Nicholas Dorman 3, George Papanicolaou 1)
PENNANT FOUR:
– Bishop Builders 7 (Leonie Dunkley 3, Paul Fitzpatrick, Sandra Southgate 1) d Mallee Bearings 4 (Lachlan Kelly, Matt Ljubic 2);
Fishers IGA 5 (Mick Bacon 3, Shirley Whitecross 1) d Max Miller Carpets 4 (Sam Hensgen, Gabriel McDonnell 2)