Read Time:
11 Minute, 5 Second
Super 8's Winter 2014
 The concept of the Super 8's is to reward the top eight players from the singles aggregate in each grade in a round robin event to determine the Super 8's champ for that particular season. The event is held on the last Monday before the finals commence and gives the participants some tough matches as they prepare for the finals.
This event is still in its infancy and we have already witnessed some excellent matches and this event was no exception. Local business Sportspower were the sponsors of this tournament for the first time and the association welcomes them on board and are appreciative of their support.
PENNANT ONE
Going into the event Joel Thomas in his first Super 8's competition was red hot favourite and he was to be the eventual winner in a solid display continuing his excellent 2014 season.
Along the way to the final though, there were some very entertaining matches which took place probably none better than the first semi final played between father and son Mark and Matt Ljubic, this was the first time in 2014 they had matched up against each other given they were team mates during the winter pennant.
To get to this match Matt had defeated Nicholas Dorman 11-9 11-3 11-1 in a match where Nicholas though he was hard done by at the net. This was the first defeat of Nicholas by Matt this season. At their three meetings in the pennant Nicholas had taken the points.
Mark Ljubic reached the first semi after going down 2-11 8-11 6-11 against number one seed Joel Thomas and being in the top four he had the advantage of a double chance.
In the match against Matt, Ljubic senior attempted to gain authority early and took the first game. Matt then took control winning the second and third. There were many excellent rallies as both players resorted to their trade mark shots. Matt played some brilliant looping offensive forehands however many came back as Mark displayed his wares with numerous fine retrieves along with some bullet like forehands.
Mark levelled the match in the fourth and an exciting climax was on the cards; however Matt did not see it that way as he cruised through the fifth to take a well earned victory against his far more experienced team mate. The final score line in Matt's favour was 8-11 11-6 11-7 7-11 11-2.
In the second qualifying final (2v3) Gavin Carmichael scored a rare victory against his more favoured opponent Wayne Carmichael in four sets 11-8 11-9 5-11 11-5. There was a feeling Wayne was saving himself for the second semi final where he would be coming up against the "Dream Team" Bowen, Cannard and Paar. If that was the case it may have been a dangerous exercise as he now was in the same draw as Joel Thomas.
Before Wayne would get to play Joel he would match up against another brother Shane in the second semi, the winner would then get the enviable task of playing Joel for a spot in the final. To get to this match Shane did a "Lazarus" recovering from a match point in the third against Kate Carmichael. Kate took the first and second 12-10 (at one stage she trailed 4-10) and 11-8. In the third she narrowly led 10-9 and it looked like it may be curtains for Shane however he did not give in and won the third 12-10 before going on to win the fourth and fifth 11-5 11-9 in what had been a great come back.
Against Wayne, Shane tried hard but it was Wayne who prevailed 11-7 17-15 11-5 and earned the right to play Joel for a spot in the final. Wayne was out of the blocks here early, in what most thought would have been the match up in the final. This was probably the classiest match of the night as Joel lifted a gear after losing the first game before going on to win 10-12 11-7 11-5 11-8 in an absorbing match between  the top two players in the competition.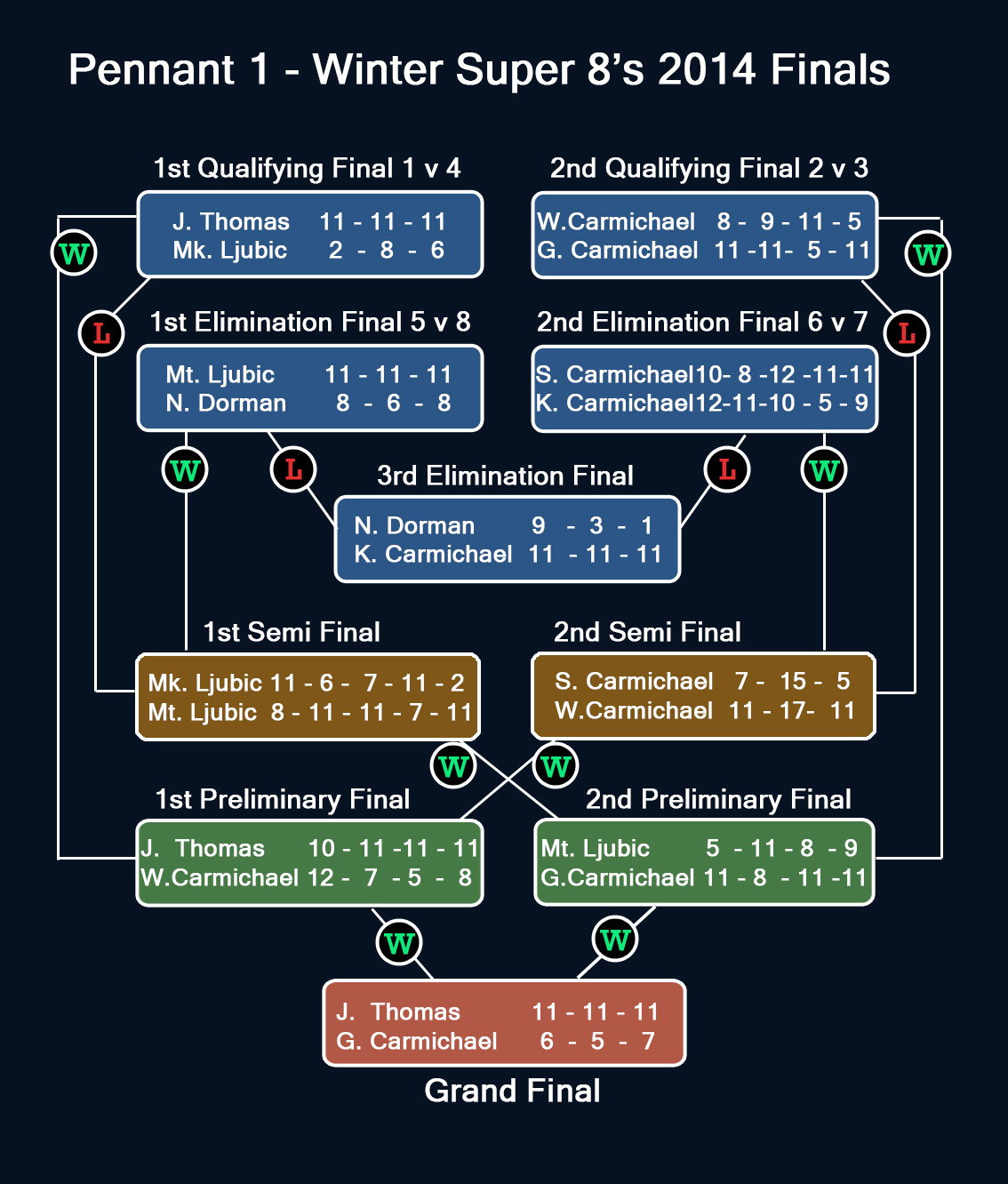 In the second preliminary final youngster Matt Ljubic was up against the experienced Gavin Carmichael and this too was a good match with both players vying for a spot in the final. Carmichael took the first before Matt bounced back with looping top spin forehands to trouble Carmichael in the second. The third and fourth were both tight as Carmichael defended mainly, however he did play some attacking shots and was able to hold control and go on and win 11-5 8-11 11-8 11-9.
The final          
The favourite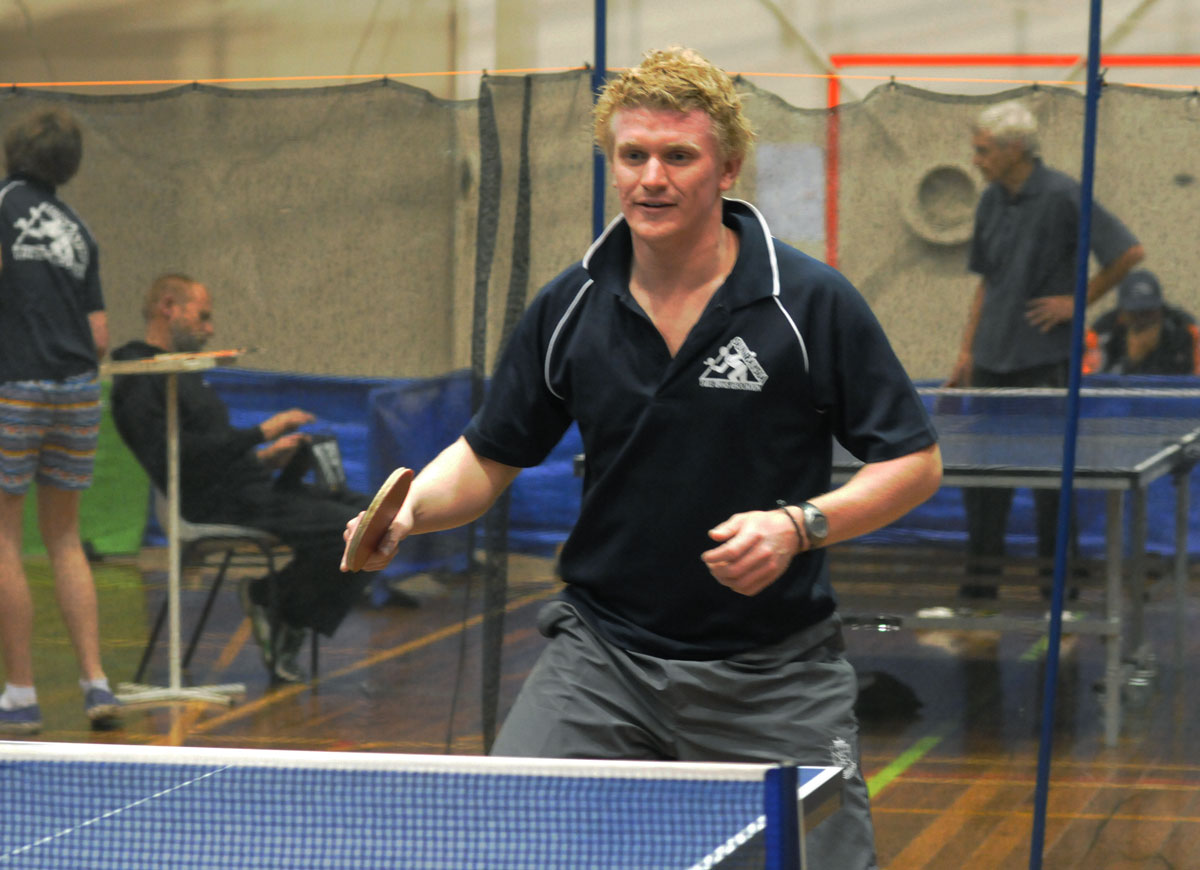 Joel Thomas powered through this match against Gavin Carmichael displaying his bag of tricks in an awesome display winning 11-6 11-5 11-7 to be a worthy "Sportspower" Super 8's champion. Joel has played tremendous table tennis in 2014 after having a long break from the game and is undefeated in all singles matches he has played.
PENNANT TWO:
Leon Brown has not had much to cheer about this season.  His team finished bottom-of-the-ladder with a mere five wins, and on more than one occasion Leon in other matches has won three singles and helped win both doubles, only to see a win go begging.  This, no doubt, will be Leon's high point for the year !!
Three players who qualified for this competition could not play – Ashley Morrison at number two, Geoff Wright at three and Ross Humphreys at number seven.  Terry Martin, Josh Carmichael and Tony Malycha, who finished the season ninth, tenth and eleventh moved into the competition.
The night started with Elimination Finals.  Arnold Jago accounted for son-in-law Tony Malycha in straight sets, and Josh Carmichael outed Terry Martin in a closer four set game 11-6, 14-12, 3-11, 11-7.
The top four played in Qualifying Matches.  Peter Midgley (aggregate winner) struggled initially against the hard-hitting much-improved Cole Keegan, losing the first two sets 5-11, 4-11 and looked to be in trouble.  Peter turned his game around though and took the next three sets 6, 1 and 8.
In the second Qualifying Match, Leon Brown met Sony Sefer in a game in which Sefer was the winner everywhere except the scoreboard.  The match went to five sets, Sefer took 48 points to Brown's 39, but Brown was the winner 11-9, 11-9, 4-11, 2-11, 11-8.
The next round of matches, the Semi's saw Cole Keegan dominate Arnold Jago to win 11-3, 11-9, 8-11, 11-5 and in the second Semi Josh Carmichael continued his great run, inflicting a second defeat on Sony Sefer.  After dropping the first set 8-11, Josh came back strongly to close the match out in four, with wins in the next three sets 11-8, 11-7, 15-13.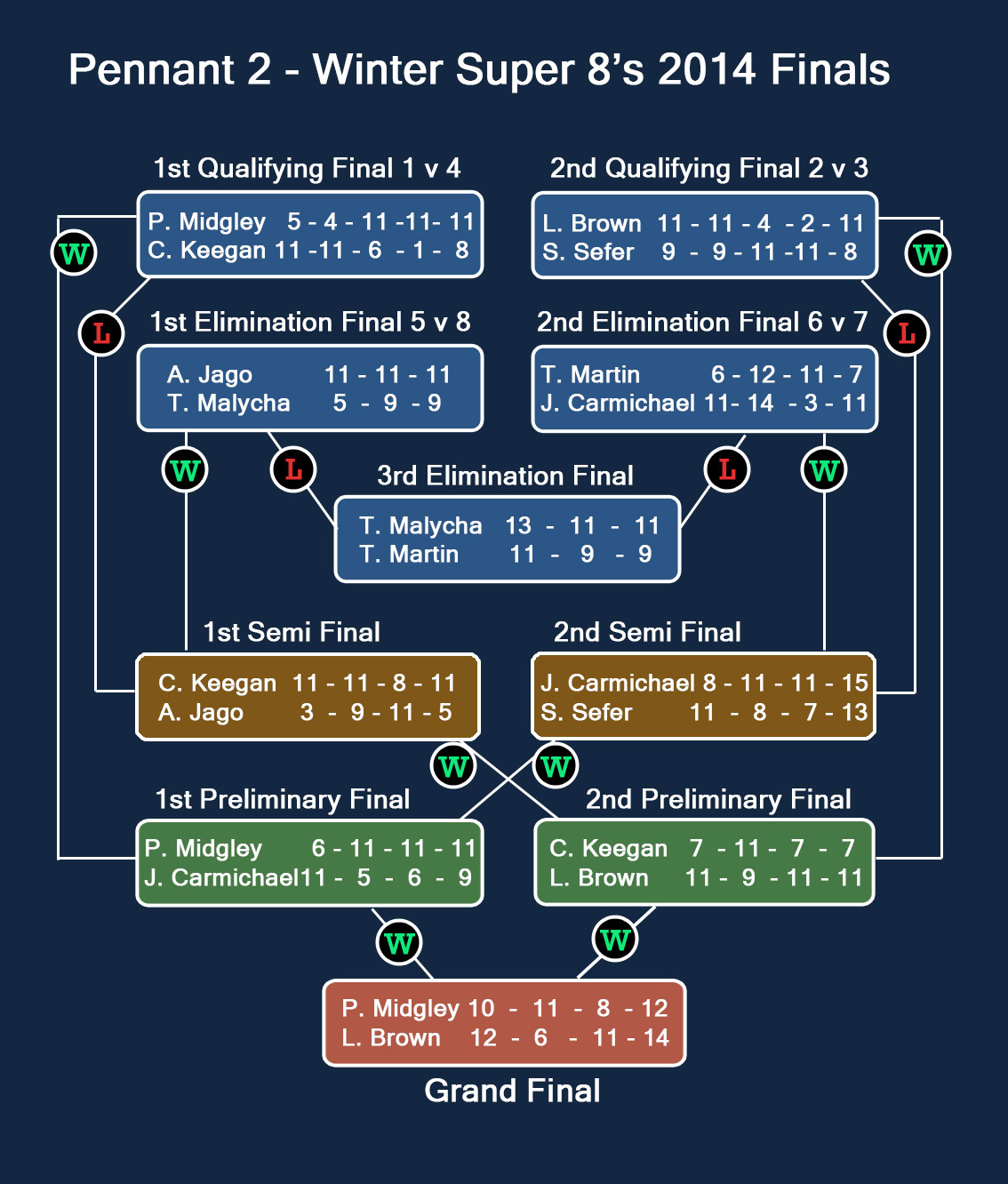 That set up two interesting matches for the Preliminary Finals.
After a great start 11-6 against Peter Midgley, Josh Carmichael was outplayed by his older more experienced opponent to go down in four sets; Midgley taking the last three 5, 6 and 9.  In the second game, Leon Brown was on his guard the whole time against Cole Keegan, and played a tight match to win that one 11-7, 9-11, 11-7, 11-7.
The Grand Final then, saw the players who finished first and second on the aggregate meet for the play-off.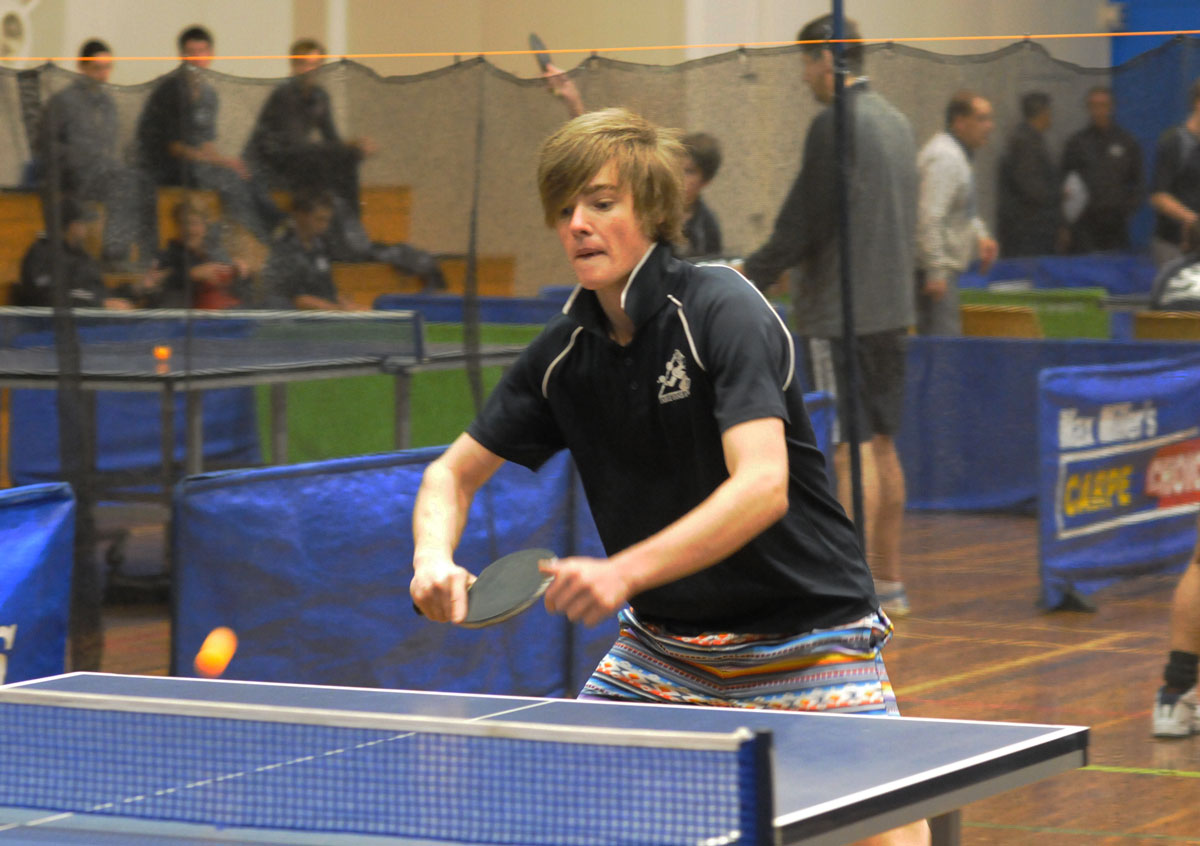 Brown played well, and gave Midgley little room to move, and in dropping only one set, got the Super Eight Title 12-10, 6-11, 11-8, 14-12.
PENNANT THREE :
Jai Green sprang a surprise on his captain Rod Healy in the Pennant Three Super Eights Grand Final last Monday.
Green and Healy are teammates for Weightmans Packaging, the team which has swept almost all before them during this Winter Pennant.
Being teammates, means of course, that they have never had to play against each other …
Mick Bacon, who sat seventh on the aggregate ladder, was unable to play, so Paul Fitzpatrick took the opportunity and the vacant spot.
Paul made the effort worthwhile by defeating teammate Peter Edwards in an Elimination Match in straight sets.  He met Karly Leach immediately afterwards and lost in four sets, but gave Karly something to think about in his 9-11, 9-11, 11-5, 9-11 loss.
Jai Green played in the other Elimination Final against Sabrina Fitzpatrick, and was not in trouble, winning 11-3, 11-1, 11-7.
In the Qualifying Matches, Rod Healy downed Rachel Fitzpatrick in the battle of The Defender versus The Attacker.  Rod was too good on this occasion, winning in four sets.  The second Qualifying Match was between Jeremy Corrin and Karly Leach.  Jeremy squeaked through in this game, taking the fifth 11-8.
The next round of games were the Semi's.  Rachel Fitzpatrick, was fired up after her defeat to Healy, and Jai Green was warmed up after his match with Rachel's mum, Sabrina.  The result was an entertaining five set contest; Rachel got the early lead 11-6, Jai bounced back 11-3, 11-4 in the next two, Rachel steadied in the fourth 11-7, and in the fifth Jai had too many winners, and took the set and match 11-6.  The second Semi was Karly Leach's win over Paul Fitzpatrick in four sets.
That brought us to the Preliminary Final's games.  Healy drew Karly Leach, and knew he was assured of a tough match, and so is proved, although Rod had Karly's measure and won in four sets 11-8, 11-9, 8-11, 11-7.  In the second Preliminary Final, Jai Green, after a close first set, downed Jeremy Corrin in three 13-11, 11-5, 11-8.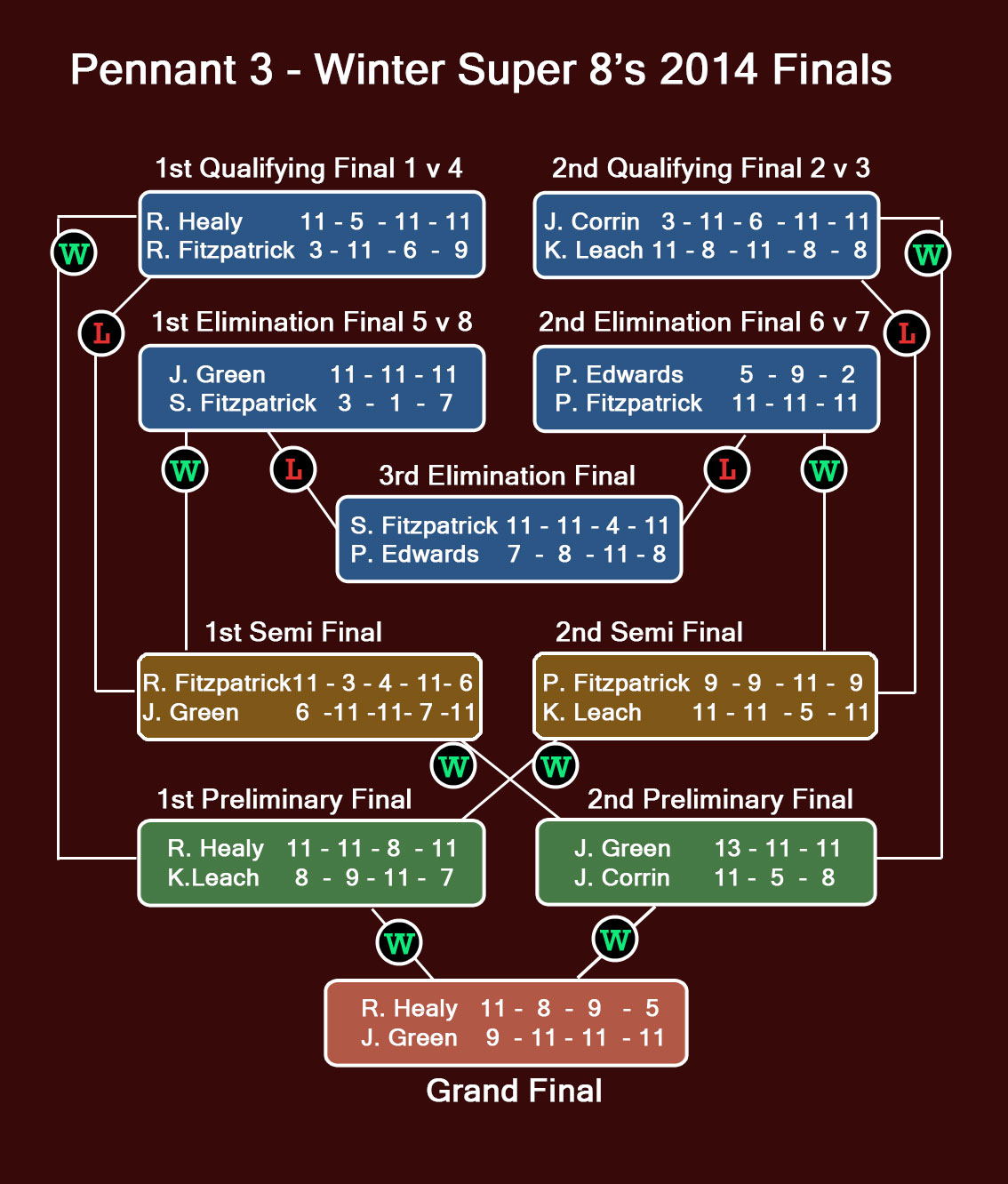 And so to the Grand Final, but first it is worth noting where the two contestants finished up on the aggregate ladder.  Healy, of course, is the aggregate winner for this season, having dropped only one rubber to give him a score of 44 from a possible 45.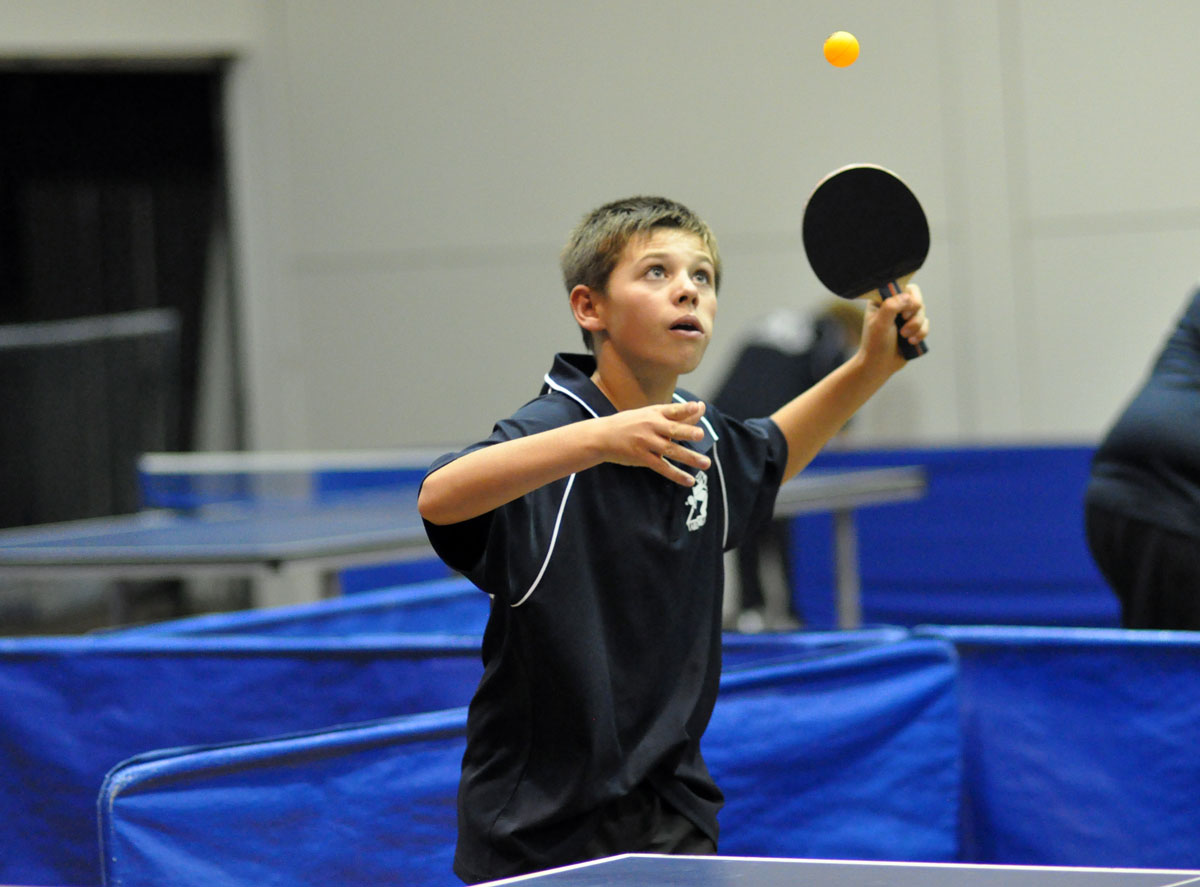 Green, playing at number two in Healy's team finished fifth on the ladder with 27 games from a possible 45, and is the best performed Number Two in this competition.
Both these players have improved immensely during this Pennant, perhaps Green more so …
The first set was Healy's, a close 11-9.  Green did better in the second set, grabbing it from Healy 11-8.  His signal to his captain was clear – I am here to win,  and he stuck with Healy in the third set, and saw him off to take it 11-9.  Healy could not come back after that, and Green took the fourth set comfortably 11-5 in record a great win.
PENNANT 4:
Going into the Pennant four Super 8's Cambell McKenzie would start as favourite on the back of his win in the singles aggregate however he would face strong competition from Kumail Jaffry and Paulo Reyes who finished second and third respectively. The top eight players were all present and this would be a good contest.
In his first match against fourth seed and fast improving Quentin Clark, Cambell was able to maintain control and win in straight sets 11-6 11-7 11-7. In the second qualifying match Kumail proved too strong for Paulo winning 11-4 11-8 11-9 in a good match.
In the first Elimination final (5v8) Soyel Zahidi, on his birthday, outpointed a determined Shirley Whitecross 11-6 9-11 11-8 11-9 while the second elimination final (6v7) featured Ben Hosking and Kim Avers. Kim proved too steady for Ben and won 11-8 11-7 11-8.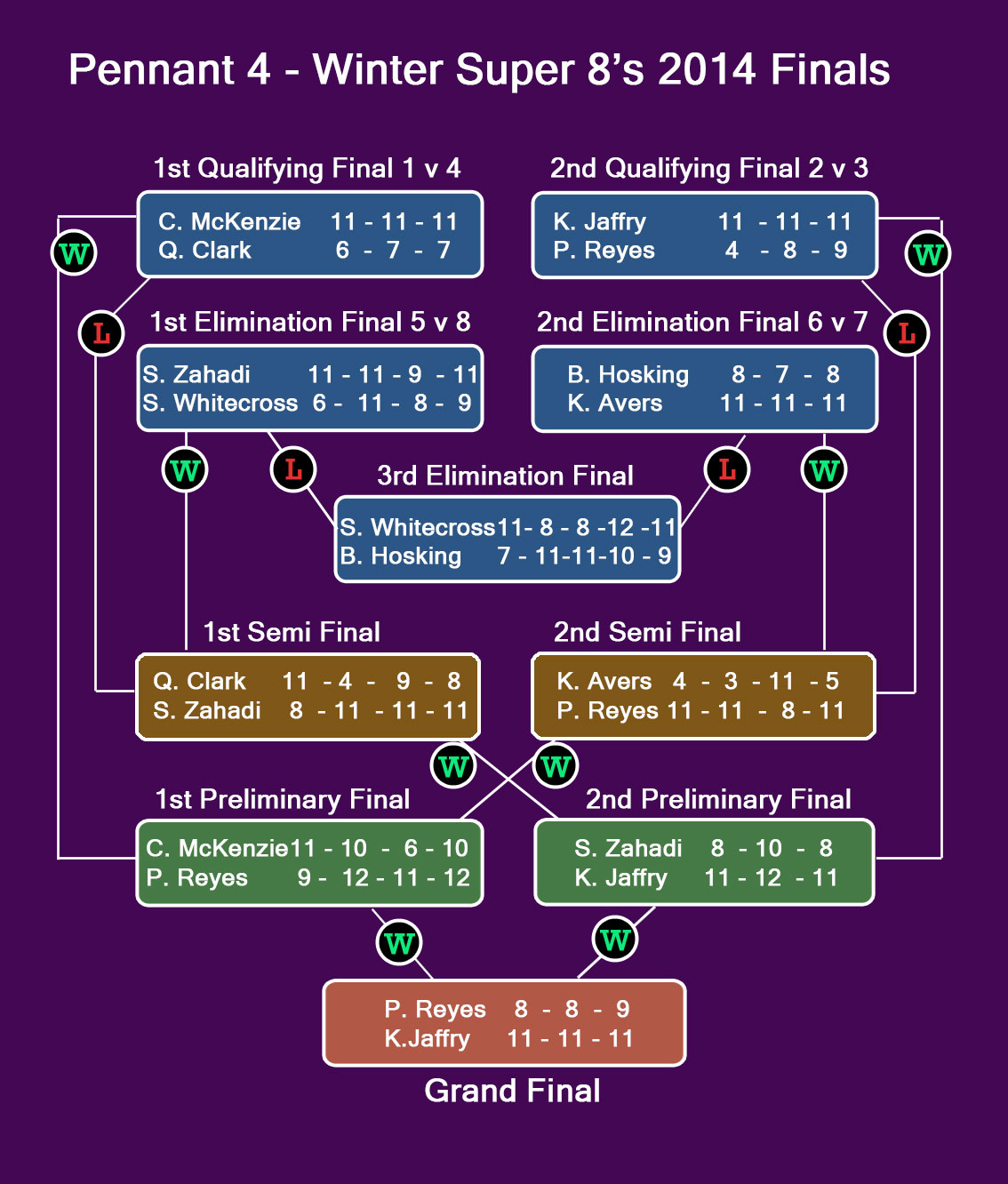 In the first semi final the birthday boy Soyel again played well to oust Quentin 8-11 11-4 11-9 11-8 another good tussle between these two talented players. After his first round loss Paulo was able to regroup and defeated Kim Avers in four sets. This win enabled him to move into the first Preliminary final against Cambell McKenzie. This was a great struggle and it was Paulo who prevailed in a top class match 9-11 12-10 11-6 12-10 the scores indicating a close match. Paulo had advanced to the final.
The other preliminary match took place between good friends Soyel and Kumail and while the three games were close it was Kumail who took the points 11-8 12-10 11-8 to set up a meeting in the final with Paulo.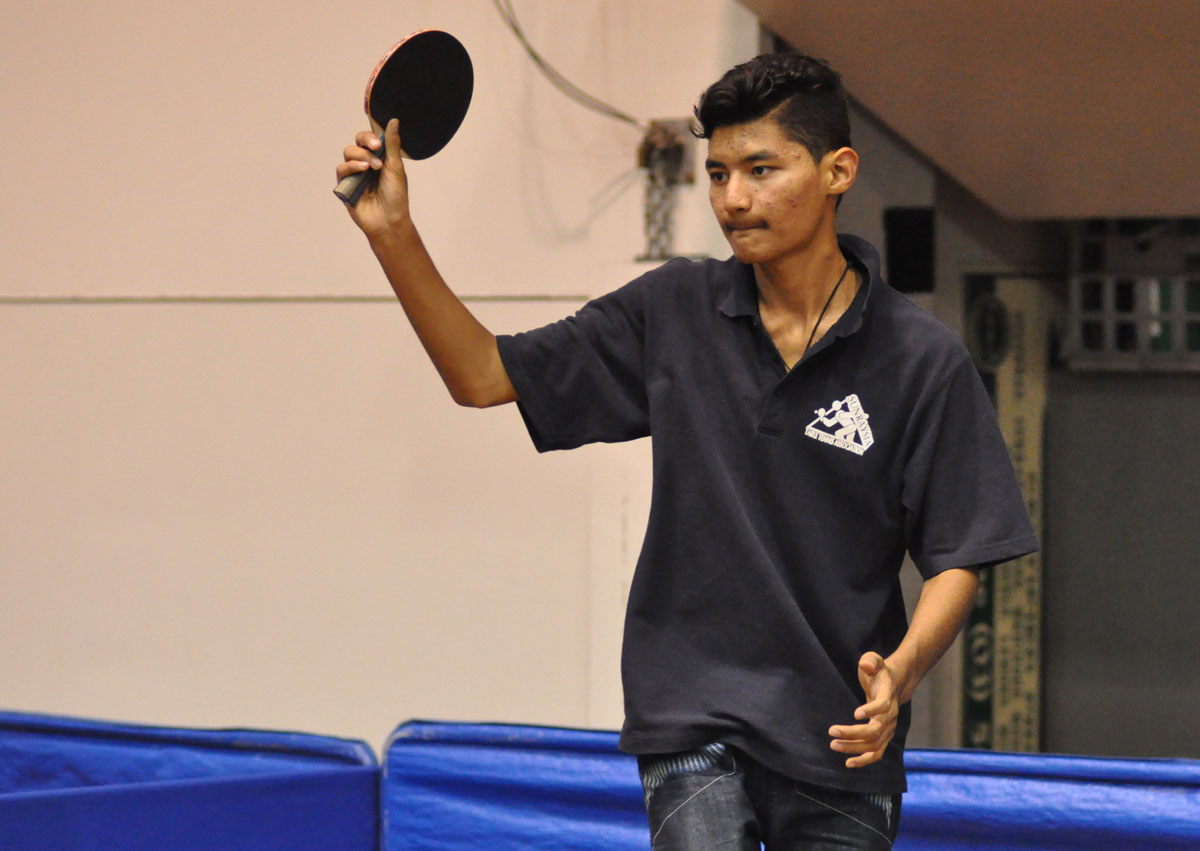 During the season Kumail had won 36 matches while Paulo had won 33 so it was expected to be a close final. Each game was close however Kumail was able to maintain a slight lead in each game and go on to win 11-8 11-8 11-9 in another good contest. Kumail was the pennant four Winter Super 8's champ.