Read Time:
17 Minute, 3 Second
PENNANT ONE:

Max Miller Carpets and Regional Taxation Services will play off this week in the Sunraysia Table Tennis "Cash Converters" summer pennant grand final.

Both teams enjoyed solid wins in the knockout semi finals over respective opponents Cookes Pools & Spas and Tankard Dental in the knockout semi-finals.
– Max Miller Carpets 6 (Matt Avers 3, Reece Kurrle 2) d Cookes Pools & Spas 4 (Kate Carmichael, Gavin Carmichael, Lee Thomas 1)
Ladder leaders Max Miller Carpets went into their match as favourites however had lost 5-6 in their last meeting to Cookes. Skipper Matt Avers won his customary three singles to continue his outstanding season however again it was his team mate Reece Kurrle who was the standout player for his team as he was last week.
Last round Kurrle had won two singles and his doubles with Avers and he repeated the dose in the semi-final. His first singles was a victory over Kate Carmichael in three sets 15-13 4-15 15-8. Carmichael put the pressure on in the third however Kurrle lifted a cog playing some of his best table tennis to keep her at bay and record an excellent win for his team.
Later with his team leading 5-4 Kurrle then outpointed Gavin Carmichael, he won the first game comfortably forcing Carmichael into errors and then was able to fend off a challenge in the second to win in straight sets landing his team a berth in the grand final.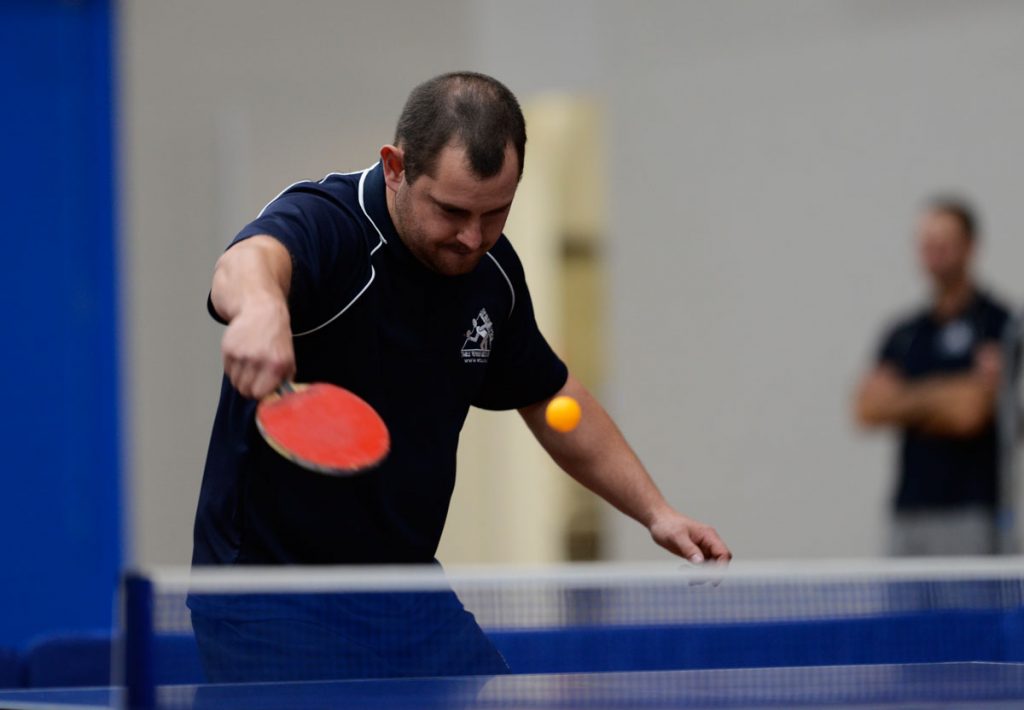 This was an outstanding win by Kurrle up against a far more experienced opponent.
Earlier Cookes were a chance when they won the first doubles via Kate and Gavin Carmichael 16-14 in the third over Avers and fill in Russell Walder and later when Cookes number three Lee Thomas played well to defeat Kurrle in straight sets Cookes took a 4-3 lead before the ladder leaders flexed their muscles.
– Regional Taxation Services 6 (Wayne Carmichael, Leon Brown 2) d Tankard Dental 3(Nicholas Dorman 2, Mark Dorman 1)
In the other semi-final it was Regional Taxation Services victorious 6-3 over the hardworking Tankard Dental. The night started well for Tankards when Nicholas Dorman defeated Andrew Cannard in straight sets. From this point RTS took control winning the next three rubbers.
For RTS it was number three Leon Brown who played a huge role in his teams' victory, as Recce Kurrle had done in the other semi. Brown was outstanding in his first singles defeating Mark Dorman in straight sets 15-4 15-10 an excellent win just at the right time for his team.
Tankards lifted soon after and levelled the match at three rubbers all, included in their comeback was a very good win by Nick Dorman over Wayne Carmichael 15-11 15-13, and when Mark Dorman then disposed of Andrew Cannard 15-8 15-6 the semi-final was alive again.
Leon Brown again threw a spanner in the works for Tankards by defeating opposite number three Jackson Murphy, who was filling in for the injured Bernadette Fitzpatrick. Continuing his excellent semi-final form Brown then combined with skipper Wayne Carmichael to win the second doubles 15-9 15-6 over Nick Dorman and Jackson Murphy. 
Wayne Carmichael was then able to withstand pressure from Mark Dorman to win 15-13 15-13 to enable his team to record a 6-3 win and a berth in the grand final.
For RTS Leon Brown had been a star winning two singles and his doubles receiving excellent support from Wayne Carmichael who also won two singles as well as taking part in both doubles victories.
This week's grand final takes place between first placed Max Miller Carpets and second team Regional Taxation Services and should be close with the Carpeters slight favourites given they have been at the top of the ladder all season and Matt Avers is yet to be defeated in singles.
PENNANT TWO:

By sheer co-incidence, the four teams playing in the semi-finals had played each other in the final round of the competition, just seven days before. On that occasion, third placed Exposed Signage &Apparel defeated second placed Pinnacle Packers, and fourth placed Max Miller Carpets defeated ladder leaders Weightmans Packaging. The results were identical, but a lot more one sided. Read on …
– Exposed Signage/Apparel 6 (Dylan Wood, Thahn Nguyen 2, Andrew Jones 1) d Pinnacle Packers 0
Although the two same sides met here as in round 10, the line-ups were a little different for both sides. Last week's winner Exposed Signage & Apparel were without their number two Paul Kealley, replaced by Andrew Jones. Pinnacle Packers however, were without their captain Ash Morrison for this most important game so far of the season. Jason Gifkins, whose team Mallee Meats missed out on the finals, subbed for Morrison.
As in their previous meeting, Exposed Signage & Apparel bolted to a 4-0 lead.
Exposed Signage & Apparel's captain Thanh Nguyen defeated Pinnacle Packers number three Jeremy Corrin in straight sets; fill-in Andrew Jones played a weirdly inconsistent game against Arthur Paar to win 15-9, 1-15, 15-13; big improver Dylan Wood had a fantastic tussle with Jason Gifkins, winning 15-17, 18-16, 15-13 to round out the first round of singles.
Nguyen and Jones played Gifkins and Paar, and proved superior in the first doubles, taking the win there 15-6, 15-17, 15-10.
That made the score 4-0, but where last week Pinnacle Packers commenced to get themselves back into the match, here, Thanh Nguyen and his men kept right on winning.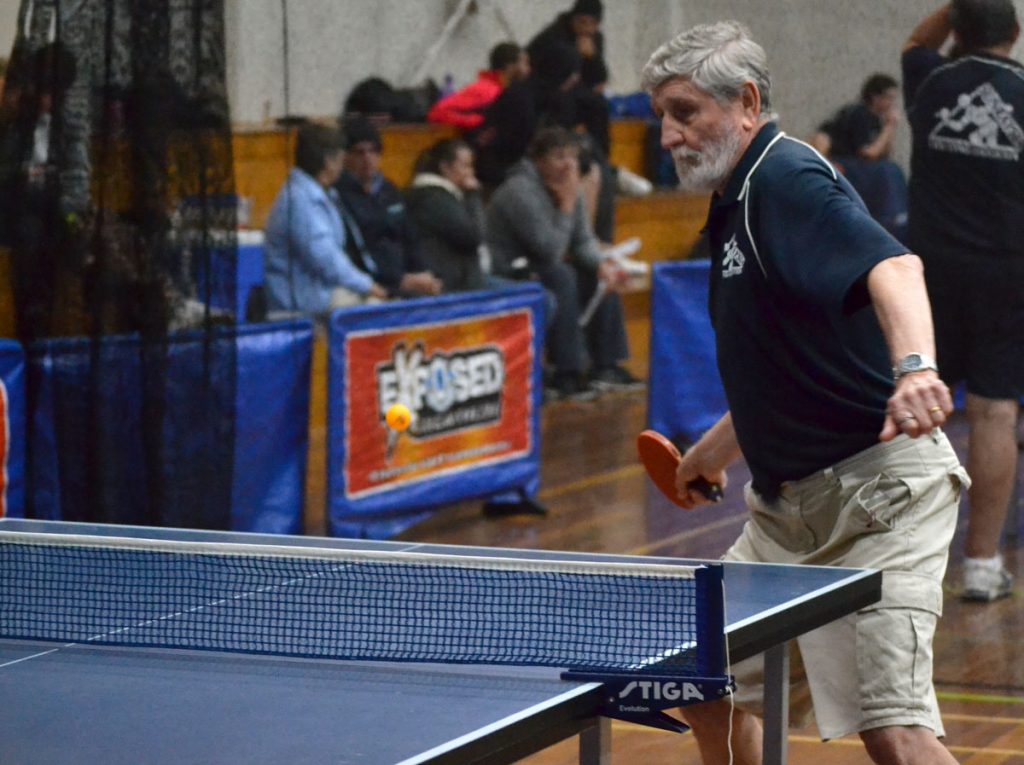 Arthur Paar kept Nguyen honest in the next singles rubber, but that was about all he could do, Nguyen winning 15-11, 19-17, Paar almost taking the game to the third set.
The two number three's were drawn to play in the next rubber and at 0-5, Jeremy Corrin was shouldered with the responsibility of keeping his team's hopes alive. Although Corrin lost, it was not for want of trying. He took the first set 15-13, Wood drew level taking the second 15-12, then drew away a little in the third to win 15-9.
The score sheet shows a 6-0 score line, and no doubt Pinnacle Packers were hurt by the absence of Ash Morrison, who finished on the aggregate above all the players in this game. And also, although Pinnacle Packers failed to win a single rubber, four of the six rubbers were three set contests, and at least two of them, the Gifkins-Wood and the Corrin-Wood games could have gone to Pinnacle Packers.
Final scores: 6 rubbers to 0 and 12 games to 4.
– Max Miller Carpets 6 (James Chick, Peter Fitzpatrick 2, Liam Wood 1) d Weightmans Packaging 0
The line-ups for this match were almost identical to their last meeting, but with one big omission. The match was robbed of a lot of interest by the absence of Weightmans Packaging captain and aggregate winner Kevin Johns. Kevin was replaced by Tony Malycha, who had had a pretty good season, coming third on the aggregate, with a score of 20 games won, 7 behind Johns.
The players played in the same order as in the previous meeting, so it was interesting to see how things played out in this cut-throat match.
It is worth remembering that when Max Miller Carpets defeated Weightmans Packaging in round 10, they had the match won 6-2, after 8 rubbers.
Max Miller Carpets started in identical fashion in this game, Peter Fitzpatrick again defeated his son Paul, but where Paul lost in just two sets previously, this time he was much more a match for his father. He took the first set 15-6, and narrowly missed taking the rubber in the second set,
Peter hung on to equalise with at 15-13 score. The third set was one-sided, Paul unable to get back to his earlier form, Fitzpatrick senior winning the set 15-4.
The week before, Liam Wood played Weightmans Packaging captain Kevin Johns in the second rubber, this week it was Weightmans Packaging captain Tony Malycha. Wood had despatched Johns in two sets, and did the same to Malycha.
The third rubber was again between Max Miller Carpets captain James Chick and Weightmans Packaging number two Terry Martin. Chick lost the first encounter, but no doubt encouraged by the performance of his team mates came out in a more aggressive frame of mind. And so he turned a three set defeat into a two set win and made the score 3-0, where in the previous round it had been "only" 2-1.
The first doubles rubber beckoned, Chick and Wood having just defeated their opponents Malycha and Martin in singles play, pressed home their psychological advantage with a straight sets 15-9, 15-9 win to stretch the lead to 4-0.
Perhaps it was at this point that Weightmans Packaging felt the "game was up", how else could the result of the next rubber be explained? Max Miller Carpets number three Peter Fitzpatrick, who finished with just 5 singles wins for the season, defeated Tony Malycha in three sets. Malycha proved his class taking the first 15-6, however from that point on, Fitzpatrick just hung in, and managed to turn the game around, taking an improbable win, those sets coming at 15-9, 15-11.
Coming to the table when your team is down 0-5 is not exactly a confidence inspiring thing to do, and that was exactly the situation Weightmans Packaging number three Paul Fitzpatrick had to do when he took on Max Miller Carpets captain James Chick. And although Paul fought bravely, Chick had too many missiles, and won in two sets 15-7, 15-8.
So, another 6-0 result for the winning team. That difference is due no doubt to the confidence of the Max Miller Carpets side, and also to the absence of Kevin Johns, because had he been present he would have least defeated Peter Fitzpatrick, and he and Martin May have won the doubles, having lost previously 14-16 in the third set to Chick and Wood. All conjecture of course, but it is worth stating because if Max Miller Carpets believe they are now the best side in the competition, that is entering dangerous territory.
The Grand Final is going to be much different. On the two occasions the two teams met Exposed Signage & Apparel have proved the better combination, winning 6-5 in round 2 and 7-4 in round 7, and they are entitled to favouritism. On the individual player statistics, Exposed Signage & Apparel look to have the upper hand. Nguyen with 19 singles wins to Chick's 18, Kealley not matching his opposite number Liam Wood 10 wins to Wood's break-out 19, but Dylan Wood more than redresses that imbalance with his advantage over Peter Fitzpatrick 12 wins to 5. That gives Exposed Signage & Apparel a total of 41 singles wins to Max Miller Carpets 42 which only goes to show that overall they are fairly equal, so will those individual player differences remain in the heat of a Grand Final?
About 10:00 p.m. on Wednesday night we will know.
Final scores: 6 rubbers to 0 and 12 games to 2.
 Max Miller Carpets vs Exposed Signage/Apparel in Grand Final Wednesday 12th December at 7.30pm
PENNANT THREE:

This year's Grand Final will be between teams that finished second and fourth on the ladder. How did that happen?
– Sammy's Slammers 6 (Rohan Reimers 3, Emily Carmichael 1) d MJM Automotive 3 (David Sergi 2, Andrew Kremor 1)
Is being a member of the team called Sammy's Slammers a ticket to a premiership? Rohan Reimers, Emily Carmichael and Nick Kiapekos will be hoping so, because for the third straight season Sammy's Slammers will play in the Pennant Three Grand Final. On the other two occasions, they have won.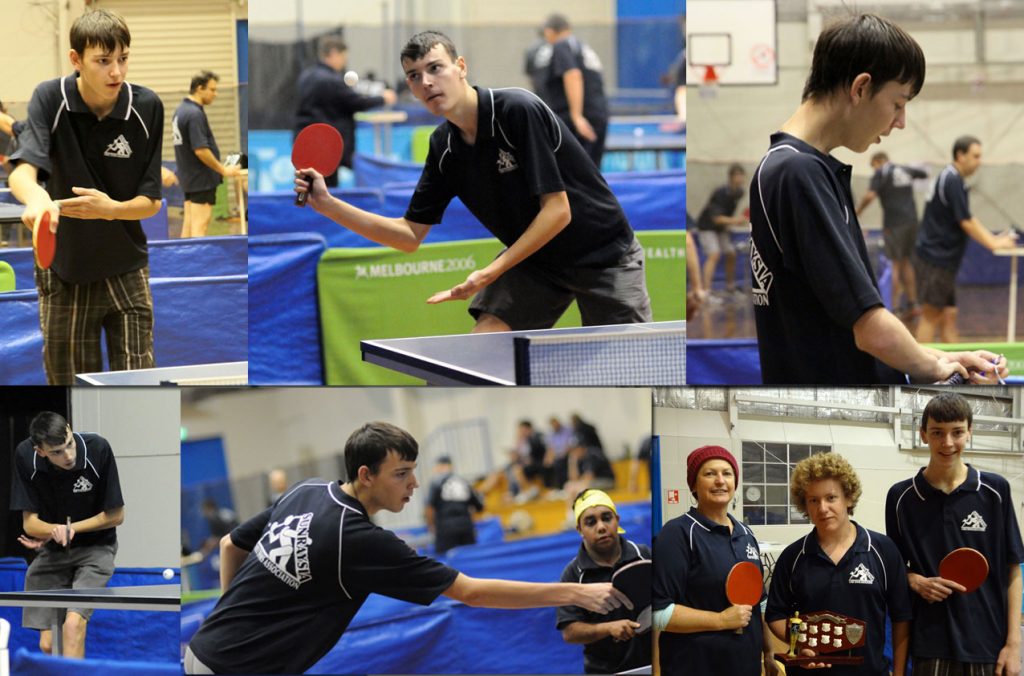 The name was given by sponsor Dunkley Scales to honour former Pennant Three player Sam Hensgen, who died suddenly early in 2017.
Sammy's Slammers had had what is fairly described as a mediocre season in that they won just 4 of their 10 matches, half of what MJM Automotive did.
Both sides came to this semi-final at full strength, aggregate winner David Sergi leading MJM Automotive and Rohan Reimers, who finished second on the ladder heading up his side.
On the two occasions they met during the season, wins were shared. Sammy's Slammers won 6-5 in round 2, MJM Automotive 7-4 in round 7.
Perhaps the reason Sammy's Slammers had such a poor season might be the change in personnel. Number two Peter Lock had to retire from the team after round six, at which point they had won half their matches. After he left the team only added one to its tally.
MJM Automotive on the other hand, seemed to cruise along without too much bother, losing in rounds 2 and 9 (both close 5-6 matches), but not being able to win by more than 7-4. That is probably a reflection of the quality of the grading in this pennant.
So, to the game … Emily Carmichael took first blood for her side, defeating Luke Ljubic in two sets. David Sergi did a similar thing to Nick Kiapekos to even the score.
Rohan Reimers took a closer win over Andrew Kremor to take a slight lead at the end of the first round of singles. The two victorious Sammy's Slammers players Reimers and Carmichael then combined in the first
doubles rubber against Sergi and Kremor and extended their lead a little bit more, downing their opponents 15-11, 13-15, 15-11.
David Sergi met stiff opposition from Carmichael in the next rubber, but proved too good winning 15-9, 14-16, 15-13. Reimers likewise needed his wits about him in the confrontation with Luke Ljubic, but managed to win 9-15, 15-7, 15-5 and once again gave his team a two game break at 4-2.
Andrew Kremor brought the deficit back to 3-4 after a close two set match with Nick Kiapekos 15-13, 15-12 in the lead in to the all important second doubles.
Kiapekos had to this point not won either of his matches, but always gave a good account of himself, and so he proved a valuable partner to his captain Reimers in this doubles rubber. They were not really troubled by the MJM Automotive combination of Sergi and Ljubic in their 15-7, 15-8 win.
At 3-5 down things were looking grim for MJM Automotive, and the two captains were drawn to play in rubber number nine. Wins during the season had been shared, Reimers won in three sets in round 2, Sergi in two sets in round 7. And although Sergi won the aggregate, it was only by one game from … yes, Rohan Reimers.
So, with all that going in the background, Reimers produced a great finals performance, dominating Sergi, cleaning him up in two sets 15-11, 15-10 to seal the win for his side in what was a good all-round performance from his side. Without a doubt, victories in both doubles was a big factor in the win.
Final scores: 6 rubbers to 3 and 13 games to 8.
– Mallee Meats 6 (Rachel Fitzpatrick 3, Tom Morrison 2, Leonie Dunkley 1) d Regional Taxation Services 5 (Marcus Cimino 2, Karly Leach 1)
This was a match between the sides that finished second (Mallee Meats) and third (Regional Taxation Services) on the ladder. The two teams finished on six wins each for the season and Mallee Meats held second spot only because they managed to win two more rubbers over the course of the season, 59 to Regional Taxation Services 57.
On the two occasions they met during the season, Mallee Meats held the advantage, with two wins, both 6 rubbers to 5. Close.
So it was fitting that this match was close too, the result coming in the third set of the eleventh rubber.
Karly Leach gave the initial advantage to Regional Taxation Services defeating Leonie Dunkley in two close sets 15-12, 15-13.
Tom Morrison equalised, but did not do so easily, having to dig keep defeat Matt Sires, who went on to play that eleventh rubber. Morrison lost the first set 10-15, almost lost the match in the second set and was lucky to get the win 16-14, and then held the advantage to win the third set 15-8.
And where Morrison struggled against the opposition's number three, his number two Rachel Fitzpatrick provided an upset in her defeat of Regional Taxation Services captain Marcus Cimino. Not an easy win mind, but a fighting three setter 10-15, 15-13, 15-11.
Regional Taxation levelled at 2-2 after the first doubles though, Cimino and Leach playing better than Morrison and Fitzpatrick and taking a swift two set win 15-8, 15-10.
Morrison lifted his game in rubber number five defeating Leach 15-10, 15-10, but Marcus Cimino immediately squared the scores again with a close two set win against Leonie Dunkley 15-11, 16-14.
Rachel Fitzpatrick continued her good form, proving too strong for Matt Sires 15-9, 15-6 to once again give her side the lead 4-3 and the second doubles to follow, but once again Regional Taxation Services drew level, Cimino and Sires keeping Morrison and Dunkley quiet to take the win 15-11, 15-12.
Regional Taxation Services led the contest after the first rubber, and had been playing catch-up ever since, but after the captains met and Cimino dominated Morrison 15-12, 15-9, they again led, this time 5-4 with a win "just there".
The last two rubbers were worth coming for alone. Mallee Meats were holding on by the skin of their teeth, and Regional Taxation Services seemingly having the match. In rubber number 10, Rachel Fitzpatrick continued her good form, this time against opposite number Karly Leach. Karly took the first set 15-12, Rachel squared the match taking the set with an identical score, and so the match was up for grabs in the third set.
Rachel proved steadier than her rock-like opponent on this occasion, taking the third set 15-11 and the match was again equal at 5-5 and the two number three's Leonie Dunkley and Matt Sires to play off.
Despite playing well, neither player had tasted success so far, and of course with a spot in the Grand Final the reward, all stops were pulled out. Dunkley took first blood 15-13 in the first set, Sires the second 15-13. As much as it may seem just, there can of course there can only be one winner in any contest, and this set progressed with first one player getting a small break of a couple of points, only for the other to immediately get them back. Sires in particular was inventive in his play, returning defensive back spin shots from Dunkley into attacking top spin shots for Dunkley to retrieve. When the scores got to 14-14, those two point breaks disappeared, tension taking over, each player having the prospect of the win presented to them, but Dunkley equalised for the last time at 16-16, then held Matt out to win 18-16 in a fantastic contest.
Next week? During the season, Reimers won 25 singles games to Morrison's 24, Carmichael/Lock won 8 to Fitzpatrick's 13, and Kiapekos 9 to Dunkley's 10. So just on games won, Sammy's Slammers won 42 and Mallee Meats 47. But Sammy's Slammers will be without number three Nick Kiapekos, and Mallee Meats lose captain Tom Morrison.
Even with those substitutes playing, expect a close Grand Final because this has been the grade with the closest scores throughout the season, and there is no reason to suppose things will change in the final game of the season.
Final scores: 6 rubbers to 5 and 12 games to 14.
 Mallee Meats vs Sammy's Slammers in Grand Final Wednesday 12th December at 7.30pm
PENNANT FOUR: