Read Time:
8 Minute, 25 Second
PENNANT 1

At the conclusion of round two matches of the Sunraysia Table Tennis "Cash Converters" summer pennant one matches Exposed Signage/Apparel are the only team to remain undefeated.
– Exposed Signage/Apparel 9 (Gavin Carmichael, Nicholas Dorman 3, Leon Brown 1) d Tankard Dental 2 (Andrew Cannard, Reece Kurrle 1)
With Sunraysia's leading player Joel Thomas unavailable his team Tankard Dental struggled and were soundly defeated 9-2. For Exposed Signage Nicholas Dorman continued his excellent season again winning three singles. He received good support from team mates Gavin Carmichael and Leon Brown who won three and one singles respectively.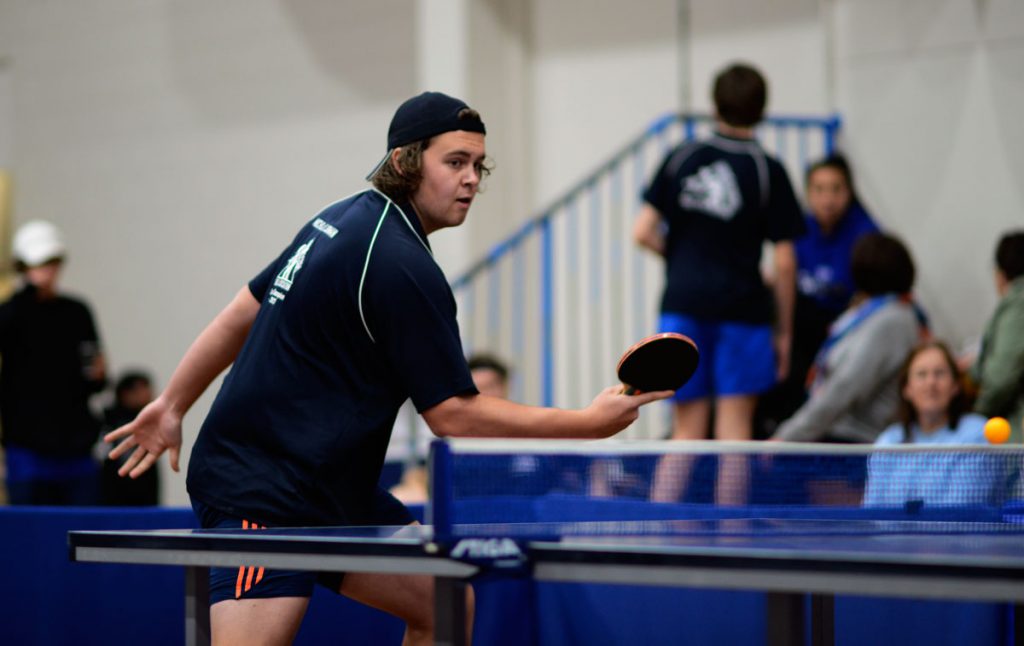 Dorman's first singles was a marathon against fill in Andrew Cannard and went to the wire with the final score line indicating what a close match it was 5-11 11-8 10-12 15-13 13-11. Both players traded many fine blows however it was a mix of power and soft hands that enabled Dorman to grab the points. To cap off a successful night Dorman also took part in both doubles victories.
– Regional Taxation Services 7 (Shannon Bowen 3, Mark Dorman 2) d Weightmans Packaging 4(Leslie Ncube 2, Wayne Carmichael, Jackson Murphy 1)
Regional Taxation Services recorded their first win for the season with a 7-4 victory over Weightmans Packaging.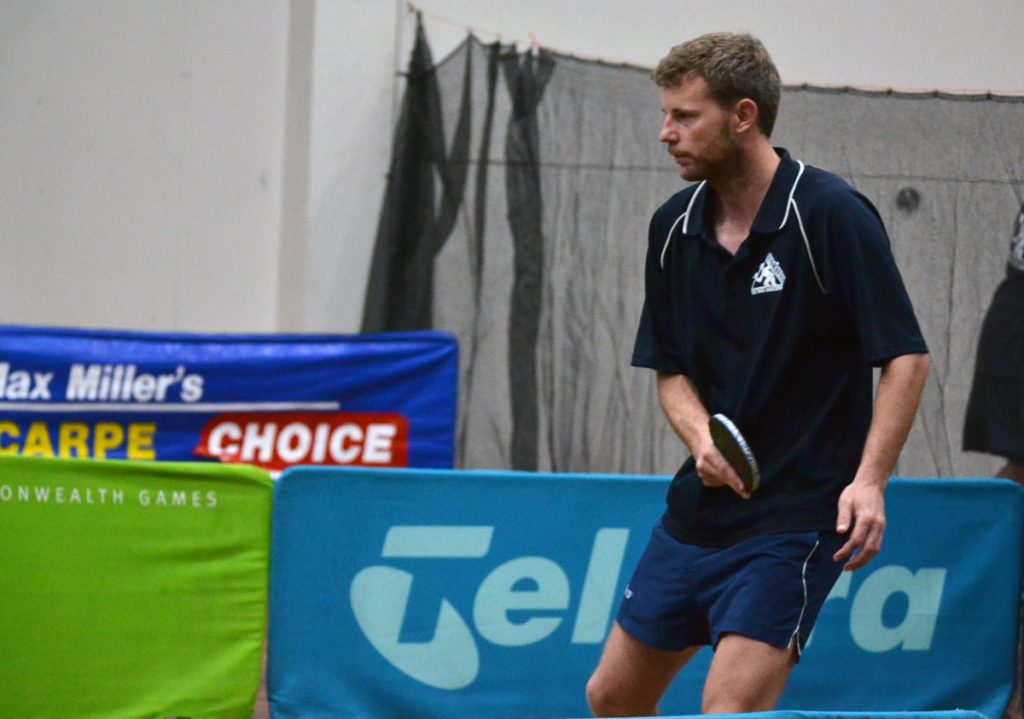 Skipper Shannon Bowen showed the way winning three singles while team mate Mark Dorman won two including a tough five set victory over Wayne Carmichael. Despite Carmichael going into the match with a back injury the two experienced lefties contested a great match. For Weightmans Packaging Leslie Ncube performed well winning two singles including a great tussle with Dorman which went to five games.
– Cash Converters 6 (Matt Ljubic, Kate Carmichael 2, Leon Brown 1) d Mallee Bearings 5 (Matt Avers 3, Shane Carmichael 1)
In the final match Cash Converters proved too good for Mallee Bearings winning 6-5 despite Matt Avers winning three singles on his 17th birthday. His match against Matt Ljubic was one of two tremendous five set matches in this contest.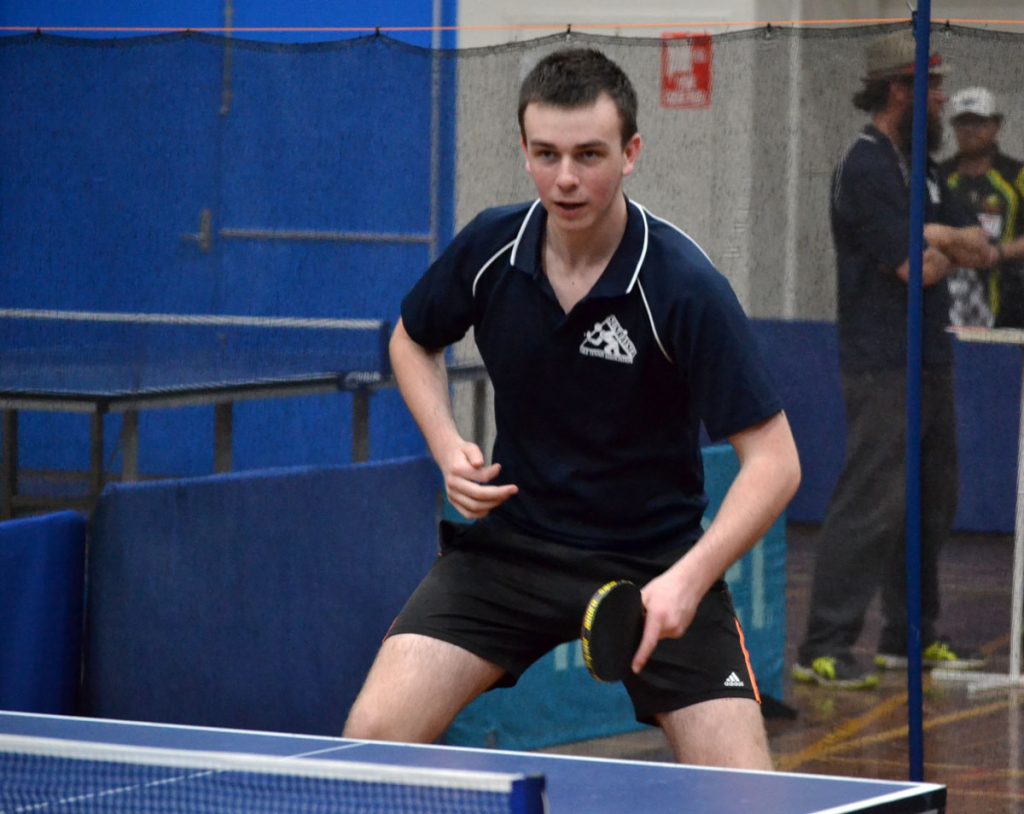 Avers and Ljubic are very talented players and in particular the first three games were top class with many fine rallies. At this point Ljubic was two games to one ahead however Avers was able to turn it on in the fourth and fifth to pull away to a 7-11 13-11 8-11 11-4 11-2 victory.
In a crucial result for Cash Converters the second doubles was huge when Ljubic combined with Kate Carmichael to win 15-13 7-11 11-8 9-11 13-11 over Avers and Shane Carmichael. For the victors Matt Ljubic and Kate Carmichael won two singles each while fill in Leon Brown won one at a crucial time.  
PENNANT 2

Pinnacle Packers knocked up another 8-3 win this week; Mallee Bearings won also, but more modestly 6-5, and MJM Automotive took their first win, a close 6-5 victory against Weightmans Packaging.
– Pinnacle Packers 8 (Geoff Wright 3, Brendan Alderton, James Chick 2) d Mallee Meats 3 (Jason Gifkins 2)
Geoff Wright's team has got off to a flying start in this competition, with 8-3 wins in the first two rounds.
His team made short work of Mallee Meats in this game – Mallee Meats were at a distinct disadvantage with captain Jason Gifkins having missed last week; number two Geoff Peter absent and Sony Sefer filling in.
Wright was dominant, conceding only 13, 16 and 12 points in his three singles rubbers.  Needless to say, he won them all in just three sets.
His team-mates Brendan Alderton and James Chick took two sets each – both downing Seval Fuat and Sony Sefer.
The doubles rubbers were shared – Wright and Alderton too good for Gifkins and Sefer winning 8, 7 and 5.  After a slow start in the second doubles, Gifkins and Fuat played solidly to down Wright and Chick 4-11, 11-7, 13-11, 11-6.
Final scores:  8 rubbers to 3 and 29 games to 12.
– Mallee Bearings 6 (Peter Midgley 3, Andrew Jones, Quentin Clark 1) d Max Miller Carpets 5 (Michael Hensgen, Russell Walder 2)
Peter Midgley's Mallee Bearings team came back from a 1-4 deficit early in this game, to defeat Max Miller Carpets 6-5.
The Mallee Bearings pair of Russell Walder and Michael Hensgen were on fire early in this game – Walder took a good five set win against veteran Andrew Jones, Hensgen followed up with his own five set win against a very determined Quentin Clark 11-4, 12-10, 14-16, 8-12, 14-12.  Then they paired in the first doubles, outplaying the more experience pair of Midgley and Jones to take a fairly effortless 12-10, 11-4, 11-7 win.  Hensgen and Jones played straight after this game, Hensgen showing good form with a four set win.
So that made it 4-1 after five rubbers and Max Miller Carpets were looking good.
But it was not to be, as Mallee Bearings took the next five rubbers to steal the game.
Having taken the early singles rubber against Rohan Reimers, subbing for Tony Malycha, Midgley continued his winning ways against  Walder and Hensgen to record three wins.  Jones and Clark also defeated Reimers to clock up five rubbers, and with the second doubles going to Midgley and Clark in four sets against Walder and Reimers, the job was done.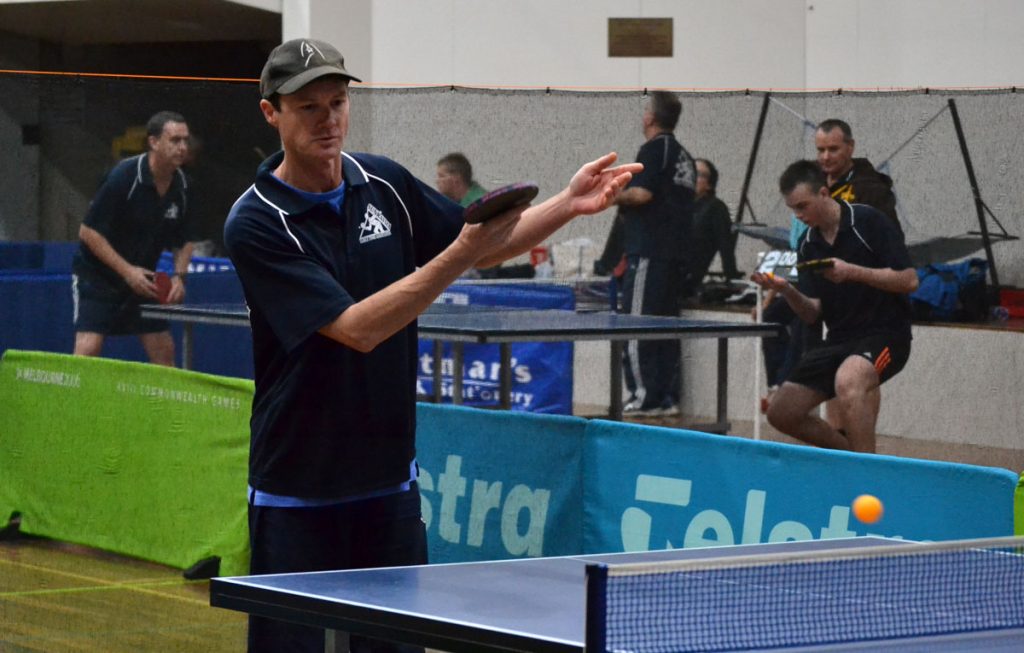 Walder defeated Clark in the final rubber to bring the score back to 6-5.
Final scores:  6 rubbers to 5 and 23 games to 17.
– MJM Automotive 6 (Thanh Nyugen 3, Anthony Fox, Claire Ljubic 1) d Weightmans Packaging 5(Arthur Paar, Nick Barlow 2)
 MJM Automotive were perhaps a little lucky to get the win in this match against Weightmans Packaging.
Certainly Thanh Nyugen was the class of the field, winning his three singles rubbers (in four sets against Arthur Paar and Nick Barlow), and in three against John Fitzpatrick, up from Pennant Three, subbing for the injured Kerry Wallace.
It was Fitzpatrick who almost caused the upset, and came close to taking the rubber against Claire Ljubic.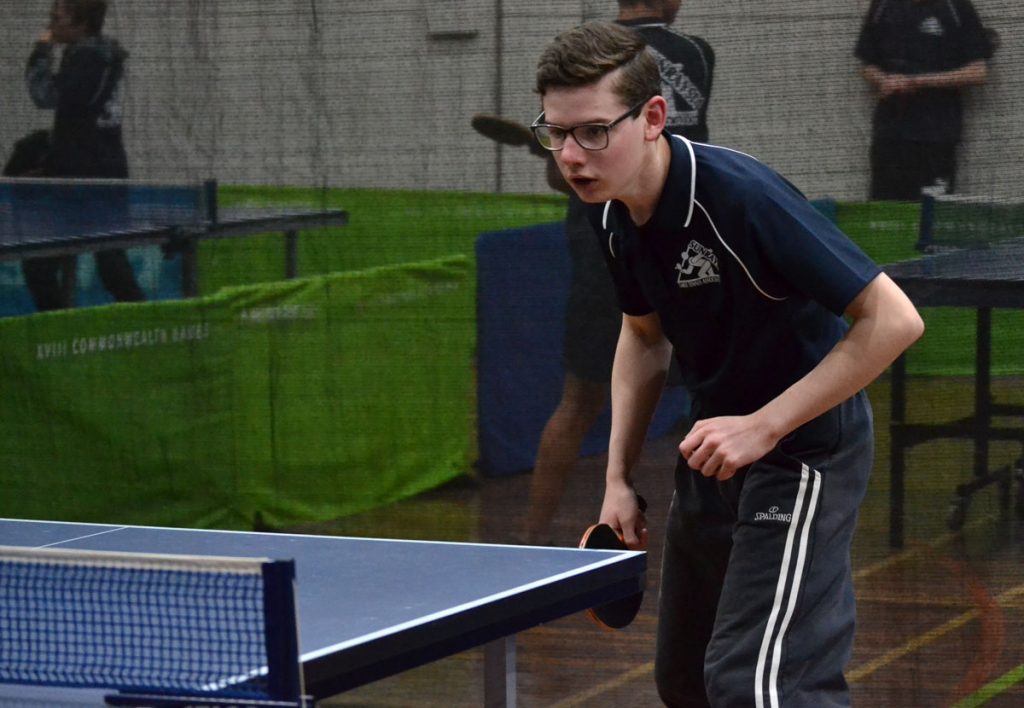 Playing his first game in the higher grade, John not overawed by the occasion, went down fighting to Claire 13-11, 5-11, 6-11, 11-8, 8-11.  That was the only five set rubber in the whole match, and with Nyugen winning his three rubbers, all the other matches went as expected.
The doubles rubbers were shared – Paar and Nick Barlow much too good for Nyugen and Anthony Fox winning in three, and later Nyugen and Ljubic had too much for Paar and Fitzpatrick, winning that one in three sets also.
Final scores:  6 rubbers to 5 and 20 games all.
PENNANT 3

Mallee Meats avenged last week's defeat with a big win against Tankard Dental, while MJM Automotive, also a loser in round one, got the better of Sammy's Slammers.
– Mallee Meats 9 (Jeremy Corrin, David Sergi 3, Therese Fitzpatrick 1) d Tankard Dental 2 (Sabrina Fitzpatrick, Arnold Jago 1)
Mallee Meats easily accounted for Tankard Dental in this round two match.  With only three rubbers going beyond three sets, Jeremy Corrin and his team wrapped the game up fairly easily.
Both Corrin and David Sergi scored three singles wins – disappointingly the only rubbers Tankard Dental won were solitary rubbers to Arnold Jago and Sabrina Fitzpatrick in their defeats of Therese Fitzpatrick.
Both doubles rubbers went to four sets, Sabrina and Arnold Jago having to work extremely hard to get a set out of Corrin and Sergi, who won 11-4, 11-2, 10-12, 11-5.  The second doubles was not much different, Sabrina and Nick Kiapekos losing to Corrin and Therese Fitzpatrick 4-11, 11-7, 2-11, 4-11.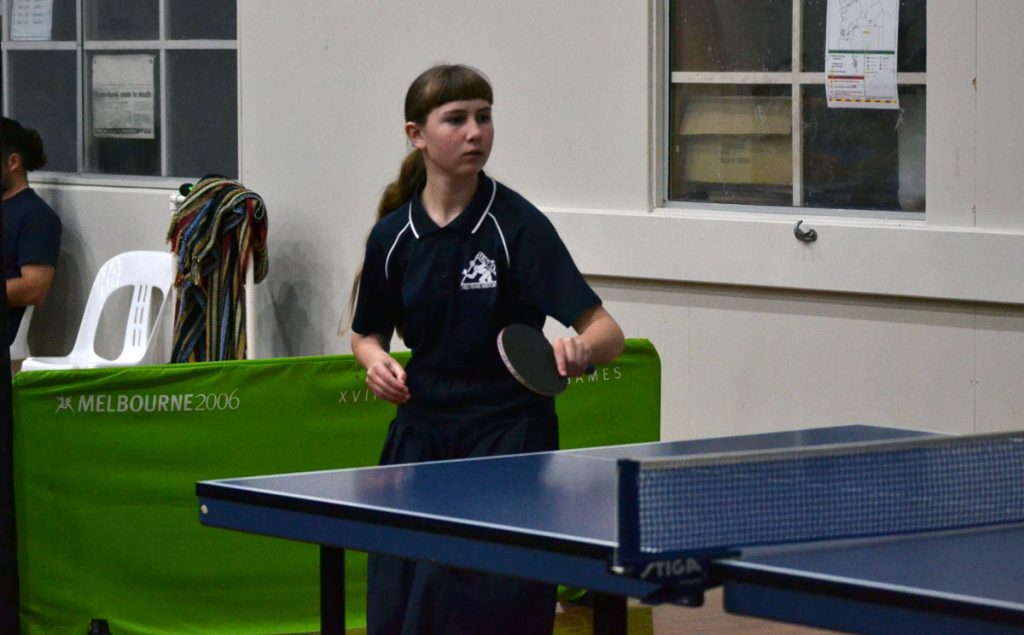 The best rubber of the night was the final one, between the two number three's.  Nick Kiapekos and Therese Fitzpatrick put on a great five match contest, and Therese emerged victorious with a score-line of 7-11, 12-10, 13-11, 8-11, 11-8.
With players of the calibre of Sabrina Fitzpatrick and Arnold Jago playing at one and two, Tankard Dental will no doubt improve this season – having a bye in round one was not really the ideal start for a season.
Final scores:  9 rubbers to 2 and 27 games to 10.
– MJM Automotive 7 (Peter Fitzpatrick, Rachel Fitzpatrick, Tom Morrison 2) d Sammy's Slammers 4 (Paul Fitzpatrick 3)
MJM Automotive took wins where they could to defeat Sammy's Slammers.
Sammy's Slammers captain Paul Fitzpatrick is playing with his old verve this season, and is doing all he can to get his team across the line.  He became more aggressive as the night went on, he dropped a set to Tom Morrison in the first round of singles, conceded 20 points to his sister Rachel in round two, then did the same to his father, Peter when the two captains met in rubber number nine.  In the first doubles, he and Marcus Cimino had a great tussle with MJM's Peter and Rachel Fitzpatrick, before winning 11-8, 8-11, 11-6, 10-12, 11-5.  The only rubber Paul failed to win was the second doubles, he and Leonie Dunkley falling short 11-5 in the fifth set to Peter Fitzpatrick and Tom Morrison.
Unfortunately for Sammy's Slammers those four rubbers won by their captain were all they got for the night – the MJM trio all beat Cimino and Dunkley in singles play to secure six rubbers, then took that second doubles to make it look good.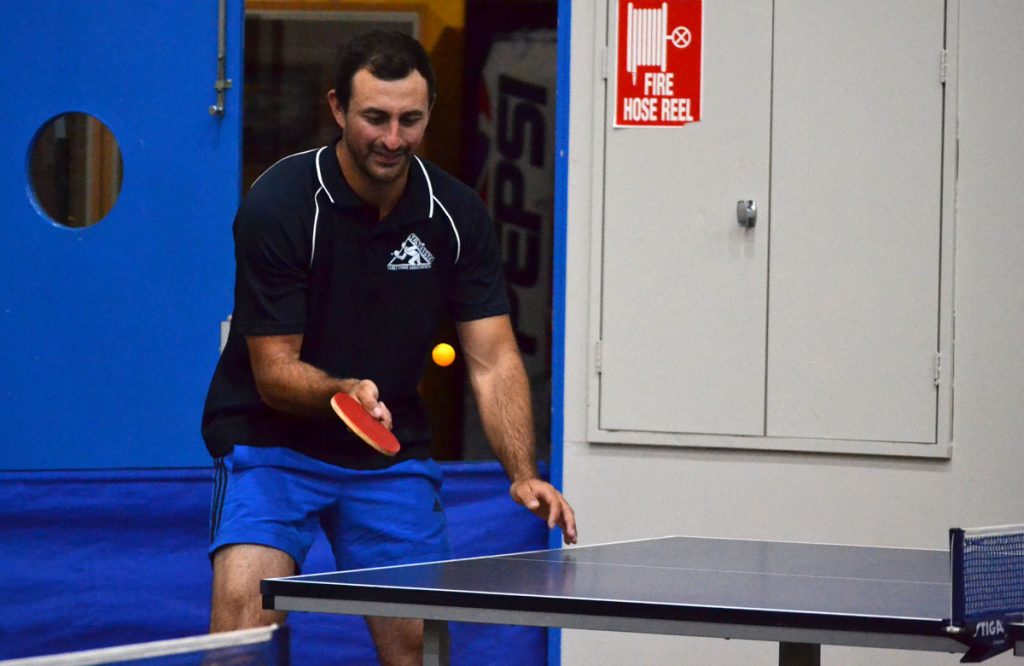 Marcus Cimino is capable of better performances, and once he hits his stride, Sammy's Slammers will become consistent winners.  Leonie Dunkley put in a couple of solid performances in this game, although losing both, she took both Rachel Fitzpatrick and Tom Morrison to five sets.
Final scores:  7 rubbers to 4 and 24 games to 19.
PENNANT 4