Read Time:
10 Minute, 33 Second
PENNANT ONE:
Second placed Tankard Dental with a 6-4 victory over Regional Taxation Services have advanced to the grand final of the Sunraysia Table Tennis winter pennant.
They will face the talented Max Miller Carpets whose only defeat was way back in round one at the hands of Tankard Dental, all is set for an exciting grand final.
Tankark Dental 6 (Kate Carmichael, Mark Dorman 2, Dylan Wood 1) def Regional Taxation Services 4 (Matt Ljubic 3)
The preliminary final was expected to be close and the first game of the night was an excellent contest with Tankard number three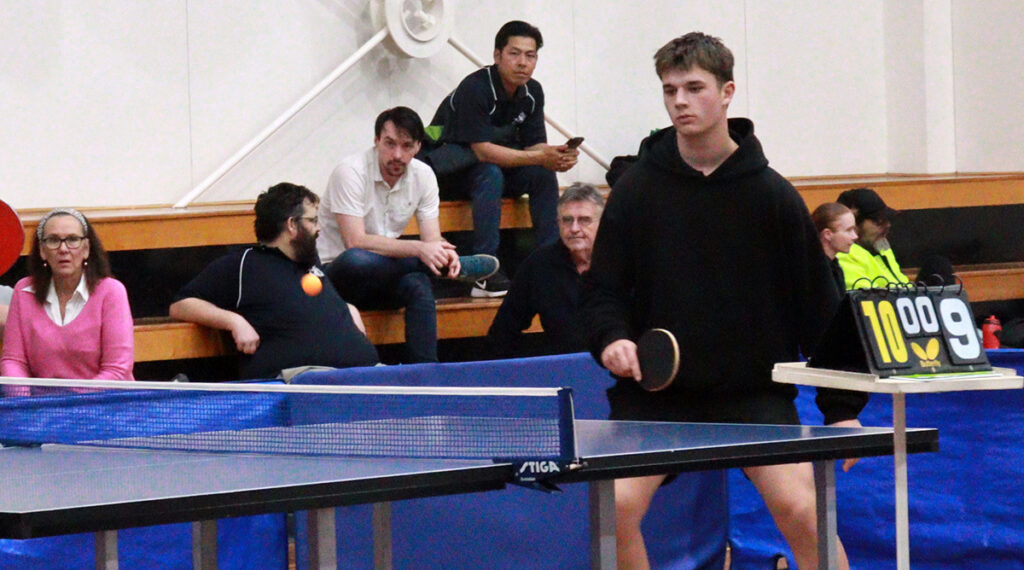 Dylan Wood, in his first season of pennant one table tennis, playing a key role in his team's victory downing RTS number two Jackson Murphy in four entertaining sets. The first two games were very close and the youngster Wood remained calm despite struggling against Murphy's serve. Murphy fought back to take the third however Wood showing an improved ability to handle Murphy's serve played extremely well to give his team the ideal start, the score line 14-12 12-10 6-11 11-5.
Tankard's then took a two – nil lead courtesy of Tankard's Kate Carmichael defeating Kevin Johns in straight sets. Regional Taxation Services skipper Matt Ljubic then accounted for Mark Dorman to reduce the lead. The first doubles even at this early stage was crucial for RTS and their combination of Ljubic and Jackson Murphy took to the table against Kate Carmichael and Mark Dorman. An expected close tussle did not really eventuate as Tankard's Carmichael and Dorman remained in charge over the three games winning 11-7 11-8 11-6.
The next block of three singles saw two victories to Tankards enabling to get out to a handsome 5-2 lead. The first featured Kate Carmichael and Jackson Murphy. Murphy maintained pressure on his opponent throughout the four set match however Carmichael was able to remain steady winning 11-9 11-9 9-11 11-5. Matt Ljubic then reduced the lead momentarily by defeating Tankards Wood in four sets while Mark Dorman then accounted for RTS number three Kevin Johns in straight sets.
With their chances slipping away Regional Taxation Services then lifted firstly by Matt Ljubic combining with Kevin Johns to take the second doubles 11-9 7-11 11-9 11-4 followed by Ljubic then defeating opposing number one Kate Carmichael in another four set tussle 7-11 11-7 11-4 11-7. Carmichael started well winning the first game and despite some very lengthy rallies Ljubic was able to take control and go on to record his fifty first singles victory for the season, an outstanding effort to remain undefeated in this format.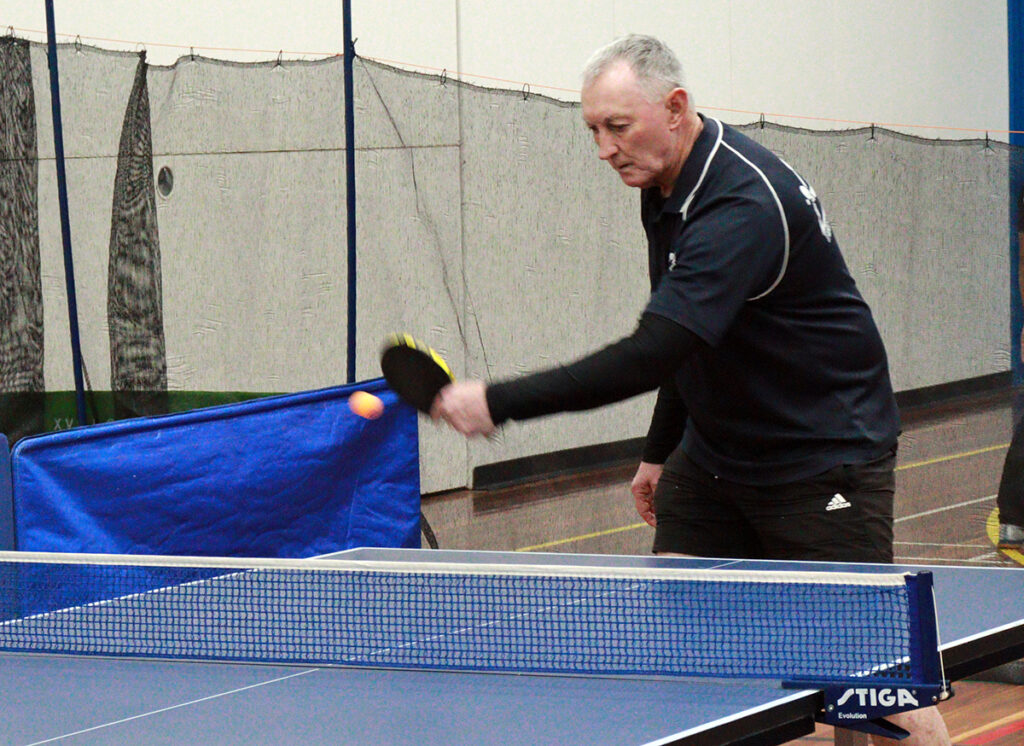 With Tankards now leading 5-4 the experienced Mark Dorman stepped up to the table against the attacking Jackson Murphy and it was Dorman who was able to control the proceedings and go on to win 11-5 11-6 11-9 and book a spot in the grand final for Tankard Dental. For the victors both Kate Carmichael and Dorman won two singles each as well as combining to win the first doubles. Their team mate Dylan Wood also played a key role with his important singles victory in the first game of the night.
PENNANT TWO:
The Preliminary Final was played between teams which finished the season second and fourth on the ladder. Pinnacle Packers, with 11 wins had had a solid season, clearly the second-best side in the competition. Mallee Meats, with half the number of wins as their opponents here, had struggled on many occasions, and had oscillated between third and fifth during the season.
PINNACLE PACKERS 6 (Rohan Reimers 3, Jeromy Corrin 2) def MALLEE MEATS 4 (Marcus Cimino 2, Quentin Clarke 1)
On paper, Pinnacle Packers were favourites for this match, by virtue of their more consistent season. Their form of late, or more correctly that of their captain Jeremy Corrin, however, was a bit of a concern. Corrin had won just two of his last nine singles matches; Mallee Meats captain Quentin Clark on the other hand was in sparkling form having won nine from nine.
Mallee Meats kicked off the encounter with a win – number two Marcus Cimino too strong for Pinnacle Packers number three Ryan Hensgen. For a while in the next rubber it looked like Mallee Meats were going to make it wins in the first two rubbers; number three Isaiah Bettess led the out of form Corrin two sets to love 11-7, 12-10. Perhaps this was the turning point of Corrin's form slump, because he then turned the game around, and whilst it was not a dominating performance, he won the next three sets 8, 7 and 6.
Corrin's number two Rohan Reimers made it two rubbers to Pinnacle Packers when he defeated Mallee Meats captain Quentin Clark, bring an end to Quentin's run of nine consecutive wins. Rohan's win was not a complete surprise, he did after all finish higher on the aggregate than Clark (32 games to 29), but it was a blow to Mallee Meats nonetheless.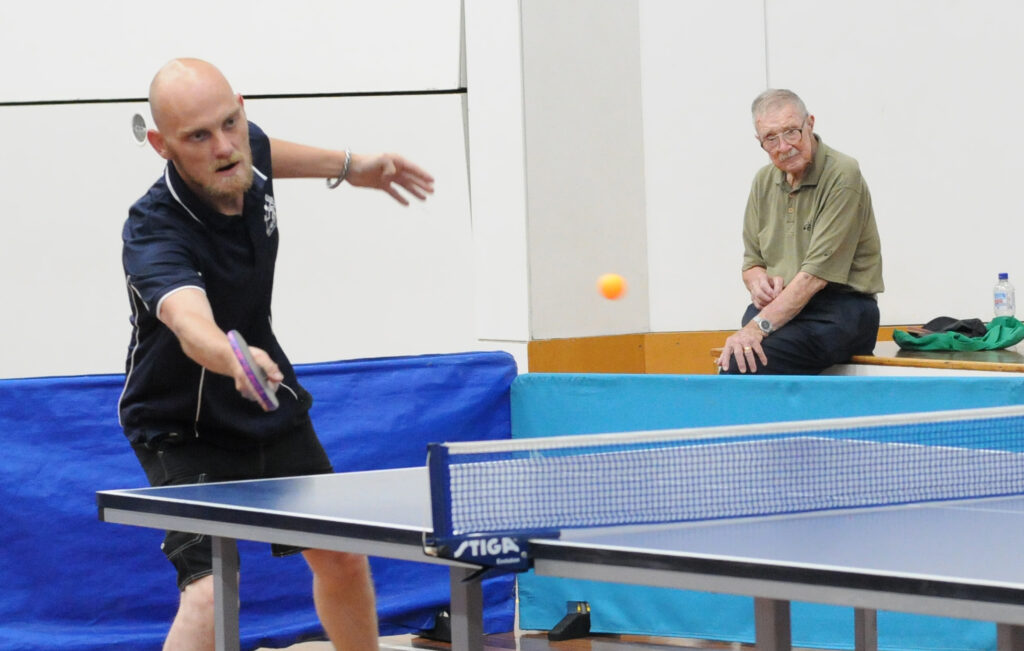 Pinnacle Packers made it three wins in a row when Corrin and Reimers won the first doubles in straight sets against Clark and Cimino.
Mallee Meats needed a win or two to get themselves back into the match, and right on cue, they took the next two rubbers – Marcus Cimino getting the better of Corrin in four sets, and Clark a straight sets win against Hensgen. That made it three sets all.
Rohan Reimers came to Pinnacle Packers rescue with a win in the next rubber against Bettess. Although defeated, Bettess gave a good account of himself, losing in four sets.
Pinnacle Packers seemed to be able to win rubbers whenever they needed them, and Mallee Meats were doing their best to hang on, to stay in the match. They desperately needed the second doubles rubber, otherwise if the score became 5-3, the match was as good as over.
Clark and Bettess were drawn to play against Corrin and Hensgen. Neither pair were able to dominate the other, and the sets alternated. Clark and Bettess took the first set convincingly 11-5; then Corrin and Hensgen were just as dominant in the second winning it 11-4. The next two sets were closer – the Mallee Meats pair won the third 11-8; Corrin and Hensgen just survived the fourth to even the sets with a 12-10 win. The fifth set was pretty much all Mallee Meats, Clark and Bettess winning it 11-5 to make the scores four all.
Corrin and Clark kicked off the last round of singles, and Corrin quickly grabbed the first set 11-1. Clark settled into the second, and with Corrin making just a few mistakes, he won it 11-8. Corrin bounced back with a win in the third set 11-5, only for Clark to respond, with interest 11-2 in the fourth to take the match to the fifth set. It was close, but Corrin finished stronger, 11-8 to put his side within one rubber of victory.
The number two's were to play next, every consistent Reimers against the at times difficult Marcus Cimino. On this occasion, Cimino had no answers for Reimers, and the result was a dominant three set victory to the player who is the leading number two player this season, Reimers winning 11-3, 11-7, 11-6.
That puts Pinnacle Packers into the Grand Final against MJM Automotive next week, and provided MJM Automotive don't get an attack of Grand Final nerves, Pinnacle Packers will be up against it to get the win.
Final scores: 6 rubbers to 4 and 22 games to 17
PENNANT THREE:
Tankard Dental have advanced to next week's Grand Final by defeating Sammy's Slammers.
Tankard's Shaun Gifford lead the way by winning both singles he played as well as featuring in both doubles' victories. He was well supported by his Captain Nick Kiapekos who claimed two important singles victories of his own and number 3 player Phuong Hung Nguyen who played well in the second doubles match of the evening. For Sammy's Slammers Ben Hosking showed his big game finals experience in claiming two singles victories and his Captain Dave Tanner Contributed one singles victory of his own. Now down to how this match unfolded….
Tankard Dental 6 (Shaun Gifford, Nick Kiapekos 2) def Sammy's Slammers 3 (Ben Hosking 2, Dave Tanner 1)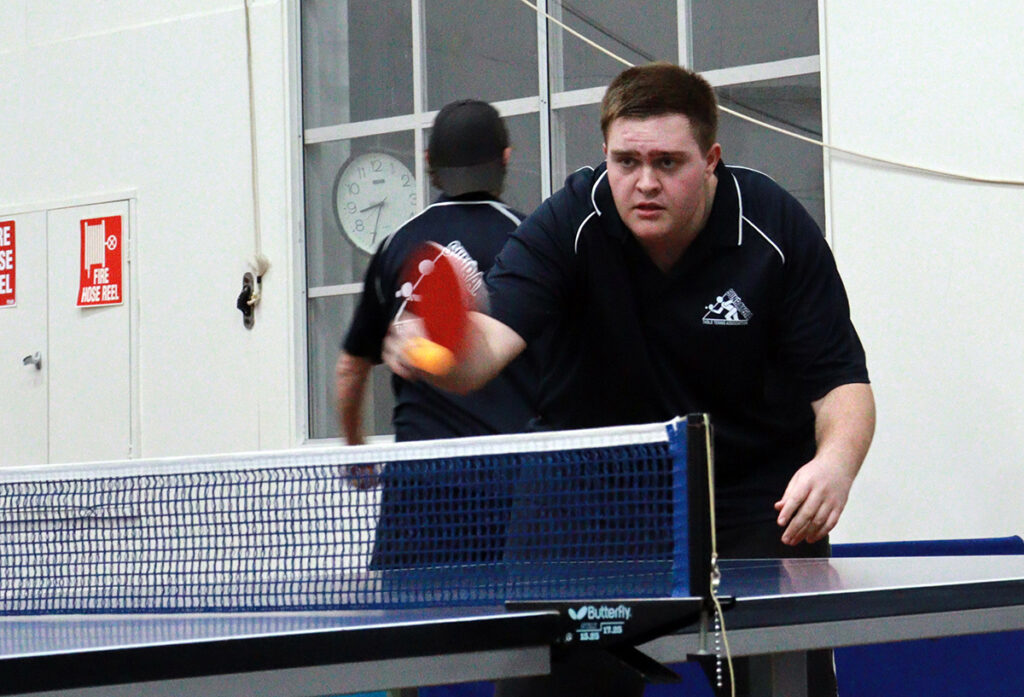 The first match of the evening showcased two of the most improved players in Pennant 3 this season. Shaun Gifford has hit a purple patch of form at the right time and he kept this momentum going as he defeated Maria Starikov in straight set to get Tankard Dental off to a flying start. Next up to the table was Dave Tanner up against Phuong Hung Nguyen. Nguyen has been playing well in recent weeks but could not match it with Tanner going down in straight sets 11-9, 11-6, 11-8. With the match all square Ben Hosking then played Nick Kiapekos. Kiapekos got off to a bright start taking the first set 11-6 before Hosking, drawing on all his finals experience, ground out the next three sets 11-9, 11-9, 11-6 to give Sammy's Slammer's the edge two rubbers to one.
Doubles are always important when you have two evenly matched teams, and this ultimately proved to be the difference between the teams. The first of these clashes saw The Dentists pairing of Kiapekos and Gifford up against Slammer's duo of Tanner and Hosking. The first set saw both teams looking for the edge and some cautious play before Tankard's took this 11-9. Tanner and Hosking lifted their intensity in the second, taking the set 11-8 to square the match. This is where the night turned sour for Sammy's slammers as Tankard Dental poured on the pressure to take the next two sets 11-6 and 11-9 to level the overall standing for the night. The momentum gained in this win flowed though to the next two matches as first Gifford and then Kiapekos enjoyed straight sets wins over Tanner and Starikov. In the space of 45 minutes Sammy's Slammers 2 – 1 lead had become a 2 – 4 deficit.
With his team in need of a win Hosking had to deliver the goods against Nguyen. The signs didn't look great early for Hosking as Nguyen held a healthy lead during the first set and was on track to win this set before Hosking found a way to get the score back to 10 all. Both players had golden opportunities to win this set, however, it would be Hosking who took his chance to take it 14-12. The second set was a case of déjà vu with Hosking again escaping to win this late 11-9. The third set was one-way traffic as Hosking took control to win this match in three entertaining sets.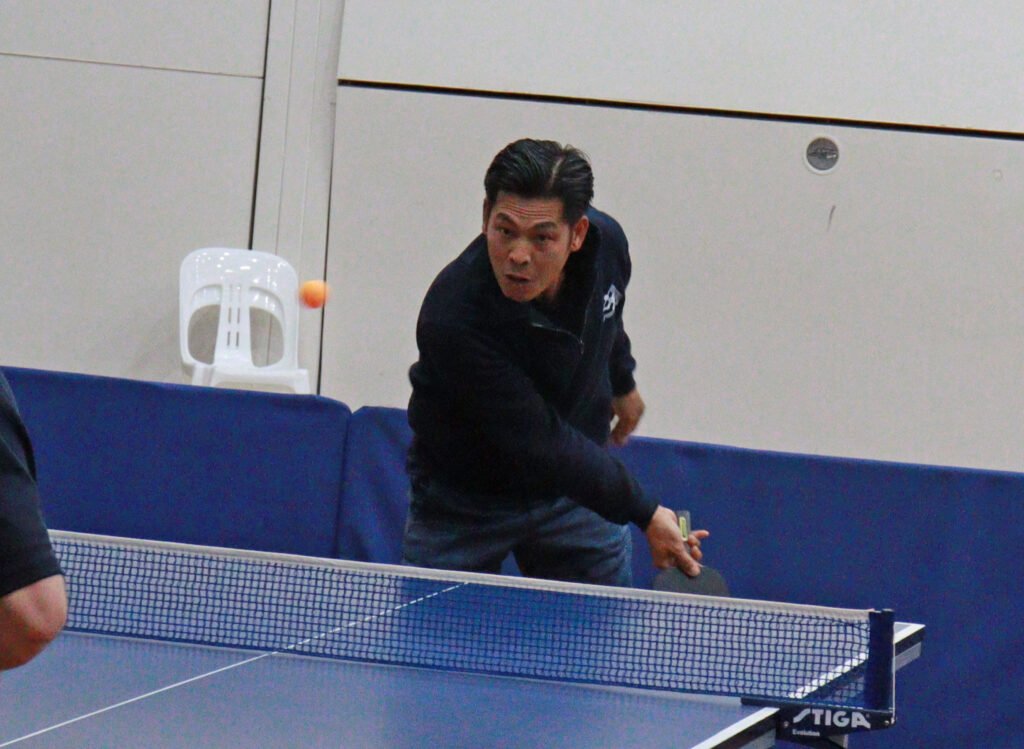 Even though Nguyen was beaten in this match he took his solid form into the next match as he teamed with Gifford to defeat Tanner and Starikov in straight sets to have Tankard Dental on the precipice of victory as they now led 5 rubbers to 3.
With Sammy's Slammers season slipping away the equation was easy – win all the remaining three singles matches. With this message clearly in mind Tanner went to work on his opposite number in Kiapekos and was in dazzling form taking the first set 11-6. Kiapekos tried his best to slow down the play and keep in the contest however Tanner prevailed in a tight second set 14-12. Kiapekos kept strong to his game plan and eventually things started to unravel for Tanner as his previous precise forehand drives were now missing their target. The steady Kiapekos went on to win the three sets 11-5, 11-4, 11-6 thus propelling his team into next week's Grand Final.
Overall Tankard Dental have won this match 6 rubbers to 3 (19 games to 12) against a spirited Sammy's Slammers. Next week Tankard Dental will take on Mallee Meats to decide this year's Pennant 3 Winter Champion. Let's see if we can get all P3 Players and families out to support our Grand Finalists to make this a special occasion – also a few umpires would also be handy.