Read Time:
15 Minute, 46 Second
ROUND 13

PENNANT ONE:

With only two rnds remaining, Richie Carmichael is feeling the pressure as he leads Tankard Dental into mini finals in trying to grab 4th spot. Close results were the order of round thirteen matches of the Sunraysia Table Tennis "Cash Converters" table tennis pennant. The top four appears to be settled however the valued second place on the ladder is still to be decided.
– Max Miller Carpets 6 (Shannon Bowen, Kate Carmichael 2) d Cash Converters 5 (Matt Avers 3, Mark Dorman, Kevin Johns 1)
In this round a superb contest took place when Max Miller Carpets replaced their opponents Cash Converters in second place with an exciting 6-5 victory. This win was the third in succession for the Carpeters with Shannon Bowen and Kate Carmichael winning two singles each and in an outstanding performance Bowen was involved in both doubles victories. The first doubles was a real highlight when Bowen and Carmichael lined up against talented pair Matt Avers and Mark Dorman. After dropping the first game Bowen and Carmichael fought back to take a two games to one lead before Avers and Dorman levelled however the Carpeters pair steadied in the fifth to win 6-11 11-9 11-7 7-11 11-6. This was a big win in the context of the match.
The Carpeters were out of the blocks early leading four rubbers to one before Cash Converters worked their way back however victory in the second doubles by Carpeters pair Bowen and Leon Brown over Avers and Kevin Johns gave them some breathing space. Cash Converters with two singles wins in succession in five sets by Avers and Mark Dorman levelled the match at five rubbers all.
At this point Carpeters Kate Carmichael matched up against veteran Kevin Johns to decide the four points. Earlier in the season Johns had defeated the in-form Carmichael however in a dour struggle and after many long rallies Carmichael was able to take the match in four sets and secure the valuable four points. With this victory the Carpeters moved to second and pushed the Converters to third.
– Mallee Bearings 6 (Joel Thomas 3, Mark Ljubic 1)d Exposed Signage/Apparel 5 (Matt Ljubic, Nicholas Dorman 2, Jackson Murphy 1)
Top team Mallee Bearings survived a scare against fourth placed Exposed Signage/Apparel but managed to take the points 6-5 and are an amazing five wins clear of second on the ladder. For Exposed Signage Matt Ljubic and Nicholas Dorman won two singles each while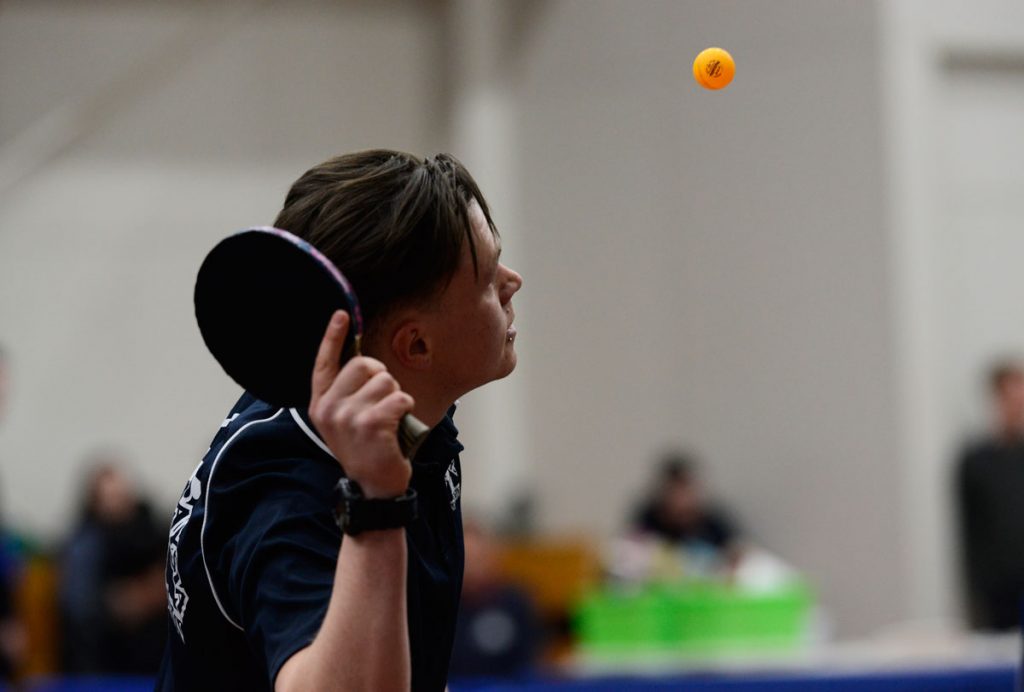 Jackson Murphy won one however it was their inability to win a doubles which cost them a win against the undefeated top team.
The first doubles was a ripper and Exposed pair Ljubic and Dorman had Joel Thomas and Mark Ljubic under extreme pressure by taking a two games to one lead. The Mallee Bearings pair of Thomas and Ljubic senior were able to lift at the right time and came back to win 11-7 4-11 8-11 11-4 11-7. As usual Thomas had a big night by again winning three singles and being involved in both doubles victories.
– Tankard Dental 7 (Gavin Carmichael, Shane Carmichael 2, Jackson Tung 1) d Regional Taxation Services 4 (Wayne Carmichael 2, Leslie Ncube, Reece Kurrle 1)
In the remaining match Tankard Dental kept their faint finals chances alive by defeating Regional Taxation Services 7-4. Tankards were off to a flyer winning the first five rubbers which is unusual and three of these were close five set tussles indicating that RTS after a good fight back later in the match were not far off the pace. The final result was 7-4 in favour of Tankards and while they are on equal points with fourth position percentage could be a factor.
Tankards Shane Carmichael played a key role in his teams win by winning two singles and the doubles he participated in. In the first game of the night he outlasted Leslie Ncube in an outstanding five set contest 6-11 11-4 5-11 11-4 11-7 to get his team off to a great start.
In the final match of the night Carmichael dismissed Reece Kurrle in straight sets to help his team to the four points. 
Tankards play first and third on the ladder in the final two rounds so they have a battle on their hands but mathematically it is possible. Competition now takes a two week break over the school holidays.
Players are reminded that the annual Doubles tournament will be played on Monday July 9th commencing at 7.30pm.
PENNANT TWO:

Cookes Pools & Spas cause an upset against ladder leaders Mallee Meats; Pinnacle Packers continue their resurgence, and now see themselves joint leaders; and MJM Automotive after being on the bottom of the ladder at the conclusion of round 3, now find themselves ladders leaders.
– Cookes Pools & Spas 6 (Lee Thomas, James Chick 2, Paul Kealley 1) d Mallee Meats 5 (Sony Sefer 2, Russell Walder, Arthur Paar 1)
Cookes Pools & Spas, for the first time this season, put two wins in a row together, and in so doing put themselves a game clear of fifth placed Weightmans Packaging, to claim fourth spot.  Another consequence of their win here, was to cause Mallee Meats to fall from first to third on the ladder.
Mallee Meats started well, leading 3-0 early on after an upset win by Arthur Paar against Cookes Pools & Spas captain Lee Thomas in a solid four set performance, and Sony Sefer proving too good for James Chick.
Cookes Pools and Spas settled then, with wins in the first doubles, and the "Captains Singles".  The doubles particularly was important here.  Having lost the first two sets 5 and 4 to Russell Walder and Sefer, Thomas and Chick had to do something to stop this match being torn away from them.
  In a great comeback, they took the next three sets, 8, 7 and 7.  Thomas followed this up with a four set win against opposing captain Walder.  Once again trailing, although by only one set this time, Thomas took a clear win 4-11, 11-6, 11-2, 11-7.
Sefer took a rubber against Paul Keally, then James Chick responded for his side, downing Arthur Paar, who was unable to repeat his earlier performance against Chick's captain.  Paar looked like he was going to repeat it though, leading 11-4, 11-7.  But once again the Cookes Pools & Spas player came good, Chick turning the tide against Paar and taking the win in five sets.
But when the second doubles went to Sefer and Paar in straight sets against Thomas and Keally, things looked grim for Cookes Pools & Spas, and good for Mallee Meats.  Mallee Meats led 5-3 with the final round of singles to play.
But Cookes Pools & Spas then rattled off three straight wins to deny Mallee Meats the win.  Lee Thomas dropped the first set to Sony Sefer, but then held her nerve to win in four; James Chick took his second win of the night in a convincing four setter against Russell Walder, and Paul Keally played his best game so far to defeat Paar, who only a couple of hours earlier looked he might beat everyone on this night, in a very close four setter 10-12, 11-5, 17-15, 11-9.
Final scores:  6 rubbers to 5 and 20 games to 23.
– Pinnacle Packers 8 (Peter Midgley, Kerry Wallace 3, Mark Kerr 1) d Weightmans Packaging 3(Andrew Jones, Than Nguyen 1)
Pinnacle Packers continue their return to form, this week notching up their fourth win in a row to lift themselves to eight wins, and equal first on the ladder, and second only to MJM Automotive on percentage.  With two rounds to go, and couple more 8-3 wins might see them take top spot.
Pinnacle Packers job was made quite a bit easier in this game with the absence of Weightmans Packaging captain Ash Morrison.  Morrison had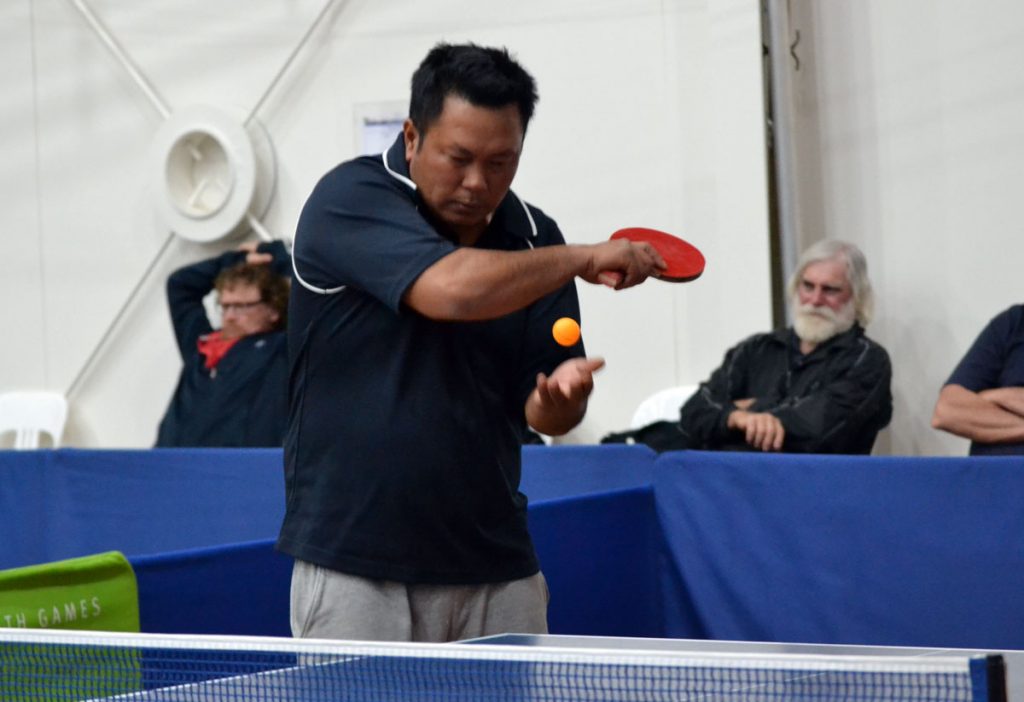 Thanh Nguyen subbing for him, but with this only being Nguyen's second match of the season, it was a tall ask for him to launch any real serious threat to the re-invigorated Pinnacle Packers line-up.
Both Peter Midgley and number two Kerry Wallace took three singles rubbers for the Packers, Mark Kerr, subbing for Brendan Alderton picked up one.  Added to that, Midgley and Wallace breezed through the first doubles rubber in straight sets against Nguyen and Nick Barlow.
Barlow, in fact, had an altogether miserable night, losing everything he played in, in just three sets.  Nguyen took one win, against Kerr, and held his own against both Peter Midgley and Kerry Wallace, who now appears to be fully recovered from her various injuries.  Nguyen in losing, took Midgley and Wallace to five sets – so with a bit more match practice, those rubbers might have been Weightmans.  Only Andrew Jones added to the singles tally of rubbers, defeating Kerr, and when he and Nguyen paired in the second doubles, they proved a very effective combination against Midgley and Wallace, winning in straight sets.
Final scores:  8 rubbers to 3 and 25 games to 16.
– MJM Automotive 8 (Geoff Wright, Quentin Clark, Jason Gifkins 2) d Max Miller Carpets 3 (Bernadette Fitzpatrick 3)
 MJM Automotive assumed top spot on the ladder with an effortless win against bottom-placed Max Miller Carpets.
With only Bernadette Fitzpatrick able to score for Max Miller Carpets, MJM Automotive cruised away to a big win.
All three MJM Automotive players, Geoff Wright, Jason Gifkins and Quentin Clark took two singles wins each – none of them able to defeat aggregate leader Fitzpatrick.  Interestingly, captain Wright lost in straight sets to Fitzpatrick, number two Gifkins in four, and it was number three Clark who put up the biggest fight, going down 11-6, 10-12, 2-11, 11-9, 11-13.
Max Miller Carpets continued their poor form in doubles play too, gifting another two rubbers to the winners –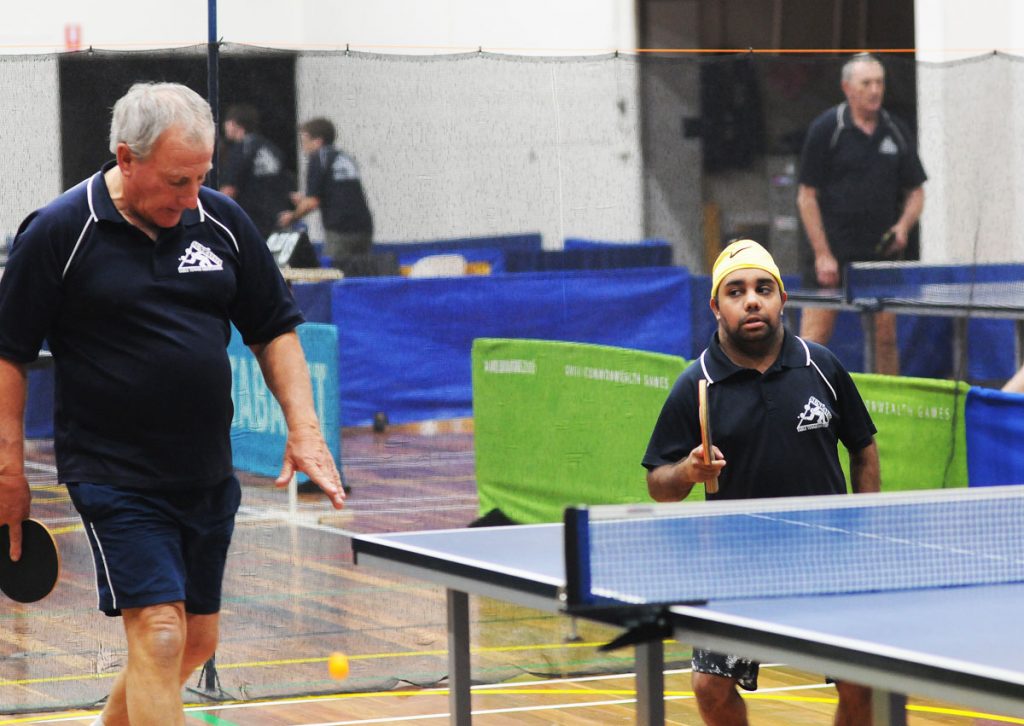 Wright and Clark won in straight sets against Fitzpatrick and number two Malycha, and Wright and Gifkins took the honours in four sets against Fitzpatrick and Anthony Fox.
Final scores:  8 rubbers to 3 and 27 games to 13.
PENNANT THREE:

The three top teams, Weightmans Packaging, Sammy's Slammers and Regional Taxation Services, won again this week, distancing themselves further from the bottom half of the competition.
– Weightmans Packaging 7 (Jeremy Corrin, Dylan Wood 3, Rohan Reimers 1) d MJM Automotive 4(Tom Morrison, Sabrina Fitzpatrick 1)
Weightmans Packaging continue on their merry way, and this week clocked up their twelfth win from thirteen rounds, the last eleven in succession.  This was not an overpowering win, however, it did demonstrate the depth of talent in their side.
A 7-4 win on the face of it appears to show a win where the winning team is obviously superior, however, in this game each of the Weightmans Packaging players was taken to five sets, and each of them won.
Nick Kiapekos may play at the number three spot for MJM Automotive, but this season has shown that persistence is his trump card.  In this game, he was down two sets to love against Weightmans captain Jeremy Corrin, 4-11, 8-11.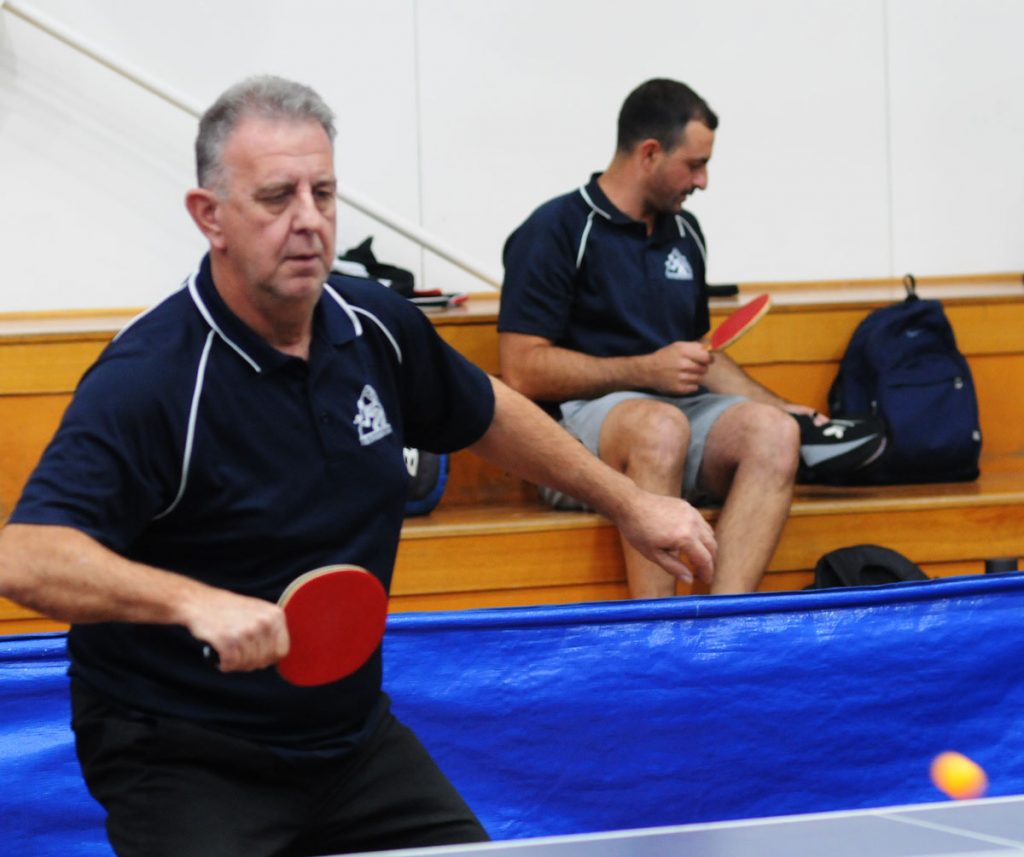 Kiapekos refused to yield to Corrin, taking the next two sets 11-8, 11-4, and went down narrowly 11-9 in the fifth.  Whilst Corrin is clearly the better player of these two, he had to call on something other than his powerful forehand and backhand.
Weightmans Packaging number two Dylan Wood has improved immensely in the latter part of the season.  Since round 7 he has scored a minimum of two games per match, in the first six games he was scoring 0's and 1's.  In his game against MJM Automotive captain Tom Morrison, he found himself against an opponent whose season is pretty well the opposite of his – started well, but has faded since.  Wood and Morrison traded sets, Wood going on to win 11-8 in the fifth.
Finally Rohan Reimers – he too was exposed to the game plan of Nick Kiapekos.  In a game where both players scored the same number of points, Reimers won 13-11, 10-12, 7-11, 11-9, 13-11.
MJM Automotive kept themselves in the match with wins in both doubles – indeed at the conclusion of the second doubles the score stood at 4-4, but Weightmans clinched the last three singles.
Final scores:  7 rubbers to 7 and 27 games to 17.
– Sammy's Slammers 8 (David Sergi, Liam Wood 3. Brice Lock 1) d Mallee Meats 3 (Peter Fitzpatrick 2, Therese Fitzpatrick 1)
Sammy's Slammers took a good team win in this clash with Mallee Meats, with captain David Sergi taking two rubbers, aggregate leader Liam Wood another three, and number three Brice Lock one.
The noteworthy thing about this game was that ten of the eleven rubbers were decided in just three sets, the final rubber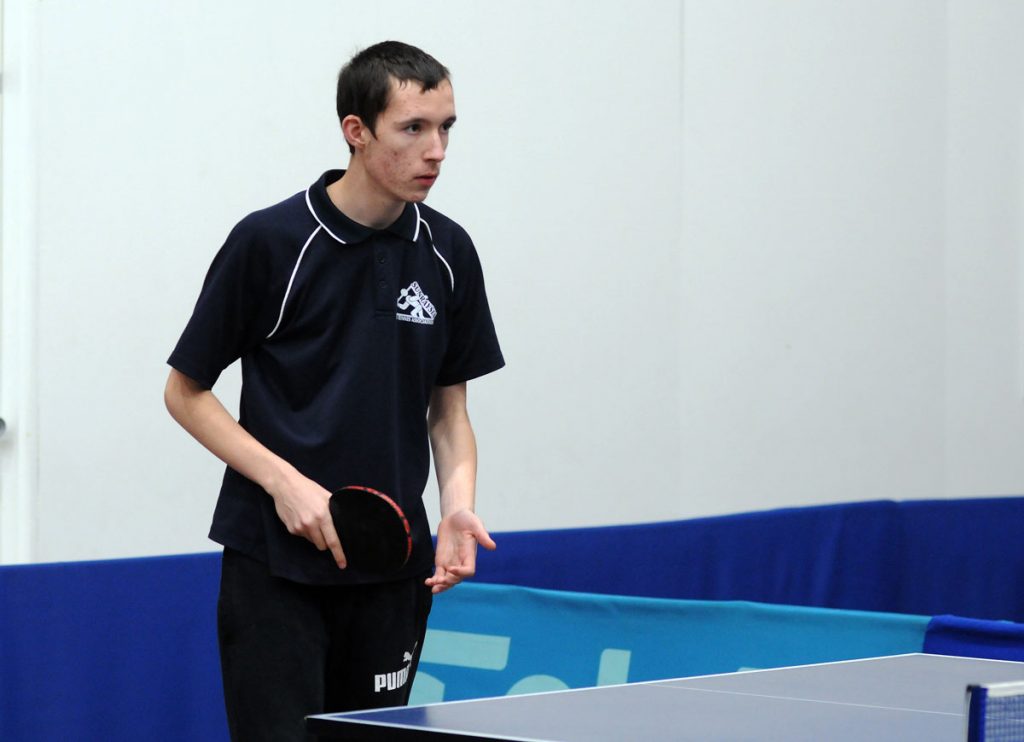 between Sammy's Slammers Brice Lock and Mallee Meats Arnold Jago not conforming to the template.  This close contest went to Lock 8-11, 11-3, 2-11, 11-8, 11-6.
Liam Wood was not really troubled – the closest he came to losing anything was in his match with Mallee Meats captain Peter Fitzpatrick, Fitzpatrick taking Liam to 13-11 in the second set.  The rest of time, Liam was clearly the class of the match, playing entertaining table-tennis and notching up victories at the same time.
The second doubles was a close game for the first two sets – Wood and Lock winning them 12-10, 12-10.  They eased away from Fitzpatrick and Jago in the third 11-5.
Final scores: 8 rubbers to 3 and 24 games to 11.
– Regional Taxation Services 7 (Paul Fitzpatrick 3, Lachlan Prothero, Huseyin Ismail 1) d Tankard Dental 4 (John Fitzpatrick, Karly Leach 2)
Regional Taxation Services showed they had just a little too much firepower for Tankard Dental in this match.
Regional Taxation Services captain Paul Fitzpatrick dominated the game with three singles wins and then partnering Lachlan Prothero in the first doubles, and Huseyin Ismail in the second doubles to wins also.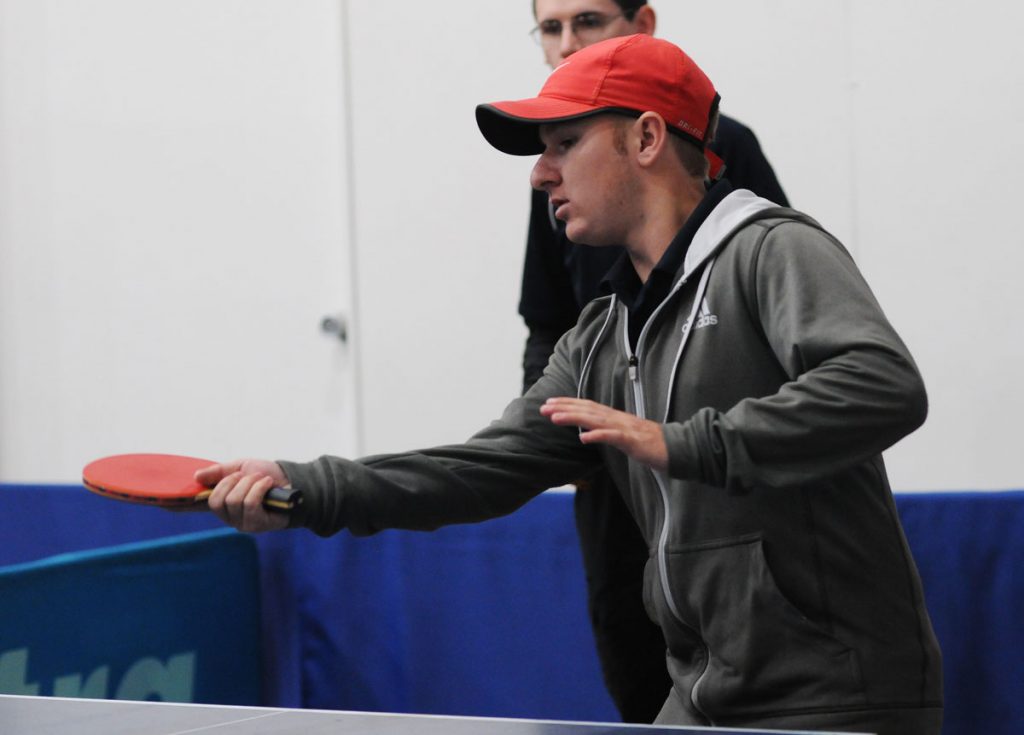 With Prothero and Ismail also taking a singles win each (both downing Luke Ljubic), Regional Taxation Services finished with a 7-4 scoreline.
Tankard Dental were not completely out of it, though.  Captain John Fitzpatrick and number two Karly Leach both took two singles rubbers (both defeating Prothero and Ismail).  John and Karly were a real chance of a win in the first doubles rubber, but brother Paul and Prothero proved the better combination, winning 8-11, 11-8, 11-5, 7-11, 11-7.  That was one that got away.
John had real hopes that he could match it with brother Paul when they met in rubber number nine, but Paul did not let John into the match, winning in three 4, 9 and 5.
Final scores:  7 rubbers to 4 and 25 games to 16.
PENNANT FOUR:

In Round 13 Action we saw for the third week in a row both matches going the distance 6 games to 5. This grade is hotting up with only two weeks to play before we enter finals.
– Tankard Dental 6 (Matt Sires 3, Isaiah Bettess 2) d MJM Automotive 5 (Miya Lock 2, Dave Tanner, Shirley Whitecross 1)
In a must win match all of MJM Automotive players contributing singles wins this was not enough to topple the inform Tankard Dental team. Matt Sires continued on his winning way in winning his three singles matches comfortably and was well supported by Isaiah Bettess winning two singles and an important contribution in the doubles. In fact, it was this doubles result that set up the night for the Dentists. MJM's Dave Tanner and Shirley Whitecross were out of the blocks quickly in this match taking the first set 11-9. This is where the joy ended with Sires and Bettess taking the next three 11-5, 13-11 and 13-11 to level the match score 2-2. From this point Tankard Dental were never headed. For MJM fill in Miya Lock was again impressive in winning two matches and Shirley Whitecross played well throughout the night to win the last match of the evening.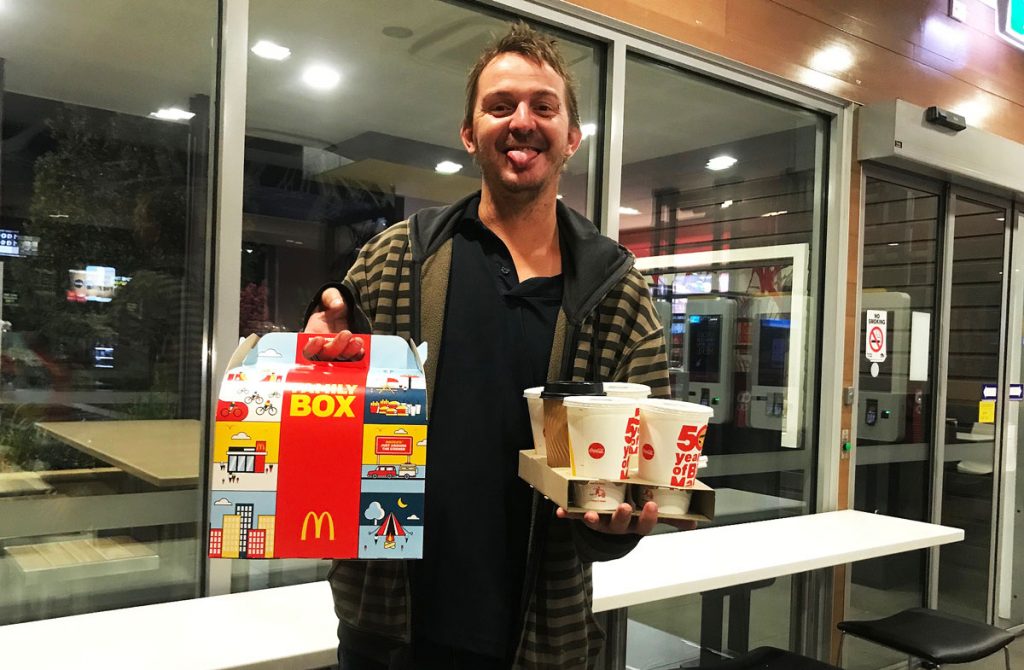 Unfortunately for MJM this loss now means that it is mathematically impossible (and yes a mathematician did check this for me) for them to make the finals as they are one game adrift and plenty of percentage behind Cookes Pools and Spas and can't make up the difference as they have the bye next round. So Tankard Dental have extracted MJM Automotive from the finals race winning this contest 6-5.
– Dunkley Scales 6 (Karl Whitney 3, Kim Avers 2) d Mallee Meats 5 (Andrew Kremor 2, Jacinta Ljubic, Kayla Bettess 1)
Well this was the match of the round with both teams coming off recent good form. Dunkley Scales Karl Whitney showed what he is capable of last week when he toppled leading player Matt Cherry. This week he was up against Andrew Kremor and the question was: Could he repeat the dose? It didn't take long to find this out as these two took centre stage in the third match of the night. The first set was a tight affair with Whitney taking this out 11-9. Kremor was not to going to sit on the canvas and secured the second 11-7. Again in the third Whitney found another gear and won this 11-7. Kremor then bounced off the ropes to take the fourth 11-3 in a strong display. Now we enter the fifth set with judges showing points even with neither player at this stage delivering the knockout blow. Whitney has shown a penchant for five set battles and like in Rocky II delivered a late telling blow to win this battle 11-7. These two battle weary opponents had little time to cool off and recover as now we were into the first doubles of the evening. This was also a cracking match with Whitney teaming with Kim Avers for Dunkley's and Kremor with Kayla Bettess for the Butchers. The first set was a marathon with the Butchers taking this 14-12. Again there were plenty of momentum shifts the next three sets went 11-8 (Dunkley), 11-6 (Meats), 11-6 (Dunkley). Again in the last set it was the unflustered play of Whitney and Avers that secured the win 11-7.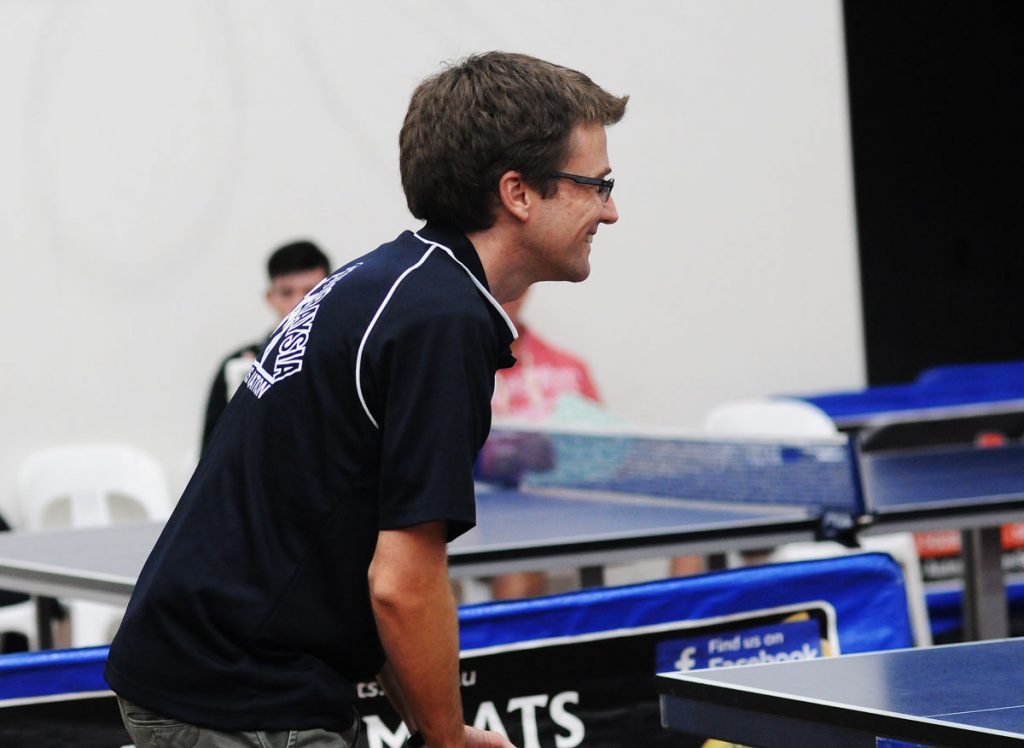 These two five set battles proved to be the difference in the night with 'King Karl' of the five set battles reigning supreme with Dunkley Scales winning 6-5.