Read Time:
16 Minute, 6 Second
Sunraysia Table Tennis Summer Pennant results round 4: –
PENNANT ONE:
– Weightmans Packaging 6 (Andrew Cannard, Lee Thomas 2, Joel Dorman 1) d Mallee Bearings 5 (Wayne Carmichael 3, Ed Hung 1);
– Sunraysia Daily 10 (Mark Dorman, Graeme O'Neill 3, Sam Foreman 2) d Pinnacle Packers 1 (Neil Rodrigues 1);
– Fishers IGA 6 (Gavin Carmichael, Jackson Tung 2, Peter Bishop 1) d Max Miller Carpets 5 (Dillon Chambers 3, Gavin Minter 1)
PENNANT TWO:
– Fishers IGA 8 (Robert Chiswell, Jackson Murphy, Trevor Gebert 2) d Mallee Bearings 3 (Seval Fuat 2, Mathew Burns 1);
– Spanline 6 (Arnold Jago 3, Andrew Jones 2) d Max Miller Carpets 5 (Ashley Morrison 2, Sam McDonnell, Laurie Plummer 1);
– Tankard Dental 7 (Sony Sefer 3, Henry Hornsby, Abraham McDonnell 2) d Pinnacle Packers 4 (Arthur Paar 2)
PENNANT THREE:
– Mallee Bearings 5 (Colin Moore 3, Delaney Murphy 2) d Weightmans Packaging 4 (Andrew Lewis 2, Jeremy Corrin 1);
– Pinnacle Packers 6 (Peter Kelly 2, Megan Carmichael, Alyce Carmichael 1) d Sunraysia Daily 5 (Mark Kerr 3, Karly Leach 2);
– Fishers IGA 8 (Nicholas Dorman, Darren Greaves 3, George Papanicolaou 1) d Max Miller Carpets 3 (Damen Southgate, Karina Sullivan 1)
PENNANT FOUR:
– Fishers IGA 8 (Mick Bacon 3) d Max Miller Carpets 3 (Sam Hensgen, Gabriel McDonnell, Shane Koelmeyer 1);
– Mallee Bearings 6 (Ryan Hensgen 3 Lachlan Kelly 2, Ben Hosking 1) d Bishop Builders 5 (Josh Carmichael 2, Leonie Dunkley 1)
PENNANT ONE
In a stunning result Sunraysia Daily destroyed the previously undefeated Pinnacle Packers 10-1 in round four pennant one action of the Sunraysia Table Tennis summer competition. After a two week break for the school holidays the Daily combination returned to inflict a heavy defeat on the ladder leaders
SUNRAYSIA DAILY vs. PINNACLE PACKERS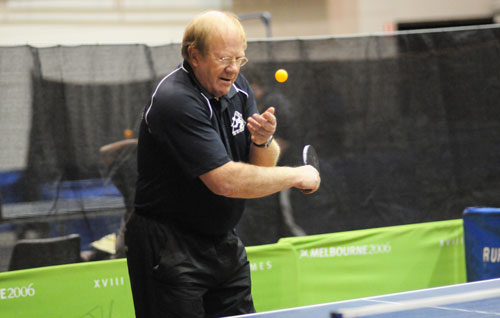 For Sunraysia Daily Graeme O'Neill turned back the clock with some stunning table tennis, a reward for his hard work at training on a Monday evening. He won all his matches in hard fought five set contests and in particular his defeat of top player Neil Rodrigues 11-9 11-8 8-11 8-11 11-8 was the highlight match of the night. O'Neill's skipper Mark Dorman also won three singles all in straight sets as they sent their opposition packing. Dorman capped off an excellent night by participating in both doubles victories. Team mate Sam Foreman was also in great touch winning two singles and just going down in five sets after having Rodrigues in trouble early. Foreman's forehand in particular was on song and hit with tremendous power!!!
This percentage boosting victory by Sunraysia Daily has propelled them from third place on the ladder to first position and is their third victory in as many rounds.
FISHERS IGA V MAX MILLER CARPETS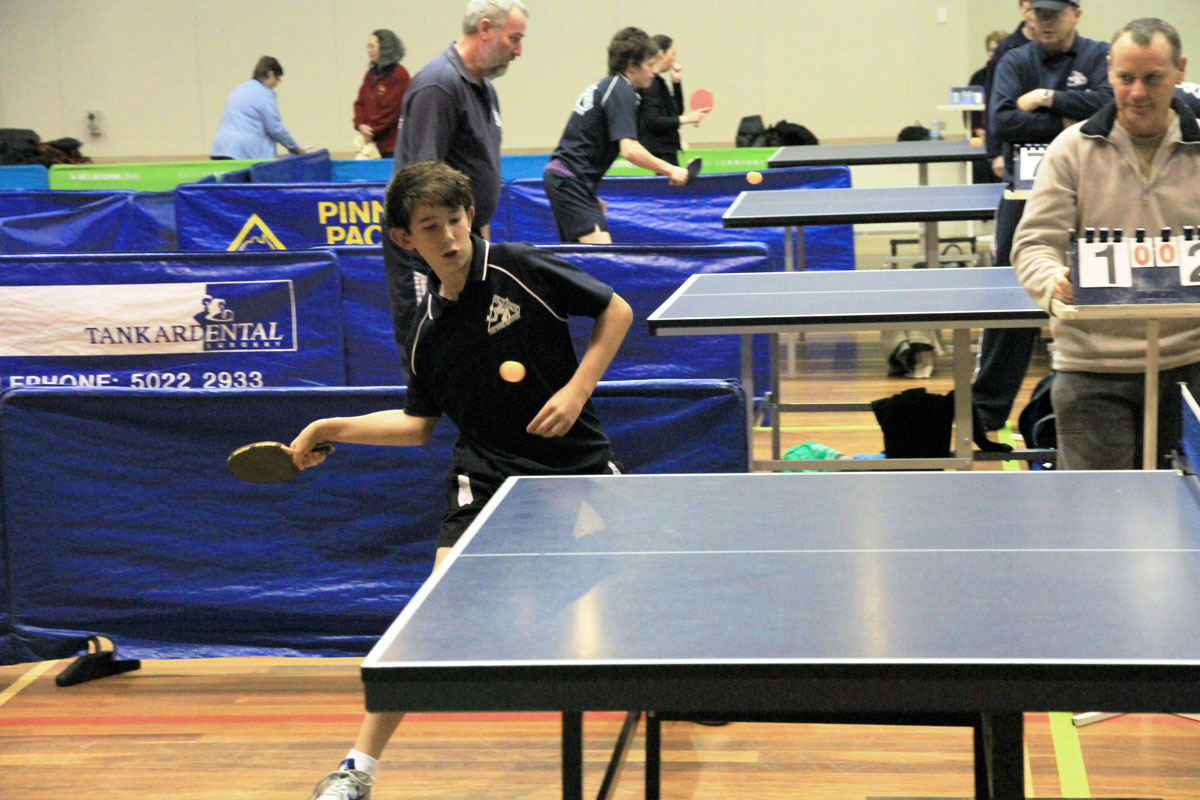 After losing their first two matches by the narrowest of margins Fishers IGA have now recorded two 6-5 victories in succession this time at the expense of Max Miller Carpets despite Dillon Chambers winning three singles. Chambers was in excellent form on return from the Australian Junior National titles where at the conclusion he was ranked eighth in Australia in his age group.
For Fishers both Gavin Carmichael and Jackson Tung won two singles however it was their team mate Peter Bishop who played a key role. Bishop teamed with Gavin Carmichael in the second doubles to defeat Chambers and Daniel Jansen in a tight four setter 11-7 8-11 11-9 11-8. He then matched up against Jansen in the final singles of the night when the scores were locked at five all. In a steady start Bishop grabbed the first two games, Jansen then fought back bravely against a tough opponent to level the match at two games all. Bishop drew on all his experience in the fifth against his younger opponent and drew away to win 11-6 11-7 10-12 7-11 11-6 to give Fishers a hard earned victory which allowed them to retain fourth place on the ladder.
WEIGHTMAN'S PACKAGING VS. MALLEE BEARINGS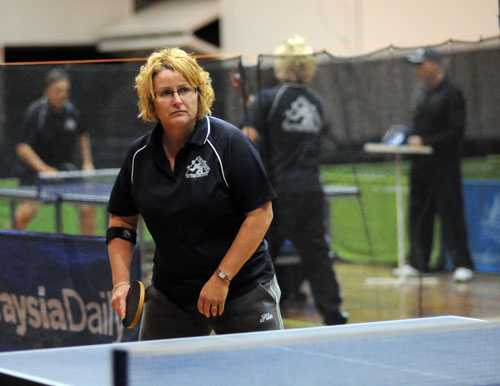 In a thriller Weightmans Packaging won the remaining match defeating Mallee Bearings 6-5. Weightmans were under the pump late in the match at one stage trailing 4-5 with Mallee Bearings looking like they may break through for their first win of the season. As expected, Packers Andrew Cannard defeated Damien Ford in straight sets to level the match at five rubbers all.
Ed Hung for Mallee Bearings gave his team the early edge in the decider when he jumped to a two games to love lead against Lee Thomas. Thomas then gave her team hope by chipping away with steady play to level the contest at two games all. Excitement was mounting now with both teams on the edge of their seats. Thomas then took control and steamed through the fifth winning 7-11 11-13 11-8 11-6 11-4 in what was a tremendous comeback. Thomas has been promoted from pennant two for this competition given her solid form over the past twelve months and this would have been one of her best wins at this level and it could not have come at a better time for her team. Well played Lee on getting your boys through!!!!!!!
PENNANT TWO
Unavailability featured in this round and in pennant two four fill ins were required for various reasons, thanks to those who helped out.
TANKARD DENTAL VS. PINNACLE PACKERS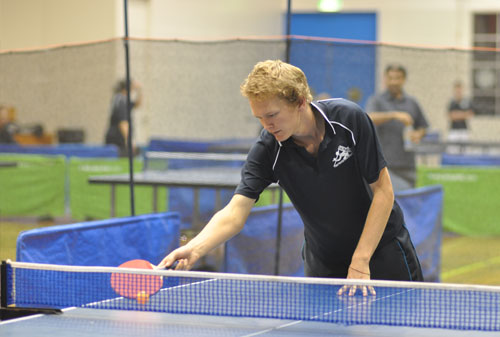 Tankard Dental won their fourth match in as many rounds when they accounted for Pinnacle packers 7-4. Success came despite not troubling the scorers in either doubles. Tankard skipper Sony Sefer has hit form and won three singles for the second round in succession. One of his singles victories came against aggregate leader Arthur Paar this being Arthur's first loss for the season. Victory came in four sets for Sony 11-8 4-11 11-9 11-6 which now puts him to equal second in the singles aggregate race with Arnold Jago and Jackson Murphy two wins behind the evergreen Arthur.
Sefer's team mates Henry Hornsby and Abraham McDonnell also played well to win two singles each. Both Abraham's victories came in five sets. The first match of the night saw him just get over the line against Leon Brown in a thriller 2-11 8-11 11-8 11-3 12-10. The second was in the last game of the night when again under pressure this time against fill in Mark Kerr 9-11 11-2 5-11 11-7 11-4. In both he was able to recover from early deficits to fight back and win.
In all there were five five set matches in this contest with Tankards able to win four of these. Despite his team going down Arthur Paar did well on the night winning two singles and taking part in both doubles victories, a little more luck in a couple of the five setters and victory could have gone either way!!!!
FISHERS IGA vs. MALLEE BEARINGS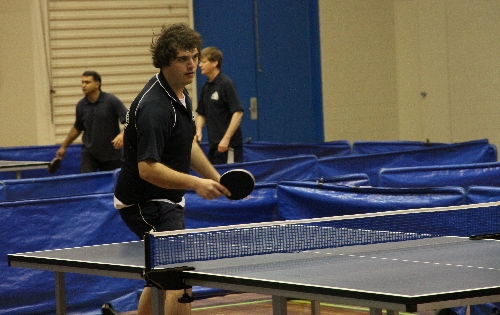 Fishers IGA opened up a two game break on fifth position when they accounted for Mallee Bearings 8-3 in a solid victory where no player was able to win three singles. In an even display Fishers trio Robert Chiswell, Jackson Murphy and fill in Trevor Gebert all won two singles and by winning both doubles they were always in a strong position.
The second doubles was a beauty as Chiswell and Gebert combined to defeat youngsters Matt Burns and Alex Keegan 11-7 5-11 11-7 10-12 11-9 in a top class five setter. The very next match again featured another entertaining five set match where Robert Chiswell accounted for Alex Keegan 11-5 11-8 9-11 8-11 11-8.
Of the four five set matches Fishers were able to win three including the very first game of the night when the experienced Seval Fuat outlasted rising young star Jackson Murphy 9-11 9-11 11-5 11-8 15-13 in a great come back under pressure. Murphy is enjoying an excellent season after being promoted from pennant three. Fuat was the best performer for his team winning two singles.
SPANLINE vs. MAX MILLER CARPETS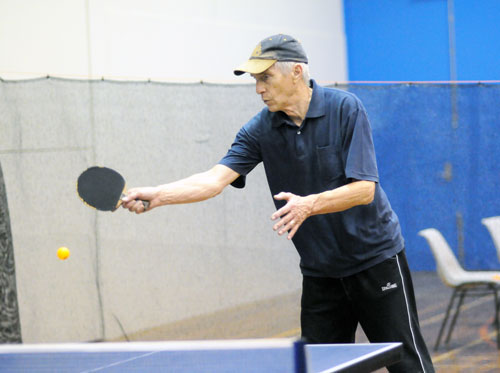 In the closest match of the night in this pennant Spanline outlasted Max Miller Carpets 6-5 after trailing 4-5 late in the match. For the victors Arnold Jago proved to be very steady winning three singles while team mate fill in Andrew Jones won two. The Carpeters were not far away from breaking through for their first victory and were valiant in defeat.
Carpeters skipper Ashley Morrison won two singles and combined with Laurie Plummer to defeat Arnold Jago and Steve Pongrac in four sets 11-7 12-10 10-12 11-7 to give their team a chance. At five all Laurie pushed Arnold Jago to four sets in a determined effort but just fell short. Spanline sit second on the ladder after this victory, one game clear of third and one win short of first.
PENNANT THREE
 Ladder leaders Max Miller Carpets suffered their first defeat of the season, going down comprehensively to Fishers IGA.  The structure of the teams was altered somewhat for this round, the five Fitzpatrick's all absent on holiday, plus the absence of three other players.
WEIGHTMAN'S PACKAGING   vs.   MALLEE BEARINGS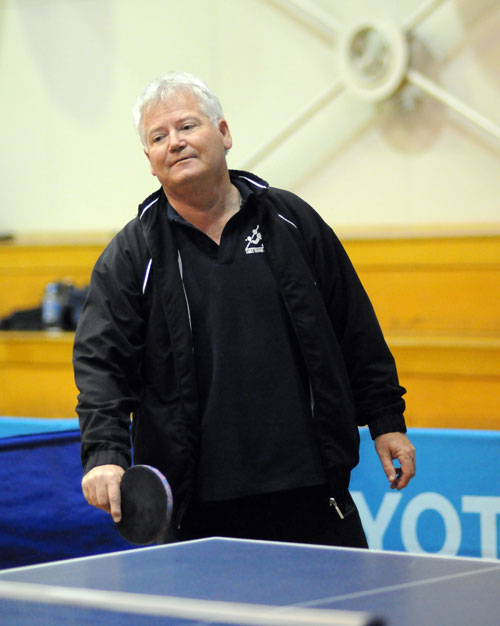 Of the three matches, this one suffered in that both sides could only field two players.  A disappointment for the players, certainly, as only five matches were contested.  This match did however; show the talent of Delaney Murphy.  She has acquitted herself well in this competition to date, and in this round showed that she has the ability to compete with all the players in this grade.  Her first singles was a high class match against Andrew Lewis.  Delaney held her own against the spin and hard hitting forehands of Lewis, but after giving Lewis something to think about went down in five sets 11-7, 7-11, 9-11, 11-8, 6-11.  In her second singles she accounted for Jeremy Corrin in straight sets 11-8, 11-9, 11-4.  Mallee Bearings captain Colin Moore won both his singles in three sets; firstly Corrin 11-7, 11-9, 11-6 and Lewis 11-8, 11-6, 11-7.  Lewis and Corrin combined well in the doubles though, to defeat Moore and Murphy in four, 11-8, 7-11, 11-4 and 11-9.  The victors then were Mallee Bearings who won three of the four singles, and losers Weightmans won a singles and the doubles.
MAX MILLER CARPETS   vs.   FISHERS IGA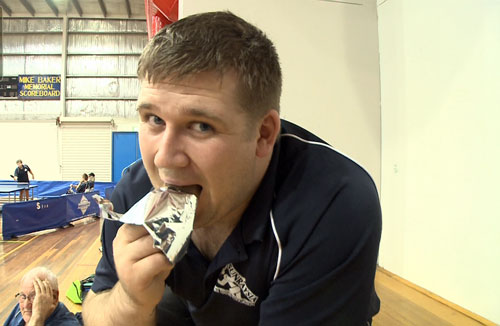 Runaway ladder leaders Max Miller Carpets came back to earth with a thud when they were outplayed by Fishers IGA.  Not even the singing of "Happy Birthday" for Gary Hughes could inspire his team to win more than three rubbers on the night.  Perhaps Gary had already had some birthday cheer before play, but whatever the reason he failed to win any of his singles, and only combined with Captain Karina Sullivan to win one of the doubles.  Hughes was outplayed by Darren Greaves in three sets 6-11, 6-11, 9-11.  His other singles matches were against two of the Association's talented junior players George Papanicolaou and Nick Dorman.  Both these matches went to five sets, and the scores reflected the evenness of the players, of the ten sets played, in only two did the loser score 6 points or less.  His match against Papanicolaou was a beauty, George winning 12-10, 2-11, 8-11, 12-10, 12-10.  The match with Nick Dorman was a very even affair, Dorman outlasting Hughes 8-11, 11-7, 8-11, 12-10, 11-6.  Dorman's win against Hughes was his third singles win for the night.  Earlier on he had easily accounted for Damen Southgate in three sets 11-7, 11-5, 11-7, and after dropping the first set in his match against Karina Sullivan 9-11, was always in control of that match, winning the next three sets 11-3, 11-8, 11-4.
Darren Greaves filled in for absent regular player Zubair Shahzad and won three sets for Fishers and combined with Nick Dorman to win their doubles match.  Greaves was not extended in any of his singles matches, winning them all in three sets.  He and Dorman had to fight a little harder to stamp their authority on their doubles match against Sullivan and Southgate, and although the match was decided in four sets, the losers put up a good fight before going down 11-8, 16-18, 3-11, 11-13.  For Fishers IGA then, both Nick Dorman and Darren Greaves won three singles, George Papanicolaou won one, and they won one doubles, the losers scraping their three victories together with singles victories to Damen Southgate and Karina Sullivan (one each), and the doubles of Sullivan and "Birthday Boy" Hughes.
The best part of the night for the Carpeters was the birthday cake whipped up for Gary by Karina. Everyone agreed she has a talent for cooking a chocolate cake…..Well done Karina!!!!
SUNRAYSIA DAILY   vs.   PINNACLE PACKERS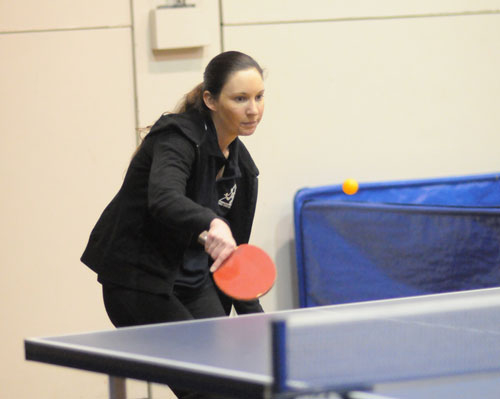 Pinnacle Packers won this match on the strength of their combining to win both doubles contests.  The losers, Sunraysia Daily won five singles matches (Mark Kerr a perfect 3, Karly Leach a valuable 2), to the Packers four (Megan Carmichael 1, Peter Kelly 2 and Alyce Carmichael 1), but Peter Kelly's combining with both the Carmichael girls saw them get home to win 6 rubbers to 5, and to show how close it was, they scored less games than the losers 21 to 22.
Once again Mark Kerr won three singles, and he also filled-in in a Pennant Two match.  He had Peter Kelly's measure in the first match of the night, 11-1, 11-1, 10-12, 11-9, accounted for Megan Carmichael in three, but had to work a little harder against Alyce Carmichael 6-11, 11-2, 11-5, 11-7.  Mark of course played in both the doubles and they were entertaining contests; he and Nikki Mayger lost to Peter Kelly and Alyce Carmichael 10-12, 8-11, 11-4, 9-11.  He later combined with the dogged and determined Karly Leach to lose in five sets against Kelly and Megan Carmichael 11-6, 10-12, 10-12, 11-9, 9-11 in a match which could have gone either way.
As mentioned previously, Karly Leach won two of her singles, and in so doing is proving her worth in the step up from Pennant Four for this competition.  She accounted for both the Carmichael girls and only went down to regular player Peter Kelly in five sets in a close match, and one in which Leach had the upper hand at one stage leading two sets to one 6-11, 11-7, 11-4.  Kelly then regrouped and won the last two sets 11-5, 11-8.  This is probably a match that the Dailies feel got away from them, they had chances to clinch the match, but the overall evenness of the Packers on the night was the difference in the two teams.
Great to see Alyce coming up from the juniors and acquitting herself well, while Megan, home on a break from work in Melbourne, played her first competition match for some seasons. The Graeme O'Neill taught forehand was still evident and she wound up a few times on her trademark shot!!!!!
PENNANT FOUR
MALLEE BEARINGS vs. BISHOP BUILDERS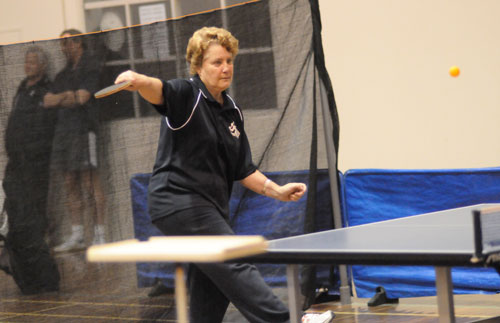 In a close result Mallee Bearings despite not winning a doubles proved just too good for Bishop Builders winning 6-5. Ryan Hensgen for the victors was in great form winning his three singles in a great display. His team mates Lachlan Kelly and Ben Hosking scored two and one win respectively in an even team effort. The highlight match of the night was played between young Kelly and fill in Josh Carmichael, son of Wayne (and Chris). Josh won two singles and his tussle with Lachlan was a beauty with Josh taking the points 11-7 4-11 11-7 9-11 11-5.
For the Builder Josh Carmichael won two singles and teamed with skipper Leonie Dunkley to win the first doubles in straight sets over Lachlan Kelly and Ryan Hensgen.
FISHERS IGA vs. MAX MILLER CARPETS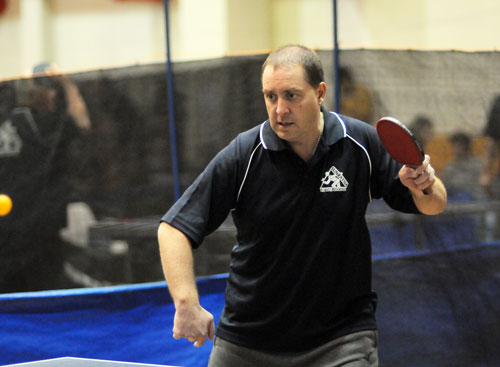 Ladder leader Fishers IGA proved too strong for Max Miller Carpets winning 8-3. Mick Bacon was the standout player for Fishers winning three singles as well as taking part in both doubles victories. His match with Sam Hensgen was a beauty and Sam appears to be getting closer to a victory against Mick as his Monday night practice is helping improve his game. The close score line of 11-4 10-12 11-6 7-11 14-12 indicated an exciting match with Mick able to bring home the bacon (sorry Mick that is ordinary). Mick actually will be away next round as he is making a trip to Melbourne to be entertained by Meatloaf!!!!!
With a dozen fill ins needed on the night Fishers had Jeremy Corrin and Darren Greaves sharing one spot and between them they won three singles. For Max Miller Carpets Shane Koelmeyer made his debut to competition table tennis and he will be better off for this match. Shane has signed a contract with the Carpeters management to complete the season which has pleased Sam and Gabriel. Shane is the owner of the local Retravision store and he is the one that has nasty things happen to him in their TV commercials, hopefully he'll survive the table tennis season. Welcome Shane!!!!!
Sunraysia Table Tennis Summer Pennant results round 4: –
PENNANT ONE: – Weightmans Packaging 6 (Andrew Cannard, Lee Thomas 2, Joel Dorman 1) d Mallee Bearings 5 (Wayne Carmichael 3, Ed Hung 1); Sunraysia Daily 10 (Mark Dorman, Graeme O'Neill 3, Sam Foreman 2) d Pinnacle Packers 1 (Neil Rodrigues 1); Fishers IGA 6 (Gavin Carmichael, Jackson Tung 2, Peter Bishop 1) d Max Miller Carpets 5 (Dillon Chambers 3, Gavin Minter 1)
PENNANT TWO: – Fishers IGA 8 (Robert Chiswell, Jackson Murphy, Trevor Gebert 2) d Mallee Bearings 3 (Seval Fuat 2, Mathew Burns 1); Spanline 6 (Arnold Jago 3, Andrew Jones 2) d Max Miller Carpets 5 (Ashley Morrison 2, Sam McDonnell, Laurie Plummer 1); Tankard Dental 7 (Sony Sefer 3, Henry Hornsby, Abraham McDonnell 2) d Pinnacle Packers 4 (Arthur Paar 2)
PENNANT THREE: – Mallee Bearings 5 (Colin Moore 3, Delaney Murphy 2) d Weightmans Packaging 4 (Andrew Lewis 2, Jeremy Corrin 1); Pinnacle Packers 6 (Peter Kelly 2, Megan Carmichael, Alyce Carmichael 1) d Sunraysia Daily 5 (Mark Kerr 3, Karly Leach 2); Fishers IGA 8 (Nicholas Dorman, Darren Greaves 3, George Papanicolaou 1) d Max Miller Carpets 3 (Damen Southgate, Karina Sullivan 1)
PENNANT FOUR: – Fishers IGA 8 (Mick Bacon 3) d Max Miller Carpets 3 (Sam Hensgen, Gabriel McDonnell, Shane Koelmeyer 1); Mallee Bearings 6 (Ryan Hensgen 3 Lachlan Kelly 2, Ben Hosking 1) d Bishop Builders 5 (Josh Carmichael 2, Leonie Dunkley 1)