Read Time:
15 Minute, 42 Second
Sunraysia Table Tennis Winter Pennant results 2013 GRAND FINALS:
PENNANT ONE:
 – Mallee Bearings 6 (Mark Dorman, Ali Taheri 2, Graeme O'Neill 1) d Max Miller Carpets 5 (Rick McMeekin 3, Shane Carmichael 1)
PENNANT TWO: 
– Tankard Dental 6 (Nicholas Dorman, Bernadette Fitzpatrick 2) d Spanline 3 (Arnold Jago, Geoff Wright, Lachlan Kelly 1)
PENNANT THREE: 
– Fishers IGA 6 ( Cole Keegan 3, Sam Hensgen 2) d Mallee Bearings 3 (Sabrina Fitzpatrick, Michael Hensgen 1)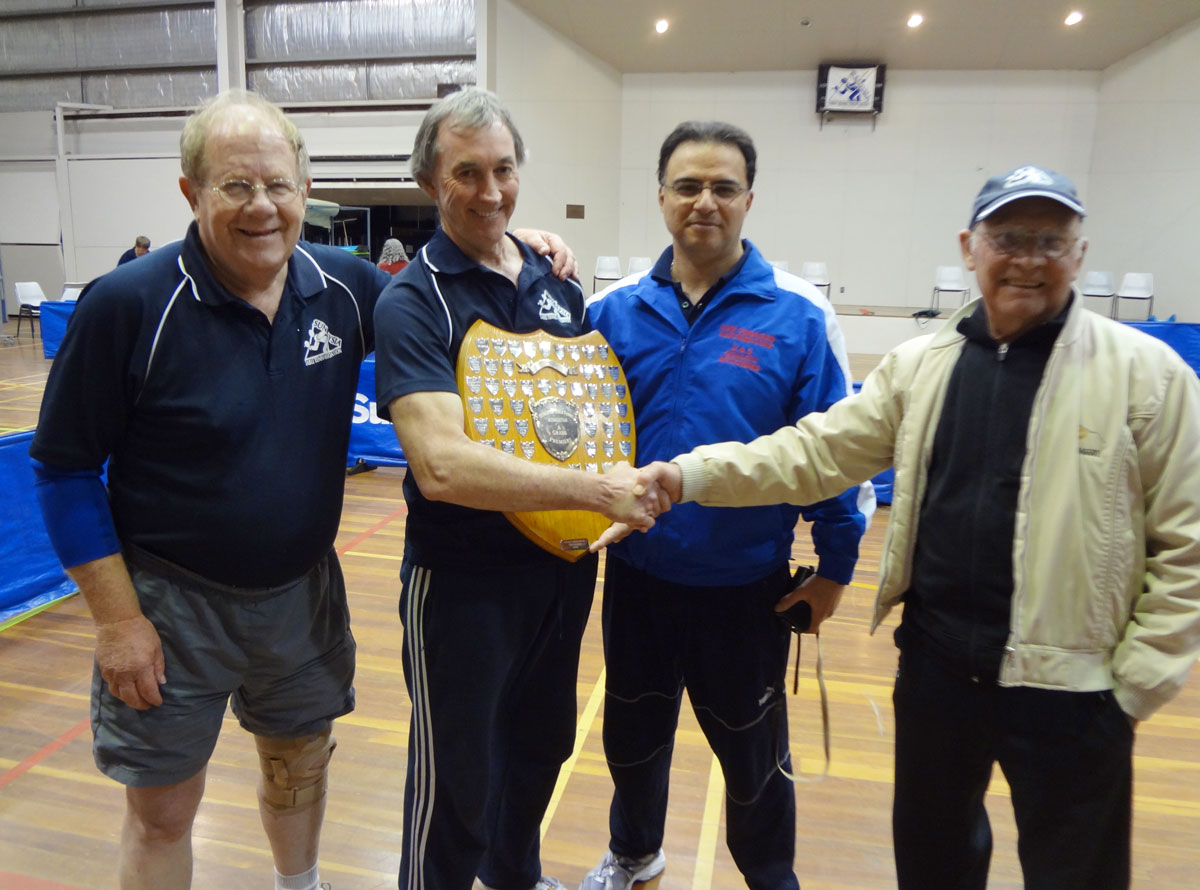 Mallee Bearings are the 2013 Winter Pennant 1 champions. In a tight 11th game decider Graeme O'Neill prevailed in 4 sets over Sony Sefer to take the shield.
PENNANT ONE:
Mallee Bearings are the 2013 Sunraysia Table tennis winter pennant premiers after defeating Max Miller Carpets 6-5 in a top class grand final.
 – Mallee Bearings 6 (Mark Dorman, Ali Taheri 2, Graeme O'Neill 1) d Max Miller Carpets 5 (Rick McMeekin 3, Shane Carmichael 1)
For the second year in succession a team has come from fourth to take out the premiership with a 6-5 result which would be a pleasing statistic for the grading committee.
The Mallee Bearings combination of Mark Dorman, Ali Taheri and Graeme O'Neill played consistent table tennis right throughout the finals series and were no different in the grand final. Going into this match they had enjoyed a 2-1 ascendancy over the Carpeters when they had previously met over the season. The first block of singles in the grand final went as expected, with Ali Taheri defeating Carpeters Sony Sefer in the first match.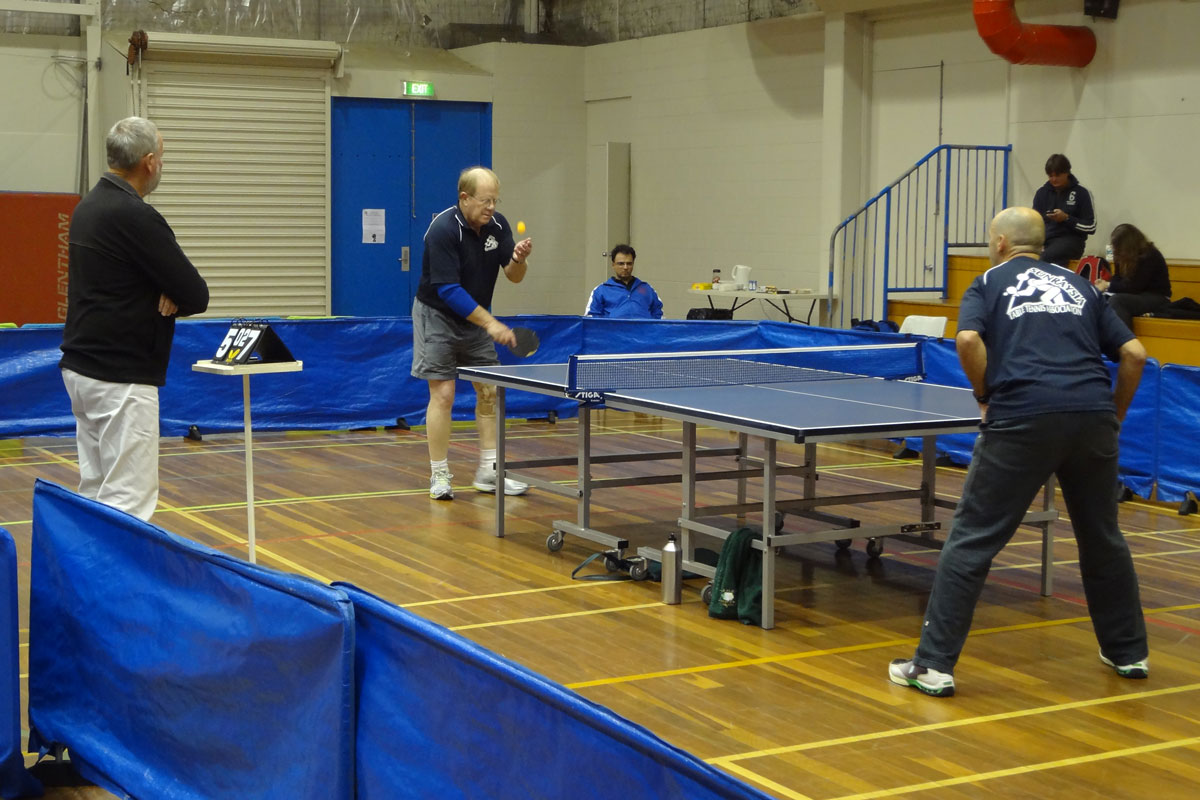 Rick McMeekin then raced through his match against Mallee Bearings Graeme O'Neill to level the match. Mark Dorman then was off to a flyer against Shane Carmichael winning the first two games easily before Carmichael lifted to take the third.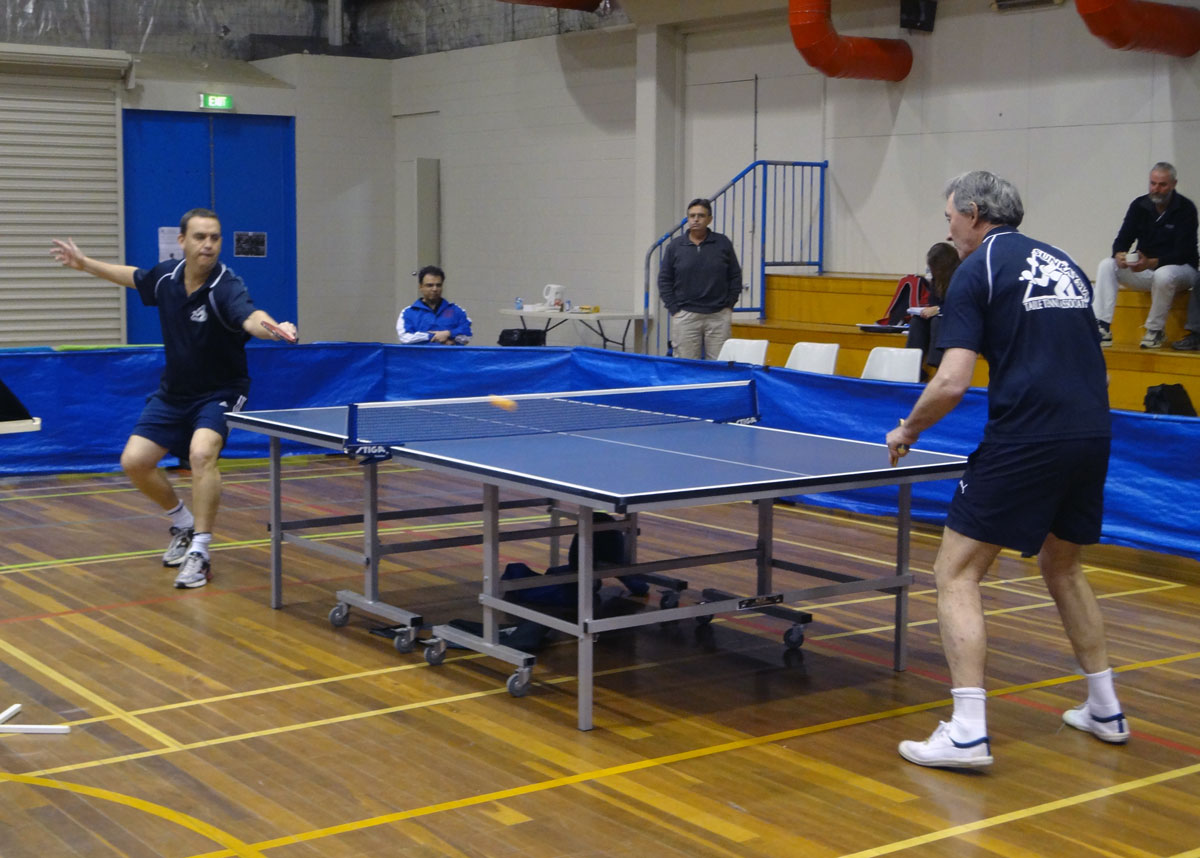 The fourth was a beauty as Carmichael continued to improve, however it was the experienced Dorman who held on to win the fourth 14-12.
With Mallee Bearings in the lead two rubbers to one the first doubles was now crucial for Carpeters pair McMeekin and Carmichael as they took to the table against Mark Dorman and Graeme O'Neill.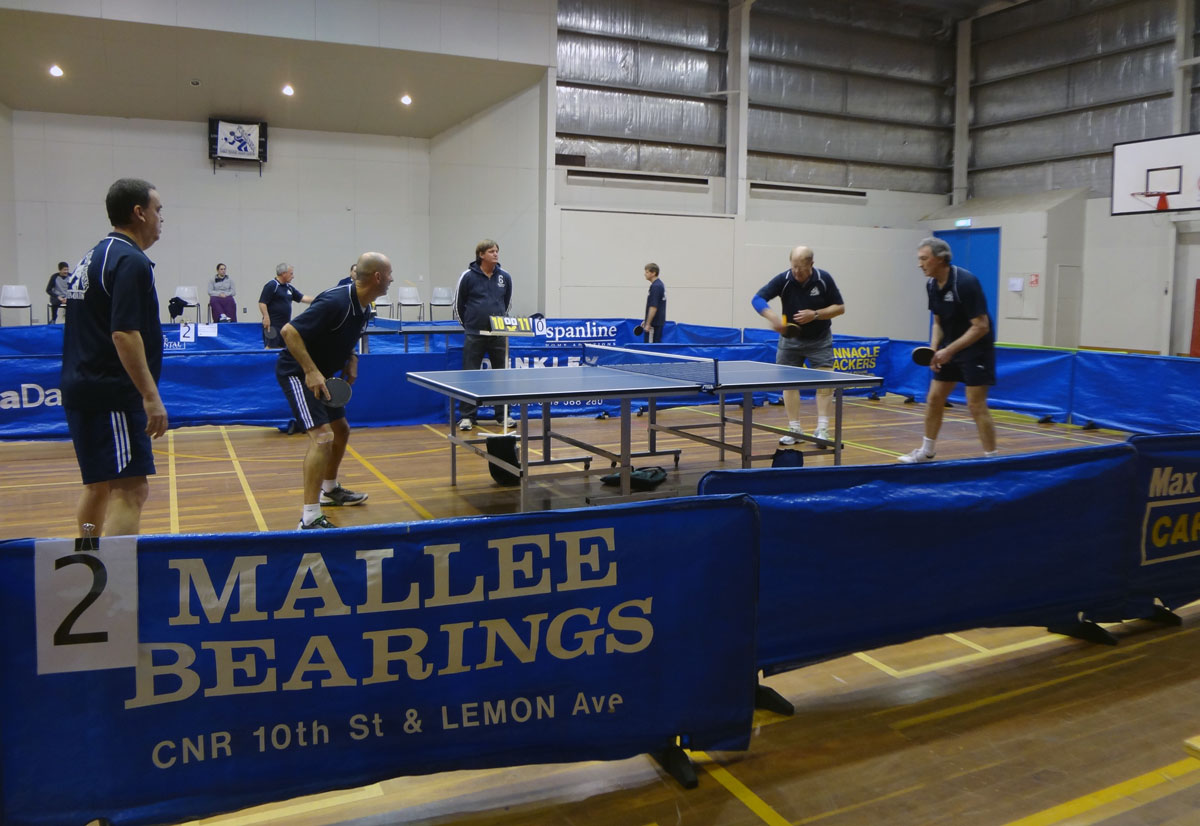 The Mallee Bearings combination of Dorman and O'Neill enjoyed a dream start taking the first and second 13-11 11-7. McMeekin and Carmichael had to lift and this they did in a hurry taking the third, fourth and fifth 11-3 11-8 11-3 to level the grand final at two rubbers all.Again the next block of singles went as expected with Max Miller Carpets going to a 4-3 lead after Rick McMeekin and Shane Carmichael
defeated their respective opponents Ali Taheri and Graeme O'Neill while Bearings Dorman had accounted for Sony Sefer. The second doubles featured Mallee Bearings pair of Mark Dorman and Ali Taheri up against McMeekin and Sefer.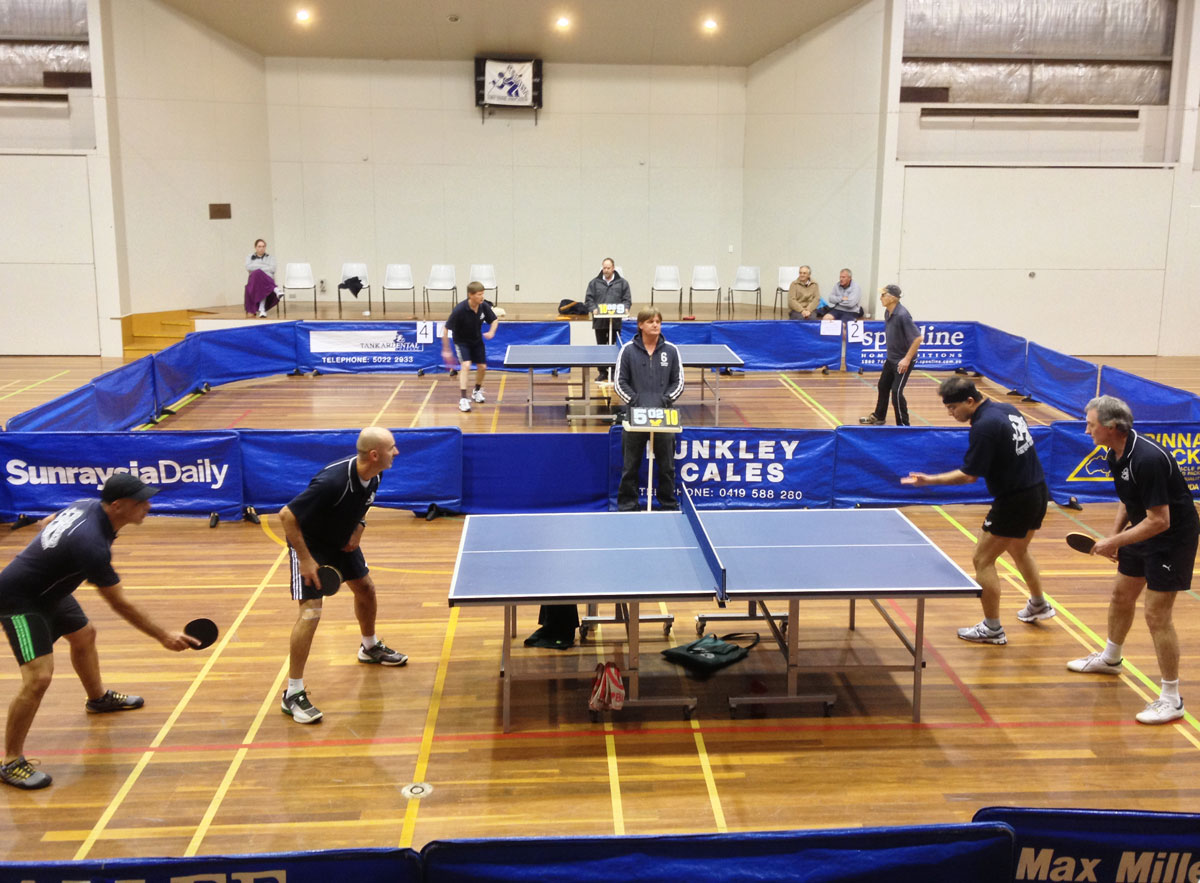 The first game was tight with Dorman and Taheri winning 13-11 and then controlling the remainder of the match to win the second and third 11-7 11-5.
With the scores now at four rubbers all the spectators witnessed a classic match between the skippers Rick McMeekin and Mark Dorman. Going into this match McMeekin had not been defeated by any player other than singles aggregate winner Wayne Carmichael, however Dorman was keen to add his name to the list and he was off to a stunning start winning the first two games 11-8 12-10. The spectators were witnessing a top match as McMeekin started to work his way back into the match.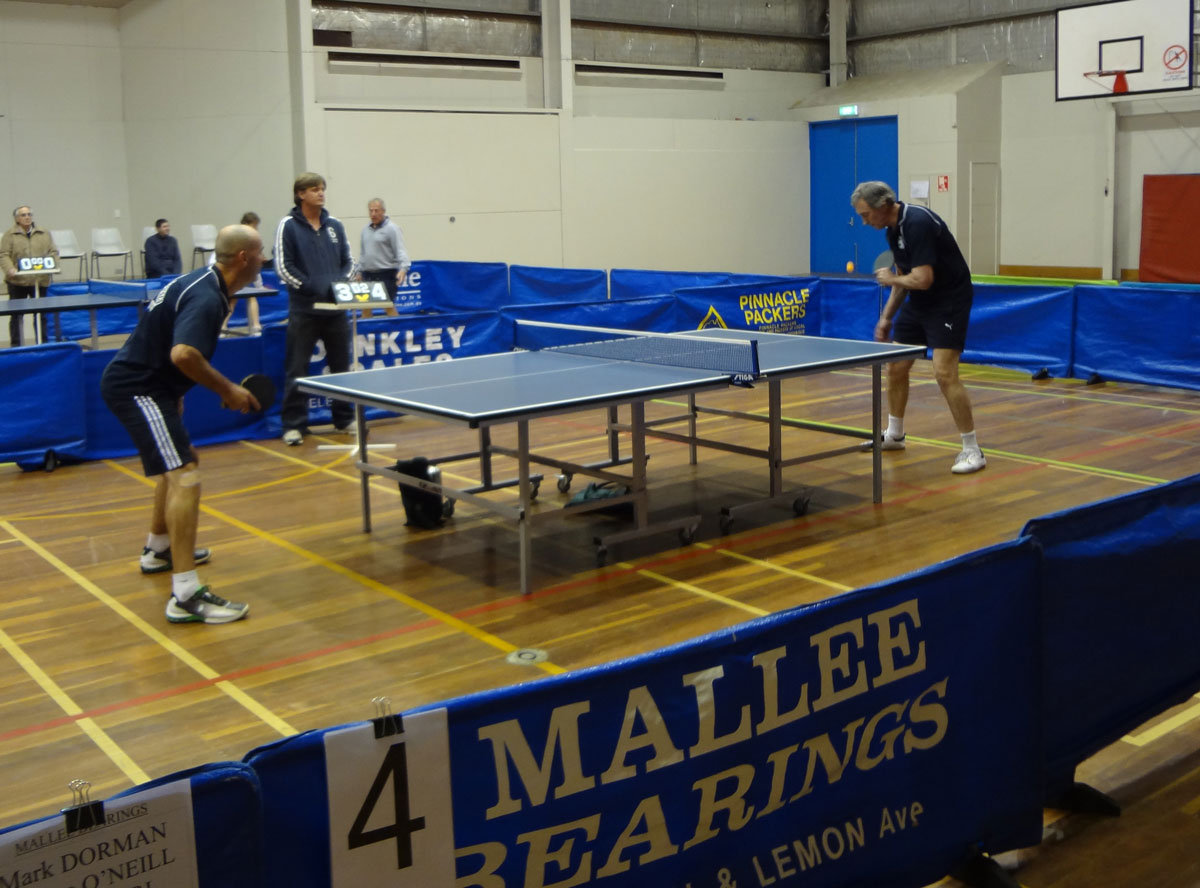 Late in the third McMeekin took a 9-7 lead however Dorman levelled the game at nine all. Again McMeekin did not hold back on his trusty heavy top spin forehands and reeled off the next two points to take the third 11-9. Dorman continued to put the pressure on but it was McMeekin who prevailed 11-5 11-7 in the fourth and fifth. This had been a brilliant match between to fine exponents of the game. The Carpeters now took a 5-4 lead.
The next singles again was a fine spectacle as Carpeters Shane Carmichael took on Ali Taheri.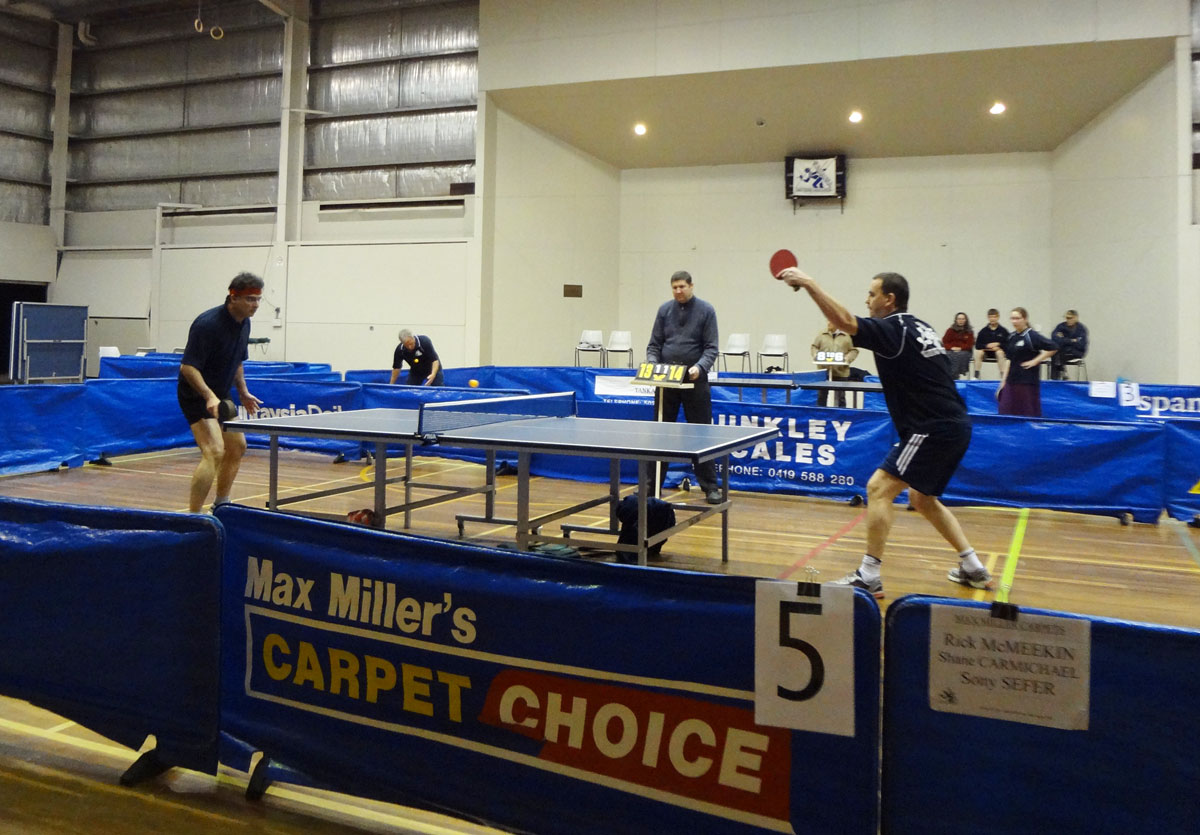 Going into this match Taheri had been successful against Carmichael in their past two meeting. Taheri controlled the first before Carmichael worked his way into the match to take the second. The standard lifted at this point and the third was a classic with both players trading many fine forehand and back hand attacking shots. Carmichael took the third narrowly and he and his team were only one game away form premiership glory. Taheri did not wilt and controlled the fourth after Carmichael had started well. Taheri then played well to take the fifth and the match 11-5 6-11 11-13 11-7 11-6.
The scene was set now for a tense climax to the season. With the score line five rubbers all. Mallee Bearings Graeme O'Neill lined up against Sony Sefer to decide the premiers.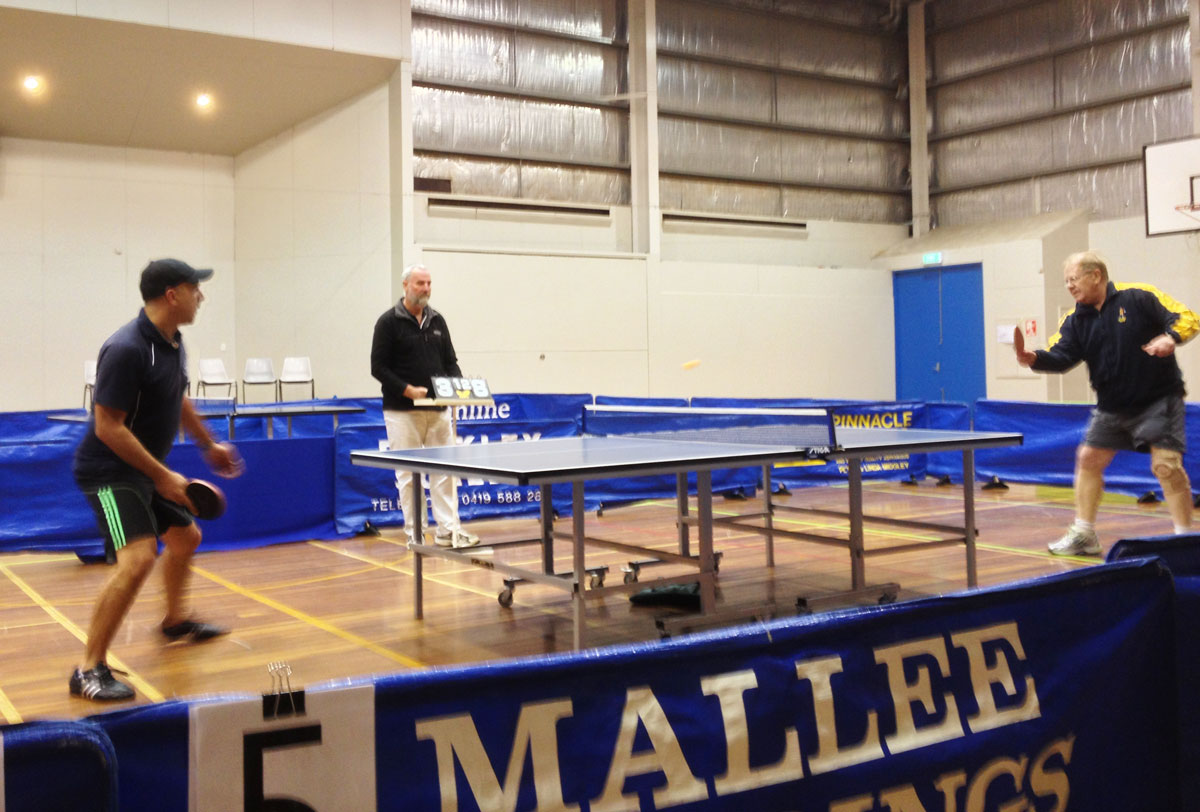 Sefer narrowly took the first before O'Neill then steadied to control the match. Much to the excitement of his team mates O'Neill was not headed again and went on to win the remaining games 11-4 11-5 11-8.
Mallee Bearings had taken the premiership 6-5 with Dorman and Taheri winning two singles each while O'Neill had won the decider under pressure at five rubbers all. For Mark Dorman this was his fifth premiership, while Ali Taheri had enjoyed success in his first season in the STTA. After many years of going close this was also the first pennant one title for Graeme O'Neill.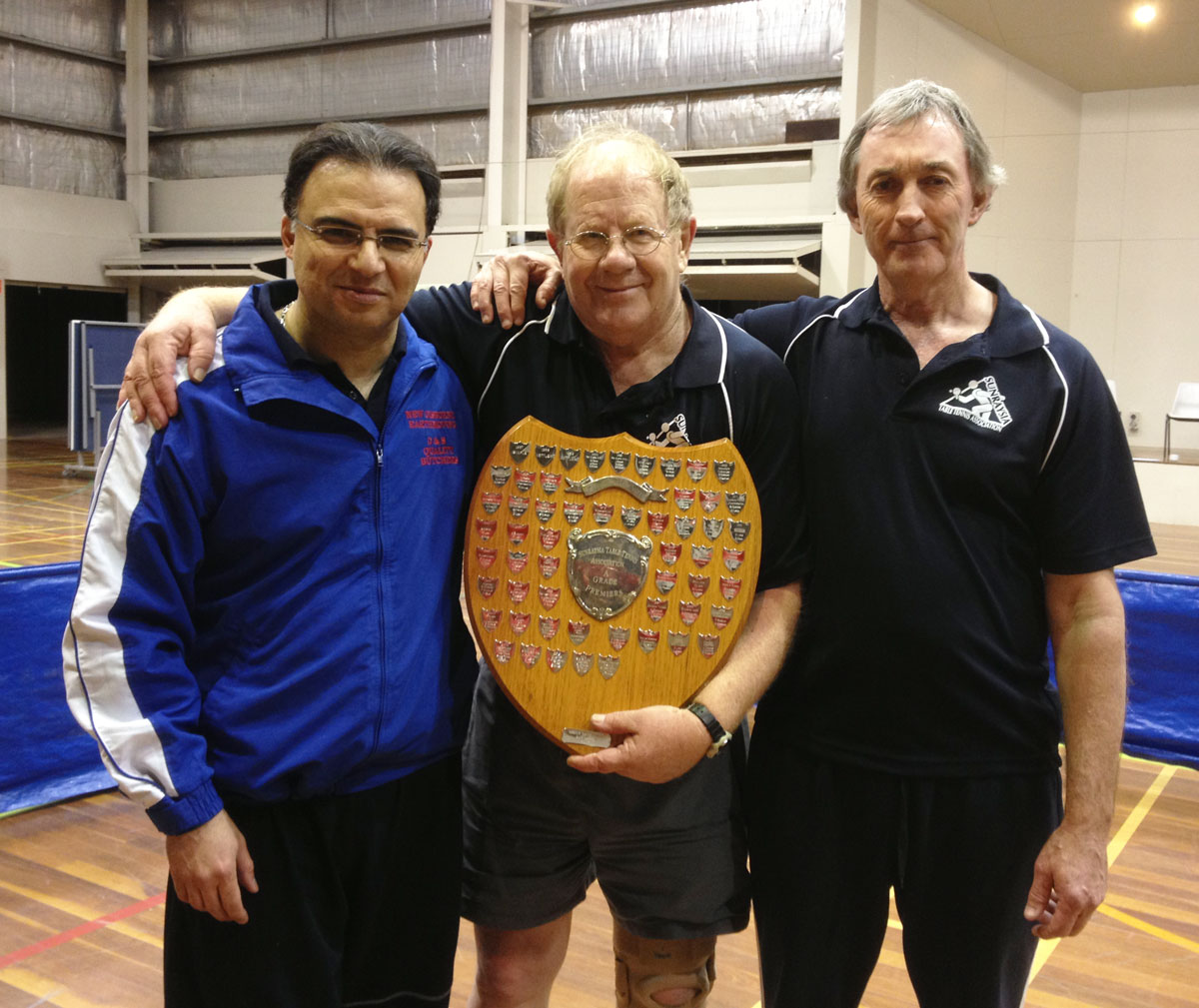 .
PENNANT TWO:
Tankard Dental ended the season 2013 as it started it – with a win over Spanline. In between they had completed the rare feat of going through a whole season undefeated.
– Tankard Dental 6 (Nicholas Dorman, Bernadette Fitzpatrick 2) d Spanline 3 (Arnold Jago, Geoff Wright, Lachlan Kelly 1)
Nicholas Dorman, Bernadette and Peter Fitzpatrick finished their 2013 Winter Pennant Two season as they started, with a win.
Although their side was the same as it was at the start of the season, the same could not be said for their opposition.  In that first round match, Arnold Jago had George Papanicolaou and Lachlan Kelly for team-mates; Kelly filling in for Mina Mikhail.  Mikhail in fact only played once, and from round 4 onwards Geoff Wright joined the team.  For the Grand Final, Jago was joined by Wright and Lachlan Kelly again, Kelly this time filling in for Papaninolaou.
To go through a season undefeated creates its own set of problems, one being the oft asked question, "When are you going to have that loss that you have to have?"  This tends to play on people's minds after a while, and as a team approaches the business end of the season, players can find themselves thinking, "Will the loss we have to have be the Grand Final?"
These thoughts may or may not have been on the minds of the Tankard Dental players', but they certainly were not on the minds of the Spanline trio.  Arnold Jago was happy to be playing in another Grand Final, he still has happy memories of his 2012 Winter Pennant Two win, his first premiership victory since taking up the sport in 1988.  His team mate Geoff Wright, graded initially as a number three, but in reality now the team's number one was improving with each outing.  Since Round 11 he has dropped only 3 singles rubbers.
That, then was the background to this game.  Tankard, whilst being the better team all year, were a little nervous, and Spanline had nothing to lose, and Wright was taking almost all before him.
And all that probably accounts for Nicholas Dorman's very nervous start.  Nicholas played the first rubber, against Spanline number three Lachlan Kelly. Kelly had amassed 11 singles rubbers during the course of the year to Nicholas' 41.  However, in this first rubber, Kelly, playing in his usual confident style, took the first set away from Dorman 11-7.  That seemed to be enough to shake the nervousness from Nicholas, as he took the next three sets 11-3, 11-6, 13-11 after Kelly staged a good comeback in the fourth.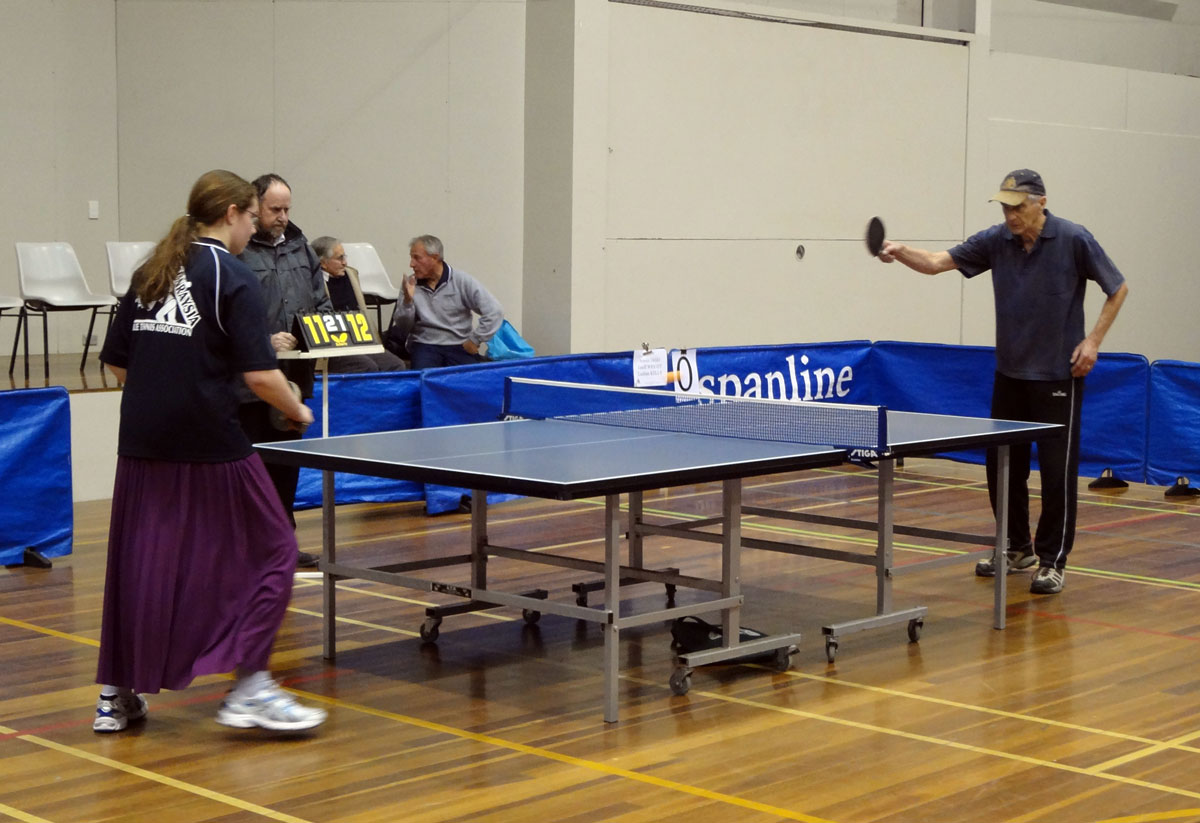 Bernadette Fitzpatrick was up next against Arnold Jago.  These two have shared victories over the season, so the outcome of this one was going to be important to the final result here.  Bernadette, never one to hold back, hit some booming forehand drives to win points, and other times hit booming forehand drives off the end of the table.  That partly explains the 18-16 result in the first set.  Bernadette held four set points, and Jago two, and it was Arnold who prevailed.  Bernadette became a little more circumspect in the next two sets, quietening her game, moving Jago around until sure of a winner, and she got the results, winning both 11-7.  Her plan did not change in the fourth, however Jago made a concerted effort to get back into the game, but this time Bernadette it was who got the set and and match at 15-13.
Geoff Wright then put Spanline on the board when he downed Peter Fitzpatrick in a minimum of fuss in three sets.
Tankard Dental have excelled in doubles play this year, and this match was no exception.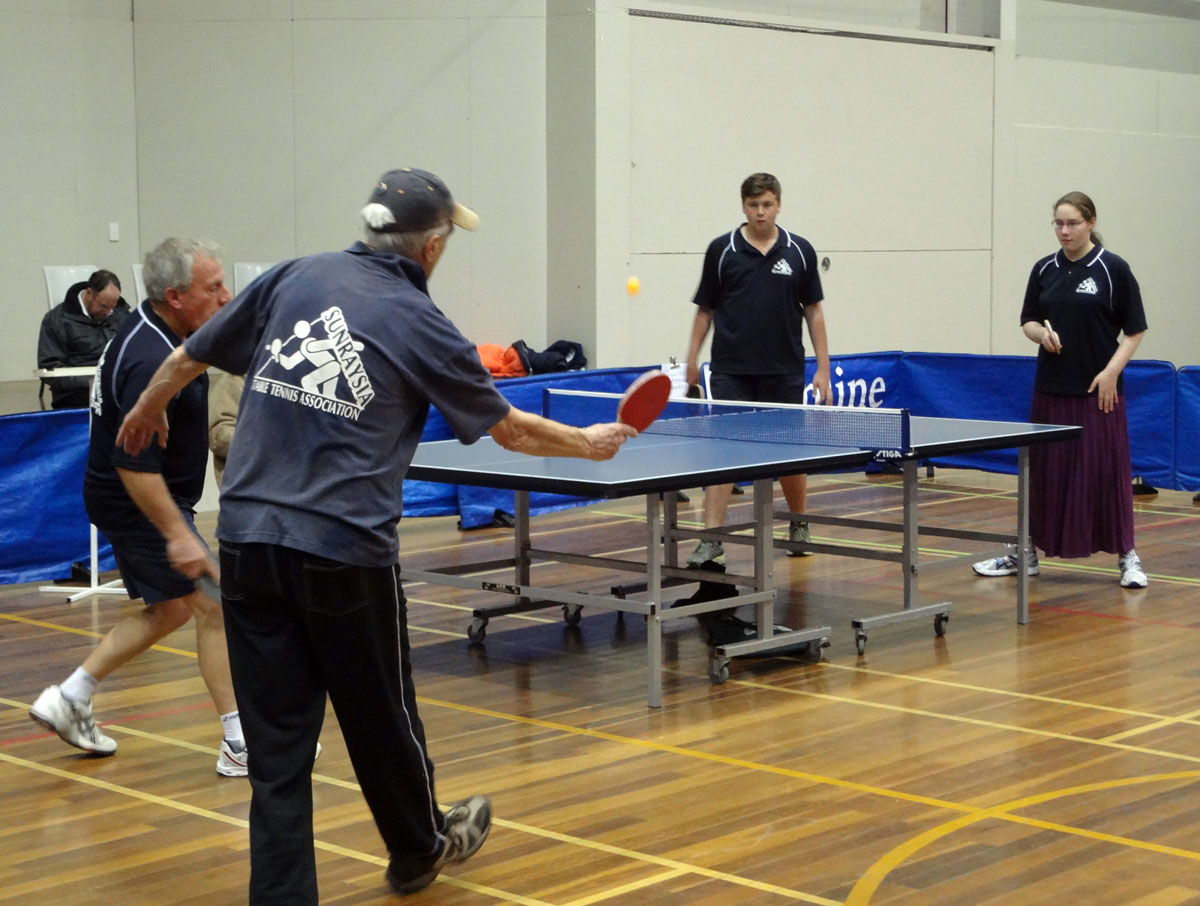 Dorman and Bernadette Fitzpatrick were too good for their older opponents Jago and Wright, taking the match in just three sets 11-8, 11-7, 11-7.
That gave Tankard a three rubbers to one lead, and things were looking good.
Next up Bernadette played Lachlan Kelly. 
Kelly had beaten Bernadette on one occasion during this season, but Bernadette held the advantage, having beaten Lachlan on five other occasions.  Once again, Kelly took the first set from his opponent, although that was not because Bernadette was nervous, then lost the next two 8-11, 6-11, and it seemed that the result was going to be fairly straightforward.  Lachlan loves to play topspin forehand table tennis, and so does Bernadette, and during the next two sets it became a matter of who made the least number of errors would take the rubber.  Initially it was close, the fourth set went to Kelly 12-10, but in the fifth, Bernadette's direction went astray, whilst Kelly did not deviate from his game plan of keeping the ball in play, and on the table.  Consequently, he ran out an easy winner in the fifth 11-5.  This was certainly a surprise result, and a few butterflies were seen fluttering in the Tankard camp.  Score now three rubbers to two.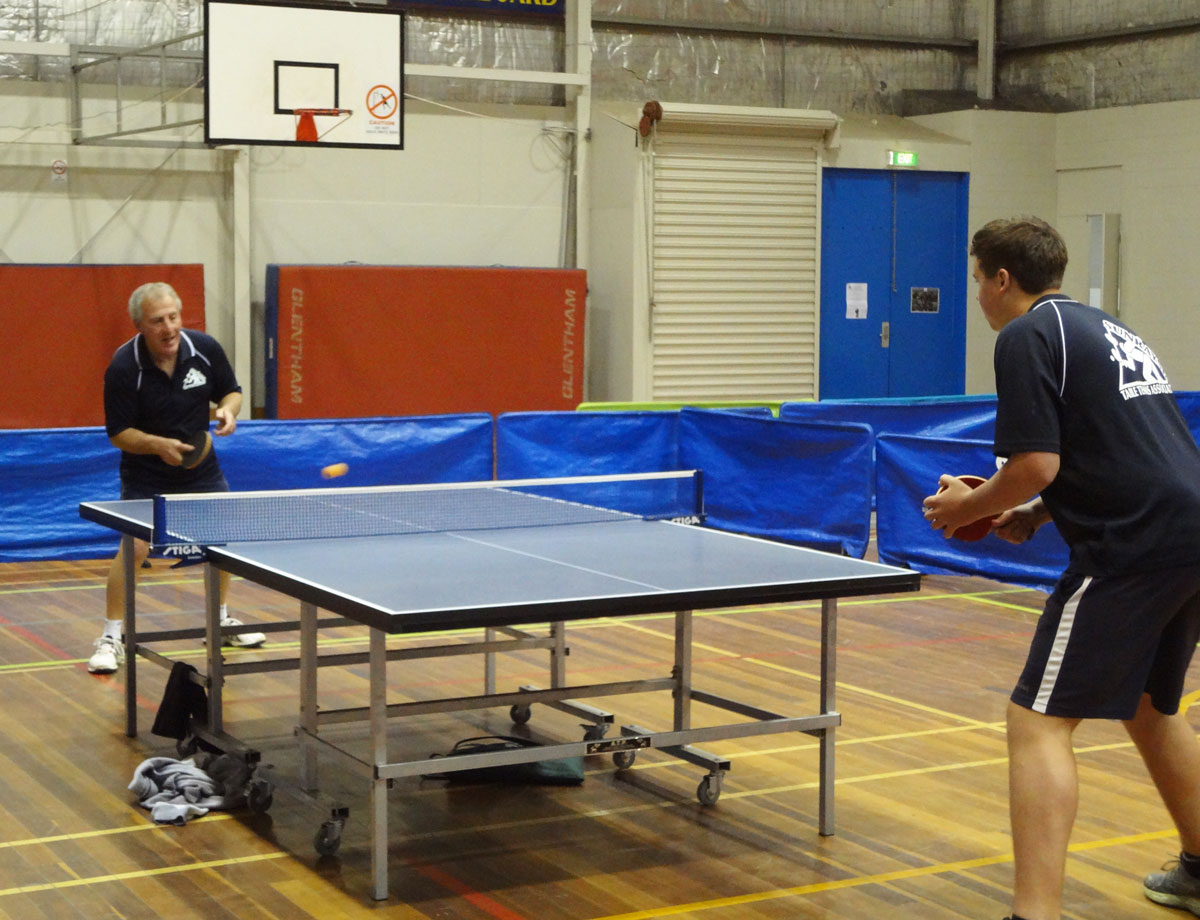 Nicholas Dorman played hard-hitting Geoff Wright in the next rubber, and because of the proximity of the scores, this was an important game.  Nicholas, however, was never really in trouble as he controlled the match, and took it in four 11-7, 9-11, 11-5, 11-6.
Arnold Jago then met Peter Fitzpatrick, and as expected took the match, and in so doing narrowed the score once again, now to four rubbers to three, however Fitzpatrick somehow managed to wangle two sets out of Jago to take the game to five sets, a feat he has never previously managed.
Next up was the second doubles:Dorman and Peter Fitzpatrick against Wright and Kelly.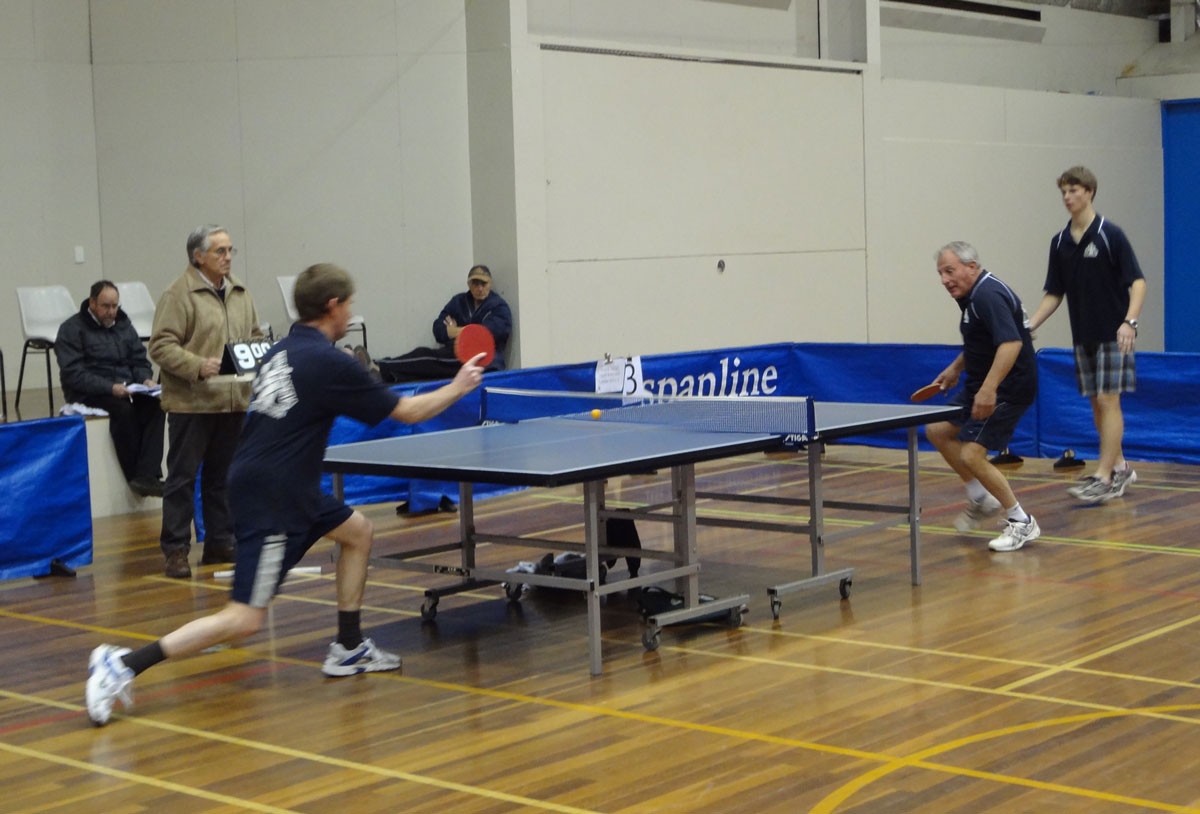 This was a great effort by the Spanline duo: Wright and Kelly have not played together this year, whereas their opponents have done so, on fifteen or so occasions …  Wright and Kelly almost took the first set, holding two set points, but the Tankard duo snatched it from them at 13-11.  Not overcome, the Spanline pair promptly took the second set 11-8 to put themselves back in contention.  But then the playing experience of the Tankard pair started to show in the third, as they took that 11-7, and after some tense moments in the fourth set, they took that too, 11-8, and now leading five rubbers to three, had put themselves in the box seat going into the final round of singles.
Booming Bernadette met Geoff Wright in this rubber, which was do-or-die for Wright.  Wright started well, taking the first 11-7, and he almost made it two sets to love, holding set points in the second, but he lost out 15-13.  One set all.  Bernadettte's plan of belting any forehand that had a bit of height on it was paying dividends, as she beat Wright at his own game in the third 11-9.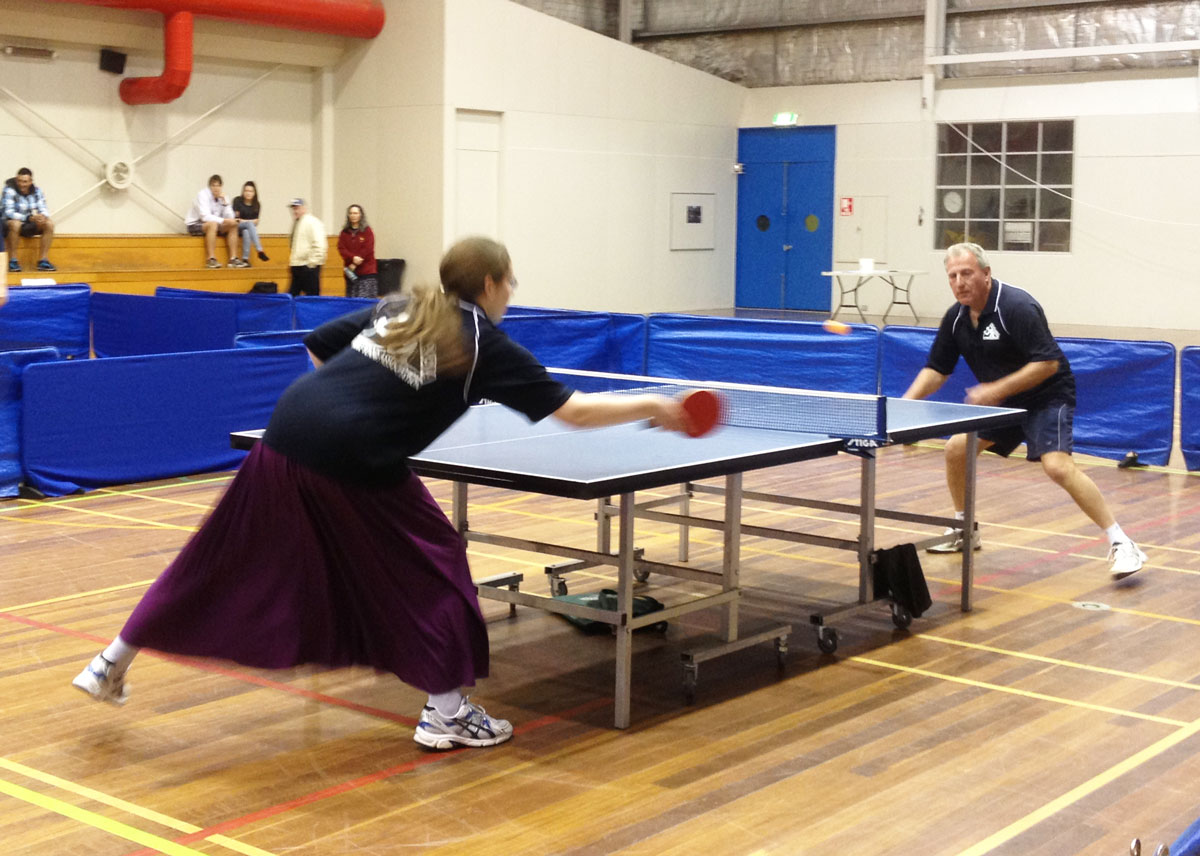 She led the fourth easily, in fact at 10-6 the match was almost as good as over, but she gave everyone, including the Pennant One competition, who stopped their play to watch, some entertainment, reverting to her Lachlan Kelly game, belting everything !!  Wright of course could see what was happening, and was "content" to keep the ball in play.  In truth he would rather have been the one controlling the point, but that's life, isn't it !!  In a wink it was 10-9; had Bernadette frittered her lead away?  As it turned out, no, as Geoff netted, to give the game, set and match to Tankard's.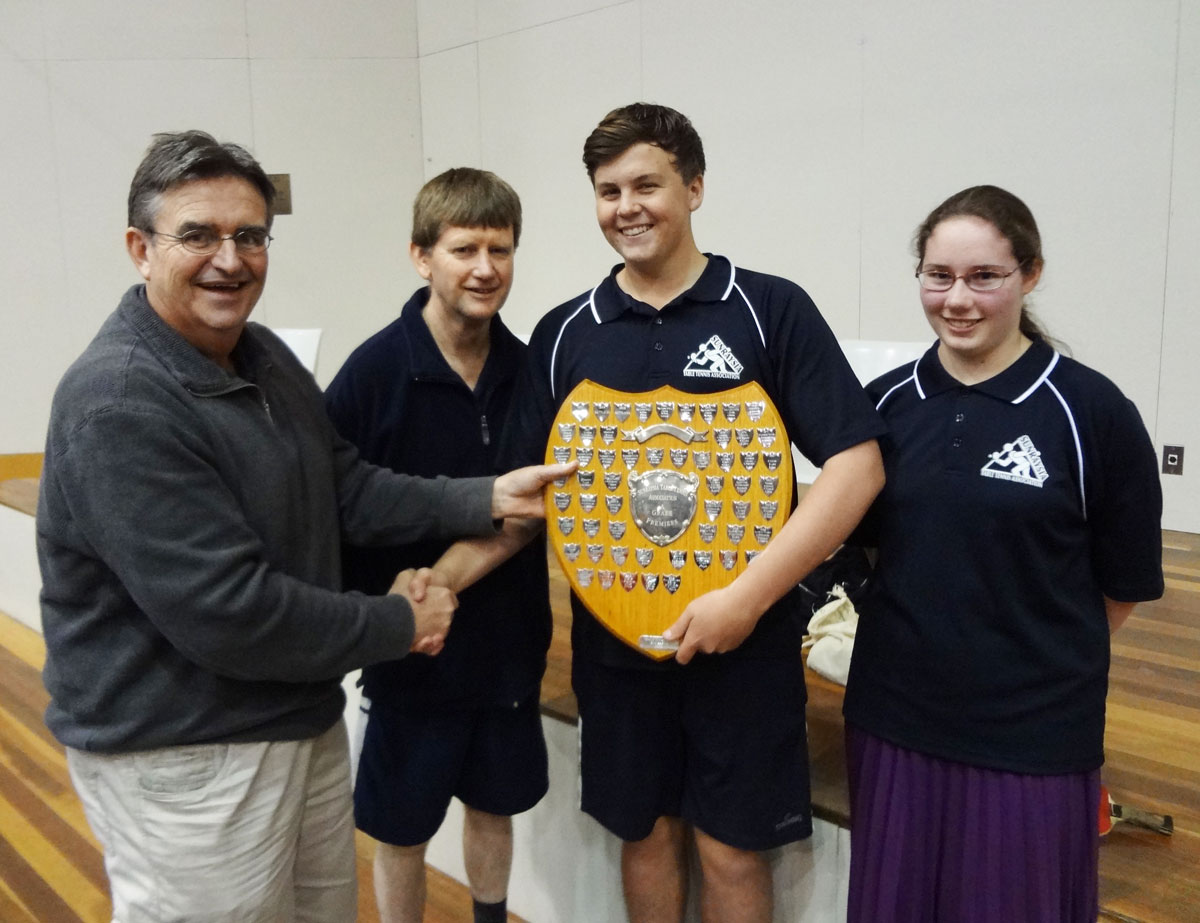 This was a good match, punctuated by Tankard's winning the all important matches – Bernadette and Arnold Jago, Bernadette and Geoff Wright, and also Nicholas Dorman in his match against Wright.  Also, Tankard's other strength, doubles play, did not let them down in this contest, and they took both, to seal a much deserved win.
PENNANT THREE:
– Fishers IGA 6 ( Cole Keegan 3, Sam Hensgen 2) d Mallee Bearings 3 (Sabrina Fitzpatrick, Michael Hensgen 1)
These two sides met three times during the season, with Mallee Bearings winning twice and Fishers IGA once, that being the first time they met, in Round 3.  Fishers, however turned the tables in the Second Semi Final two weeks ago, cruising home six rubbers to three.  In spite of that, on paper, Mallee Bearings looked the side to beat, captain Sabrina Fitzpatrick was ranked 2 in the aggregate, Michael Hensgen 6 and Peter Edwards 10.  Fishers only had their captain "Cool" Cole Keegan (quoted prior to the Grand Final as saying, "I don't know what all the fuss is about.") who outperformed any of the Mallee Bearings team, he was ranked number 1.  His teammates Sam Hensgen was at 12, and Helen Frania 16.
The first rubber of the night featured the Sam Hensgen (Fishers) against Peter Edwards for Mallee Bearings, ranked 12 and 10 respectively.  The rankings were close, and so was the match. The game was evenly poised throughout, Hensgen taking the first and third sets 11-7, 13-11 and Edwards the second and fourth 11-9, 12-10.  In the fifth it was a matter of consistency, and Hensgen proved to be more so, and he took the set 11-6 to take first blood for the night.
Next up Sabrina Fitzpatrick played Helen Frania.  Win or lose, Helen has a great time, and a Grand Final is no different !!  She and Sabrina are still good friends despite her losing 5, 5, and 6.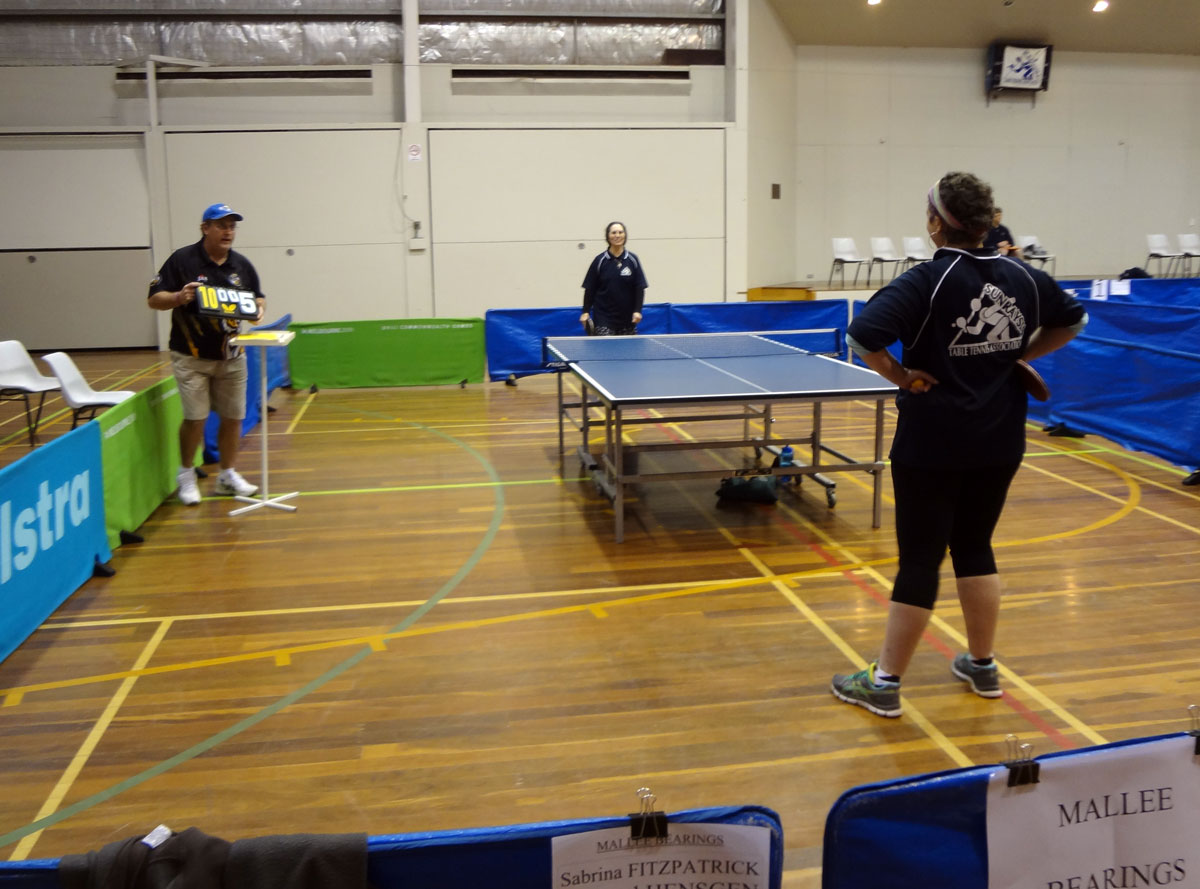 At one rubber apiece, Fishers then went on the tear, taking the next four rubbers to set themselves up for the flag.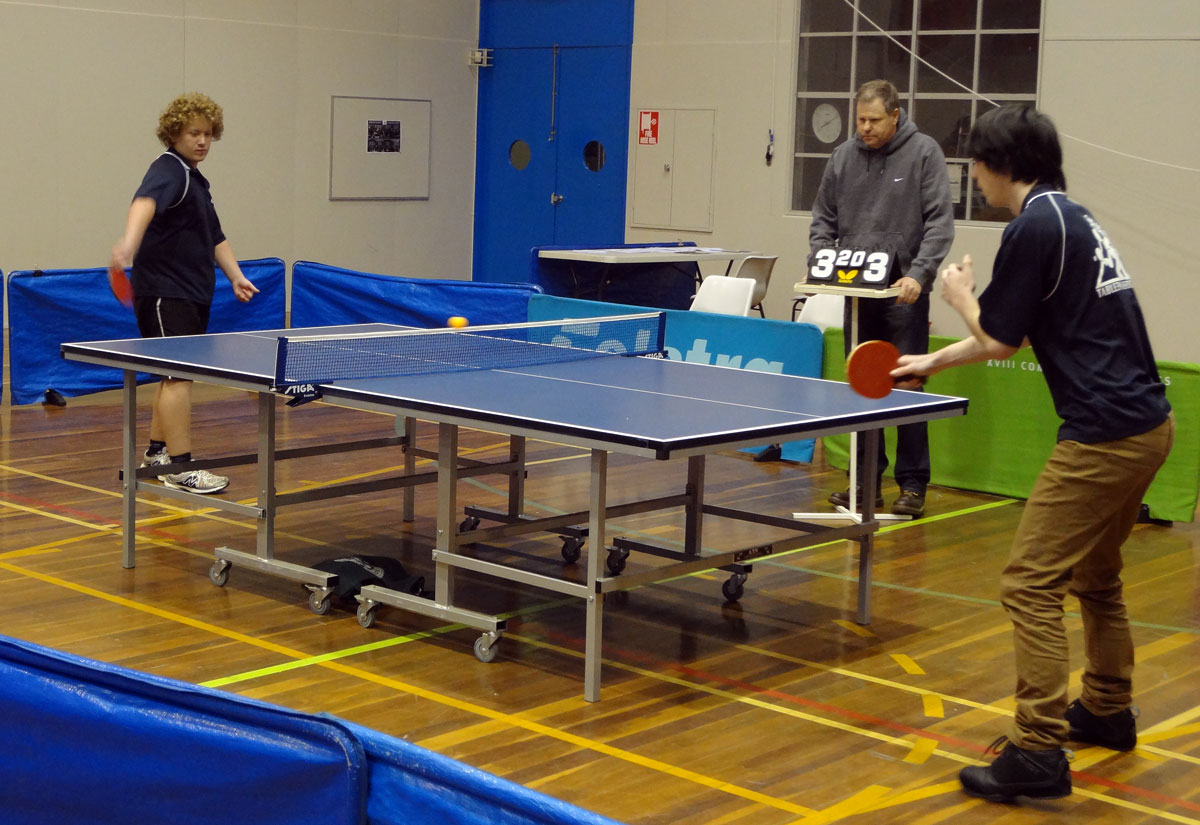 Cole Keegan accounted for Michael Hensgen in straight sets 11-6, 11-7, 11-4 despite some spirited play by Hensgen; next, in the first doubles Keegan and Sam Hensgen downed Fitzpatrick and Michael Hensgen in four sets in what was a close match, whilst at the same time Fishers had the upper hand. The Fishers pair took a close first set 13-11, but lost the next 11-7.  The third set was even, Keegan and Hensgen just shading their opponents in their 11-9 win, and once again in the fourth, they were just a little more consistent than their opponents to take the set and match 11-7.
The next rubber was between Mallee Bearings captain Sabrina Fitzpatrick and Fishers' number two Sam Hensgen.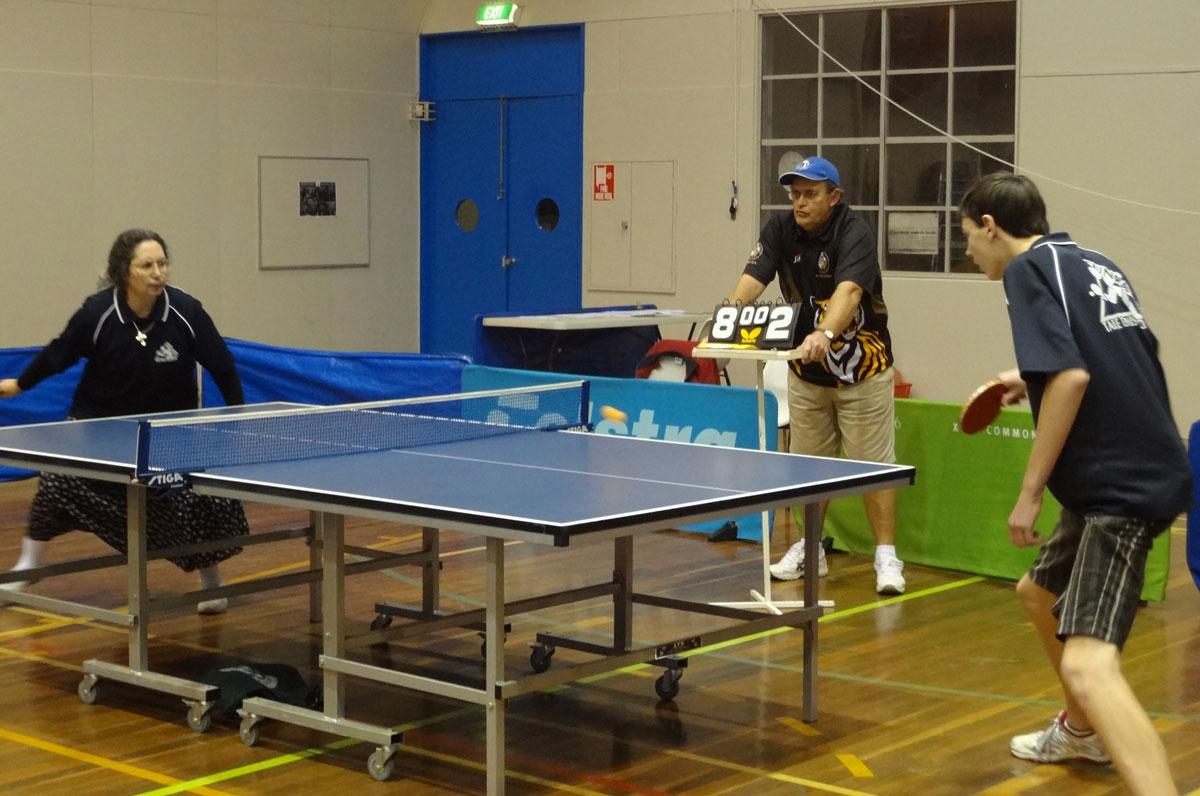 These two have played four times during the year, and Sabrina was victorious on each occasion, in fact her performance against her opponent improved each time; in round 3 she won in 5 sets, in round 8, in four sets, and in round 13 and the semi-final, she defeated Sam in 3 sets.  In this game, however, despite leading two sets to love 11-9, 11-7, Sabrina could not continue on, Hensgen fought back and took the next three sets 11-7, 11-8, 11-5.  That was certainly one that got away from the minor premiers.
The fourth rubber in this run of four was Cole Keegan defeating Peter Edwards.  That was in three sets, 11-7, 11-7, 11-1. This win put Fishers in the comfortable position of leading five rubbers to one, with five rubbers to play.  And Mallee Bearings were under pressure, they, of course, had to win every one of the remaining rubbers to secure victory.
Next up, Michael Hensgen defeated Helen Frania in three sets to give Mallee Bearings their second rubber.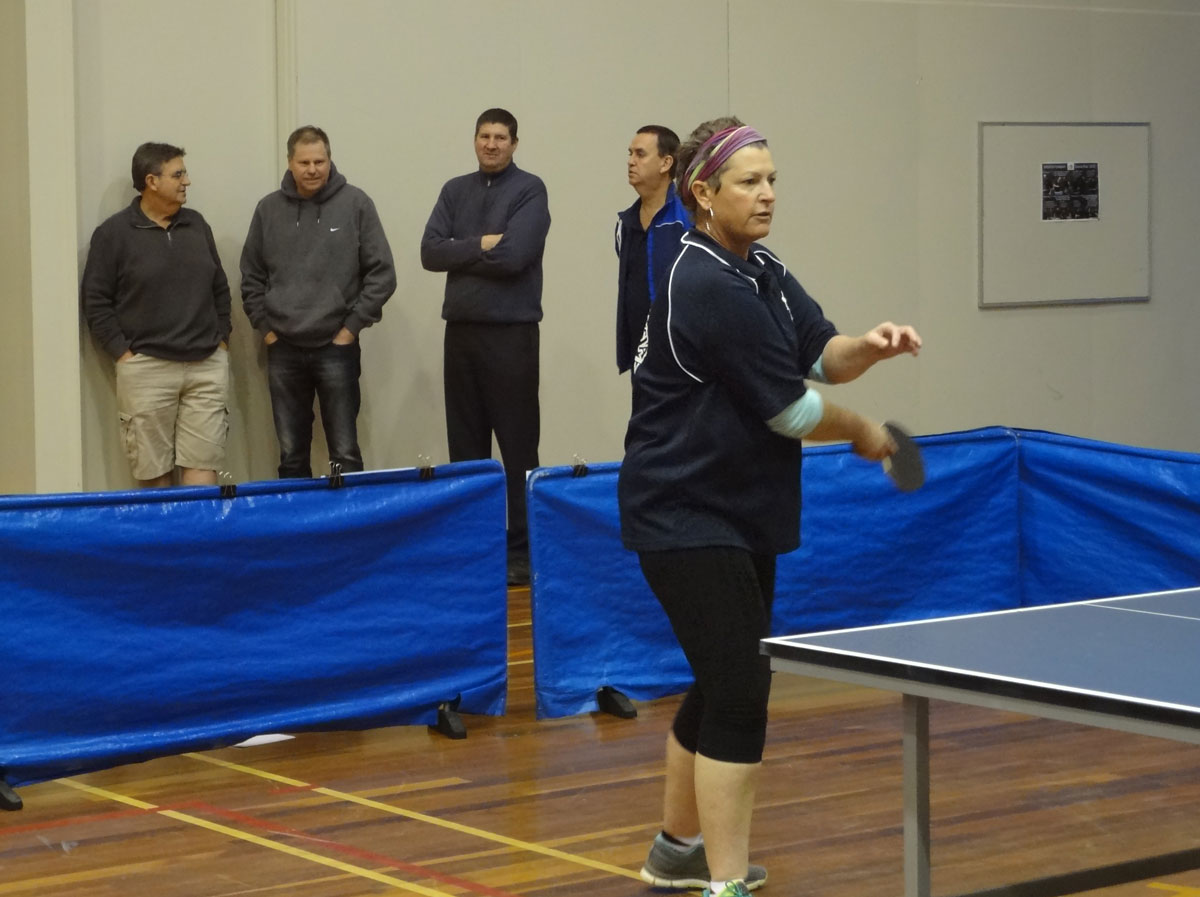 Even so, Frania made Hensgen work for the win, going down 14-12 in the first, and keeping him honest in the other two sets, losing them 11-8, 11-6.
Fishers looked like they might finish the game in the next rubber, the second doubles.  Keegan and Frania led two sets to one 16-14, 9-11, 11-9, but a good comeback by Fitzpatrick and Edwards saw them take the fourth easily 11-4, and continue on in the fifth 11-8.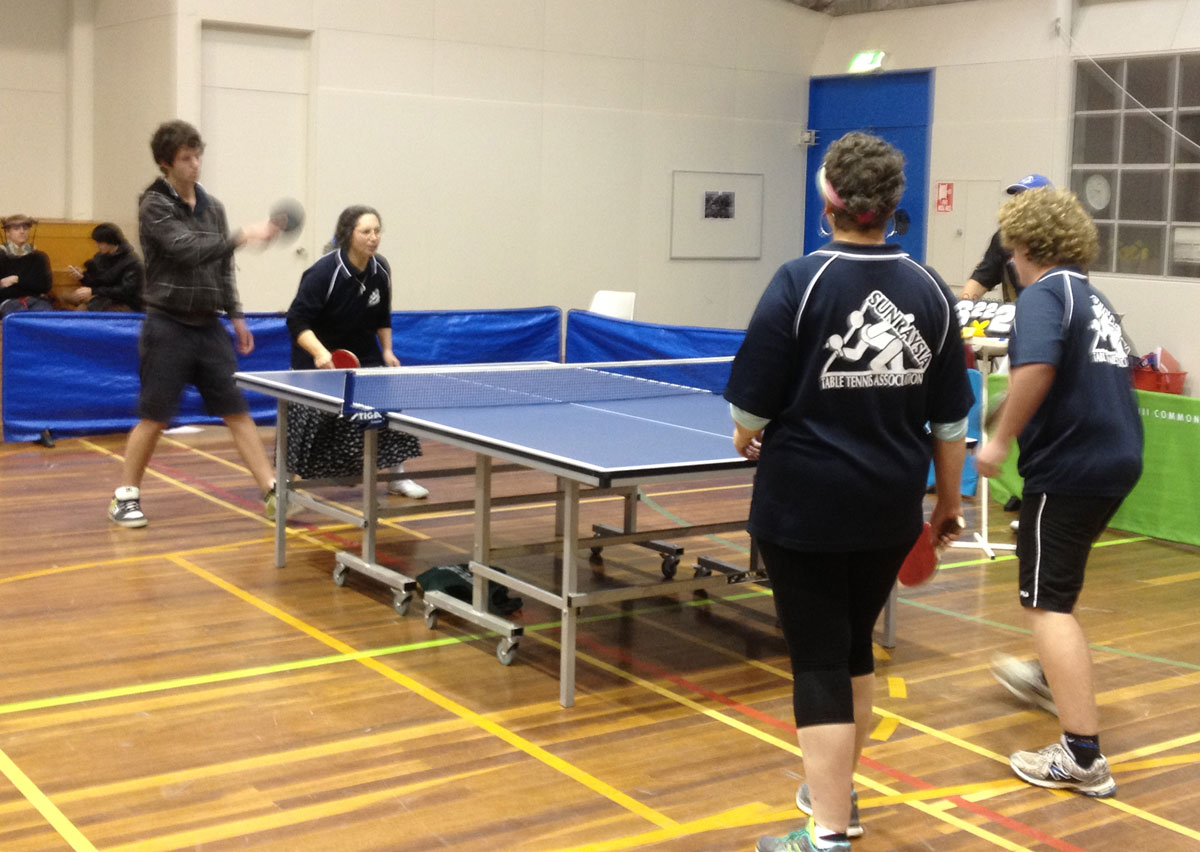 So, with three rubbers to go, Fishers now led five rubbers to three, and the first rubber of the final round of singles saw the two captains do battle.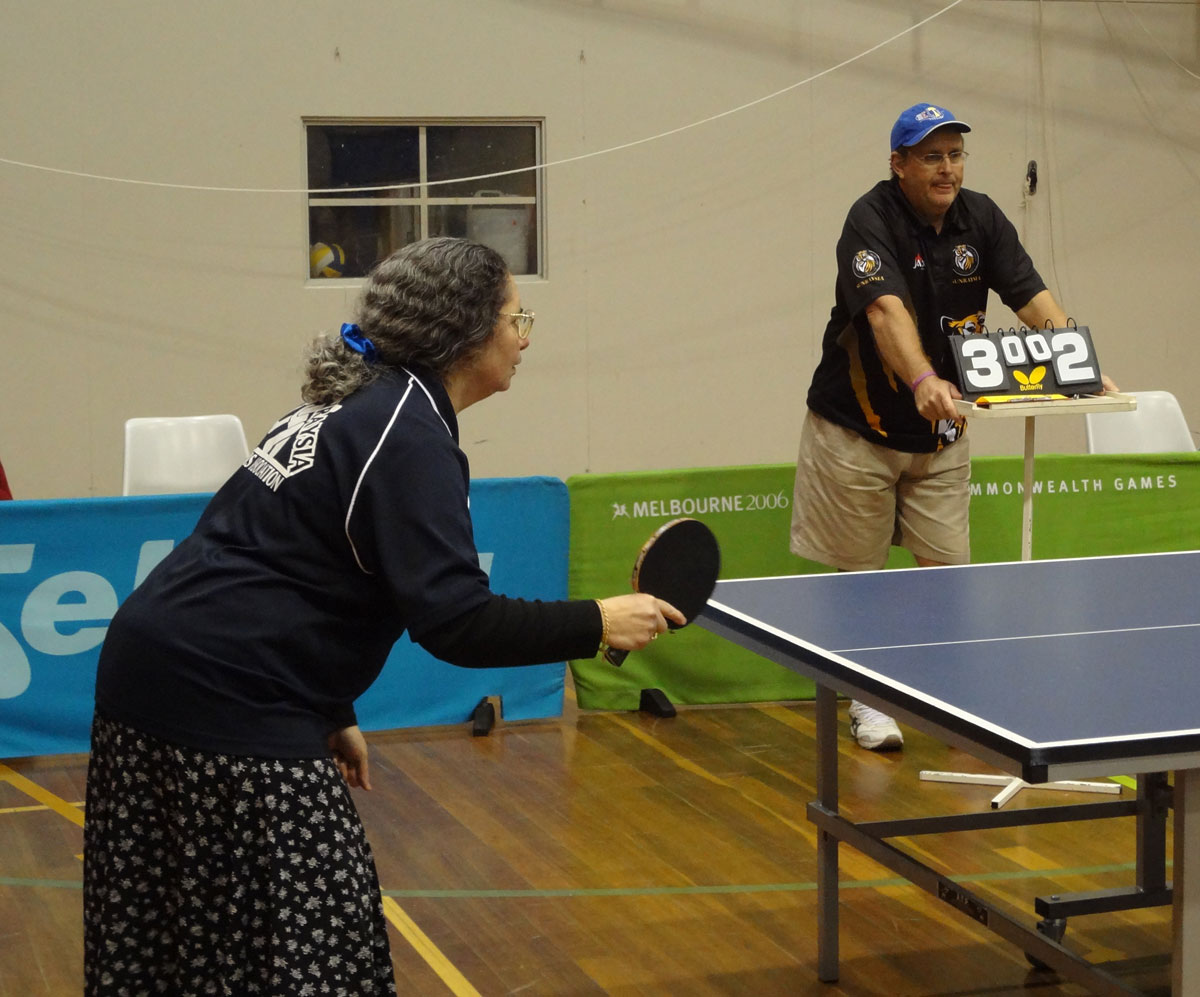 These two have played each other three times during the season, and Keegan has been victorious each time, twice winning in three sets and once in four.  This match went the same way, Keegan winning 11-8, 11-4, 11-7.
A good win to Fishers, their break of four rubbers in a row demoralized the opposition, and the win was then only a matter of time.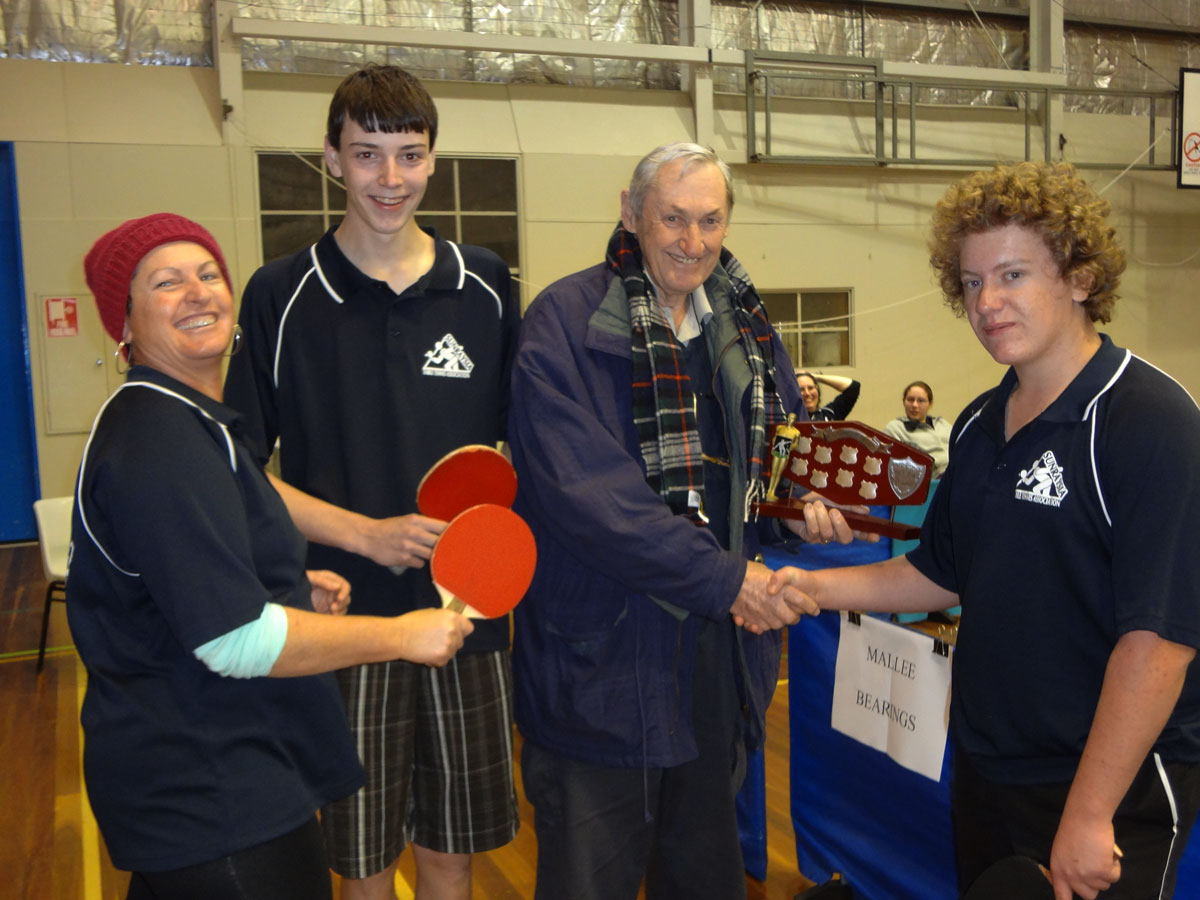 Sunraysia Table Tennis Winter Pennant results 2013 GRAND FINALS:
PENNANT ONE:
 – Mallee Bearings 6 (Mark Dorman, Ali Taheri 2, Graeme O'Neill 1) d Max Miller Carpets 5 (Rick McMeekin 3, Shane Carmichael 1)
PENNANT TWO: 
– Tankard Dental 6 (Nicholas Dorman, Bernadette Fitzpatrick 2) d Spanline 3 (Arnold Jago, Geoff Wright, Lachlan Kelly 1)
PENNANT THREE: 
– Fishers IGA 6 ( Cole Keegan 3, Sam Hensgen 2) d Mallee Bearings 3 (Sabrina Fitzpatrick, Michael Hensgen 1)