Read Time:
17 Minute, 29 Second
PENNANT ONE:
In an exciting second semi-final, ladder leader Max Miller Carpets have advanced to the Sunraysia Table Tennis Grand final courtesy of a 6-5 victory over Tankard Dental who were gallant in defeat
– Second Semi Final:- Max Miller Carpets 6 (Leon Brown 3 Shannon Bowen 2) d Tankard Dental 5 (Kate Carmichael2, Mark Dorman. Dylan Wood 1)
The most improved player in pennant one in 2022 Leon Brown played an instrumental role in his team booking a spot in the final. The Carpeters number two timed it well winning three singles for the first time this season and recorded his first ever victory over opposing number one player Kate Carmichael which could not have come at a better time for his team as Carmichael later defeated Brown's team mate Shannon Bowen.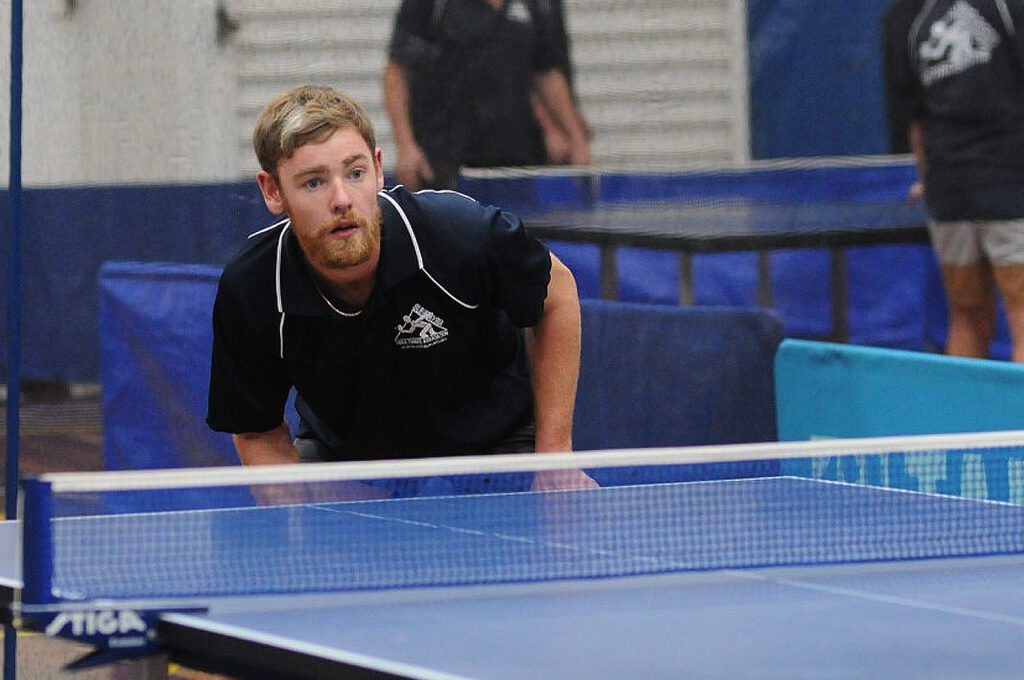 This match was played in the middle of a block of three five set contests in succession. Brown took the first, Carmichael swept through the second conceding only one point, Brown struck back winning narrowly 12-10 in the third and Carmichael levelled the match narrowly taking the fourth. Brown then played inspiring table tennis against his more fancied opponent and in a strong finish went on to win 11-7 1-11 12-10 9-11 11-5.
In the preceding singles another five set tussle took place with Carpeters skipper Shannon Bowen placed under extreme pressure by Mark Dorman, Dorman took a two a two love lead winning two close games before Bowen steadied and lifted a gear to go on to win 11-13 9-11 11-2 11-3 11-6 an excellent comeback.
In then another outstanding five setter Tankards young gun Dylan Wood kept his team's chances alive by coming back from a two game to love deficit against fill in Russell Walder to win an outstanding close thriller. The final score line in Woods favour 9-11 4-11 14-12 15-13 12-10 showed Walder had given his all however Tankards were still alive at 3-4.
The next match was the second doubles and the Carpeters pair of Shannon Bowen and Russell Walder swept through this match winning 11-4 11-9 11-3 against Kate Carmichael and Dylan Wood. Max Miller Carpets now took a lead of 5-3 and were one win away from booking a grand final spot.
In the next singles Tankards Kate Carmichael kept her team in with a chance by defeating the in form Bowen 11-8 13-11 3-11 11-9.
In an excellent comeback by Tankards Mark Dorman levelled the match with a straight sets win over Russell Walder.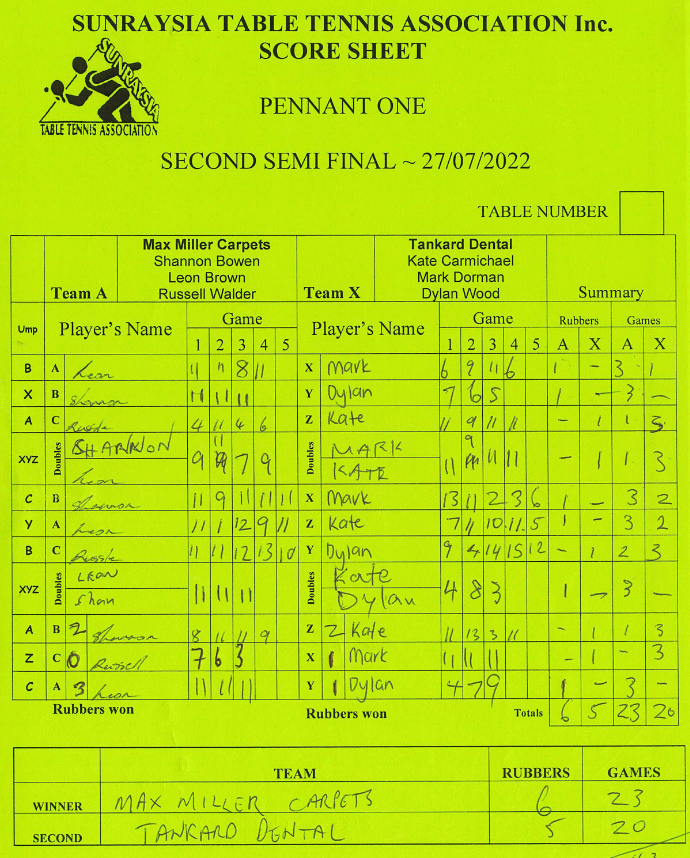 The Carpeters Leon Brown then took his third singles of the night by defeating Dylan Wood in a three setter and by doing so advanced his team Max Miller Carpets to the grand final.
– First Semi Final:- Regional Taxation Services 6 (Matt Ljubic 3, Jackson Murphy 1) d Cookes Pools & Spas 3 (Jackson Tung 2, Gavin Carmichael 1)
Despite losing three times to their opponents, Cookes Pools & Spas in the past six weeks Regional Taxation Services turned the tables in this match and have advanced to the preliminary final with a 6-3 victory.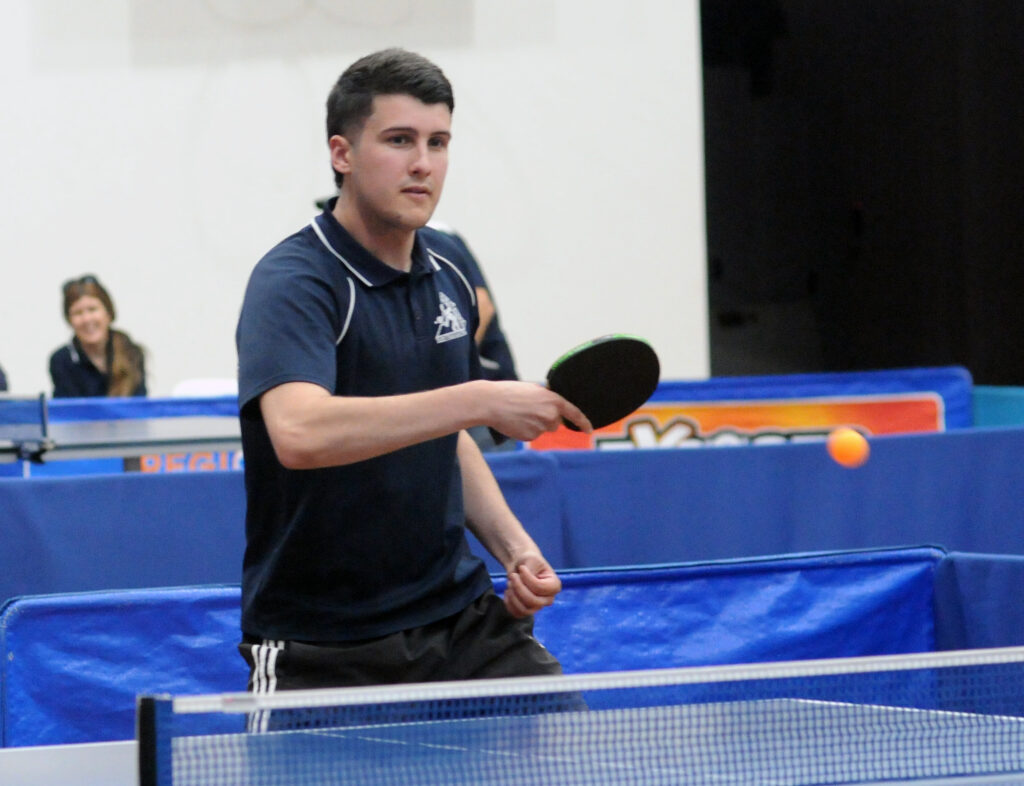 Singles aggregate leader Matt Ljubic was on fire winning his three singles and took part in both doubles victories. With RTS leading 2-1 the first doubles was crucial and it was Ljubic and Jackson Murphy who came out with the points 5-11 11-4 11-9 6-11 11-6 over Jackson Tung and Gavin Carmichael.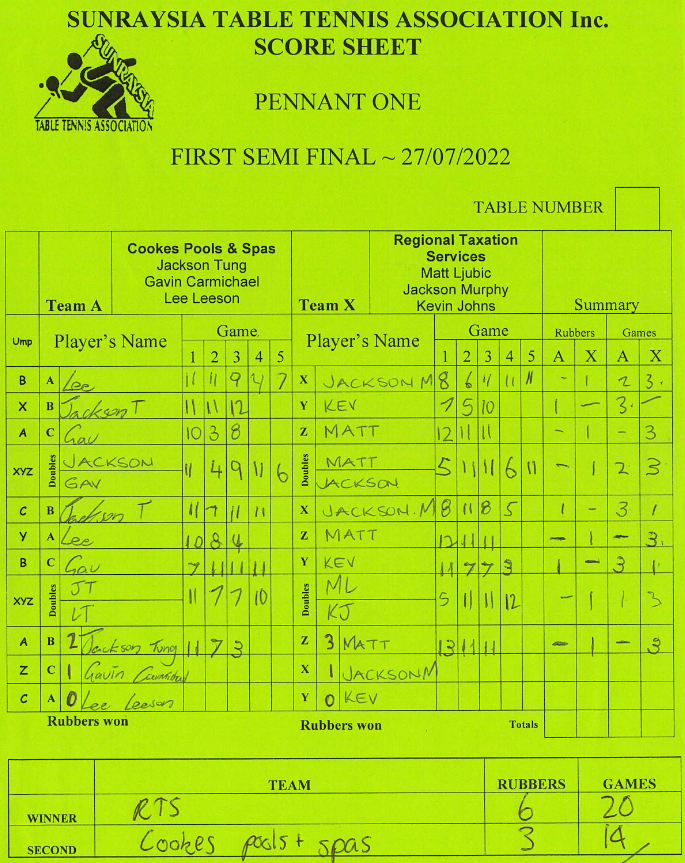 This had been a solid win by Regional Taxation Services and they now play Tankard Dental in the preliminary final.
PENNANT TWO:
In the first round of the finals for Winter 2022, both games were decided after the ninth rubber. First placed MJM Automotive unsurprisingly won their match against second placed Pinnacle Packers, while fourth placed Mallee Meats sprang a surprise on Mallee Meats, eliminating them from any further finals play.
– First Semi Final– Mallee Meats 6 (Quentin Clark 3, Marcus Cimino 1) d Max Miller Carpets 3 (Raymund Manzanares, John Fitzpatrick, Jamila Belbaze 1)
Max Miller Carpets came to this game in a divided state of mind – they had defeated Mallee Meats two of the three times they met during the season, both times seven rubbers to four. That was in rounds four and nine, but in their most recent meeting, only two weeks ago, Mallee Meats turned the tables on them, once again seven rubbers to four. They had won only one of their last five matches, last week losing to bottom side Weightmans Packaging. Mallee Meats has had a better run in to the finals … they had won three of their last five matches, losing only to the sides placed first and second on the ladder, and both times six rubbers to five. So, Mallee Meats had more reason to be confident of a win here.
Max Miller Carpets started well, wins to Jamila Belbaze and captain Raymund Manzanares, both in straight sets against Marcus Cimino and Isaiah Bettess respectively. Jamila's win was a bit of an upset, she being a number three for her side, and Marcus a number two. However, Jamila has improved considerably this season, and is a worry to any number two. Raymund meanwhile is a one, and Isaiah a three, so no real surprise there.
Mallee Meats captain Quentin Clark put his side on the board with a three set win against John Fitzpatrick.
The first doubles was shaping up to be a test for both sides, as both doubles combinations, Manzanares and Belbaze for Max Miller Carpets and Clark and Cimino for Mallee Meats had both won eight times throughout the season, the only difference being the Max Miller Carpets pair won their eight matches over fourteen rounds, and Clark and Cimino won theirs over fifteen. So nothing in it. But come the match, the Mallee Meats pair were ready for a fight straight up, and ripped through the first set 11-4. Having stamped their authority on the match, they did not let up, and although Manzanares and Belbaze did a little better in the next two sets, it was all over in straight sets. Two rubbers each.
Cimino made up for his earlier loss against Belbaze with a straight sets win against Manzanares. Cimino was perhaps caught napping (a long nap) in his first encounter, but this time he needed to keep his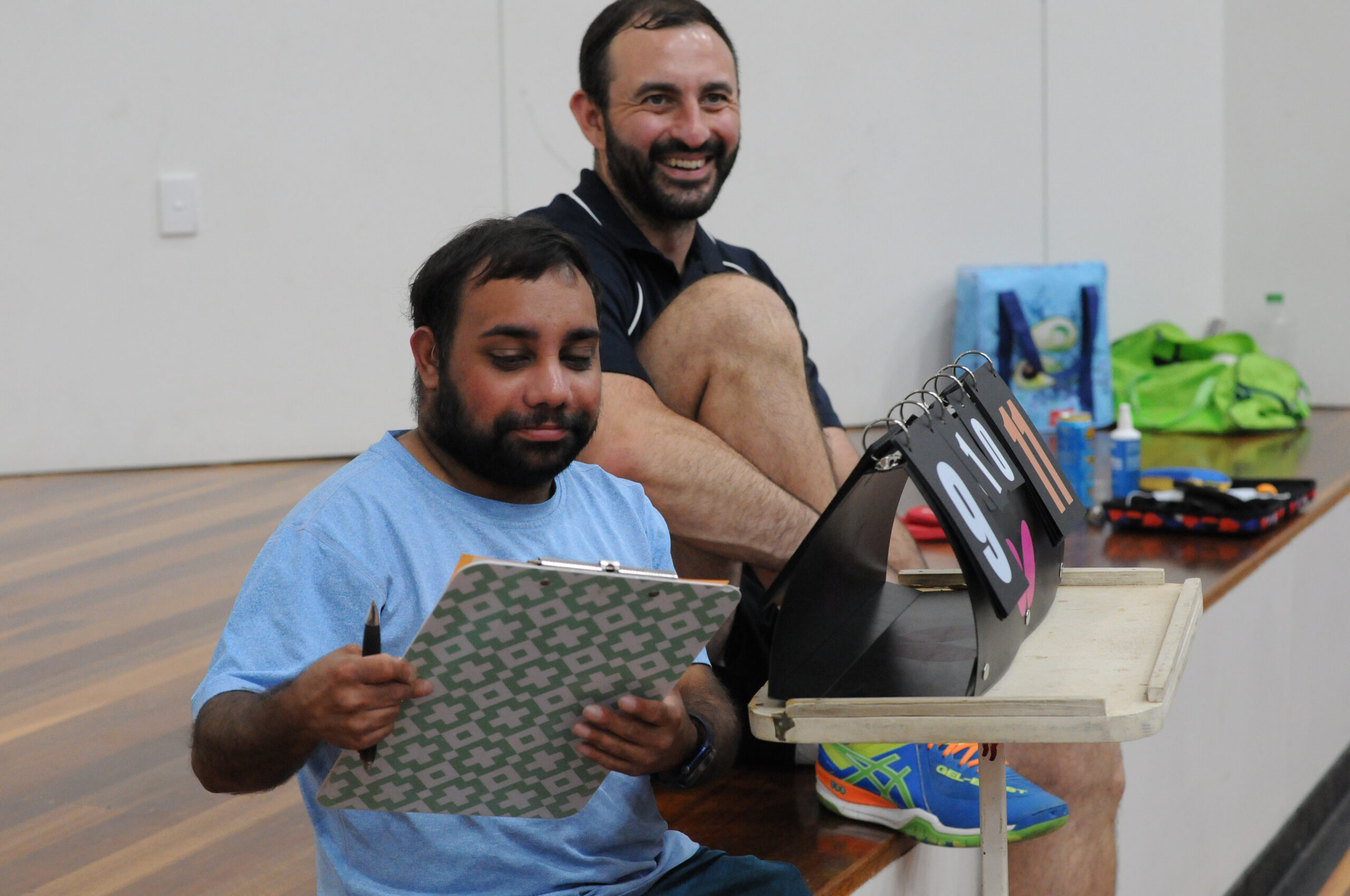 concentration up, Manzanares not one who concedes easily, and so the score was close, Cimino winning 11-8, 15-13, 11-9. Clark then made it four on the trot for Mallee Meats when he defeated Belbaze in a great five set contest, the game ebbing and flowing, Clark eventually winning 9-11, 11-6, 9-11, 13-11, 11-9.
John Fitzpatrick grabbed the third rubber for his side with a straight sets win against Mallee Meats number three Bettess.
For Max Miller Carpets to have much hope of staying in the match, they were going to have to win the second doubles, something which looked beyond them. Manznares and Fitzpatrick have played together in fourteen of the fifteen rounds, and astonishingly have failed to register a win against any combination from another team. Clark and Bettess are almost as good a combination as Clark and Cimino, the former having won seven times, as against the latter pairing's eight. And so it proved, Clark and Bettess keeping Manzanares and Fitzpatrick on the wrong side of the score sheet at the end of the rubber. It was close though, the Mallee Meats pair winning 11-8, 10-12, 15-13, 12-10, to put them one rubber away from a spot in the Preliminary Final.
The two captains met in the next rubber, and they have had three good tussles throughout the year. Manzanares took the honours in rounds four and nine, Clark won in round fourteen. All their matches went to the maximum five sets, so another case of nothing between them. Clark won 29 singles rubbers during the season, Manzanares 28.
Clark took the first set, a very even one, 14-12. Manzanares got into his stride in the next two sets, taking the second convincingly 11-5, following that up with a strong third set 11-8. Clark was not done yet though, and steadied to take the fourth 11-9. The fifth was close, but Clark had the edge, taking the set, and the match 11-8.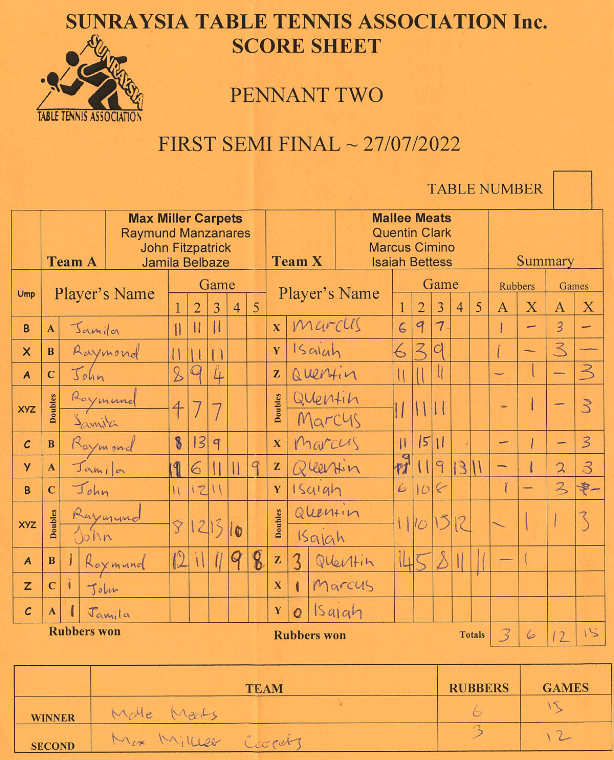 That made it six rubbers to three, and Mallee Meats are through to the Preliminary Final.
Final scores: 6 rubbers to 3 and 15 games to 12.
–  Second Semi Final:- MJM Automotive 6 (Casper McCarthy 3, Andrew Jones 2, Therese Fitzpatrick 1) d Pinnacle Packers 3 (Rohan Reimers 1)
Having lost just one match during the home-and-away season, MJM Automotive were the clear favourites going into this match. The three
times these two sides met, MJM Automotive won seven rubbers to four each time.
Pinnacle Packers took first blood, number two Rohan Reimers defeating MJM Automotive number three Therese Fitzpatrick in straight sets.
MJM Automotive took the next two, captain Casper McCarthy, after a slow start, defeating Pinnacle Packers number three Ryan Hensgen in four sets. Then McCarthy's number two Andrew Jones won a rubber which was a big win in the context of the game. Jones and Jeremy Corrin had played twice during the season, with a win apiece, both contests going to five sets. Nonetheless, Corrin would have been hoping (expecting?) a win, if only because he was ranked number one for his side, and Jones two for his. As had been the case in their two previous meetings, the game was close, Jones took the first set, Corrin the second and third and Jones the fourth. It would come down to who got the momentum during the fifth set. Close as it was, Jones prevailed taking the fifth set 11-9.
All was not lost though, Pinnacle Packers evened the score at 2-2 when Corrin and Reimers won the first doubles against McCarthy and Fitzpatrick in four sets.
MJM Automotive then took a grip on the match – the next bracket of three singles rubbers all going to them. Firstly, McCarthy defeated the dangerous Reimers in four close sets 11-8, 9-11, 12-10, 13-11.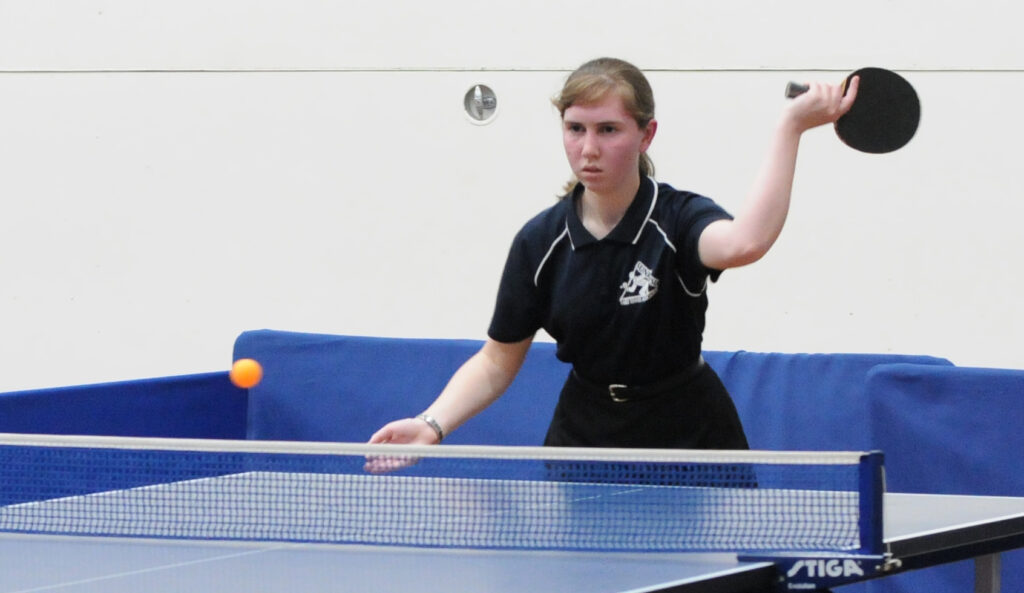 Secondly, number three Therese Fitzpatrick caused a huge upset grinding Corrin down in five "long" sets 9-11, 13-11, 12-10, 3-11, 11-9. Therese has taken some big scalps in this her first season in Pennant Two, this is the biggest. Andrew Jones finished the bracket of three with a straight sets win over Ryan Hensgen. MJM Automotive were one rubber away from a Grand Final spot.
Jeremy Corrin and Ryan Hensgen delayed what seemed an inevitable result winning the second doubles against the pairing which has been most successful this season, McCarthy and Jones. The MJM Automotive pair won twelve of their fourteen appearances together, Corrin and Hensgen seven wins from twelve games. It was the less fancied pairing which prevailed this time, the game going to five sets, 12-10, 8-11, 7-11, 11-5, 11-9.
MJM Automotive captain Casper McCarthy was determined the end the contest in the next match. If he were to lose, Jones would play Rohan
Reimers, who had beaten Jones twice in their three meetings. If he won that contest, the result would be in the hands of the number three Therese Fitzpatrick, and although she had won both her previous two meetings with Ryan Hensgen, it would be a nerve-wracking time if the game got to that point.
So, head down it was, 14-12 in the first set. Casper upped the pace in the second to win that 11-8, then finished the job 11-7 in the third. Job done.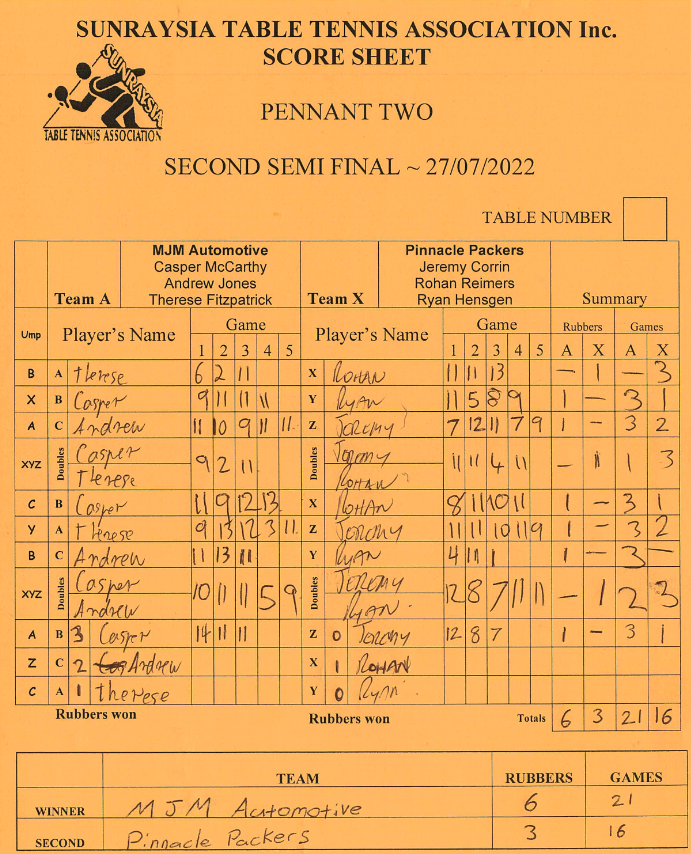 Pinnacle Packers now play Mallee Meats next week. They will start favourites, having won each time they met, 7-4 twice, and on the last occasion 6-5.
Final scores: 6 rubbers to 3 and 21 games to 16.
Pennant 3
This week we saw four finalists trimmed to three with one team already making it through to the Grand Final.
Mallee Meats 6 (Steve Pongrac, Nhat Dat 2, Wendy Simpson 1) def Sammy's Slammers 2 (Dave Tanner, Ben Hosking 1)
Top of the table Mallee Meats have continued their run of sizzling form to record a comfortably win against Sammy's Slammers. Meats Captain Steve Pongrac was again in sparling form as was his partners in Nhat Dat and Wendy Simpson who also contributed wins. For Sammy's Slammers Dave Tanner and Ben Hosking contributed one singles victory for the night.
Pennant 3 always throws up surprises and again this was evident right from the first moment of this match. With the score sheets written out prior to play one may have rightly expected the Nhat Dat v Maria Starikov match to get us underway. Well if you thought this you were wrong as Wendy Simpson v Ben Hosking strode out to the table. As confusion reigned Simpson got her team off to a bright start taking the first set 11-8. Hosking then got his game going and snuck home 11-9 in the second to square the match. Hosking continued his steady play and won the next two sets to give Sammy's Slammers the early edge.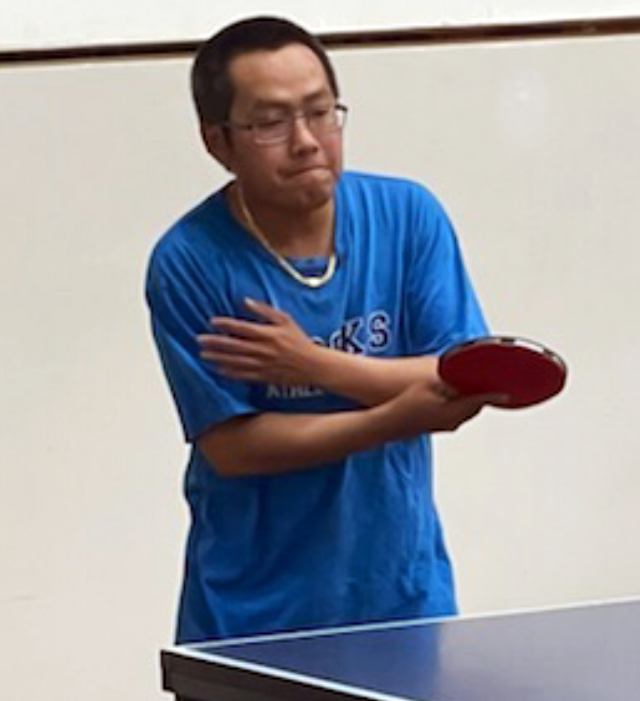 The second match (the first scheduled for the night) saw Nhat Dat up against Maria Starikov. It would be fair to say that these two players stand out as having vastly improved their table tennis during the season. I believe these players have been trained by TG and TN – names not fully disclosed due to secret training camps. The first set of this match saw neither player giving an inch with the set going 11-9 the way of Nhat. Nhat kept the momentum going in the second and third to record a much-needed straight sets win to level the standings at one rubber all.
The third match played saw Dave Tanner take on Wendy Simpson. Simpson is filling in for Ildi Healy who is unavailable during this final's series. The notable difference between Simpson and Healy's play is that Simpson is a left-handed player. This fact was not lost on Tanner who had a query on whether Healy's substitute was like for like. The grading committee would like to pass on that based on past performances Simpson and Healy could be no closer matched and one's dexterity cannot be brought into this argument. Now back to the match which Tanner won in straight sets to give his team the edge two rubbers to one.
The closest match of the night was the doubles match featuring Mallee Meats Pongrac and Simpson up against Sammy's Slammers Tanner and Starikov. The first set was a tentative affair with neither team gaining an early break. It would be Sammy's Slammer's taking the first set 12-10 before Mallee Meats found some rhythm to take the next 11-6. Tanner and Starikov then lifted their intensity to take the third 11-5 and looked on track to take the fourth before a great comeback saw Pongrac and Simpson steal the set 15-13. The last set was just as gripping as the previous four with all players giving their all. Mallee Meats took the final set 11-9 in a match that could have easily gone the other way. With this win the flood gates opened with Simpson, Nhat and Pongrac going on to record wins in their next singles matches to get the job done.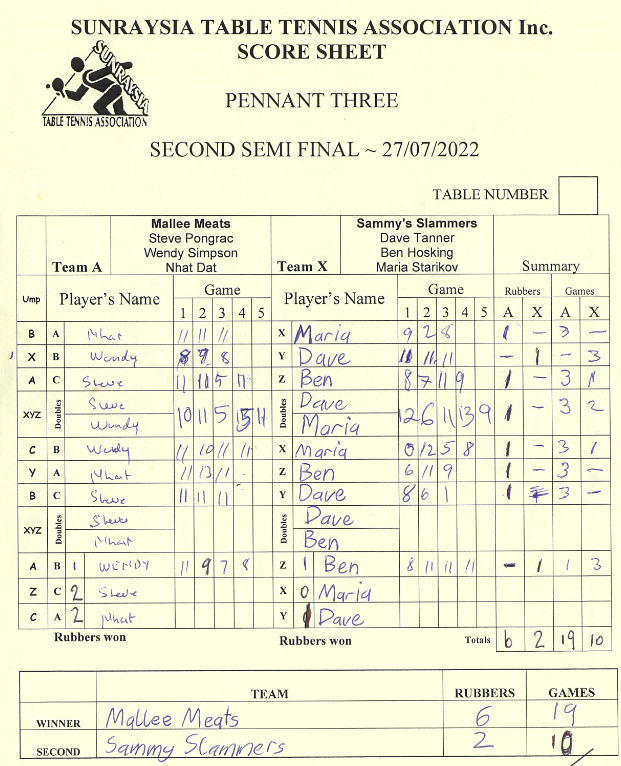 In conclusion a great win by Mallee Meats 6 rubbers to 2 (19 games to 10) against Sammy's Slammers. With this victory Mallee Meats progress straight to the Grand Final and Sammy's Slammers will be back to play for a spot in the Grand Final against the winner of the other match.
Tankard Dental 8 (Shawn Gifford 3, Nick Kiapekos 2, Phuong Hung Nguyen 1) def MJM Automotive 3 (Levi Williams 2, Karly Leach 1)
Tankard Dental have kept their finals chances alive by defeating MJM Automotive. Tankard's number two Shawn Gifford has continued his red-hot form winning all singles and both doubles matches. His mentor Captain Nick Kiapekos also contributed wins as did number three player Phuong Hung Nguyen. For MJM Levi Williams returned to some great form in winning two five set thrillers with his Captain Karly Leach contributing one singles victory.
This was a close fought contest from the outset with the first three singles games going the full distance. Firstly, Levi Williams took on Phuong Hung Nguyen in a great match. Both players have been down on form lately, but this was not evident during this highly entertaining match. Nguyen took the early ascendency in this match and was two sets to one up before a blistering comeback by Williams secured the last two sets to give MJM the perfect start. The next match saw Nick Kiapekos with his hands full with Alicia Tyers on fire and playing her best table tennis of the season. With Kiapekos down two sets to one Tyers kept the pressure up in the fourth and held a handy lead early in this set before Kiapekos found a way to escape to level at two sets all. Again, early in the fifth set Tyers had Kiapekos on the ropes before the game changed dramatically with the more experienced Kiapekos calmly taking the fifth to get his team an important win.
The third Game of the night saw Karly Leach take on Shawn Gifford. Gifford took the first two sets 13-11, 11-7 before Leach fought back to save match points in the third taking this set 14-12. Leach claimed the fourth set 11-8 before Gifford hit top gear in the fifth to this set 11-6 and the match. The next match saw Kiapekos and Gifford take on Leach and Williams in a four-set contest in which Tankard Dental won to extend their lead to 3 rubbers to 1. With their season on the line MJM needed to win the next match to stay in the contest with Williams needing to slay opposition number one player Kiapekos. In a very close match featuring long patient rallies both players had their moments and with the match at two sets all the best was yet to come. In a great last set both players traded blows and extra time was required at 10 all. Both players had already featured in a lengthy five set battle earlier in the night and neither of them were giving an inch. It would be Williams who would outlast Kiapekos 6-11, 11-8, 9-11, 11-9, 13-11 in an outstanding match thus keeping MJM chances alive.
When Leach defeated Hung in the next match, the evening was now square at 3 rubbers all. Next up was the inform player of the competition Shaun Gifford up against a rapidly improving Alicia Tyres. Gifford went on to win this match in straight sets and both these players featured in the following doubles match. With the match score standing at 4 – 3 in favour of Tankard Dental this was a crunch game for MJM Automotive. After a spirited opening three sets MJM found the going too much in the fourth set to finally succumb 7-11, 11-7, 9-11, 3-11.
The next game was now do or die for MJM Captain Leach as she took on the battle weary Kiapekos. Kiapekos took the first set 11-5 before Leach found another gear to take the second set 11-8. The third set was a battle with Leach doing everything she could to extend the match. The experienced Kiapekos took this set 11-9 to now have his team in sight of victory. Leach wasn't done with yet and with the fourth set at a knifes edge 12 all Kiapekos had nearly spent all his petrol tickets. In a final push Kiapekos grasped the final two points to win the set 14-12 that took his team to victory.
With Tankard's already the victors the teams decided to play the final two singles matches just to round things off. The official margin of victory see Tankard Dental prevail 6 rubbers to 3 (22 games
to 16) against a gallant MJM Automotive team.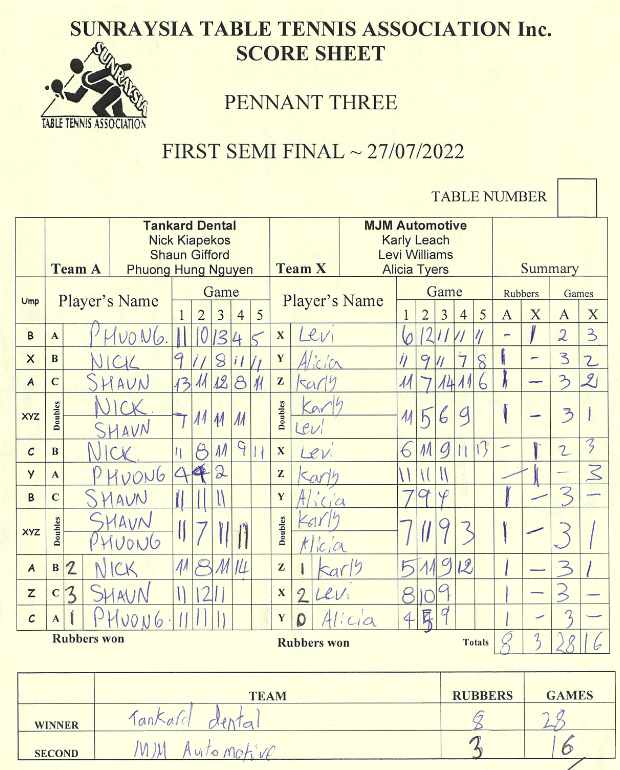 Next week Tankard Dental will play Sammy's Slammers for a place in the Grand Final.
Also don't forget that Super 8's this Monday as well as a few extra tables for practice. For further information check in with the Facebook page or Gavin. Mark Ljubic will be your host tomorrow night for Super 8's action.