Read Time:
14 Minute, 35 Second
PENNANT ONE:
Seesawing match which could have gone either way …..a thriller , a nervous Michael Hensgen played a key role in the second doubles and then a win against this years five set specialist by the narrowest margin in the fifth. Tankards progress to GF
– Tankard Dental 6 (Matt Ljubic, Gavin Carmichael 2, Michael Hensgen 1) d Cookes Pooles & Spas 5 (Joel Thomas 3, Leon Brown 1)
In an exciting encounter Tankard Dental have edged out Cookes Pools & Spas 6-5 to advance to the Sunraysia Table Tennis Winter pennant grand final.
Late in the match Cookes took a 5-4 lead when Joel Thomas won his third singles of the preliminary final with a four set victory over Matt Ljubic. This match was followed by two tense five set contests which were both won by Tankards in a nerve wracking conclusion to an outstanding tussle.
Going in to this final Cookes had been successful in their past two meetings with their opponents. Tankard Dental had occupied top position on the ladder for the majority of the season however three losses in succession resulted in them dropping to second in the final round and then losing the second semi final last week.
Cookes were able to grab the ascendancy early by winning the two of the first three singles and then Joel Thomas and Leon Brown proved too steady for Matt Ljubic and Gavin Carmichael winning the first doubles in four sets. The score now stood at 3-1 in favour of Cookes.
The next three singles went as expected with Tankards claiming two and going in to the second doubles Cookes now enjoyed a 4-3 lead. It was at this point that Tankards knew the match was slipping and their duo of Matt Ljubic and Michael Hensgen took to the table against Son and mother combination Joel Thomas and Lee Leeson who had only lost once in their last ten doubles matches. With their team under pressure the Tankards pair were able to maintain a slight advantage and in an inspiring effort Ljubic and Hensgen won 12-10 11-9 11-9.
The score line now 4-4 as Sunraysia's leading player Joel Thomas for Cookes took to the table against Matt Ljubic, Sunraysia's number two. The first two games were close with many fine rallies and Ljubic held game points on two occasions however it was Thomas who the first 14-12 , Ljubic took the second 11-9 in another close one. From here it was Thomas who held the ascendancy winning the third and fourth 11-6 11-3 and this took Cookes to a 5-4 lead, one win away from a grand final berth.
Cookes Leon Brown was away quickly in the next singles against his more experienced opponent Gavin Carmichael and held on to win the first 13-11. Carmichael started the game favourite however Brown was having other ideas and sensationally recovered from a 3-7 deficit to win the second in a great comeback. Carmichael and Tankards were now on the ropes however slowly the match turned with Carmichael taking the third and fourth by maintaining a healthy lead in each. At 2 all the pressure was on both players and early in the fifth Carmichael won two points in succession where the ball struck the net and rolled over giving Brown no chance. Some long rallies followed but in the end the experienced Carmichael grabbed the match 11-13 10-12 11-4 11-5 11-8 to keep Tankards alive with the match now level at five rubbers all.
With the preliminary final now on the line Lee Leeson for Cookes matched up against Tankards number three Michael Hensgen. Leeson had an excellent record during the season in a similar scenario. This would become an outstanding tussle between two nervous players. Long rallies followed and Leeson narrowly took the first. She was playing a very steady match and at 10-6 up in the second it appeared that Leeson would enjoy an early ascendancy however Hensgen played an outstanding six points to steal the second , Leeson composed herself quickly and took the third . Hensgen was able to get on a roll and attacked in the fourth to win the game comfortably and take the game to a fifth.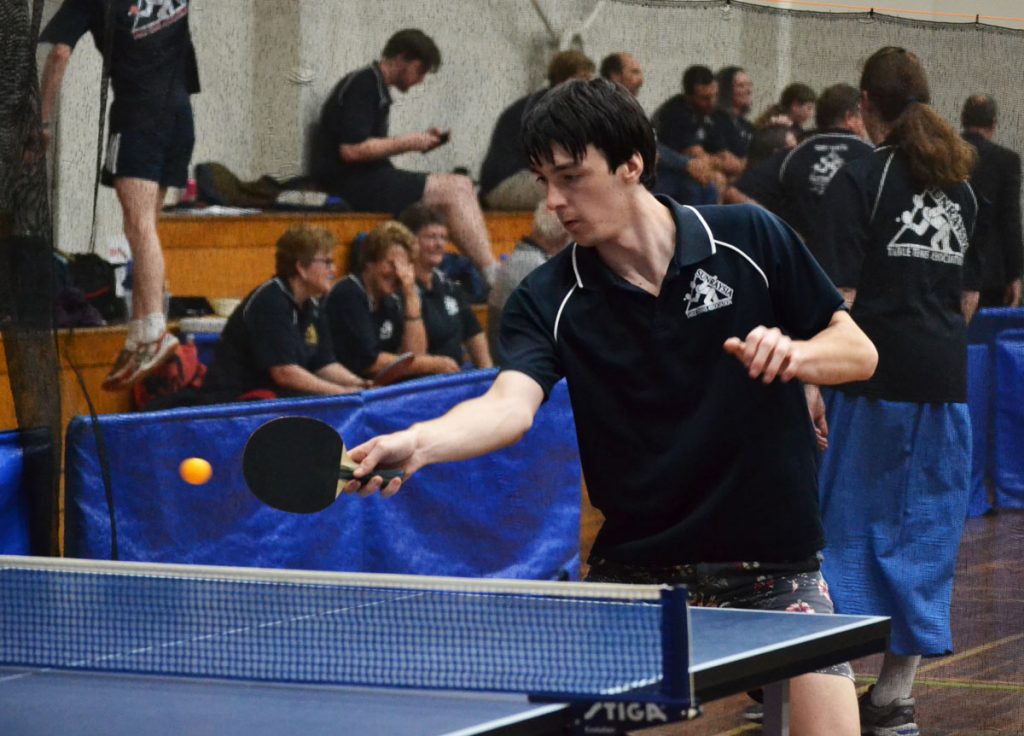 Both players now played very steadily with little in the way of attacking shots each waiting for the other to make a mistake. With the scores level late in the game Hensgen played an attacking backhand to claim a point and in the next rally a strong forehand gave him an outstanding victory 14-16 12-10 8-11 11- 11-9.
Tankards have now advanced to the grand final with victory against a very tough opponent. Both Matt Ljubic and Gavin Carmichael won two singles however it was team mate Michael Hensgen who played a key role by winning at five rubbers all and earlier partnering skipper Ljubic in the second doubles vital win.
PENNANT TWO:
MJM Automotive came into this match after having been outplayed by Max Miller Carpets in last week's Second Semi-Final, and Cookes Pools & Spas, having fallen from top spot to fourth on the ladder in the last round of the home and away, earned their spot by defeating Pinnacle Packers last week.
– MJM Automotive 6 (Dylan Wood 3, Jeremy Corrin, Marcus Cimino 1) d Cookes Pooles & Spas 3 (Ash Morrison 3)
MJM bounced back this week after a thumping last week.
Aggregate leader Dylan in form winning three ….great comeback after being two love down against Ash
Jeremy did well defeating Rohan while Marcus started MJM off with a four set win over John in the first game of the night
With a place in next week's Grand Final up for grabs, stakes were obviously high. Both sides finished the home-and-away with nine wins, both sides won 332 games, MJM Automotive conceded 288, whilst Cookes Pools & Spas lost a few more, 296.
MJM Automotive took the early initiative, Marcus Cimino winning a spirited match with John Fitzpatrick in four sets. Dylan Wood made that 2-0 with a three set win against last week's giant killer, Rohan Reimers. Any time Rohan looked like he was working his way back into the game, Dylan produced a winner to regain the advantage.
Cookes Pools & Spas got themselves on the scoreboard via captain Ashley Morrison. Jeremy Corrin, playing at number two for MJM Automotive grabbed the first set 11-9, and Morrison had to work hard to get the better of him in the second, which he did 13-11. After that Morrison got into his stride, taking the last two sets 5 and 9.
MJM Automotive answered that win with victory in the first doubles – Wood and Corrin being untroubled really in their three set match against Morrison and Fitzpatrick, 11-8, 11-5, 11-5.
Dylan Wood made it 4-1 in the next rubber, downing John Fitzpatrick in three sets and it was clear the way back for Cookes Pools & Spas was just about out of reach.
Ash Morrison claimed rubber number two for Cookes Pools & Spas, a three set win against Marcus Cimino. Cookes last chance of win came in the next rubber, Corrin against Reimers. If Reimers could win this one, the score would be 4-3, if not MJM Automotive would be cruising at 5-2.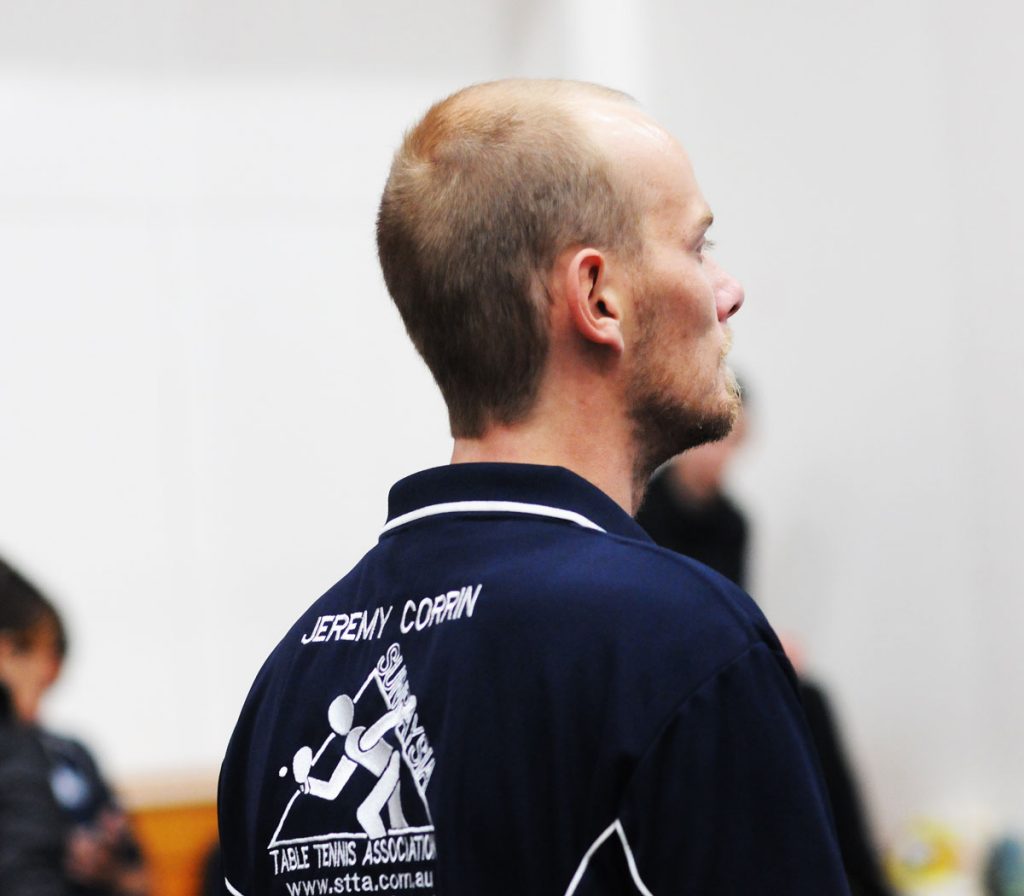 Corrin was in control from the outset, taking the first set 11-7. Reimers upped his work rate, and took the second set 13-11, and it was clear that Corrin had not really lessened his intensity. Jeremy ran through the third set 11-5, hoping for a four set match. Rohan lifted once again in the fourth set, but Corrin had the answers and took the set 12-10.
Cookes Pools & Spas were really up against it now, and had to win all the remaining rubbers to make the Grand Final. MJM Automotive only had to win one …
The second doubles went to Cookes to keep their faint hopes alive, Morrison and Reimers winning against Wood and Cimino in three competitive sets 11-9, 11-5, 14-12.
Next, the two captains, Dylan Wood and Ash Morrison met in the final round of singles. Wood had won the aggregate this year, Morrison had taken the Super 8 title only two nights before. During the home-and-away, Wood had won two of the three matches they had played, Morrison won in round 1 in three sets, then Wood won in round 6 in 5 sets, and even better in round 11, winning in four sets. This was a fair indication of Wood's progress of improvement over the season. Morrison got off to a great start, and led 11-5, 11-9 and it seemed the match would go to at least the tenth rubber. Wood had other ideas though, and worked his way back into the match, taking the third set 11-9. Keeping Morrison at bay in the fourth, Wood again prevailed 11-8, and with the momentum he ran away with the final set 11-3 to complete a decisive victory against the Super 8's champion.
MJM Automotive now play Max Miller Carpets in next week's Grand Final, in a replay of the Second Semi-Final. They will be looking for a better performance than on that occasion, when they lost 6-3.
Final scores: 6 rubbers to 3 and 19 games to 13.
PENNANT THREE:
Sammy's Slammers had their unlikely appearance in the Preliminary Final come to a predictable result.
– MJM Automotive 6 (Isiah Bettess, Sabrina Fitzpatrick 2) d Sammy's Slammers 2 (Huseyin Ismail, Brian White 1)
MJM in control from the start , both Isaiah and Sabrina won both of the singles they played.
Nick will be better for the run , a good effort by Brian and Huss to defeat Nick
Look out Fitzpatrick v Fitzpatrick GF
So the teams who lost the second semi last week all won this week
Fourth placed Sammy's Slammers made the most of their appearance in the First Semi-Final last week when they upset Weightmans Packaging, ending their hopes of an appearance in the Grand Final.
With just one win from fifteen rounds of home-and-away competition, Sammy's Slammers were and unlikely side to appear at this stage of the competition.
MJM Automotive, their opponents here, finished on top of the ladder, and were playing in this match after having been dealt a confidence blow last week by Mallee Meats.
MJM Automotive captain Sabrina Fitzpatrick started quietly against Sammy's Slammers number two Dave Tanner, conceding the first set 11-6. Sabrina found her feet in the second set, winning that 11-3, and then was really on her guard against Tanner who played some good table tennis in the remaining two sets, winning those sets 12-10, 11-8.
Isaiah Bettess, nominally the number three in the MJM Automotive side, but effectively the team's number one (he finished third on the aggregate), was clearly nervous and lost the first set to Brian White. After a little pep talk from captain Sabrina, Isaiah regathered himself, and wnet on to take the following three sets 7, 6 and 9.
Huseyin Ismail put his side on the score-board with a straight sets win against Nick Kiapekos, who was playing just his third game after returning from an ankle problem. Nick's ankle was okay, but now his form seems to have deserted him, as he could not just a handle on this match, Hus winning 11-8, 11-8, 11-4.
Sabrina and Isaiah extended the MJM Automotive lead to 3-1 after easily accounting for Ismail and Tanner in the first doubles, and Bettess added another rubber to the tally in the next match with a confident display against Tanner, winning in four sets. Once again Tanner played some good table tennis, but was not as consistent as his younger opponent.
The two captains played next, and this was pretty much last-chance territory for Ismail to have a chance in this match. In the event,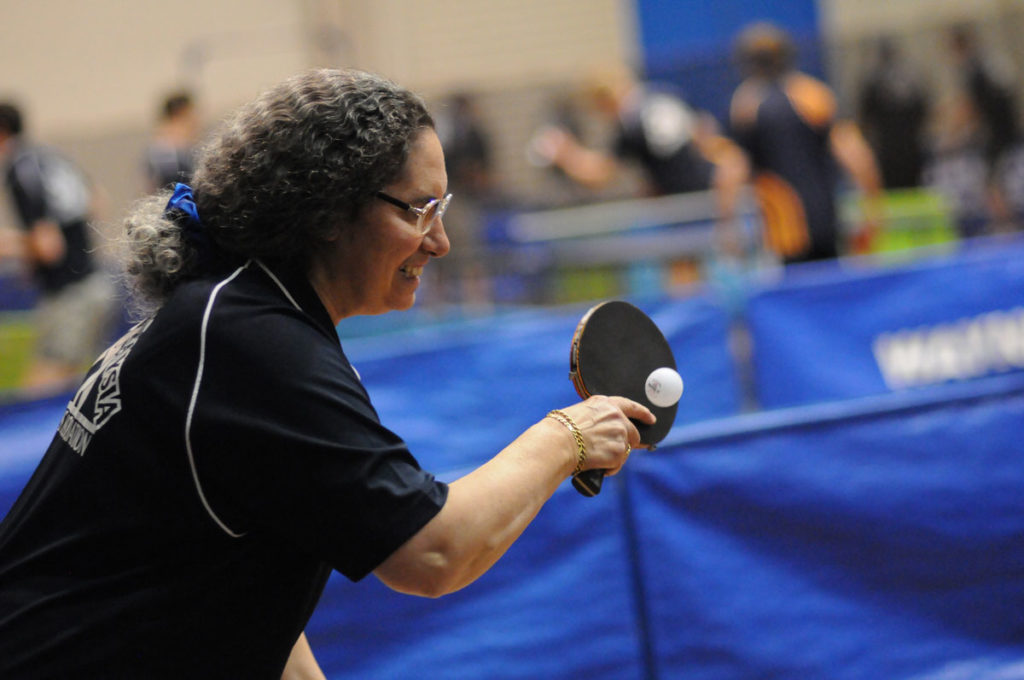 Fitzpatrick won in straight sets, relieved with the 11-9, 11-7, 11-9 scoreline.
That made the score 5-1, and Sammy's Slammers were on the ropes. Nick Kiapekos started well against Brian White, winning the first set 11-7. but that was as far as he got, White taking the next three sets 6, 9 and 6.
Bettess teamed up with Kiapekos for the second doubles in what was the closest match of the night. Although they won in four sets, the Sammy's Slammers pair of Ismail and White kept the pressure on throughout the match, but the break they were hoping to come did not. The winning score for the MJM Automotive pair was 11-7, 11-13, 11-9, 13-11, and with that they knocked up their sixth rubber, and consequently the right to go into the Grand Final next week and have another crack at Mallee Meats.
Final scores: 6 rubbers to 2 and 19 games to 10.
PENNANT FOUR:
Rnd 14 results
– Tankard Dental 6 (Jacinta Ljubic, Tom Gilmour 2, Phuong Hung 1) d MJM Automotive 5 (Nhat Dat 2, Ildi Healy,Maria Starikov 1)
Interesting match …Tankard Dental 5-0 up and then 6-1 before final result was 6-5
Dat defeated the aggregate winner Jacinta, they both won two singles as did Tom G
The last match was a beauty with Maria being 2-0 against Hung and then Hung levelled the match before Maria won the last 11-6
During this round, we saw our last round robin match between MJM Automotive and Tankard Dental. Although MJM are resigned to the fact that they are not in Grand Final contention it didn't stop them in nearly producing the comeback of the season.
Tankard Dental have survived a late night challenge to claim victory. Tankard's Captain Jacinta Ljubic won two singles, as did Tom Gilmour. MJM's Captain Nhat Dat kept his side in the contest and won two singles of his own with his playing partners Ildi Healy and Maria Starikov producing a win apiece.
Early in the evening, everything was going the way of Tankard Dental as they raced to a five games to nil lead. Gilmour was the architect of the early onslaught as he finally defeated Nhat in a five set classic. Gilmour was able to win this close five setter due to his ability to remain in the rallies a little longer than Nhat and to remain calm under pressure. This calmness has not being a trade mark exhibited by Gilmour as often as he would like as he is still well behind in the win column when playing five set matches so far this season. In a seesawing match, Gilmore broke away in the last set to claim this 11-9, 9-11, 11-8, 6-11, 11-8. The gravity of the result of this match would not be fully known until later in the night.
Gilmour's run of five set match success continued as he defeated MJM's Maria Starikov in a very long match. Starikov has a reputation for just keep the ball in play and wearing down her opponents. Starikov started the better of the two in this match as she took the first set 11-4 before Gilmour steadied to take the second 11-6. The third set was a tight contest with Starikov taking this 14-12. Gilmour then steadied the ship and took the next two sets 11-6 and 11-8 the claim the match.
The last round of singles of the night would show case the top two players this season with Jacinta Ljubic leading Nhat Dat by one singles victory on the aggregate before the night started. One would have expected that Nhat had a chance to tie Ljubic for the aggregate in this match; however, Tom Gilmour's earlier victory over Nhat put paid to this possibility. With this said, the pressure was still on as Ljubic looked to continue her perfect season without a singles defeat. With such a big match a quality umpire was required so in would step new Association President Peter Fitzpatrick to preside over proceedings. Nhat raced out of the blocks to take the first set 11-2 in an awesome display of hitting. Ljubic then steadied and narrowly took the second set 14-12. Nhat kept on attacking and would not be denied as he took the last two sets 12-10, 11-8 to deny Ljubic a perfect season.
There would also be two other five set matches during the evening with Ildi Healy giving Ljubic a real scare going down in five sets and Maria Starikov breaking through for a great win against Phuong Hung Nguyen in the last game of the evening.
WOW – that is a lot of table tennis. Well done to all players. Tankard Dental have hung on to claim victory 6 -5 (23-22) over a gallant MJM Automotive side. Also well done to Jacinta Ljubic was able to claim her maiden singles aggregate title this evening. All that is left is the grand final between Dunkley Scales and Tankard Dental to be played when we resume play.