Read Time:
11 Minute, 55 Second
PENNANT ONE:

Playing his best table tennis for the season Jackson Murphy recovered from the jaws of defeat to win a five set thriller to give his team, Weightmans Packaging, their first victory of the season in round five action of the Sunraysia Table Tennis "Cash Converters" 2017 pennant.
– Weightmans Packaging 6 (Jackson Murphy, Leslie Ncube 2, Andrew Cannard 1) d Mallee Bearings 5 (Matt Avers 3, Shane Carmichael 1)
Number three Murphy won two singles as Weightmans recorded a nail biting 6-5 victory over Mallee Bearings despite Matt Avers winning three singles again to remain undefeated in 15 matches.
In his first match of the night Murphy defeated Lee Thomas 11-6 11-3 9-11 10-12 11-3 in a strong finish. Later with the scores locked at five rubbers all Murphy again finished with a flurry against Shane Carmichael. Carmichael had recovered from a two game deficit and when he took a 10-6 lead in the fifth it appeared his recovery was complete however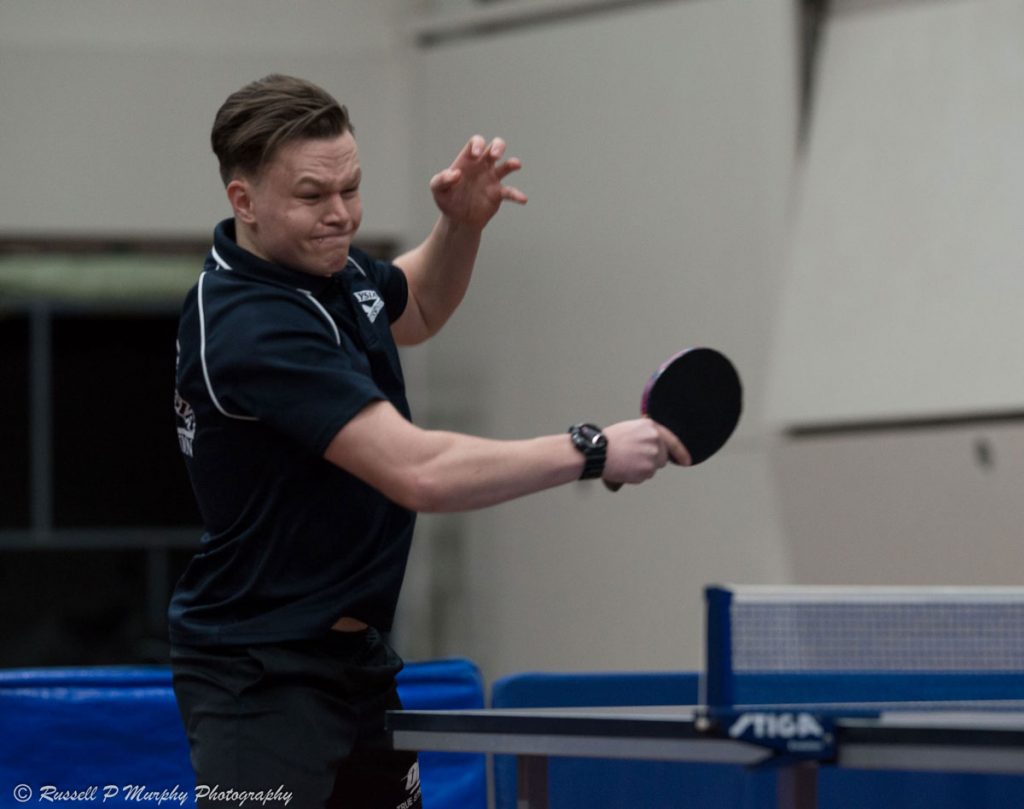 Murphy had other ideas storming home to take the fifth 12-10 in an amazing comeback.
By gaining the four points Weightmans now sit one win out of the four. Murphy's team mate Leslie Ncube continued his fine season by winning two singles also.
– Regional Taxation Services 7 (Shannon Bowen, Mark Dorman 2, Ed Hung 1) d Exposed Signage/Apparel 4 (Nicholas Dorman, Gavin Carmichael 2)
By winning both doubles third placed Regional Taxation Services inflicted the first defeat of ladder leader Exposed Signage 7-4 which has now evened up the competition. The highlight matches in this contest were the first doubles when RTS pair Shannon Bowen and Mark Dorman outlasted Gavin Carmichael and Nicholas Dorman 11-9 in the fifth and later the singles between Bowen and Nick Dorman again went to five with Dorman taking the points 9-11 11-7 11-7 7-11 11-9.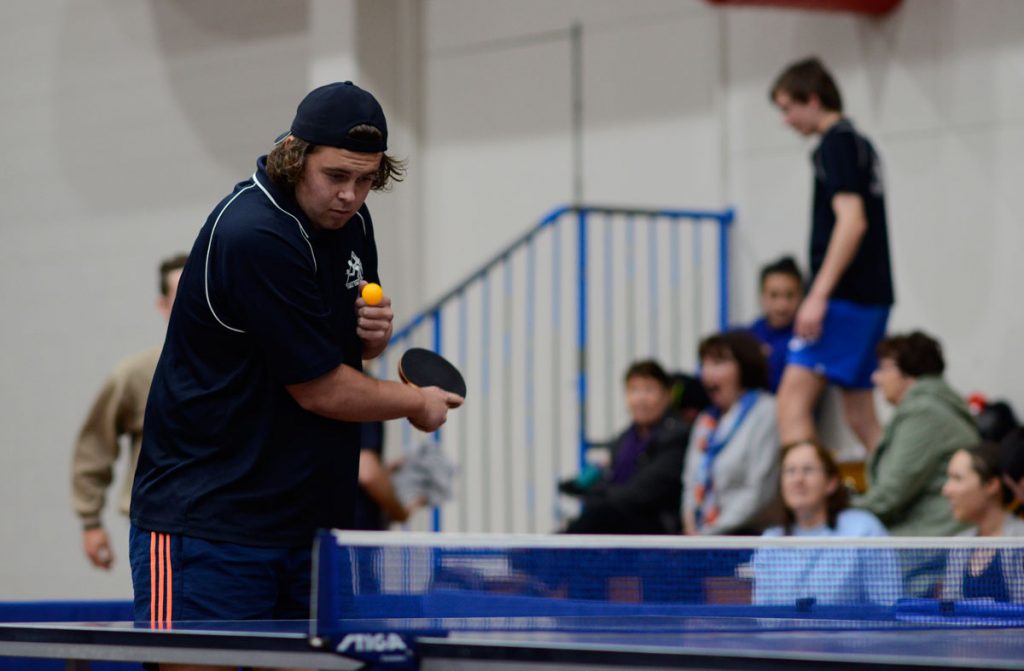 Young Dorman is enjoying a good season in singles matches and currently sits in second position on the aggregate.
– Cash Converters 7 (Matt Ljubic, Kate Carmichael 2, Kevin Johns 1) d Tankard Dental 4 (Joel Thomas 3, Reece Kurrle 1)
After losing in round one Cash Converters strung together their fourth win on the trot accounting for Tankard Dental 7-4 despite Joel Thomas winning three singles.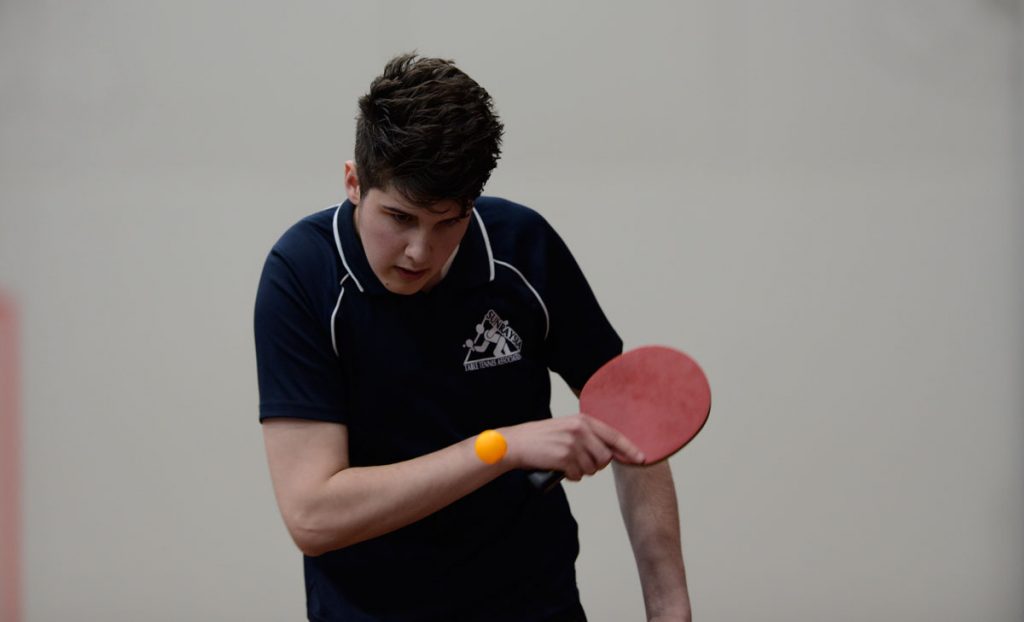 For the victors Matt Ljubic and Kate Carmichael continued their good singles form winning two each. Victory in the doubles was a key feature for Cash Converters as they won both in tough five set slogs which is commendable when Joel Thomas is in the opposition.
PENNANT TWO:

Mallee Bearings suffered their first defeat of the season this round, against second-placed Pinnacle Packers; Weightmans Packaging moved from fourth spot up to third with their win against Max Miller Carpets; and MJM Automotive kept Mallee Meats winless with a 7-4 scoreline.
– Pinnacle Packers 6 (Geoff Wright 3, Brendan Alderton 1) d Mallee Bearings 5 (Peter Midgley, Andrew Jones 2, Paul Fitzpatrick 1)
At the half-way point of the season, it is appearing that Pinnacle Packers and Mallee Bearings are going to be the sides to beat for the flag.
Going into this round, Mallee Bearings were undefeated, and Pinnacle Packers were a game behind, having been defeated by Weightmans Packaging in round three.
Despite that loss, Pinnacle Packers had won the same number of rubbers as Mallee Bearings, and their percentage of games won and lost was actually superior.  The end result was that, although the Packers won this game by the narrowest of margins, 6-5, it was enough to give them the lead on the ladder.
The game was close, and was decided in the final rubber.  Pinnacle Packers captain Geoff Wright won his three singles, blitzing opposing captain Peter Midgley 9, 7 and 7 in the first round of singles.  In the next round he disposed of Andrew Jones in a similar fashion, 8, 6 and 7, and in the final rubber with the scores locked at 5-5, he took on Paul Fitzpatrick, up from Pennant Three for the night, subbing for Quentin Clark.  Fitzpatrick gave a good account of himself, the only member of the Mallee Bearings team to take a set from the in-form Wright, who won 11-8, 11-9, 7-11, 11-9.
The Mallee Bearings side did better in singles play, winning five rubbers, Midgley two, Jones two and Fitzpatrick one, but they let themselves down in the doubles, which both went to Pinnacle Packers.  In the first of the doubles Wright and Brendan Alderton were comfortable four set winners against Midgley and Jones, whilst the second doubles was a three set win for Wright and James Chick over Midgley and Fitzpatrick.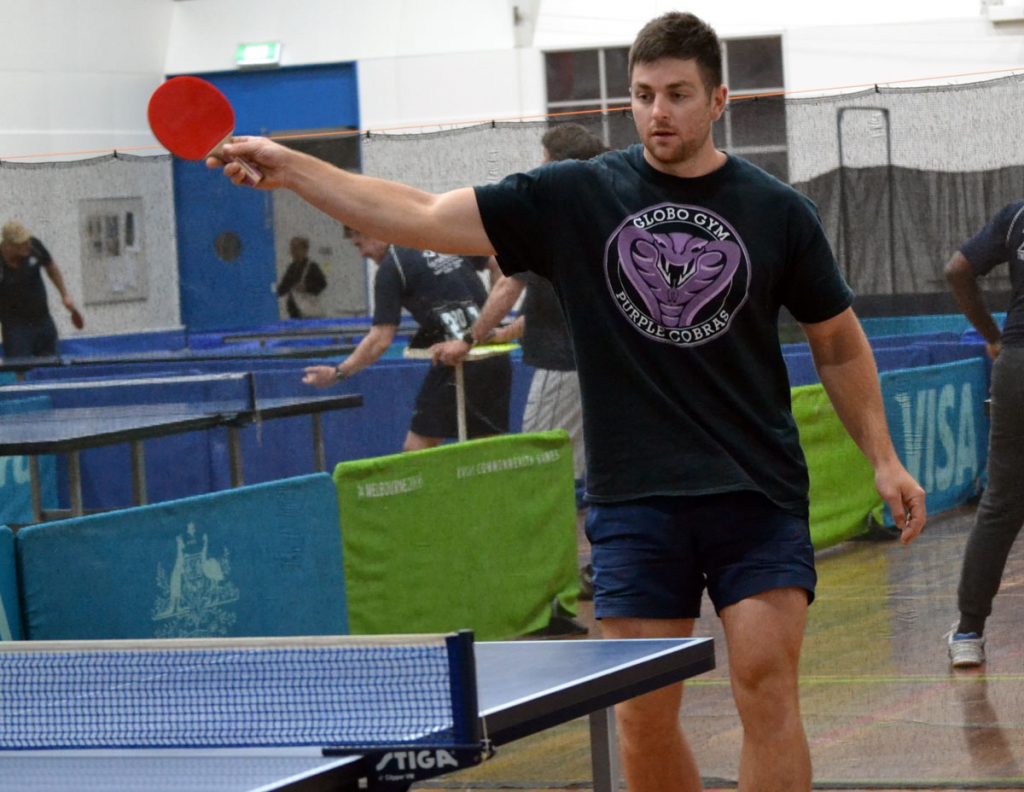 James Chick was involved in two stand out games – both of which he lost.  In the first round of singles he locked horns with Andrew Jones, and led Jones two sets to love 15-13, 13-11, before succumbing fairly meekly 3, 7 and 5 in the final three sets.  In the next round of singles he met Paul Fitzpatrick – this was more of an even contest, Fitzpatrick prevailing 12-10, 7-11, 11-13, 11-9, 11-8.
Final scores:  6 rubbers to 5 and 23 games to 18.
– Weightmans Packaging 6 (Kerry Wallace, Nick Barlow 2, Arthur Paar 1) d Max Miller Carpets 5 (Tony Malycha 2, Russell Walder, Michael Hensgen 1)
Weightmans Packaging and Max Miller Carpets were fourth and third on the ladder going into this game, equal on two wins, Max Miller Carpets ahead by virtue of a better for-and-against percentage.
The Weightmans Packaging pair of Kerry Wallace and Nick Barlow secured the win here; captain Arthur Paar had another "off" night, winning just one singles rubber.
Wallace took two hard-fought five set wins against firstly the consistent Tony Malycha in a match that went set-for-set until the last, Wallace winning 5-11, 11-4, 4-11, 13-11, 11-4.  The next round it was another five-setter, this time against the improving Michael Hensgen; in this game Wallace had to claw the game back from two sets to love down to win 10-12, 2-11, 11-9, 11-5, 11-9.
Barlow had little trouble with Hensgen, winning in just three sets, and later he downed opposing captain Russell Walder in a good five setter 11-2, 7-11, 14-12, 7-11, 13-11.
Wallace and Barlow then played in the second doubles, downing Walder and Malycha in four sets.
Tony Malycha was the best-performed for Max Miller Carpets, securing two wins, running through Arthur Paar in straight sets, and later a four set win against Barlow.
Final scores:  6 rubbers to 5 and 25 games to 21.
– MJM Automotive 7 (Thanh Nyugen 3, Anthony Fox 2, Claire Ljubic 1) d Mallee Meats 3 (Geoff Peters, Bernadette Fitzpatrick, Seval Fuat 1)
 This game featured the two bottom sides, and the sides remained in their respective positions after this round.
MJM Automotive were clearly the better side; captain Thanh Nyugen again winning three singles, Anthony Fox taking two, and Claire Ljubic securing one.  With Nyugen and Fox taking the first doubles in four sets, the side was rewarded with a solid 7-4 scoreline.
Nyugen's three wins came without the loss of a set, Fox won his two also in three sets, and Ljubic downed her opposite number Seval Fuat in four.
Nyugen is the only undefeated player in this grade, two games clear of Peter Midgley and Geoff Wright, who both have 13 wins from a possible 15.
Mallee Meats were without their captain Jason Gifkins, Bernadette Fitzpatrick subbing for him.  Bernadette, a little match shy, had just the one win, against Claire Ljubic in four sets.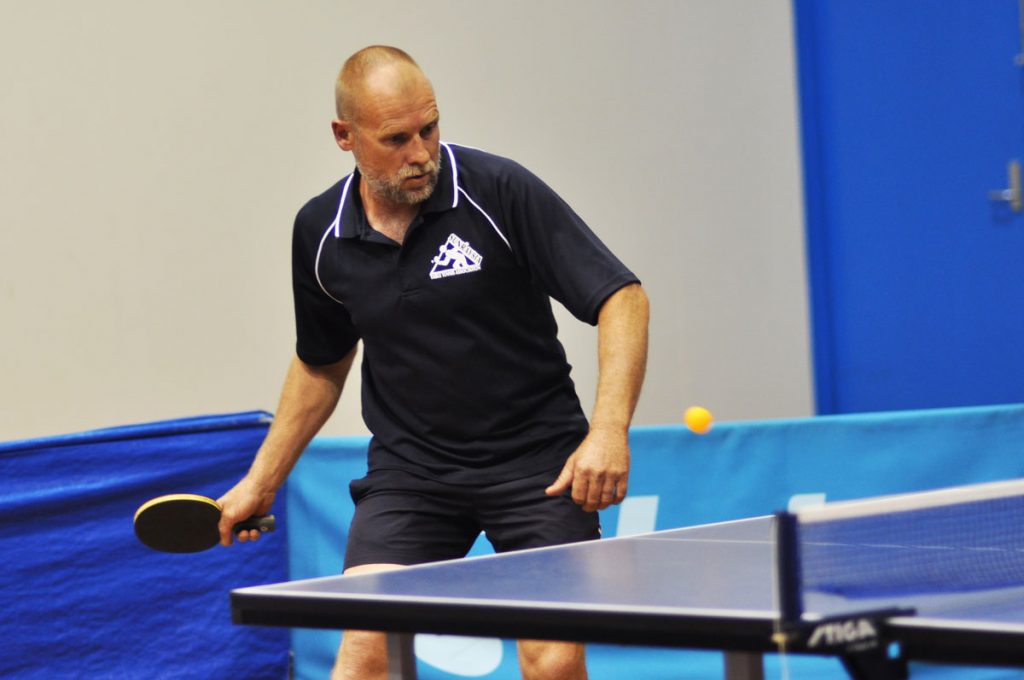 Geoff Peters also defeated Ljubic, again in four sets.  Seval Fuat after losing against his opposite number Ljubic in four sets, bobbed up with a win against Anthony Fox in the eleventh rubber.
Fitzpatrick and Fuat featured in the only five-set contest, grinding out a win against Nyugen and Ljubic 7-11, 11-8, 11-5, 9-11. 11-9.
Final scores:  7 rubbers to 4 and 26 to 14.
PENNANT THREE:

With Sammy's Slammers having the bye this round, MJM Automotive took advantage of an undermanned Mallee Meats to jump to the top of the ladder; whilst Weightmans Packaging outplayed Tankard Dental to take their second win for the year.
– MJM Automotive 9 (Adrian Fox 3, Tom Morrison, Rachel Fitzpatrick 2) d Mallee Meats 2 (Jeremy Corrin 2)
MJM Automotive cruised to an effortless 9-2 win in this match with Mallee Meats.
Both sides were chasing their third win for the year, and it was Mallee Meats who came away disappointed.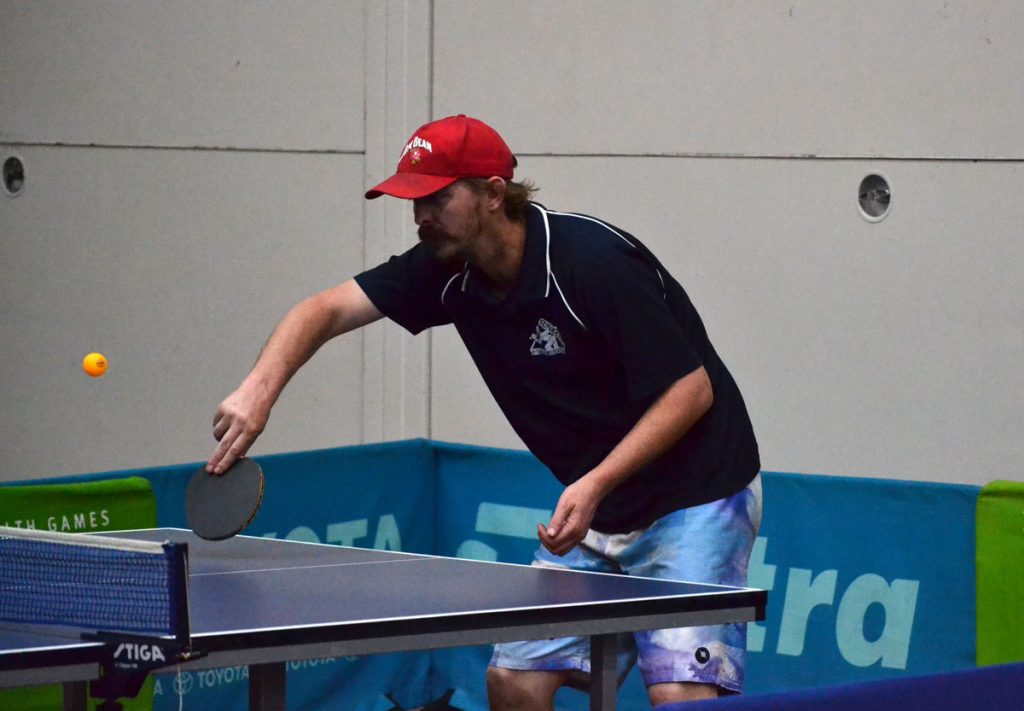 David Tanner, up from Pennant Four, was subbing for Mallee Meats' David Sergi, whilst MJM Automotive had captain Peter Fitzpatrick absent, replaced for this round by Adrian Fox.
It was a fairly miserable night for Mallee Meats, as only Jeremy Corrin could string a win together, downing both Tom Morrison and Rachel Fitzpatrick in three sets.
In fact, three sets were the order of the night – only three rubbers went beyond three sets, and they went to four.
Fox had a perfect night then, three singles wins, all three sets, plus one doubles, with Morrison in four.
Interestingly, although he was subbing for the absent captain, Fox elected Morrison to play in both doubles, and Morrison did not disappoint – he and Rachel Fitzpatrick winning the first doubles in a four set contest against Corrin and Therese Fitzpatrick.
Final scores:  9 rubbers to 2 and 29 games to 9.
– Weightmans Packaging 7 (John Fitzpatrick, Rohan Reimers, Huseyin Ismail 2) d Tankard Dental 4 (Adrian Fox 3)
Weightmans Packaging brought up their second win for the season in this clash with Tankard Dental.
Tankard Dental had two players absent – captain Sabrina Fitzpatrick and number two Arnold Jago,
who appears to have had to pull out for the rest of the season.
Adrian Fox, doing double duty, subbed for Sabrina, and Anthony Sergi for Jago.
Fox remained undefeated in singles play, and took the second doubles with Nick Kiapekos against John Fitzpatrick and Huseyin Ismail.
Weightmans Packaging accumulated their wins courtesy of two singles wins each – they all downed Sergi and Kiapekos to give themselves six rubbers, and the combination of John Fitzpatrick and Rohan Reimers was too good for Fox and Anthony Sergi in the first doubles, winning that in straight sets.
Final scores:  7 rubbers to 4 and 25 games to 19.
PENNANT FOUR:

Results this round saw a thriller and a one sided contest while third placed  Dave Tanner , Miya Lock and Nathan Beard of Mallee Meats enjoyed the bye.
– Regional Taxation Services 6 (Matt Sires, Casey Taplin 2, Austinn Taylor 1) d Tankard Dental 5(Shirley Whitecross, Paul Kerr 2)
 This was the contest of the two teams in pennant four who had yet to register a win and what a match it was going right down to the wire.
Tankard Dental started well to take a 3-1 lead courtesy of Paul Kerr defeating Casey Taplin in four sets and then it was Shirley Whitecross showing her experience taking the points in a five setter 11-4 6-11 11-9 5-11 11-7 against Matt Sires, great effort Shirley.
Paul and Shirley combined in the first doubles to win in straight sets over Matt and Austinn Taylor. At this point Regional Taxation Services commenced a revival with Matt outlasting Paul in yet another five setter 8-11 13-11 7-11 11-5 11-9, a good comeback by Matt.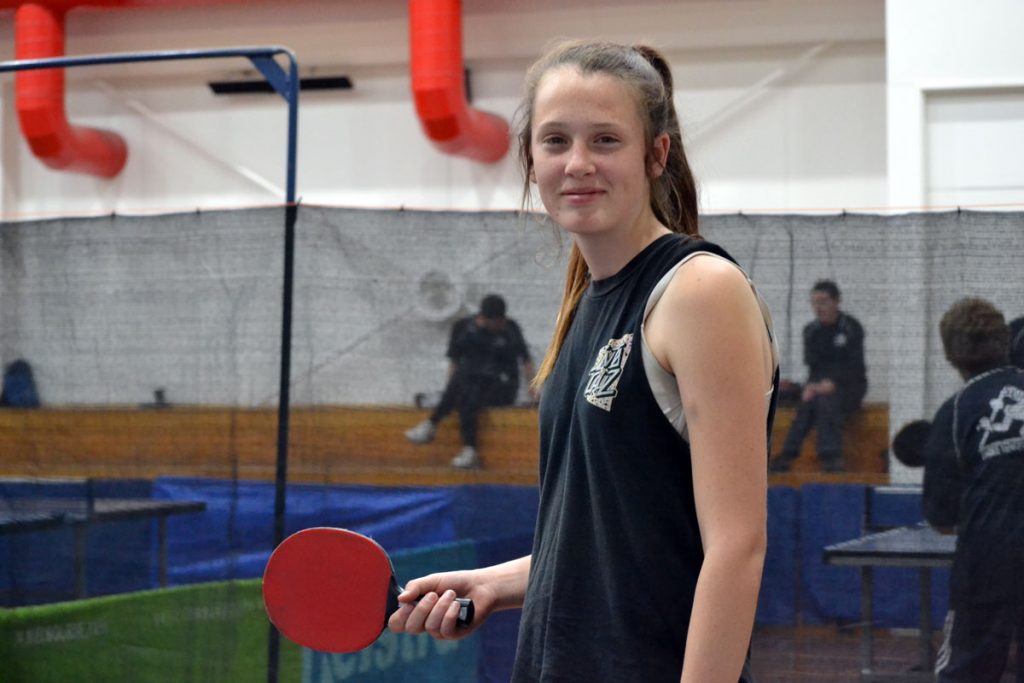 The next match featured Casey Taplin and Tankards Kayla Bettes, these two players are on the improve and it was Casey who took this singles in four to level the match at three rubbers all.  Matt and Casey combined in the second doubles to win in four sets over Paul and Kayla.
With Regional Taxation Services recovering from a slow start they had done well to level at five rubbers all. The match of the night then took place when Shirley Whitecross stepped up to the table against first year player Casey Taplin and what a match this turned out to be. Shirley was out of the blocks early winning the first two games narrowly 16-14 11-9. With most other tables packed up the focus was mainly on this match and the spectator numbers swelled as Casey slowly worked back into the games winning the third and narrowly the fourth 11-7 11-9. Both players were feeling the pressure and team mates were tense. Casey by now was playing an impressive forehand and Shirley was defending well however it was Casey that was able to maintain the pressure and go on and win the fifth 11-8 and give his team their first win for the season. Casey and his team mate Matt Sires both won two singles on the night and it was their win in the second doubles which in the end was vital as well.
For Tankards Paul and Shirley had tried hard and won two singles each as well as their doubles however they came up one rubber short and their team is not far away from their first victory.
– Dunkley Scales 10 (Luke Ljubic, Brice Lock 3, Isaiah Bettes 2) d MJM Automotive 1 (Kim Avers 1)
 Dunkley Scales continued on their merry way defeating MJM Automotive 10 – 1 in an outstanding display. Brice Lock and Luke Ljubic are on fire this season and again won three singles each to amazingly be undefeated in singles matches over the first five rounds.
Team mate Isaiah Bettes continues to improve and he won two singles going down in straight sets to Kim Avers late in the match.
Whilst Kim was the only player to trouble the scorers by defeating Isaiah,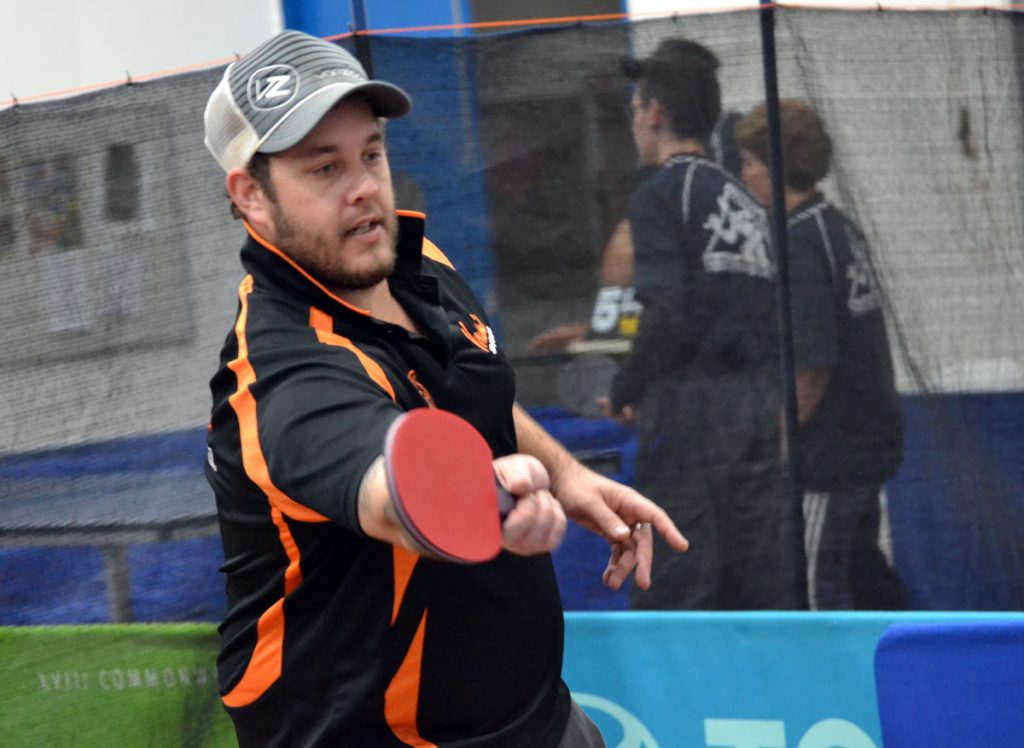 team mate Matt Cherry can consider himself unlucky going down in two five setters against Isaiah and Brice respectively. First year player Matt has purchased a new bat and is improving each week.
Despite their first defeat MJM will remain in second position on the ladder.