Read Time:
9 Minute, 51 Second
PENNANT ONE:

After two rounds of the Sunraysia Table Tennis "Cash Converters" pennant one season one team, Mallee Bearings is the only team of six to be undefeated in what has been a solid start to the season by them.
– Mallee Bearings 8 (Joel Thomas 3, Mark Ljubic, Lee Thomas 2) d Cash Converters 3 (Matt Avers 2)
Skipper Joel Thomas has started in great form again winning three singles against Cash Converters and his four set defeat of last season's aggregate winner Matt Avers was a fine display and an indication that Thomas is at the top of his game. Even though Thomas won three singles the highlight of the match was the form of fill in Lee Thomas who in a busy night came up from pennant two and was able to win two singles in pennant one in an outstanding display. She defeated the experienced Mark Dorman in a nerve wracking five setter 6-11 11-8 7-11 11-9 11-9.
Later Thomas defeated Kevin Johns over four sets and in the second doubles Lee capped off an excellent night teaming up with son Joel to defeat difficult pair Matt Avers and Kevin Johns in four sets.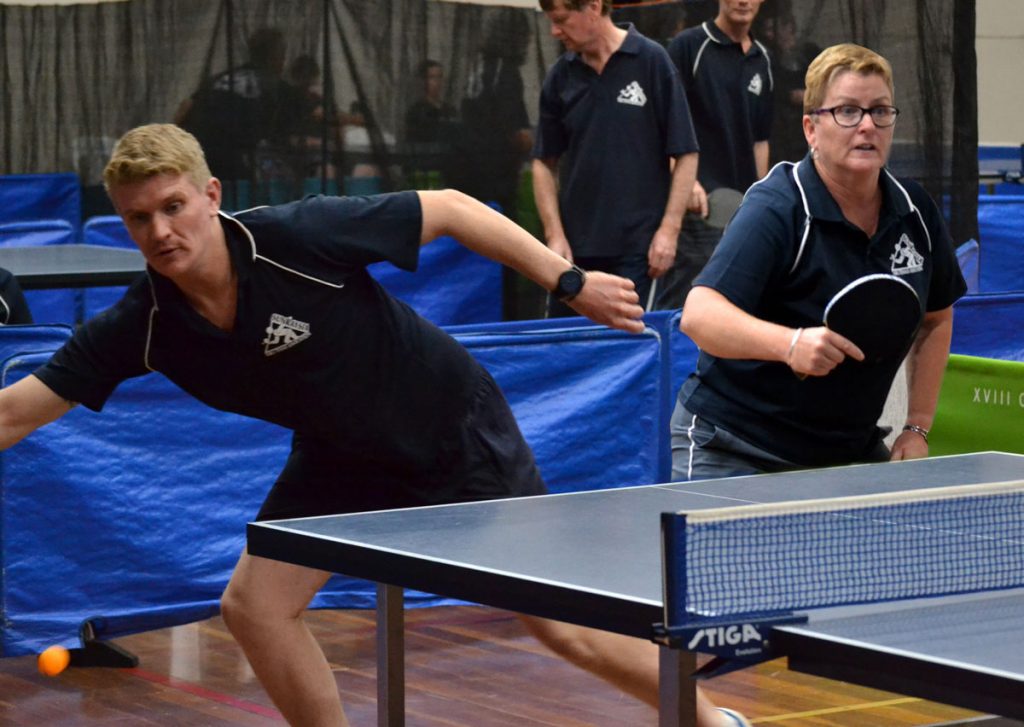 Could this have been the first time mother and son have teamed up in pennant one and what a result. Early in the match Mallee Bearings had trailed 2-3 before storming home to win the final six matches and finish with an amazing 8-3 score line against a very good opposition. The comeback kid Mark Ljubic also enjoyed a good night winning two singles for the victors as did Matt Avers for the Converters.
– Tankard Dental 8 (Gavin Carmichael 3, Jackson Tung 2, Shane Carmichael 1) d Exposed Signage/Apparel 3 (Matt Ljubic 2, Nicholas Dorman 1)
After a narrow loss last round Tankard Dental showed excellent form this round to defeat Exposed Signage/ Apparel 8-3 in an unexpected score line. Gavin Carmichael, Jackson Tung and fill in Shane Carmichael were able to win three, two and one singles respectively and along the way picked up both doubles in an outstanding win.
From three rubbers all, Tankards stepped into top gear winning the final five matches.
The highlight match was the singles between veteran Gavin Carmichael and Matt Ljubic who is in fine form. Carmichael grabbed the ascendancy early taking the first and third games and the fourth went on and on.
Carmichael had numerous chances but could not deliver the nail in the coffin as the fourth continued. In an amazing score line and after many excellent rallies Carmichael was able to take the points 11-4 7-11 11-6 and 21-19.
Ljubic won two singles for Exposed Signage while team mate Nicholas Dorman won one.
– Regional Taxation Services 6 (Wayne Carmichael 3, Mark Dorman, Bernadette Fitzpatrick 1) d Max Miller Carpets 5 (Shannon Bowen, Kate Carmichael 2)
Regional Taxation Services tasted success for the first time this pennant with a narrow 6-5 victory over Max Miller Carpets who won with that score line last round.
Wayne Carmichael was in ominous form and moving well after a recent hip operation winning three singles. His singles with opposing number one Shannon Bowen was vital to both teams and it was Carmichael in a close tussle winning 10-12 11-7 11-7 11-9. In the preceding match Carmichael teamed with Bernadette Fitzpatrick to defeat Bowen and Leon Brown in four sets.
Fitzpatrick, like Lee Thomas was doubling up from pennant two and with the scores locked at five rubbers all she was able to outlast Leon Brown 7-11 10-12 13-11 11-8 11-6 a great comeback and victory to the RTS combination after at one stage trailing 2-4. For the Carpeters Shannon Bowen and Kate Carmichael won two singles each and their doubles together in five sets however their team came up one rubber short.   
PENNANT TWO:

Three close games this week, and Pinnacle Packers are now the only undefeated side in the competition.
– Pinnacle Packers 6 (Brendan Alderton 3, Peter Midgley, Kerry Wallace 1) d Mallee Meats 5 (Sony Sefer 2, Russell Walder, Arthur Paar 1)
Despite a horror night for captain Peter Midgley, Pinnacle Packers were still too good for Mallee Meats in this second round clash.
Midgley would not be happy with his form here, as he played more like a number three than a number one.  He was cleaned up by Arthur Paar in four sets, likewise Sony Sefer.  He played in both doubles rubbers, winning one with Brendan Alderton, and then strangely downed opposing number one Russell Walder in five!
The star of this game was his number three Brendan Alderton, who took three singles rubbers.  Alderton outlasted Sefer, winning in five; he won in a similar fashion against Walder, and was not really troubled in his four set win against Arthur Paar.  With his doubles rubber also under his belt, Alderton was rightly proud of his contribution in this game.
Kerry Wallace, as usual, gave her all, playing three five set rubbers and one four setter.  Wallace lost to both Russell Walder and Sony Sefer in five sets, but out manoeuvred Arthur Paar in their five set encounter.  She and Midgley lost their doubles rubber to Walder and Sefer in four sets.
Over at Mallee Meats, Sefer was their best performed player, winning two singles, and that doubles.  After losing to Alderton in the first game of the night, Sefer thereafter remained undefeated in his remaining games.
Walder and Paar contributed one rubber each; Walder defeating Wallace, and Paar besting Midgley.
Final scores:  6 rubbers to 5 and 25 games to 24.
– Max Miller Carpets 6 (Bernadette Fitzpatrick 3, Tony Malycha 2) d Cookes Pools & Spas 5 (Seval Fuat 2, James Chick, Lee Thomas 1)
Bernadette Fitzpatrick led her team to a hard-fought 6-5 win against Cookes Pools & Spas.  Both she and opposing captain Lee Thomas had to fill-in in Pennant One, and Bernadette seemed to use the extra playing time to her advantage in this game.
She led from the front, winning all her singles rubbers, and the second doubles with Anthony Fox.  Thomas, on the other hand could only manage one rubber in singles play, and with James Chick, took the first doubles clash against Fitzpatrick and Tony Malycha in five sets.
Tony Malycha backed his captain, Fitzpatrick, well with two singles wins downing Cookes Pools & Spas number one and two (Thomas and Chick), but losing to the wily Seval Fuat in four sets.
Fuat in fact was the best performed for Cookes Pools & Spas with his two singles wins.  In the final rubber he ran through Anthony Fox in just three sets to keep the losing deficit to a minimum.
Final scores:  6 rubbers to 5 and 24 games to 17.
– Weightmans Packaging 7 (Nick Barlow 3, Ash Morrison 2) d MJM Automotive 4 (Alan Xu 2, Quentin Clark, Jason Gifkins 1)
 Weightmans Packaging took their first win for the season, against MJM Automotive, who are now the only side who have not recorded a win.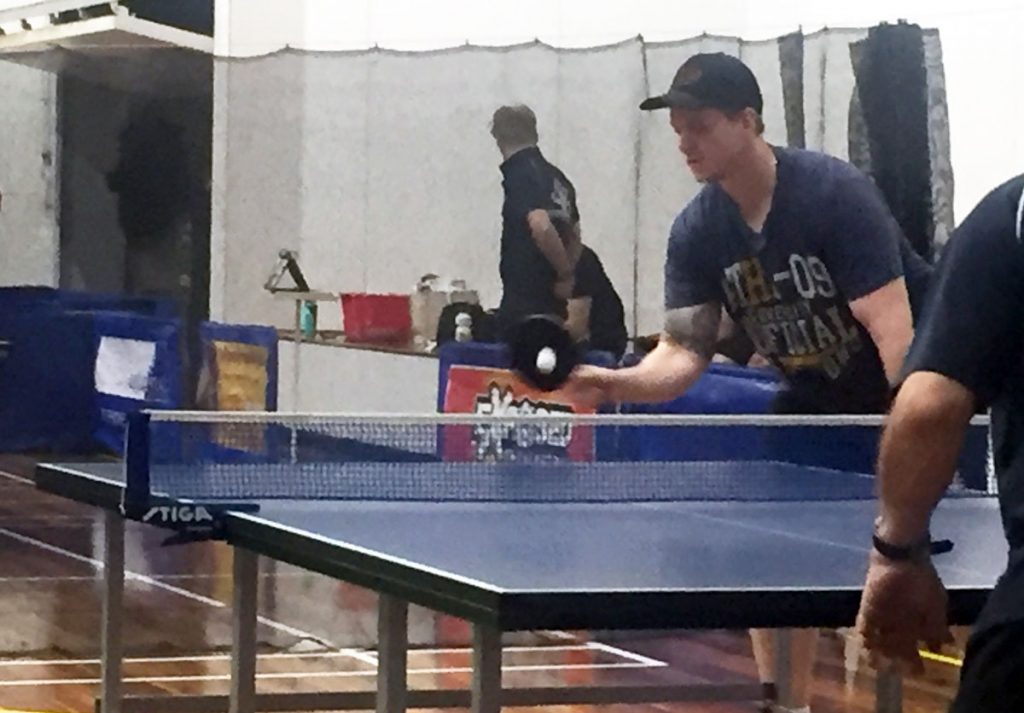 With his three singles wins, Nick Barlow was the stand-out player for Weightmans.  Barlow played Jason Gifkins the first rubber, and after a good tussle won 14-12 in the fifth set.  His wins against stand-in number one Alan Xu and Quentin Clark were a little easier, both in four.
Weightmans Packaging captain ash Morrison won two rubbers, beating Gifkins and Clark, but falling to Xu, who improved as the night went on.
The Weightmans pairings were dominant in the doubles rubbers – Morrison and Andrew Jones too good for Xu and Clark, winning in three, and later Morrison and Barlow, in a closer contest against Xu and Gifkins winning in five.
For MJM Automotive, Xu took two rubbers, and Gifkins and Clark one each.
Final scores:  7 rubbers to 4 and 27 games to 18.
PENNANT THREE:

With a 7-4 win against Weightmans Packaging, Regional Taxation Services are now the only undefeated side in this pennant; Sammy's Slammers cruised to a 9-2 win against MJM Automotive, and Tankard Dental downed Mallee Meats.
– Regional Taxation Services 7 (Paul Fitzpatrick, Lachlan Prothero 2, Huseyin Ismail 1) d Weightmans Packaging 4 (Jeremy Corrin 3, Rohan Reimers 1)
The Regional Taxation Services trio of Paul Fitzpatrick, Lachlan Prothero and Huseyin Ismail all contributed to their win in this game against Weightmans Packaging.
Fitzpatrick and the improving Prothero won two singles, and Ismail one.  Wins in both doubles, Fitzpatrick and Ismail after two close sets won comfortably against Jeremy Corrin and Rohan Reimers 11-3, 12-10, 11-4, 11-7, and then Fitzpatrick and Prothero in five sets against Corrin and Dylan Wood, pushed the score out to seven rubbers.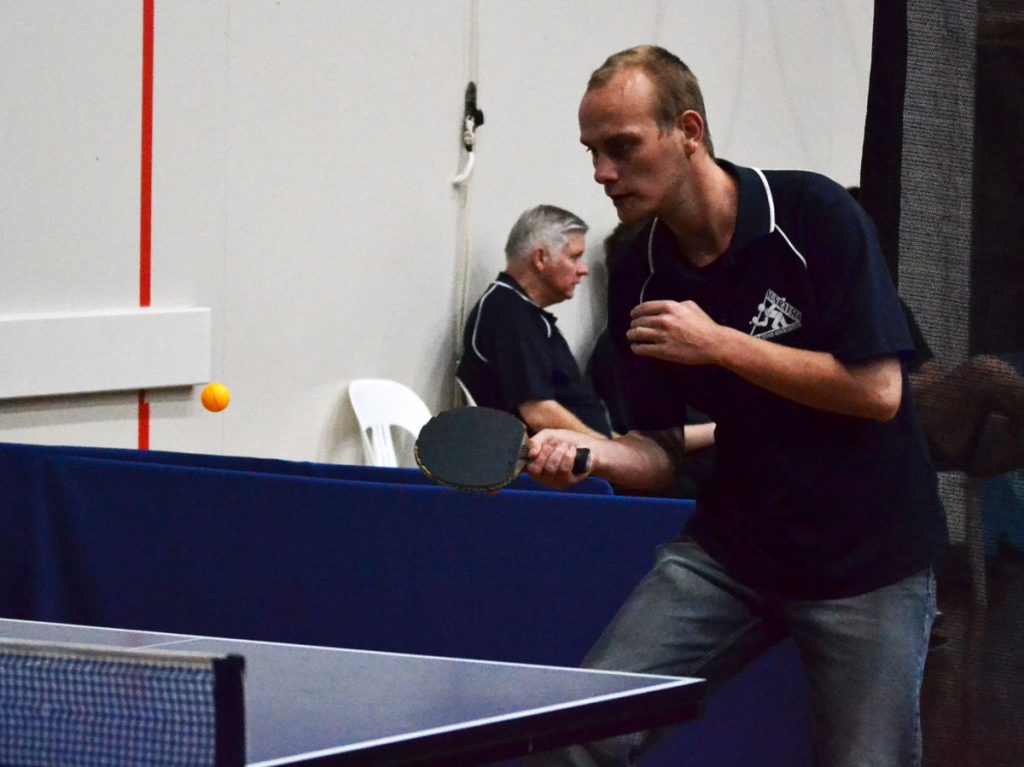 For Weightmans Packaging, Jeremy Corrin remained undefeated in singles play, dropping just one set along the way, this to opposing captain Fitzpatrick, winning that 11-9, 11-6, 8-11, 11-6.  With Reimers picking up just one singles rubber, against Ismail in the eleventh rubber, pickings were slim for Weightmans.
Final scores:  7 rubbers to 4 and 22 games to 19.
– Sammy's Slammers 9 (David Sergi 3, Liam Wood 2, Brice Lock 1) d MJM Automotive 2 (Tom Morrison, Marcus Cimino 1)
David Sergi and Liam Wood helped themselves to three wins apiece in this demolition job against MJM Automotive.
Sergi downed his father-in-law Nick Kiapekos in four sets in the first round of singles, defeated stand-in Marcus Cimino in three, and looked like he would win in three against Tom Morrison when he led 11-9, 11-7.  Morrison bounced back to take the next two sets, but faded badly in the fifth, Sergi taking that set 11-3.
For the second week running, Liam Wood took three singles, and this effort sees him sitting, at this early stage, on top of the aggregate ladder.  Wood was in fine form, winning all his matches in just three sets.
With Brice Lock chipping in with one win and the side taking both doubles rubbers, Sammy's Slammers sped away to a 9-2 victory.
Final scores:  9 rubbers to 2 and 27 games to 12.
– Tankard Dental 7 (John Fitzpatrick, Karly Leach 2, Luke Ljubic 1) d Mallee Meats 4 (Tom Morrison, Therese Fitzpatrick 1)
After a close 6-5 loss last week, Tankard Dental were too good for Mallee Meats in this round.
The Tankard Dental duo of John Fitzpatrick and Karly Leach won three singles each – John in particular playing very well, winning each in just three sets.  Leach downed stand-in Tom Morrison and Mallee Meats number three Arnold Jago in four sets, but had to work a bit harder before she got the better of Therese Fitzpatrick, winning that one 11-9, 11-13, 10-12, 11-5, 11-7.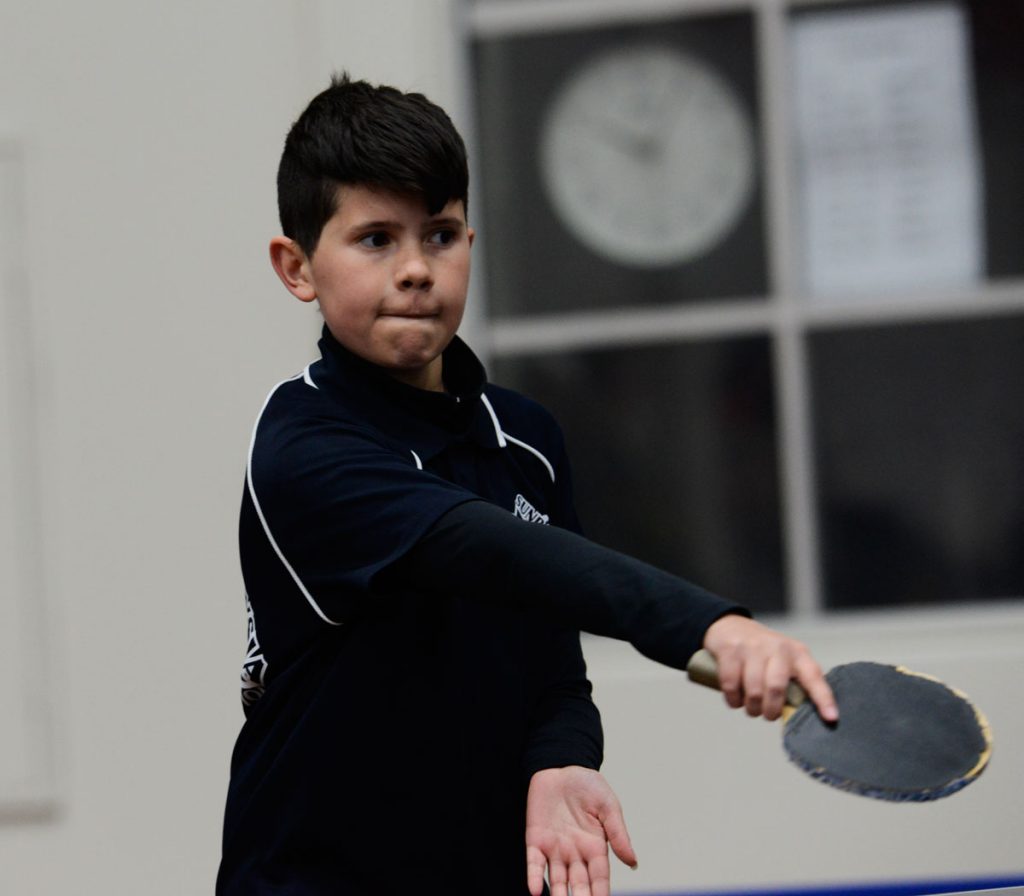 Luke Ljubic contributed to his side's win with a win against Arnold Jago to give his side seven singles rubbers, but the team could not manage either doubles.  Despite having what appeared a comfortable grip in the first doubles, the Tankard Dental duo of John Fitzpatrick and Karly Leach, leading two sets to one, could not hold off Tom Morrison and Therese Fitzpatrick who won 7-11, 11-4, 6-11, 11-5, 11-9.
The second doubles rubber was closer Morrison and Jago winning a closer four set contest 11-6, 7-11, 12-10, 13-11 against Fitzpatrick and Ljubic.
With just two singles rubbers to their side, those two doubles wins kept the loss here looking "respectable" for the Mallee Meats team.
Final scores:  7 rubbers to 4 and 28 games to 16.
PENNANT FOUR: