Read Time:
9 Minute, 56 Second
Play recommenced last week after the school holiday break with round four of the Sunraysia Table Tennis "Cash Converters" 2017 pennant taking place with all matches in pennant one decided by a narrow margin of 6-5.

Three players, Matt Avers, Leslie Ncube and Kate Carmichael stood out for their respective teams all winning three singles in outstanding fashion. Avers scored an excellent five set win over his mentor Joel Thomas after trailing two games to love. Ncube for Weightmans Packaging won his three singles all in five sets to almost get his team over the line against the top team while Carmichael won three singles against quality opposition to enable her team Cash Converters to grab second position on the ladder.
PENNANT ONE:
– Tankard Dental 6 (Joel Thomas, Reece Kurrle 2, Ashley Morrison 1) d Mallee Bearings 5 (Matt Avers 3, Shane Carmichael 1)
With their 6-5 win over Mallee Bearings, Tankard Dental with their second win were able to secure fourth position on the ladder.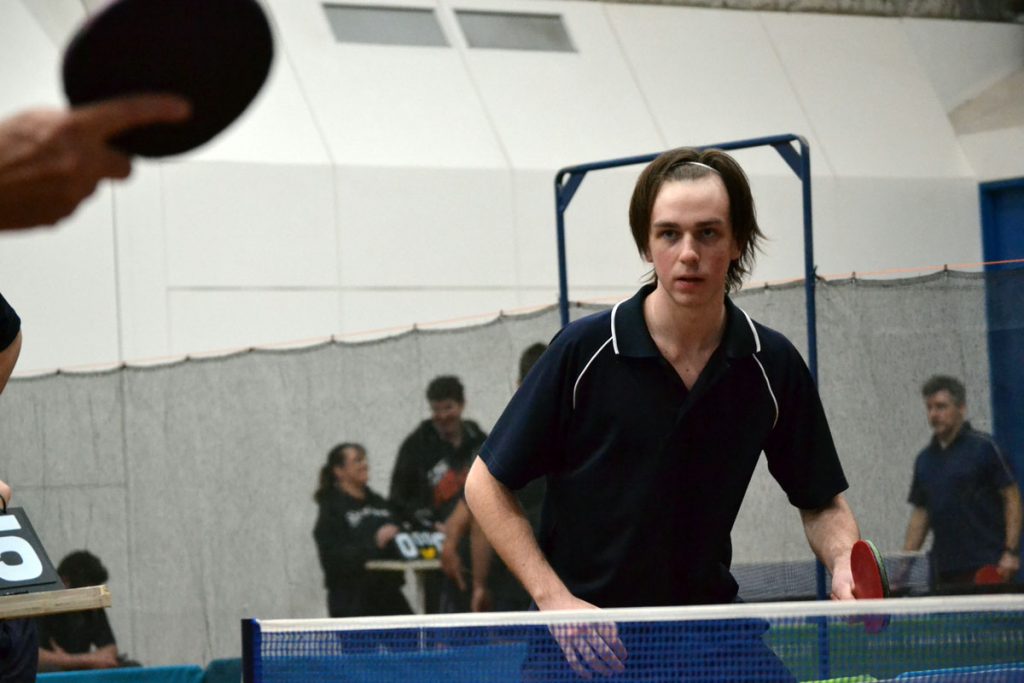 The highlight match in this contest and possibly the singles match of the season to date was the clash between Matt Avers and leading player Joel Thomas. Thomas has been a mentor and coach to Avers for some time now and Avers proved he has been  taking the information on board by recovering from a two games to love deficit to win 9-11 6-11 11-6 11-7 11-9 in a match containing many fine rallies and many highlights for the interested spectators.
With Joel Thomas winning two singles and team mates Reece Kurrle and Ash Morrison two and one singles respectively Tankards were able to claw back from a 4-5 deficit to win 6-5. Thomas and Kurrle combined in the important first doubles to defeat Avers and Shane Carmichael in four sets.
– Cash Converters 6 (Kate Carmichael 3, Matt Ljubic 2) d Regional Taxation Services 5 (Shannon Bowen 2, Mark Dorman, Ed Hung 1)
Going into their match Cash Converters and Regional Taxation sat second and third with two wins and one loss apiece.
The match was close all the way however it was Kate Carmichael for Cash Converters who gave her team the edge winning three singles in outstanding fashion against quality opposition. Her first singles was against Shannon Bowen with Carmichael narrowly grabbing the first two games, Bowen struck back in the third as expected however Carmichael was able to go on and win in four, later she defeated Ed Hung in straight sets and with the match at five rubbers all she managed to outlast Mark Dorman in a tough five setter to gain the four points for Cash Converters.
Converters skipper Matt Ljubic played an important role winning two singles as well as combining with Ash Morrison in a must win second doubles against the challenging pair of Shannon Bowen and Ed Hung winning 12-10 12-10 11-8.
– Exposed Signage/Apparel 6 (Gavin Carmichael, Nicholas Dorman 2, Leon Brown 1) d Weightmans Packaging 5 (Leslie Ncube 3, Zac Healy 1)
The final match of the round featured undefeated top team Exposed Signage / Apparel up against the winless Weightmans Packaging. The top team were off to a flyer leading 4-1 however Weightmans Leslie Ncube turned the match on its head by winning three singles as well as partnering Jackson Murphy against Nicholas Dorman and Leon Brown in the second doubles winning in a five set thriller.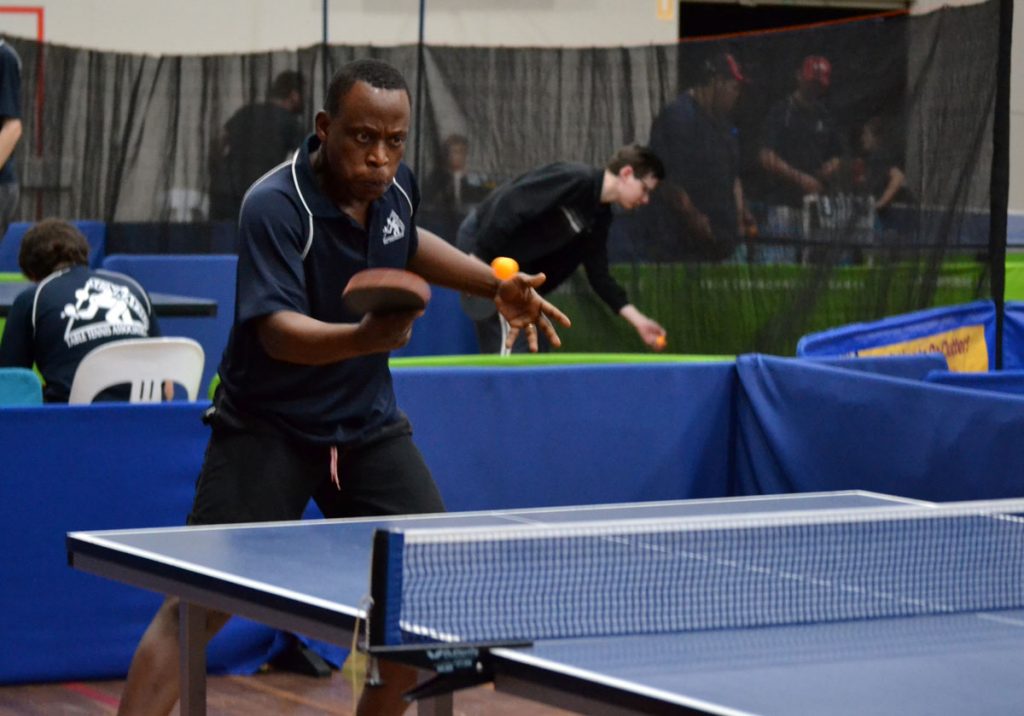 In his first singles Ncube recovered from a deficit against the experienced Gavin Carmichael to win 13-11 10-12 1-11 11-9 12-10, his second match again was a top class contest defeating Nicholas Dorman in another close five setter. Amazingly Ncube recovered from 1-5 down in the fifth against Carmichael and 2-6 down in the fifth against Dorman. His ability to keep the ball in play from a long way back frustrated his opponents on the night. To win his third singles this time against Leon Brown he again won in another marathon five setter.
Sadly Ncube's team came up one rubber short however he had been outstanding. Ncube is in his third season with the STTA and has been an excellent recruit since arriving from his previous club in Queensland.  
PENNANT TWO:
The two top teams, Mallee Bearings and Pinnacle Packers had comfortable wins this round, the big mover being Max Miller Carpets who jumped from fifth to third on the ladder after doing a demolition job on Mallee Meats.
– Mallee Bearings 8 (Peter Midgley 3, Andrew Jones, Quentin Clark 2) d Weightmans Packaging 3 (Nick Barlow, Arthur Paar 1)
Top team Mallee Bearings cruised to a 9-2 victory against Weightmans Packaging in this round.
Leading 2-0 after the first two rubbers, Weightmans Packaging did not get a look in after that.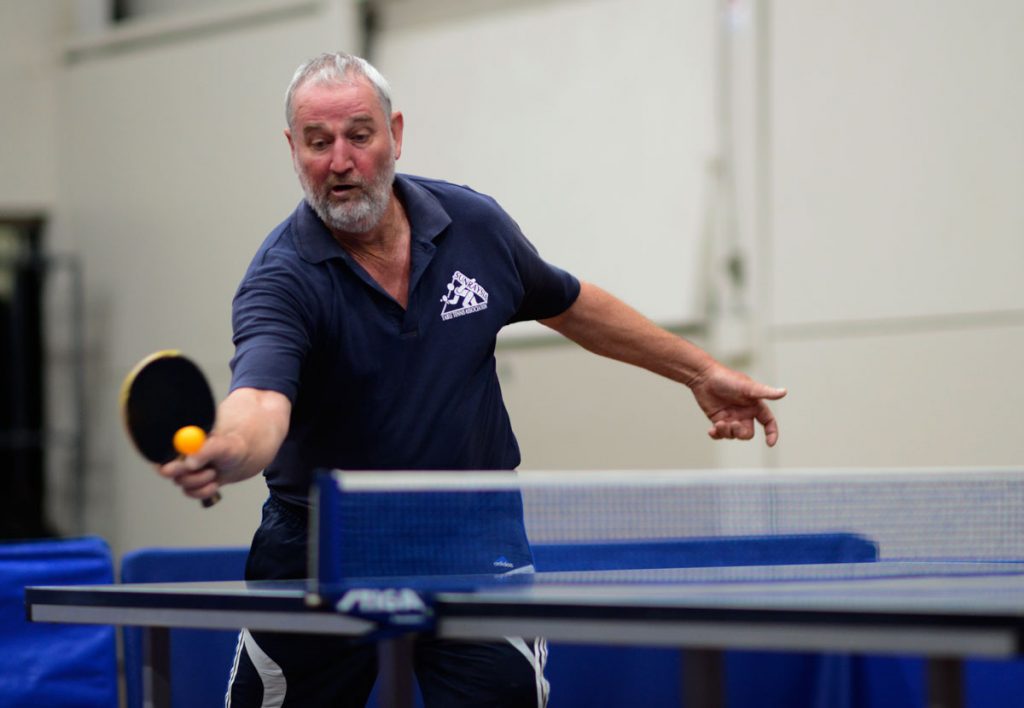 Mallee Bearings captain Peter Midgley took three singles wins – three set wins against last round giant killer Kerry Wallace, and also opposing captain Arthur Paar.  In the match of the night, his clash against Nick Barlow was top class.  Although the match was at that stage determined (Mallee Bearings led 6-2), Barlow took the game to Midgley and slugged it out for five sets, Midgley scraping home 9-11, 11-8, 14-12, 10-12, 14-12.
Earlier, Mallee Bearings number three Quentin Clark had come back from the dead when he defeated Weightmans Packaging number two Wallace in five.  Trailing 11-13, 1-11, Clark obviously had a re-think whilst changing ends after the second set, coming back strongly to take the final three sets 11-7, 12-10, 11-9.  And to show this was no fluke, Clark downed Weightmans Packaging captain Paar in just four sets in the final rubber.
Final scores:  9 rubbers to 2 and 26 games to 17.
– Pinnacle Packers 7 (Brendan Alderton, James Chick, Geoff Wright 2) d MJM Automotive 4 (Thanh Nyugen 3)
Pinnacle Packers, sitting second on the ladder, had a good tussle with MJM Automotive, before winning 7-4.
Once again, MJM Automotive captain Thanh Nyugen picked up three singles wins, and this sees him sit atop the aggregate ladder with a perfect score of 12.
However, Geoff Wright, Brendan Alderton and James Chick all took wins against Nyugen's team-mates Adrian Fox (subbing for father Anthony), and Claire Ljubic.
Claire Ljubic ran Wright close in the night's opening rubber.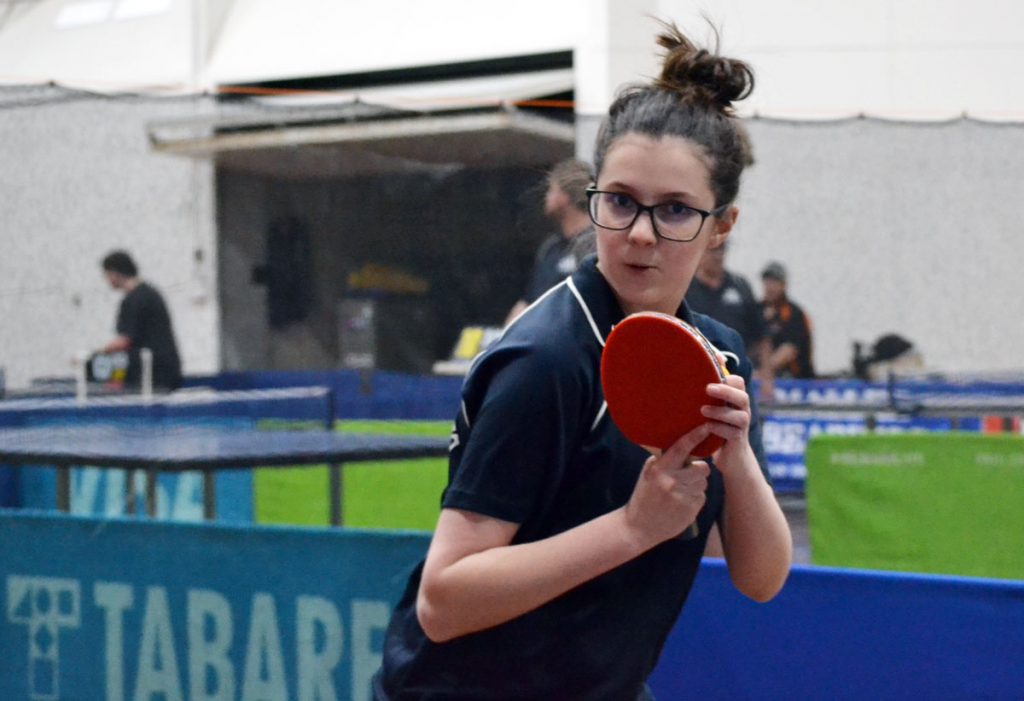 Claire strung four good sets together to take the game to the decider, however Wright powered away in the fifth, to take the match 9-11, 11-7, 13-15, 14-12, 11-2.  Wright looked like he might take the season's first rubber from Nyugen too when he led two sets to love 11-8, 11-2.  However, Nyugen quickly reversed things, taking the finals three sets 6, 3 and 8.
The doubles rubbers were shared, Nyugen and Ljubic downing Wright and Alderton 10-12, 11-9, 11-6, 4-11, 11-6.  In the second doubles, Ljubic and Fox paired together, and almost caused an upset against Wright and Chick before the Pinnacle Packers took control to win 12-10, 9-11, 11-13, 11-4, 11-7.
Final scores:  7 rubbers to 4 and 27 games to 18.
– Max Miller Carpets 10 (Tony Malycha, Russell Walder 3, Michael Hensgen 2) d Mallee Meats 1(James Chick 1)
 In the round's most one-sided contest, Max Miller Carpets thrashed Mallee Meats 10-1.
Only James Chick, subbing for Geoff Peters, took a win for Mallee Meats, this against Michael Hensgen 11-7, 11-8, 18-16.
The rest of the night belonged to Max Miller Carpets.
Captain Russell Walder picked up his three wins with a three set win against Chick and then four sets against Seval Fuat and Jason Gifkins.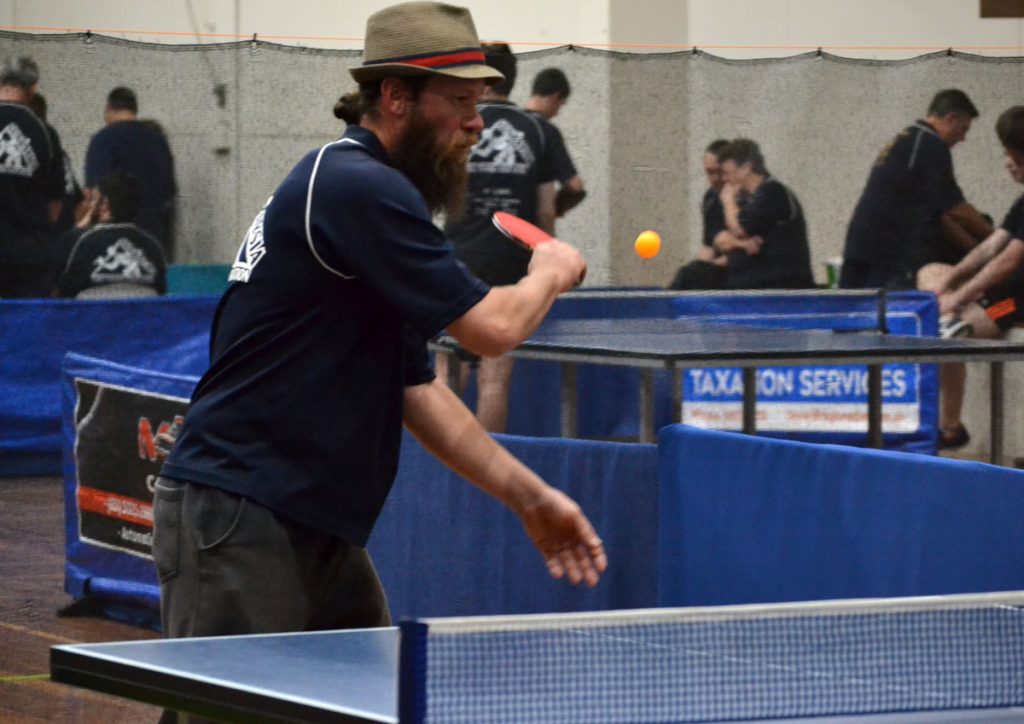 Tony Malycha had to work a bit harder for his three wins; downing Fuat in five, and Gifkins and Chick in four.
Both doubles went to the victors, the first doubles however, could have easily gone to Mallee Meats.  Gifkins and Fuat led two sets to one 7-11, 11-7, 14-12, but could not hold out the pairing of Walder and Hensgen, who took the last two sets 9 and 8.  The second doubles was a straight set win to Hensgen and Malycha over Gifkins and Chick 9, 9 and 4.
Final scores:  10 rubbers to 1 and 30 to 13.
PENNANT THREE:
Sammy's Slammers and Mallee Meats both took wins this week, and now sit first and second on the ladder, MJM Automotive slipping to third by virtue of the bye.
– Sammy's Slammers 6 (Paul Fitzpatrick 3, Anthony Sergi 1) d Tankard Dental Tankard Dental 5 (Sabrina Fitzpatrick, Nick Kiapekos 2, Stephan Ljubic 1)
Sammy's Slammers notched up their third win of the season, this time against Tankard Dental, who are yet to register a victory.  Surely, it won't be far away though for the Tankard side, they are getting closer to a win, their losses being 2-9, 4-7, and now 5-6.
Sammy's Slammers were probably a little fortunate to get this win too.  Paul Fitzpatrick again took three singles wins (and now sits at the top of the aggregate ladder, undefeated), but the team had to rely on wins in both doubles, as only Anthony Sergi, subbing for Leonie Dunkley could add a singles rubber, with a win against Stefan Ljubic.
The first of the doubles went to Sammy' Slammers in four sets, but the second was very much up for grabs, and as things turned out, had they lost that rubber, Tankard Dental would have won the night.  Paul Fitzpatrick and Anthony Sergi traded sets with Sabrina Fitzpatrick and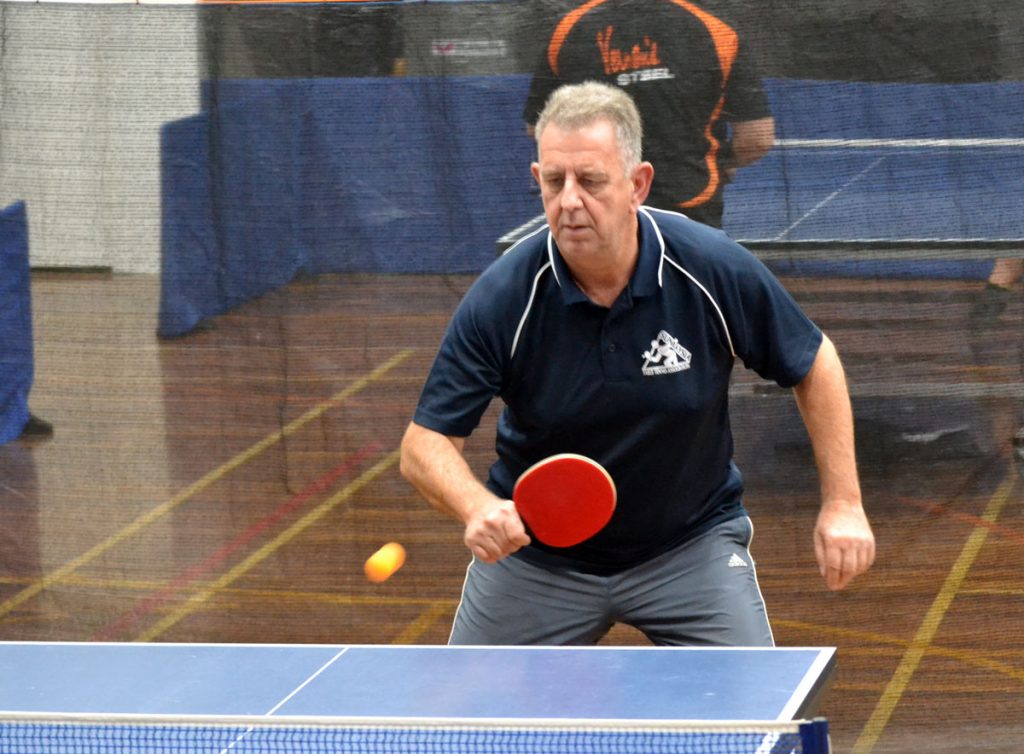 Nick Kiapekos and just got home 12-10 in the fifth.  The score after that rubber was 5-3 to the Slammers, 4-4 would have seen the Tankard side win …
For Tankard Dental, both Sabrina Fitzpatrick and Nick Kiapekos picked up two singles wins, both downing Marcus Cimino and Anthony Sergi.  Stephan Ljubic chipped in with one, also against Cimino to give them five rubbers.
Final scores:  6 rubbers to 5 and 19 games all.
– Mallee Meats 8 (Jeremy Corrin 3, tit 2, David Sergi 1) d Weightmans Packaging 3 (John Fitzpatrick 2, Huseyin Ismail 1)
Mallee Meats came away from this encounter, bruised, but with an 8-3 score line in their favour.
Weightmans Packaging never gave up.  Consider, there were six five set contests, and Weightmans did not win one of them !!  Of the other five rubbers, four of them went to four sets.  A big night.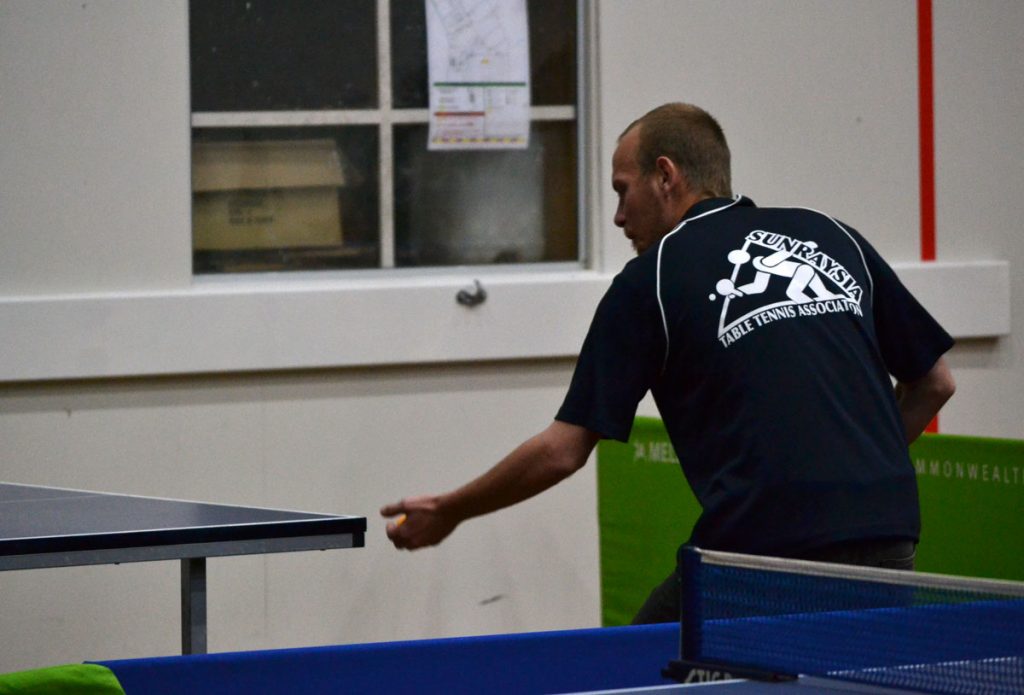 Mallee Meats captain Jeremy Corrin would have slept well that night.  He won five rubbers (three singles, two doubles), defeating Huseyin Ismail in four sets, then John Fitzpatrick and Rohan Reimers in five apiece.  Added to that both the doubles were five set affairs, Corrin and David Sergi seeing off John Fitzpatrick and Ismail 11-9 in the fifth, and in the second doubles Corrin and Therese Fitzpatrick downing John Fitzpatrick and Reimers 13-11, 9-11, 13-11, 5-11, 13-11 in a very close contest.
Therese Fitzpatrick played well for Mallee Meats, picking up two singles wins – playing some great table tennis against Rohan Reimers to down him in five sets, and later another great tussle against Ismail, also a five set win.
For Weightmans, only John Fitzpatrick and Ismail added to their score, Fitzpatrick with wins against his sister Therese, and Sergi, and Ismail also against Sergi.
Final scores:  8 rubbers to 3 and 26 games to 23.
PENNANT FOUR:
– Mallee Meats 6 (Dave Tanner 3, Miya Lock 2) d Regional Taxation Services 5 Matt Sires 2, Austin Taylor, Casey Taplin 1)
– Dunkley Scales 10 (Luke Ljubic, Brice Lock 3, Isaiah Bettes 2) d Tankard Dental 1 (Paul Kerr 1)