Read Time:
13 Minute, 20 Second
Our next left handed star!


You may get used to hearing Matt Avers in the highlights over Winter 2016 as the young left hander wasted no time in making his presence felt in rnd 1 of the new Winter season. By seasons end we may well wonder, how did he grade as a no.2. I am sure 'El Presidente' Mark Dorman will be quietly confident with this formidable Exposed Signage side. 
Table Tennis is up and running again with the commencement of the first senior pennant for 2016.Round one of the "Cash Converters" Sunraysia Table Tennis winter pennant started in humid conditions last week at the Irymple Leisure Centre with twenty three teams taking part over four pennants. President Mark Dorman is pleased with the numbers and also indicated that this is the strongest pennant one competition in his forty years associated with table tennis in Sunraysia. Players returning to the association after a lengthy break include Rohan Reimers, Vin Brown and Jacinta Ljubic.
Sunraysia's top three ranked players Joel Thomas, Wayne Carmichael and Rick McMeekin are taking part in this pennant and with the return of Shannon Bowen who did not play in 2015 some exciting matches were witnessed in round one action. New player Isaac Liu almost created big news in his first match when he took a two games to love lead over Joel Thomas who did not lose a match last year. Thomas recovered to win in five but received a scare. Liu has transferred to the area in his employment and will be an asset to the STTA. He possesses a good all round top spin game with a very solid defence and the ability to attack when required. He also has a variety of serves which will be difficult to handle.
PENNANT ONE:
– Tankard Dental 7 (Joel Thomas 3, Kate Carmichael 2) d Weightmans Packaging 4 (Gavin Carmichael 2, Isaac Liu, Shane Carmichael 1)
Tankard Dental with Thomas winning three singles proved too good for Weightmans Packaging 7 rubbers to 4. Thomas received good support from Kate Carmichael who won two singles including an excellent five set win over Liu,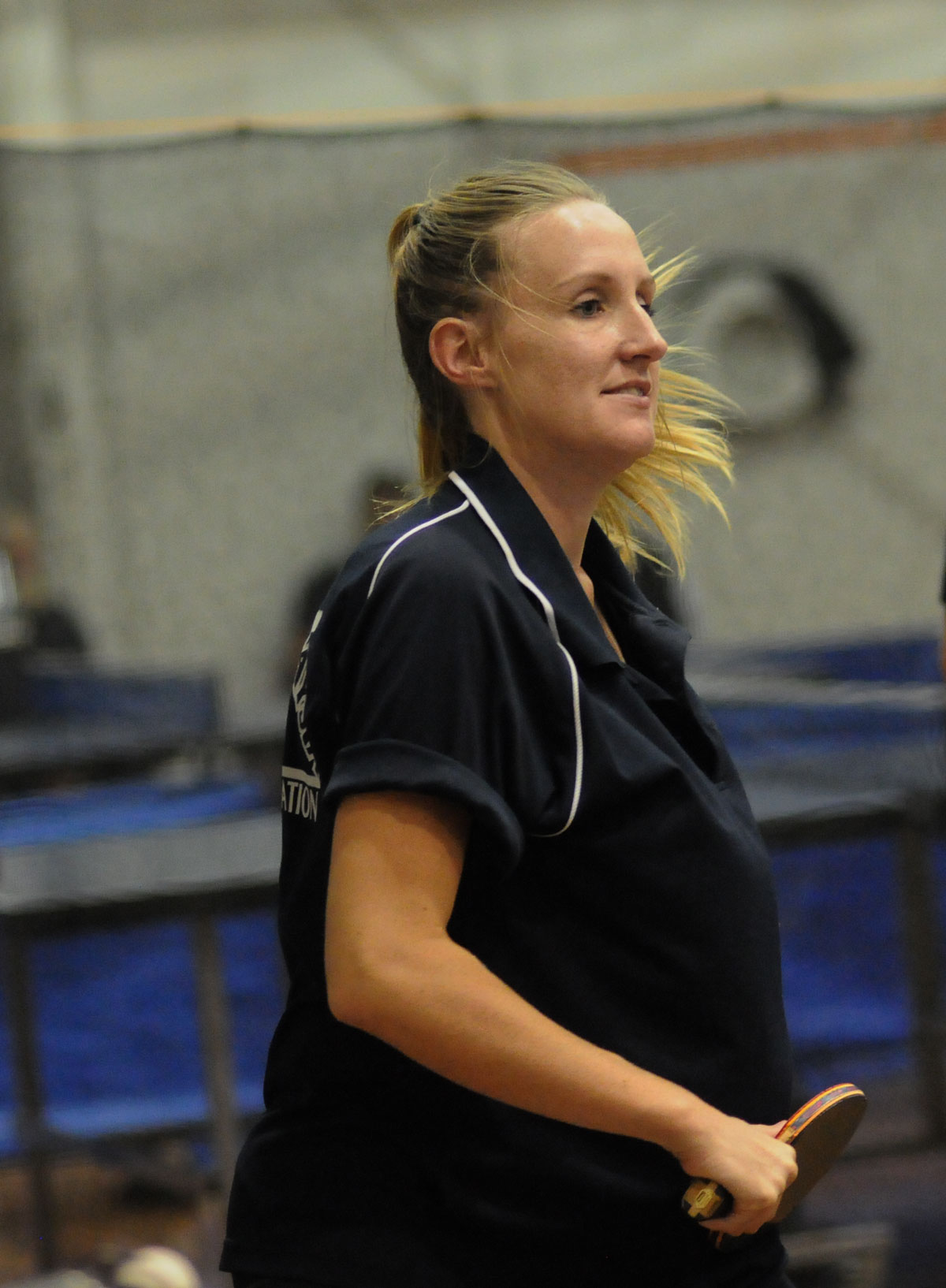 Carmichael defended many fine looping forehands from Liu to take the points. Tankards also tasted success in both doubles to ensure victory.
– Exposed Signage/Apparel 6 (Matt Avers 3, Mark Dorman 2) d Cash Converters 5 (Rick McMeekin 2, Jackson Tung, Leslie Ncube 1)
The closest match of the round featured Exposed Signage up against Cash Converters on the grand stand court, and what a start to the season for 15 year old Matt Avers who won three singles to be instrumental in Cash Converters taking the points 6-5.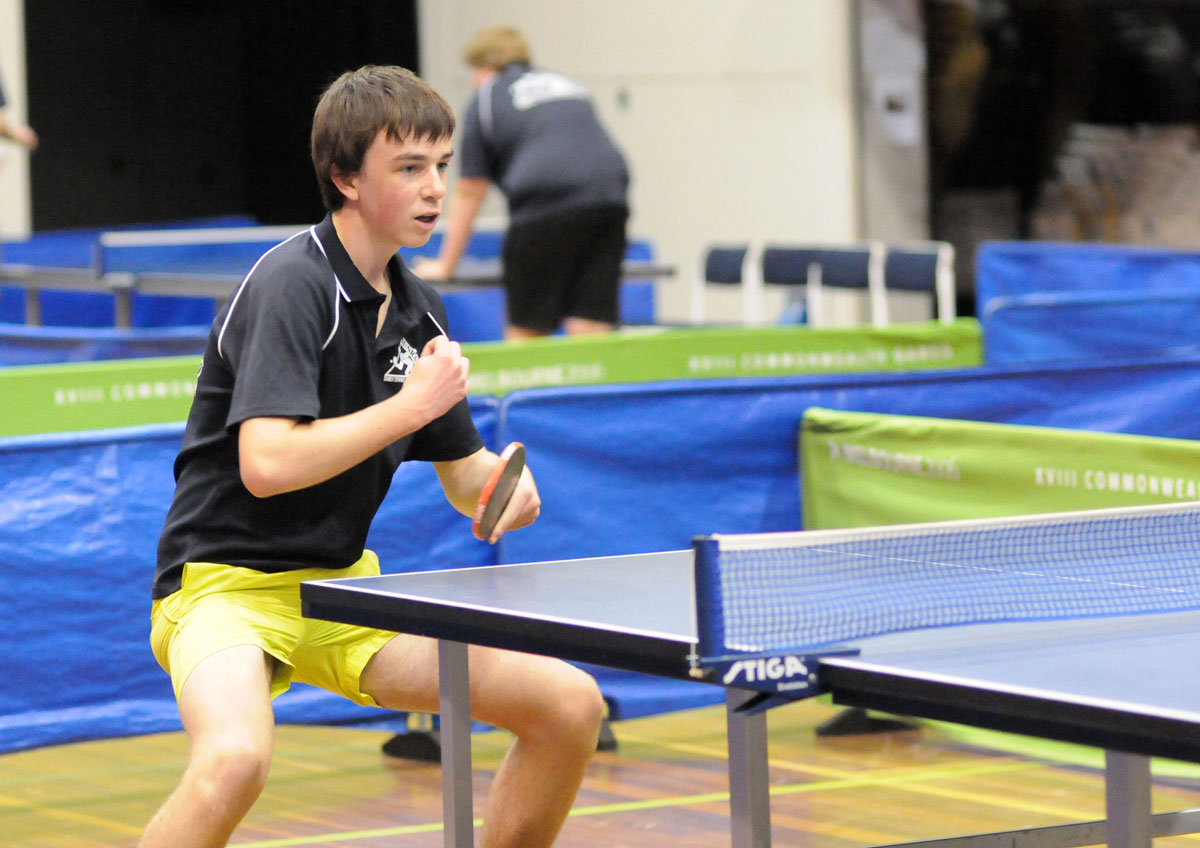 In his first singles Avers held off opposing number one Rick McMeekin in an excellent five set contest 10-12 11-9 8-11 11-9 11-9 close all the way, then later Avers recovered from a two game to one deficit to defeat Jackson Tung in another five setter to get his team over the line.
– Regional Taxation Services 7 (Wayne Carmichael 3, Mark Ljubic 2) d Mallee Bearings 4 (Matt Ljubic 2, Shannon Bowen, Nicholas Dorman 1)
In a match containing four five setters Regional Taxation Services defeated Mallee Bearings 7-4 on centre court. Wayne Carmichael won three singles for the victors while Mark Ljubic won two. Carmichael and opposition skipper Shannon Bowen enjoyed a titanic struggle with Carmichael. At one stage Bowen took a two games to one lead and with a 6-1 advantage in the fourth he was a real chance however as he can Carmichael recovered to win 10-12 11-5 13-15 11-9 11-9 another outstanding match between these two. Each of Bowen's singles matches went to five and his match against Mark Ljubic was a marathon as well with Ljubic taking the points 11-7 7-11 10-12 11-6 12-10. Ljubic would later lose to his son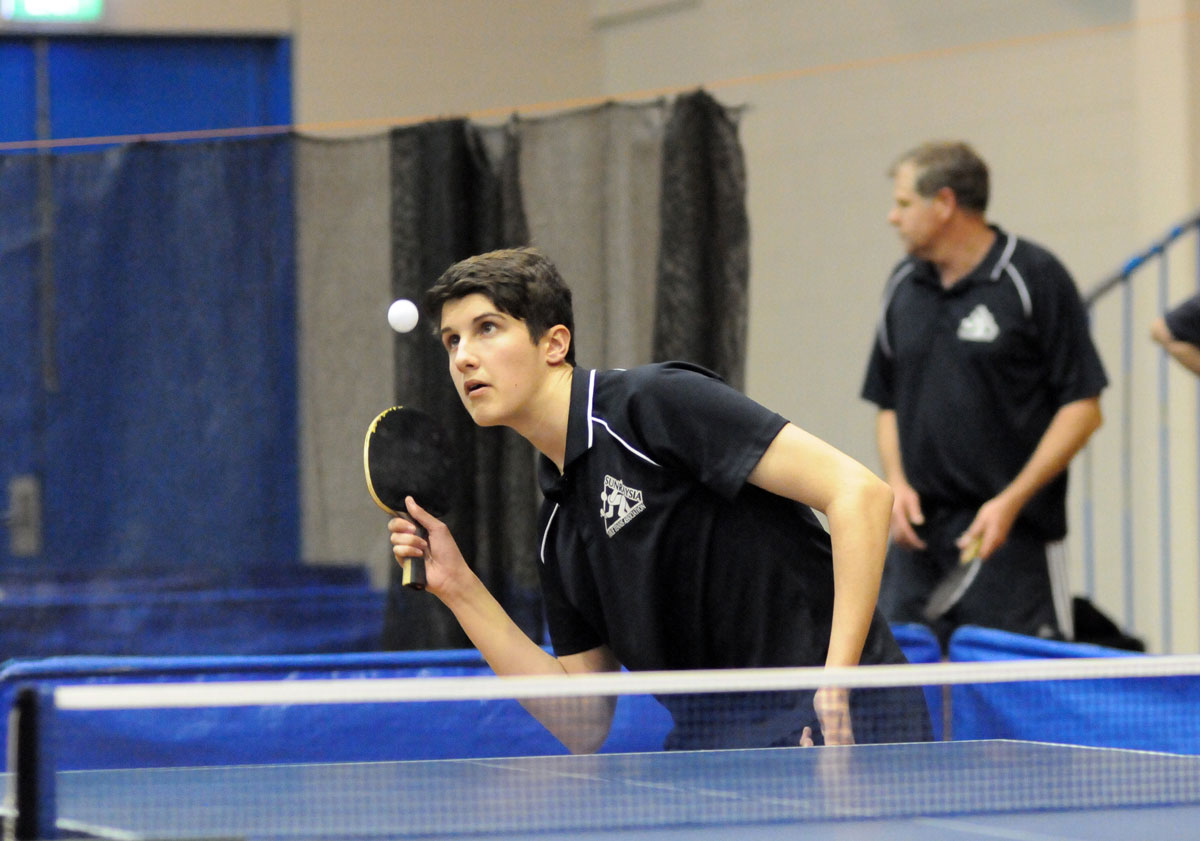 Matt in four sets and the younger Ljubic appears to be taking the ascendancy whenever these two step up to the table. Ljubic senior however has placed an order for a new bat and it could be interesting when they next meet.
There were some outstanding matches played in round one and a successful season is looming for the STTA.
PENNANT TWO: 
This promises to be a very hard-fought pennant this season, with many players having had recent experience in Pennant One.  Although results were a bit one-sided this round, the calibre of the teams will mean that the losers this week may well inflict a similar score on their opponents' next round.
– Mallee Bearings 8 (Jackson Murphy 3, Lee Thomas, Terry Martin 2) d MJM Automotive 3 (Bernadette Fitzpatrick 2)
The Mallee Bearings trio of Jackson Murphy, Lee Thomas and Terry Martin gelled immediately, recording a strong win.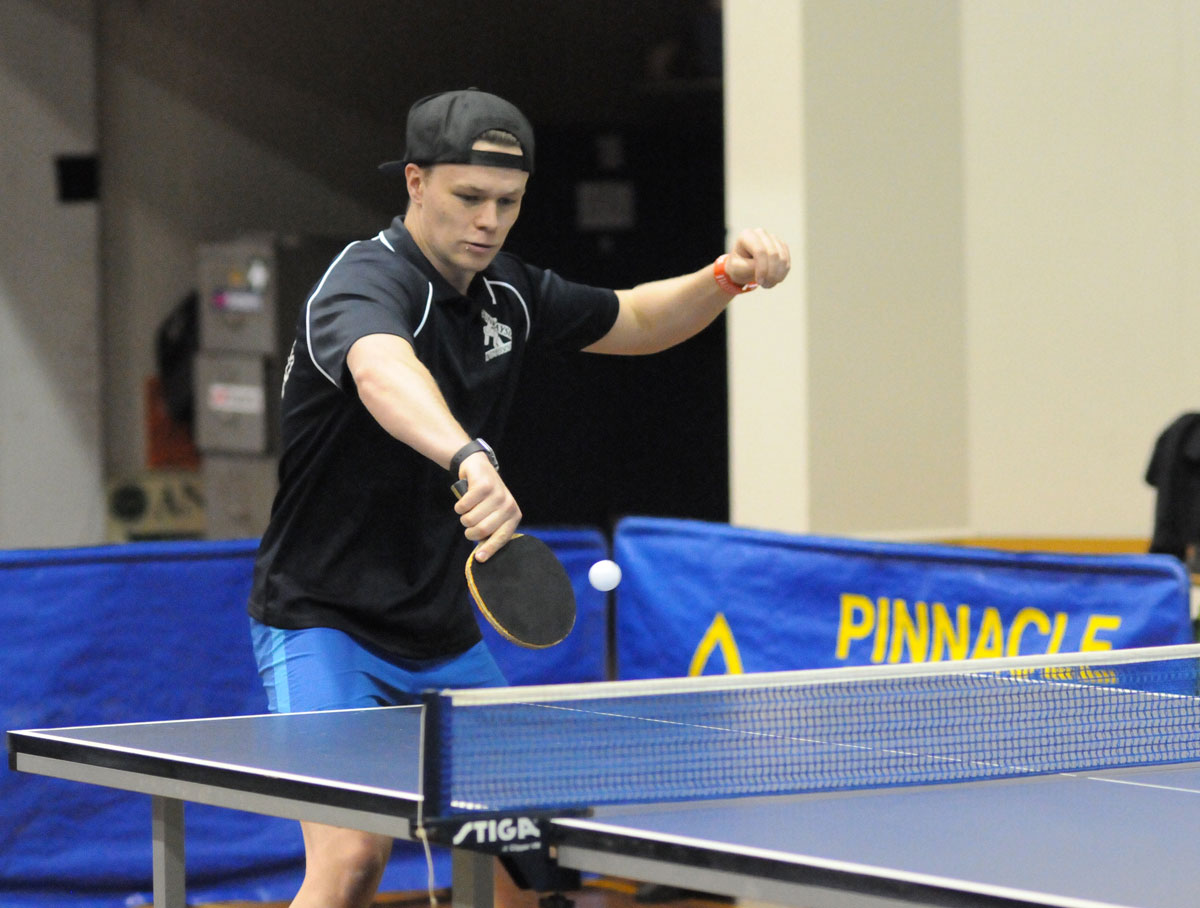 Captain Murphy took three singles wins,  downing Seval Fuat in four sets, in five against Tony Malycha and coming from behind 1-2 to upset opposing captain Bernadette Fitzpatrick.
Thomas and Martin took two wins each, and after trailing two sets to love, Murphy and Martin got the better of Fitzpatrick and Fuat to take the last three sets in the second doubles.
That gave Mallee Bearings eight rubbers.
MJM Automotive took the first doubles; Fitzpatrick and Malycha winning in four sets 14-12, 5-11, 11-9, 13-11.  Fitzpatrick took singles wins against Thomas and Martin, both in three sets.
The game of the match was Jackson Murphy (1) against Tony Malycha (2).  Sets alternated to two sets all, Malycha giving Murphy a bit of scare with the way he handled his opponent's game.  Murphy hit his straps in the fifth, taking that set easily 11-4.
Final scores:  8 rubbers to 3 and 25 games to 18.
– Mallee Meats 7 (Russell Walder 3, Tony Malycha, Andrew Jones 2) d Weightmans Packaging 4 (Arthur Paar, Kerry Wallace 1)
Despite their captain, Geoff Wright, being absent, Mallee Meats were too strong for Weightmans Packaging.
Wright took the night off to go to the harness racing (hope he won there too !!), and was replaced in this game by Tony Malycha.  Considering Malycha is graded as a two, he was filling big shoes; however, he did himself proud with two wins, trouncing a very rusty Ashley Morrison in three sets, and later on out-playing Arthur Paar to win in four.
Mallee Meats number two Andrew Jones was his usual consistent self, taking two rubbers also, but the real surprise was the number three, Russell Walder.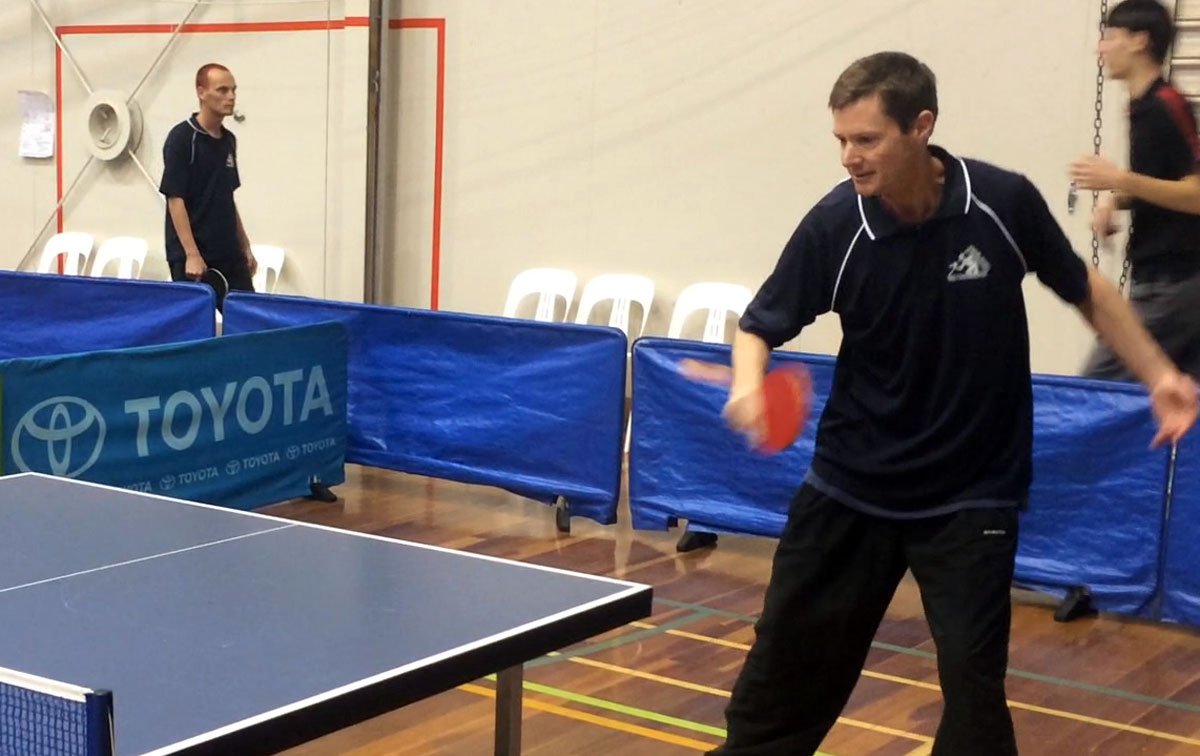 Walder upstaged both his team-mates, with three great wins two of them in five, and the other in four.
Weightmans Packaging took both the doubles rubbers; Morrison and Paar winning in five after being two sets to love down against Malycha and Jones in the first, and later Morrison and Kerry Wallace winning a tight four setter against Jones and Walder.  Those doubles wins gave the Weightmans score a bit of respectability, to go with the other two rubbers scored by Morrison and Wallace.
Final scores:  7 rubbers to 4 and 24 games to 19.
– Pinnacle Packers 8 (Kevin Johns 3, Peter Midgley, Jason Gifkins 2) d Max Miller Carpets 3 (Ed Hung 2)
Pinnacle Packers were the second team in this grade to come away with an 8-3 win.  Pinnacle Packers took seven of the nine singles rubbers, and captain Kevin Johns and Peter Midgley the first doubles.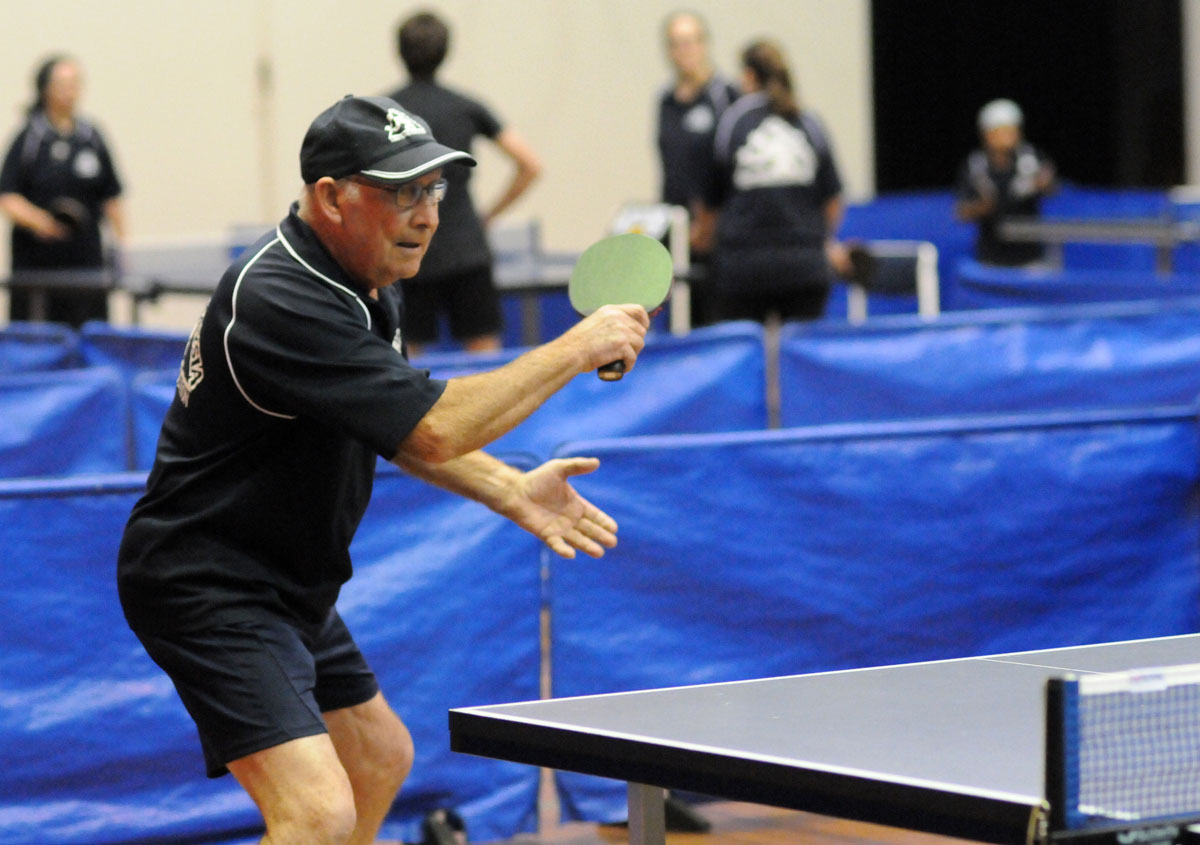 Johns led the way for his team, taking three wins, Midgley two and number three Jason Gifkins also starting the season well, with two scalps.
Only Max Miller Carpets captain Ed Hung could take any singles rubbers for his team, after losing in five to his opposite number Johns, Hung easily defeated Midgley and Gifkins, both in three.  He and Brendan Alderton took the second doubles in four sets against Johns and Gifkins.
Final scores:  8 rubbers to 3 and 25 games to 16.
PENNANT THREE: 
MJM Automotive, Mallee Meats and Weightmans Packaging started the season in style, all sides taking strong wins over their opponents.
– MJM Automotive 7 (Peter Fitzpatrick 3, Jeremy Corrin 2, Daniel Griffiths 1) d Regional Taxation Services 4 (Quentin Clark 2, David Sergi 1)
MJM Automotive's Peter Fitzpatrick, Jeremy Corrin and Daniel Griffiths played a steady team game to account for their opponents, Quentin Clark, Vin Brown and David Sergi.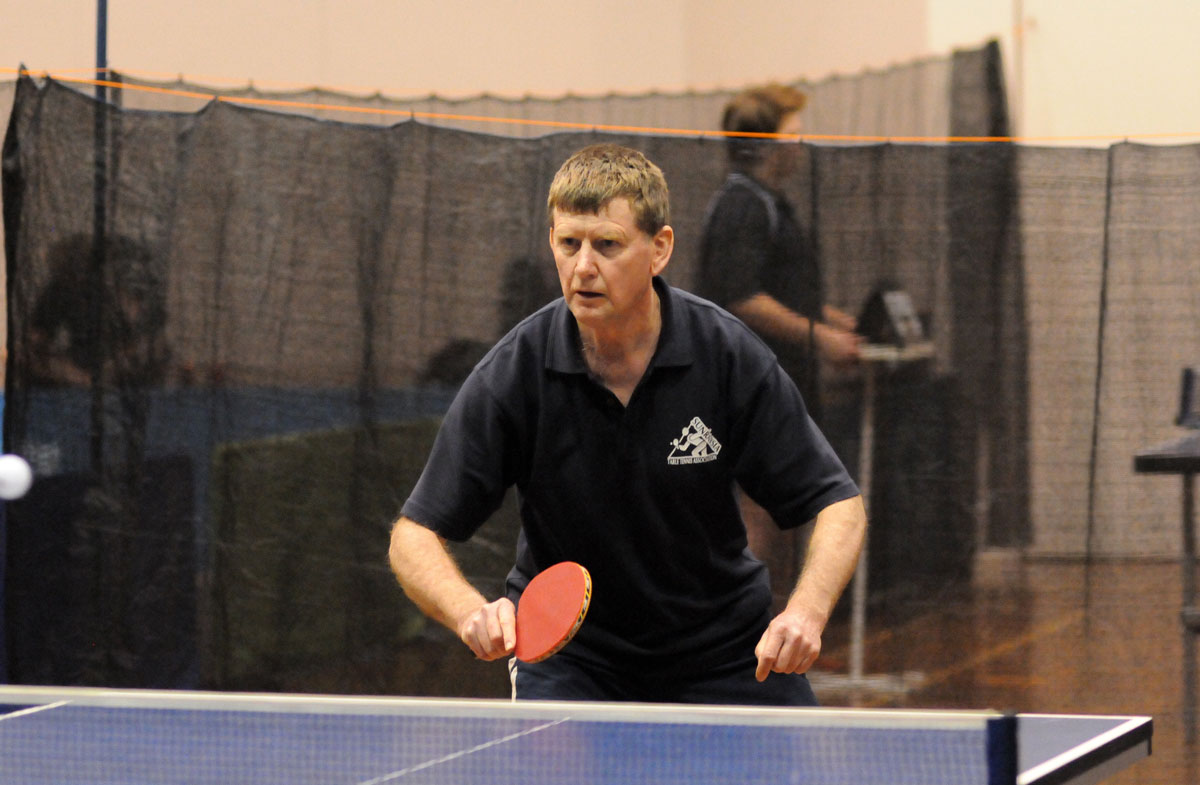 Fitzpatrick took three wins, including a good captains five setter against Clark, Corrin defeated Brown and Sergi, and Daniel Griffiths saw off a fast-improving Vin Brown.
The doubles were shared: Clark and Brown having a comfortable win against Fitzpatrick and Corrin, and later on Clark and Sergi, after the second set, must have thought they would take both.  At that stage they led 11-7, 11-6 against Fitzpatrick and Griffiths, however they MJM Automotive pair bounced back 1, 5 and 8 to take an entertaining match.
Although losing 4-7 here, Regional Taxation Services have every reason to be optimistic for the season.  Clark will prove a problem for all his opposite numbers, Sergi, after his first season last winter improves constantly, and the returning Vin Brown will only get better.
Final scores:  7 rubbers to 4 and 22 games to 17.
– Mallee Meats 8 (Rod Healy, Claire Ljubic 3) d Tankard Dental 3 (Michael Hensgen, Rohan Reimers, Zac Healy 1)
The Mallee Meats pair of captain Rod Healy and Claire Ljubic dominated this game.
They took three singles wins each, they paired to win the first doubles in straight sets, and later Healy and his number three Marcus Cimino took the second doubles in similar fashion.
Healy's mainly defensive style of play allows attacking players to hone their skills, and so often Rod's matches stretch to five sets.  In this game, Tankard Dental number three, the junior Zac Healy, took Rod to five sets, as did Tankard Dental's captain Michael Hensgen in the ninth rubber.  Looking from the sidelines, Hensgen looked to be the better player, but unfortunately Rod, the great defender he is, kept putting back Michael's smashes, and eventually wore him down to win 11-6, 11-9, 7-11, 4-11, 11-9.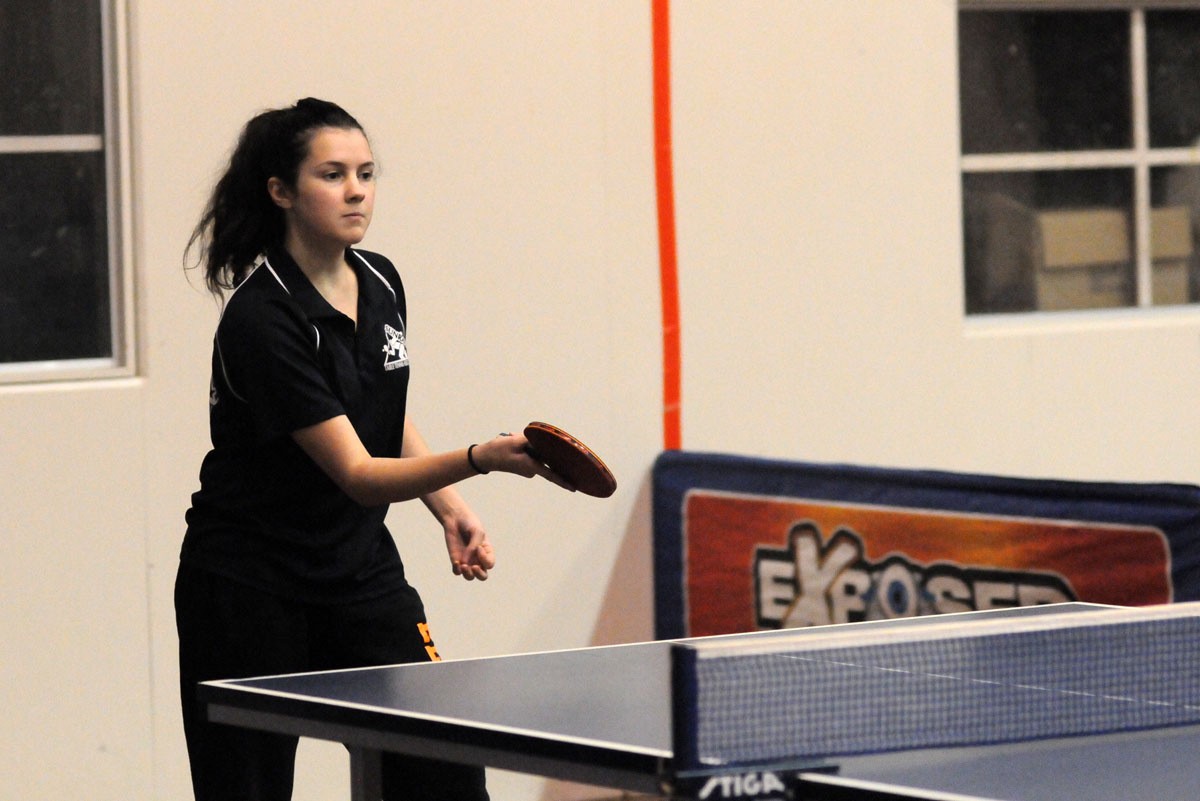 What was a bit of surprise was Claire Ljubic's haul of games.  She swept Michael Hensgen aside in four sets, had to come from two sets to love down to get the better of Zac Healy (patience is not really one of Claire's strengths, but she sure showed plenty in this game !!).  And in the last round of singles against her opposite number Rohan Reimers, another player returning to the game, Claire proved too strong to win in five.  So while she took the honours this time round, round six could prove interesting !!
The Tankard Dental side all took against Marcus Cimino to record their three rubbers.
Final scores:  8 rubbers to 3 and 25 games to 18.
– Weightmans Packaging 8 (Paul Fitzpatrick 3, Karly Leach 2, Sam Hensgen 1) d Dunkley Scales 3 (Rachel Fitzpatrick 2, Cambell McKenzie 1)
Paul Fitzpatrick continued his good recent form, leading his team to an 8-3 win against Cambell, his sister Rachel and Huseyin Ismail.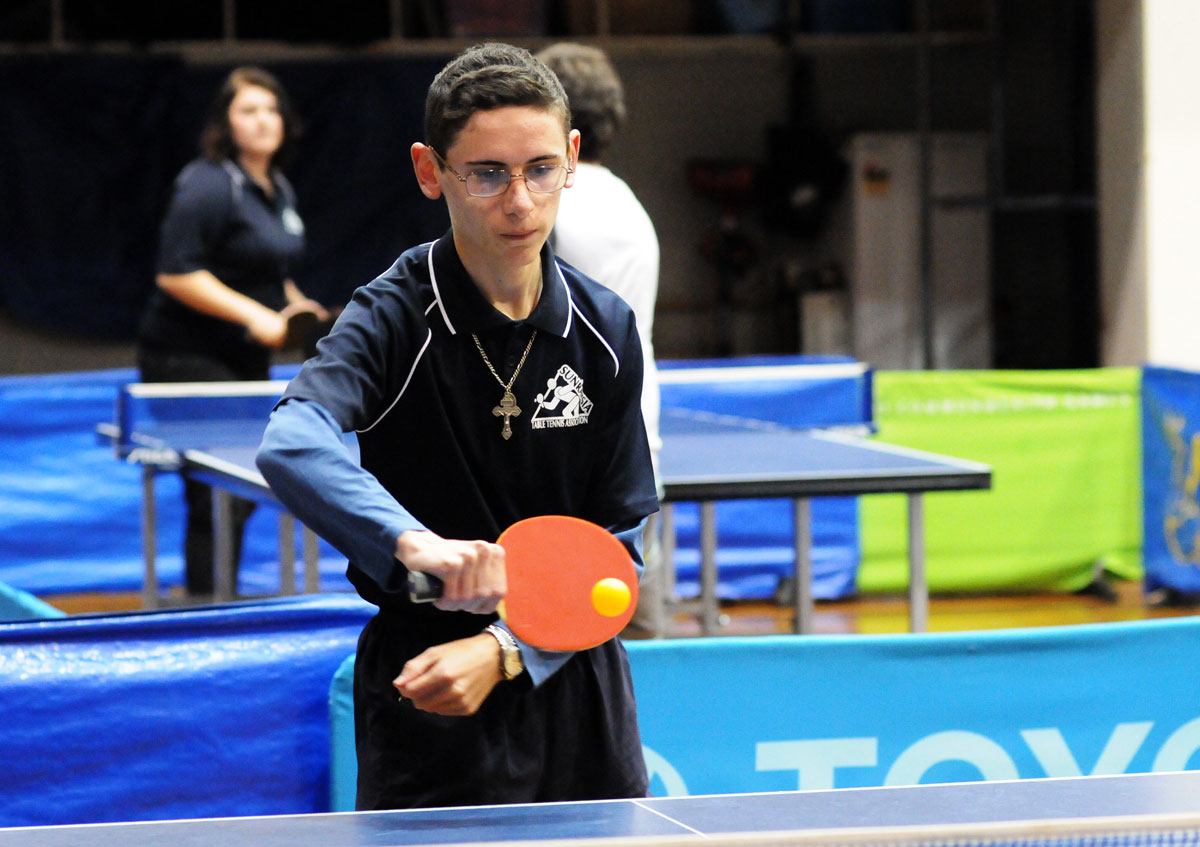 Fitzpatrick had the night captains' dream of; three singles wins, and both doubles.  He downed Ismail and his sister Rachel both in four sets, leaving his best performance for his clash with opposing captain Cambell McKenzie.  Paul was too strong, winning 7, 8 and 8.
Karly Leach played well, coming good with a big win against McKenzie in five (9-11, 8-11, 11-7, 13-11, 11-7), and Ismail in three close sets, after losing to Rachel Fitzpatrick in the first block of singles.
Hensgen battled hard in his games, but came away with just the one win.  He lost in four to McKenzie, 14-12 in the last, played an up-and-down game, but won, against Ismail, and finally was bewildered, losing to Rachel Fitzpatrick.  After leading two sets to love 15-13, 11-7, Rachel went to work on Sam, taking the third and fourth 9 and 8, and running him all round the table to flummox him 11-2 in the fifth.  A great win to Rachel, to give her side just their third rubber for the game.
Yes, Dunkley Scales took only three rubbers, two from Rachel (against Leach and Hensgen), and one from McKenzie, who also downed Hensgen.
Final scores:  8 rubbers to 3 and 27 games to 17.
PENNANT FOUR: 
For the first time since winter 2014 we have a pennant four competition with five teams taking part.
Welcome to Mike Sheather, Caitlin Elstone and junior players Joel Hogarth and Luke Ljubic who are all playing senior table tennis for the first time.
Nick Kiapekos joined us late in 2015 and he is playing his first full pennant and great to have Leonie Dunkley and Helen Frania back playing after a short break from the game. Also returning is Ryan Hensgen after being out of the area with his employment.
Jacinta Ljubic after many many years away from the game and four children later is also back making it a real family affair with husband Mark and son Matt playing in pennant one and daughter Claire in pennant three. Jacinta has joined her son Stefan in the MJM Automotive team and will play against another son Luke at some stage. Welcome back Jacinta, the family that plays together……..
There is a bye in this pennant and in round one the Dunkley Scales team of Leonie Dunkley, Joel Hogarth and Caitlin Elstone had a night off.
– Weightmans Packaging 7 (Sabrina Fitzpatrick 3, Helen Frania 2) d Mallee Meats 4 (Ryan Hensgen 2, Nick Kiapekos, Luke Ljubic 1)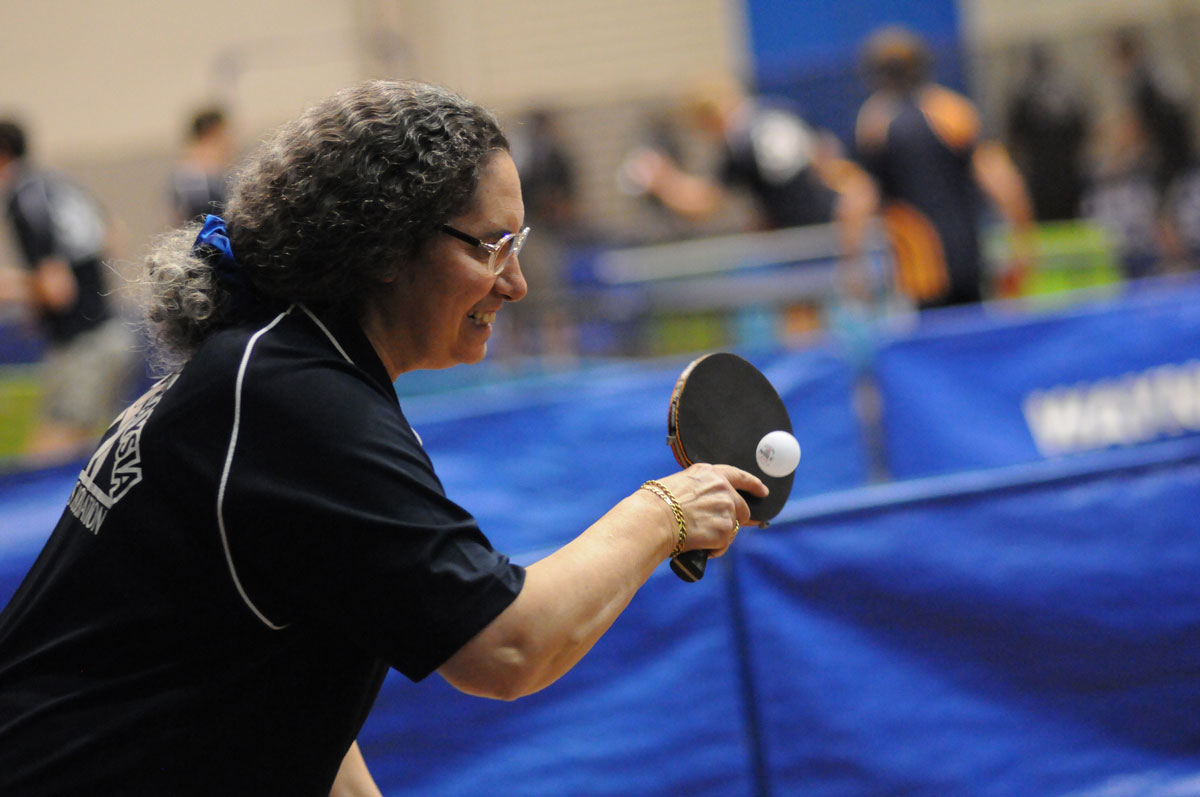 With Sabrina Fitzpatrick displaying her usual consistency leading the way and winning three singles Weightmans Packaging ran out 7-4 victors over Mallee Meats who tried hard to bridge the gap. Early on the match was close at three rubbers all but it was Weightmans who made the late break. Victory in both doubles was crucial in the result and the second doubles was a thriller. Ryan Hensgen and Luke Ljubic started well against Sabrina Fitzpatrick and Mike Sheather and took the first two games narrowly. The opposition then also took the third and fourth also narrowly. The fifth was tight as well and in the end it was Weightmans Fitzpatrick and Sheather who came out on top 14-16 11-13 11-9 12-10 11-9, what a match!!
In her first match for some time Helen Frania showed she had not lost any touch winning two singles for Weightmans as well as partnering Sabrina to victory in the first doubles. She also gave opposing number one Ryan Hensgen a real fright going down 9-11 in the fifth after leading two games to one.
The Mallee Meats skipper Hensgen won two singles while team mates Nick Kiapekos and Luke Ljubic won a singles each.
– Regional Taxation Services 7 (John Fitzpatrick 3, Shirley Whitecross 2) d MJM Automotive 3 (Stephan Ljubic, Kim Avers, Jacinta Ljubic 1)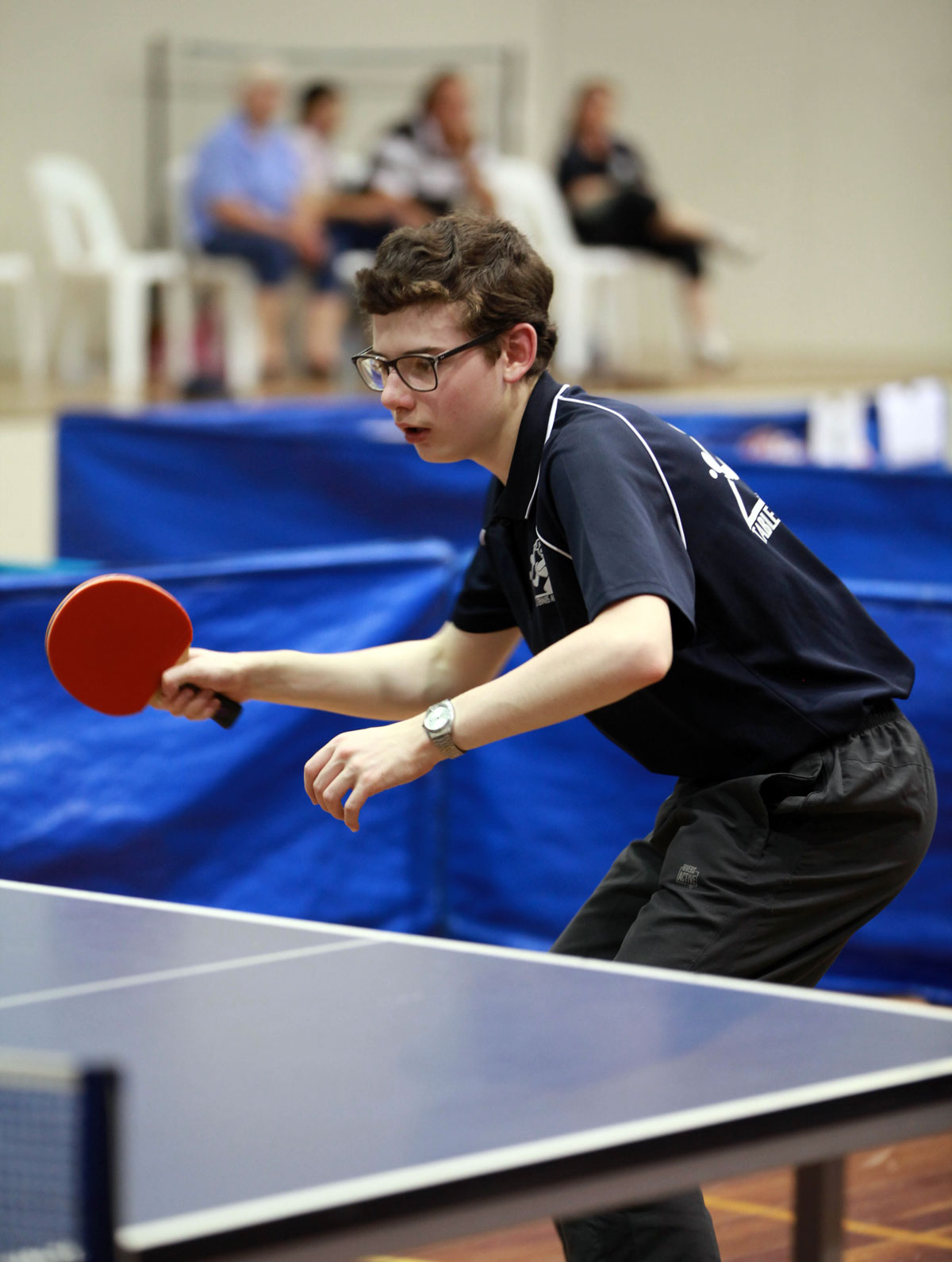 John Fitzpatrick for Regional Taxation Services proved to be the difference in this match winning three singles as well as being a participant in both doubles victories. As a result his team took the points over MJM Automotive in round one action.
The very first match of the night was a cracker when the two young skippers, Fitzpatrick and Stefan Ljubic lined up against each other and played out an entertaining five setter. They both possess a big forehand loop and both are determined. After a titanic struggle John took the points 10-12 14-12 11-9 8-11 11-9 these two are real players of the future.
Shirley Whitecross gave excellent support to Fitzpatrick winning two singles and playing a part in the first doubles victory.