Read Time:
17 Minute, 24 Second
15 rounds gone and now the real action starts.
Ladder stayed the same after last nights results however fourth and fifth team Weightmans and Cash Converters had their chances.

Wow what a finish to the singles aggregate congratulations Lethal and well done Bernadette.

Denise is very pleased with two girls one and two

local historians: is this first time P1 and P2 winners are son and mum  ???

Lethal went into round 15 last winter equal leader only to just miss out.

Wrighty team went down again (have lost 8 from last 9 and now have lost last 6) but have hung on to top four as Ash, Arthur and Kerry went oh so close to victory

although score sheet did say they won against Ed , Sony and Brendan,  but unfortuneately not the case, even though Ed signed for a loss,

oh dear a schemozzleeeeeee maybe too much talking Sony.

top two teams played with Pinnacle Packers winning 6-5 even with Midge out

They match up again this week

RTS have snuck into the finals at the last opportunity winning 8-3 against Weightmans

great team effort with Quentin, Vin and David winning two singles each.

They will match up against Peter Fitz, Jeremy Corrin and Anthony Sergi who went down to 2nd placed Mallee Meats

but not before Anthony Sergi inflicted the third defeat of the season on Rod Healy. Well done Anthony

In the same match Claire Ljubic won 3 to finish fourth in the aggregate.

Well done to Rod Healy on his win in the aggregate.

When his team plays Tankard Dental in the second semi the top four in the aggregate will match up against each other.

Another exciting finish with MJM defeating Dunkleys to trade places (fourth and fifth)on the ladder .

Dave Tanner at 5 rubbers all got MJM over the line, Dave was in to replace Jacinta Ljubic.

That win now ensures all six LJUBICS will play finals.   mmmmm good grading ???  Was there a deal made in the  new President's contract .

Also John Fitzpatrick with 3 wins took second team RTS to victory over mum's team first placed Weightmans,
 PENNANT ONE:
With round fifteen of the Sunraysia Table Tennis "Cash Converters" winter pennant being the final round before the finals, positions second to fifth on the ladder could potentially change. Win or lose top team Mallee Bearings were safe in first position and will enjoy the double chance in the first week of the finals.
– Mallee Bearings 7 (Shannon Bowen, Matt Ljubic 2, Nicholas Dorman 1) d Weightmans Packaging 4 (Gavin Carmichael, Isaac Liu 1)
Going into the final round fifth placed Weightmans Packaging needed to defeat Mallee Bearings and then hope that fourth placed Exposed Signage/Apparel would be defeated.
Weightmans started well however two five set matches would be costly and in the end they went down 4-7 to Mallee Bearings who will go into the finals as flag favourites.
The first five set match featured Weightmans Gavin Carmichael against Matt Ljubic. Ljubic took the first in a flying start before Carmichael steadied to win the second and third however Ljubic was proving consistent with his looping forehand and from time to time would also play good attacking back hands.
Ljubic grabbed the fourth and took a lead in the fifth before Carmichael fought back to get a match point however Ljubic showed that he could remain cool under pressure and went on to win 11-4 1-11 9-11 11-8 14-12 a close tussle.
The second five set match which ensured Weightmans season was over was when Nicholas Dorman for Mallee Bearings recovered from a flying start by Shane Carmichael who took a two games to love lead. Dorman was under extreme pressure when Carmichael took an 8-6 lead in the third before Dorman commenced his comeback. Slowly but surely Dorman took the ascendancy with some crashing forehands and deft touch. He went on to win 9-11 6-11 11-8 11-8 11-6 in a great comeback.
In the end it was the form of Mallee Bearings skipper Shannon Bowen and Matt Ljubic with three singles wins each which enabled their team to grab the four points and end Weightmans season. The only concern for the victors would be that they were unable to grab a doubles.
– Regional Taxation Services 7 (Wayne Carmichael 3, Mark Ljubic, Reece Kurrle 1) d Exposed Signage/Apparel 4 (Mark Dorman 2, Matt Avers, Leslie Ncube 1)
To maintain their hold on second place Regional Taxation Services needed victory against Exposed Signage/Apparel and they got the exact start they were looking for racing out to a 4-1lead from which their opponents could not recover. In a dream start for RTS, number three player Reece Kurrle played one of his best matches for the season when he defeated rising star Matt Avers in an outstanding five set contest.
Kurrle plays well on both sides of the body with strong top spinning fore hands and is equally confident with his looping back hands. His 14-16 12-10 12-10 2-11 11-8 victory was a real highlight.
Kurrle also combined with skipper Wayne Carmichael to defeat Avers and fill in Leslie Ncube in the second doubles to cap off a good night for Kurrle. Over the season Carmichael and Kurrle have proven to be a formidable combination in doubles matches. Carmichael also tasted success with Mark Ljubic in the first doubles and along with his three singles his was a productive night.
– Tankard Dental 6 (Joel Thomas 3, Kate Carmichael 1) d Cash Converters 5 (Rick McMeekin, Leslie Ncube 2, Matt Ljubic 1)
In the remaining match on centre court third placed Tankard Dental defeated bottom team Cash Converters 6-5 in another close encounter. Despite victory Tankards fell agonisingly short of the double chance finishing third on percentage from second placed RTS who will enjoy the double chance. Tankards skipper Joel Thomas again won three singles despite receiving a fright from fill in Matt Ljubic who took a lead late in the fifth in what was a top class match. Thomas was able to lift a gear and win 11-8 8-11 11-4 9-11 11-9 a great effort from young Ljubic who is hitting form at the right time of the season.
Cash Converters may consider themselves unlucky at they lost both doubles in five sets with the first a real highlight. Rick McMeekin and Matt Ljubic took a two games to one lead over Thomas and Kate Carmichael before the latter pair were able to steady and win in a thriller 9-11 11-7 12-14 12-10 12-10.
With Tankards leading five rubbers to four Kate Carmichael and Matt Ljubic fought out yet another five setter as they seem to do and it was Carmichael who took the match and four points 11-6 5-11 10-12 11-5 11-9.
For Cash Converters Rick McMeekin and Leslie Ncube won two singles in a match where they pushed their more fancied opponents all the way.        
On current form both finals this week should provide some top class matches and good viewing for the spectators.
 PENNANT TWO:

In three close results this week, MJM Automotive picked up just their fourth win for the year against Mallee Meats, who conjured up another way to lose; .first-placed Pinnacle Packers just edged out second-placed Mallee Bearings, and Max Miller Carpets capped off an astounding come-back with another win, this time against Weightmans Packaging.
– MJM Automotive 6 (Bernadette Fitzpatrick 2, Tony Malycha, Seval Fuat 1) d Mallee Meats 5 (Russell Walder 3, Geoff Wright 2)
MJM Automotive were odds-on to defeat Mallee Meats in this final round.  Despite the fact that Mallee Meats have not won a game since round 9, they have remained in the race for a finals spot because the teams below them have also failed to win enough matches to pass them.
And MJM Automotive duly downed Mallee Meats, even though they forfeited the final rubber give a 6-5 scoreline.
MJM Automotive captain Bernadette Fitzpatrick was hoping for a clean-sweep of singles wins, as she had joined Lee Thomas at the head of the aggregate only last round.  It was not to be however, as Russell Walder spoiled her party, downing her in four sets.
Walder, in fact, was the pick of the players in this match, winning all his singles.  Captain Geoff Wright picked up two, but without any contribution by Andrew Jones, or a doubles victory, the win went begging.
The doubles rubbers were the games which MJM Automotive over the line.  With two singles wins to Fitzpatrick, and one each to Tony Malycha and Seval Fuat, the team's better performance in both doubles ensured victory.
Final scores:  6 rubbers to 5 and 22 games to 21.
– Pinnacle Packers 6 (Kevin Johns 2, Sony Sefer, Jason Gifkins 1) d Mallee Bearings 5 (Lee Thomas 3, Jackson Murphy 2)
Pinnacle Packers gained a psychological edge over Mallee Bearings with a win in this round 15 match.
These two sides, sitting first and second on the ladder, will play each other again next week in the Semi-Final.  In defeating Mallee Bearings, Pinnacle Packers denied their opponents from drawing level with them on 11 wins for the season.  Pinnacle Packers also put an end to a clean sweep of wins for Mallee Bearings for the season; the Mallee Bearings team having won the previous two encounters convincingly 7-4 and 8-3.  And all this without their number two, Peter Midgley.  Midgley was unavailable for this round, and Sony Sefer subbed for him, winning a singles (against Terry Martin), and later the second doubles with captain Kevin Johns in straight sets 7, 4 and 4 against Jackson Murphy and aggregate winner Lee Thomas.
So whilst Thomas scored three singles wins, and in so doing secured the aggregate title, and Jackson Murphy two singles wins, they fell short of the win because that was all they took, their number three Terry Martin still not one hundred percent fit.
Murphy and Martin made a better fist of the first doubles however, than Murphy and Thomas did of the second.  In a game where their opponents Kevin Johns and Jason Gifkins were more consistent, Murphy and Martin did take the game to five sets, but went down 11-13, 11-7, 2-11, 11-7, 5-11.
With Peter Midgley returning for next week's match, Pinnacle Packers well be stronger than in this match; so Mallee Bearings will be hoping Terry Martin can return to fitness … now !!
Final scores:  6 rubbers to 5 and 20 games to 18.
– Max Miller Carpets 6 (Ed Hung 3, Sony Sefer 2) d Weightmans Packaging 5 (Arthur Paar 2, Ashley Morrison, Kerry Wallace 1)
Weightmans Packaging's' season finished on a disappointing, if not unexpected note, in this game against Max Miller Carpets.
Max Miller Carpets finished solidly inside the four, in third place on eight wins, two games ahead of fourth placed Mallee Meats.
Once this team started winning in round 6, it has lost just twice, a feat only bettered by minor-premiers Pinnacle Packers.
For the second week running, Max Miller Carpets captain Hung ran up three singles wins, and in so doing finished third on the aggregate, at 34 games for the season just two game shy of winner Lee Thomas.
Number two Sony Sefer accounted for Kerry Wallace in three sets, and in the final round of singles took the scalp of Ash Morrison in five, to set his side up for the win.  Sefer is a big part of the success of this team – although he sits in a modest (on adjusted terms) twelfth spot on the aggregate, it is no co-incidence that the Carpeters started winning when he joined the team in round 6.
The doubles were shared – both ran to five sets.  In the first, Morrison and Paar were the better pairing, defeating Hung and Sefer 9-11, 11-7, 11-5, 8-11, 11-6.  That win kept the scores at that stage 2 rubbers all.  Later Hunt and Brendon Alderton led two sets to love against Morrison and Wallace, before taking the match in five 11-7, 11-8, 5-11, 7-11, 11-4.
Next week, Max Miller Carpets play Mallee Meats in the Elimination Final.  With Mallee Meats not having won a game since late May, they should not have any problems progressing to the Preliminary Final.
Final scores:  6 rubbers to 5 and 24 games to 21.
 PENNANT THREE:
Mallee Meats took a good team win against MJM Automotive in this final round of competition; Regional Taxation Services with a big win against Weightmans Packaging clinched fourth spot; and Tankard Dental took (for them) an average win against Dunkley Scales.
– Mallee Meats 7 (Claire Ljubic 3, Rod Healy 2, Marcus Cimino 1) d MJM Automotive 4 (Peter Fitzpatrick, Jeremy Corrin, Anthony Sergi 1)
Mallee Meats finished the season with a win in this game, and so are equal with Tankard Dental on thirteen wins, but second on percentage.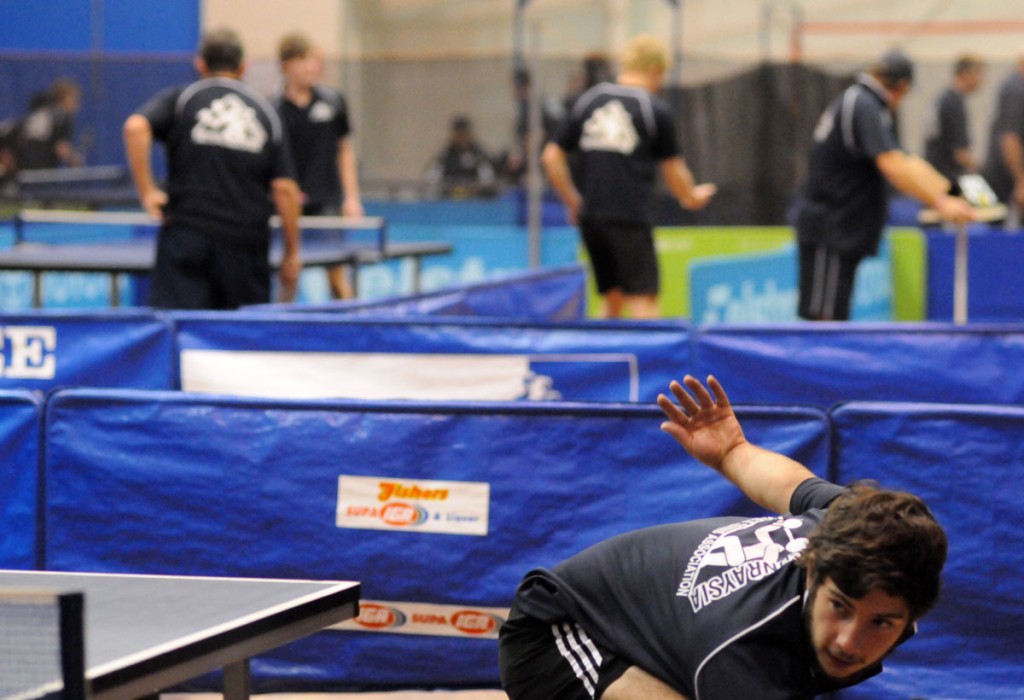 The team played well; so when Rod Healy was surprisingly defeated by Anthony Sergi in the first round of singles, Claire Ljubic stepped up, and proved unbeatable in singles play.
Ljubic and Healy took the first doubles too – besting Peter Fitzpatrick and Jeremy Corrin in four sets.
Number three Marcus Cimino again showed that his unusual style is potent, when he outlasted Sergi in five sets 9-11, 11-7, 12-10, 6-11, 11-5.
So with six singles rubbers, plus a doubles, Mallee Meats scored a solid 7-4 win, to once again remind MJM Automotive that to be a threat for the premiership, they will have to lift their game.
Final scores:  7 rubbers to 4 and 27 games to 18.
– Regional Taxation Services 8 (Quentin Clark, Vin Brown, David Sergi 2) d Weightmans Packaging 3 (Paul Fitzpatrick 2, Sam Hensgen 1)
Regional Taxation Services timed their run to the finals with perfection – in the space of two weeks, with two wins, they have jumped from sixth to fourth, and so will now play in next week's Elimination Final.
They proved too strong for Weightmans Packaging here – Quentin Clark, Vin Brown and David Sergi all took two wins apiece.  Clark losing to Weightmans number two, Sam Hensgen in four sets; Brown losing to Weightmans captain Paul Fitzpatrick in three, and Sergi falling to Fitzpatrick also.
Apart from that, the rest was theirs, although it must be said that Clark's two wins were not easy, as both Karly Leach and Fitzpatrick took Clark to five sets.
Regional Taxation Services dominated the doubles – Clark and Brown doing it easy against Fitzpatrick and Hensgen, 5, 6 and 6.  The second doubles was closer, but Clark and Sergi proved too strong for Fitzpatrick and Leach taking the win 12-10, 9-11, 11-9, 11-6.
Final scores:  8 rubbers to 3 and 25 games to 16.
– Tankard Dental 9 (Michael Hensgen, Zac Healy 3, Rohan Reimers 1) d Dunkley Scales 2 (Cambell McKenzie, Rachel Fitzpatrick 1)
Tankard Dental finished the season with a flourish, recording their fifth 9-2 victory, to go with their three 10-1 wins and four 8-3's.
Although Tankard Dental captain Michael Hensgen took three singles wins, he certainly had to work for it.  Dunkley Scales number three Huseyin Ismail led him two sets to love 15-13, 11-8 in the first round of singles, and after losing the third set 8-11, almost rolled Hensgen in the fourth, but Hensgen hung on in that set taking it 12-10 and then ran away with the fifth 11-3 to escape a boil over.  Rachel Fitzpatrick gave Hensgen a work over too; Hensgen could not shake her off until the fifth.  Cambell McKenzie, like Ismail, led Hensgen two sets to love 11-8, 11-5 and looked comfortable, but Hensgen powered back in the final three sets to win them 5, 9 and 6.
Tankard Dental number three Zac Healy has had a great season, finishing third on the aggregate, level with captain Hensgen.  In this game he took another three singles wins, and only dropped two sets, those in a five setter against Cambell McKenzie.
Only Rohan Reimers dropped rubbers – he fell to McKenzie in five, and later to Fitzpatrick in four.
The doubles were close- Hensgen and Reimers only getting the better of McKenzie and Fitzpatrick in the fifth set, and later Hensgen and Healy taking a close four set victory against McKenzie and Ismail 12-11, 9-11, 12-10, 11-9.
Now that the "home-and-away" is complete, the finals are here.  Next week Tankard Dental meet Mallee Meats.  Mallee Meats have downed the big-hitting Tankard Dental trio twice in their three meetings 8-3 and 7-4, in rounds 1 and 11, with Tankard Dental eking out a win in round 6, 6-5.
Final scores:  9 rubbers to 2 and 30 games to 17.
 PENNANT FOUR:

In an exciting climax to the season fifth team MJM Automotive defeated fourth placed Dunkley Scales 6-5 which enabled MJM to scrape into the four, their timing could not have been any better given finals commence next Wednesday.

In the other match second placed Regional Taxation Services served notice to ladder leaders Weightmans Packaging by winning 6-5 as well in another close one. They will match up again in the second semi-final where the victor will advance to the grand final.

Third placed Mallee Meats rested up for the finals by having the bye.
– Regional Taxation Services 6 (John Fitzpatrick 3, Shirley Whitecross, Brice Lock 1) d Weightmans Packaging 5 (Sabrina Fitzpatrick, Helen Frania 2)
 Second placed Regional Taxation Services, by defeating top team Weightmans Packaging 6-5 indicated they will hold no fears when these two teams meet again in the second semi-final.
In this match singles aggregate winner John Fitzpatrick was the key by winning three singles including the straight sets defeat of his mum, Sabrina 11-7 11-8 11-8. John also teamed up with Brice Lock in the second doubles to defeat Sabrina and Tom Cooper in four sets 1-5 8-11 11-6 11-8 in what was a crucial win.
With the scores at five rubbers all the youngsters Brice Lock and Tom Cooper matched up against each other, as they do in the junior comp, and it was Regional Taxation Services Brice who took the points 11-8 11-7 11-4 to give his team the four points.
This was a great result by Regional Taxation Services given at one stage they had trailed by two rubbers to four.
– MJM Automotive 6 (Stephan Ljubic 2, Kim Avers, Dave Tanner 1) d Dunkley Scales 5 (Joel Hogarth 3, Therese Fitzpatrick 2)
 What a thriller this turned out to be given that the winning team would make the four and play finals. Going into this match both teams had won four and lost seven matches with Dunkley's a narrow three rubbers ahead.
This was a really even contest all the way with both teams only separated by a margin of one rubber at any time. MJM were able to win both doubles and this was huge in their 6-5 win. Stephan Ljubic took part in both these victories however it may have been his third singles which was the most important result when he clawed his way back from a 1-2 deficit against fill in Therese Fitzpatrick to win 6-11 11-5 9-11 11-6 11-6 a fantastic match between two young players on the rise.
Following this match Joel Hogarth kept Dunkley's alive and levelled the match at five rubbers all when he outlasted Kim Avers in a sensational match.
Joel was in command winning the first two games before Kim surged her way back to level at two games all. The final game was a nail biter however it was Joel who prevailed 11-6 11-8 9-11 9-1115-13, the second thriller in succession.
With the scores at five rubbers all MJM fill in Dave Tanner matched up against Caitlin Elstone. Whilst Caitlin tried hard it was Dave who won 12-10 11-7 11-8 and in doing so gained the four points narrowly for MJM and booked them a spot in the finals.