Read Time:
14 Minute, 0 Second
Sunraysia Table Tennis Sportzprint Summer Pennant results Grand Final:
PENNANT ONE: 
– Pinnacle Packers 6 (Gavin Carmichael 3, Sony Sefer 1) d Mallee Bearings 3 (Ali Taheri 2, Matt Ljubic 1) 
PENNANT TWO: 
– Spanline 6 (Leon Brown, Cole Keegan 2, Tony Malycha 1.) d Mallee Bearings 1 (George Papanicolaou 1)
PENNANT THREE: 
– Weightmans Packaging 6 (Matt Avers 3, Graeme Southwell 2, Rachel Fitzpatrick 1) d Dunkley Scales 5 (Mukhwinder Mukhwinder 2, Leonie Dunkley 1)
PENNANT FOUR: 
– Sunny Daily 6 (Angela Pryor 3, Chelsey Avers, Kim Avers 1) d Max Miller Carpets 3 (John Fitzpatrick, Therese Fitzpatrick 1)
Singles Aggregate winners for the summer pennant:
PENNANT ONE: Wayne Carmichael, Best Number 2- Jackson Tung, Best Number 3-Matt Ljubic. 
PENNANT TWO: Ed Hung, Best Number 2- George Papanicolaou, Best Number 3- Glen Bell
PENNANT THREE: Mukhwinder, Best Number 2- Rachel Fitzpatrick.
PENNANT FOUR: Kim Avers, Best Number 2-Wayne Pryor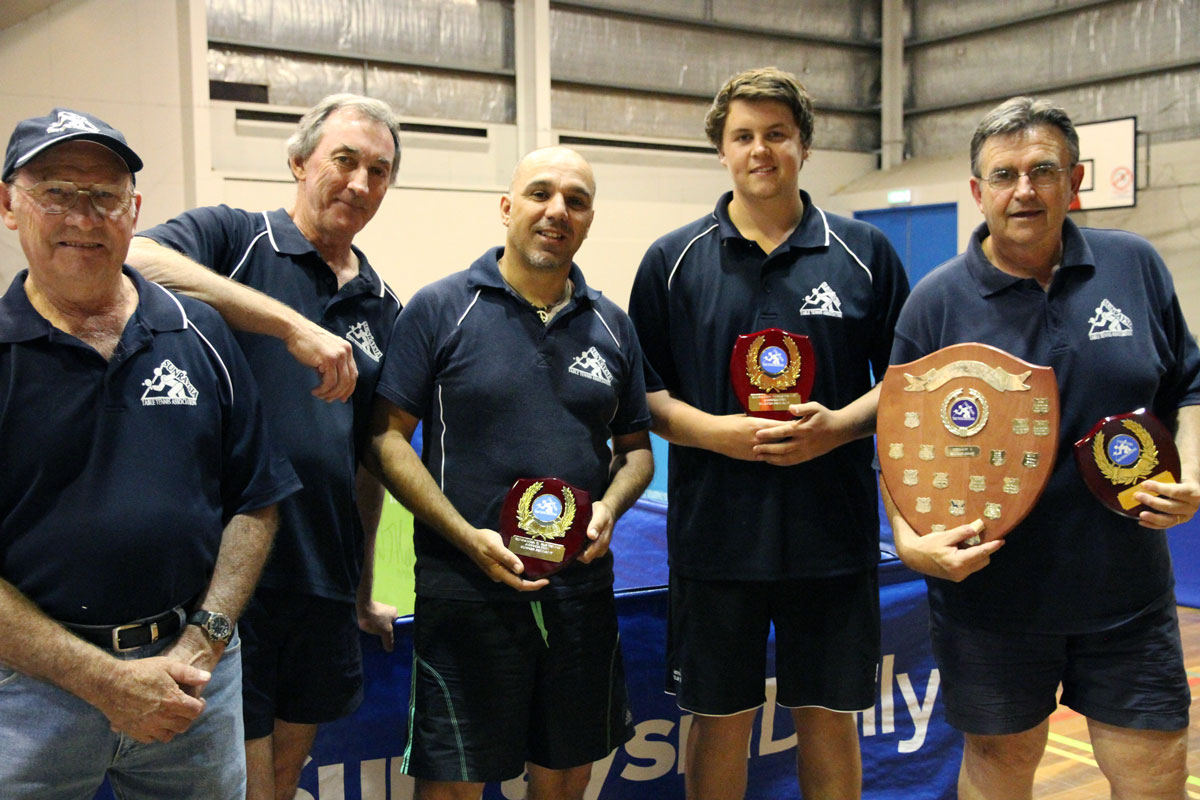 By extending their winning streak to eleven matches in succession Pinnacle Packers have won the Sunraysia Table Tennis pennant one grand final with a 6-3 defeat of a brave Mallee Bearings. The Packers combination of Gavin Carmichael, Sony Sefer and Nicholas Dorman proved to be too consistent in a close competition. No particular player dominated through the season and it was their ability to gell as a team through the summer pennant which enabled them to firstly achieve the right to play off in the final and then to get over the line against a tough opponent.
PENNANT ONE:
– Pinnacle Packers 6 (Gavin Carmichael 3, Sony Sefer 1) d Mallee Bearings 3 (Ali Taheri 2, Matt Ljubic 1) 
In the grand final the Packers were given a dream start from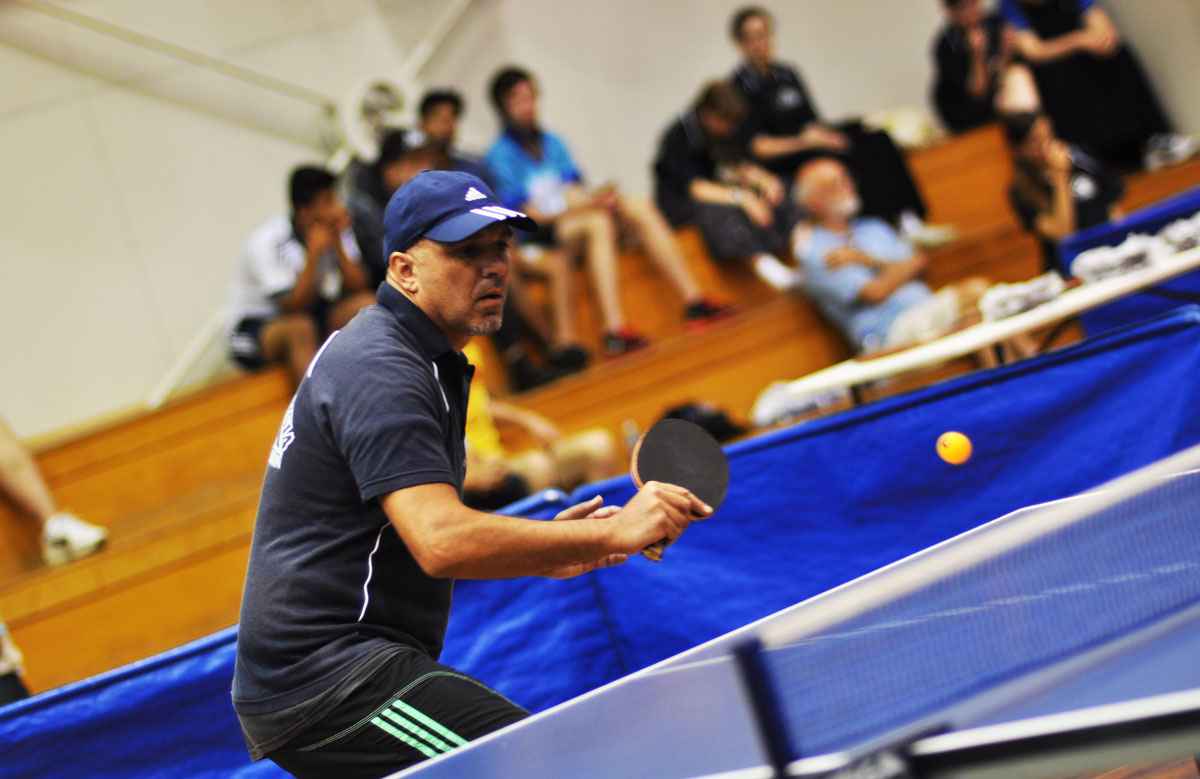 Sony Sefer when he caught the more fancied Jackson Tung by surprise winning the first two games before Tung steadied only then to have Sefer win the fourth. Sefer by his own admission was down on wins during the season however as in the semi final he stood up, when it counted, in the grand final to play a key role for his team. The second match featured Mallee Bearings young gun Matt Ljubic up against veteran Gavin Carmichael. Ljubic has enjoyed a tremendous season in his first pennant one season and in this game he was in trouble early however after trailing 1-7 he stormed home to take the first game 11-8 in a stunning come back. Could there be another upset?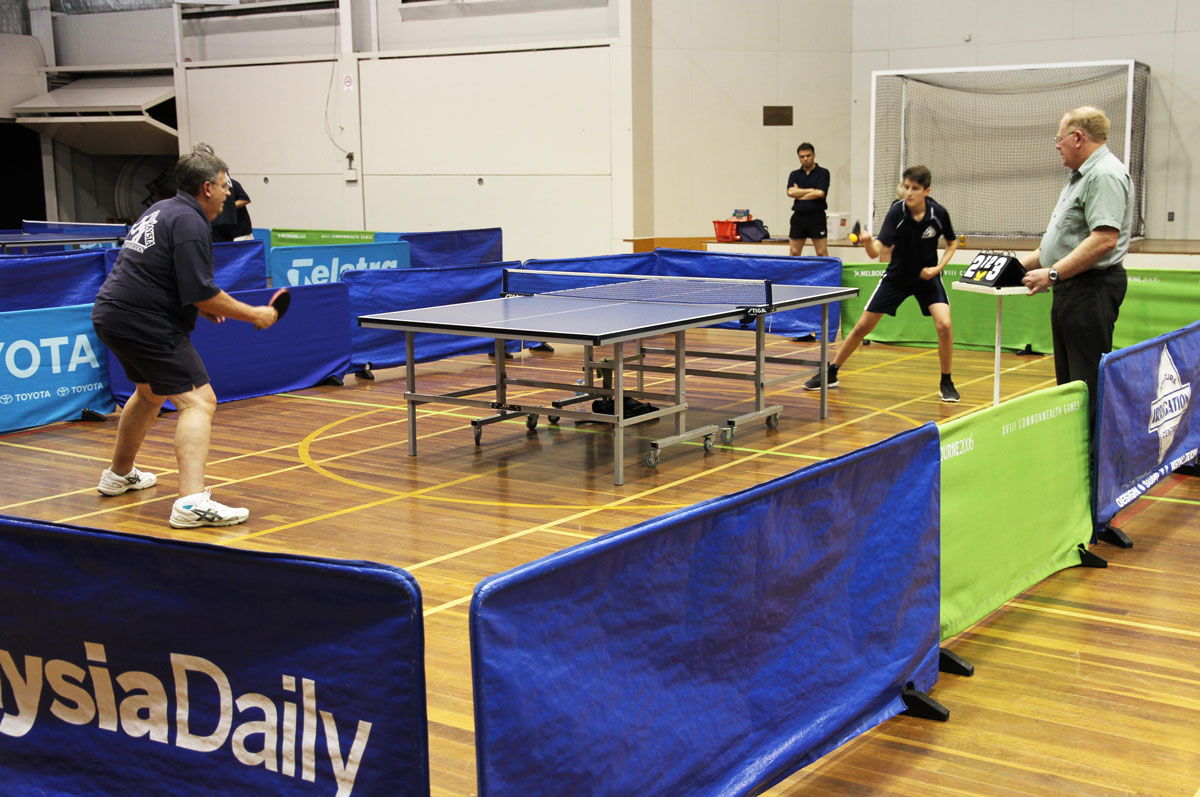 Not impressed with this loss Carmichael was able to maintain control, just, in the next three games against the hard working Ljubic to win 8-11 11-7 11-8 11-5.
The next match was the undoubtedly the best of the grand final when Mallee Bearings skipper Ali Taheri took to the table against the Packers young gun Nicholas Dorman who came out of the blocks blazing.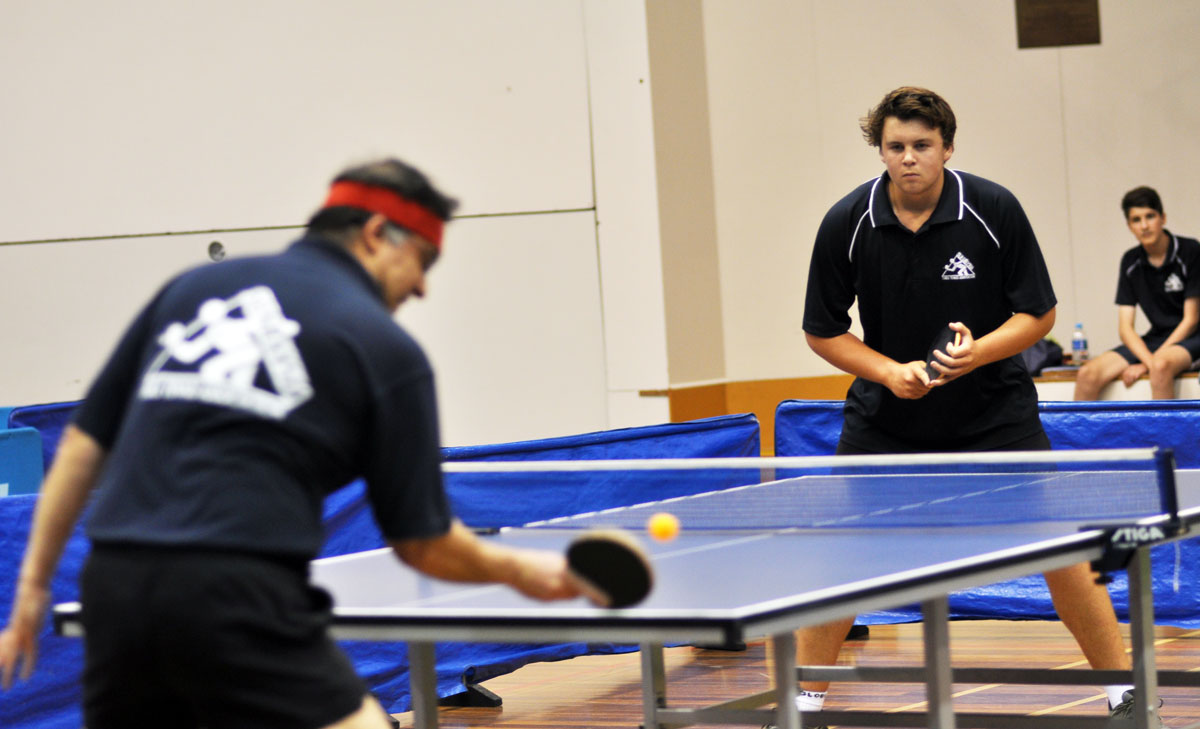 Knowing his team enjoyed a 2-0 lead Dorman played outstanding table tennis early and raced through the first two games with outstanding attacking shots on both the forehand and back hand sides. Taheri tried his best but could not contain Dorman. With Dorman leading 9-6 in the third all looked lost for Taheri until he was able to defend frantically as Dorman smashed three forehands in succession. Somehow Taheri retrieved a vicious forehand which floated slowly back.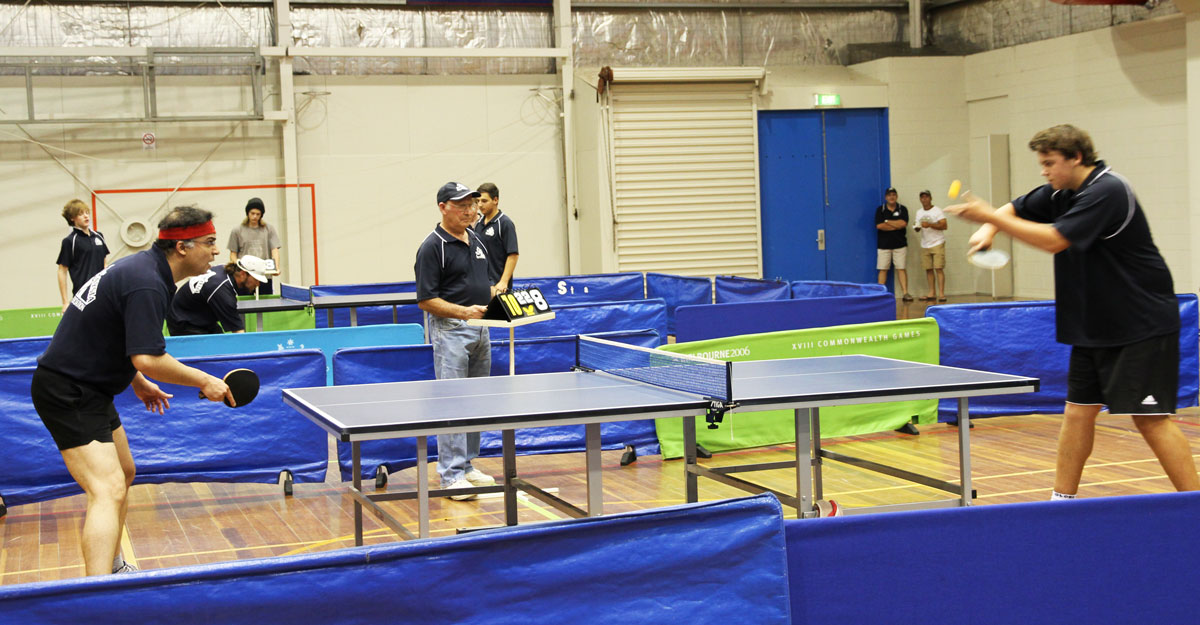 Dorman was poised to kill it off and unfortunately for him he mistimed the shot. Taheri had survived and in a huge turnaround he grabbed this game 12-10 and from here worked his way back into the match slowing the game down and eventually he completed an amazing comeback to win 6-11 6-11 12-10 11-9 11-8.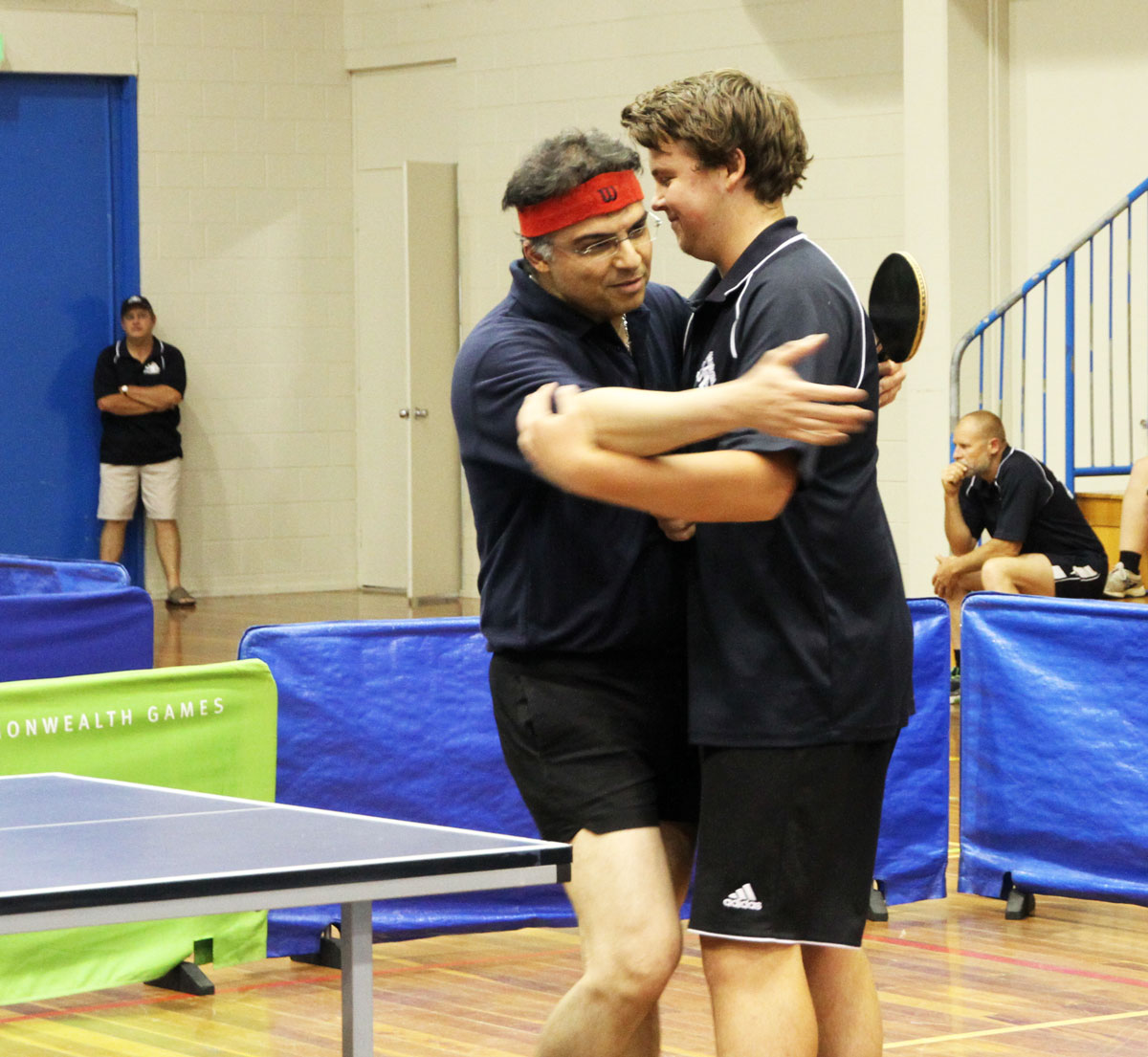 Taheri had kept his team alive in a match appreciated by the spectators and his team mates.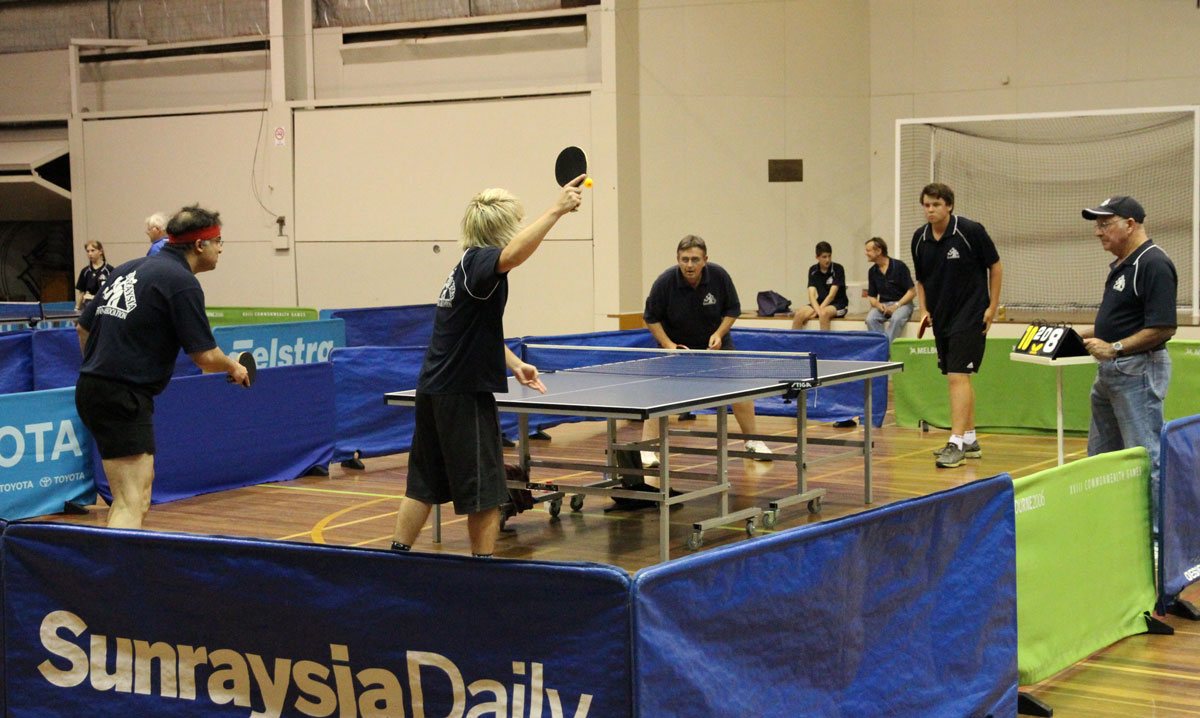 Despite the loss Dorman maintained his composure and teamed up with Gavin Carmichael to defeat Taheri and Jackson Tung in straight sets.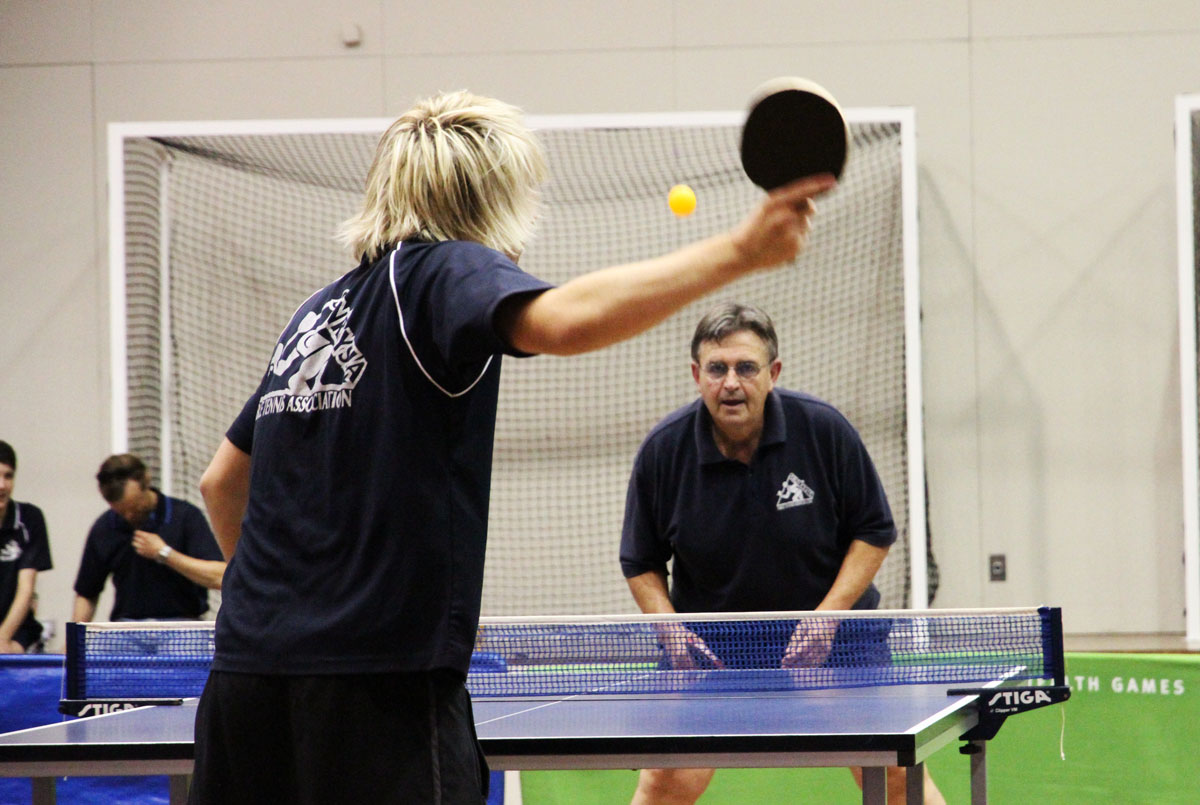 The next singles saw the Packers extend their lead to 4-1 when Carmichael defeated Tung in three.
Mallee Bearings then worked their way back into the match winning the next two singles courtesy of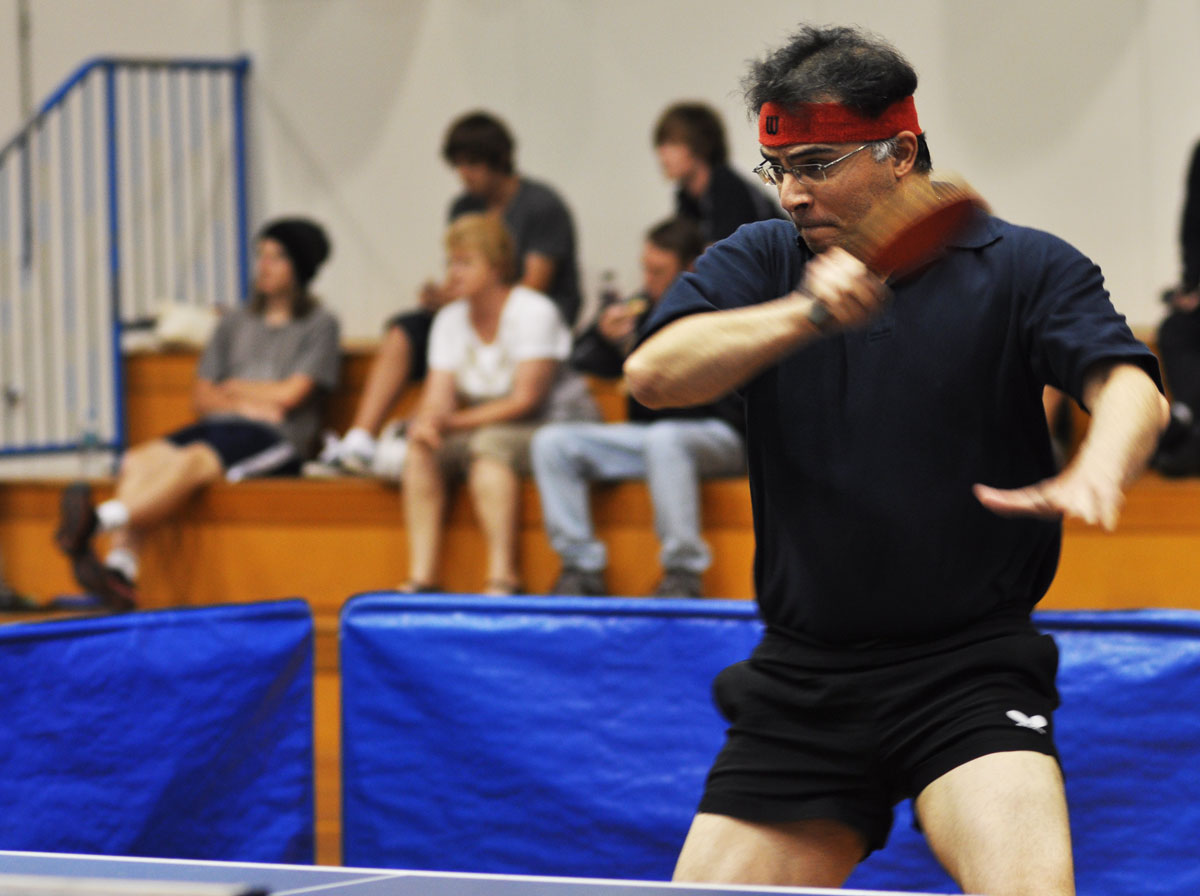 Taheri and Matt Ljubic defeating their respective opponents Sefer and Dorman. Taheri as expected won in straight sets while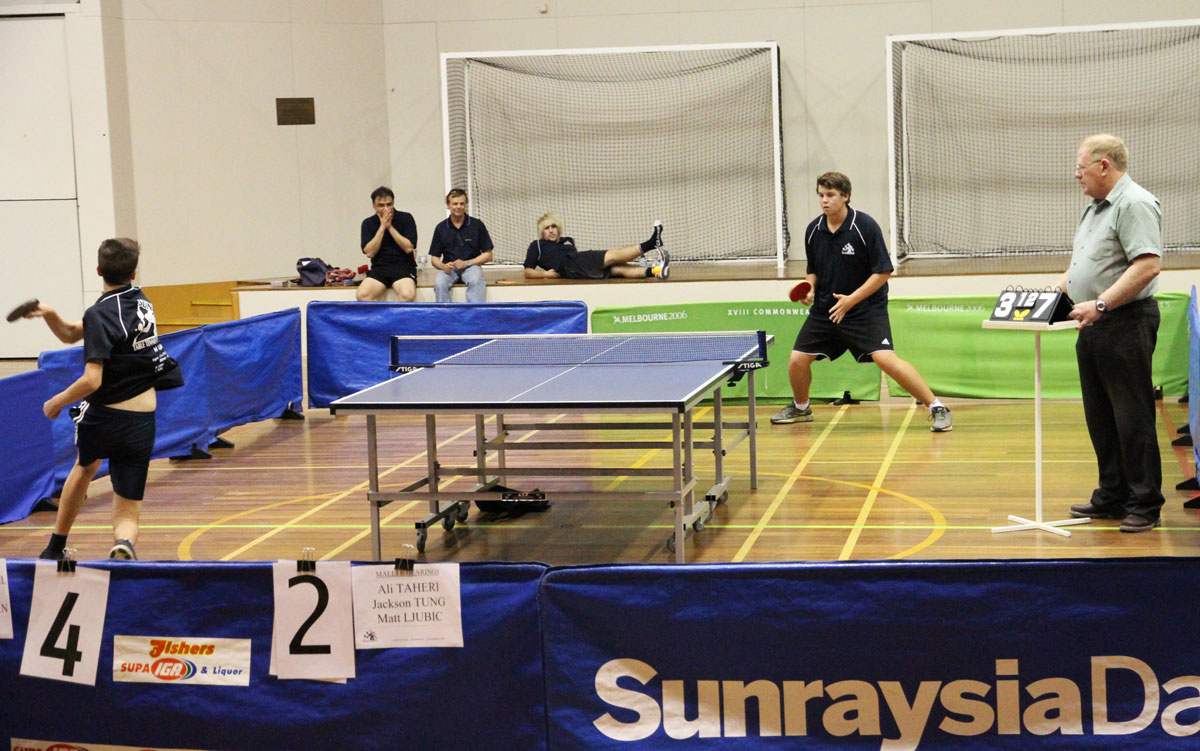 Ljubic took four sets to defeat Dorman.
The second doubles was now crucial to both teams with Mallee Bearings pair Taheri and Ljubic attempting to level the match and the Packers combination of Gavin Carmichael and Sony Sefer keen to arrest their opponents' momentum and leave them one rubber from victory. Mallee Bearings took the first game 13-11 and their come back was on in earnest however the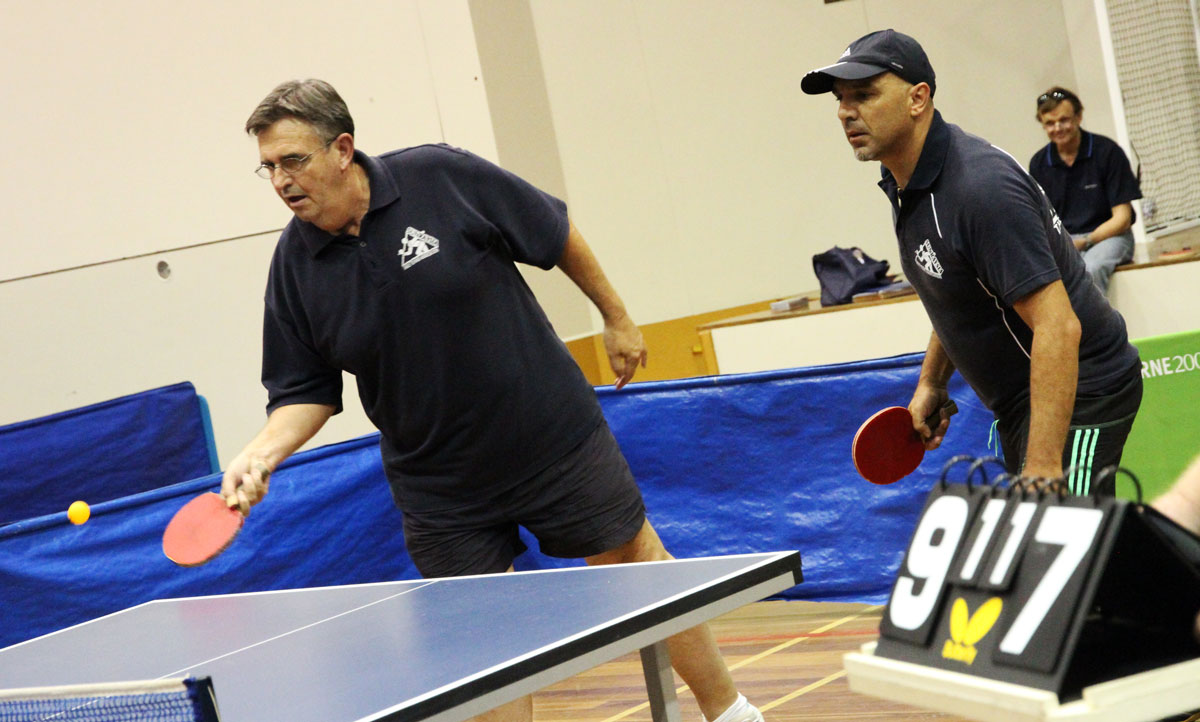 Packers pair of Carmichael and Sefer lifted and grabbed the second game comfortably. The third was tight and went the way of the Packers pair 12-10 and the fourth was one sided with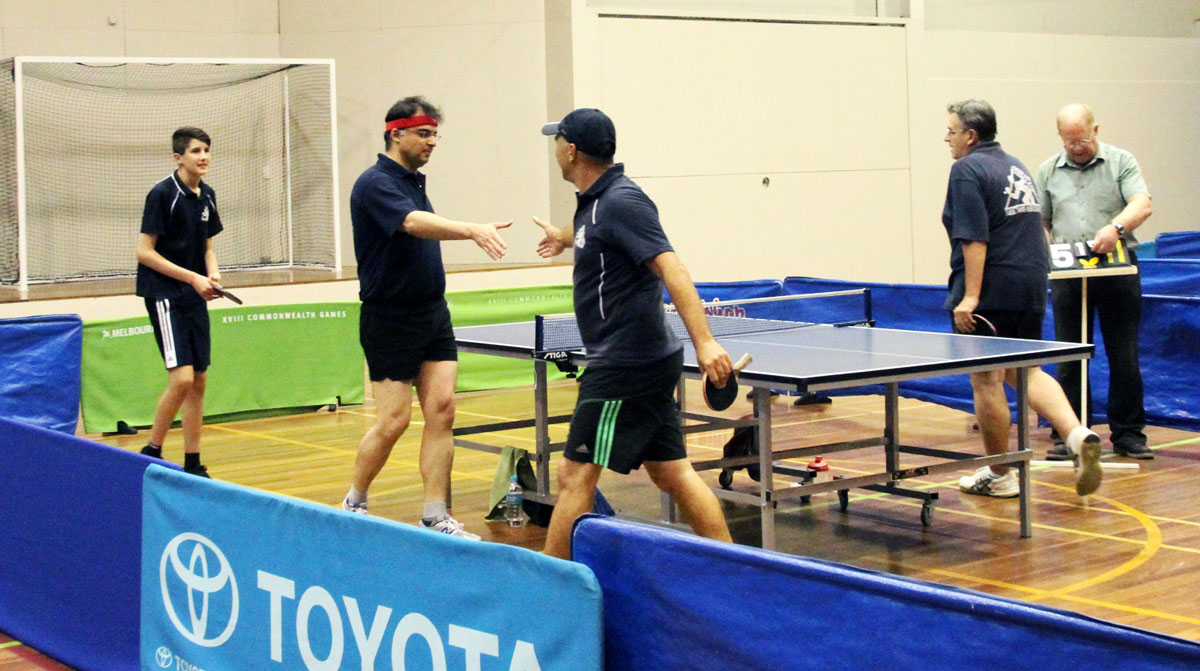 Carmichael and Sefer winning in a good tussle 11-4 for Pinnacle Packers to now take a 5-3 lead.
The two captains then took to the table and it was Carmichael for the Packers who took the early initiative winning the first game 11-6.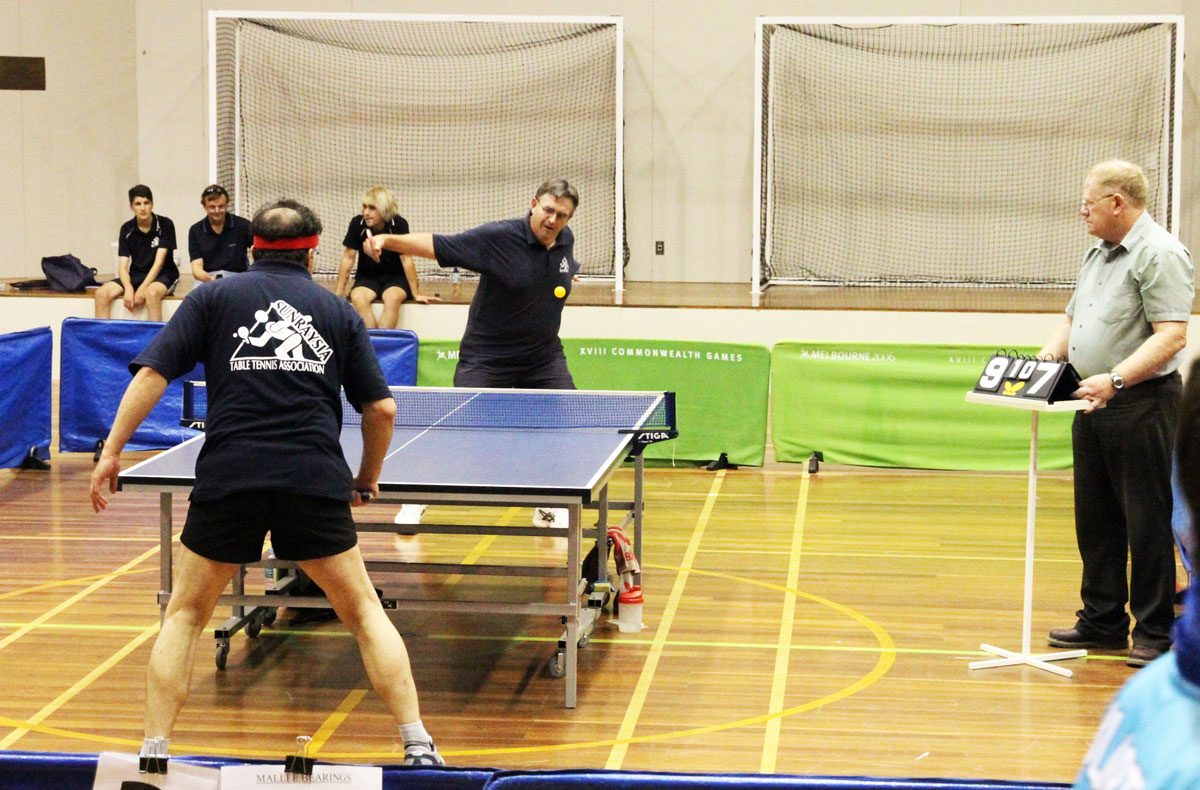 He then raced away to a big lead of 8-2 in the second only to see a superb recovery by Taheri to level at 9 all before Carmichael recovered to win 11-9. Carmichael was then able to maintain the advantage in the third and with an 11-7 win Pinnacle Packers were the 2013 summer pennant winners.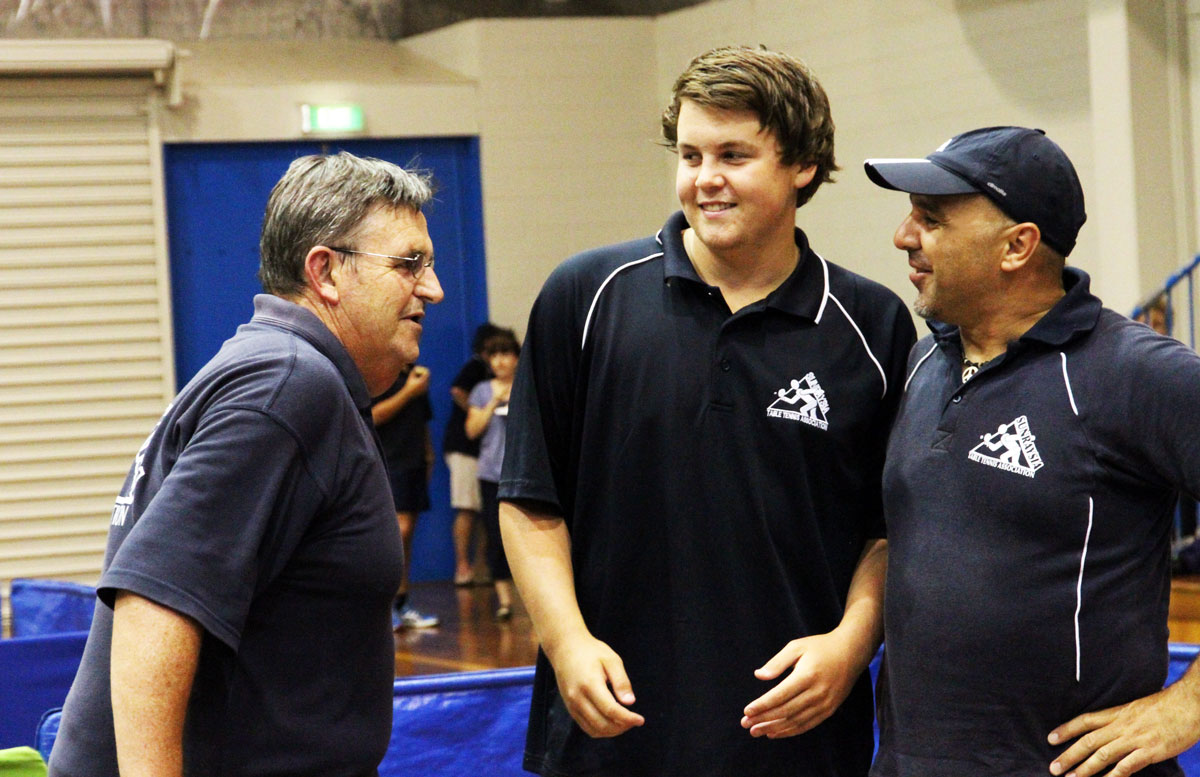 This was the first grand final success for Carmichael since 2002 while Nicholas Dorman was a premiership player in his first pennant one season. For Sony Sefer this was his first taste of premiership success after losing four grand finals in succession.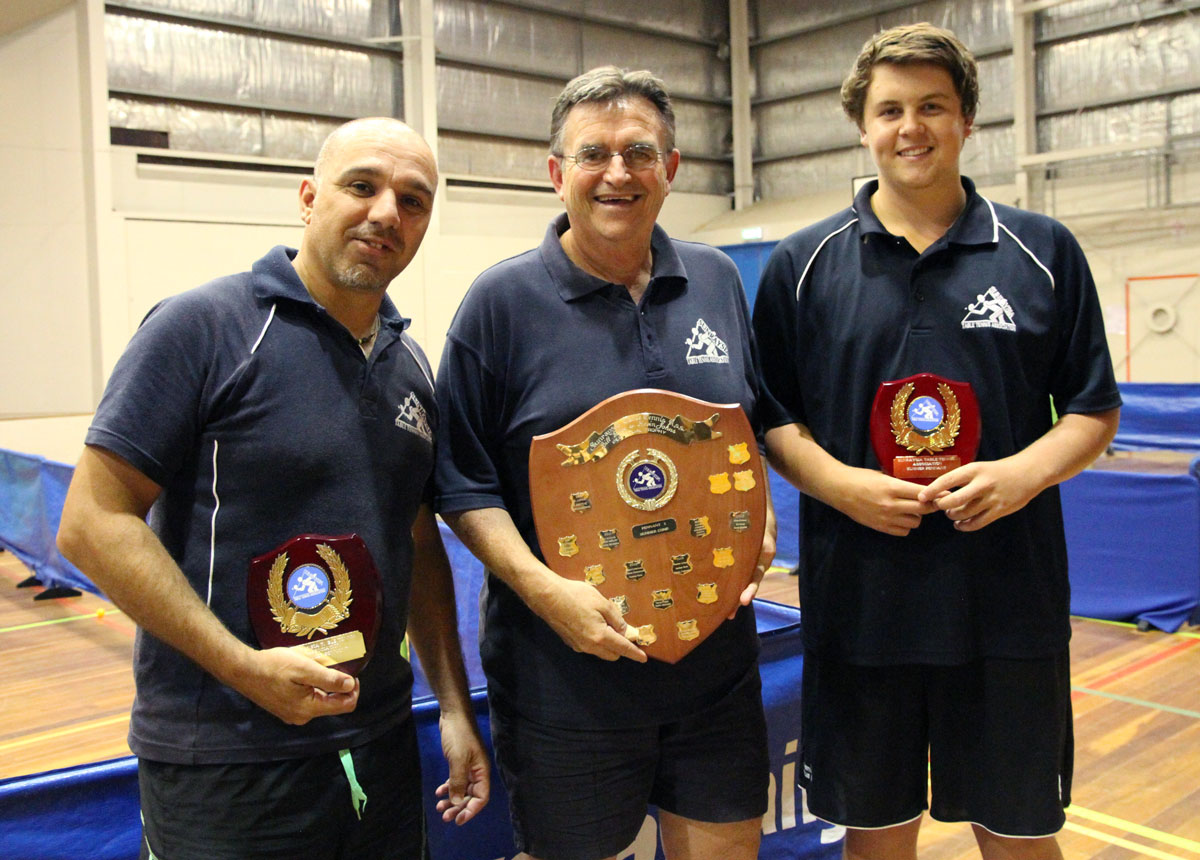 The Pinnacle Packers trio were the proud recipients of the EW Rowe and K Johns Perpetual shield, both life members of the Sunraysia Table Tennis Association.       
PENNANT TWO:
The two top teams from this competition met in the Grand Final, and the minor premiers came away with the win. In a top-shelf performance, Leon Brown, Cole Keegan and Tony Malycha playing for Spanline cruised to a 6 rubbers to 1 victory in the Pennant Two Summer Grand Final.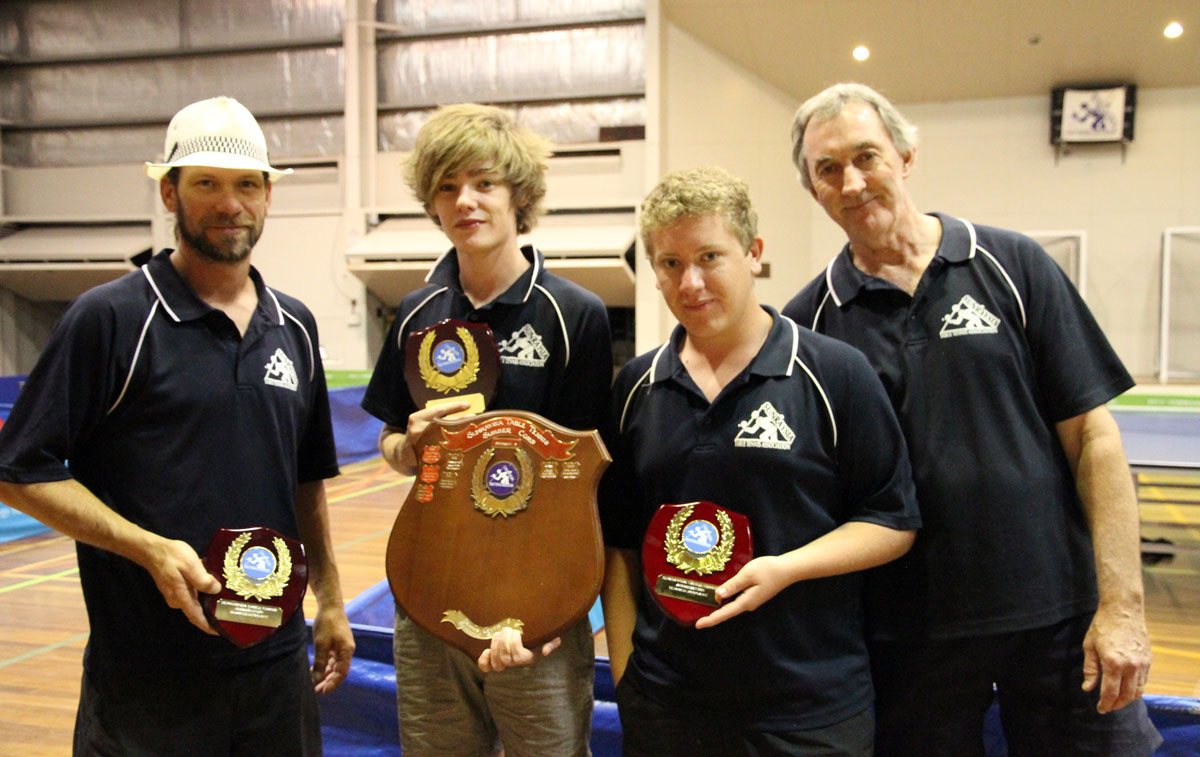 These two teams played each other twice this season – with a win apiece.  In round 5 Mallee Bearings took a 7 rubbers to 4win, but the tables were turned in round 10 with Spanline taking the honors 6-5.
– Spanline 6 (Leon Brown, Cole Keegan 2, Tony Malycha 1.) d Mallee Bearings 1 (George Papanicolaou 1)
Spanline were on a mission in this match.  Having just squeaked through last week in the Semi-Final against Fishers IGA, when that match was resolved at 13-11 in the fifth set of the final rubber, Spanline were determined to make their path a little easier here.
As it turned out, the result was never in doubt.  The Spanline trio ripped through the Mallee Bearings side in the first round of singles, took the first doubles, lost their only rubber of the night in the next singles, then polished off their opponents in the next two rubbers to have the game wrapped up after only seven rubbers.
It went like this.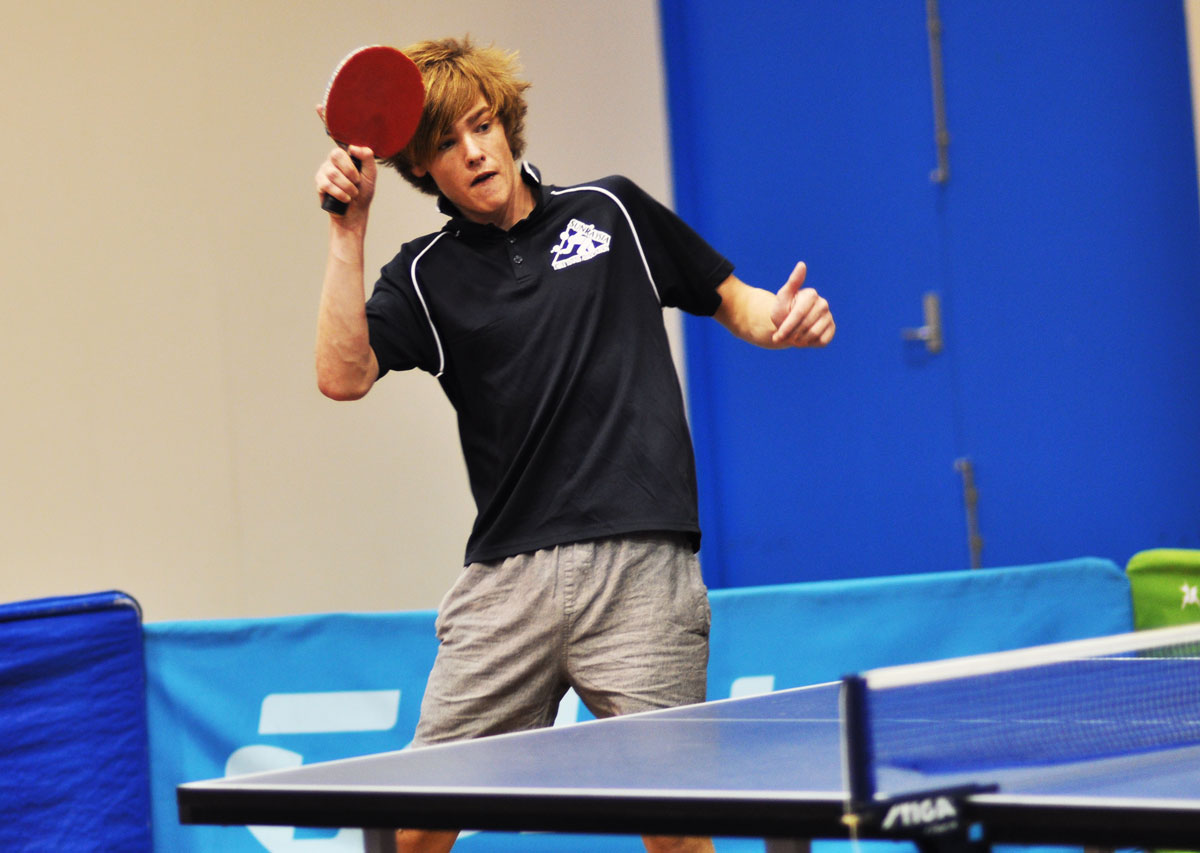 Leon Brown was much too good for George Papanicolaou, he dropped a set, but was not in any trouble, winning 11-5, 11-3, 8-11, 11-7.
After starting slowly against Peter Fitzpatrick,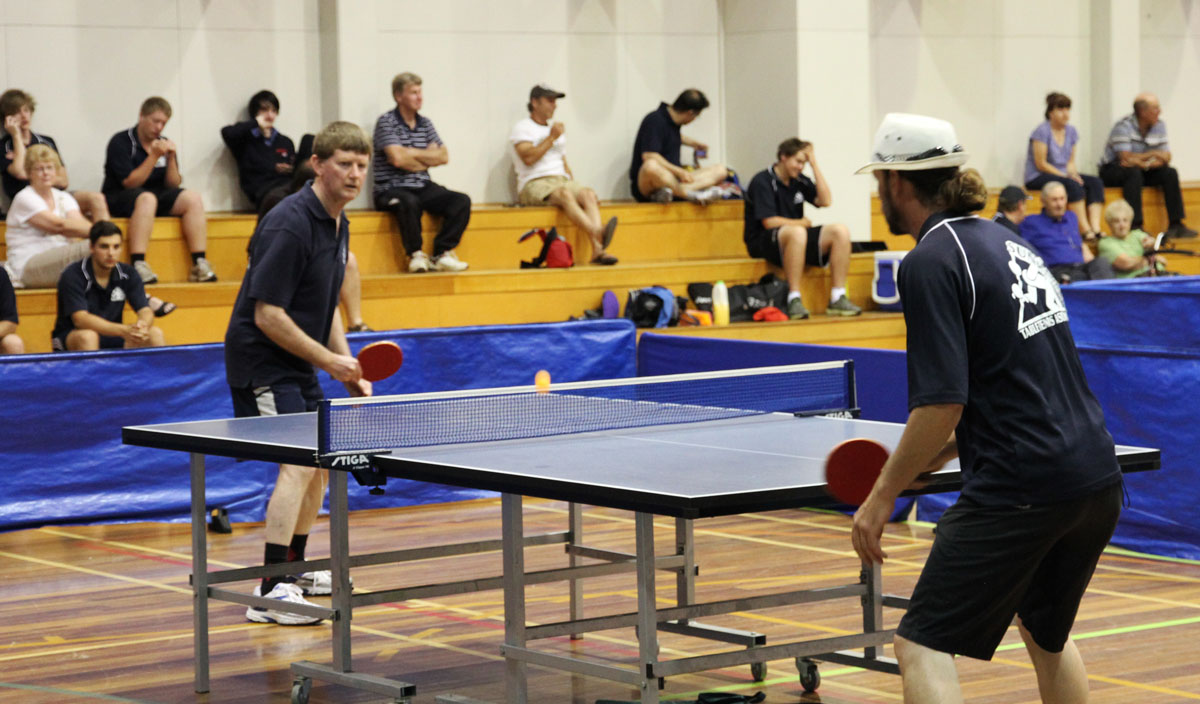 Tony Malycha thrashed his opponent, winning going away, as Fitzpatrick could only accumulate sixteen points in the final three sets.
Cole Keegan had to come from two sets to one down against Geoff Peters.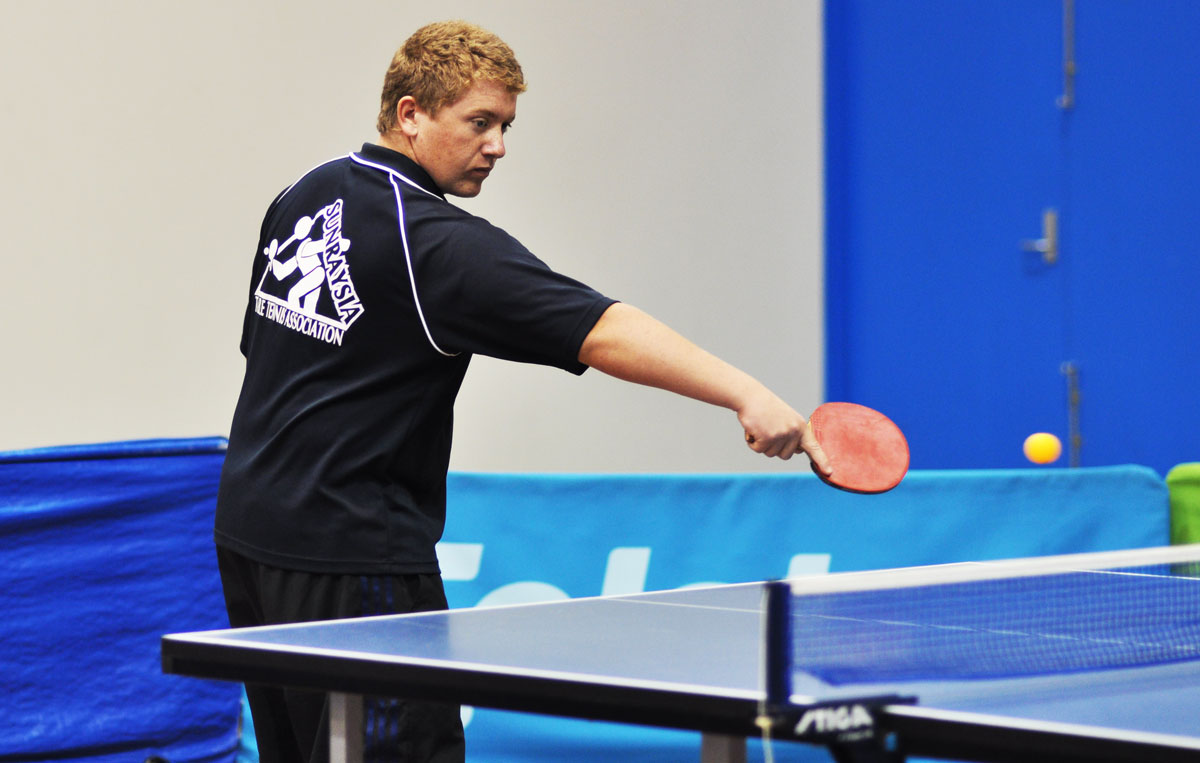 Keegan was too consistent in the finish, winning this match 11-9, 9-11, 6-11, 11-3, 11-5.
Papanicolaou and Fitzpatrick squandered a two sets to one lead in the first doubles,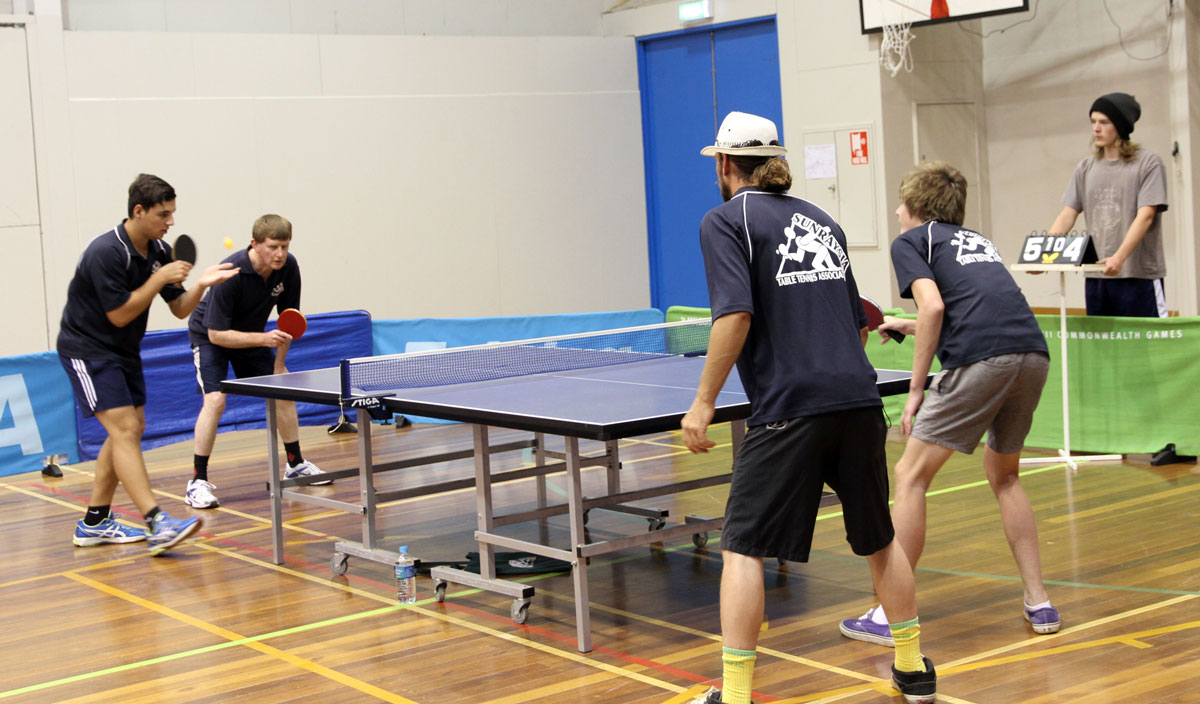 as Brown and Malycha took the last two sets 11-7, 11-7.
Fittingly, the only rubber won by Mallee Bearings was by their best performed player for the season, George Papanicolaou.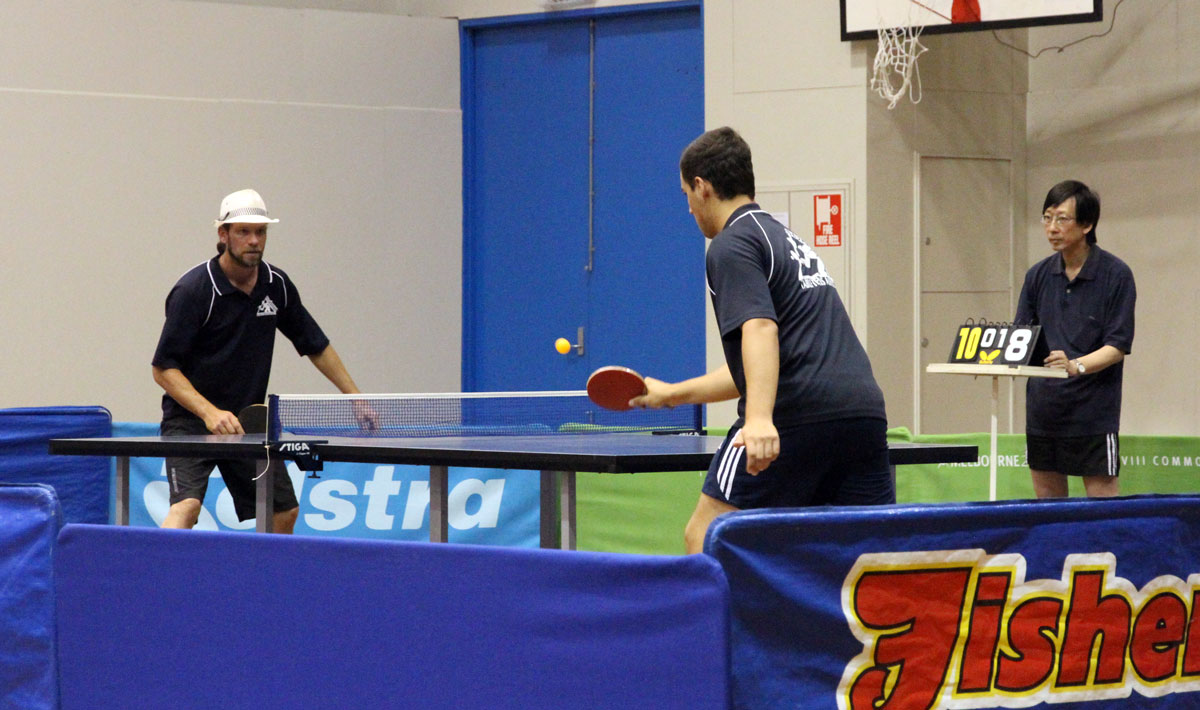 George had the measure of Tony Malycha: after an even start, he won in four, 11-6, 8-11, 11-7, 11-6.
Next, Leon Brown played the difficult Geoff Peters.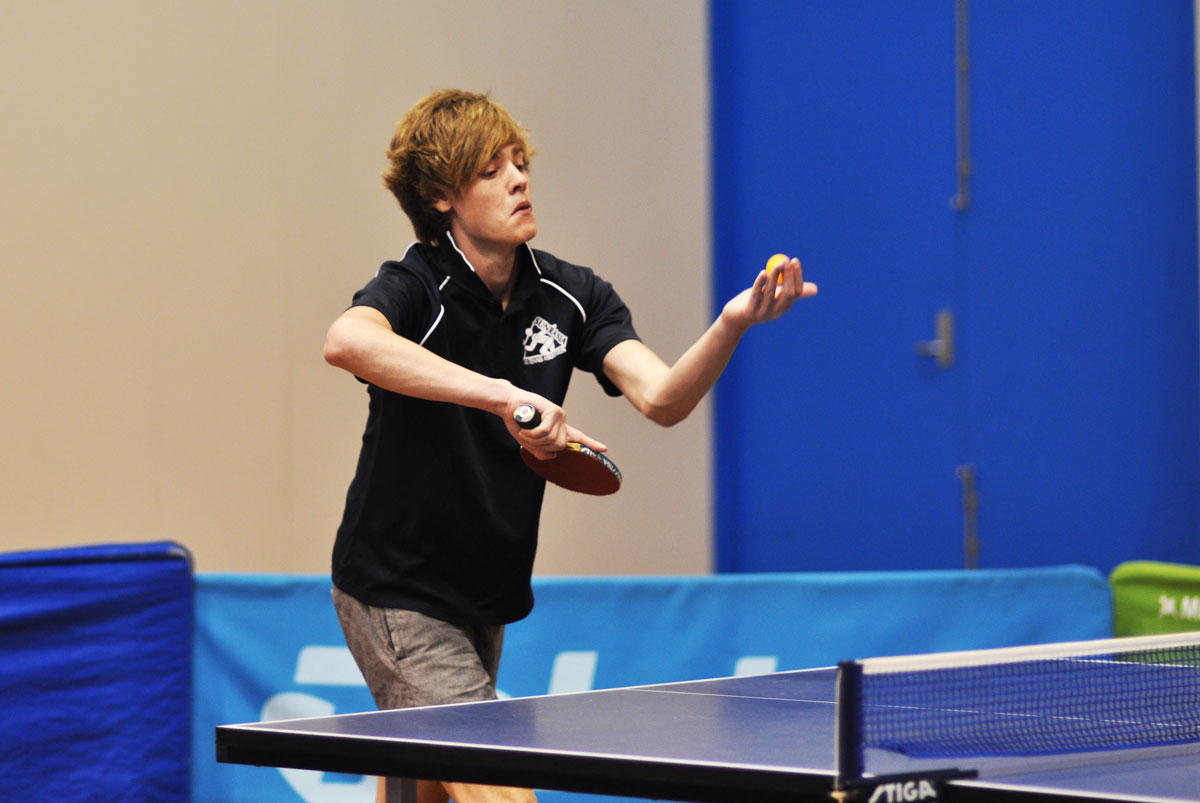 Leon was up to the task however, winning in three, 12-10, 11-6, 13-11 after some stiff competition from Peters.
The final rubber required for victory was supplied by Cole Keegan in his match with Fitzpatrick.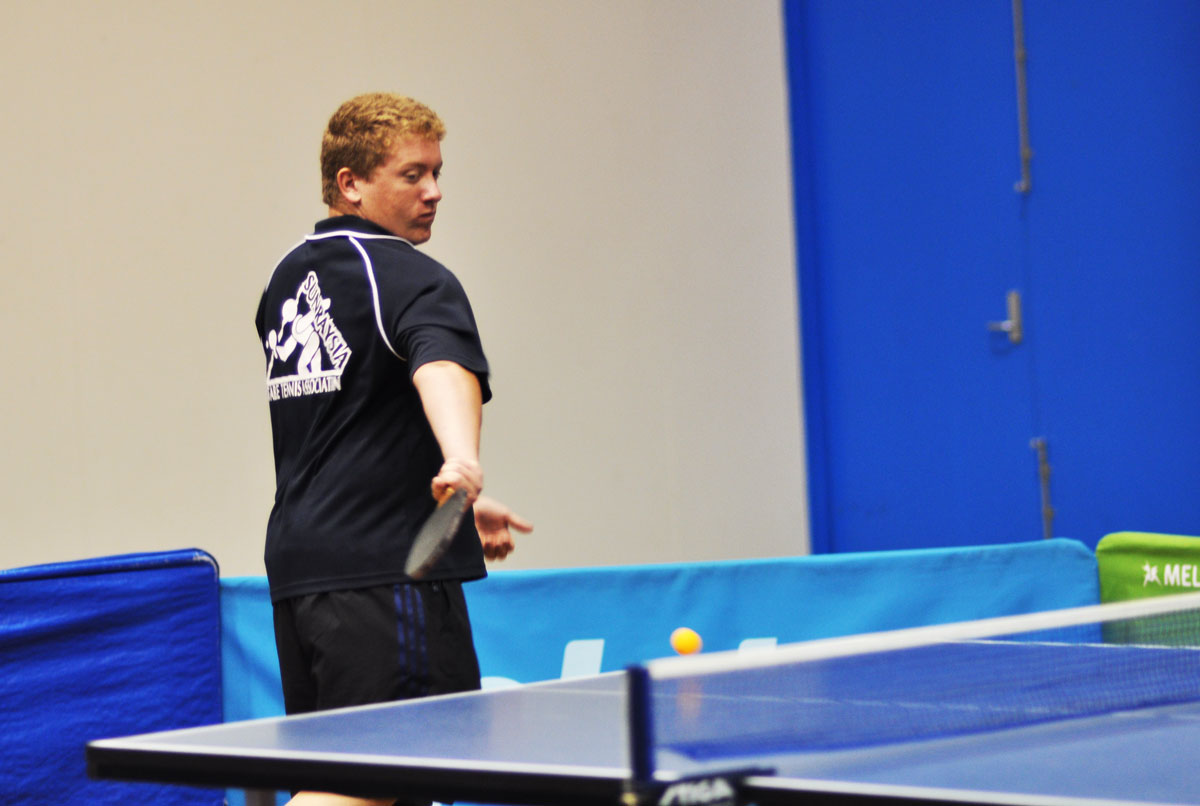 After narrowly dropped the first 9-11, he was not in trouble thereafter, taking the next three 5, 6 and 5.
It was a thoroughly deserved win for Spanline – a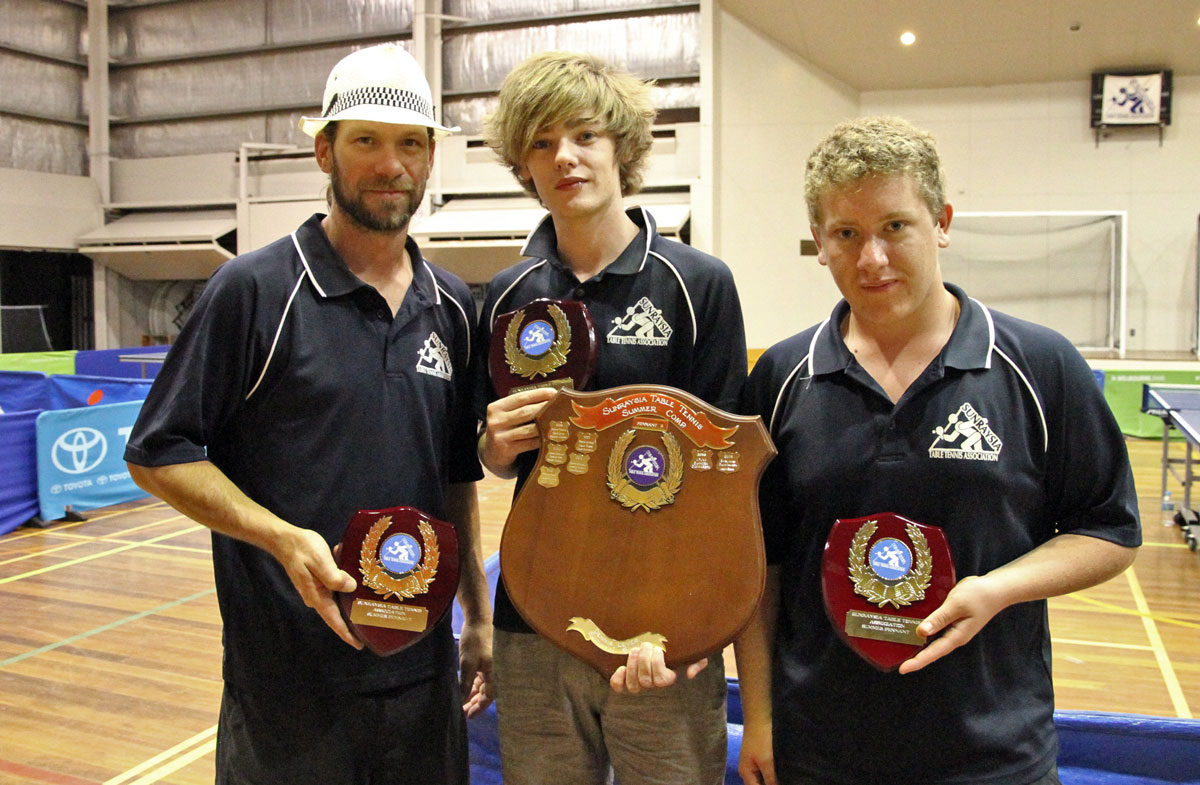 s already mentioned, they topped the ladder, and also their three players, as a team, performed best in the individual aggregate.
PENNANT THREE:
In a thrilling finish, Weightmans Packaging became the Pennant Three Premiers for 2013.
These two teams finished first and second on the ladder, equal on nine wins from ten matches.  They had lost to each other once each during the season, Dunkley Scales winning 7-4 in round 2, and Weightmans Packaging 6-5 in round 7.  Dunkley Scales were at the head of the ladder however, by virtue of a far superior percentage.  They had taken that position from round 1 and had not relinquished it all season, and were rightfully seen as favorites for the flag.
– Weightmans Packaging 6 (Matt Avers 3, Graeme Southwell 2, Rachel Fitzpatrick 1) d Dunkley Scales 5 (Mukhwinder Mukhwinder 2, Leonie Dunkley 1)
It could be that an error in the way in which Dunkley Scales filled out their side of the score sheet contributed to their demise, at least, the error did not help their cause.  More of that later.
The two captains played off in the very first rubber.  During the season, the honors have been shared, Leonie Dunkley defeated Matt Avers in four sets in their round 2 clash, and Avers responded with a five set win in round 7.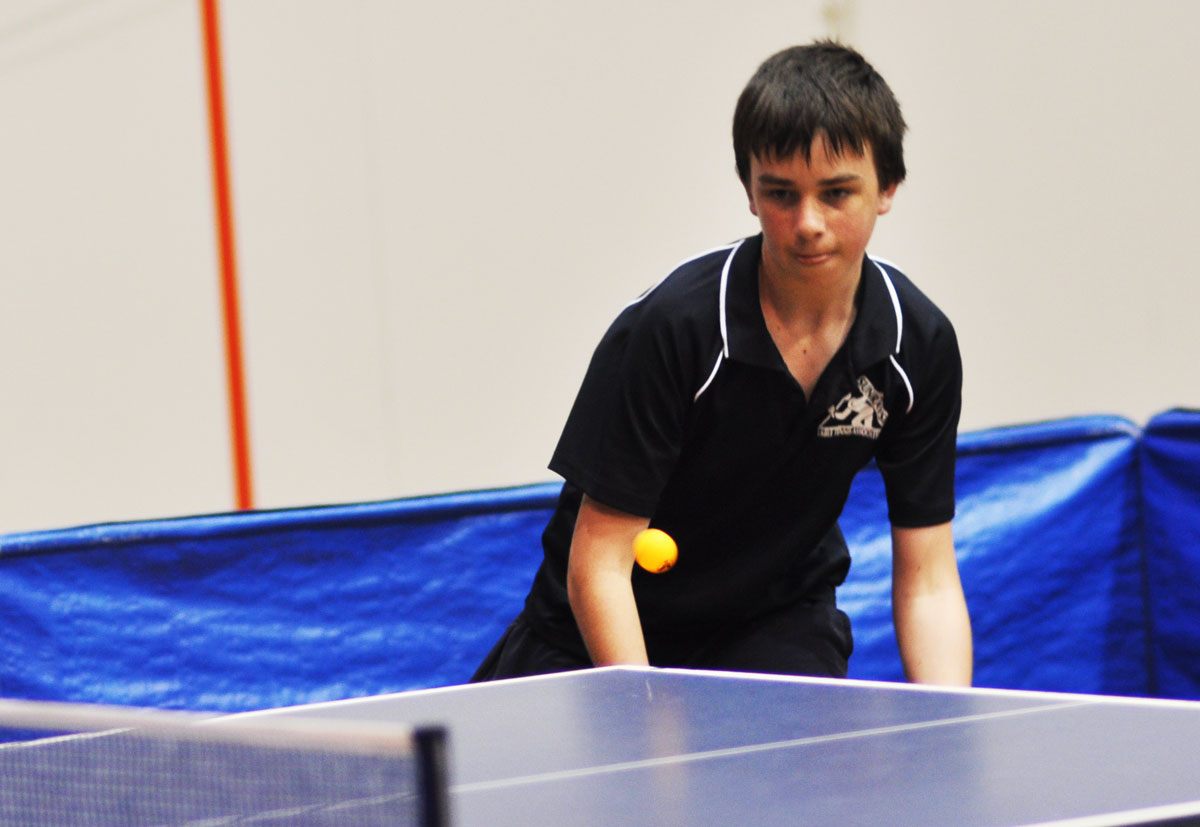 The result here was an emphatic three set victory to young Matt Avers 11-6, 11-6, 11-4 to give his team first blood.
Rachel Fitzpatrick backed her captain up with a fighting five set win over Jeff Hards.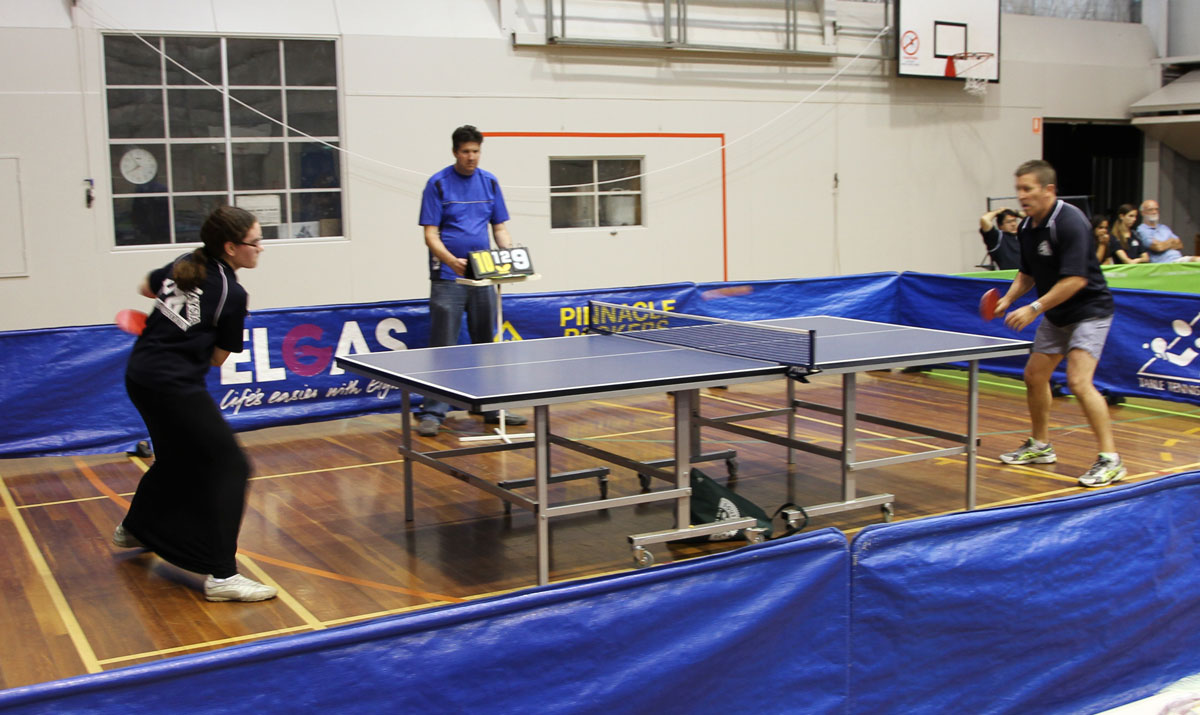 Rachel took the first set 11-7, only to drop the next two 5-11, 8-11.  She took a close fourth set 11-9, and proved her consistency in the fifth, taking that 11-7.
Dunkley Scales brought the score back to two rubbers all with wins in the next singles and the first doubles. Aggregate winner Mukhwinder Mukhwinder took a measured win over Graeme Southwell 11-5, 11-8, 11-7;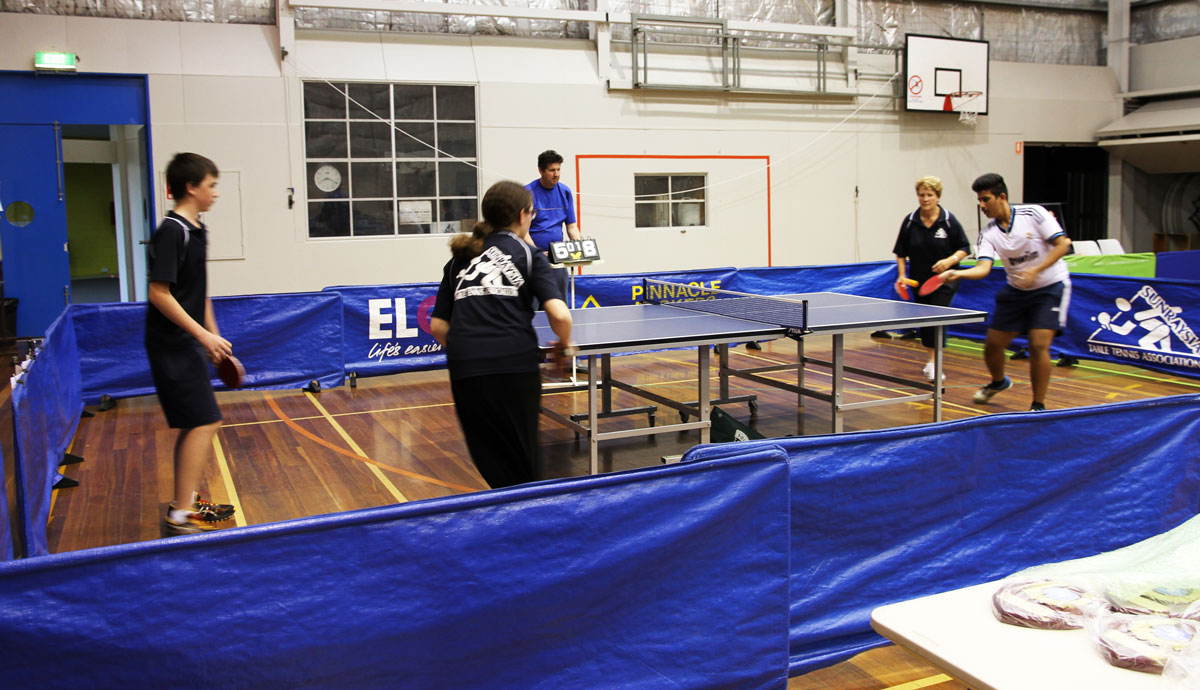 then Dunkley and Mukhwinder confirmed their competitiveness with a straight sets win over Avers and Fitzpatrick 13-11, 11-5, 11-3.
Dunkley Scales took the lead in the next rubber –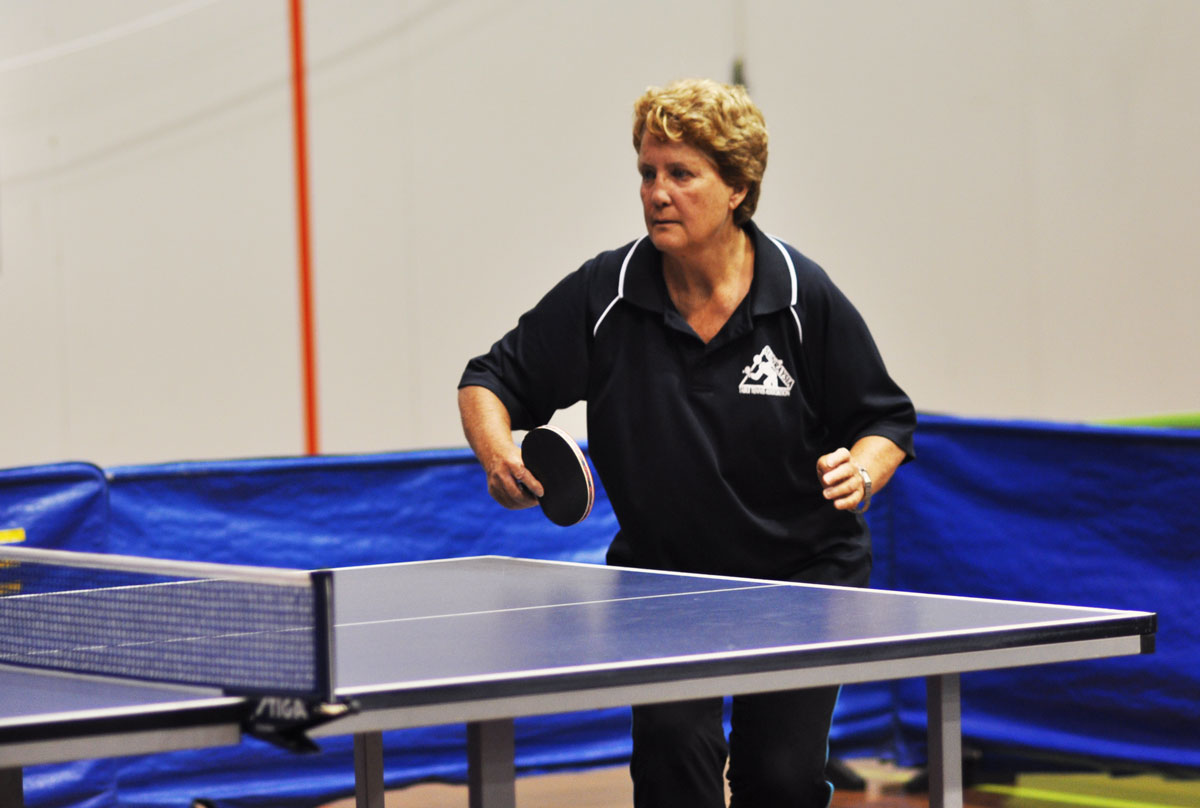 Leonie Dunkley having no trouble with Rachel Fitzpatrick, winning 11-4, 11-7, 11-2.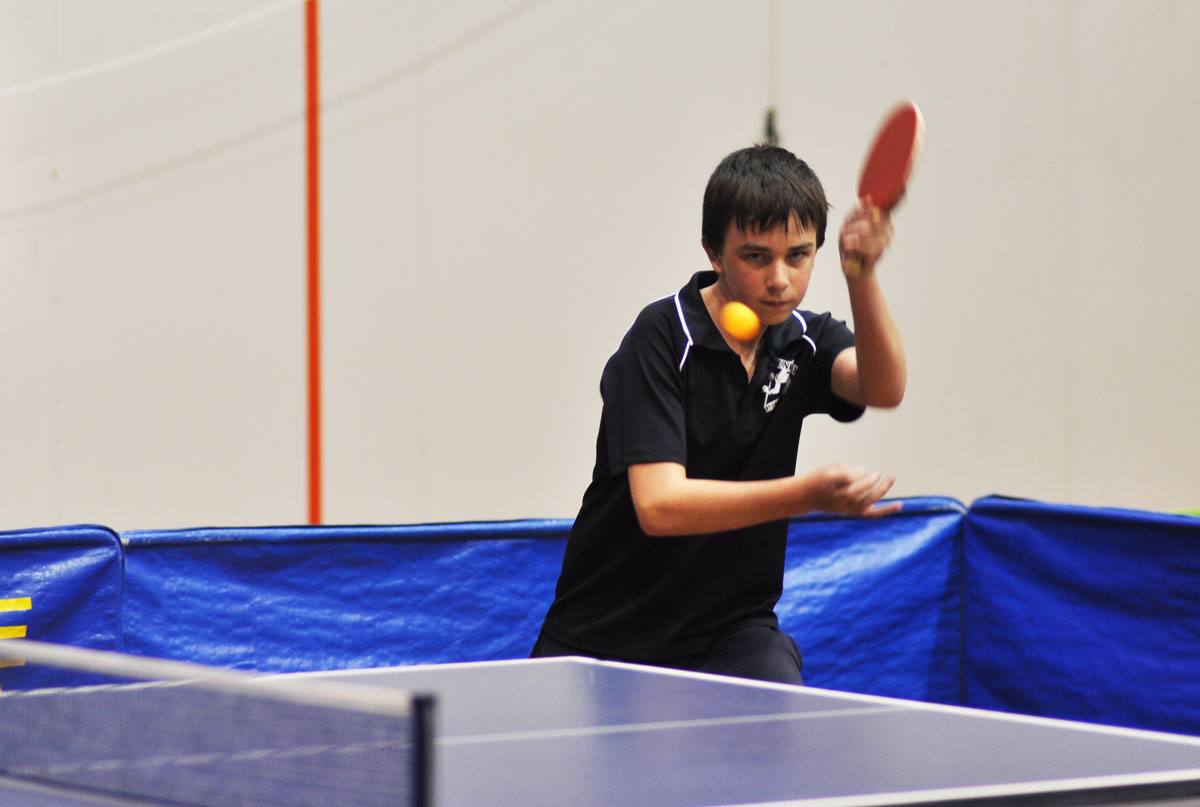 Weightmans captain Matt Avers came to the rescue, making the score three rubbers each when he defeated Jeff Hards in three sets, 7, 9 and 4.
Weightmans then went ahead in the next rubber, and this could have been the start of Dunkley Scales problems.  Because of an error in which Dunkley Scales had filled out their part of the score sheet, the next game to be played was Southwell (for Weightmans)  v.  Mukhwinder (for Dunkley Scales).  But this game had already been played in the first round of singles !!  So the sheet was quickly changed to the correct player for Dunkley Scales, Leonie Dunkley.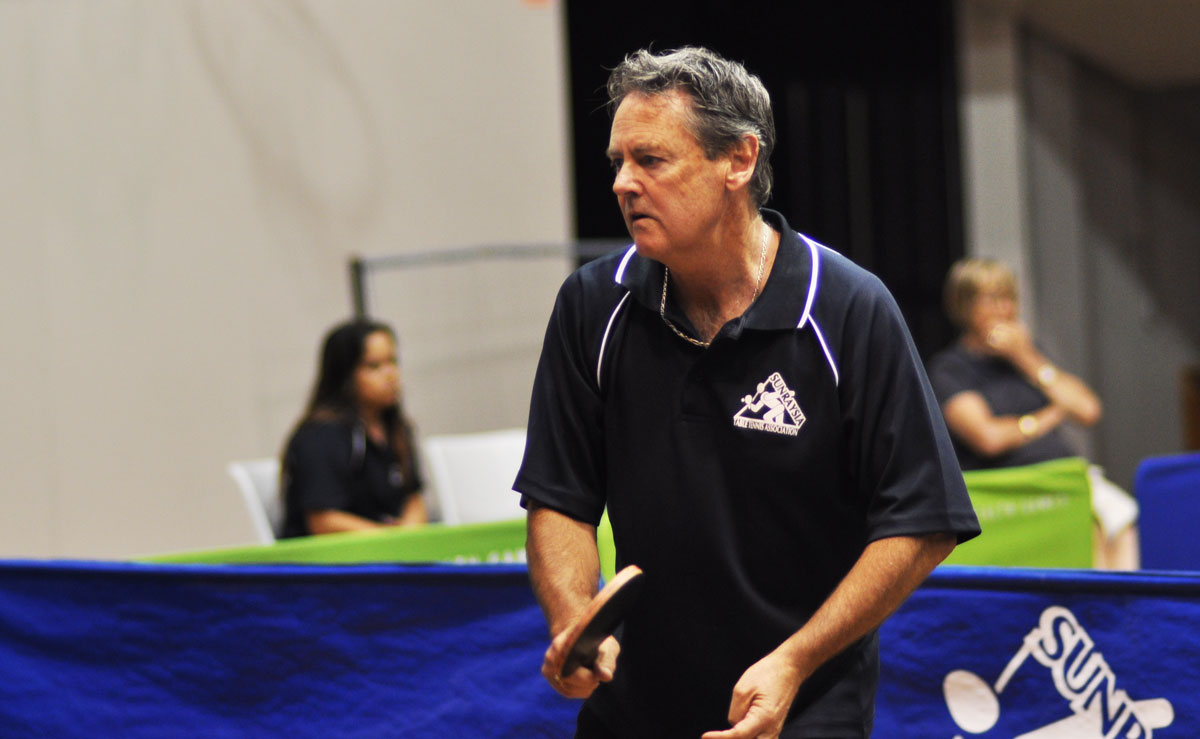 That meant that Dunkley had now played two of the three rubbers in this round of singles.  The result was a win to Southwell in just three sets 7, 5 and 9.
Despite the loss, Dunkley Scales again evened the score with a win in the eighth rubber.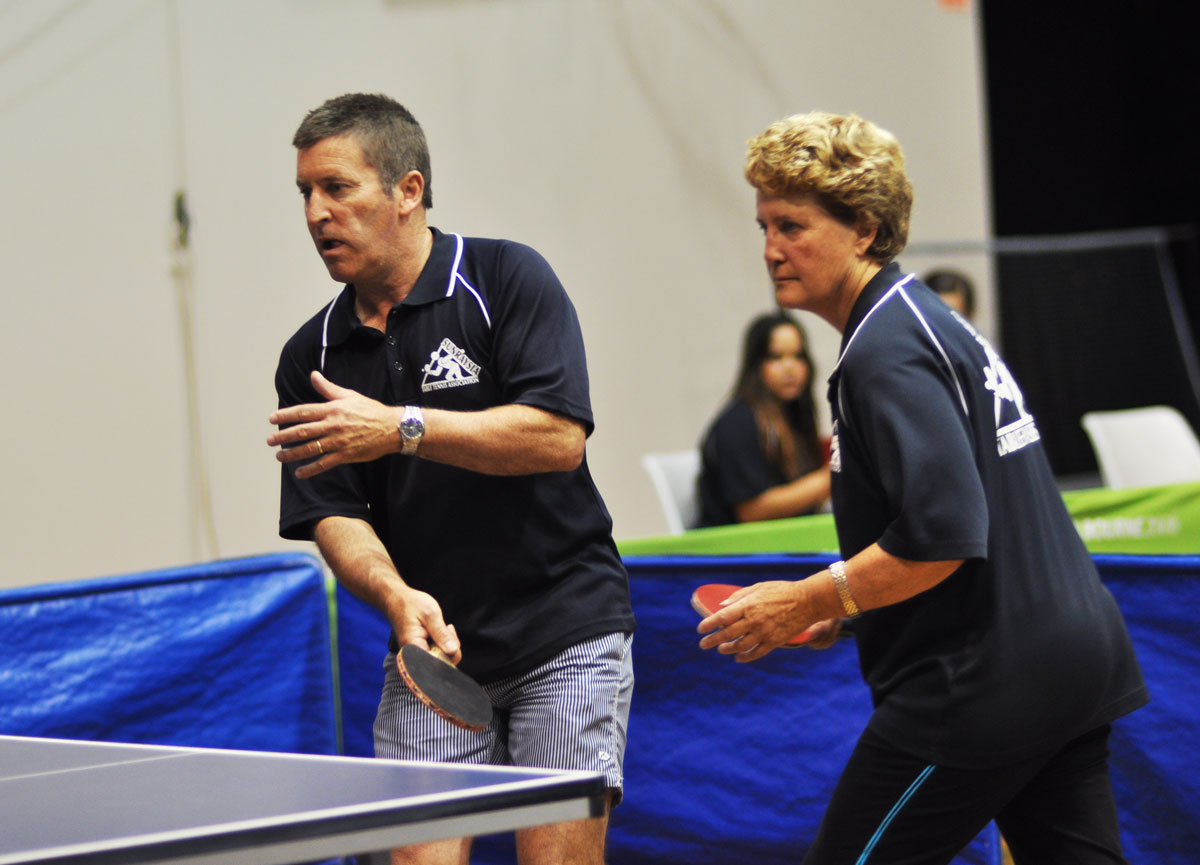 Dunkley and Hards were too good for Avers and Southwell winning in straight sets 11-7, 11-9, 11-5.
The last set of singles were therefore looking interesting.  Due to the score sheet mix-up, the pennant Aggregate Winner Mukhwinder Mukhwinder had to play two of the three rubbers, and was so was entitled to be favourite.
Mukhwinder's first game was against Rachel Fitzpatrick.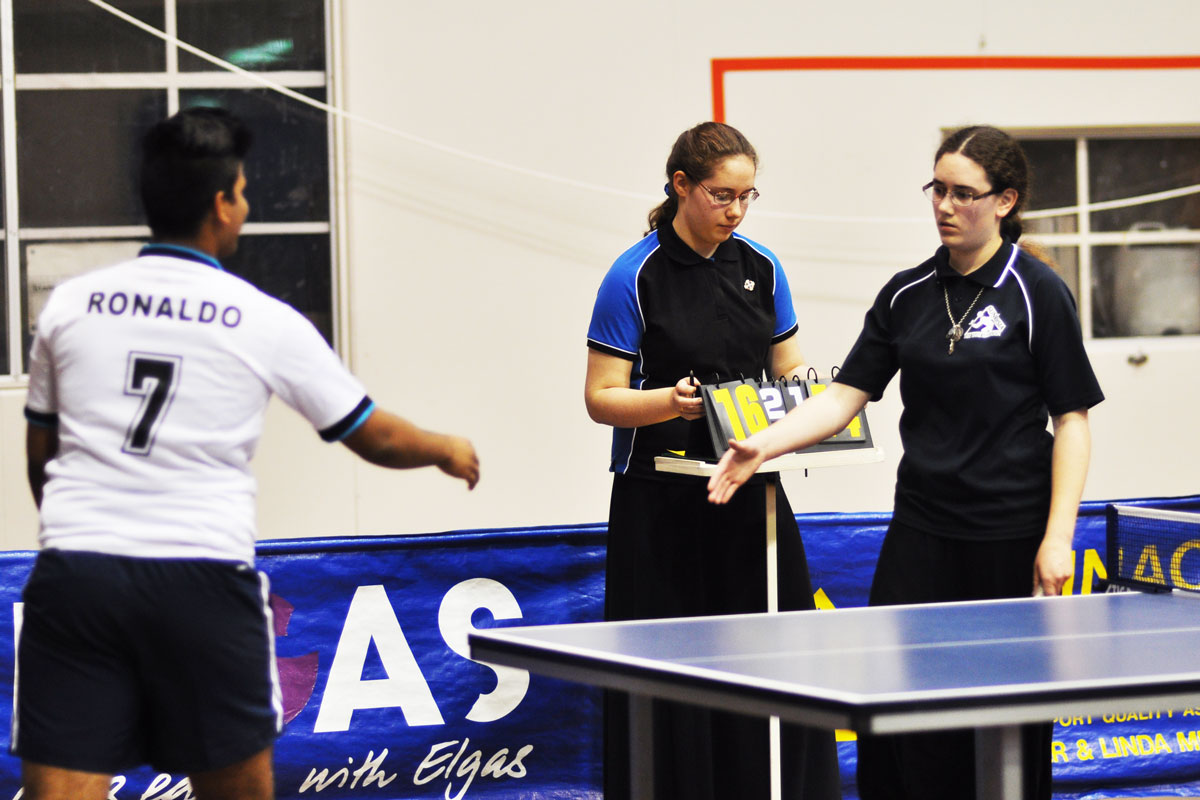 Mukhwinder had a real fight on his hands in this rubber, and although he took the win, Rachel made him work hard for it.  Mukhwinder won 11-7, 10-12, 11-6, 16-14 to give his side a 5-4 lead with two to go.
Weightmans once against leveled the scores in the next rubber –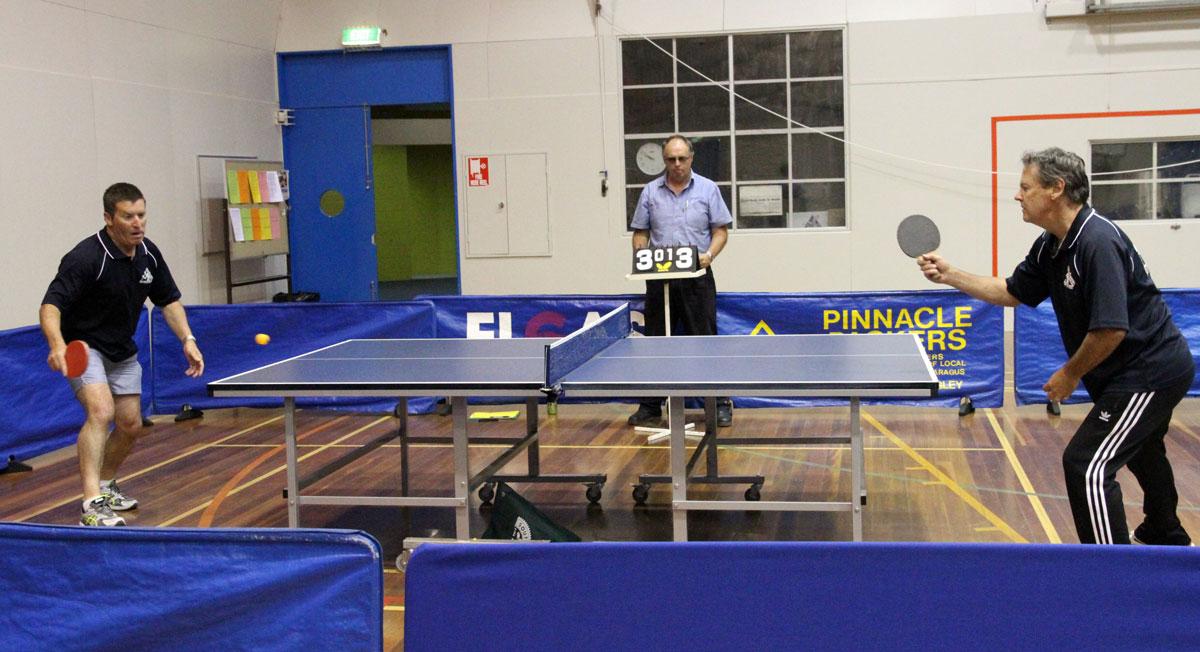 Graeme Southwell took his second singles rubber for the night with a three set win over Jeff Hards, 11-8, 11-9, 11-6.
And so to the last and deciding rubber.
Captain Matt Avers finished fourth on the aggregate, six games behind his opponent here, Mukhwinder Mukhwinder.  Advantage to Mukhwinder.  Further, on the two occasions these two had met during the season, Mukhwinder had defeated Avers on each occasion, and in three sets.  Further advantage to Mukhwinder.
The result of this rubber was then nothing short of a surprise.  Avers was never in trouble, controlling the match with his fine defensive play, outplaying Mukhwinder who prefers to defend, and when in control himself will attack with precision.  Avers never allowed Mukhwinder to take control, and without putting too much of a point on it, perhaps having just played a solid four setter against Rachel Fitzpatrick, with only a short break between, Mukhwinder was not mentally prepared for the fresher Avers. 
Whatever, Avers took the win in just three sets 11-6, 12-10, 11-7.
A great Grand Final match then, the only one which went down to the final rubber for decision.
PENNANT FOUR:
This match was a real family affair. Brother and sister John and Therese Fitzpatrick lined up together in the Max Miller Carpets team while mother and daughter Kim and Chelsey Avers were team mates in the Sunny Daily combination. Remaining players were father and daughter Wayne and Angela Pryor who were playing for the Carpeters and Sunny Daily respectively. All were playing their first season of senior table tennis.
Sunny Daily had tasted success on the three occasions they had previously met during the season, two 7-4 and one 6-5 victory.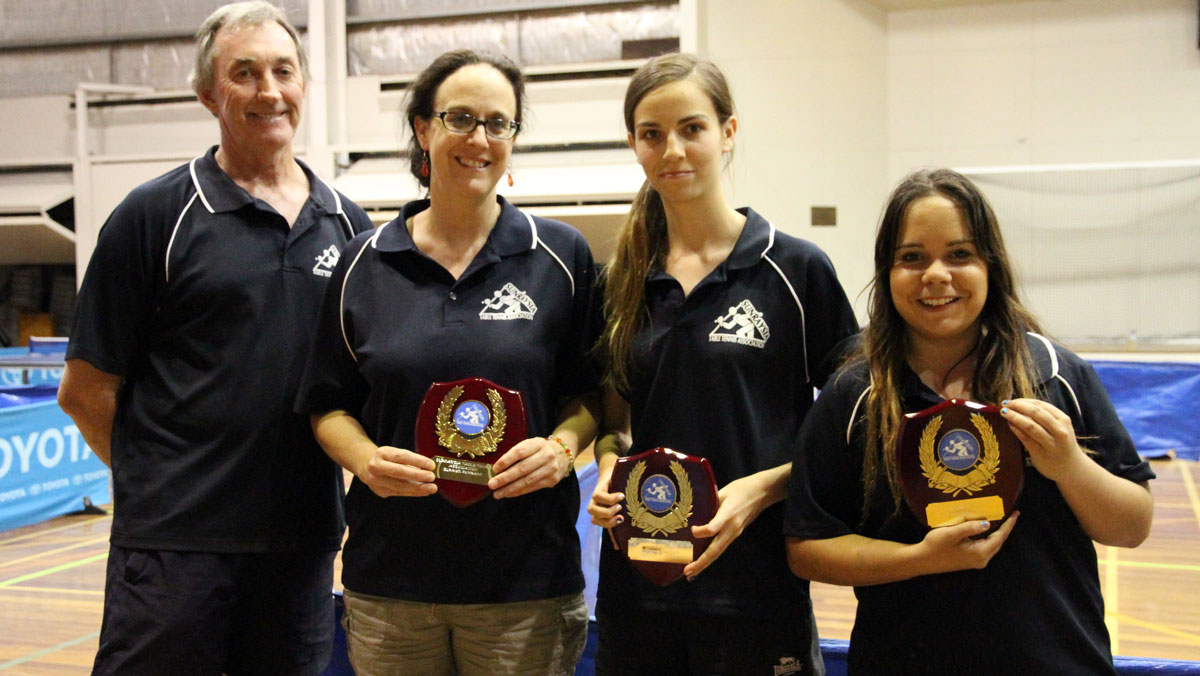 – Sunny Daily 6 (Angela Pryor 3, Chelsey Avers, Kim Avers 1) d Max Miller Carpets 3 (John Fitzpatrick, Therese Fitzpatrick 1)
In this match the Carpeters had a tremendous start with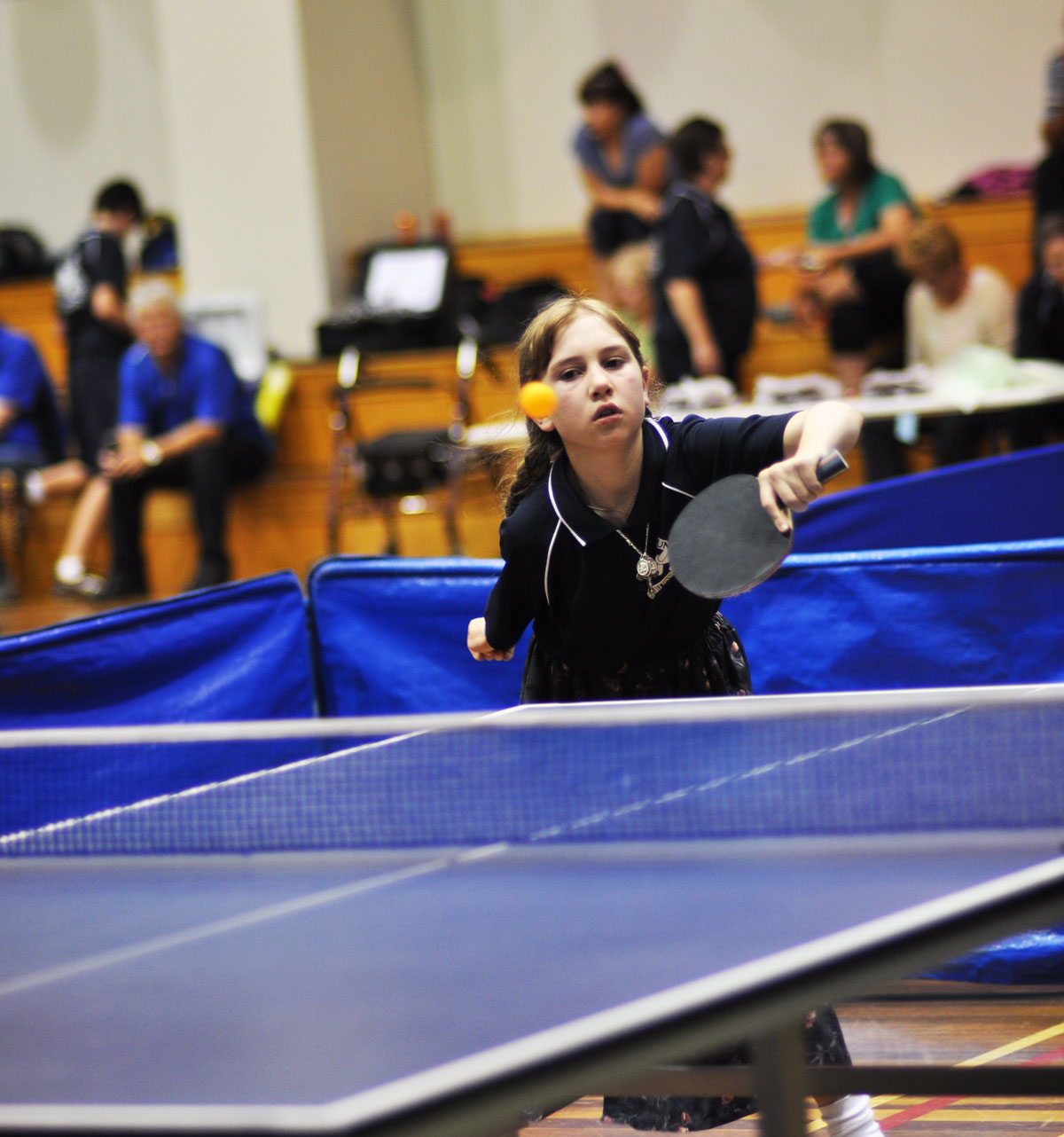 Therese Fitzpatrick defeating Chelsey Avers in straight sets and then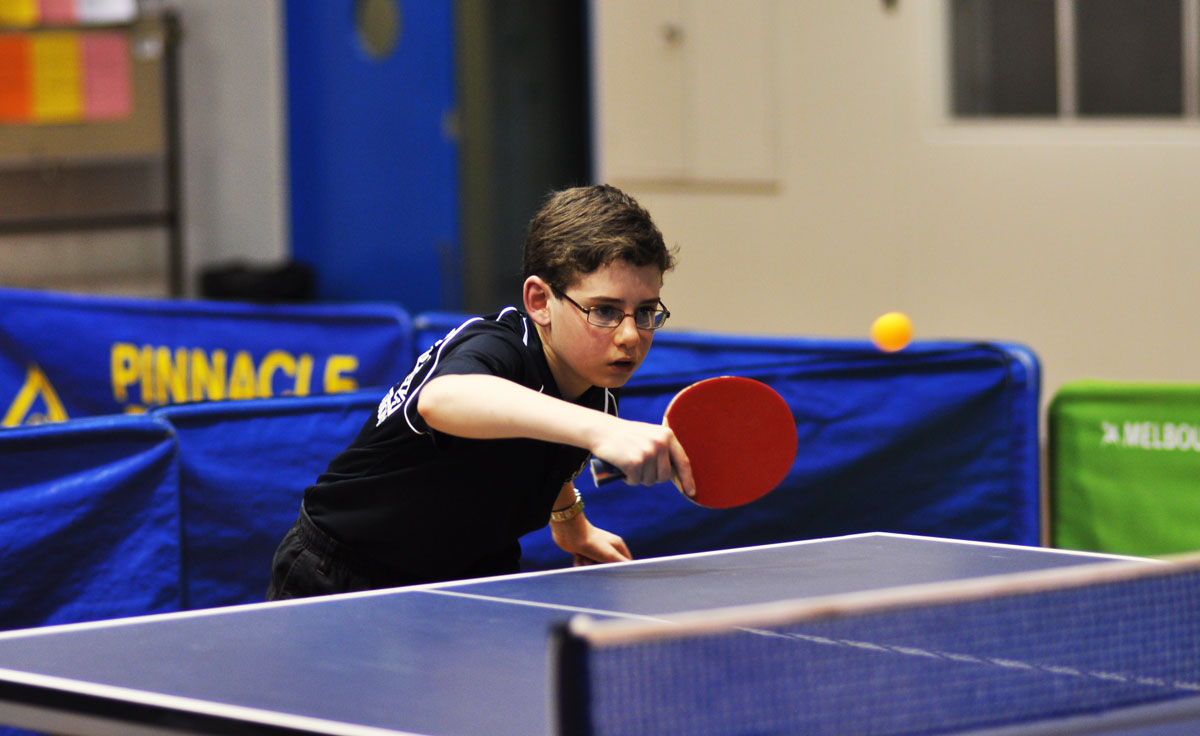 John Fitzpatrick defeating aggregate winner Kim Avers in an excellent match 13-11 11-4 8-11 16-14. Max Miller Carpets had taken a 2-0 lead. Angela Pryor with a four set victory 11-4 9-11 12-10 11-3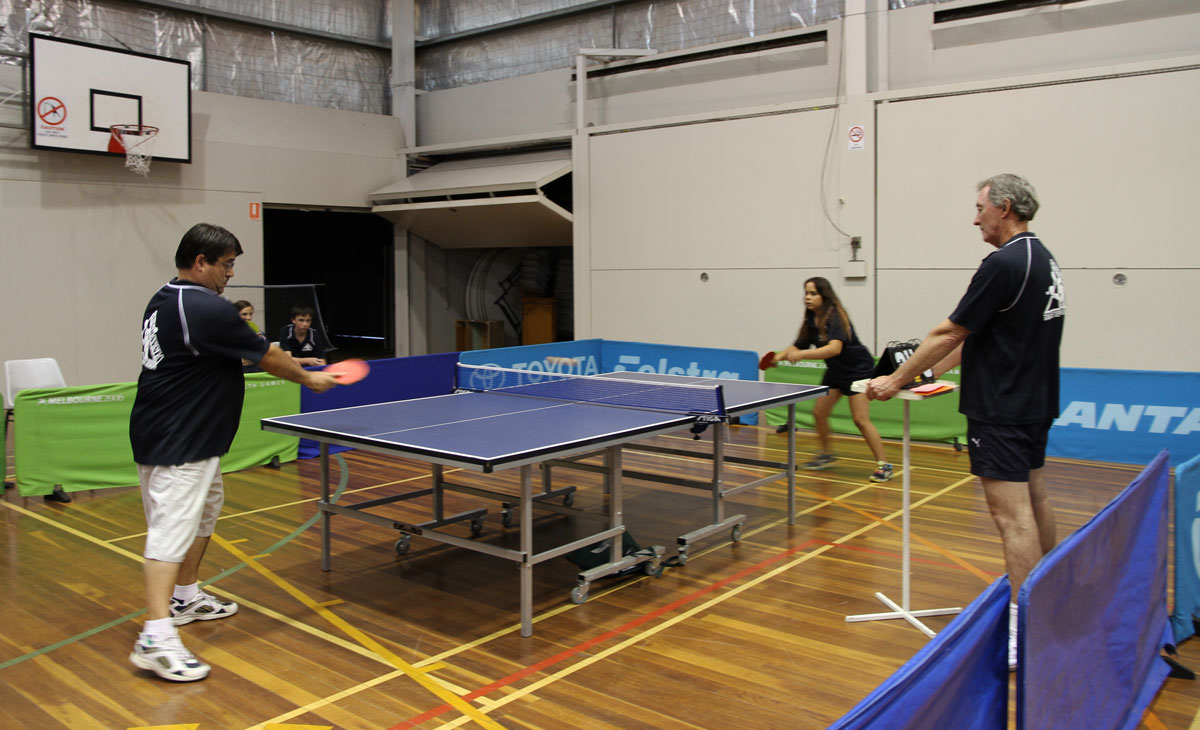 over her father Wayne opened the scoring for Sunny Daily who then proceeded to level the match when Angela and Chelsey Avers teamed up to win the first doubles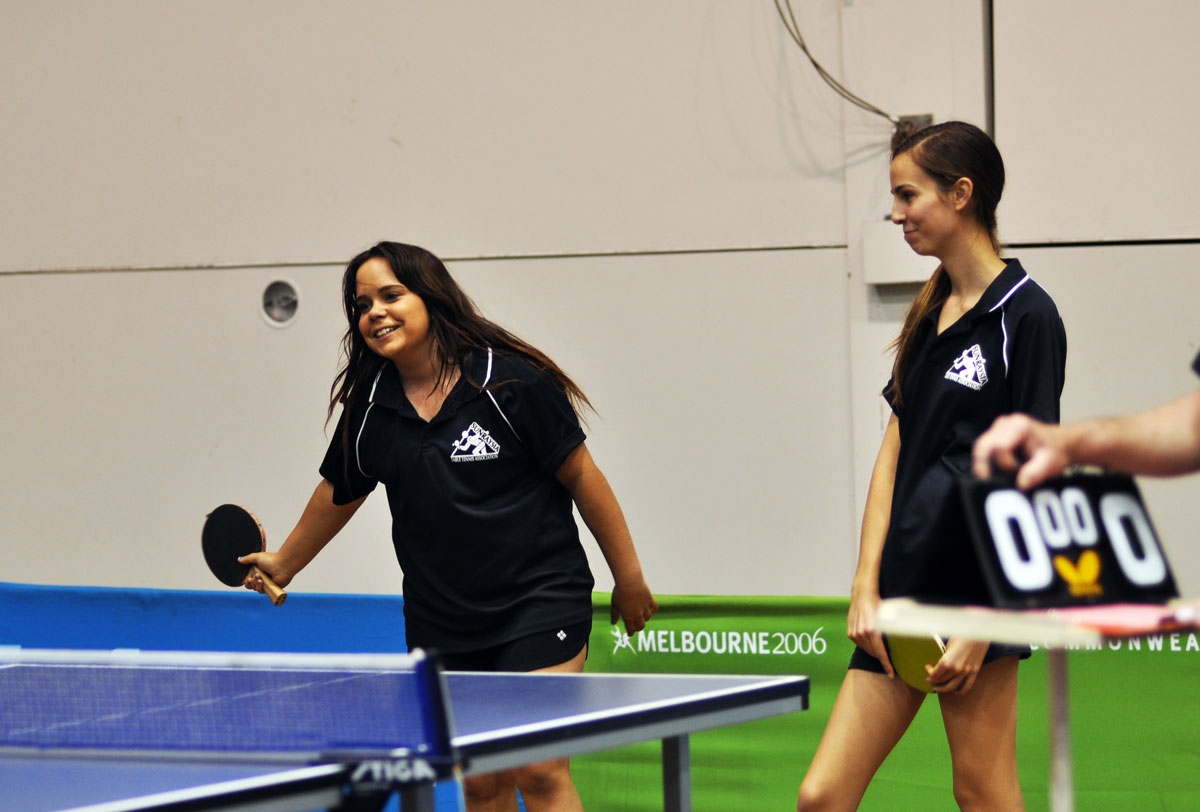 11-5 11-6 10-12 11-7 against Carpeters pair John Fitzpatrick and Wayne Pryor.
Sunny Daily were now on a roll and gaining momentum as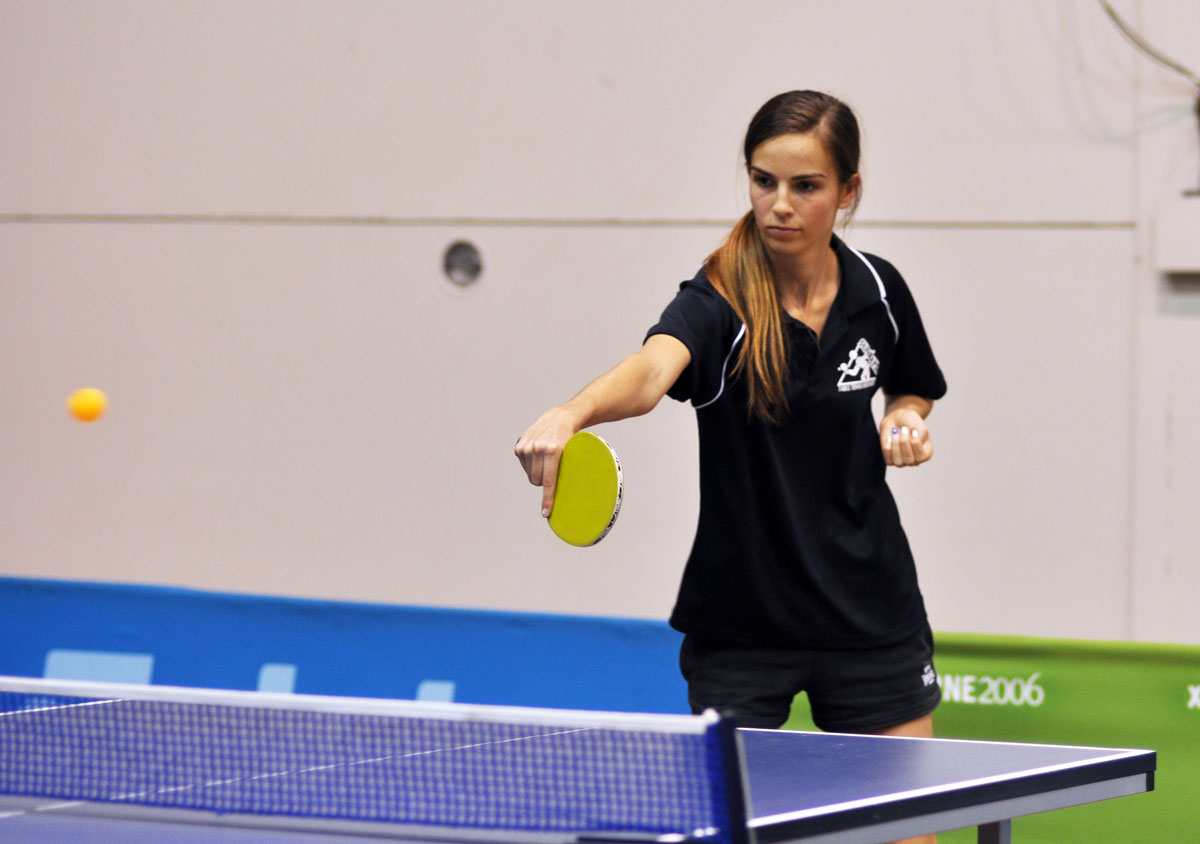 Chelsey Avers played excellent table tennis to account for John Fitzpatrick 5-11 11-7 12-10 11-7.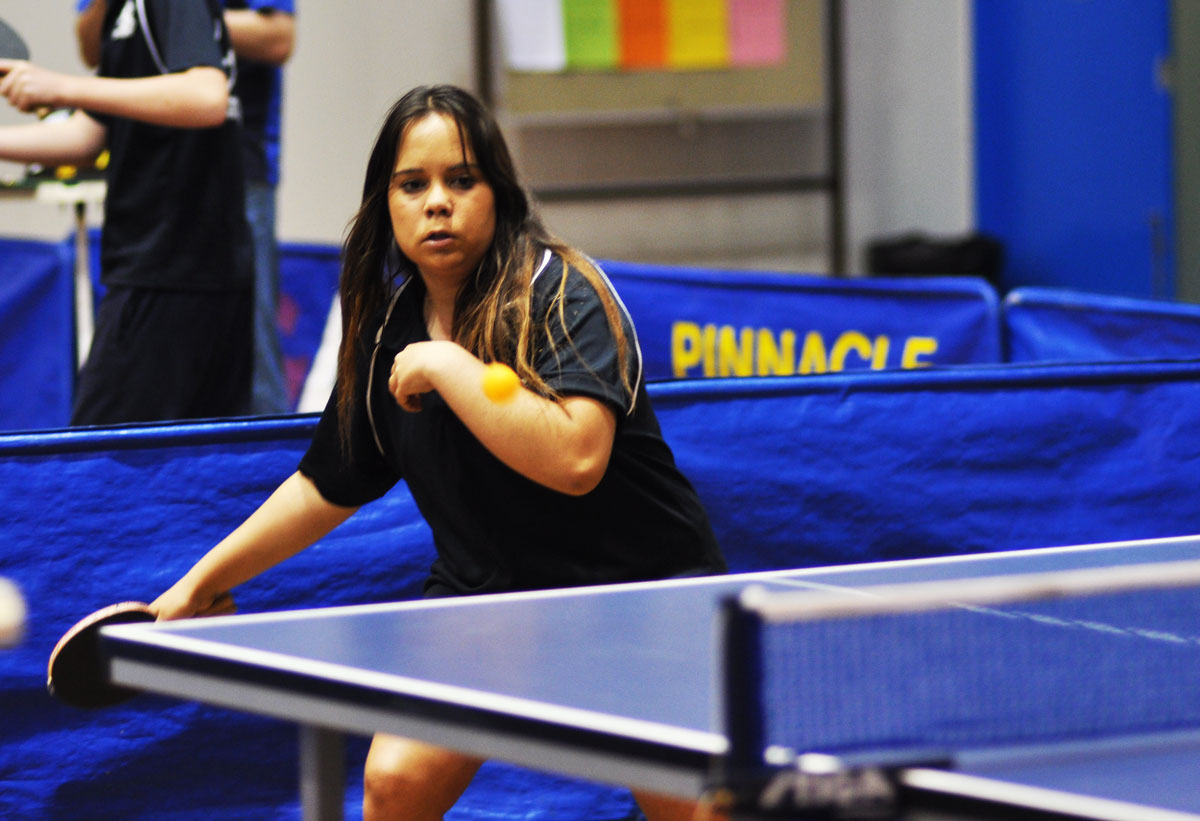 The next match featured Angela Pryor and Therese Fitzpatrick and again the standard was good with Angela taking the points 11-8 11-6 11-5. These two players along with their team mates have improved immensely over the season and Angela and Therese have trained each Monday under the keen eye of Graeme O'Neill who has helped both players immensely. The Sunny Daily team now took a 4-2 lead and had recovered well after a slow start.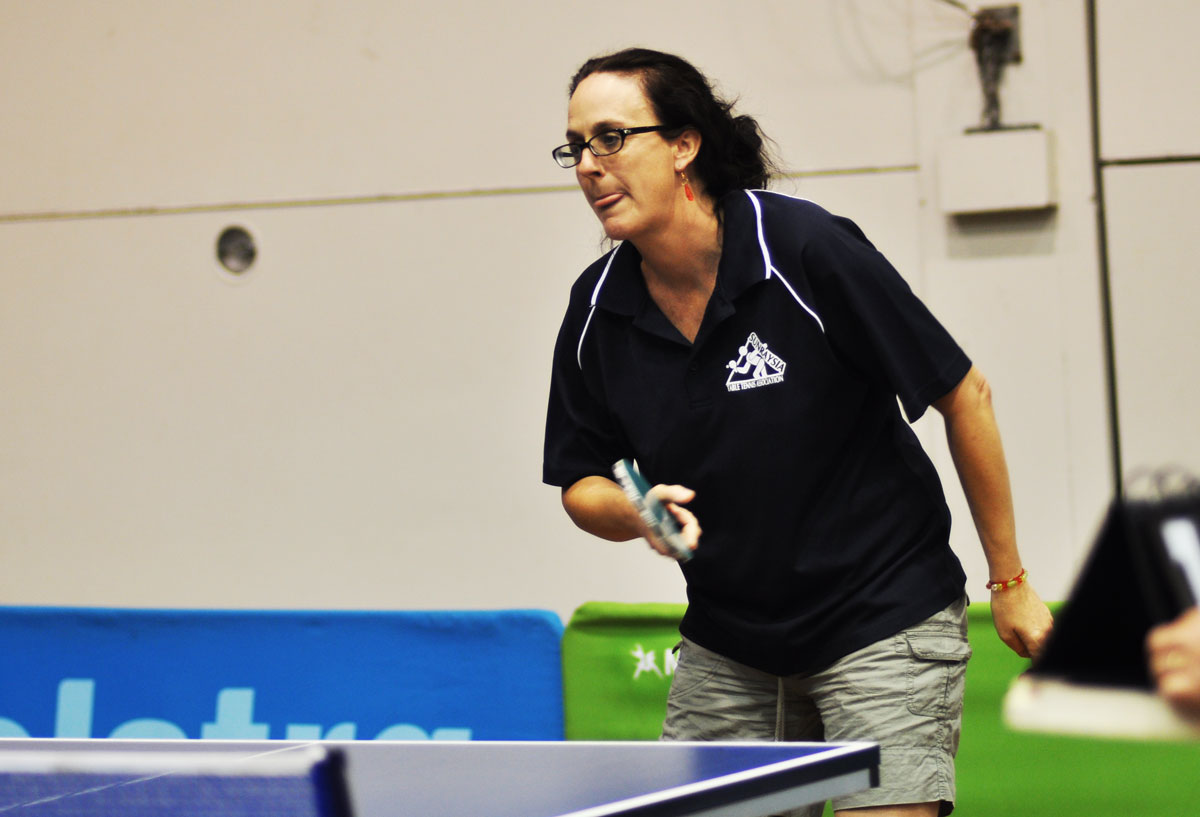 Kim Avers then took her team to within one rubber of victory when she defeated Wayne Pryor in four sets.
The second doubles was an excellent match with Carpeters pair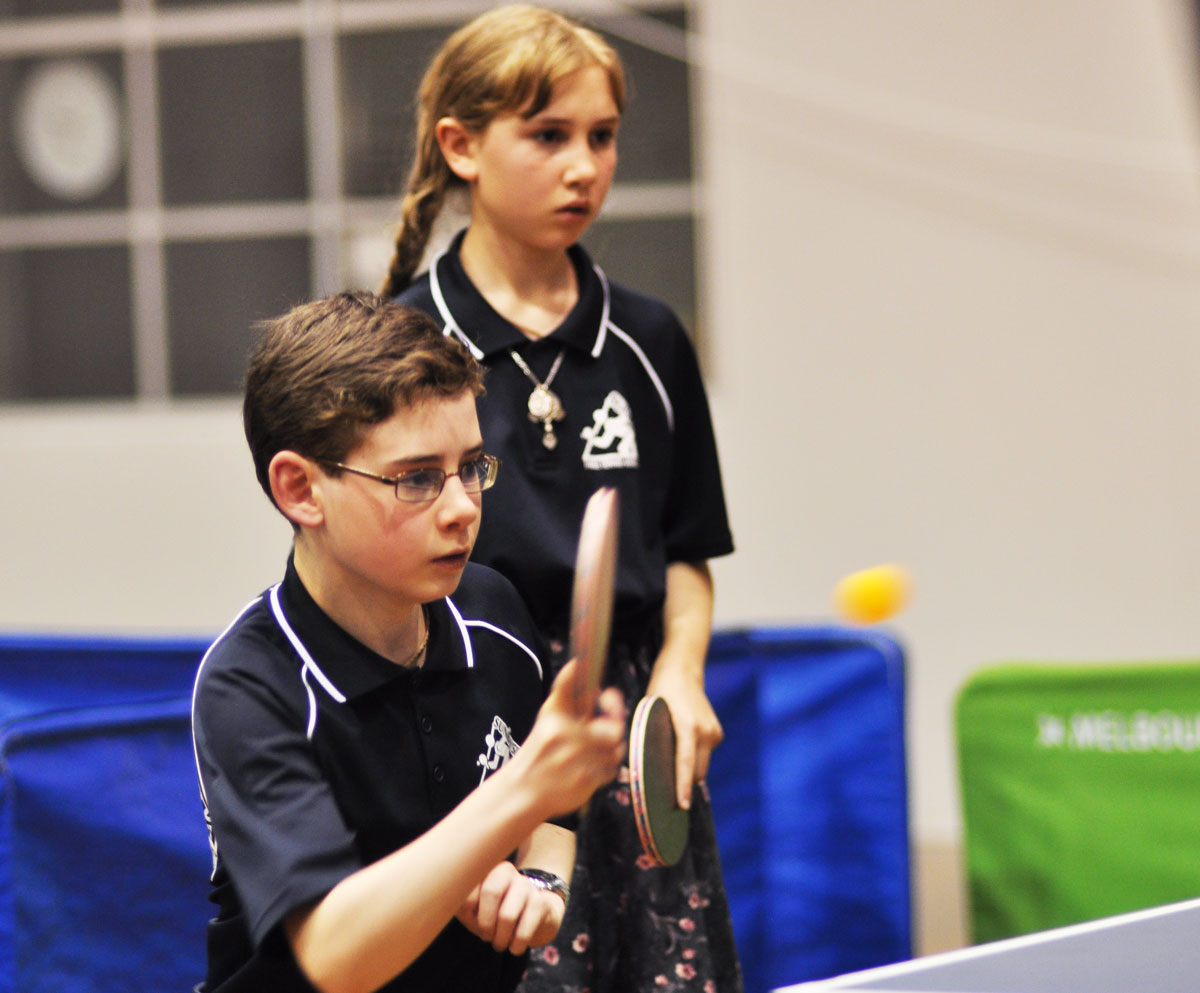 John and Therese Fitzpatrick combining brilliantly to outlast Angela Pryor and Kim Avers in another top class match 9-11 4-11 11-6 11-6 13-11.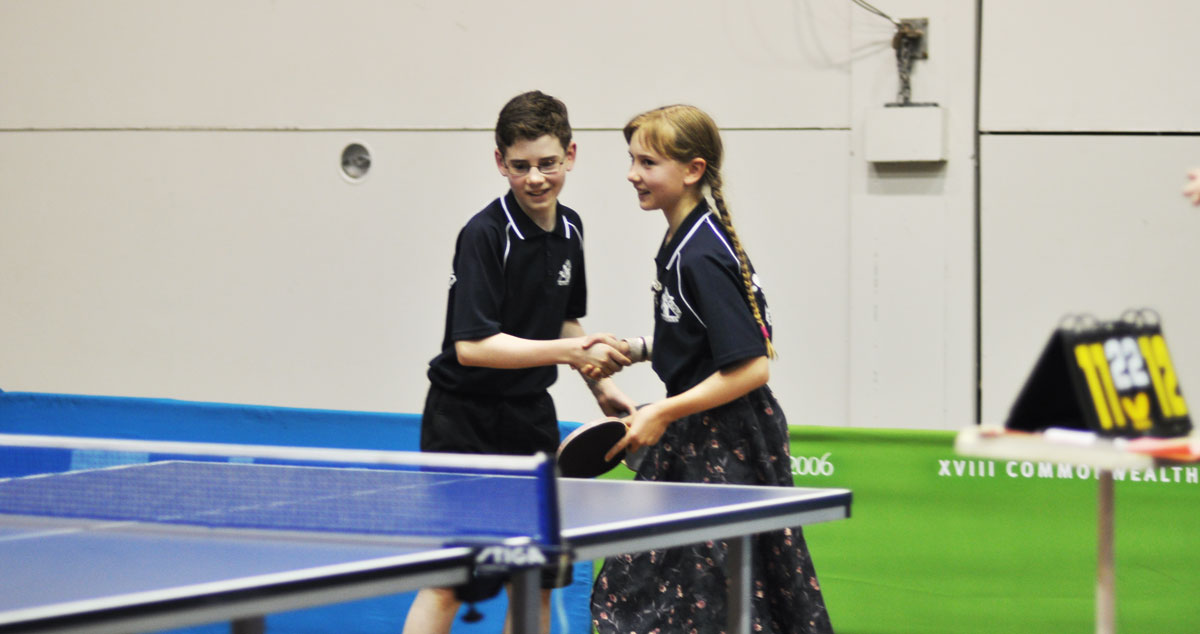 This was a brilliant come back from two sets to love down. The score now in Sunny Daily's favour was 5-3.
The next singles saw John Fitzpatrick grab the first game against Angela Pryor as the Carpeters tried to remain in the contest.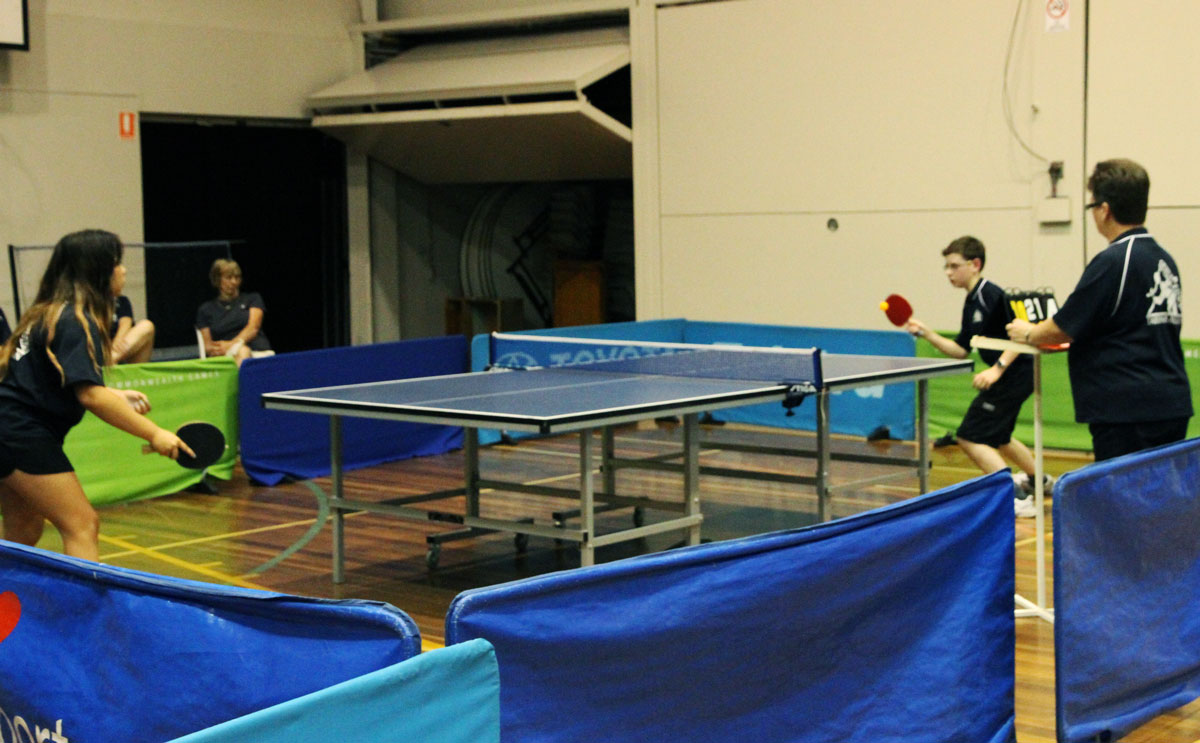 Angela worked her way back into the match and with a 5-11 11-3 11-4 11-6 victory Sunny Daily were the premiers with a 6-3 win against the brave Carpeters team who had started the night so well.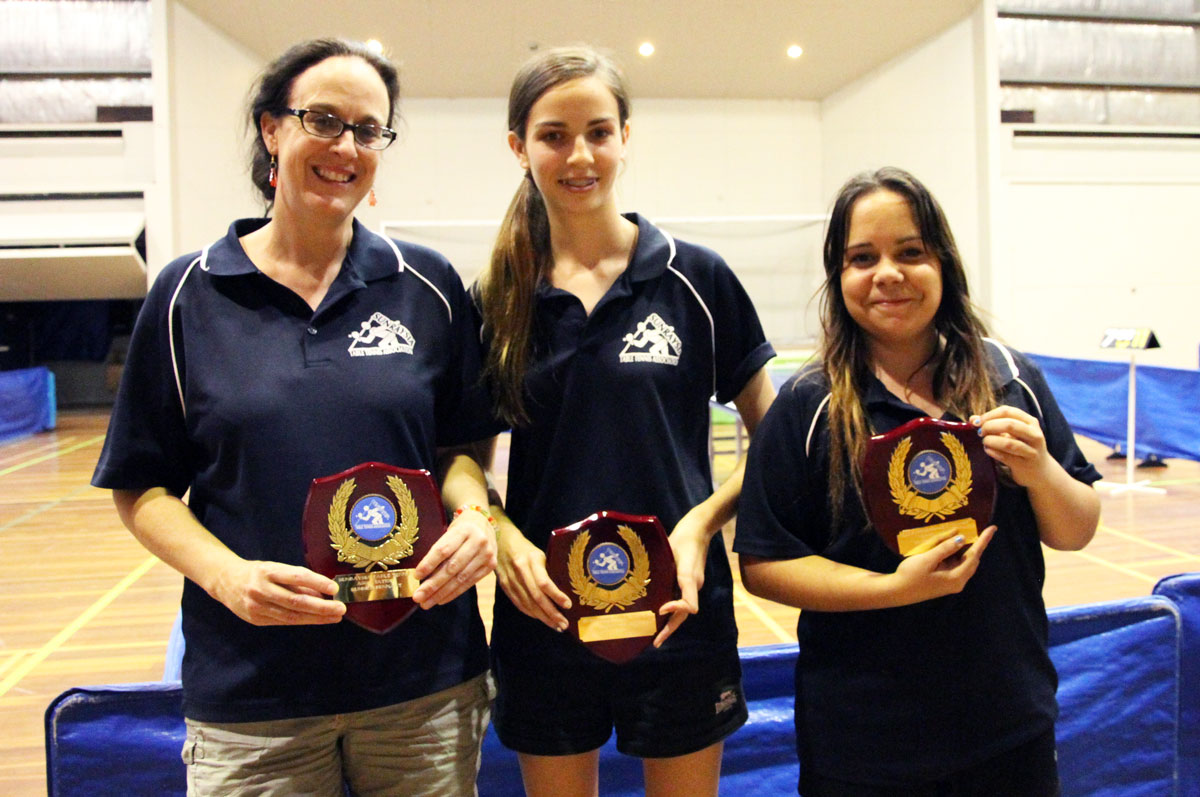 The Sunny Daily all girl team of Angela Pryor, Chelsey Avers and Kim Avers were deserved winners in what had been a really even competition.