Read Time:
15 Minute, 48 Second
Rnd 14
PENNANT ONE:
With one round to play of the Sunraysia Table Tennis winter pennant the final four is settled however the all-important second position on the ladder is still to be decided. In the coming round second placed Tankard Dental and third on the ladder Cooke's Pools & Spas will meet and play for the double chance.
– Tankard Dental 7 (Jackson Tung, Mark Dorman 2, Dylan Wood 1) d Mallee Bearings 4 (Wayne Carmichael 3, Ashley Morrison 1)
Tankard Dental are currently one game clear in second place and in this round they proved too steady for fifth team Mallee Bearings winning 7-4 despite Wayne Carmichael winning three singles.
For Tankards fill in Jackson Tung and Mark Dorman won two singles each while number three player Dylan Wood recorded an excellent five set win over tough opponent Thahn Nguyen, a great win. Tankards were also able to secure both doubles victories to secure the four points.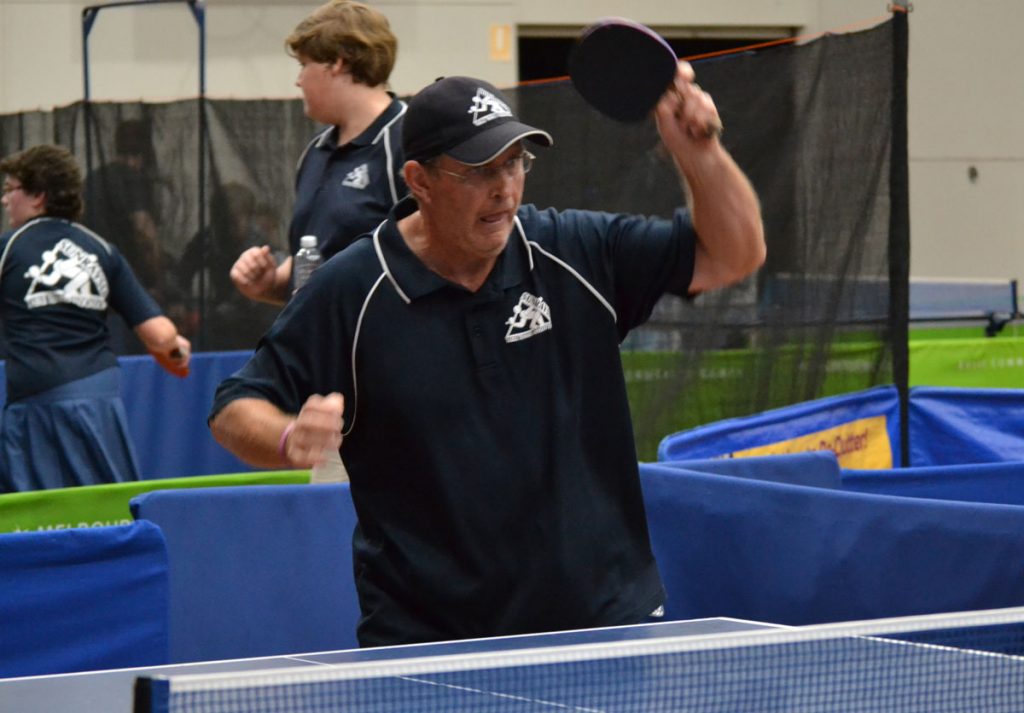 The highlight match was the singles contest between Bearings Wayne Carmichael and Jackson Tung. This went to five sets and contained many fine rallies, late in the fifth Tung held a slight lead before the experienced Carmichael steadied to win 11-8 8-11 11-3 5-11 11-8.
– Cookes Pools & Spas 6 (Jackson Tung, Gavin Carmichael 2, Lee Leeson 1) d Regional Taxation Services 5 (Matt Ljubic 3, Jackson Murphy 1)
Cookes Pools & Spas kept their double chance hopes alive by narrowly defeating Regional Taxation Services 6-5. This match went right to the wire and was decided in the exciting final singles played between Cookes Lee Leeson and opposing number three Kevin Johns. Johns started on fire controlling the first game and winning 11-6, he then took a lead of 10-7 in the second and looked in control, from here the match turned and Leeson was able to fight her way back and take the second 12-10 a stunning recovery. The third was point for point and at 10 all after a long rally Johns played a powerful forehand only to see Leeson block it back in to play for a winner, the next point was déjà vu, Johns thundered a strong forehand for what looked to be a winner only for Leeson again to play an excellent block for another winner to take the third 12-10 . Leeson powered away in the fourth to win 11-3 to secure the four points for Cookes.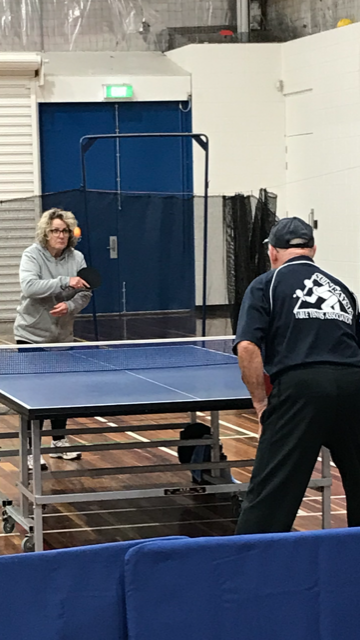 For Regional Taxation Services Matt Ljubic won three singles again however did not have it all his own way defeating Gavin Carmichael in five sets and overpowering Jackson Tung in an entertaining four set match. For Cooke's Tung and Carmichael won two singles each and combined to win the first doubles in an exciting five sets over Ljubic and Jackson Murphy.
– Max Miller Carpets 7 (Shannon Bowen, Leon Brown 2, Ed Hung 1) d Exposed Signage/Apparel 4 (Reece Kurrle, Mark Ljubic 2)
Despite a slow start ladder leader Max Miller Carpets proved too strong for bottom team Exposed Signage/Apparel who were brave in their 7-4 defeat. For the victors Shannon Bowen and Leon Brown won two singles each while Ed Hung scored one victory. By winning both doubles victory was assured for the Carpeters who now have won thirteen matches on the trot.
Reece Kurrle for the Exposed team won two singles as did team mate Mark Ljubic. Kurrle in an outstanding match defeated Shannon Bowen in five sets , his second victory for the season over the talented Bowen. In their thirteen match winning spree Bowen has only lost four singles showing this was an outstanding win by Kurrle.
PENNANT TWO:
In the penultimate round of this year's season, first placed MJM Automotive played second placed Pinnacle Packers, third placed Max Miller Carpets were up against fourth placed Mallee Meats, and fifth placed Cookes Pools & Spas faced bottom side Weightmans Packaging. All matches resulted in 7-4 scorelines, but the winners were not as obvious as the ladder suggested.
– MJM Automotive 7 (Casper McCarthy 3, Andrew Jones 2, Therese Fitzpatrick 1) d Pinnacle Packers 4 (Rohan Reimers 2, Jeremy Corrin 1)
Looking at the result in this match, it is tempting to say, "another week, another hitout for top side MJM Automotive". But with six five set contests, and five four setters, this was anything but a walk in the park for Casper McCarthy and his team.
Pinnacle Packers, although lying second on the ladder to MJM Automotive, did not really lay a glove on the runaway leaders. When it counted, it was MJM Automotive who stepped up and took a crucial game.
With the scores at 2-2, Pinnacle Packers captain Jeremy Corrin faced a rejuvenated MJM Automotive number two Andrew Jones. It was a game Corrin probably backed himself to win, but any confidence he may have had, was soon shaken as Jones took a two sets to love lead. Jeremy fought back to level at two sets all, but he could not maintain his momentum, Jones taking the last set 11-7.
For the rest of the match games went pretty much as expected, except that after his big win against Corrin Jones lost his match against his opposite number Rohan Reimers in the final round of singles, Reimers dominating the first second and fourth sets 5, 4 and 4, Jones putting in a big effort to win the third 16-14.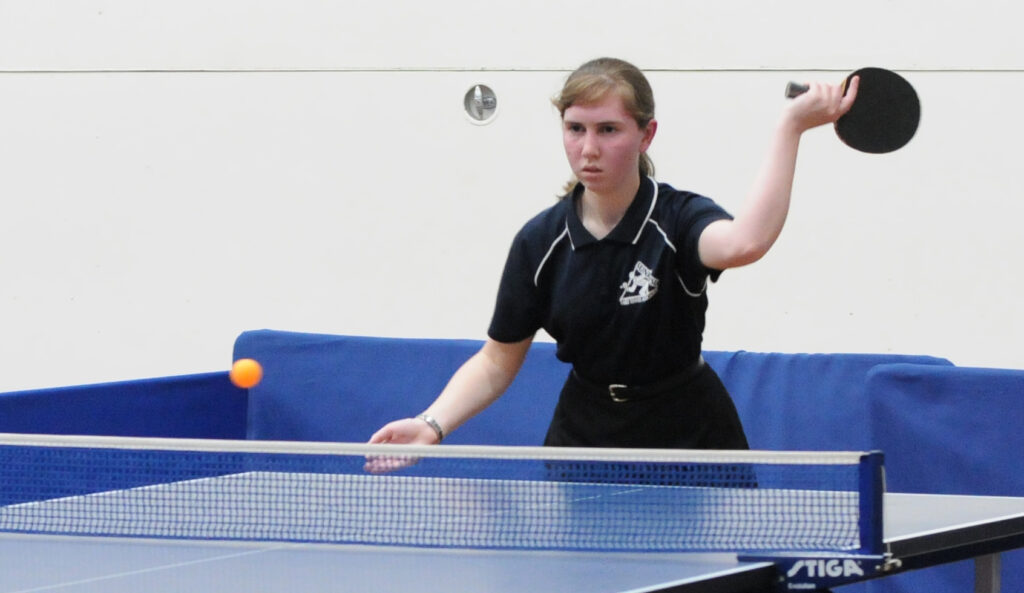 The other performance noteworthy was that of the MJM Automotive number three Therese Fitzpatrick. Although she won only just one rubber, that against opposite number Ryan Hensgen, 5-11, 13-11, 9-11, 11-7, 13-11, all her matches in this round went to five sets. Perhaps it was not such a shock after all that Jones defeated Corrin, because in the first round of singles Corrin scraped home against her 11-9 in the fifth set. Later on, Reimers had to come back from two sets to one down to win in five. And in the doubles she played with her captain Casper McCarthy, they lost in five to Corrin and Reimers. The message is clear, Therese will extract the maximum from her games, win or lose!!
So, in the final wash-up, for MJM Automotive McCarthy won three (although opposing captain Corrin made him work for it in their clash,
Casper needing five sets), Jones won two and Fitzpatrick one. MJM Automotive also took the second doubles rubber, McCarthy and Jones continuing their fine run of wins as a doubles pairing, this being their twelfth win from thirteen rounds together.
The match was disappointing for Pinnacle Packers as they could only muster four rubbers, one to Corrin, two to Reimers, and the doubles rubber won by this same pair.
Final scores: 7 rubbers to 4 and 28 games to 22.
– Mallee Meats 7 (Quentin Clark 3, Marcus Cimino 2) d Max Miller Carpets 4 (Raymund Manzanares 2, John Fitzpatrick, Jamila Belbaze 1)
Max Miller Carpets, third on the ladder, were ahead by two games on the ladder going into this game, and hoping to assert further authority on their opponents, fourth placed Mallee Meats. In their two previous meetings, Max Miller Carpets had been victorious, on both occasions by seven rubbers to four.
The match was evenly poised after six rubbers, three rubbers each. The first round of singles went as expected; the match of interest in these four was the doubles match-up between Quentin Clark and Marcus Cimino for Mallee Meats against Raymund Manzanares and Jamila Belbaze for Max Miller Carpets. The Mallee Meats duo won this rubber convincingly, three sets to one and now join their opponents on eight wins for the season on the doubles aggregate table.
Mallee Meats then went on a spree, taking the next four rubbers, and in so doing, the match. Cimino defeated the constantly improving Belbaze in four sets; Clark and Isaiah Bettess took the first, third and fifth sets to down Manzanares and John Fitzpatrick in the second doubles; the clash of the captains went to Clark, who had to overcome a two sets to one deficit to defeat Manzanares; and Cimino took his second win for the night defeating opposite number Fitzpatrick in a see-sawing five setter 11-3, 4-11, 8-11, 11-7, 14-12.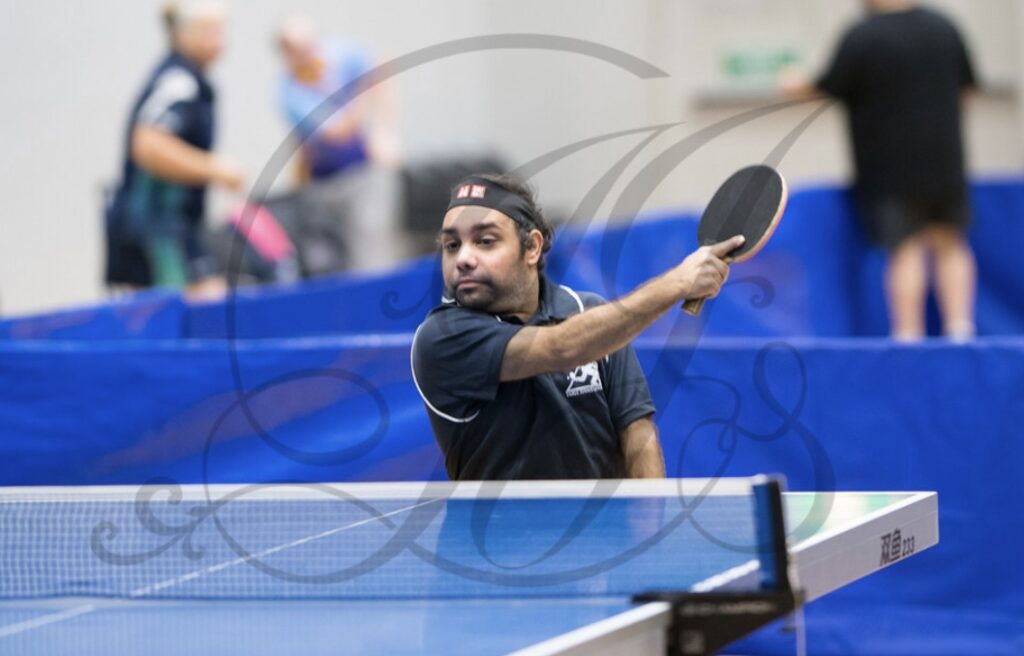 Mallee Meats then, took the win via three wins for captain Quentin Clark, two for Cimino and both doubles. Max Miller Carpets four rubbers came from two to captain Manzanares and one each to Fitzpatrick and Belbaze.
The win still sees Mallee Meats one game behind Max Miller Carpets on the ladder, however, it is a great psychological boost for the team as they now better for and against than their rivals. Even though a match behind, they have won more rubbers (and therefore conceded fewer), and won more games per rubber, over the season. Even if Mallee Meats win next
week, and Max Miller Carpets lose, they will still play each other in the first round of the finals in two weeks time.
Final scores: 7 rubbers to 4 and 24 games to 22.
– Weightmans Packaging 7 (Paul Kealley 3, Tom Morrison 2, Peter Fitzpatrick 1) d Cookes Pools & Spas 4 (Terry Martin 2, David Sergi 1)
Weightmans Packaging, firmly ensconced at the bottom of the ladder, have had a season to forget; one win (in the first round) from the previous thirteen rounds. But, as they say "hope springs eternal", you never know what might happen.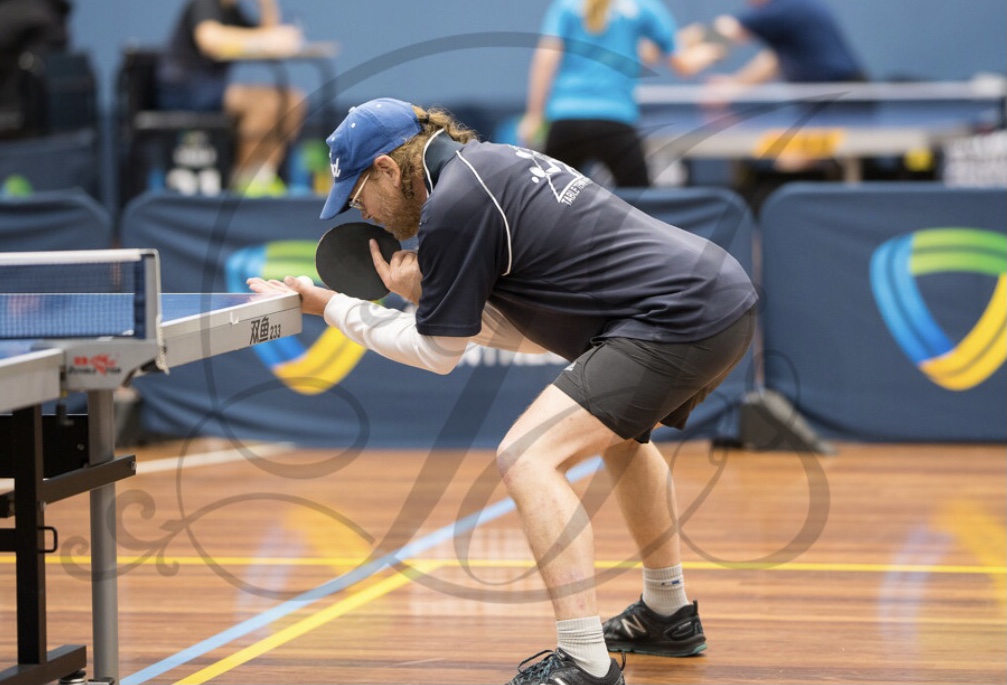 Their captain Jason Gifkins was out, as was number two Andrew Kremor, and they were ably replaced by Paul Kealley and the fast-improving Tague Morris respectively.
The first round of singles went as expected, Cookes Pools & Spas holding a 2-1 advantage at the conclusion. The first doubles also went to Terry Martin's team, giving them a 3-1 lead, but it showed that the two substitutes were not going to go down without a fight. Martin and Sergi, playing together for the twelfth time this season, only just held off Kealley and Morris in five sets. The Weightmans Packaging pair had played together only once previously.
A win to both sides (courtesy of their captains winning – Kealley in straight sets over David Sergi, and Martin similarly against Peter Fitzpatrick) made the score four rubbers to two after six rubbers.
To everyone's surprise, and probably their own, Weightmans Packaging then rattled off the next five rubbers to romp home winners seven rubbers to four.
Firstly, Tague Morris completed the first of two wins for the night, showcasing his potential in a five set win against tricky James Jarvis. Kealley and Fitzpatrick took the second doubles against Martin and Jarvis in four; and the Weightmans Packaging trio completed the night, winning the head to heads against their opposite numbers: Kealley largely untroubled to defeat Martin, Morris once again downing the more fancied David Sergi in five sets 11-9, 11-9, 9-11, 12-14, 11-5, and Peter Fitzpatrick winning in a come from behind two sets to love, against Jarvis in five.
A disappointing loss for Cookes Pools & Spas as they were hoping to keep their slim hopes of making the finals alive. Going into this match they were one game away from fourth (Mallee Meats), but with Mallee
Meats winning their match, and a loss here, Cookes Pools & Spas are now two games behind with only one round to play. Season over.
Final scores: 7 rubbers to 4 and 24 games to 20.
PENNANT THREE:
With the penultimate round of the home and away season completed we find there is still plenty to play for in the last round before finals commence with the final make-up of the finalists this year not decided.
Mallee Meats 8 (Steve Pongrac 3, Nhat Dat 2, Ildi Healy 1) def Dunkley Scales 3 (Rodney Galvin 2, Wendy Simpson 1)
Mallee Meats have confirmed their status as being the minor premiers with a solid win over the last placed Dunkley Scales. Captain Steve Pongrac lead the charge with three singles victories and was well supported by Nhat Dat and Ildi Healy who contributed two and one singles respectively. For Dunkley Scales Rodney Galvin played well in winning two singles and Wendy Simpson also showed some promising form in collecting one singles victory.
Although Pongrac won three singles he didn't have it all his own way. Early in the evening he played Wendy Simpson and was in early trouble as he was down two sets to one. Pongrac then lifted his game to the next level and won the next two sets to claim to match in five sets – although beaten this was a great effort by Simpson who is returning after a long break from competition play.
Later in the evening Pongrac again found himself in another dour struggle when he played opposing Captain Rodney Galvin. Again, Pongrac found himself down two set to one early before rallying to win the last two sets to claim his second five set victory of the night.
The second last match of the night saw Simpson take on Healy. These two are very evenly matched and this was how the match panned out with Healy taking out the first set 15-13. Simpson then hit back to win the next three hotly contested sets to take the match in four sets. Nhat Dat then rounded off the win for Mallee Meats as he defeated Jim Vale in three tight sets.
In conclusion a solid win for Mallee Meats against Dunkley Scales 8 rubbers to 3 (27 games to 14).
The Committee and players would like to pass on our deepest condolences to Jim Vale and his family on the recent passing of daughter Sharyn. May she rest in peace.
Tankard Dental 9 (Shaun Gifford, Jordan Cole 3, Phuong Hung Nguyen 1) def MJM Automotive 2 (Karly Leach, Levi Williams 1)
Leading into this match MJM sat second on the overall standings and Tankard Dental fifth. Hence this was a must win game for Tankard Dental if they wanted to play finals this year.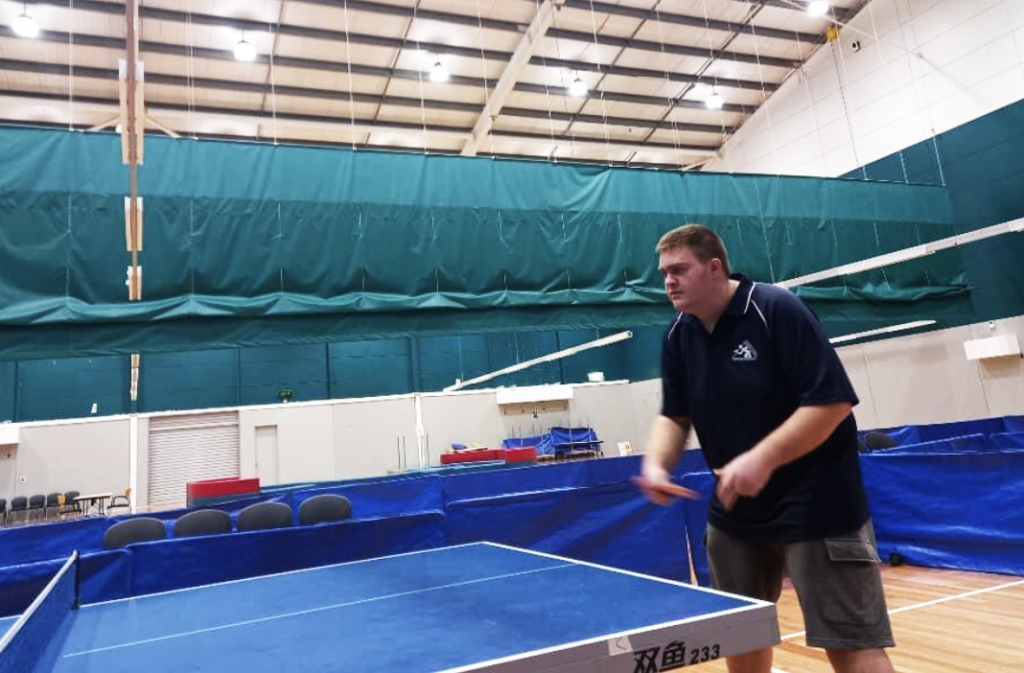 Tankard Dental's Shaun Gifford has been in stellar form recently and again he showed why he is leading the aggregate with three impressive singles victories. Although his Captain Nick Kiapekos was unavailable this week Jordan Cole filled this void admirably in also winning three singles matches. Phuong Hung Nguyen also contributed one singles victory and in addition teamed with Gifford to claim a double victory. In a dirty night for MJM Automotive Captain Karly Leach had an off night in claiming one singles victory as did Levi Williams.
The final analysis sees Tankard Dental keep their finals dream alive with a crushing 9 rubbers to 2 (28 games to 11) victory over MJM Automotive. The outcome of this match has seen Tankard Dental now leapfrog into third spot on the ladder and MJM have dived to a precarious fourth spot.
Sammy's Slammers 6 (Dave Tanner, Ben Hosking 2, Maria Starikov 1) def Weightmans Packaging 5 (Sabrina Fitzpatrick 3, Jacinta Ljubic 1)
Sammy's Slammers have secured a hard-fought win over Weightmans Packaging in a match that may be long remembered. For Sammy's Slammers Captain Dave Tanner contributed two singles victories as did Ben Hosking. Maria Starikov also secured a clutch singles victory very late in the night that ultimately decided this contest. For Weightmans Packaging Captain Sabrina Fitzpatrick was in great form winning 3 singles (including one forfeit) and Jacinta Ljubic contributed one singles victory.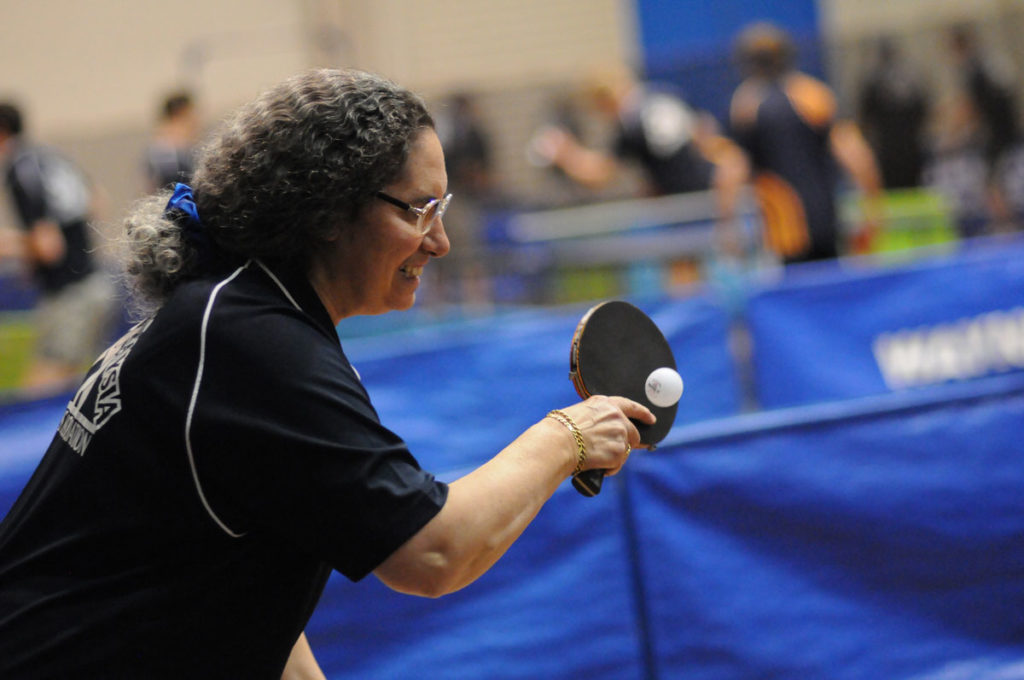 The match of the night centred around the match between Dave Tanner and Tom Gilmour. This was a real battle with neither player giving an inch. Gilmour started well in securing the first set 11-6 before Tanner found his range on his attacking shots to claim the second 11-9. Gilmour then ramped up his defensive game to defuse some of Tanner's forehand drives to take the set 11-9. Again, Tanner would find another gear to take the second 11-7 to set up a thrilling climax to this match. The fifth set was point for point with Tanner finding that bit extra when required to take the set 13-11 and the match.
Late in the evening with the match at five rubbers all it was up to either Maria Starikov or Tom Gilmour to get their respective teams' home. Starikov has been putting in many hours of practice at Monday Night training sessions and this form was evident as she took the first set 11-8. Gilmour hit back in the second 11-4 to square the match. In a tight third set Starikov prevailed 11-9 and she then continued he steady play in securing the last set 11-6 to secure victory for her team.
In conclusion an important win for Sammy's Slammers 6 rubbers to five (21 games to 19) over Weightmans Packaging. With this win Sammy's Slammers now sit clear in second spot on the ladder and Weightmans destiny is now out of their hands as they sit fifth and have to rely on everything going their way to make finals.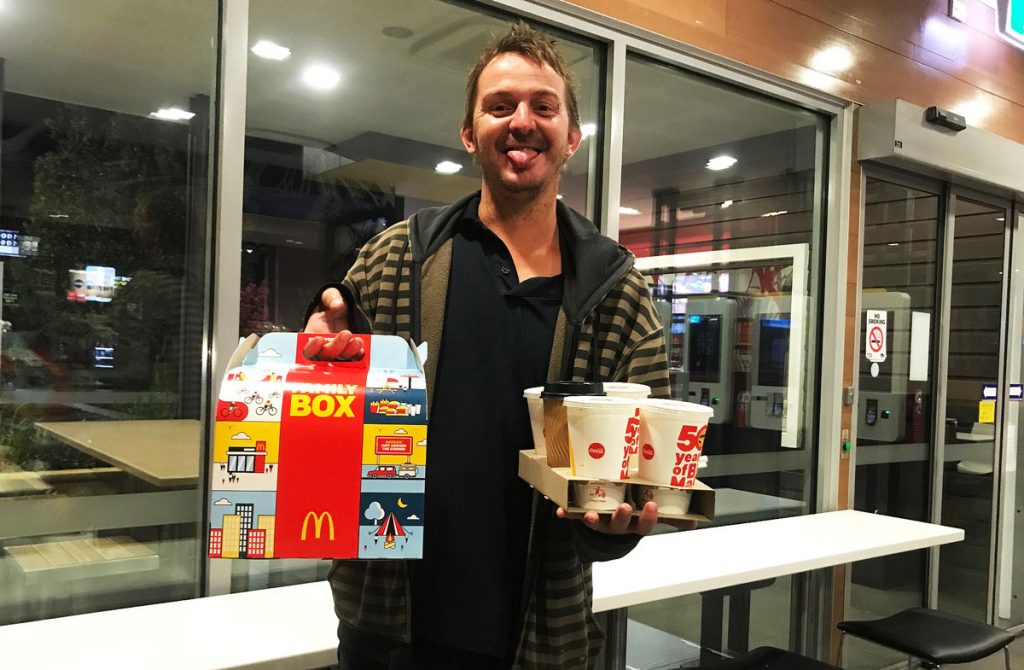 The Committee and players would like to wish Dave Tanner a quick recovery after a medical episode this evening. A big thankyou to all those who assisted Dave in his hour of need. I believe Dave has posted his personal thanks on social media. The reason this is a great club is due to the fact we have great people. Well done everyone – now onto the path for finals below:
Next week. Mallee Meats V MJM Automotive, Tankard Dental V Weightmans Packaging, Sammy Slammers V Dunkley Scales.
Mallee Meats – will finish top (minor premiers)
MJM Automotive – sit fourth (if beaten will rely on Weightmans to also lose, however margin of defeat by Weightmans and MJM can still decide percentage) So MJM don't lose 8 – 3!
Tankard Dental – you are in the finals. If you win you and Sammy's Slammers lose you will get the second chance in second spot.
Weightmans Packaging – relying on other results. You need to win and MJM to lose. Or if you lose make sure it is 6-5 and hope Meat's are on fire to beat MJM well. Also, if the unbelievable happens and you win and MJM loose and Sammy Slammers lose you will end up with the double chance. I say fat chance of that happening – but it is possible!
Sammy's Slammers – Mathematically you are certain to play finals – however you need to win to secure the double chance as your poor percentage could work against you.
Dunkley's Scales – you have 'Dunkley's' and none of making it. I hope you had fun this season.