Read Time:
14 Minute, 14 Second
ROUND 8
Round eight of the Sunraysia Table Tennis Summer pennant featured the longest doubles contest of the season while Wayne Carmichael took his singles winning streak to fifteen matches when he defeated Kate Carmichael in a tense three setter , she being the last player to defeat Carmichael way back in round three.
To cap off an excellent round of tables tennis third and fourth teams on the ladder Max Miller Carpets and Mallee Bearings defeated Cash Converters and second placed Exposed Signage and Apparel respectively to now have the top four teams all with a five win three loss ratio. With two weeks to play before the finals there will be an exciting climax to the season.
– Max Miller Carpets 7 (Matt Ljubic 3, Mark Ljubic, Lee Leeson 1) d Cash Converters 4 (Phil Smith, Liam Wood 2)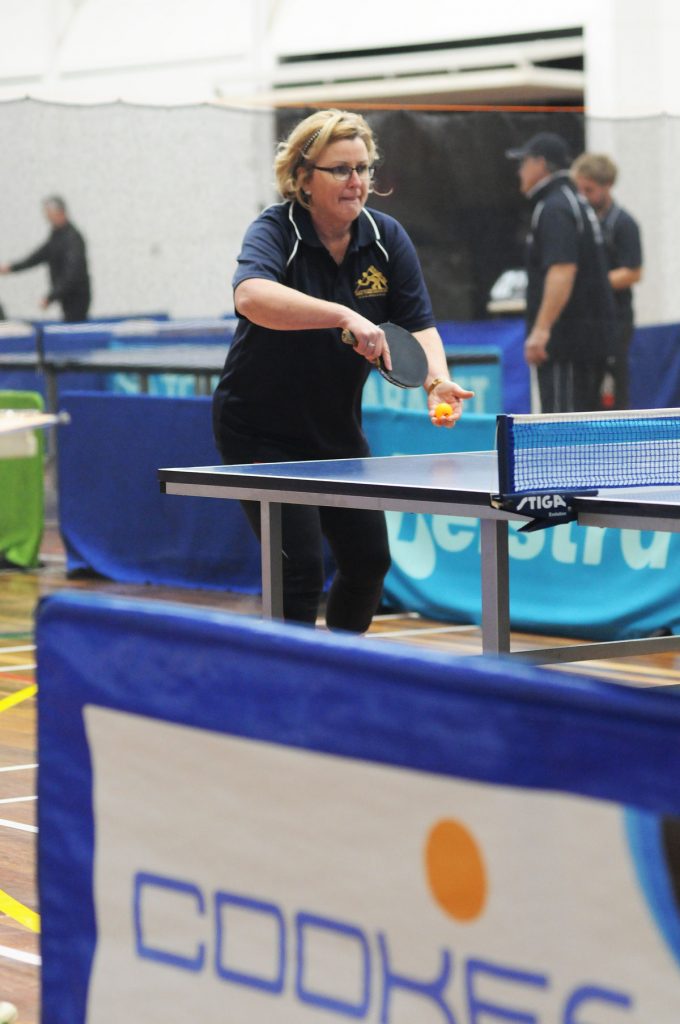 Max Miller Carpets regained top position on the ladder albeit by percentage with their 7-4 defeat of Cash Converters , skipper Matt Ljubic was in fine form winning three singles including an excellent win over opposing number one Phil Smith. Ljubic also took part in both doubles victories. It was the doubles which proved to be the difference , both were very close. For the Converters Smith and the in form Liam Wood both won two singles.
– Mallee Bearings 6 ( Joel Dorman, Gavin Carmichael 2) dExposed Signage/Apparel 5 (Nicholas Dorman 3, Thahn Nguyen, Leon Brown 1)
Despite their 6-5 win over Exposed Signage and Apparel, Mallee Bearings did not move from fourth position. For the second week in succession Mallee Bearings pair Joel Dorman and Gavin Carmichael won two singles each while Dorman again took part in both doubles victories.
The second doubles proved to be vital and what a match it was, Dorman paired up with Michael Hensgen against Nicholas Dorman and Thahn Nguyen and this match went on and on. The Exposed pair of Dorman and Nguyen grabbed the first game 15-11 and amazingly the second was won by Joel Dorman and Hensgen 27-25 after many chances to take the match to a third. Their opponents had a couple of match points however could not grab the opportunity. The third was close and again in a thriller the Bearings pair of Joel Dorman and Hensgen won 18-16 in a marathon!
Despite his team losing Nicholas Dorman won three singles to sit two wins behind Matt Ljubic in the singles aggregate.
– Tankard Dental 7 (Wayne Carmichael, Reece Kurrle 3) d Regional Taxation Services 4 (Kate Carmichael, Ed Hung, Jackson Tung 1)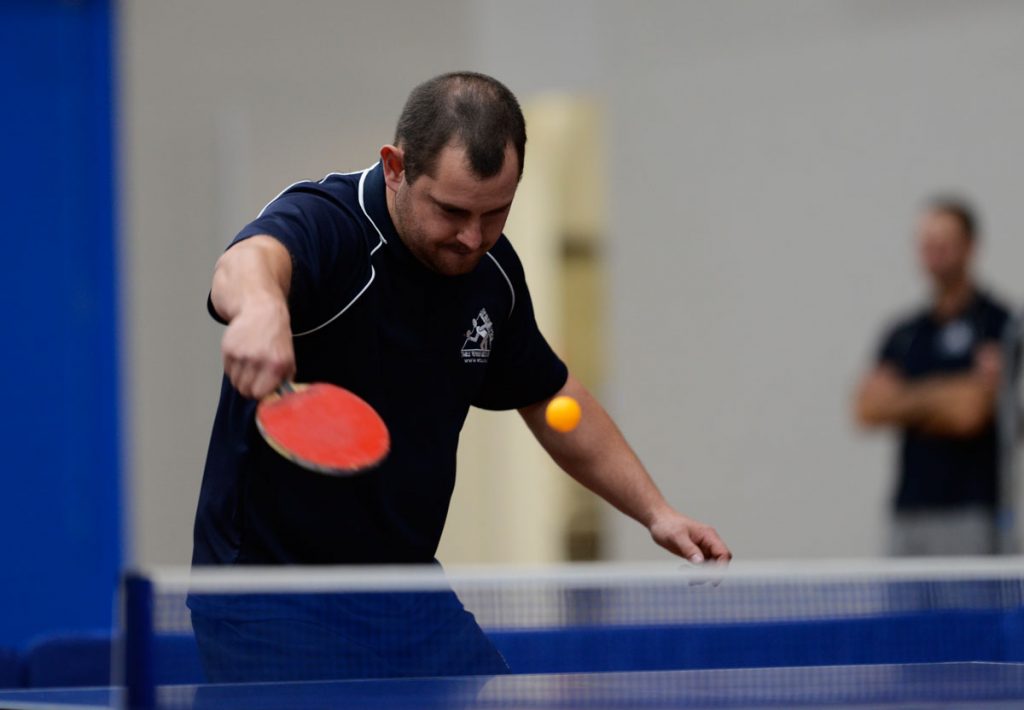 After several close calls in recent times Tankard Dental managed to win their second match of the season defeating Regional Taxation Services 7-4. Wayne Carmichael again won three singles to win his fifteenth match in succession , the best record of any player this season. Team mate Reece Kurrle was in fine form also winning three singles. All his victories were in three sets and in all there were seven three setters indicating how close the match was.
Pennant Two:
Max Miller Carpets retained top spot with a close 6-5 win against second-placed MJM Automotive; Russell Walder's Cooke's Pools & Spas side continue their upward trajectory with a sound 8-3 defeat of Mallee Meats; and Pinnacle Packers consolidated fourth spot defeating Weightmans Packaging 7-4.
– Max Miller Carpets 6 (Jason Gifkins, Arthur Paar 2, Jeremy Corrin 1) d MJM Automotive 5 (Terry Martin 2, Marcus Cimino, Paul Kealley 1)

Max Miller Carpets lost their last two matches to teams placed third and fourth on the ladder – their first losses for the season – so it was with some nervousness they fronted up to second-placed MJM Automotive in this round.
Going into the round three teams sat on five wins, these two sides, plus Cooke's Pools & Spas, and it was apparent that only two of them could possibly be locked in a battle for the lead at the conclusion of play.
MJM Automotive bolted to a 3-0 lead early with Marcus Cimino and Terry Martin taking surprise wins against Jeremy Corrin and Jason Gifkins respectively.
Max Miller Carpets steadied the ship in the first doubles, Gifkins and Corrin defeating Paul Kealley and Martin in straight sets.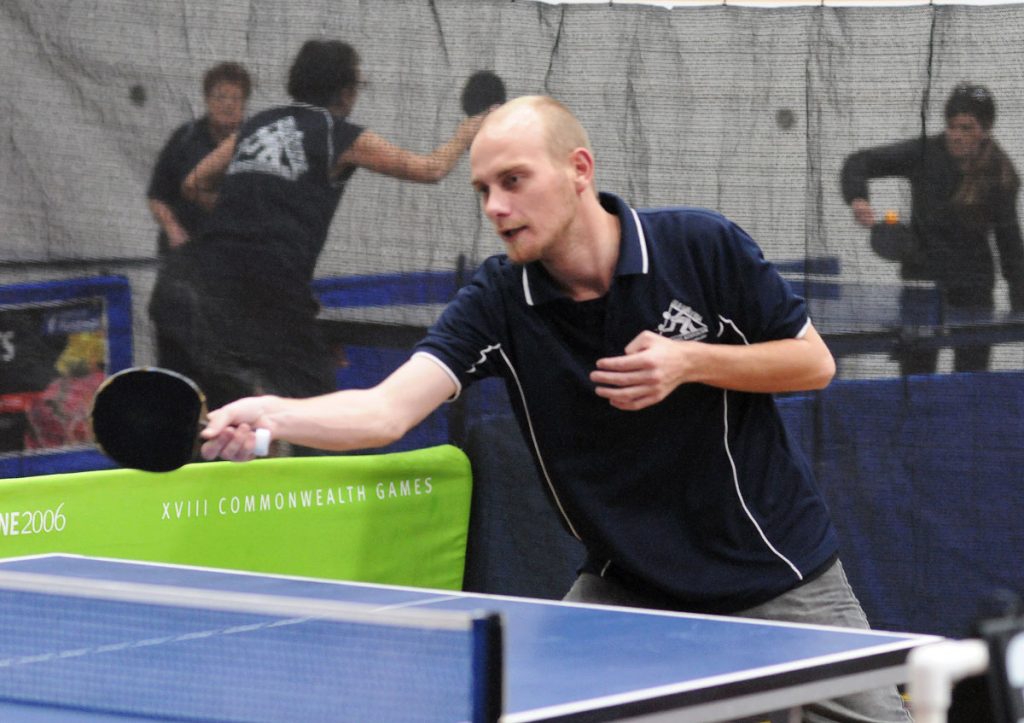 They then took the next three wins too – included in this was another surprise win, this time Corrin over Paul Kealley in two sets. Arthur Paar then won his first rubber for three weeks when he downed Martin 15-12, 15-9.
MJM Automotive squared things up in he second doubles, Kealley and Cimino three set winners against Corrin and Paar.
In the run home in the last round of singles, Gifkins defeated his opposite number Kealley, and Paar accounted for the dangerous Cimino to secure the win. Corrin tried his level best to make it 7-4, but fell to Terry Martin, Martin winning 12-15, 15-9, 15-12.
Final scores: 6 rubbers to 5 and 15 games to 11.
– Cookes Pools & Spas 8 (Russell Walder 3, Casper McCarthy 2, Rohan Reimers 1) d Mallee Meats 3 (Brad Warden 2, Quentin Clark 1)

Cooke's Pools & Spas continued their winning streak, now six matches in a row, this time at the expense of bottom side Mallee Meats. In winning
this game, and with the defeat of MJM Automotive by Max Miller Carpets, Russell Walder and his men moved to second spot on the ladder, equal on wins with Max Miller Carpets.
Cooke's Pools & Spas dominated the match, captain Russell Walder with three wins (he was only stretched to three sets by Mallee Meats number two Quentin Clark),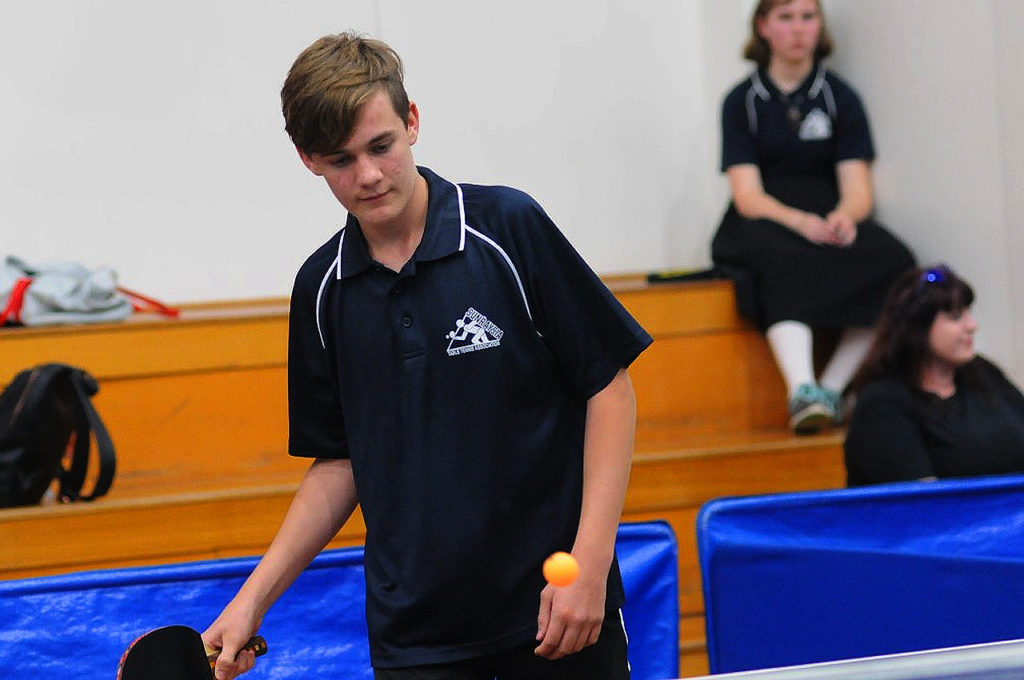 number two Casper McCarthy with two wins (losing only to Mallee Meats captain Brad Warden, and that in three sets), and number three Rohan Reimers winning the clash of the number three's.
With both doubles rubbers also going to the winners, Mallee Meats failed to make the score look at all respectable, Warden and Clark losing to Walder and McCarthy 9-15, 11-15, and later Warden and Peter Fitzpatrick unable to match Walder and Reimers, losing 13-15, 13-15.
Final scores: 8 rubbers to 3 and 18 games to 7.
– Pinnacle Packers 7 (Ashley Morrison, Bernard McCarthy 2, David Sergi 1) d Weightmans Packaging 4 (Tony Malycha, Dylan Wood 2)
Pinnacle Packers won this danger match against Weightmans Packaging to take a two game break and hold fourth spot.
Going into this round, Pinnacle Packers had three wins for the season, and Weightmans Packaging two. A win to Weightmans would see them equal on three wins, and a real chance of finals play.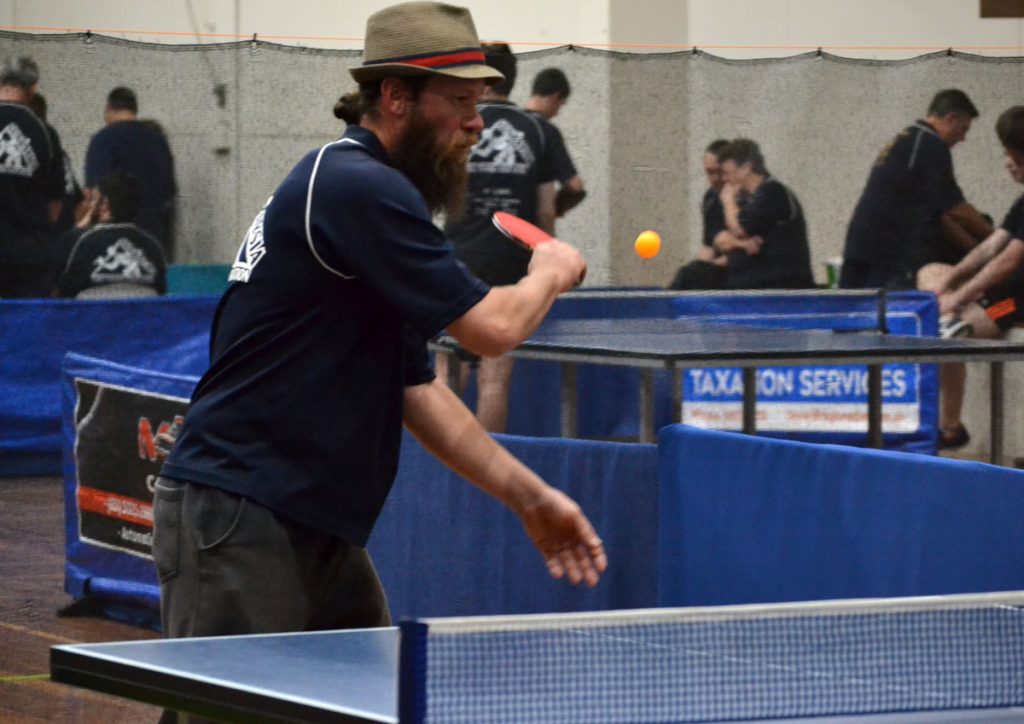 Weightmans started positively; after three rubbers they led 2-1, a hard fought three set win by captain Tony Malycha against Pinnacle Packers number three David Sergi, and an upset win by number two Dylan Wood over Pinnacle Packers captain Ashley Morrison. After dropping the first set 7-15, Wood recovered strongly, claiming the next two 15-11, 15-9.
Morrison and Bernard McCarthy levelled the score 2-2, defeating those two winners Malycha and Wood 15-10, 15-11.
Weightmans took two of the next three singles too – Malycha a close two set win over McCarthy 16-14, 15-12; and Wood and even closer straight set win against the persistently difficult Sergi 16-14, 17-15.
Once again Pinnacle Packers levelled the scores at the doubles rubber, this time Morrison and Sergi fairly easy two set winners against Malycha and John Fitzpatrick.
But in the head-to-head clashes in the final round of singles, Pinnacle Packers found the consistency they sought; in the clash of the two captains Morrison and Malycha, it was a straightforward win to Morrison 7 and 11; McCarthy prevented Dylan Wood from performing his earlier magic when he defeated Morrison, by winning in three 13-15, 15-7, 15-10; and in defeating John Fitzpatrick, Sergi won an entertaining battle of the number threes, 13-15, 15-12, 15-9.
Final scores: 7 rubbers to 4 and 16 games to 10
Pennant Three:
Cooke's Pools & Spas retained top spot with a 7-4 win over Regional Taxation Services; Mallee Meats, equal on wins with Cooke's chased hard with an 8-3 win against Sammy's Slammers to bridge the percentage gap; and fourth MJM Automotive displaced Weightmans Packaging from third spot with a trouncing 9-2 victory.
– Cookes Pools & Spas 7 (Therese Fitzpatrick, Emily Carmichael 2, Miya Lock 1) d Regional Taxation Services 4 (Kieren McRae 3, Peter Rhodes 1)

The all-girl team that is Cooke's Pools & Spas won five of the nine singles rubbers on offer, and garnered both doubles rubbers in this match with Regional Taxation Services.
Kieren McRae, the Regional Taxation Services captain heads the aggregate table by a huge margin 22 rubbers (from a possible 24). His closest challengers, there are three of them, are seven games behind. Kieren could miss the next two weeks of play and would still win the aggregate.
Unfortunately, even with his dominance in singles, Kieren's team has only been able to win two matches this season, and the team failed to add to the tally here.
McRae once again made a clean sweep of the singles rubbers, but with Peter Rhodes at number two only able garner one win, the team was unable to mount a challenge for the win.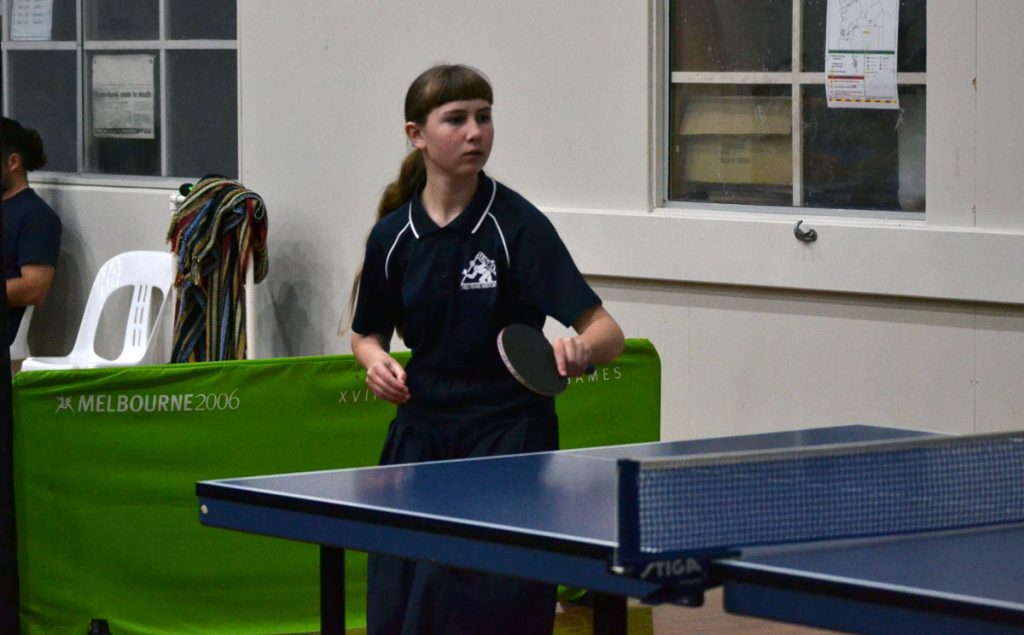 Therese Fitzpatrick and Emily Carmichael both won their remaining singles rubbers, and with Miya Lock defeating her opposite number Brian White in straight sets, Cooke's Pools & Spas then went onto consolidate the win with victories in both doubles rubbers, Fitzpatrick and Carmichael outplaying McRae and Rhodes in the first 17-15, 12-15, 15-9, and later Fitzpatrick and Lock won in straight sets against McRae and White.
Final scores: 7 rubbers to 4 and 15 games to 10.
– Mallee Meats 8 (Aiden Riordan 3, Brice Lock, Karly Leach 2) d Sammy's Slammers 3 (Ryan Hensgen 2)
Mallee Meats defeated Sammy's Slammers in this match to keep the pressure on top team Cooke's Pools & Spas. These two teams are equal on wins, separated only by percentage.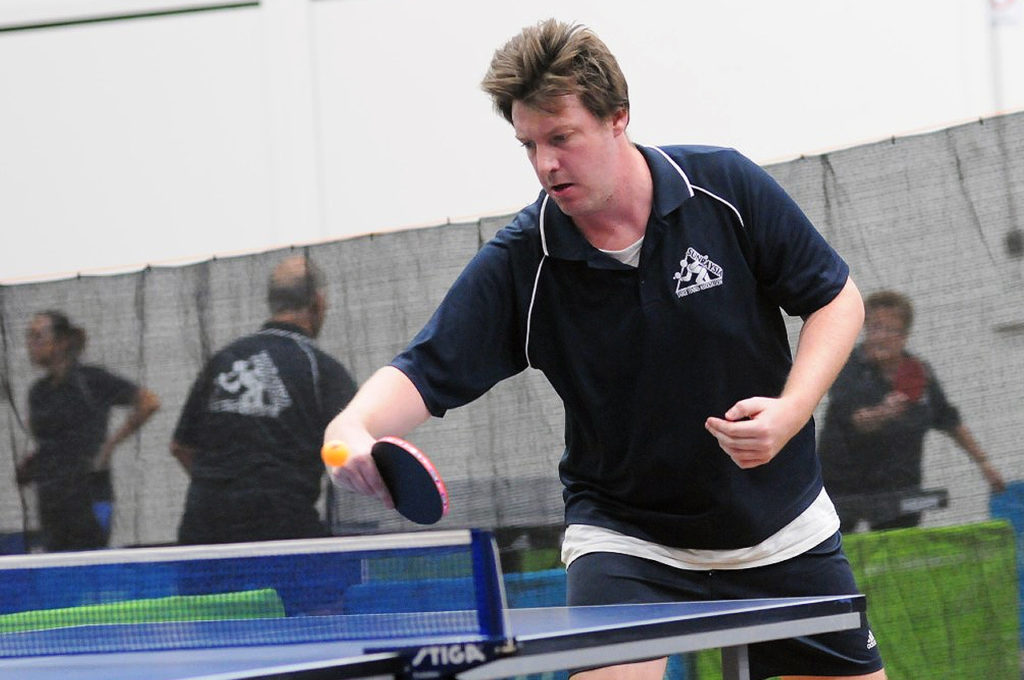 With two wins by captain Ryan Hensgen against Karly Leach and Brice Lock, plus the first doubles rubber, Sammy's Slammers led 3-2 after five rubbers, and looked to be having their best match since round two when they defeated Regional Taxation Services.
Mallee Meats, however, were just getting warmed up – they rattled off the next six rubbers to record a convincing 8-3 score.
Mallee Meats captain Aidan Riordan took three wins, and his team-mates Brice Lock and Karly Leach two each. Riordan and Leach won the second doubles rubber in straight sets against Hensgen and Costa Skiadas.
Sammy's Slammers fought well though – both Leonie Dunkley and Costa Skiadas took two of their opponents to three sets; Dunkley got the early jump on Karly Leach 15-4, but Leach came back to win the next two 15-10, 15-8. Later, in the last round of singles, Dunkley almost toppled Brice Lock, but narrowly lost the third set 13-15. For his part, number three Skiadas took Mallee Meats captain Aidan Riordan to three sets, putting up a great challenge before losing 10-15, 15-12, 8-15. And like Dunkley, Skiadas almost had success in the final round of singles, but was just denied the win against Karly Leach, losing 10-15, 15-12, 14-16.
Final scores: 8 rubbers to 3 and 18 games to 10.
– MJM Automotive 9 (Frank Hickey 3, Andrew Kremor, James Jarvis 2) d Weightmans Packaging 2
MJM Automotive ran through Weighmans Packaging 9-2 to move to third spot on the ladder in this round.
MJM Automotive number two, Frank Hickey, returning to the game after a lay-off of about 20 years, with three singles wins, showed that he had not forgotten how to play.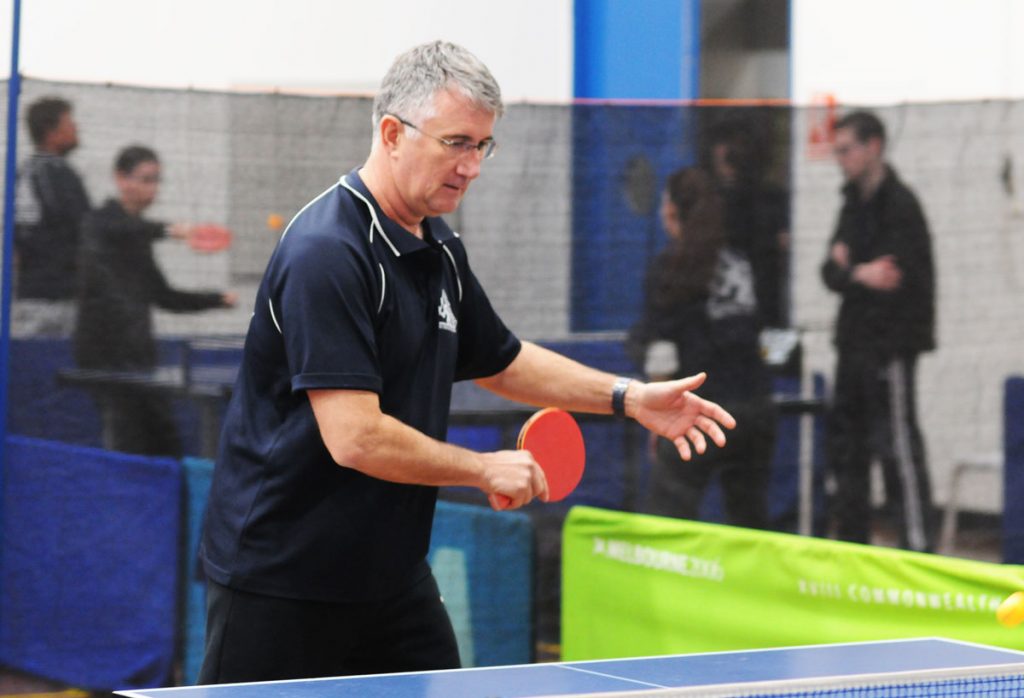 Captain Andrew Kremor and number three James Jarvis each contributed two wins, and the MJM Automotive side completed their domination with straight sets wins in both doubles rubbers.
With wins in two singles rubbers (in two sets against both Kremor and Jarvis), Weightmans Packaging captain Sabrina Fitzpatrick was the only one who could prevent a white-wash. Sabrina almost made it three wins, but Hickey held on to win in three sets 17-15, 9-15, 16-14 in their match.
This result sees MJM Automotive go from fourth to third, and Weightmans Packaging drop from third to fourth on the ladder.
Final scores: 9 rubbers to 2 and 18 games to 8.
Pennant Four:
In this Week's action there was a rare occurrence – there were no fill in players required. Well done to everyone being available this week and we certainly hope that this trend continues. The big story of the night was the outstanding performance of an individual who for the first time has won all of her singles matches.
MJM Automotive 10 (Nycole Riordan, Jamie Kealley 3, Ben Hosking 2) def Mallee Meats 1 (Wendy Simpson 1)
As the score line suggests this was an emphatic win for MJM Automotive. MJM's Nycole Riordan has broken through to claim three singles victories in this crushing win. She was ably supported by teammates Jamie Kealley who also secured three singles and Ben Hosking chipping in with two of his own.
MJM Automotive have taken all before them this year and in this match got off to the perfect start by claiming the first three singles matches of the night in straight sets. The next two matches were a lot closer with Hosking and Riordan taking on Mallee Meats duo of Wendy Simpson and Joy Sullivan. In a tight first set, Meats snatched the first set 18-16 before MJM secured the second 15-13. The last set was one-way traffic with MJM powering to victory in taking the last 15-6. MJM now led the contest four rubbers to nil and Mallee Meats needed to respond quickly.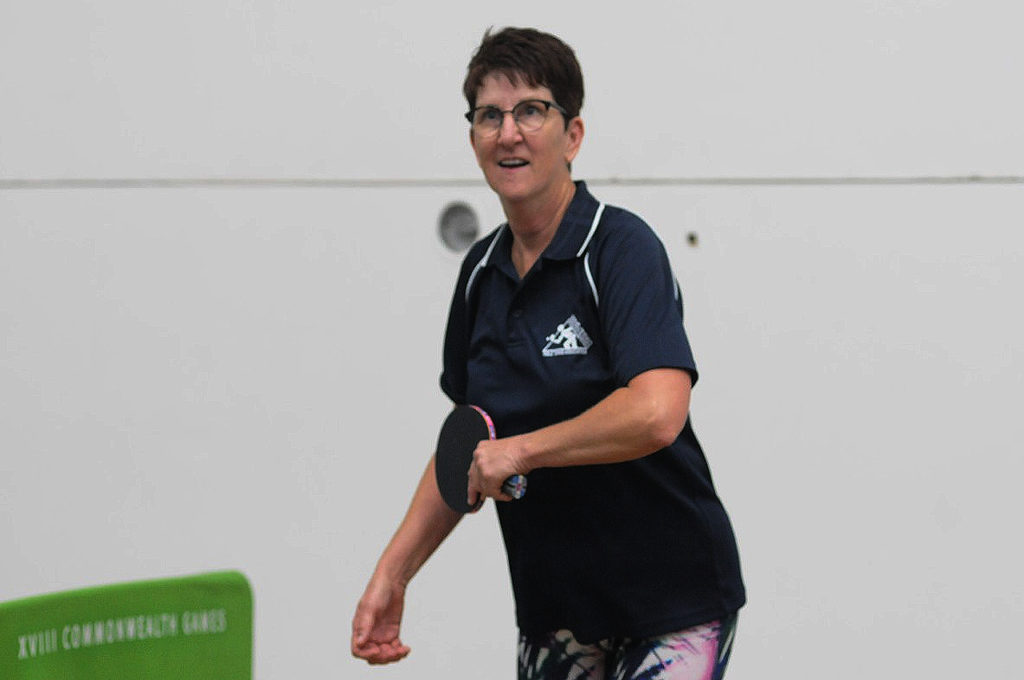 In the fifth match of the night MJM's young gun Jamie Kealley was up against Meats Wendy Simpson. Kealley settled into his work quickly and took the first 15-13 despite the efforts of Simpson who fought back late in the set. Simpson continued her momentum in taking the second 15-12 to set up a third set. In a point for point battle, each was looking for that knockout blow. This blow came late with Kealley greeting the judges with a hard fought victory 15-13 in the last to all but extinguish Mallee Meats hopes of victory.
Victory for MJM came in the next game when Ben Hosking defeated Hollie Lock to give MJM an unassailable six rubbers to nil lead. There was little joy for Mallee Meats, as they had to wait until the penultimate game of the evening to finally hit the scoreboard. In conclusion, it would be fair to say that MJM Automotive have made mincemeat of their opponents Mallee Meats with their huge 10 rubbers to 1 victory.
Tankard Dental 7 (Billy Stephens 3, Jacinta Ljubic, Tim Finck 2) def Dunkley Scales 4 (Kelsey Davey, Glenn Leeson 1)
Tankard Dental's Billy Stephens has broken through to secure three singles victories and in doing so has led his team to victory. Stephens has had a few weeks off in his debut season but has found form at the right time with the finals only three weeks away. He was well supported by Jacinta Ljubic and Tim Finck who each contributed two singles victories. Although beaten Dunkley Scales were very competitive and in fact won both doubles matches to keep themselves in the contest.
The crunch match of the night was the contest between Stephens and Dunkley's in form player Kelsey Davey. Stephens surprised Davey by taking the first 15-9. The second set was an even contest with
Davey taking the set 16-14. The thirst set saw both players play some exciting table tennis but it was Stephens who was able to pull away late to secure this important match 15-12.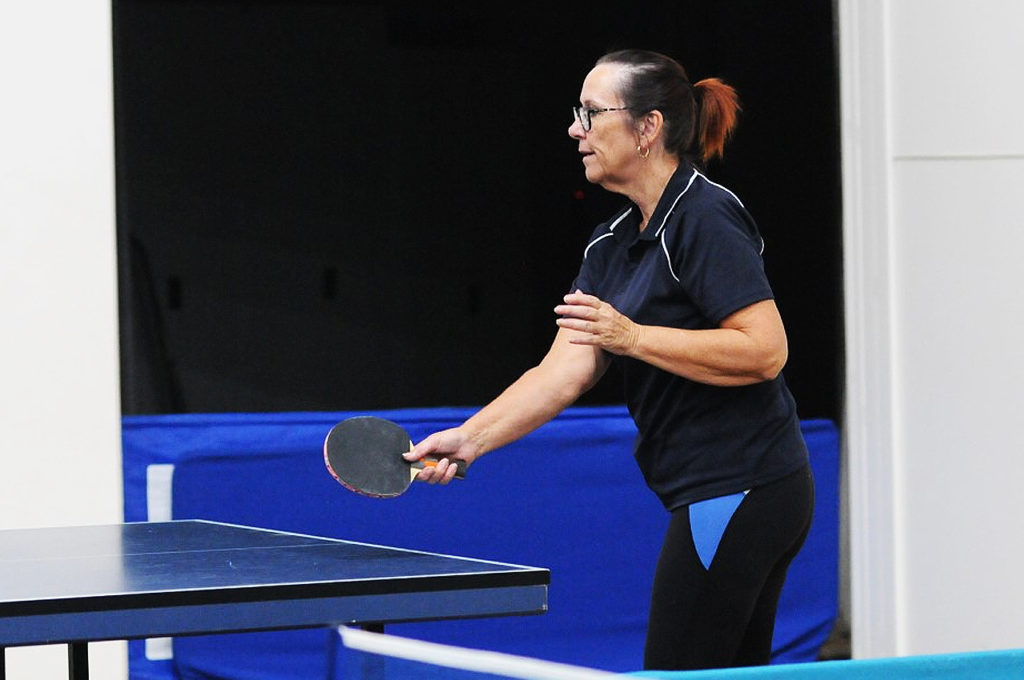 Tim Finck continued his excellent form by defeating both Glenn Leeson and Raylee Waugh in three close sets. To further highlight the closeness of this contest Tankard's went on to win all of the five matches that went to three sets. So in conclusion well done to Tankard Dental as they have extracted a hard-fought 7 rubbers to 4 victory over Dunkley Scales.
Editorial note: Well done to Pennant 4 for filling in their scoresheets correctly. Keep up the good work!
In addition, Jamie Kealley leads the aggregate by three games from Kelsey Davey and Jacinta Ljubic with two regular season fixtures remaining.
Finally, are Mallee Meats looking to get a great price on them before the finals commence? Stewards may need to be called in!