Read Time:
19 Minute, 18 Second
Scoresheets-Winter-2019-Semis.pdf
Second placed Regional Taxation Services upset Mallee Bearings to earn a weeks rest heading into the Sunraysia Table Tennis Grand Finals.

– Regional Taxation Services 6 ( Matt Ljubic, Joel Dorman 2, Jackson Murphy 1) d Mallee Bearings 5(Joel Thomas 3, Reece Kurrle 1) ( Second Semi Final )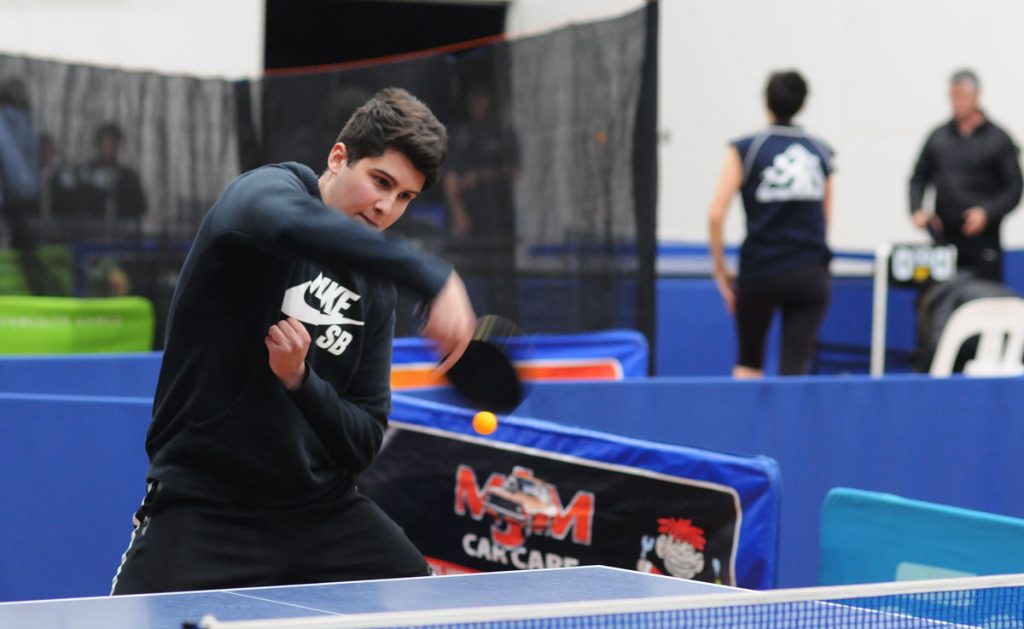 Second placed Regional Taxation Services upset Mallee Bearings to earn a week's rest heading into the Sunraysia Table Tennis Grand Finals.
Regional Taxation Services had to play exceptional table tennis to topple the ladder leaders, and that is what they did.
Trailing 4-5 with two rubbers to play, Joel Dorman and Jackson Murphy hauled their team over the line, defeating Reece Kurrle and Lee Thomas respectively, both in four sets.
Earlier in the night, Mallee Bearings captain Joel Thomas, in winning three singles, had given his side a great start to their quest for a win. In his final rubber, against Regional Taxation Services captain Matt Ljubic, Thomas dropped the first set 11-13, but powered back into the match, taking the next three sets, 7, 9 and 3, avenging his defeat by Ljubic in the Super Eights competition two nights earlier.
Regional Taxation Services, meanwhile, picked up rubbers where they could. Ljubic defeated Kurrle and Thomas, and Joel Dorman accounted for Lee Thomas.
The doubles, as ever, were keenly contested. Firstly, Joel Thomas and Reece Kurrle won a close contest against Matt Ljubic and Joel Dorman in five sets, 11-7, 10-12, 4-11, 11-6, 14-12. That made the scores 2-2 at that point. Later Ljubic and Jackson Murphy recovered from two sets to love down to over-run Joel and Lee Thomas 6-11, 7-11, 11-3, 11-7, 11-6. Once again, the win evened the scores, this time at 4-4.
When Joel Thomas defeated Matt Ljubic, his side again edged ahead, but with the results of the Joel Dorman-Reece Kurrle and Jackson Murphy-Lee Thomas matches both going to Regional Taxation Services, the result went to the side which had finished second on the ladder.
It is interesting at this point to look at the stats of these two sides during the season, in relation to when they played each other. Mallee Bearings won twice (8 rubbers to 3, and 7-4), Regional Taxation Services once (6-5). On every occasion, even when they lost, Mallee Bearings won more games than their opponents. In the wins, they won 27 games to 14, and 23 to 19, and in the loss they still won 23 games to Regional Taxation's 20. In this game Regional Taxation Services managed to win more, just one, 21-20.
Should these two sides play in the grand final in a fortnight's time, Regional Taxation Services know it will be another big night.
Final scores: 6 rubbers to 5 and 21 games to 20.

– Exposed Signage/Apparel 6 (Nicholas Dorman, Kate Carmichael 2, Leslie Ncube 1) d Max Miller Carpets 2 (Phil Smith 1) ( First Semi Final – Elimination )
This match promised to be close, but in the event, Exposed Signage & Apparel were not greatly troubled by their opponents, Max Miller Carpets.
Both these sides finished the season with eight wins, and seven losses, Exposed Signage & Apparel occupying third spot on the ladder by virtue of a better percentage. On the three occasions these sides met, Max Miller Carpets won twice, 6-5 and 7-4, while in round 9, Exposed Signage & Apparel took the honours 6-5.
After four rubbers in this match, the scores were 2-2, with three of those rubbers being very one-sided three set affairs. Max Miller Carpets captain Phil Smith defeated Leslie Ncube in three, Exposed Signage & Apparel captain Nicholas Dorman won in similar fashion against Jackson Tung, then his team-mate Kate Carmichael downed Ed Hung, also in three.
Things warmed up in the doubles though, Smith and Tung recovering to win against Dorman and Carmichael in five sets 11-7, 6-11, 3-11, 11-8 12-10, and that evened the scores.
From that point though, it was all Exposed Signage & Apparel. Nick Dorman was too strong for his opposite number Phil Smith, winning in four 11-7, 9-11, 12-10, 11-5. Then Leslie Ncube outplayed Ed Hung, dropping just 12 points in three sets, and Kate Carmichael proved too good for Jackson Tung, winning also in straight sets.
At 5-3 down, the second doubles rubber was the last chance for Max Miller Carpets to save this match, but despite Smith and Hung taking the first set 11-8, Dorman and Ncube overcame their opponents, taking the next three, and keep their finals hopes alive.
This win sees Exposed Signage & Apparel take on Mallee Bearings next week in the second elimination final. It should be close. On the three occasions these sides met during the season, the winning margin has been 6-5 each time, twice to Mallee Bearings and once to Exposed Signage & Apparel on the last occasion they met, in round 13. There is nothing in it with games won, Mallee Bearings in their wins winning 21-20 and 22-17, and when Exposed Signage & Apparel won it was 22 games all.
Final scores: 6 rubbers to 2 and 20 games to 8.

PENNANT TWO:

– Max Miller Carpets 6 (Arthur Paar 3, Paul Kealley, Dylan Wood 1) d Pinnacle Packers 3 (Jason Gifkins, Michael Hensgen 1)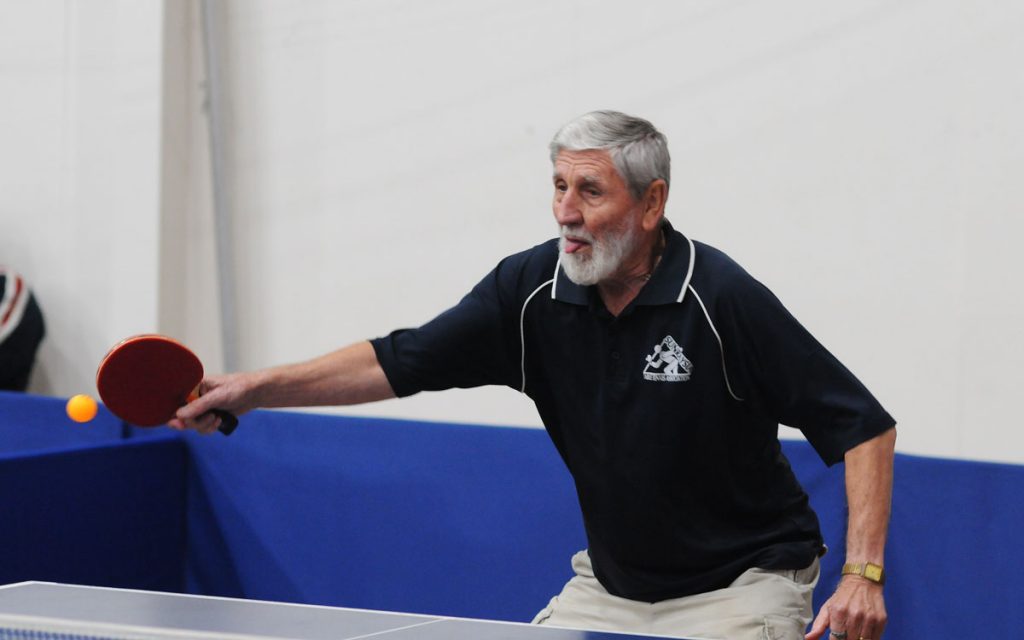 Max Miller Carpets strode into this Grand Final in the back of a great three game haul by their number three, Arthur Paar. Paar has been threatening this type of performance all season, and in this game, he delivered.
Like a good wine, Paar got better as the game went on. His first win, in rubber number two was against, Jason Gifkins, who was subbing for the absent Peter Midgley. These two slugged it out for five sets, Paar prevailing 11-9, 8-11, 14-12, 9-11, 11-7. In rubber number five, Paar virtually brushed Michael Hensgen aside, winning in four sets 9-11, 11-9, 11-4, 11-8, and so it was fitting that Paar should secure the sixth rubber for his side when he defeated David Sergi in the ninth rubber in straight sets. Added to that, Paar and Paul Keally, subbing for Russell Walder, still unable to play due to the flu, won the second doubles rubber. Starting slowly, they then outplayed Hensgen and Sergi to win in three sets 12-10, 11-7, 11-3.
Along with those four rubbers, Keally and Dylan Wood also contributed. Keally defeated the Pinnacle Packers number three Sergi in what was no foregone conclusion. Keally needed all his skill, and a little bit of luck to defeat Sergi, winning in five sets 10-12, 11-6, 5-11, 11-8, 11-9. Wood, too defeated Sergi, and, with the contest going to five sets, it was a similar story with Wood winning 11-7, 9-11, 11-7, 9-11, 14-12.
For Pinnacle Packers, only Gifkins and Hensgen had any luck – Hensgen defeating Dylan Wood in three sets in the opening rubber, and Gifkins finally getting the better of Keally in four sets 9-11, 12-10, 12-10, 11-4 to bring the score back to 4-3 at that point. Together, Gifkins and Hensgen won the first doubles rubber, defeating Keally and Wood in four sets. And Sergi, although not winning a rubber, continues to be a thorn in the side of any player, and with a little bit of luck could have had 2 wins to his name here.
Final scores: 6 rubbers to 3 and 20 games to 15.

– Weightmans Packaging 6 (Kevin Johns 2, Quentin Clark, Peter Fitzpatrick 1) d Mallee Meats 4(Tony Malycha 2, Brad Warden, John Fitzpatrick 1)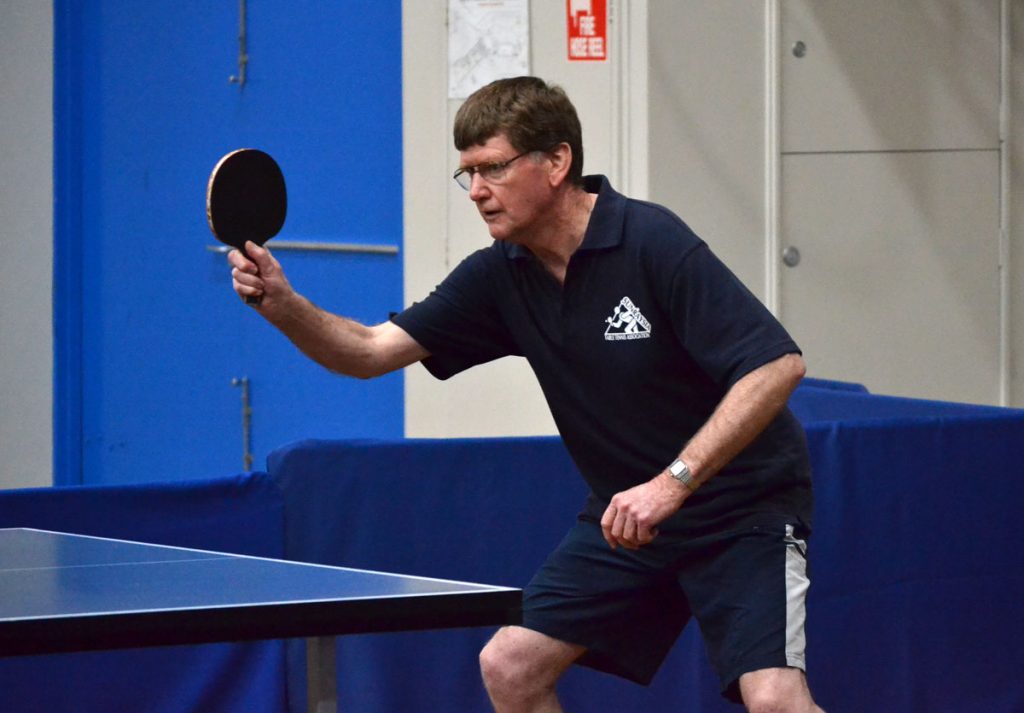 In a match where singles wins were shared among all the players, Weightmans Packaging won a see-sawing match with the help of wins in both doubles rubbers.
Such was the evenness of this game, all players won at least one singles rubber, and two players took two wins.
From the get-go, it was clear this was going to be a close contest. John Fitzpatrick ground out a five set win against his father Peter in the clash of the number three's 11-9, 9-11, 7-11, 11-5, 11-7. Neither of these two could have thought they would have an influence on the game after that … but read on.
Kevin Johns comfortably defeated opposite number Brad Warden in four sets, and Tony Malycha did the same to his opposite number Quentin Clark, also in four sets.
Johns and Clark evened the contest with a four set win in the first doubles rubber against Malycha and John Fitzpatrick. Playing Malycha and the younger Fitzpatrick was a tactical move by Warden to attempt to steal both doubles rubbers, saving himself for the second rubber when he would team with Malycha against Johns and Peter Fitzpatrick, a combination which has been good at times this season.
Johns took the next rubber, defeating John Fitzpatrick to give Weightmans Packaging a 3-2 lead. Next Tony Malycha met Peter Fitzpatrick and it was believed that the score would probably be 3-3 at the conclusion of the match, the only debate about how many points Fitzpatrick might win. Up to this point in his season or any other, he had not taken a set from Malycha. Whatever, he took first blood, winning the first set 11-8, Malycha steadied with a win in the second set 11-9, and appeared to be back on track with a win in set number three 11-6. Fitzpatrick dug in however, and saw Malycha off in the fourth 11-9 to take the match to the decider. The two traded blows in an epic struggle in the fifth set, both had set points, but it was Fitzpatrick who blinked last, winning the set 16-14. To say he was surprised is an understatement.
Now leading 4-2, that win firmly had the pendulum go Weightmans Packaging way. Brad Warden brought it back a little with a straight sets win against Clark to make it 4-3.
The second doubles beckoned … Warden and Malycha against Johns and Fitzpatrick. The Mallee Meats pair started confidently, and ran off to a
big lead in the set before the Weightmans Packaging pair made it look respectable, before Warden and Malycha took it 11-6. Johns and Fitzpatrick regrouped to take the second set 11-7, the Mallee Meats pair responded in the third, taking that 11-7. Things started to tighten up, the Weightmans pair edging to an 11-9 win in that set to make it two sets all. The fifth also was close, and Johns and Fitzpatrick again showed some of their early season form, when they won a string of doubles rubbers together, and took the final set 11-9.
The pendulum swung back to Weightmans Packaging, then. Needing just one more rubber, Johns met Tony Malycha. These two had met in the Super Eight Competition two nights before. On that occasion Malycha had Johns down two sets to love, only to see Johns make a comeback and take the match in five. Malycha had learned from that, and on the back of the unexpected loss earlier in this match, was not about to let it happen again. Once again he led two sets to love 11-7, 14-12, Johns started his comeback in confident fashion by taking the third 11-6, but this time Tony was ready for him, and controlled the fourth set to easily account for his opponent 11-5.
The pendulum had swung back a little towards Mallee Meats.
Still needing one to win, Weightmans Quentin Clark took on John Fitzpatrick, who was trying to save the match for his team. Straight away, Fitzpatrick took the upper hand and raced away to a two sets to love lead 11-6, 11-9, and it seemed the match would be decided in the following rubber. But Clark was not done yet, and against the flow of play took the third set 11-8. When Fitzpatrick led the fourth set 8-5 and 9-6 it looked like it was all over for Clark, but Clark surprised everyone, taking five points in a row to level at two sets all. Fitzpatrick did not stop trying in the final set, but the flow of the game just seemed to go to Clark, if there was a favourable net or edge it would go to the Weightmans player, and Clark took the final set 11-7, giving the match to Weightmans Packaging, and much to the relief of teammate Peter Fitzpatrick.
Weightmans will now take on Pinnacle Packers next week in the second final. This will be a much tougher match for them, as it is expected that Peter Midgley will be back and with Michael Hensgen and David Sergi to support him, a tough contest is assured.
Final scores: 6 rubbers to 4 and 22 games to 20
PENNANT THREE:

– Regional Taxation Services 6 (Sabrina Fitzpatrick, Andrew Kremor, Luke Ljubic 2) d Sammy's Slammers 5 (Casper McCarthy 3)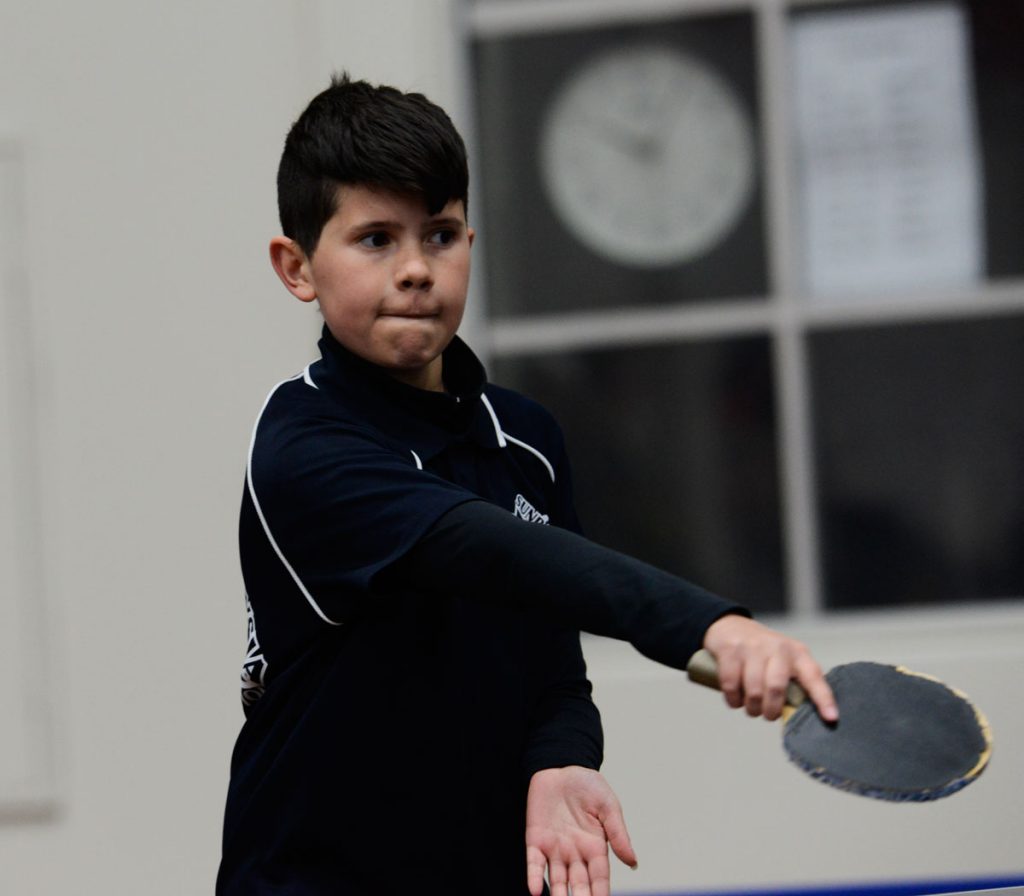 Sammy's Slammers finished on top of the ladder with twelve wins and three losses, their opponents here Regional Taxation Services had won eight times and lost on seven occasions. In the head to head, Sammy's Slammers had won twice (6 rubbers to 5 and 8-3), before Regional Taxation Services took a 6-5 win in the final round of competition.
Sammy's Slammers captain Casper McCarthy ruled the table in this contest, winning every match he played. He accounted for the Regional Taxation Services trio of Luke Ljubic, Andrew Kremor and Sabrina Fitzpatrick in four, four and three sets respectively. And with his team-mates he garnered both doubles rubbers. He and Huseyin Ismail defeated Fitzpatrick and Kremor in four sets, after losing the first. Later, he and Ryan Hensgen won fairly easily in four sets against Kremor and Ljubic.
Sadly, for Sammy's Slammers that is where their progress halted. Neither Ismail nor Hensgen could add to those five rubbers. Both these players had good seasons – albeit at opposite ends of the season. Ismail started strongly, dropping just one rubber in the first three rounds. Then a combination of absence and injury scuppered his season. Hensgen, on the other hand, was a big improver this season. His form from round 11 to 14 was very impressive, scoring 2 wins on three occasions, and in round 14, winning all singles rubbers. He then missed the final round, but still ended up fifth on the aggregate – not bad for a number three!! Here, though, their form deserted them, and they remained winless.
Regional Taxation Services still had to win, of course, and they stuck to their task, needing to win the last two rubbers to do it. They won the remaining rubbers that Casper McCarthy did not play in … each defeating the just-mentioned Huseyin Ismail and Ryan Hensgen.
Fitzpatrick had to work hard for three sets against Ismail, before winning in four 9-11, 13-11, 12-10, 11-5, then had a straight sets win over Hensgen.
Kremor defeated Hensgen in a touch-and-go match 11-5, 11-13, 12-10, 11-8, and had to be careful against Ismail, before winning there also in four 11-8, 11-8, 8-11, 11-7.
And Luke Ljubic, after losing to McCarthy in four sets, really got into the swing of things with a five set win against Ismail 11-7, 8-11, 6-11, 11-6, 11-2, and delivered the win to his side by taking rubber number eleven – a three set win against Hensgen.
Sammy's Slammers get the double chance, and so play the winner of the Mallee Meats – Weightmans Packaging game (see below). They will be without McCarthy next week, so they will be looking to the other players to hopefully fill the void.
Regional Taxation Services know they need to brush up on doubles play.
Final scores: 6 rubbers to 5 and 22 games to 20.

– Mallee Meats 6 (Marcus Cimino 3, Leonie Dunkley 2) d Weightmans Packaging 4 (Aiden Riordan 2, Brice Lock 1)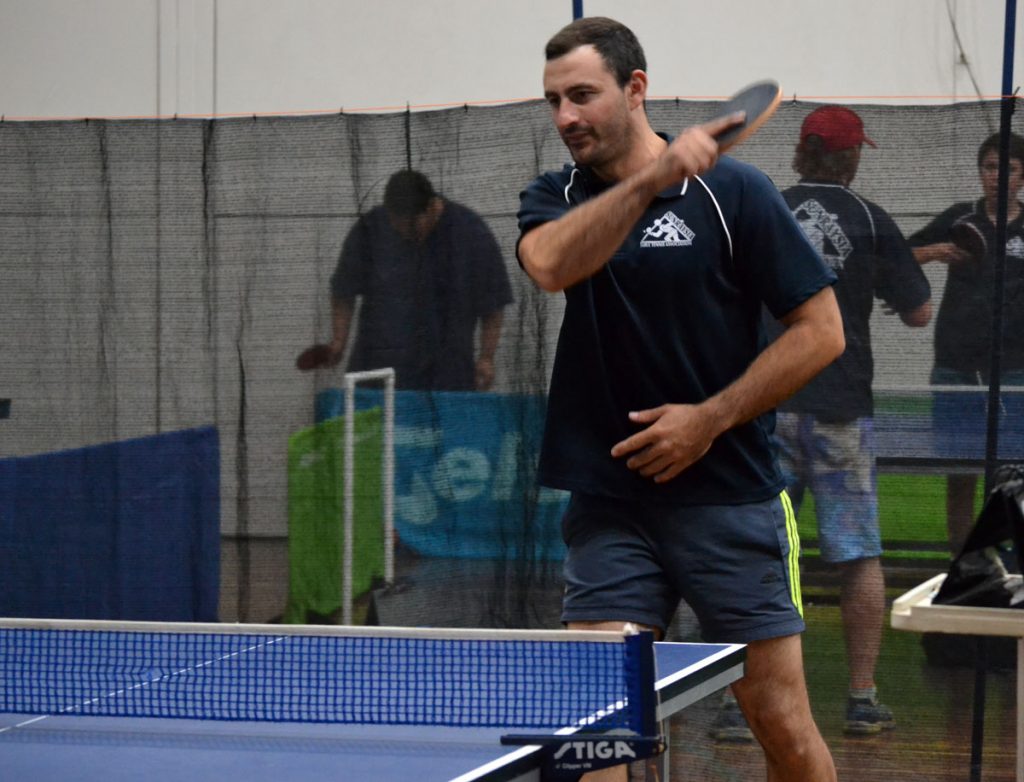 Weightmans Packaging finished third on the ladder at the end of the season with eight wins and seven losses, Mallee Meats were fourth with seven wins and eight losses. Mallee Meats, however, had a better win/loss ratio and despite winning one less match, won more games and conceded few than their rivals here. On the three occasions they met, Mallee Meats won 7-4 twice, whilst Weightmans Packaging took a 6-5 win in round 9.
Mallee Meats also had one other thing in their favour, that being the presence of the aggregate winner, Marcus Cimino. Cimino was only defeated six times in singles play throughout the season, and won the aggregate in a close contest with Casper McCarthy. Cimino is backed up by the steadying hand of Leonie Dunkley, who had a solid, if not outstanding season, winning 16 rubbers from 12 games. These two proved vital in the win here.
Mallee Meats led 3-1 after the first doubles rubber – Dunkley defeated Nick Kiapekos in four sets, Cimino a straight sets win against Brice Lock, and together they won the first doubles in four sets against Aidan Riordan and Lock 5-11, 11-7, 11-4, 17-15.
Weightmans Packaging then did the same to Mallee Meats – they took three of the next four rubbers. Riordan downed Dunkley in three sets, Brice Lock won in four sets against Ayden Costa, and Riordan and Kiapekos, after being two sets to love down, won a very even doubles rubber in five sets against Cimino and Costa 4-11, 12-14, 11-7, 11-8, 12-10.
That made the score 4-4, but with those two steady hands to play the next two rubbers, Mallee Meats had the match won. Both Cimino and Dunkley won their matches in straight sets, Cimino over his opposite number Riordan, and Dunkley, similarly against Brice Lock.
Mallee Meats now play Sammy's Slammers in next week's semi-final, and may well fancy their chances against what is now an apparently weakened team. With McCarthy out, and Ismail and Hensgen struggling for form, Cimino and Dunkley might well see Mallee Meats into the Grand Final the week after.
Final scores: 6 rubbers to 4 and 21 games to 16
Pennant Four:
In the first round of finals action, we find one team march into the Grand Final and one team eliminated.
MJM Automotive 6 (Isaiah Bettess 3, Joy Sullivan 1) def Mallee Meats 4 (Costa Skiadas 2, Brian White, Jacinta Ljubic 1)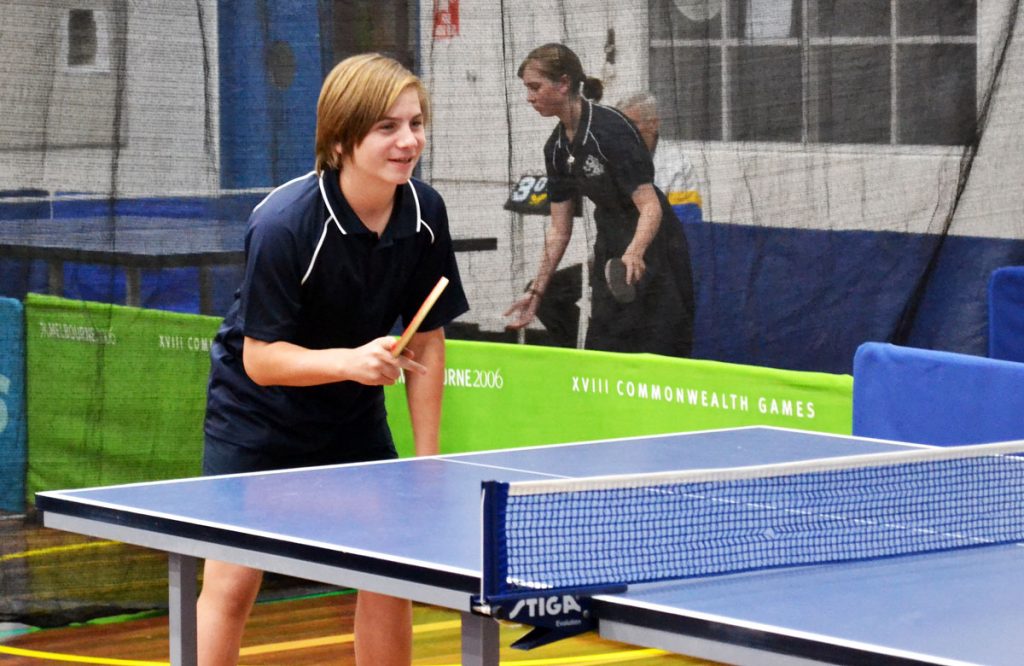 MJM Automotive have stormed into the grand final with a big 6-4 win over Mallee Meats. Isaiah Bettess led the charge by winning his three singles and then combined with teammates Joy Sullivan and Nycole Riordan to win both doubles matches. The night did not start well for the Minor Premiers with Mallee Captain Dave Tanner being a late withdrawal due injury. Jacinta Ljubic created history by being the first player to play in two finals matches on the same night as she filled in for Tanner.
In the past Costa Skiadas has stepped up to the plate when his captain has been absent. This night was no different as he played well to win two singles. Skiadas played well against Bettess but went was defeated 12-14, 8-11, 3-11. It would be Mallee Meats inability to win a doubles match that was to prove the decisive factor in this match. Also critical was Joy Sullivan, who has returned from injury, had a good win against Brian White to get the six rubbers required for victory.
Mallee Meats will be sweating on the fitness of Tanner as they take on Tankard Dental next week for a place in the Grand Final. MJM Automotive have the week off to refresh for the Grand Final. Well done to MJM Automotive who have taken this match 6-4.
Tankard Dental 6 (Wendy Simpson, Glenn Leeson 2, Jacinta Ljubic 1) def Dunkley Scales 4 (Miya Lock 3)
Tankard Dental continue their season with a 6-4 win over Dunkley Scales. This match on paper was always going to be an even contest but in would be Tankard's number three player Glenn Leeson that played a starring role to get his team over the line. Leeson was an early season call up due to a serious injury to Shirley Whitecross. Thankfully, Shirley has recovered well and in fact was cheering her teammates on this evening.
The night started well for Tankard's with Captain Jacinta Ljubic defeated Raylee Waugh in four tense sets. Then Leeson defeated Hollie Lock in straight sets as Tankard opened up a 2-0 lead. With the night slipping away early Dunkley's Captain Miya Lock fought off a tough challenge from Wendy Simpson to win in four close sets 13-15, 11-7, 11-9, 11-8 and then teamed with Waugh to win the doubles match. This match was then on a knife-edge locked at 2 rubbers all. The fifth game proved crucial with Leeson playing Waugh. This game could have gone either way with each set extremely close. It would be Leeson who grasped his opportunities to win in three sets 11-9, 11-8, 11-9 to give his team the edge.
With Tankard Dental holding a 4-3 advantage, it was now down to the second doubles match. Doubles have proved to be the Achilles heel of Tankard Dental during this season as they have won very few of these encounters. So now would be a good time to address this! Ljubic and Simpson combined well to take the first set 11-7 against Lock and Lock and looked in control of this match. Indeed they were as they won the next two 11-3, 12-10 to record a much need victory.
With Dunkley's needing to win all remaining matches Miya Lock was determined to keep her team in the contest. On the other hand, her opponent Glenn Leeson was looking for the knockout blow. In a game of
momentum swings both players had periods of dominance and the score-line after four sets was 11-8, 10-12, 11-5, 6-11. Lock then hit top gear to take the fifth 11-1 to keep her team in the contest. Unfortunately, her teammate Raylee Waugh was unable to repeat this dose as was defeated by Wendy Simpson in straight sets. Tankard Dental winning this contest 6-4 and will take on Mallee Meats next week.