Read Time:
14 Minute, 10 Second
Close matches were the order of round four as the Sunraysia Table Tennis "Cash Converters" competition resumed after the school holiday break.
PENNANT ONE:
– Mallee Bearings 7 (Joel Thomas 3, Lee Thomas, Andrew Cannard 1) d Tankard Dental 4 (Wayne Carmichael, Mark Dorman 2)
Mallee Bearings maintained their unbeaten run with a 7-4 victory over Tankard Dental. The Bearings team again won two doubles as they have done each week and with Joel Thomas undefeated in singles matches, opposition teams are finding the going tough when they match up with the ladder leaders.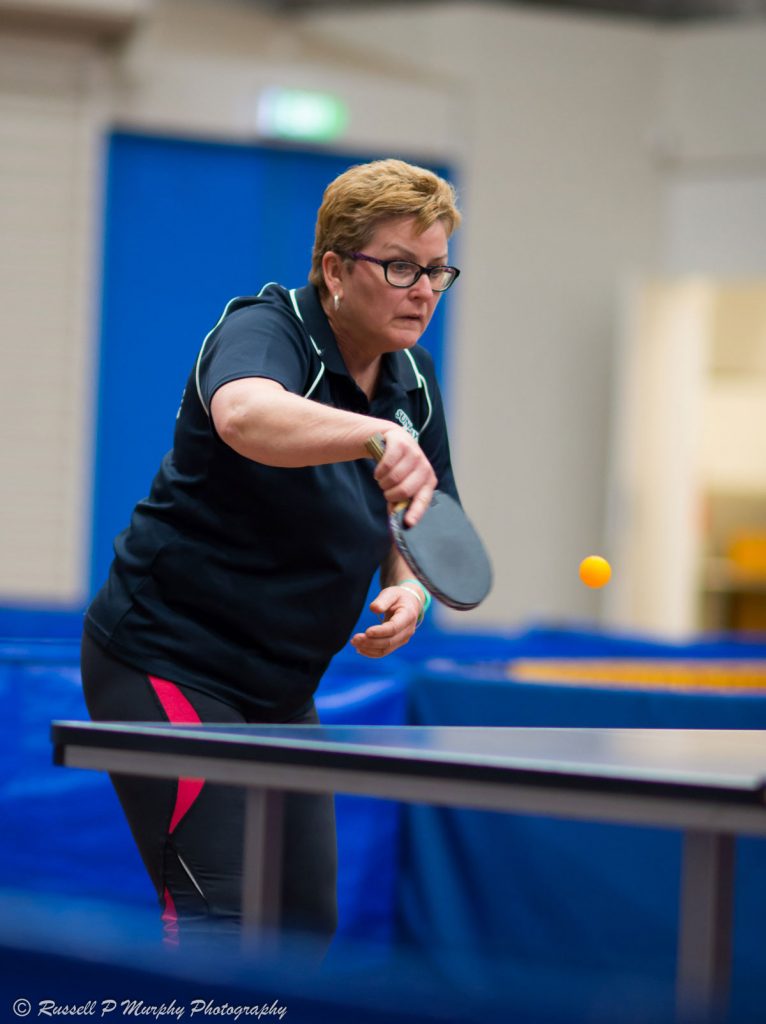 For Tankard Dental Wayne Carmichael and Mark Dorman won two singles each however when Lee Thomas accounted for Tankard number three Liam Wood in an entertaining three setter 12-10 11-9 11-7 life was always going to be tough for Tankards. Wood has started well in his first pennant one season however it was Thomas who was too steady.
– Max Miller Carpets 6 (Phil Smith 3, Gavin Carmichael, Ed Hung 1) d Exposed Signage/Apparel 5 (Kate Carmichael 2, Nicholas Dorman, Bernadette Fitzpatrick 1)
Max Miller Carets were out of the blocks early against Exposed Signage / Apparel to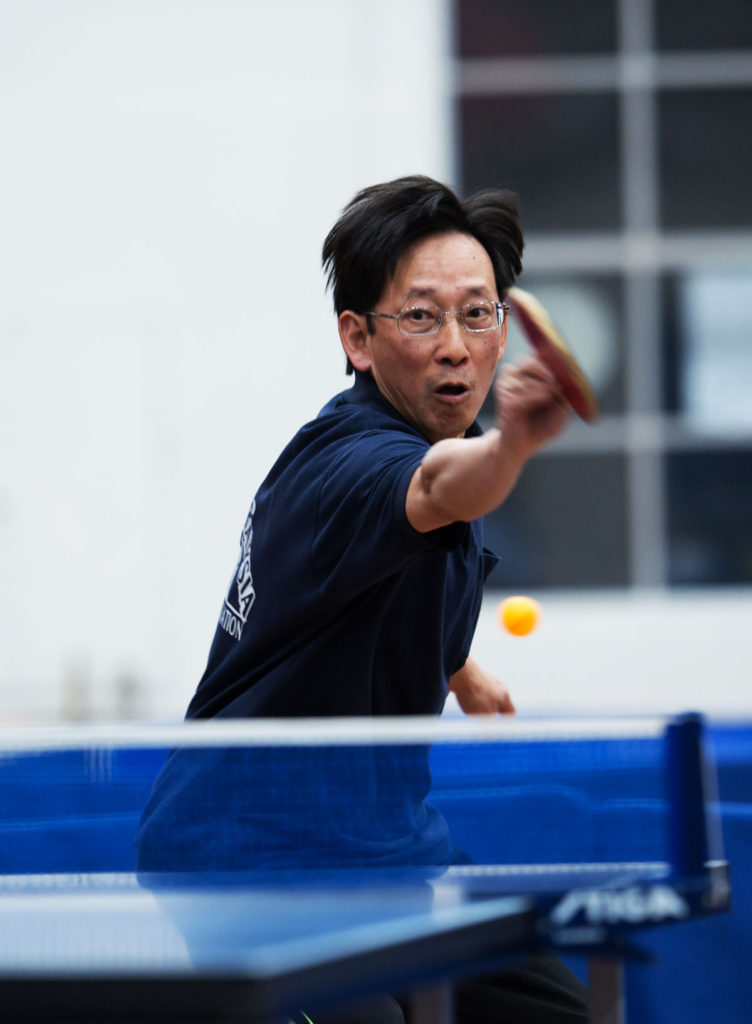 take a 4-0 lead. Cash Converters number three Ed Hung caused a major upset in the first game of the night when he outlasted opposing number one Nicholas Dorman in a lengthy five setter 11-8 6-11 11-7 9-11 11-5. A great result for Hung and the Carpeters. Max Miller Carpets later took a 5-1 lead and were in control however the Exposed trio were not going to go away and in an outstanding come back were able to level at five rubbers all.
Included in some of these victories in the comeback Kate Carmichael dismissed both Ed Hung and father Gavin in three sets in commanding fashion while Nicholas Dorman also defeated Gavin Carmichael in three. Fill in Bernadette Fitzpatrick also outlasted Hung 16-14 in a marathon fifth. When Dorman and K Carmichael combined in the second doubles to defeat Phil Smith and Ed Hung in four sets the match was well and truly alive at five rubbers all.
Carpeters skipper Phil Smith then lined up against Exposed captain Nicholas Dorman to decide the four points. Dorman was away early in the first before Smith steadied. He was then able to take control and go on and win 11-6 11-3 11-7 and claim the four points for Max Miller Carpets. Smith won his three singles as well as one doubles to play a major factor in the victory.
– Cash Converters 6 (Shannon Bowen 2, Jackson Tung, Leon Brown 1) d Regional Taxation Services 5 (Joel Dorman 3, Nicholas Dorman 2)
Cash Converters won their second match of the year and moved in to the top four when they accounted for the luckless Regional Taxation Services who have now lost the majority of matches by the narrowest of margins. The unavailability of their number one Matt Ljubic in three of those matches has proven costly.
In Ljubics' absence number two Joel Dorman has been on fire winning three singles again this round as he did the previous round. Included in his victories was a strong four set win over the talented Shannon Bowen and an 11-9 in the fifth win over Jackson Tung.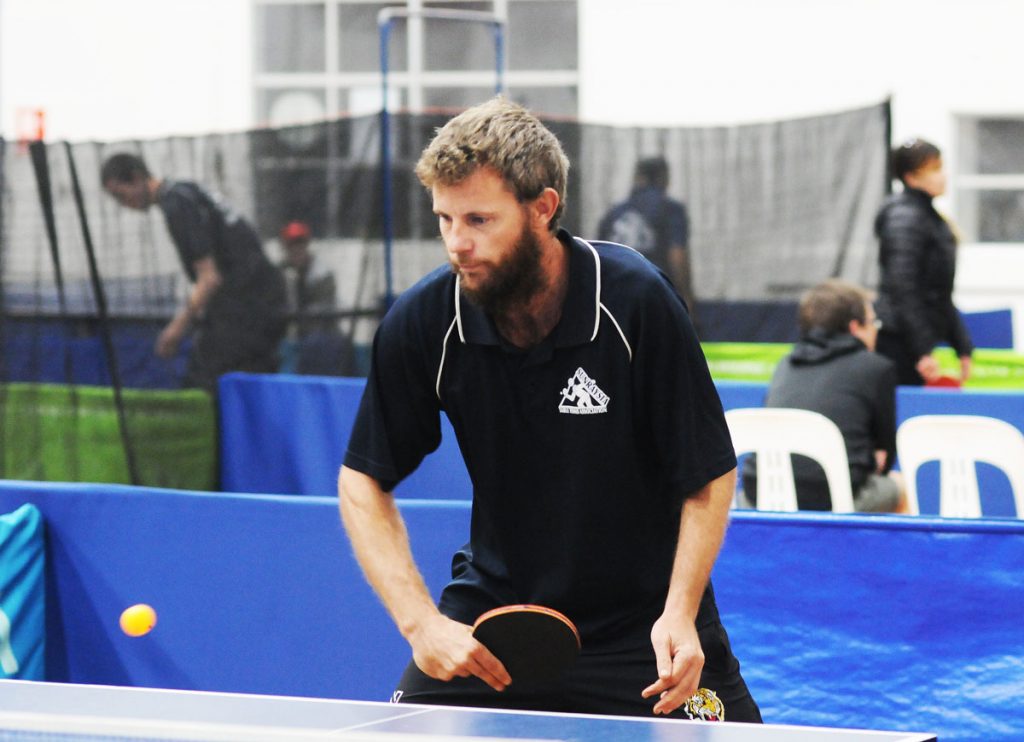 It was Cash Converters who were too steady in the end and success in both doubles played a big part in gaining the four points. Converters skipper Bowen played in both as well as winning two singles to a cap off a good round for him.
PENNANT TWO:
Max Miller Carpets once again saw off an opponent to remain undefeated; although Thanh Nguyen won three for Cookes Pools & Spas it was not enough to defeat Weightmans Packaging; and Pinnacle Packers had a big win again MJM Automotive with both Peter Midgley and Michael Hensgen claiming three singles wins.

– Max Miller Carpets 6 (Russell Walder 3, Dylan Wood 1) d Mallee Meats 5 (Brad Warden, Tony Malycha 2, John Fitzpatrick 1)
Russell Walder steered his Max Miller Carpets team-mates to a win against Mallee Meats in this round four clash.
With the Mallee Meats squad of Brad Warden winning two singles, Tony Malycha also two, and John Fitzpatrick one, Walder certainly had to be on his game to give his side a chance.
Walder's first match of the night against Tony Malycha was pivotal in the win. Max Miller Carpets Dylan Wood had just lost the opening rubber in five sets to Mallee Meats captain Brad Warden, and with this rubber also going to five sets, Mallee Meats could have been 2-0 up. The game was close all the way with Walder taking the win 9-11, 11-9, 11-9, 8-11, 11-9.
Walder's other two wins came more easily, in three sets against John Fitzpatrick and in four against opposite number Brad Warden.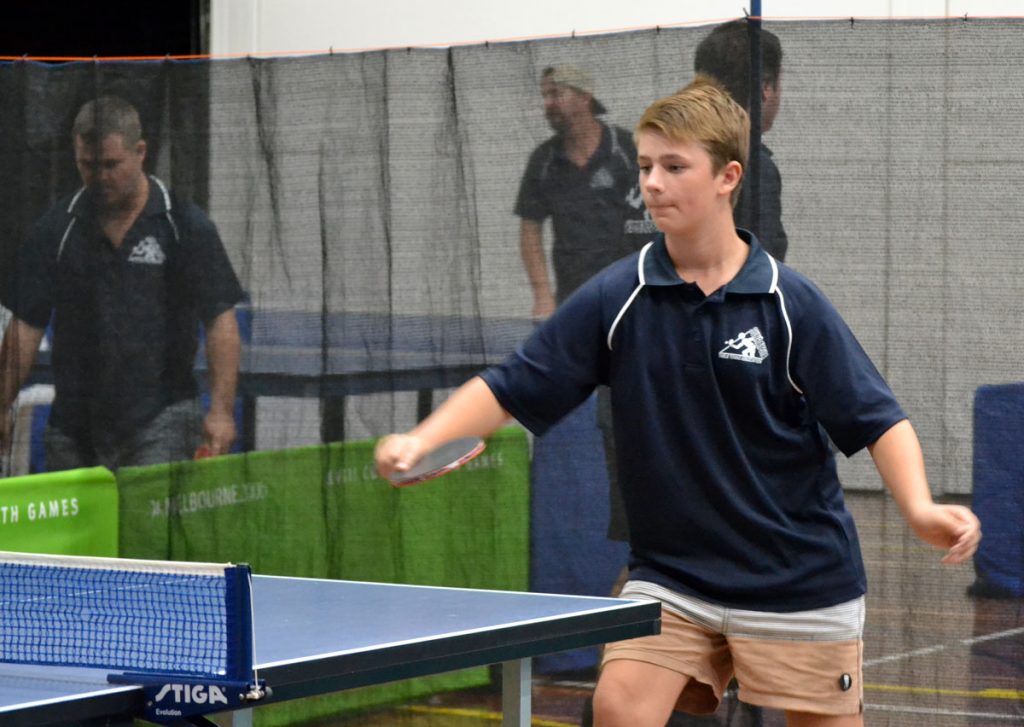 With his number two, Dylan Wood, picking up just one win, for after narrowly missing against Warden in the opening rubber, and then going down in straight sets to Malycha, Wood did defeat John Fitzpatrick in the penultimate rubber in four sets.
Max Miller Carpets therefore had to rely on the doubles rubbers to get them home. Walder and Wood combined well to comfortably defeat Warden and Malycha in four sets, and in the second doubles, Walder and John Fitzpatrick proved too good for Warden and Paul Fitzpatrick, who was subbing for Arthur Paar, winning in straight sets.
Final scores: 6 rubbers to 5 and 22 games to 20.

– Weightmans Packaging 7 (Kevin Johns, Quentin Clark 2, Peter Fitzpatrick 1) d Cookes Pools & Spas 4 (Thahn Nguyen 3, Andrew Jones 1)
Weightmans Packaging dominated their opponents here, in spite of Thanh Nguyen taking three singles wins for Cooke's Pools & Spas.
Unfortunately that was the only high spot for his team, as Weightmans Packaging won just about everything else.
Weightmans Packaging captain Kevin Johns with two singles wins, had good support from his team-mates – Quentin Clark came good with two wins and singles, and Peter Fitzpatrick one. Not only that, but Weightmans Packaging took both doubles rubbers as well.
Those rubbers Nguyen took did not come easily for him. His win again Kevin Johns went, as expected to five sets, but he struggled against hard-hitting Quentin Clark. Clark also took his match to five sets, and although he faded in the final set, it was an excellent performance.
Apart from Nguyen, the only other rubber to come the way of Cooke's Pools & Spas was a win by Andrew Jones. This team is yet to record a win for this season, but with the personnel they have, they surely will soon. Nguyen is as good as any of the other captains, Andrew Jones at two, although only taking one rubber so far will do better than that, and Jeremy Corrin too will come back to trouble a lot of players, not only number three's.
Final scores: 7 rubbers to 4 and 25 games to 18.

– Pinnacle Packers 8 (Michael Hensgen, Peter Midgley 3) d MJM Automotive 3 (Jason Gifkins, Terry Martin, Rohan Reimers 1)
With Peter Midgley and Michael Hensgen both winning three singles rubbers, there was no way MJM Automotive were going to win this game.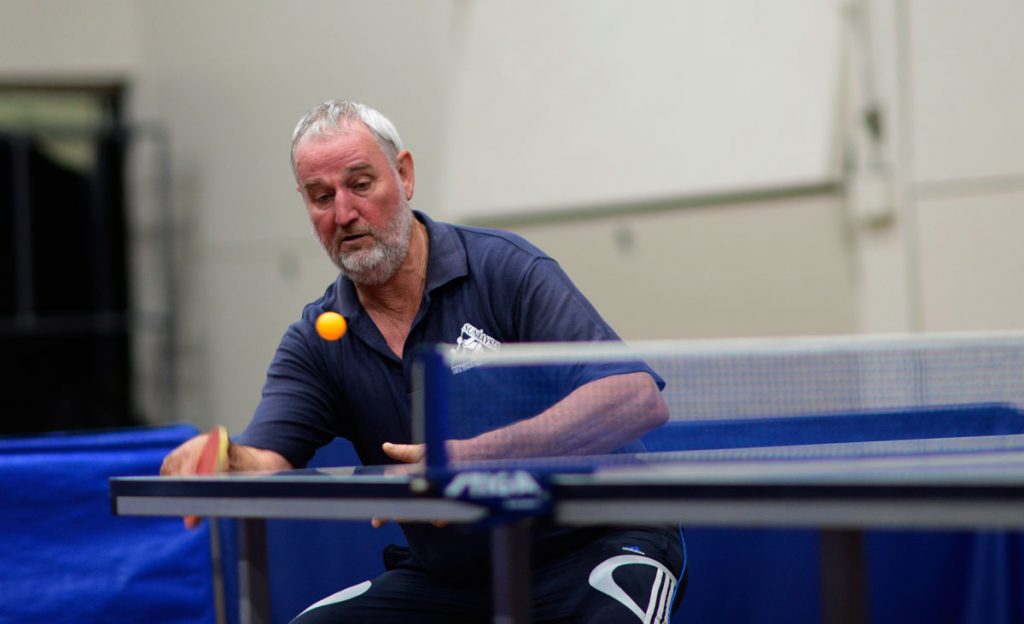 With scores of 1, 1 and 2 in the first three rounds, Midgley found a welcome return to form and took his first three game haul in this match. With the aggregate leader and his number two Hensgen again picking up 3 games again, Pinnacle Packers completely dominated their opposition.
Midgley dropped just one set, that to opposing captain Jason Gifkins; and Hensgen did the same, he dropping his set to Rohan Reimers.
Aware that Hensgen is in such fine touch, Midgley has elected to play Michael in both doubles rubbers. The first doubles looked like it was going to go to MJM Automotive as they led 2 sets to love, 11-6, 13-11. After that close second set loss, Midgley and Hensgen set about getting back into the match. The third was theirs 11-9, the fourth almost saw the
match over, but they hung on to take it 15-13, and then with their game in the ascendency, they took the fifth easily 11-5.
The second doubles saw Hensgen paired with David Sergi, who although not taking a singles win in this match, proved to solid doubles partner. After dropping the first set, they defeated Gifkins and Reimers in four sets.
The only rubbers that MJM Automotive could claim were a win by all against Sergi.
Final scores: 8 rubbers to 3 and 27 games to 14.
PENNANT THREE:
Sammy's Slammers kept top spot on the ladder with an emphatic win against Cooke's Pools & Spas who dropped from second to fourth; Mallee Meats continued their steady progress assuming second spot with their win over Weightmans Packaging; and Regional Taxation Services jumped from fifth to third with a win against MJM Automotive.

– Sammy's Slammers 9 (Andrew Kremor, Casper McCarthy 3, Ryan Hensgen 1) d Cookes Pools & Spas 2 (Therese Fitzpatrick, Shah Sandhu 1)
Sammy's Slammers recorded a big win in this round four match against Cooke's Pools & Spas.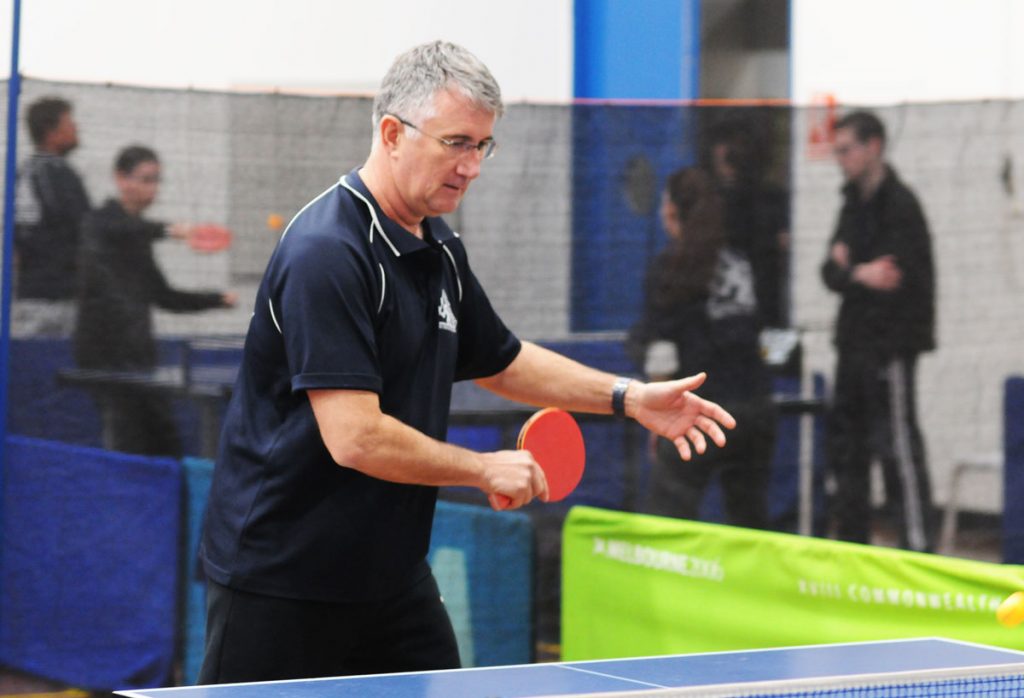 Their number two, Huseyin Ismail, who led the aggregate going into this round, was absent, but his replacement, Andrew Kremor, filled in admirably, taking three wins for his adopted team.
Sammy's Slammers captain Casper McCarthy matched Kremor for wins, with three of his own. Number three Ryan Hensgen rounded out the singles rubbers with a single win, against Matthew Cherry.
Although they both won, McCarthy and Kremor met stern opposition in Cooke's Pools & Spas captain Therese Fitzpatrick. Kremor had to work hard to win his four set contest 13-11, 11-7, 8-11, 14-12, and later McCarthy found himself two sets to one down, but moved up a gear in the final two sets to win 10-12, 11-6, 7-11, 11-7, 11-5.
Sammy's Slammers took both doubles rubbers to add to their singles tally, both contest over in four sets.
For Cooke's Pools & Spas only Fitzpatrick and Shah Sandhu took wins, both against Ryan Hensgen. Sandhu in particular fought to the end, getting his win in the final rubber. Whilst Sandhu was downed by McCarthy in straight sets, he, although losing, was impressive against Andrew Kremor, losing 8-11, 8-11, 12-10, 5-11. Then his win against Hensgen was only after five sets, 13-11, 11-6, 9-11, 6-11, 11-8.
Final scores: 9 rubbers to 2 and 30 games to 12.

– Mallee Meats 7 (Marcus Cimino 3, Leonie Dunkley 2) d Weightmans Packaging 4 (Aiden Riordan 2, Brice Lock, Nick Kiapekos 1)
Led by Marcus Cimino, Mallee Meats had too much firepower for Weightmans Packaging.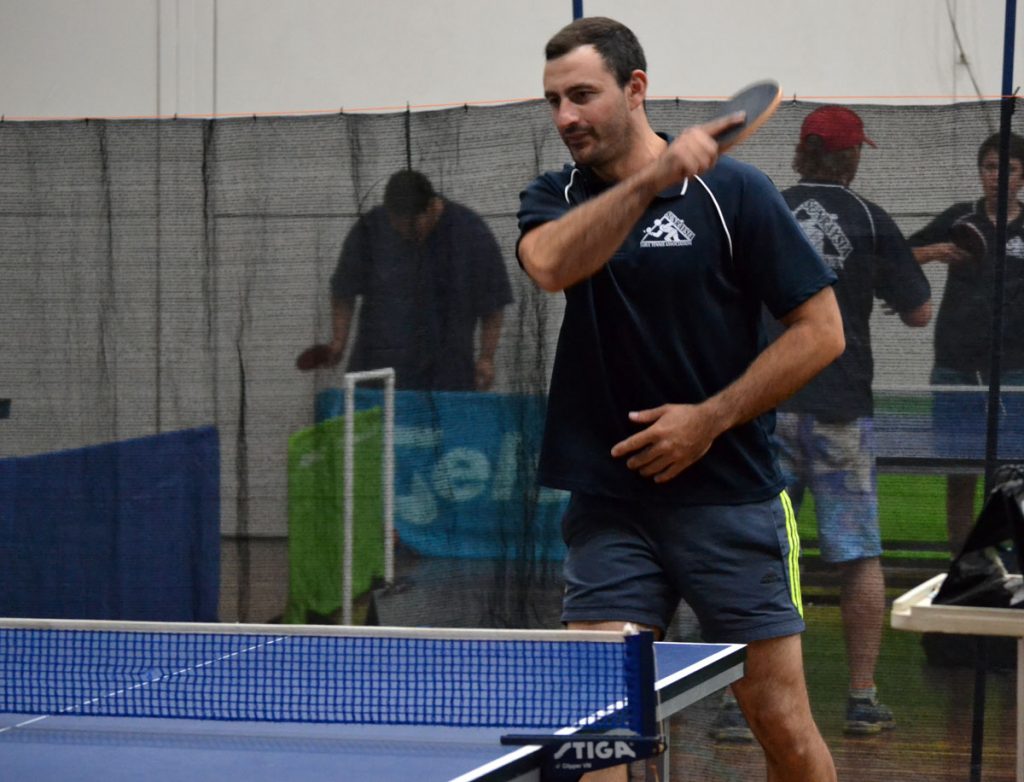 Cimino had a great night, losing just one set in five rubbers, three singles and two doubles. The set he did lose was to opposing captain Aidan Riordan, who took the first set in their match.
Cimino's great work was complemented by Leonie Dunkley who took two rubbers – a straight sets win against her opposite number Brice Lock and a four setter against Nick Kiapekos.
Weightmans Packaging did take four of the nine doubles rubbers – Aidan Riordan with two, and Brice Lock and Nick Kiapekos one each. But with no wins in either of the doubles, Mallee Meats recorded a handsome 7-4 win.
Final scores: 7 rubbers to 4 and 24 games to 13.

– Regional Taxation Services 7 (Andrew Kremor 3, Sabrina Fitzpatrick 2, Luke Ljubic 1) d MJM Automotive 4 (Stephan Ljubic 2, Alyce Carmichael 1)
Regional Taxation Services lost their first two games 6-5, and have won the last two. The losses were so small, and their wins good enough to put them now third on the ladder.
In this game, Regional Taxation Services number two Andrew Kremor, as well as playing in the Sammy's Slammers – Cooke's Pools & Spas match, won three singles, and two of the doubles rubbers he played.
He disposed of Stephan Ljubic and Alyce Carmichael in straight sets, and it was only Karly Leach who took a set from him. Kremor really did not want to concede his first set to Leach, going down 15-17. After that he ripped through Leach 11-4, 11-4, 11-5 to quickly wrap the game up. He and his captain Sabrina Fitzpatrick were far too good for Alyce Carmichael and Karly Leach, winning in straight sets. The second doubles was different, he and Luke Ljubic going down to Carmichael and Stephan Ljubic in an entertaining five setter 11-8, 5-11, 7-11, 11-8, 7-11.
Luke Ljubic did win one singles rubber though, in five sets against Karly Leach. Luke's ambitious hitting against Karly's stubborn defence produced a close match, with Ljubic winning 7-11, 12-10, 8-11, 14-12, 11-9. Luke had earlier lost in five sets to Alyce Carmichael. He got off to a good start 11-3, 12-10, but Carmichael steadied and took the last three sets 5, 8 and 7.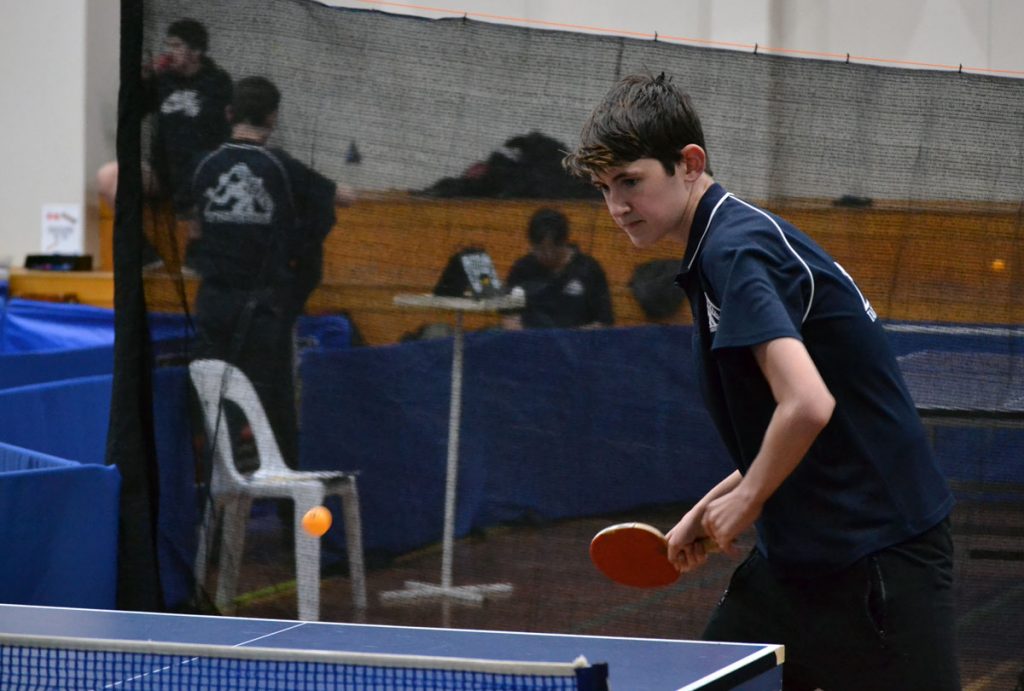 For MJM Automotive, Carmichael took one win, and Stephan Ljubic two – a good five set win against Sabrina Fitzpatrick (up two sets to love, then
battled on to take the fifth 12-10), and then in three sets against his brother, Luke.
Final scores: 7 rubbers to 4 and 27 games to 17.
PENNANT FOUR:
This week we saw two teams hand out thumping wins, with the vanquished looking for answers before they front up next week.
Mallee Meats 9 (Dave Tanner 3, Costa Skiadas, Brian White 2) def Dunkley Scales 2 (Miya Lock 2).
In the second meeting this season between teams Mallee Meats and Dunkley Scales, we find that the same result achieved. Mallee Meats sizzled to a big 9-2 win. For the winners Dave Tanner won three with Costa Skiadas (having an unbelievably consistent season) with two and Brian White regaining form to win two. For Dunkley Scales Miya Lock, fresh from a big holiday, won two singles.
The writing was on the wall early in the night as Mallee Meats raced to a 3-1 lead. In the fifth match of the night, Meats Dave Tanner locked horns with Dunkley's Raylee Waugh in a match that saw many momentum swings. Waugh won the first 11-9, but Tanner won the next two in a blink of an eye 11-3, 11-2. Waugh fought back in the fourth taking this 13-11 to square the match. In the fifth, Tanner regained his composure and landed his trademark flat forehand drive to run away with this set 11-3 and the match.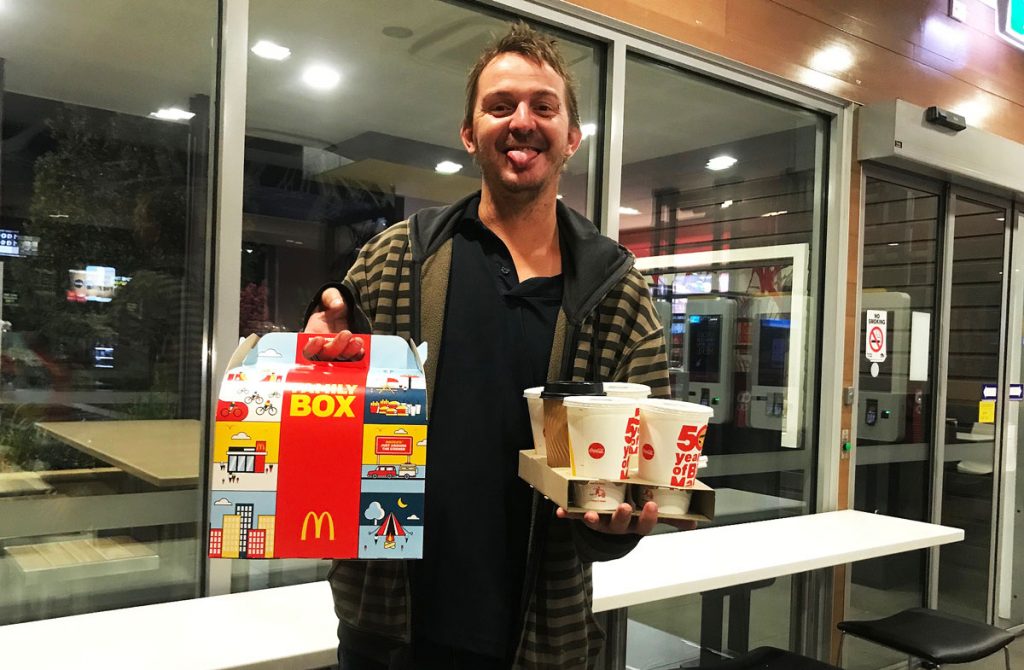 Mallee Meats now had a comfortable position, decided to experiment with Captain Tanner sitting out the first doubles with Skiadas and White taking on Dunkley's pairing of Lock and Waugh. In a closely fought match, it would be Skiadas and White winning 11-8, 8-11, 11-3, 6-11, 11-8 thus showing the strength of their team. In conclusion, Mallee Meats look the goods this season and with their 9-2 win over Dunkley Scales now sit firmly on the top of the ladder.
MJM Automotive 9 (Isaiah Bettess 3, Joy Sullivan, Nycole Riordan 2) def Tankard Dental 2 (Jacinta Ljubic 2)
The last time these two teams played, it was a 6-5 win to MJM Automotive. This time it was a crushing win to MJM 9-2 over Tankard Dental. For MJM Isaiah Bettess won 3 singles, Joy Sullivan 2 and the fast improving Nycole Riordan, having a great night, winning two singles. For Tankard Dental Jacinta Ljubic played a lone hand in winning two singles.
The first game of the night between Ljubic and Riordan was accompanied by an atmospheric but highly annoying stadium light strobing throughout this match with both players putting on a few disco moves just for the occasion. Ljubic was crowned, 'Disco Queen' after securing this win in three sets. The feature match of this encounter was the second installment of "The Battle Of The Sisters" with MJM's Joy Sullivan in battle against Tankards' Wendy Simpson. In a close match, the result fell the way of Sullivan who won 12-10, 16-14, 11-9. Sullivan now leads this head-to-head battle 2-0.
As mentioned earlier Riordan had a big night in winning two singles. First, she accounted for Glen Leeson in five sets 6-11, 11-2, 11-13, 11-5 and 11-3. Then she steamrolled Simpson in straight sets to end a great night for MJM Automotive as they cruised to a 9-2 win over Tankard Dental.