Read Time:
16 Minute, 14 Second
PENNANT ONE:
The evenness of the competition was evident in Round 3 matches of the Sunraysia Table Tennis " Cash Converters" senior pennant with all matches decided by a 6-5 margin.
– Mallee Bearings 6 (Joel Thomas 3, Reece Kurrle 1) d Exposed Signage/Apparel 5 (Nicholas Dorman, Kate Carmichael 2, Leslie Ncube 1)
Mallee Bearings going into this round were in control and had won both matches 8-3 however they were under pressure against Exposed Signage/Apparel before winning 6-5. Joel Thomas remains undefeated in singles and he again won three however it was the doubles where Mallee Bearings were able to retain their undefeated run.
The first doubles was the match of the night and when the Bearings pair of Thomas and Reece Kurrle took a two games to love lead over Exposed pair Nicholas Dorman and Kate Carmichael it looked a formality however Dorman and Carmichael had other ideas taking the third and fourth games in style. The last saw Thomas and Kurrle lift again and go on to win narrowly 11-5 11-8 11-13 8-11 11-8 a great contest.
For Exposed Signage Dorman and Carmichael won two singles while team mate Leslie Ncube won one. After three rounds Mallee Bearings have not lost a doubles and this has helped them to three victories in succession and top position on the ladder.
– Tankard Dental 6 (Wayne Carmichael 2, Mark Dorman, Liam Wood 1) d Regional Taxation Services 5 (Joel Dorman 3, Matt Ljubic 2)
This round Tankard Dental bounced back from a loss to narrowly record a win over Regional Taxation Services 6-5. Victory came on the back of number three Liam Wood winning an entertaining five setter over Jackson Murphy at a crucial time. Wood in his first pennant one season is playing strongly, against Murphy he was able to claw back from an early deficit to win an exciting match 12-10 7-11 6-11 11-6 11-9.
Victory came for Tankard Dental despite opposing player Joel Dorman winning three singles in fine fashion. Dorman has been away from the district and after missing five seasons has returned in good form. He accounted for both experienced campaigners Wayne Carmichael and father Mark in four sets showing excellent touch. His first game of the night was a solid five set win over Wood.
In the washup Wayne Carmichael won two singles for Tankards including an impressive win over Matt Ljubic 9-11 11-7 14-12 13-11 a great battle and impressive for the spectators. Carmichael's team mates Mark Dorman and Liam Wood won a singles each and victory in both doubles ensured they recorded their second victory for the season.
– Max Miller Carpets 6 (Phil Smith 3, Gavin Carmichael 2) d Cash Converters 5 (Matt Ljubic 2, Jackson Tung, Leon Brown 1)
Max Miller Carpets also recorded their second win of the season when they accounted for Cash Converters 6-5 and in doing so hold second position on the ladder by a narrow percentage. Phil Smith with three singles victories proved to be the difference between the two teams while team mate Gavin Carmichael with two singles provided solid back up. These two teamed up to win the second doubles which in the end was crucial.
Smith in his first match accounted for Leon Brown in straight sets, Later he had to shake off Jackson Tung after an early deficit and in a top class match went on to win 11-8 8-11 7-11 11-5 11-7. His third match was against Matt Ljubic and again hard fought with Smith winning a close four setter to ensure his team grabbed the four points.
PENNANT TWO:
Three close games this round, each with a 6-5 result. In each match, one player took three singles wins, but only two were on winning sides.

– Max Miller Carpets 6 (Russell Walder 3, Arthur Paar 2, Dylan Wood 1) d MJM Automotive 5 (Jason Gifkins 2, Terry Martin 1)
MJM Automotive looked to have this game in their keeping at a couple of points in this match. After the first five rubbers, they led 4-1, and later with just three rubbers to go they led 5-3.
And they could have won too. MJM Automotive number three Rohan Reimers played in two five set contests in which, had the bounce of the ball gone his way, would have seen him take one or both of his matches against Arthur Paar, and later Dylan Wood. Reimers got off to a very slow start against Paar, conceding the first two sets 11-5, 11-2. Then he came to life, holding Paar out in the third 13-11, and a better performance in the fourth, taking that 11-7. Once again, the fifth was close, but Paar denied Reimers the win, taking the set 12-10. In the penultimate rubber Reimers played Wood, and this was a much tighter contest, Wood taking the first two sets 11-9, 11-9, Reimers the next two 12-10, 11-9, and the decider again going to Max Miller Carpets, Wood winning 11-9.
But the game ultimately went to Max Miller Carpets. At 3-5 down, and the last round of singles to play, MJM Automotive had a real chance, but wins by Russell Walder (three sets against opposing captain Jason Gifkins), and Arthur Paar (another three setter against Terry Martin), together with Wood's win against Reimers, saw them storm home to a 6-5 win.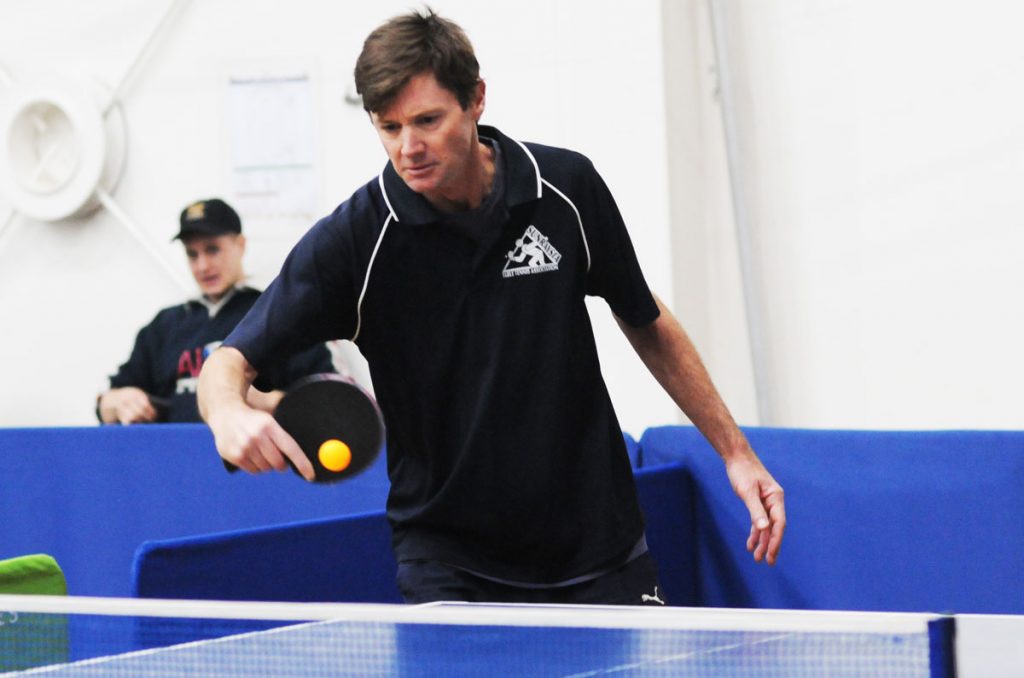 Walder took three wins; apart from that game against Gifkins, Walder's biggest problem was with Terry Martin, making his debut appearance for the year. Martin pushed Walder to five sets, but in the end Terry's lack of match practice was probably the difference.
MJM Automotive kept themselves in the match with wins in both doubles rubbers; Gifkins and Martin in four sets over Walder and Wood; then Gifkins and Reimers also in four sets against Walder and Paar.
Final scores: 6 rubbers to 5 and 25 games to 21.

– Weightmans Packaging 6 (Kevin Johns 2, Quentin Clark, Peter Fitzpatrick 1) d Pinnacle Packers 5 (Michael Hensgen 3, Peter Midgley 2)
Kevin Johns' Weightmans Packaging side snuck home against Pinnacle Packers to take the four points from this round three match.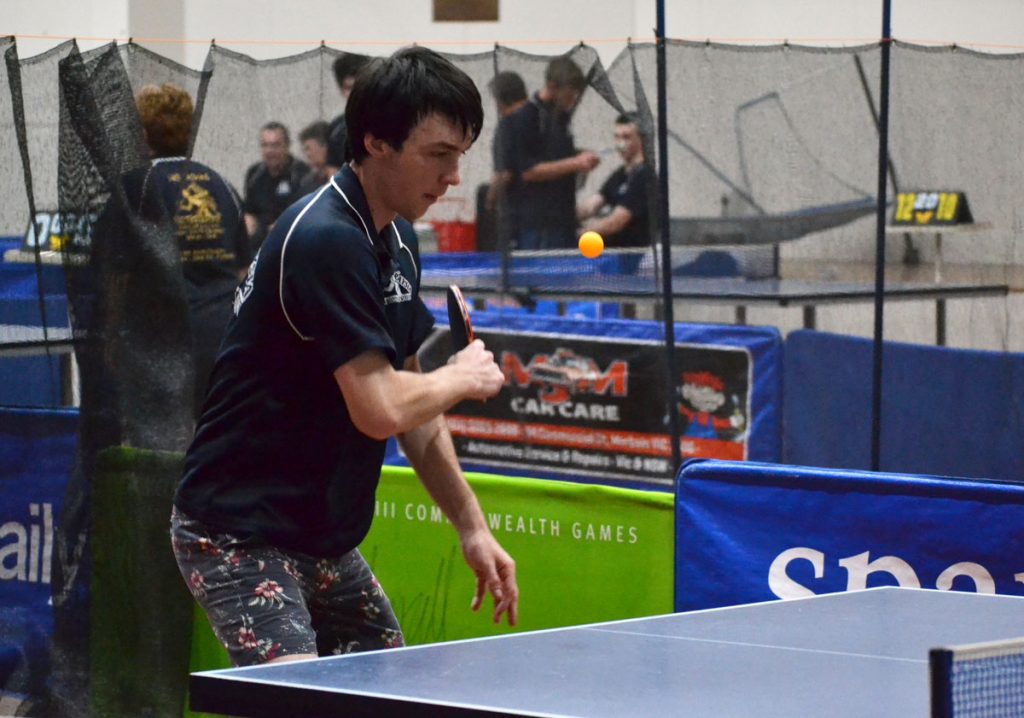 Pinnacle Packers number two Michael Hensgen continued his great form, with another three game haul. It was expected that Weightmans Packaging captain Kevin Johns would provide the test of whether Hensgen would live up to his impeccable record for the season so far, but Hensgen proved too good for Johns winning 11-6, 11-8, 9-11, 15-13. After beating Johns, Hensgen did not have much trouble with Quentin Clark, (although Clark did take a set), and Peter Fitzpatrick, to again record three singles wins.
Good as that was, it was not enough for Pinnacle Packers to take the match. Captain Peter Midgley took two rubbers, (falling to Johns in four sets), and that was it. They lost both doubles rubbers in five sets – a win in either would have given them the match.
So what did Weightmans Packaging do then? Well, Johns won two rubbers (Midgley and David Sergi), and Quentin Clark and Fitzpatrick took one each (both defeating Sergi). And with those two doubles rubbers, that was enough.
Interestingly, there were five, five set contests, and Weightmans Packaging took them all. So this really was a bit of an arm wrestle. All the Weightmans Packaging players needed five sets to defeat Sergi – and that will be a cause for some confidence boosting for David.
And although Pinnacle Packers lost the match, they certainly went down fighting, winning more games than the victors, 26 to 20.
Final scores: 6 rubbers to 5 and 20 games to 26.

– Mallee Meats 6 (Tony Malycha 3, Brad Warden, John Fitzpatrick 1) d Cookes Pools & Spas 5(Thanh Nguyen 2, Andrew Jones, Jeremy Corrin 1)
This was a very close match, decided in the fifth set of the final rubber.
Once again, there was a player undefeated in singles play, this time Mallee Meats number two Tony Malycha. Tony dropped just one set in those three rubbers, that to evergreen Andrew Jones.
The match was nip and tuck all night, wins then matched by defeats to keep the score nice and close all the time! With the doubles rubbers shared, each side had opportunities to get an advantage, only to see that in the end the score was still close! The Mallee Meats pair of Brad Warden and Tony Malycha defeated Thanh Nguyen and Jeremy Corrin in the first
doubles rubber in five very entertaining sets. The second doubles was a bit more one-sided, Corrin and Jones defeating Malycha and John Fitzpatrick in four sets.
By the time it came to the final rubber, the scores were locked at 5-5, and Cooke's Pools & Spas number two Jeremy Corrin was drawn to play Mallee Meats number three John Fitzpatrick. Fitzpatrick has struggled to find any sort of form this season, but this game saw John play his best table tennis for some time. Corrin led after the first three sets 11-8, 9-11, 11-9. Fitzpatrick then moved up a gear (or two), and in an impressive display took the final two sets 11-4, 11-5.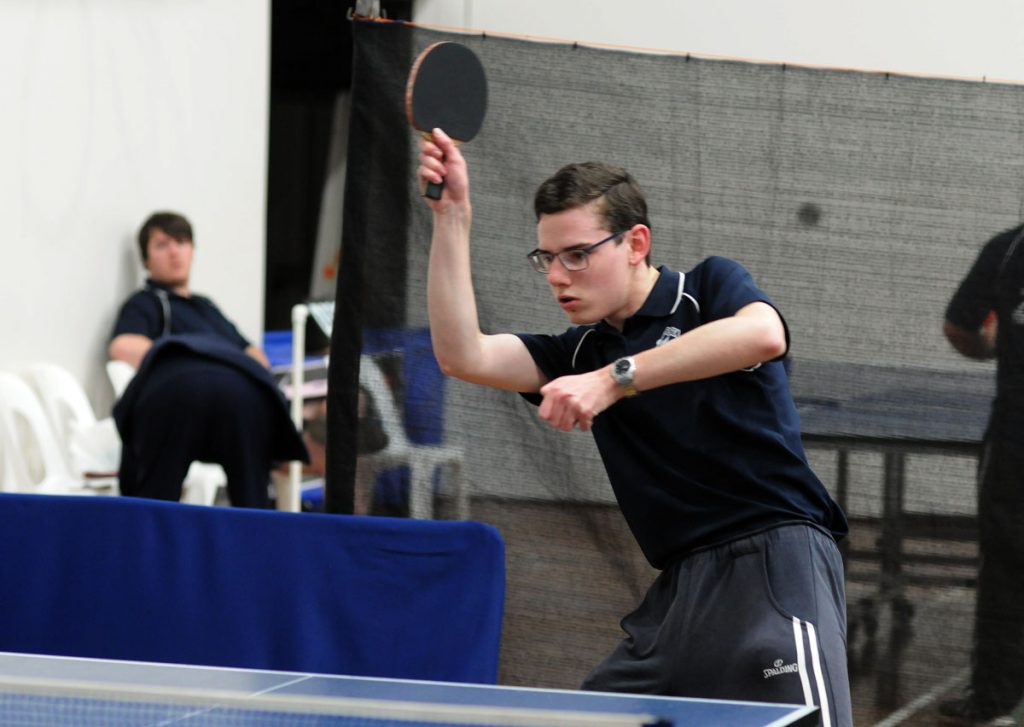 Although remaining winless and at the bottom of the ladder, Cooke's Pools & Spas can't be too far away from a win, the game score in this match is proof of that, 21 games all.
Final scores: 6 rubbers to 5 and 21 games all.
PENNANT THREE:
Mallee Meats joined three other teams on two wins for the season to take third on the ladder with a win against Sammy's Slammers; Regional Taxation Services recorded an easy win against the previously undefeated Cooke's Pools & Spas; whilst Weightmans Packaging defeated MJM Automotive in a game shortened by the absence of a player from each side.

– Mallee Meats 6 (Marcus Cimino 3, Leonie Dunkley 1) d Sammy's Slammers 5 (Casper McCarthy, Huseyin Ismail 2, Ryan Hensgen 1)
Marcus Cimino led his team Mallee Meats from the front in this match, winning everything he played.
In winning all his singles rubbers in three sets, Cimino was in great form. Even better, he then teamed with team-mates Leonie Dunkley and Ayden Costa to take both doubles rubbers. He and Dunkley defeated the Sammy's Slammers pairing of Casper McCarthy and Huseyin Ismail in five sets to bring the scores back to 2-2 at that stage. When he and Ayden Costa defeated McCarthy and Ryan Hensgen in four sets it put his team within one rubber of winning the match.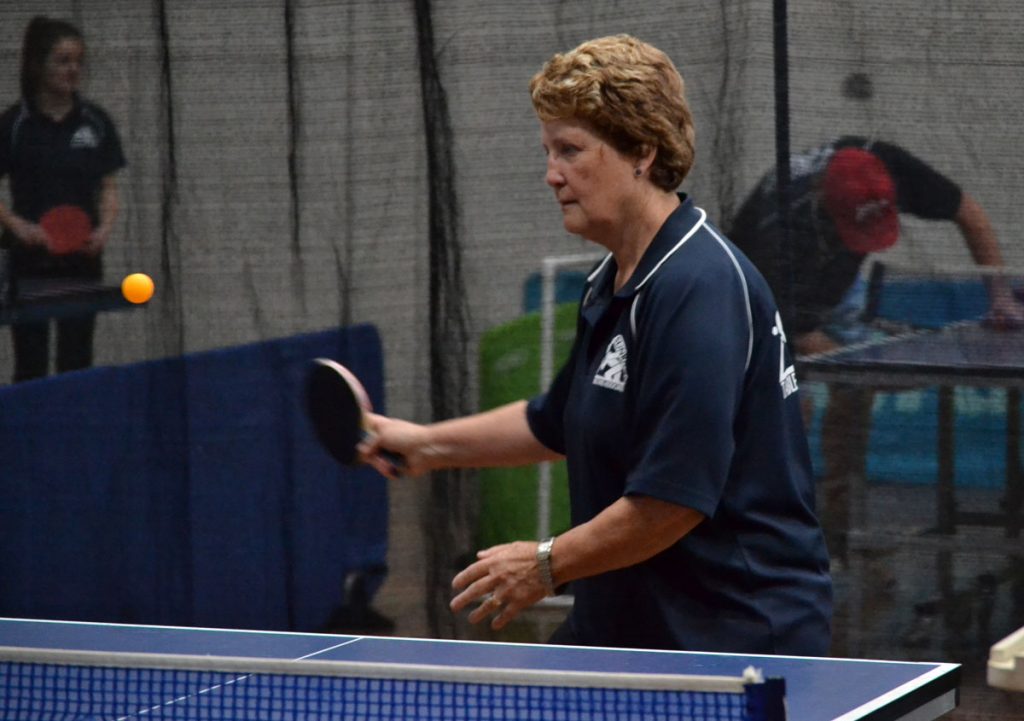 That sixth rubber came from Dunkley, who defeated Hensgen in five sets, running away in the last 11-4.
Sammy's Slammers did not play badly, McCarthy took two rubbers, Ismail two and Hensgen one, but with Cimino in such great touch at the other end, they could not pick up any of those important rubbers which would have given them the win.
Final scores: 6 rubbers to 5 and 22 games to 20.

– Regional Taxation Services 8 (Sabrina Fitzpatrick, Andrew Kremor 3, Luke Ljubic 1) d Cookes Pools & Spas 3 (Therese Fitzpatrick, Shah Sandhu 1)
With losses in the first two rounds with the closest of margins, it was only a matter of time before Regional Taxation Services would pop up with a win, and they did it in style in this match.
Prior to this match Cooke's Pools & Spas had looked untouchable, with wins of 10-1 and 7-4, but they came back to earth with a bump in this game, losing 3-8.
The Regional Taxation Services pair of Sabrina Fitzpatrick and Andrew Kremor hit the ground running, both taking three wins, and then pairing
in the first doubles to down Therese Fitzpatrick and Matthew Cherry in four sets.
Their number three, Luke Ljubic continued his low-key consistent season, picking up a singles rubber, as he has done for the first two rounds.
Cooke's Pools & Spas will no doubt be disappointed with their performance, but they will surely bounce back.
Although now fifth on the ladder, Regional Taxation Services currently have the third best percentage figures, something that if it continues may well come in handy a bit later in the season …
Final scores: 8 rubbers to 3 and 28 games to 14.

– Weightmans Packaging 6 (Nick Kiapekos 3, Aiden Riordan 2) d MJM Automotive 3 (Nicole Hunt 2, Karly Leach 1)
Weightmans Packaging won this shortened match against MJM Automotive 6-3.
Both sides had a player absent, Weightmans Packaging were without their number two Brice Lock, and MJM Automotive had their number three player Stephan Ljubic missing.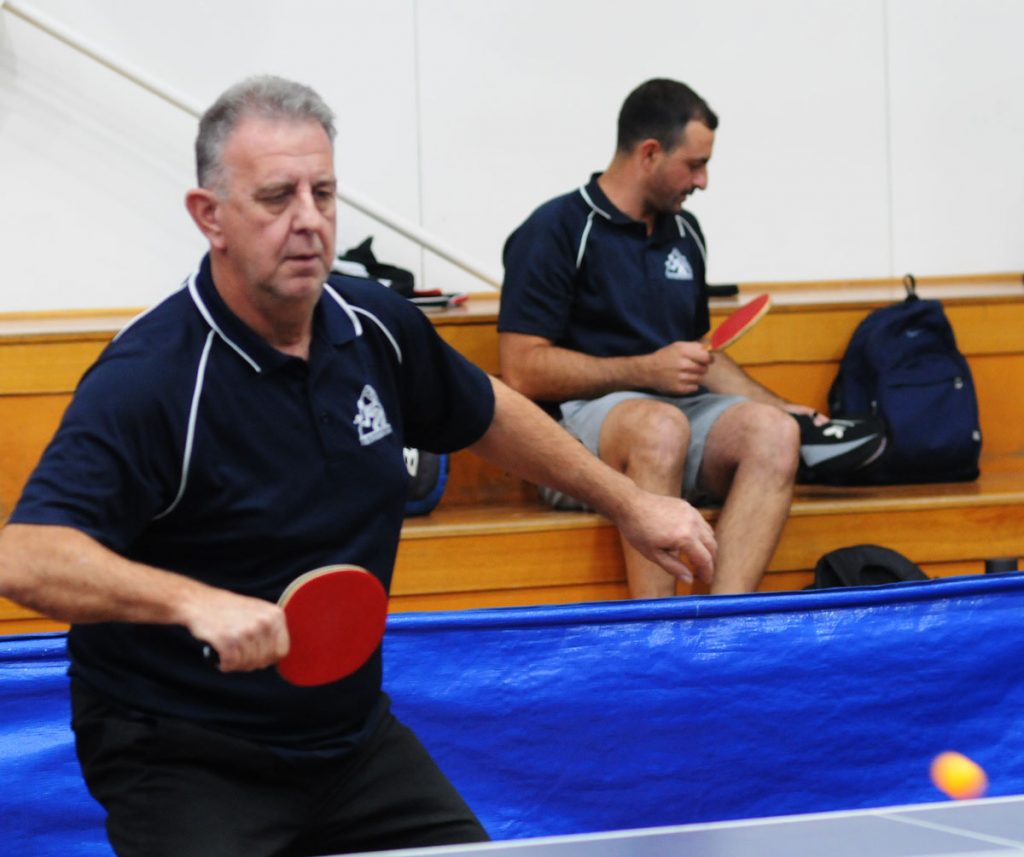 Best performed for the winners was number three Nick Kiapekos with a good four set victory against MJM Automotive captain Nicole Hunt, followed by a straight sets win against number two Karly Leach. His captain Aiden Riordan struggled a bit in this game, needing four sets to get the better of Leach, and then going down in a good five setter to Hunt.
For MJM Automotive, that win by Hunt against the opposing captain Riordan was a real highlight. She was down two sets to love 4-11, 9-11, but she stuck at it and the pivotal third set was really that. She won the third 15-13, then quite literally turned the game around taking the fourth and fifth sets 11-6, 11-7 to record a confidence inspiring win.
Final scores: 6 rubbers to 3 and 20 games to 11.
PENNANT FOUR:
Round three action saw the 'Top of the table' battle end in a tight finish and a break though singles win for Nycole Riordan.
MJM Automotive 7 (Isaiah Bettess 3, Joy Sullivan 2, Nycole Riordan 1) def Dunkley Scales 4(Dave Tanner 2, Glen Leeson 1)
The night started unusually with two players unavailable for Dunkley Scales with two late replacements called upon. Dave Tanner, along with Glen Leeson (making his debut), were hurried into the action. So hurried was Leeson he will forever be remembered as the first player to debut playing in bare feet – this a great effort in itself.
In an even team display, MJM players all tasted singles success. Isaiah Bettess continued his top early season form in winning three singles, Joy Sullivan with two and Nycole Riordan contributed with her maiden singles victory. Sullivan came very close to winning all of her matches as she played a great match against Dave Tanner (filling in for regular captain Miya Lock). Sullivan was out of the blocks early, taking the first two sets 12-10 and 13-11. With an upset looming Tanner took the next two 11-6, 11-6. In the decider, Sullivan took an early advantage and looked home before Tanner steadied, landing a series of flat forehand winners, to claim victory 11-8.
With the game score locked away at three games apiece, Dunkley's Raylee Waugh was up against MJM's Nycole Riordan in this crucial match. Riordan's night had not started well as Glen Leeson easily beat her in straight sets to record his own maiden victory. Riordan took the first 12-10 before Waugh hit back cruising through the second 11-5. The third set saw a real arm wrestle develop with both players not giving an inch. Both had opportunities, but it would be Riordan 15-13 to take two sets to one lead. The fourth was a repeat of the third and even the great Nostradamus could foresee the result. In a great tussle, it would be Riordan creping over the line 11-9 and salute her maiden singles victory. Well done Nycole! With this victory, the floodgates had opened for MJM Automotive and they went on to record a 7-4 victory over Dunkley Scales.
Mallee Meats 6 (Dave Tanner 3, Costa Skiadas 1) def Tankard Dental 5 (Jacinta Ljubic, Shirley Whitecross 2, Wendy Simpson 1)
This top of the table clash was a great match. Looking on previous form one would have expected Mallee Meats to prevail easily, however a determined Tankard Dental ensured that his would not be a walk in the park. For Tankard's Jacinta Ljubic and Shirley Whitecross both contributed two wins and Wendy Simpson one win. For Mallee Meats Dave Tanner (having a busy night) played well for his three singles wins and Costa Skiadas one win.
The match of the night was Tankard's Shirley Whitecross up against Mallee Meat's Costa Skiadas. Skiadas has taken all before him this season and in a short time has proven himself as a formidable opponent. He would have to be at the peak of his powers to beat Whitecross and could ill afford to make many mistakes. Skiadas played a flawless first set to win 12-10, but Whitecross hit back to take the second 11-7. The third was a case of the immovable object up against the irresistible force before the immovable object (Skiadas) taking this 15-13 to take a 2-1 sets lead. Whitecross needed to recharge
quickly if she was to have any chance in this match. Whitecross did this and secured to next 11-6 to set up a grand finish. Both players rallied steadily as they gleaned each point needed towards victory. In a gripping final set, Whitecross shifted the immovable object and in so doing so won the set 11-9 and the match. Analysing the score line in this match showed an unusual feature with Whitecross scoring at least 10 points in each set, having in total 56 winning points!
Later in the night, Skiadas was at it again with another five set battle on his hands. This time his opponent being the fast improving Wendy Simpson. Many momentum shifts in this game were evident before Skiadas ended up winning 11-6, 6-11, 11-5, 5-11, 11-7. From this score line, it would have appeared there was a scoring end. With thanks to this win Mallee Meats now led 4-3. The second doubles of the night saw Mallee Meats Duo of Tanner and Skiadas take on Tankards Ljubic and Whitecross. In a must win match for the Dentists they tried hard but fell short in four sets 7-11, 11-8, 11-6, 11-9.
In the last match of the night, Jacinta Ljubic played Costa Skiadas. As was the case in Skiadas' previous singles matches of the evening this also went to five sets. Both players played well and put on a great display before Ljubic won 11-8, 12-10, 6-11, 5-11, and 11-6 to claim a consolation victory. In summary it would be Tankard's inability to win a doubles match that proved the difference in this contest with Mallee Meats enjoying their third successive win six games to five.
P.S. In news just to hand, we hear that Shirley has suffered an injury and will be out of action for a while. On behalf of the Association, we wish Shirley a quick recovery and look forward to seeing her in action again soon.