Read Time:
13 Minute, 28 Second
Despite dropping a game to each of his three opponents Sunraysia's number one player Joel Thomas was able to lift a gear when required and again won three singles , also taking part in both doubles victories to show his class.
PENNANT 1

– Mallee Bearings 8 (Joel Thomas 3, Reece Kurrle 2, Lee Thomas 1) d Cash Converters 3 (Shannon Bowen 2, Jackson Tung 1)
The first doubles was a classic with Thomas and partner Reece Kurrle hardly troubling the scorers in the first before winning the next two games. Opponents Shannon Bowen and Jackson Tung then took the fourth and in a hard fought win Thomas and Kurrle prevailed 2-11 11-9 11-8 10-12 11-8.
After two rounds of the Sunraysia Table Tennis "Cash Converters" pennant one competition Mallee Bearings look to be the team to beat even at this early stage . They recorded their second 8-3 victory in succession and it was Cash Converters who went down against the ladder leaders who are the only team to remain undefeated.
The second doubles featured Thomas and his mother Lee up against Shannon Bowen and Leon Brown and this was a close four game tussle with the Thomas duo winning 11-9 10-12 11-7 11-9. STTA historians were in a spin as this is the first time a mother and son combination have teamed up in a pennant one team let alone winning a doubles match. An exciting moment for the Thomas family.
With the two doubles victories , three singles to Joel Thomas and Reece Kurrle and Lee Thomas winning two and one singles respectively Mallee Bearings have started the season in ominous form.


– Exposed Signage/Apparel 7 (Nicholas Dorman, Kate Carmichael 2, Leslie Ncube 1) d Tankard Dental 4 (Wayne Carmichael 3, Liam Wood 1) 
After a narrow loss last round Exposed Signage/ Apparel enjoyed a strong 7-4 victory over the strong combination of Tankard Dental. For the victors both Nicholas Dorman and Kate Carmichael won two singles each while Leslie Ncube won an important match against Mark Dorman to secure his team the four points.
The first doubles was a highlight with the Carmichael and Dorman combination of Kate and Nicholas versus Wayne Carmichael and Mark Dorman and what a match this was with the younger pair winning 11-5 6-11 9-11 13-11 11-6 in an outstanding match. For Tankard Dental Wayne Carmichael continued his good singles form winning three as he did in round one. First year player in pennant one Liam Wood showed he could be an exciting talent by winning his first singles of the season in straight sets against strong opponent Leslie Ncube. Wood teed off on many fine forehands to secure victory.

– Max Miller Carpets 5 (Gavin Carmichael 3, Ed Hung 1) d Regional Taxation Services 4 (Joel Dorman, Jackson Murphy 2)

The remaining contest was a two versus two affair with both Max Miller Carpets and Regional Taxation Services both missing their number one players Phil Smith and Matt Ljubic respectively.
This was a tight contest and in the end was decided by the doubles with Carpeters pair Gavin Carmichael and Ed Hung outlasting Joel Dorman and Jackson Murphy 12-14 11-4 12-10 11-9. Gavin Carmichael won two singles for the Carpeters while Dorman and Murphy secured a win apiece over Hung.
This win , their first , by Max Miller Carpets enable them to hold third position on the ladder with four of the six teams holding a one win one loss ratio after two rounds.
PENNANT 2
Max Miller Carpets take and early break at the top of the ladder, already a game clear of the next four teams, leaving Cooke's Pools & Spas on the bottom of the ladder.

– Max Miller Carpets 8 (Russell Walder 3, Dylan Wood 2, Arthur Paar 1) d Cookes Pools & Spas 3(Thahn Nguyen 2, Andrew Jones 1)
Max Miller Carpets proved too strong for Cooke's Pools & Spas in this match. The score line of 8-3 tells only part of the story, for, with five rubbers going to five sets, it was telling that Max Miller Carpets won four of them.
In winning his three singles rubbers, Russell Walder was at his best. He backed up in the doubles and partnered team-mates Dylan Wood and Arthur Paar for a further two rubbers. Walder ripped through Cooke's Pools & Spas Jeremy Corrin and Andrew Jones, dropping just 15 points in each of those games. Opposing captain Thanh Nguyen was a much tougher opponent, and Walder took five sets to get the better of his opponent before grabbing the win.
Dylan Wood backed his captain with a solid two game haul, and Arthur Paar contributed one. With both doubles rubbers also going to Max Miller Carpets, the score pushed out to an impressive 8-3 win.
For Cooke's Pools & Spas, Thanh Nguyen picked up two rubbers, and Andrew Jones one.
Final scores: 8 rubbers to 3 and 27 games to 19.

– Weightmans Packaging 8 (Kevin Johns 3, Quentin Clark, Peter Fitzpatrick 2) d MJM Automotive 3 (Jason Gifkins 2)
After missing the opening round of the competition, Weightmans Packaging captain Kevin Johns made his presence felt in this round. Johns was not really troubled in his singles rubbers, dropping just one set, to opposing captain Jason Gifkins.
MJM Automotive were hampered by the absence of Terry Martin, and Ajay Chowdry subbed for him.
With their opponents fielding a weaker side, the Weightmans Packaging pair of Quentin Clark and Peter Fitzpatrick made the most of the opportunity, both picking up two rubbers with wins against Chowdry and Rohan Reimers.
The doubles rubbers were shared, both going to four sets. The first rubber between Johns and Clark for Weightmans Packaging and Gifkins and Reimers for MJM Automotive was a contest for the first two sets, with Johns and Clark taking the first 11-6, and narrowly losing the second 10-12. After that however, the MJM Automotive pair asserted their authority, and took the last two sets comfortably 11-6, 11-5.
Johns and Fitzpatrick were successful in the second rubber – two close middle sets were book-ended by sets won easily by the Weightmans Packaging pair, who ultimately won 11-6, 12-10, 10-12, 11-4.
For MJM Automotive, Jason Gifkins was the only player successful in singles play, downing both Clark and Fitzpatrick and their third rubber came in that first doubles match.
Final scores: 8 rubbers to 3 and 25 games to 14.

– Pinnacle Packers 7 (Michael Hensgen 3, Peter Midgley, David Sergi 1) d Mallee Meats 4 (Brad Warden, Tony Malycha 2)
Pinnacle Packers number two Michael Hensgen is proving to be the form player of this pennant so far. Last week, he won three singles rubbers for Pinnacle Packers, and backed up for MJM Automotive and won three there too. This week he confined himself to playing for Pinnacle Packers, and made every post a winner, with three singles wins again, and with his captain Peter Midgley having confidence in his ability, Hensgen played both doubles rubbers, the first with Midgley to defeat the Mallee Meats pair of Brad Warden and Tony Malycha in straight sets, and later pairing up with David Sergi to defeat Warden and John Fitzpatrick in four sets.
That gave his side five rubbers, and with Midgley and Sergi defeating Mallee Meats number three John Fitzpatrick, they took the match 7-4.
The Mallee Meats pair of Brad Warden and Tony Malycha played well, but could not match Hensgen, who was clearly the difference in this game. Warden and Malycha both defeated Midgley and Sergi, but both fell to Hensgen in five sets; Warden 11-8, 6-11, 7-11, 11-9, 6-11 and Malycha 7-11, 11-7, 12-10, 9-11, 7-11. Those two rubbers were close, but Hensgen had too many guns.
Final scores: 7 rubbers to 4 and 23 games to 17
PENNANT 3
Cooke's Pools & Spas and Sammy's Slammers both won again his round, and Weightmans Packaging took their first win to move into fourth spot, one behind Mallee Meats.

– Cookes Pools & Spas 7 (Therese Fitzpatrick 3, Matthew Cherry 2, Shah Sandhu 1) d Mallee Meats 4 (Marcus Cimino 2, Leonie Dunkley 1)
A good team performance by Cooke's Pools & Spas in this game. Captain Therese Fitzpatrick won three rubbers, Matthew Cherry two, and Shah Sandhu one. Therese was particularly impressive against her two older opponents, Mallee Meats captain Marcus Cimino and number two Leonie Dunkley.
The youngest Fitzpatrick had a great tussle with Cimino, eventually blasting through the fifth and final set 11-4. She had earlier won in four sets against Dunkley, after losing a close first set 10-12, she took control from thereon.
Matthew Cherry was impressive, in his match featuring the number two's, he came back from two sets to love down, to defeat Leonie Dunkley.
With Shah Sandhu defeating his opposite number, and after sharing the doubles, the team took an impressive win 7-4. That doubles win featured Fitzpatrick and Sandhu for Cooke's Pools & Spas against Cimino and Ayden Costa for Mallee Meats. In a high quality game, the Mallee Meats pair could just not take vital points, with Fitzpatrick and Sandhu winning 13-15, 11-9, 14-12, 12-10.
Final scores: 7 rubbers to 4 and 24 games to 18.

– Sammy's Slammers 8 (Huseyin Ismail, Casper McCarthy 3, Ryan Hensgen 1) d MJM Automotive 3(Nicole Hunt, Stephan Ljubic 1)
Even at this early stage of the season, Sammy's Slammers are looking like a danger team in this pennant. This week, both captain Casper McCarthy and number two Huseyin Ismail racked up three wins apiece. With Ryan Hensgen chipping in with one win, and McCarthy and Ismail victorious in the first doubles, Sammy's Slammers recorded a healthy 8-3 win. They sit second on the ladder, behind Cooke's Pools & Spas on percentage.
Even so, this was no walk-over, as there were four five set matches, two featuring Sammy's Slammers Ryan Hensgen. Hensgen was evenly matched with the MJM Automotive captain Nicole Hunt in this game, and Hunt won a high class game 4-11, 11-8, 10-12, 12-10, 11-7. In the final rubber, Hensgen could just not keep his momentum going against
Stephan Ljubic. Hensgen led two sets to love 11-4, 14-12, but Ljubic denied Hensgen the win, taking the final three sets 11-9, 11-9, 13-11.
Final scores: 8 rubbers to 3 and 29 games to 15.

– Weightmans Packaging 6 (Aiden Riordan, Brice Lock 2, Ayden Costa 1) d Regional Taxation Services 5 (Sabrina Fitzpatrick 2, Andrew Kremor, Luke Ljubic 1)
Both these teams lost in round one, so one of them was going to gain four points after this encounter.
Weightmans Packaging got off to a great start, taking the first four rubbers, with their number three Ayden Costa (subbing for absent Nick Kiapekos) providing the upset with a four set victory over Regional Taxation Services captain Sabrina Fitzpatrick. With other matches going fairly predictably, it was this match which swung the game Weightmans Packaging's way.
Regional Taxation Services number two Andrew Kremor almost got the rubber back, but fell short against his opposite number Brice Lock. In a match of two close sets, and three wildly swinging sets, Lock defeated Kremor 5-11, 13-11, 12-10, 4-11, 11-3.
It is clear however, that Regional Taxation Services are not too far away from a win. Even at this early stage of the season, although sitting in fifth spot, their for and against figures is the third best in the competition.
Final scores: 6 rubbers to 5 and 21 games to 19.
PENNANT 4
In round two action this week we saw another runaway win for Mallee Meats and a big crowd enjoy a tense match between Raylee Waugh and Wendy Simpson.

Mallee Meats 8 (Dave Tanner, Costa Skiadas, Brian White 2) def MJM Automotive 3 (Isaiah Bettess 3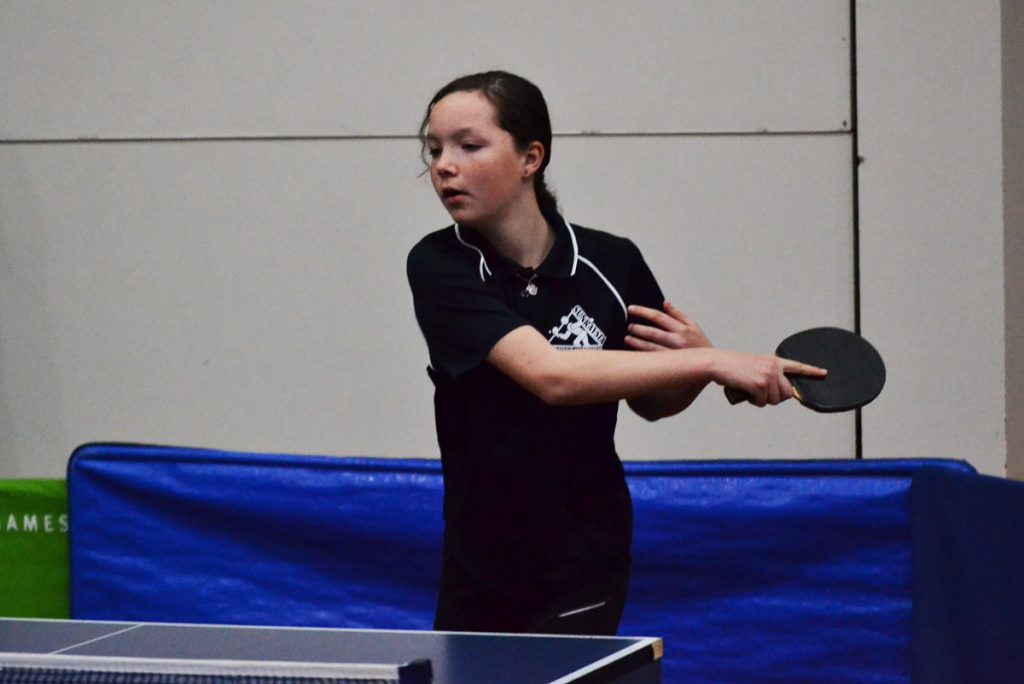 Mallee Meats continue their blistering early season form in accounting for MJM Automotive. Dave Tanner, Costa Skiadas and Brian White all contributed two wins apiece and again for the second successive week secured both double victories. Even though the score line reads an impressive victory for the Butcher's, MJM were not far off the mark as they found themselves on the wrong side of some very close matches. For a second week in a row, MJM's Nycole Riordan played in a very close five set match this time against Brian White. White took the first 11-5 before Riordan took the second 11-9. Again, White steadied to take the third 11-6 and then Riordan hit back to take the fourth 11-9. The fifth was a classic case of a player taking their chances to secure victory which White did 11-8. With this win Mallee Meats led 5-2 and the knockout blow came in the second doubles as Tanner and White teamed to defeat Bettess and Sullivan 11-8, 7-11, 11-6, 9-11,11-9 in an entertaining an close match. In the next match, MJM's captain Isaiah Bettess had a consolation win against opposing captain Dave Tanner. Mallee Meats still sit securely on top of the table with their 8-3 win against MJM Automotive and seem to be the early flag favorites.

Tankard Dental 7 (Jacinta Ljubic, Shirley Whitecross 2, Wendy Simpson 1) def Dunkley Scales 4 (Miya Lock 3, Raylee Waugh 1)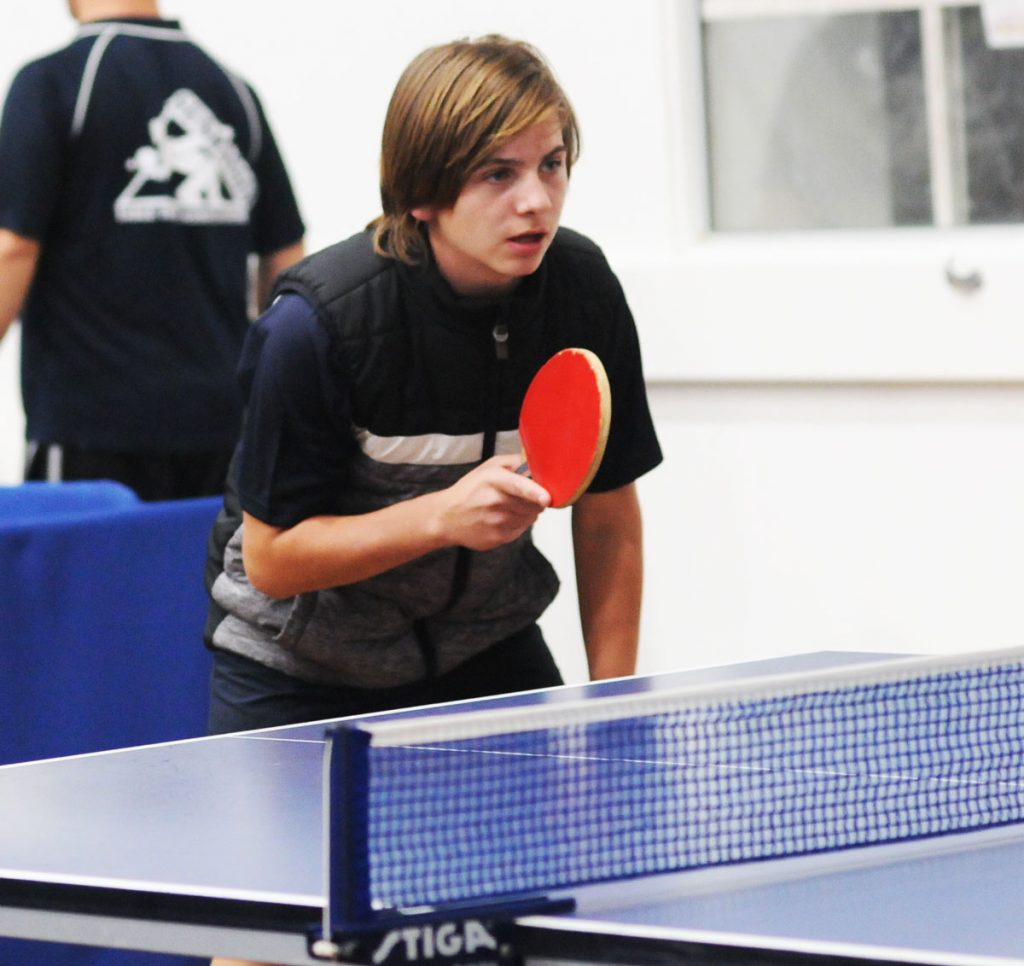 After loses last week both teams were keen to register their first win of the season. Statistically both teams match up well against each other but it is well worth noting that neither of these teams secured a doubles victory last week. As it turns out Tankard Dental, led by Jacinta Ljubic, were able to reverse this trend and claim both doubles in defeating Dunkley Scales. It was a real team effort for the victors with Jacinta Ljubic and Shirley Whitecross securing two singles victories and Wendy Simpson claiming her first singles win since her comeback. For Dunkley Scales Miya Lock played very well in securing three singles victories.
In the match of the night, Simpson played against Dunkley's Raylee Waugh, which actually turned into a Tug-Of-War (excuse the pun). Simpson raced out of the blocks and took the first 11-7. Waugh then took control taking the next two 11-9, 11-4 and looked set to cruise over the line. Simpson dug deep stepping up her defense and was able to wrestle back the momentum her way in taking the fourth 11-7. With the match on the line, a good size crowd converged towards the pennant four action. In attendance was the "God-Father" and long-time supporter of our association in John "Pop" Duscher (father of Wendy Simpson). In a classic fifth set both players traded blows with neither taking a backwards step. The crowd, heavily invested in this match, were very audible with many oohs and aahs emanating as each player tried to find the path to victory. Waugh was the first to see a match point as she led 11-10 in the fifth. After a long rally, Waugh hit a backhand cross court chop that looked like a winner but touched the tape and flew just wide to level at 11 all. Simpson took the next two points to lead 13-12 and the match looked like hers. Waugh levelled at 13 all and won the next two points to prevail 15-13 in this classic match. Both players received the warm applause from an appreciative audience. Waugh may have won
the battle but her team still fell short. Mallee Meats winning the night 7-4 leaving Dunkley Scales pondering on how they can reverse their early season form.