Read Time:
12 Minute, 9 Second
ROUND ONE
Table Tennis is up and running again with the commencement of the first senior pennant for 2019 at the Irymple Leisure Centre last week. Round one results of the "Cash Converter" Sunraysia Table Tennis pennant one competition featured two matches being decided 6-5 while Mallee Bearings had a solid start defeating Regional Taxation Services 8-3

President Mark Dorman is pleased with the numbers as twenty two teams are taking part. In particular he is enthused by the number of younger players in all grades who are on the improve and all looks encouraging for the coming season despite losing the talented Matt Avers to university in Melbourne where he will look to improve his game further.

The highlights of round one featured Sunraysia's number one player Joel Thomas, the legendary Wayne Carmichael and Shannon Bowen returning to table tennis after a break due to injury, all winning three singles to help their team grab the four points.
PENNANT ONE
– Mallee Bearings 8 (Joel Thomas 3, Reece Kurrle 2, Lee Thomas 1) d Regional Taxation Services 3(Nicholas Dorman 2, Joel Dorman 1)
Mallee Bearings sounded an early warning to the opposition with an 8-3 victory over RTS who in fairness were without two of their regular players. Nicholas Dorman filled in for the absent Matt Ljubic as did Bernadette Fitzpatrick for Jackson Murphy.
Apart from Joel Thomas winning three singles for Mallee Bearings , team mates Reece Kurrle and Lee Thomas offered good support winning two and one singles respectively. By winning both doubles as well the victory came comfortably.
– Tankard Dental 6 (Wayne Carmichael 3, Mark Dorman 2) d Max Miller Carpets 5 (Phil Smith 2, Gavin Carmichael, Ed Hung 1)
Tankard Dental despite the score line looking close were too strong for Max Miller Carpets winning 6-5 with veteran Wayne Carmichael winning three singles. This season Carmichael has been teamed with Mark Dorman something that would have been unheard of twenty years ago given these two lefties have been outstanding players for four decades. Dorman played well winning two singles and partnering Carmichael in the first doubles. His only loss came at the hands of opposing number one Phil Smith in a lengthy five setter.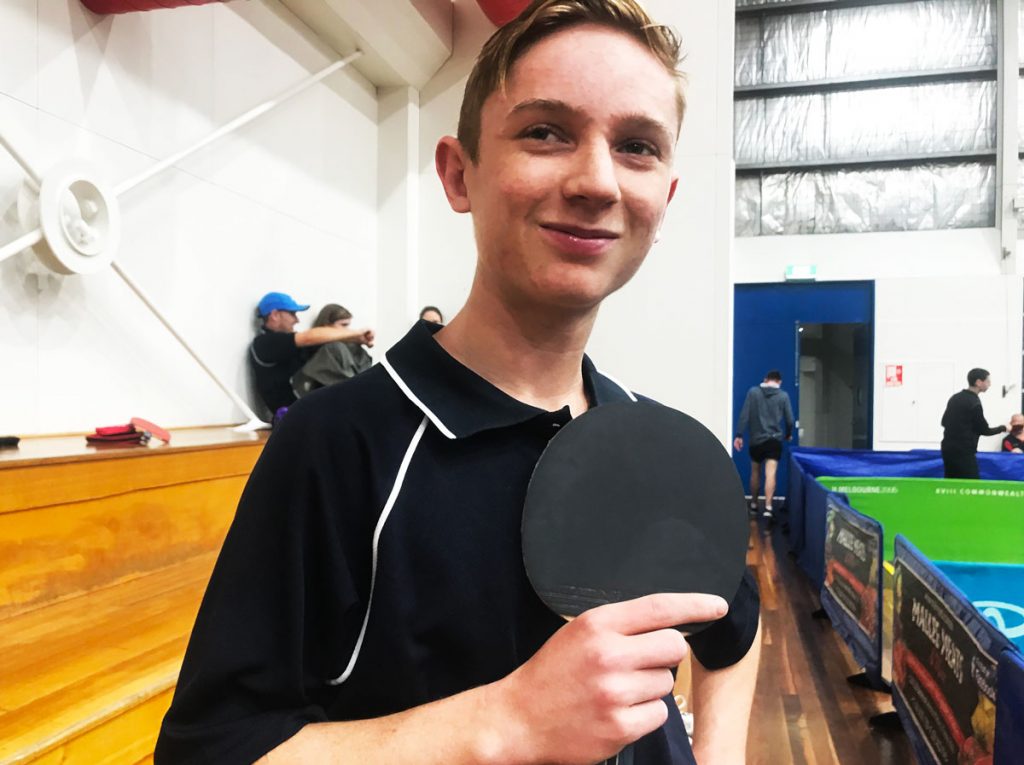 Liam Wood , after an excellent season in pennant two, debuted in pennant one and while he did not win a match he was able to take a game off both Phil Smith and Gavin Carmichael and he will only improve under the tutelage of Wayne Carmichael and Mark Dorman.
– Cash Converters 6 (Shannon Bowen 3, Jackson Tung, Leon Brown 1) d Exposed Signage/Apparel 5 (Nicholas Dorman, Kate Carmichael 2)
The final match was the best of the round with Cash Converters recovering from the jaws of defeat to win 6-5 against Exposed Signage and Apparel. The strong Exposed trio of Nicholas Dorman, Kate Carmichael and Leslie Ncube took a lead of 5-2 and in a powerful message to the other teams the Converters motored home to victory on the back of Shannon Bowen winning three singles whilst team mates Jackson Tung and Leon Brown won a singles each. Brown partnered Bowen in the second doubles in a must win match to defeat Dorman and Ncube 12-10 in the fifth after trailing 0-2 early in the match.
With the scores at five rubbers all again it was Brown in the thick of the action when he defeated Leslie Ncube in an outstanding match. Ncube took the ascendancy early to lead 2-1 however Brown narrowly took the fourth and them maintained control in the fifth to win 7-11 11-4 8-11 11-9 11-4 and in doing so secured the four points for his team.
PENNANT TWO
With four new faces in this grade, as compared to last season, three 6-5 results promise another close season. Michael Hensgen returned after a couple of years away, Brad Warden back after about seven or eight years, and David Sergi and Rohan Reimers were promoted from Pennant Three.
– Mallee Meats 6 (Tony Malycha 3, Brad Warden 2) d Weightmans Packaging 5 (Geoff Wright 2, Quentin Clark, Peter Fitzpatrick 1)
This was the closest of the three matches, with both sides winning 21 games each.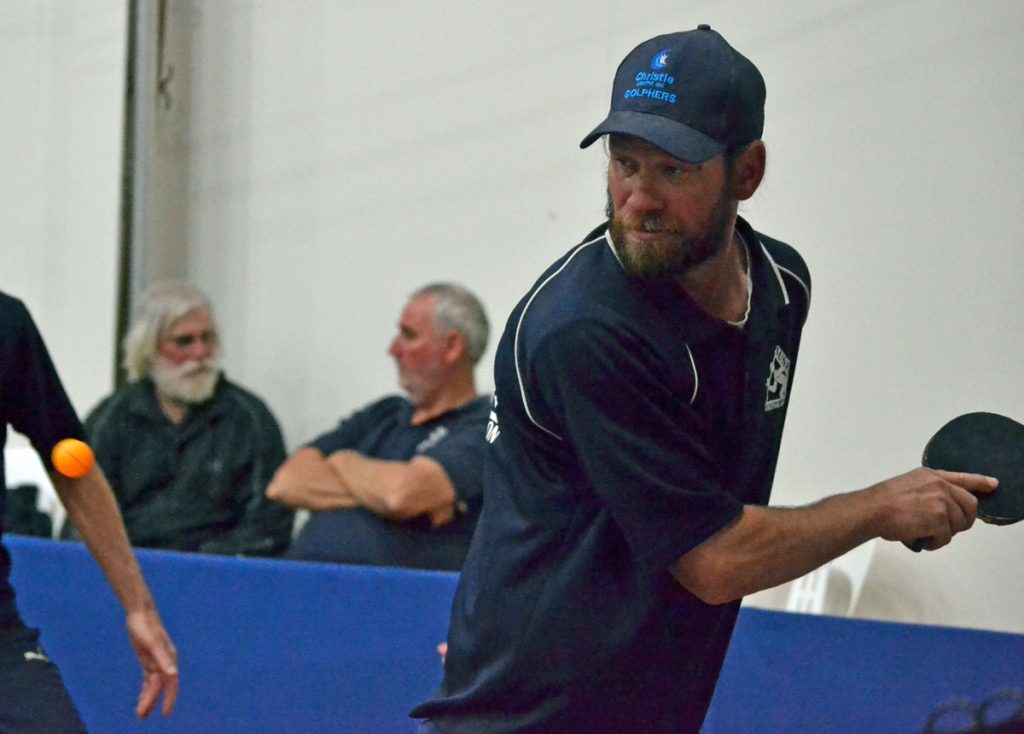 The player who made the difference to the result was Tony Malycha, with three wins. Graded as a number two, Tony outplayed his captain, Brad Warden, in this game. His defeat of Mallee Meats stand-in captain Geoff Wright in five sets was the game which swung the win to Weightmans Packaging.
Warden played well in his return game, losing only to Wright in three sets.
The doubles rubbers were shared, both going to five sets. After losing the third set 11-1, Warden and Malycha defeated Wright and Quentin Clark in the first doubles, but the second was a bit more even, with the Mallee Meats pair of Wright and Peter Fitzpatrick coming from behind to defeat Warden and John Fitzpatrick.
Final scores: 6 rubbers to 5 and 21 games each.
– Max Miller Carpets 6 (Russell Walder, Dylan Wood 2, Arthur Paar 1) d Pinnacle Packers 5(Michael Hensgen 3, Peter Midgley 1)
Another close matche, Max Miller Carpets winning 22 games to 20, despite Pinnacle Packers Michael Hensgen winning three singles.
Hensgen looked comfortable in his return match, dropping only two sets in those three wins.
However, it was Max Miller Carpets who took the win – both Russell Walder and Dylan Wood won two rubbers, and Arthur Paar one.
As in the previous match, the doubles rubbers were shared, and the one Max Miller Carpets won was a beauty. Walder and Wood won in five close sets against Peter Midgley and Hensgen.
For Pinnacle Packers, apart from Michael Hensgen's three, Peter Midgley picked up one, and Midgley and David Sergi took the second doubles rubber.
Final scores: 6 rubbers to 5 and 22 games to 20.
– MJM Automotive 6 (Michael Hensgen 3, Jason Gifkins 2) d Cookes Pools & Spas 5 (Thanh Nguyen 2, Andrew Jones, Jeremy Corrin 1)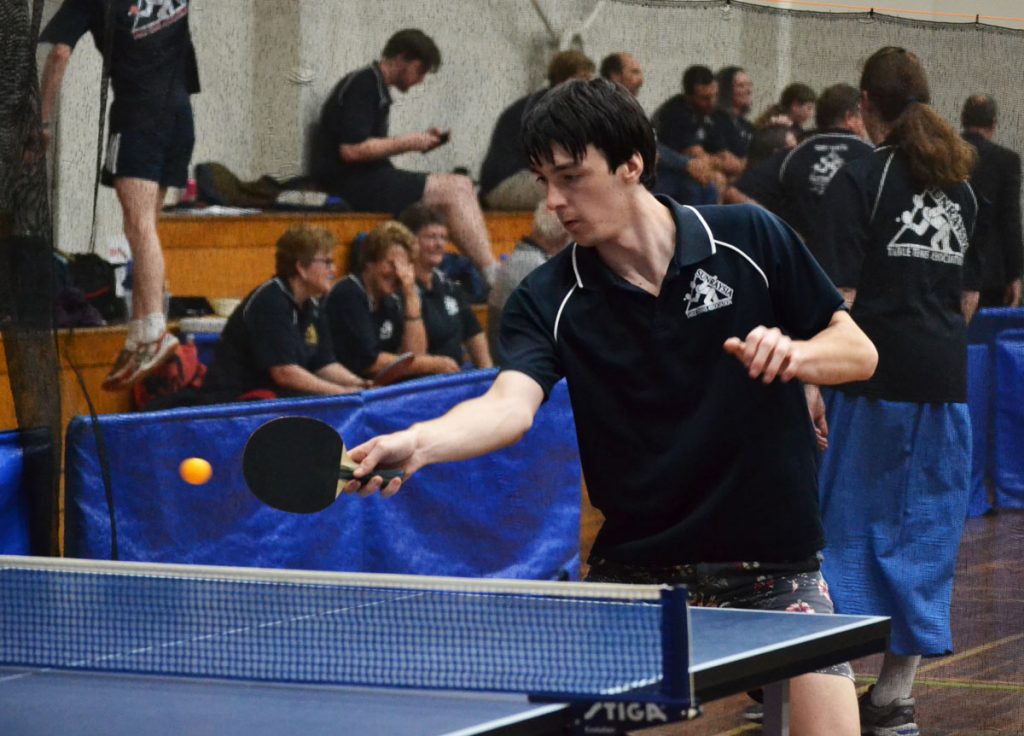 Terry Martin was absent from the MJM Automotive side, and Michael Hensgen filled-in for him. And what a fine job he did too! As well as winning three singles rubbers for his own team, as just mentioned, Michael did the same here, plus a win in the first doubles rubber with captain Jason Gifkins in straight sets.
With those four rubbers, MJM Automotive only needed two more for the win, and Gifkins provided those.
Cookes Pools & Spas were competitive in this game, but lacked the firepower of their opponents. Thanh Nguyen took two rubbers, and Jeremy Corrin and Andrew Jones one each, both downing Rohan Reimers. Their fifth rubber was the second doubles rubber, a one-sided affair in which Nguyen and Jones defeated Gifkins and Reimers in straight sets.
Final scores: 6 rubbers to 5 and 26 games to 17.
PENNANT THREE
Four players won three singles rubbers, one game was close, the other two a bit one-sided.
– Mallee Meats 6 (Marcus Cimino 3, Leonie Dunkley 2) d Regional Taxation Services 5 (Andrew Kremor 2, Sabrina Fitzpatrick, Luke Ljubic 1)
This was a close game throughout, except when Mallee Meats put the hammer down and took three rubbers in a row. To that point, Regional Taxation Services had matched their opponents, and with the score at 3-3 it looked like the game would be decided later rather than sooner.
But at that point, the run of three took the game away from Regional Taxation Services, and gave Mallee Meats an unassailable lead 6-3. Although Regional Taxation Services took the last two rubbers, the four points had already gone to Marcus Cimino and his team.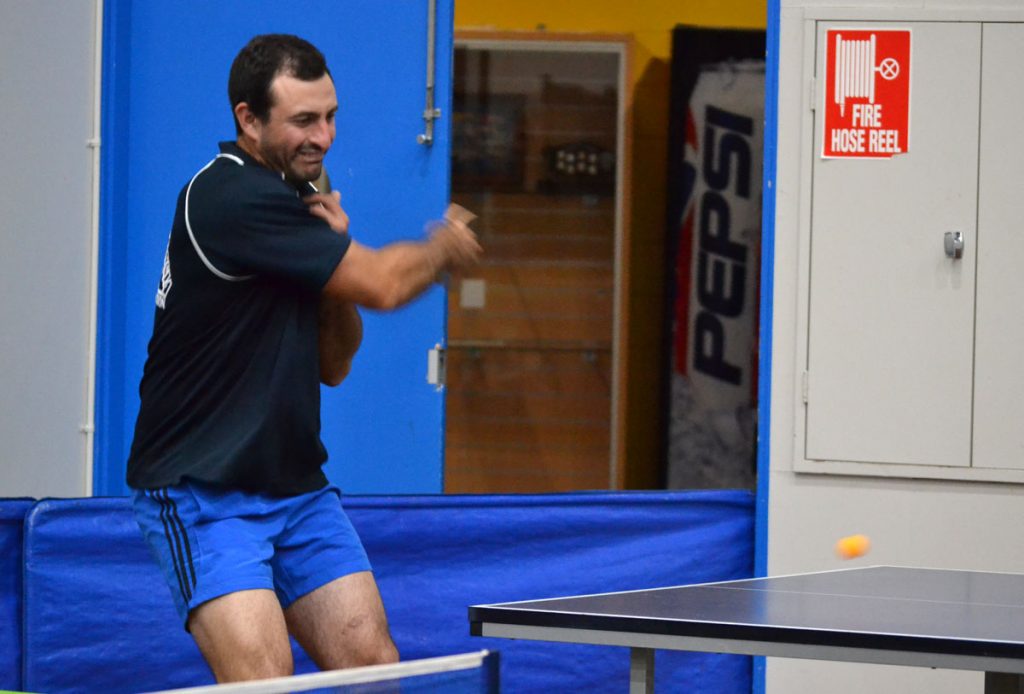 Cimino played well, with three wins. Next best was his number two Leonie Dunkley with two, and Regional Taxation Services number two Andrew Kremor, also with two.
The doubles rubbers were shared, and the first one was the game of the night. The longer this game went, the higher the scores!! The Regional Taxation Services pair of Sabrina Fitzpatrick and Kremor duked it out with Cimino and Dunkley, winning 11-5, 6-11, 10-12, 14-12, 16-14.
Final scores: 6 rubbers to 5 and 20 games to 19.
– Sammy's Slammers 8 (Huseyin Ismail 3, Casper McCarthy, Ryan Hensgen 2) d Weightmans Packaging 3 (Aiden Riordan, Brice Lock 1)
A great start to the new season for Sammy's Slammers, with an 8-3 win against Weightmans Packaging.
The Sammy's Slammers trio of Casper McCarthy, Huseyin Ismail and Ryan Hensgen did not do too much wrong all night; Ismail the stand-out player with three wins, closely followed by his captain McCarthy and number three Hensgen with two apiece.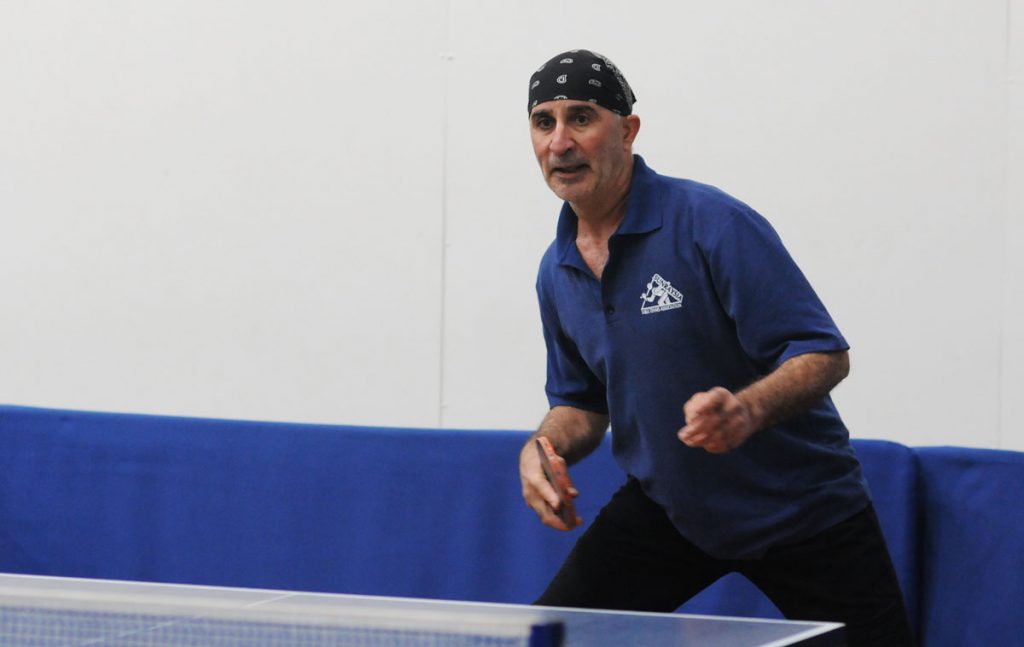 Ismail capped a good night by winning the first doubles with McCarthy in a five set contest against Aiden Riordan and Brice Lock.
Weightmans Packaging, although outplayed here, put up a good fight. Of the four five set contests, the won just one, so they were certainly "in" this match.
Final scores: 8 rubbers to 3 and 28 games to 18.
– Cookes Pools & Spas 10 (Brice Lock, Shah Sandhu 3, Therese Fitzpatrick 2) d MJM Automotive 1 (Nicole Hunt 1)
MJM Automotive were outplayed all over the place in this game, with Cookes Pools & Spas running away to win 10-1.
Cookes Pools & Spas were without their number two, Matthew Cherry, so Brice Lock filled-in for him, and where Brice could only win one rubber in a losing side against Sammy's Slammers, there was no stopping him here, Brice taking three wins, with the loss of just one set.
Number three Shah Sandhu likewise took three, winning in four sets against opposing captain Nicole Hunt, then in five sets against Karly Leach, and in the battle of the number three's Shah took a straight sets win against Stephan Ljubic.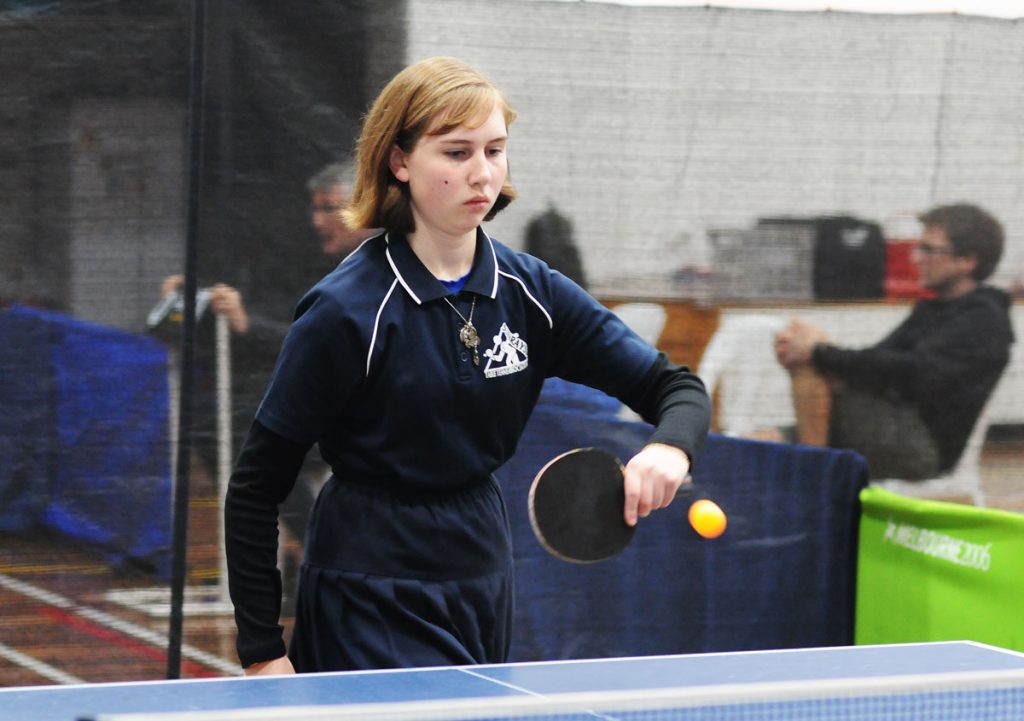 With two wins, captain Therese Fitzpatrick did not quite match her team-mates in singles play, however she did guide her team to wins in both doubles.
Final scores: 10 rubbers to 1 and 30 games to 9.
PENNANT FOUR
We welcome five new players to this pennant as this season starts in a blaze of glory for Mallee Meats.

– Mallee Meats 9 (Dave Tanner 3, Brian White, Costa Skiadas 2) d Dunkley Scales 2 (Miya Lock 2)
Mallee Meats have started this season in emphatic fashion with a big win in their first match of the season. Meats Captain Dave Tanner led from the front in winning his three singles and both doubles matches. Team members Costa Skiadas and Brian White both contributed two singles matches apiece in their debut appearances. The first match of the evening saw Dunkley's Hollie Lock taking on Meats Brian White. White started cautiously and he took the first set 11-8. Lock hit back in the second set taking this 11-8. White then found his range and comfortably took the next two sets to claim his maiden victory. In the second match of the night Dunkley's Captain Miya Lock wrestled back the momentum for her team as she accounted for Skiadas in straight sets. This would be the closest this match got as Mallee Meats turned up the heat on their opponents winning all but one of the remaining matches.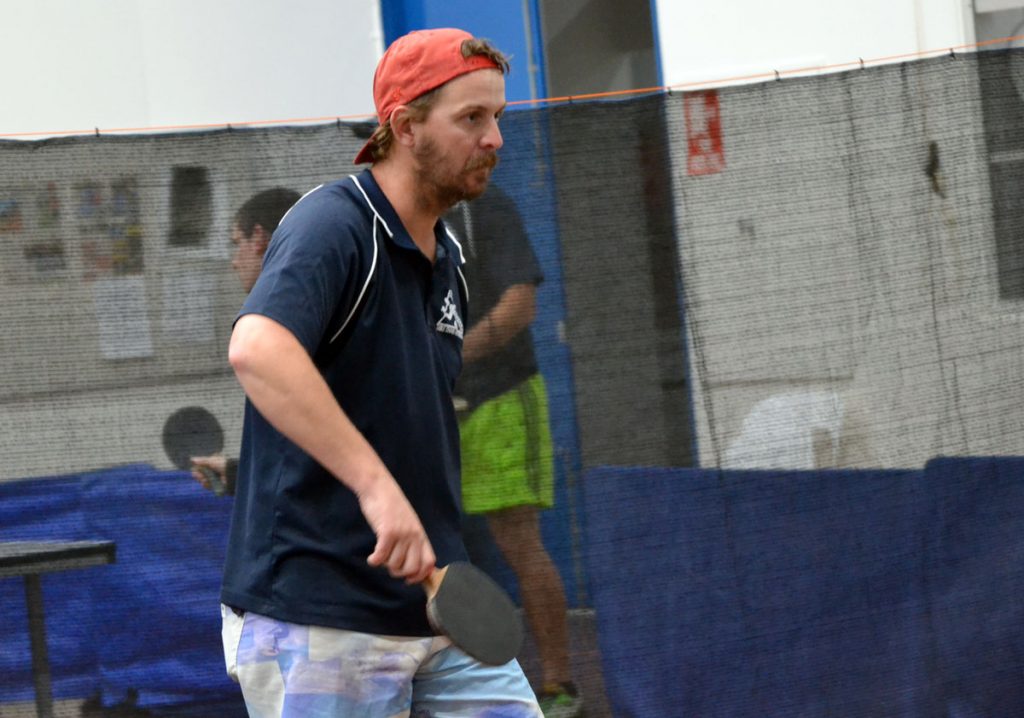 The match of the nigh in this pennant was the battle of the captains as Lock took on Tanner in a match that promised plenty and it delivered. Tanner got off to a great start taking the first two sets 11-9, 11-8. Lock then turned things around taking the next two 11-6, 11-6. The final set was a classic as both players were searching for that chink in the amour that may well propel them to victory. In a gripping final set both players threw everything into it and before you knew it was 10 points all and down to the tie break. Tanner held his nerve and won this battle 12-10. Well done to both players on a fine display. The match result of 9-2 to the Meats mean that they sit pretty on top of the table after round one.

– MJM Automotive 6 (Isaiah Bettess 3, Joy Sullivan 1) d Tankard Dental 5 (Jacinta Ljubic, Shirley Whitecross 2, Wendy Simpson 1)
This was the closest match of the evening and featured two debutants and one returning player. In the first match of the evening, Tankard's Shirley Whitecross took on newcomer Nycole Riordan. The experienced Whitecross did not let Riordan settle into this match and took it comfortably in straight sets to give Tankard's the early advantage. Next up we saw MJM's Isaiah Bettess take on returning player Wendy Simpson. Simpson acquitted herself well against Bettess but fell just short in losing three close sets 7-11, 9-11, 9-11. The third match featured Tankard's Captain Jacinta Ljubic against MJM's debutant Joy Sullivan. In a close match, Ljubic had to fight all the way to secure a narrow victory in four sets 11-6, 7-11, 12-10, 11-9 thus giving her team a 2-1 lead.
The seventh match of the evening that saw the "Battle of the Sisters". Joy Sullivan took on Wendy Simpson with the winner to secure bragging rights. Sullivan took the first two sets 11-6, 11-6 and looked to be cruising to victory. The third set saw a determined effort from Simpson who held a couple of game points but could not convert these opportunities to go down 12-14. Even though Simpson did not prevail, the experience proved vital in her last encounter of the night when playing MJM's Nycole Riordan. During this match, there were many momentum swings. Simpson started well winning the first two sets 11-8, 11-7 before Riordan hit back in winning the next two 11-7, 11-4. The final set was a tight, tense affair with pressure rising Simpson fell over the line 13-11 in a classic match. The final match result of 6-5 was a deserved win for MJM Automotive over Tankard Dental who will probably rue the fact that they did not win a double match that ultimately decided the winner of this contest