Read Time:
13 Minute, 15 Second
PENNANT ONE:

Exposed Signage / Apparel with an outstanding 6-5 win have advanced to the 2018 Sunraysia Table Tennis "Cash Converters "pennant one grand final and will play the undefeated Mallee Bearings.

Opponents Cash Converters fought bravely in the preliminary final and were not far away from victory themselves. This was the fourth meeting between these two teams this season and it had been the Converters who were successful in each of these matches previously. The Exposed trio of Matt Ljubic, Nicholas Dorman and Jackson Murphy are timing their run perfectly. In the first nine rounds of the season they won two matches while in the last eight weeks including finals they have tasted success on six occasions.
– Exposed Signage/Apparel 6 (Matt Ljubic, Jackson Murphy 2, Nicholas Dorman 1) d Cash Converters 5 (Matt Avers 3, Mark Dorman 1)
Mallee Bearings vs Exposed Signage/Apparel in the Grand Final on Wednesday 15th August
In the preliminary final Exposed Signage took two of the first three singles courtesy of Nicholas Dorman and Matt Ljubic who defeated their respective opponents Kevin Johns and Mark Dorman respectively. The match between Ljubic and Mark Dorman was a four set struggle, with the third keenly sought by both players, Ljubic grabbed it 14-12 to lead two games to one and he was able to just hold on to win in four to give his team a two one lead.
The first doubles was a classic with many excellent points and rallies, when Matt Ljubic and Nick Dorman took a 10-4 lead in the fifth the Converters looked likely to trail 1-3 however in an amazing turnaround Mark Dorman and Matt Avers clawed their way back to grab victory from the jaws of defeat. In a stunning display they rattled off eight points in succession to win 12-10 and level the final at two rubbers all.
Young Ljubic and Nick Dorman were stunned, could this loss damage their chances, time would tell. In the following singles Matt Avers started quickly to grab the first 11-2 while Dorman was brave in the next two games he could not quite reel Avers in and now Cash Converters took the lead for the first time.
The next match started a run of three victories in succession for the Exposed / Signage team as Matt Ljubic defeated Kevin Johns in three sets and then in the upset of the night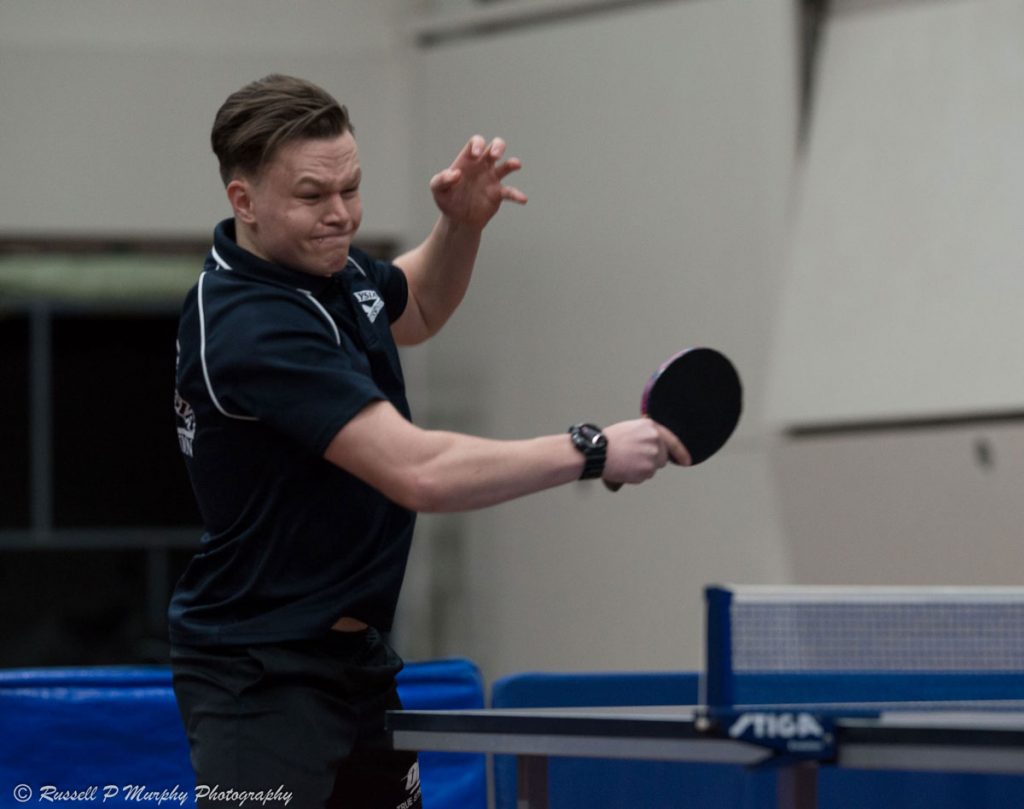 Jackson Murphy came out in a determined manner to play some of his best table tennis for the season. His opponent Mark Dorman tried valiantly to bridge the gap however Murphy played outstanding table tennis going on to win in four sets 11-7 6-11 12-10 11-8. Exposed Signage now took a 4-3 lead.
The second doubles was now vital for both teams and even though they were leading the general opinion was that if the Exposed pair of Matt Ljubic and Jackson Murphy lost this contest against Matt Avers and Kevin Johns their chances of advancing to the grand final would diminish. Ljubic and Murphy narrowly grabbed the first and took the third. They took a 10-8 lead in the fourth and were only one point away from victory when all of a sudden Avers and Johns grabbed three points in succession, surely the Converters pair would not steal another doubles, Ljubic and Murphy remained calm and grabbed the fourth game to win 13-11 5-11 11-6 16-14.
Matt Avers then narrowed the gap with a hard fought four set victory over Matt Ljubic where both displayed some excellent table tennis. Converters Mark Dorman then played his son Nick to keep his team in the match. Nick took the first and from there Mark was able to maintain a narrow lead in each of the three remaining games, the match now stood at five rubbers all.
Converters veteran Kevin Johns then took on the in form Jackson Murphy and it was Murphy who was able to control the situation and go on to a three set victory and book his team into the grand final. Whilst Matt Avers had won three singles for the Cash Converters it was Exposed number three Murphy who was the player of the preliminary final winning two singles and pairing up with Matt Ljubic to win the vital second doubles. This no doubt was his best performance for the season, what timing!!
PENNANT TWO:

Mallee Meats made short work of Pinnacle Packers in the Preliminary Final, to book their spot in next week's Grand Final.
– Mallee Meats 6 (Sony Sefer 3, Russell Walder, Arthur Paar 1) d Pinnacle Packers 3 (Peter Midgley, Kerry Wallace 1)
MJM Automotive vs Mallee Meats in the Grand Final on Wednesday 15th August
Mallee Meats had Pinnacle Packers in trouble from as early as the second rubber, and kept their advantage to run out winners 6 rubbers to 3.
That second rubber followed a fairly routine three set win by Mallee Meats captain Russell Walder over Brendan Alderton,  and featured Pinnacle Packers captain Peter Midgley, and Mallee Meats number three "Fast and Furious" Arthur Paar.  It was not a one sided affair though, as Midgley failed to dominate his opponent.  Midgley led two sets to one, but could not hold off the committed Paar, finally falling 11-3, 7-11, 12-10, 9-11, 5-11.
Sony Sefer quickly made the score 3-0 with a straight sets win against Kerry Wallace.
Pinnacle Packers then steadied things a little, taking the next two rubbers – Midgley and Wallace won the first doubles rubber;  after losing the first set to Russell Walder and Sefer, they won the next three.  Midgley and Walder played the next rubber, a match in which the game tightened right up in the final two sets, but Midgley did enough to get the win 11-8, 11-5, 12-14, 13-11.
Sony Sefer pushed the score out to 4-2 when he defeated Brendan Alderton in four sets, then Wallace brought it back to 4-3 when she downed Paar.
The second doubles became the last chance for Pinnacle Packers to get back into the match, but a dominant three set victory by the Mallee Meats pair of Sefer and Paar over Midgley and Alderton, sealed the fate of the team which has been at or near the top of the table for the whole season.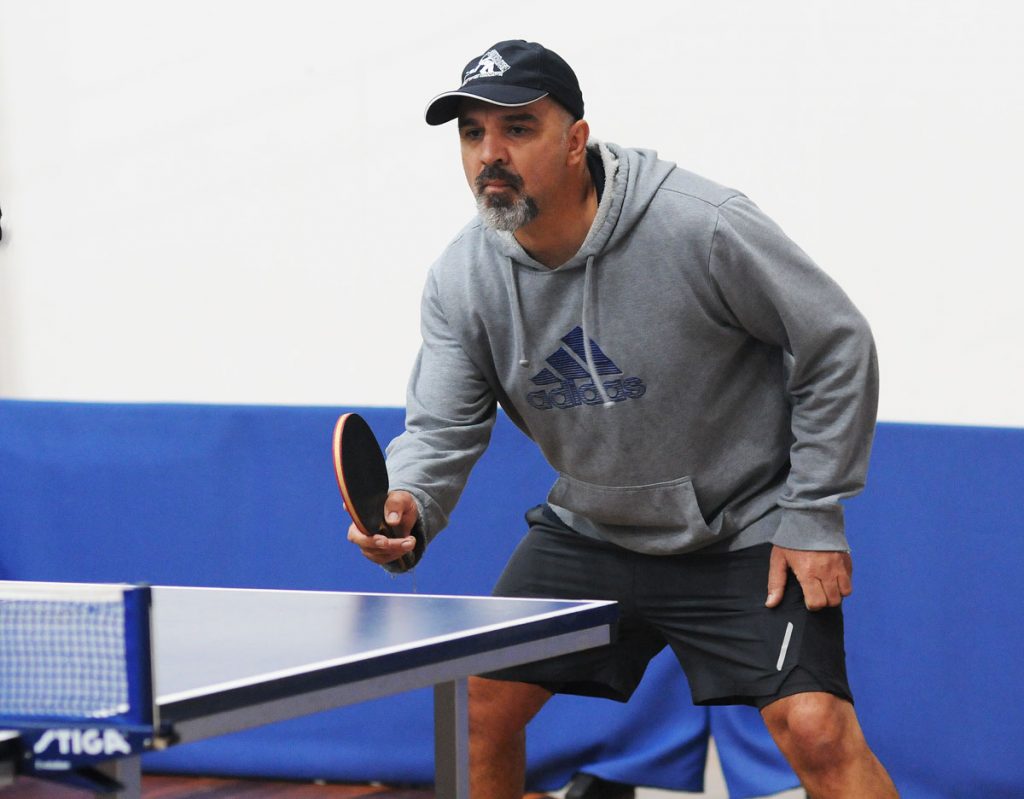 Sony Sefer, who to this point had won his two singles and had a hand in both doubles rubbers, and would easily have won "Man of the Match" if such an award existed, then finished Pinnacle Packers off, defeating Midgley in five sets 11-5, 11-5, 8-11, 9-11, 12-10.
In winning this Preliminary Final match Mallee Meats earned the right to play MJM Automotive in next week's Grand Final.  If the Grand Final goes to form, Mallee Meats should win 6-5, the margin between the two teams on the three occasions they have met during the season.
Final scores:  6 rubbers to 3 and 20 games to 14.
PENNANT THREE:

A couple of unexpected losses during the course of this match gave Regional Taxation Services a real chance of upsetting Weightmans Packaging, but Weightmans ultimately denied the underdogs the second Grand Final spot.
– Weightmans Packaging 6 (Dylan Wood, Rohan Reimers 2, Jeremy Corrin 1) d Regional Taxation Services 5 (Paul Fitzpatrick 2, Lachlan Prothero, Marcus Cimino 1)
Sammy's Slammers vs Weightmans Packaging in the Grand Final on Wednesday 15th August
Firstly, to put the game into perspective, it is instructive to consider how the individual players performed during the season.  For Weightmans Packaging, captain Jeremy Corrin was the second-most successful singles player throughout the season, Dylan Wood was fifth on the aggregate and Rohan Reimers, ninth.  Regional Taxation Services were therefore the underdogs in this game, as only Paul Fitzpatrick could really mix it with the opposition, Paul having finished third on the aggregate.  Lachlan Prothero finished thirteenth, and Marcus Cimino did not play the full season, and was in this game as a substitute for Regional Taxation Services regular number three Huseyin Ismail.
The story of this game is the (under-whelming) performance of Weightmans Packaging captain Jeremy Corrin.
Corrin did not really fire until rubber number nine when his side was 5-3 down, and in very real obvious danger of crashing out.  Prior to this rubber, Corrin had fallen to Regional Taxation Services number two and three.  Firstly, Marcus Cimino, playing at number three, bowled Corrin over in just three sets 13-11, 12-10, 11-5 to level the scores at 1-1 after Weightmans Packaging's Rohan Reimers had struggled to a five set win to defeat Prothero.  Come rubber number five, Corrin fell to Prothero in five sets in an unusual performance.  Prothero had to work hard to win the first two sets 12-10, 11-9, Corrin then got to work, simply sprinting through the next two sets 11-3, 11-2, then to go back to sleep and lose the fifth 7-11.  Take nothing away from Prothero, but this was certainly a shock win/loss.
When Paul Fitzpatrick defeated Rohan Reimers 11-3, 12-14, 11-4, 12-10 in the next rubber to give his side a 4-2 lead, Regional Taxation Services started to dare to think a win was possible.
Dylan Wood brought the deficit back to 4-3 with his easy style of play, accounting for Cimino in three sets.
Regional Taxation Services pulled out all the stops in the second doubles, Fitzpatrick and Cimino knowing this was the real chance to get a grip on the game.  They proved the better combination, defeating Corrin and Reimers in a good five setter 8-11, 11-6, 13-11, 10-12, 11-7.
With a lead of 5-3, and needing just one more rubber, Paul Fitzpatrick must have fancied his chances when he went out to play Jeremy Corrin.  Also, considering that his team-mates had defeated Corrin earlier in the night would have added to this mind-set.  Once again, Corrin was playing all over the place; after winning the first set 11-8, he lost the second 1-11.  The rest of the match was more representative though, and Corrin ultimately prevailed against Fitzpatrick, winning in five sets.
Still, Regional Taxation Services still needed just one of the final two rubbers, but the Weightmans Packaging pair of Dylan Wood and Rohan Reimers did not really give their opponents Lachlan Prothero and Marcus Cimino a look in.  They won both the tenth and eleventh rubbers in three sets, Wood with an 11-4, 11-7, 11-3 scoreline against Prothero,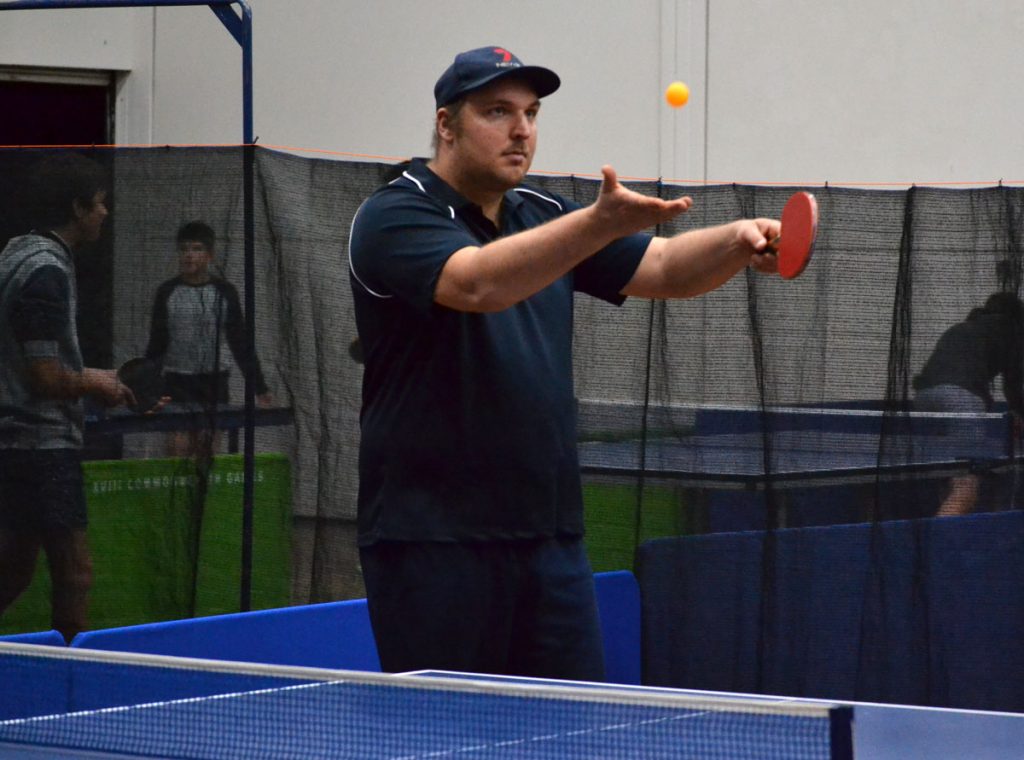 and Reimers with a steady 11-4, 11-5, 11-6 win against Cimino.
Weightmans Packaging must be complimented for their come-from-behind win, but a performance like this next week might see the game all over before the eleventh rubber.  Best performed for the winners in this game was Dylan Wood, who won two of his singles rubbers, and had a hand in winning the first doubles rubber with Corrin.
Final scores:  6 rubbers to 5 and 24 games to 20.
PENNANT FOUR:

This week we again saw some close matches but there could only be one team advancing to play Cookes Pools and Spas in the Grand Final.
– Dunkley Scales 6 (Karl Whitney 3, Kim Avers 2) d Tankard Dental 3 (Kayla Bettess, Isaiah Bettess 1)
Cookes Pools & Spas vs Dunkley Scales in the Grand Final on Wednesday 15th August
The score line suggests that this was a comfortable win for Dunkley's however one closer examination this match could have gone either way with two of the five set matches decided in tie breaks. The Dentists got off to a bright start with Isaiah Bettess defeating Raylee Waugh in three sets. The next match pitted opposing number two players Karl Whitney and Matt Sires. Sires got off to a great start and attacked his way to a two sets to love lead 11-9, 11-7. The trademark of Whitney this season is that he doesn't give up easily and during the next two sets he retrieved some of Cherry's thunderbolts and squared the match at two sets all. As has been the case all season in Pennant Four a tie breaker was required in the fifth set and Whitney has featured in many of these scenarios. With both players having opportunities to win the match it was Whitney who prevailed 12-10 in a tense fifth set. We now move forward to the first doubles match of the evening with Dunkley's now leading two games to one; thus making this a must win match for Tankards.
The Dunkley duo of Kim Avers and Karl Whitney matched up against Tankard's Isaiah Bettess and Matt Sires. As expected this was going to be a close contest and spectators were not disappointed. The first set was a cracker with long rallies and missed opportunities on display. Tankard's scrapped their way to win this set 15-13. The next two sets went the way of Dunkley's as they controlled the match with good steady play 11-5, 11-7. The fourth set saw Tankard's raw back into this contest winning the set 11-4 and taking all the momentum into the 5th set. Maybe Tankard's had used up all their petrol tickets and unfortunately fell short in the fifth set going down 6-11 to give Dunkley's the set and the match to now lead the night three games to one. It was crunch time for Tankard's and captain Isaiah Bettess had to defeat Whitney to give his team a realistic chance of victory. In a tight first two sets both players showed they were playing for keeps. It was Whitney who prevailed 15-13 and 11-9 to lead two sets to love. Bettess tried hard but Whitney took the last and the match 11-4 to give his team a commanding four games to one lead. In the next match Kayla Bettess (filling in for Tankards Austinn Taylor) acquitted herself well and outplayed Raylee Waugh 11-1, 11-3, 11-8 to get Tankards second win of the night and maybe a comeback was on the cards.
The seventh match of the night saw Avers up against Sires. The last time these two met was in round 14 with Avers victorious. Sires would need to dig deep if he was to reverse this previous result. Sires started well in taking the first 11-8 before Avers steadied and took the next two 11-8, 11-5. Through determined play Sires won the fourth 11-9 to send this one into a decider. The fifth set had a bit of everything. Both displayed their improvement over the season with great attacking play and staunch defense a feature of this set.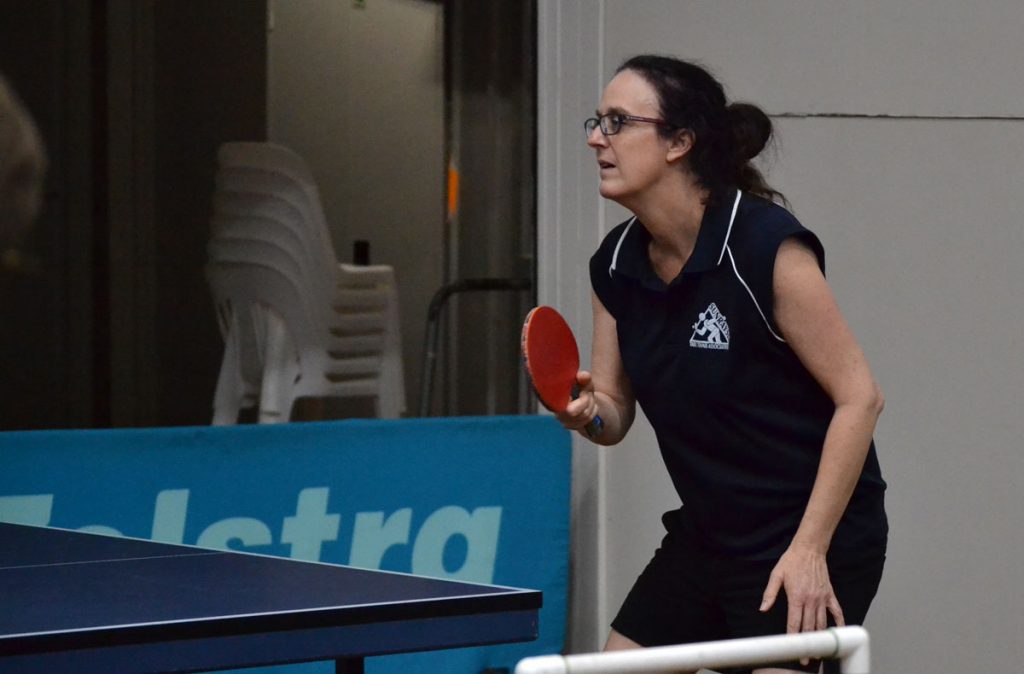 Both had their opportunities but ultimately it was Avers who prevailed 14-12 in one of the matches of the season. With this win Dunkley's now had the advantage five games to two and were eventually ended up winning against a gallant Tankard Dental six games to three. For the winners Karl Whitney with three wins was a standout performer. Avers also played well in winning two. For the vanquished we thank Tankard's for their fine season.
Next week we find Cookes Pools and Spas taking on Dunkley Scales in the Grand Final. We hope that all P4 supporters will be out in full force to support players on both sides. Make sure you have an afternoon nap and fill up the kerosene lamps before attending this match as this one promises to go long into the night.