Read Time:
17 Minute, 50 Second
The feature of round eleven of the "Cash Converters" Sunraysia Table Tennis pennant was that neither of the bottom three teams were able to score a victory against the top three teams leaving Exposed Signage/ Apparel, Regional Taxation Services and Tankard Dental respectively all on three wins with four rounds to play.
PENNANT ONE:
– Max Miller Carpets 6 (Shannon Bowen, Kate Carmichael 3) d Tankard Dental 5 (Gavin Carmichael, Shane Carmichael, Jackson Tung 1)
All these teams are fighting for fourth position on the ladder and it was bottom team Tankard Dental who let an opportunity slip when they lost three five setters by the barest margin and went down 5-6 against third placed Max Miller Carpets who have now spaced themselves three wins ahead of fourth position on the ladder.
Victory came for the Carpeters despite Tankards winning both doubles for the first time for the season. It was the standout play by both Shannon Bowen and Kate Carmichael which enabled the Carpeters to grab the four points as they both won three singles each. Five setters were instrumental in the victory with Bowen playing catch up against Jackson Tung to win in an outstanding match 11-13 13-11 11-6 9-11 12-10. Kate Carmichael also fared well in two tight five set contests firstly outlasting her Uncle Shane 16-14 in the fifth and then later she accounted for father Gavin 12-10 again in the fifth.
These five set losses were costly for Tankards denying them the opportunity to grab fourth position on the ladder.
– Mallee Bearings 7 (Joel Thomas 3, Nicholas Dorman 2) d Regional Taxation Services 4 (Leslie Ncube 2, Wayne Carmichael, Reece Kurrle 1)
After dropping the first rubber of the night ladder leader Mallee Bearings then rattled off seven of the next eight matches to take the four points against Regional Taxation Services with a 7-4 win. RTS were able to win the final two matches both in lengthy five setters by Leslie Ncube and Reece Kurrle respectively to make the score line more respectable.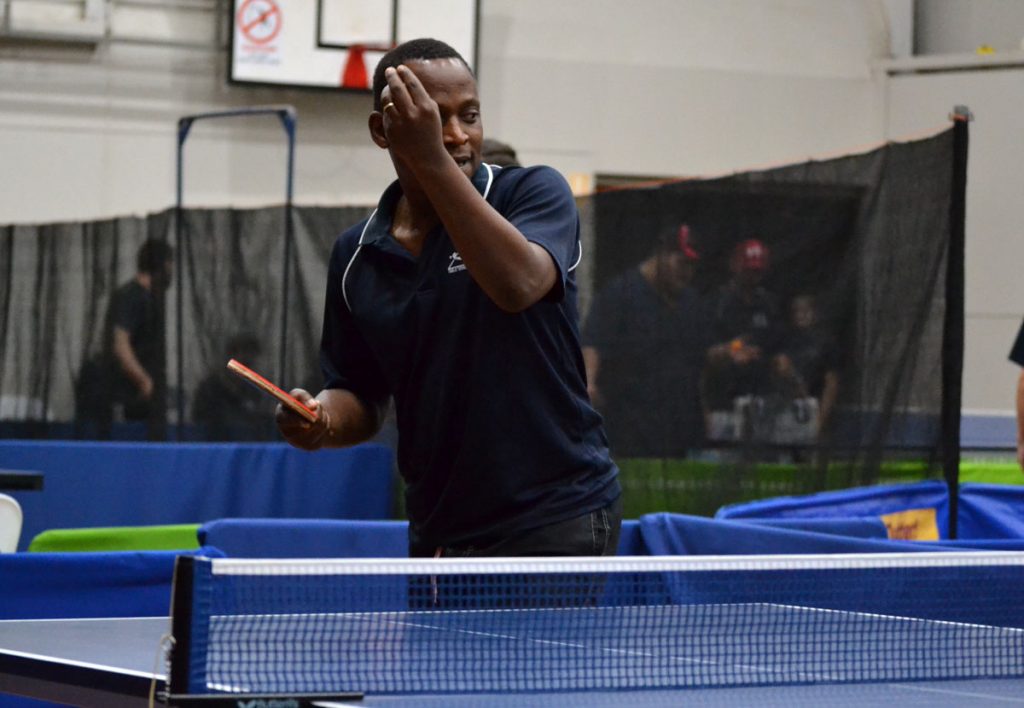 Ncube showed good form to win two singles including a solid five set win over fill in Nicholas Dorman who earlier had surprised Wayne Carmichael in four sets in a match RTS would have been pencilling in as a win going in to the contest.
Mallee Bearings skipper Joel Thomas again won three singles as well as taking part in both doubles victories.
– Cash Converters 7 (Matt Avers 3, Andrew Cannard 2) d Exposed Signage/Apparel 4 (Matt Ljubic 2, Nicholas Dorman, Jackson Murphy 1)
Second placed Cash Converters were able to remain four points clear of third position on the ladder with a solid 7-4 victory over Exposed Signage / Apparel who would have been confident going in to the clash. Matt Avers fresh from defending his Under 18 title at the Victorian Country Championships, his third win in as many years, was on fire winning three singles as well as taking part in both doubles victories.
Avers was under extreme pressure in his singles against the busy Nicholas Dorman who held a slight lead in the fifth before Avers was able to steady and go on to win 11-6 11-3 11-13 5-11 11-8. This had been a great contest with many fine rallies between two young talented players. The very next match was also crucial when Avers combined with fill in Andrew Cannard to defeat Dorman and partner Matt Ljubic in yet another five setter 12-10 3-11 13-15 11-9 11-8.
Cannard offered excellent support to Avers by winning two important singles defeating both Jackson Murphy and Nicholas Dorman respectively in excellent five set contests. Of the five five set matches Cash Converters tasted success in four which in the end were crucial in obtaining the four points and remaining clear in second spot on the ladder. 
PENNANT TWO:

A great performance by Sony Sefer carried Mallee Meats to a 6-5 win against Ash Morrison's Weightmans Packaging side; Pinnacle Packers jumped two spots on the ladder to third with a big win against Max Miller Carpets; and second-placed MJM Automotive had a close shave against Cookes Pools & Spas.
– Mallee Meats 6 (Sony Sefer 3, Russell Walder 1) d Weightmans Packaging 5 (Ash Morrison, Nick Barlow 2, Andrew Jones 1)
The last time these two sides met, Weightmans Packaging took the win 6 rubbers to 5.  This time round scores were reversed, Mallee Meats winning, and that was almost entirely down to Mallee Meats number two Sony Sefer.
With his captain Russell Walder winning just one rubber, and number three Arthur Paar, none at all, it was Sefer who was involved in all the other five rubbers which made up their win.
A four set win against Weightmans Packaging consistent Nick Barlow was followed by an easy 11-2, 11-8, 11-9 result against Andrew Jones.  The real test came of course, in the final round of singles.  Sefer still had to play Ash Morrison, who like team-mate Barlow is equal third on the aggregate with 21 wins from a possible 33.  But even Morrison proved no match for him, Sefer winning in four.  After dropping the first set 8-11, he shut Morrison out of the remainder of the game, taking the next three sets 5, 8 and 3.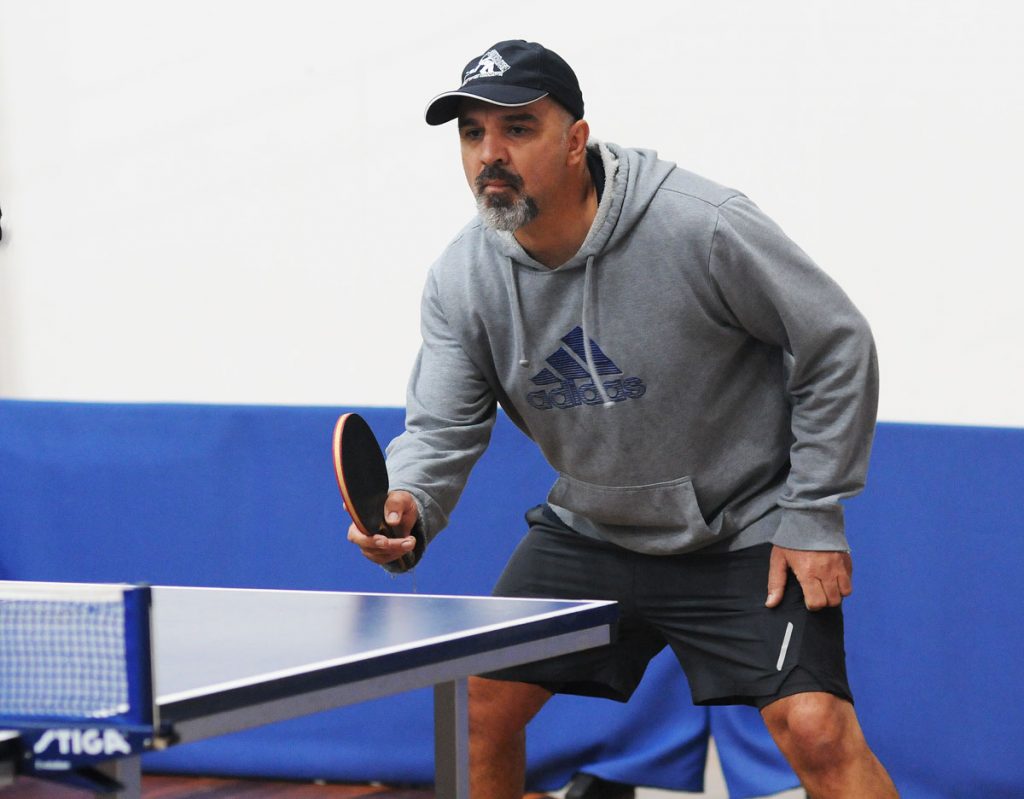 The other crucial difference between the sides here, was that both doubles went to Mallee Meats, and as already indicated, Sefer had a hand in both.
The first doubles featured Sefer and his captain Walder against the well-credentialed Morrison and Barlow.  The Mallee Meats controlled the first two sets easily, 11-8, 11-5, but after that things tightened up, Morrison and Barlow getting a foothold with a win in the third set 11-9.  But Mallee Meats showed that they were up to the task, and a similar score in the fourth set to give them a 3 rubbers to 1 lead at that stage.
The second doubles was really a demolition job by the Mallee Meats pair of Sefer and Arthur Paar, finishing the match in just three sets and conceding just 12 points to Morrison and Jones.
Looking at the Weightmans Packaging side of the score-sheet is initially encouraging, with two singles wins to Morrison and Barlow and one to Jones, but with none of them able to control the in-form Sefer, they fell short in the final count.
Final scores:  6 rubbers to 5 and 24 games to 18.
– Pinnacle Packers 8 (Kerry Wallace 3, Peter Midgley, Brendan Alderton 2) d Max Miller Carpets 3 (Bernadette Fitzpatrick 2)
These two sides are looking ahead to the end of season games, and as a result are fighting tooth-and-nail to secure a spot in the top four.
Going into this round there were four teams on five wins, separated obviously by percentage, and this covered places second to fifth.  So a win could see a break from this group going upwards, a loss a break too, but in the opposite direction.
Pinnacle Packers were fifth in this group, Max Miller Carpets fourth.
This result of this game seems to confirm that the return of Kerry Wallace has reinvigorated the Pinnacle Packers side – in this the second game since returning, her side has recorded wins of 7-4 and now 8-3.  And Wallace has played a significant part in those wins, with two singles rubbers to her credit in her first game, and three in this one.
In fact Wallace was the stand out player here, her first round singles win against aggregate leader Bernadette Fitzpatrick in just four sets was followed by straight sets against Tony Malycha and Andrew Fox, together with the first doubles rubber with captain Peter Midgley, also in just three sets.
Wallace was ably supported by her team-mates too – Midgley although unable to really trouble his opposite number Fitzpatrick, made sure of the other two singles rubbers, winning them in three sets.  Brendan Alderton had a similar story to tell, with a loss against Fitzpatrick, but running through a lack-lustre Tony Malycha in three sets, and later dominating Anthony Fox, except for one set taking the win there 11-2, 11-6, 10-12, 11-3.
Max Miller Carpets would be very disappointed with their performance here – Fitzpatrick took just two singles rubbers and she and Fox the second doubles, although that was an encouraging three set win 11-3, 13-11, 13-11.  For a player who averages 1.5 games per match, Malycha seemed to be there in body only, losing everything in three sets, including the first doubles with Fitzpatrick against Midgley and Wallace.
Final scores:  8 rubbers to 3 and 26 games to 11.
– MJM Automotive 6 (Geoff Wright 3, Quentin Clark, Jason Gifkins 1) d Cookes Pools & Spas 5 (James Chick 2, Lee Thomas, Mark Kerr 1)
 This game featured teams second and sixth on the ladder, and the result confirmed those rankings, MJM Automotive clinging to a game deficit to ladder leaders Mallee Meats, and Cookes Pools & Spas still with just four wins for the season.
Having said all that, the game was close.  The outcome was decided in the final rubber, and it featured just two three set rubbers, five rubbers that went to five sets, and the remainder, four, decided in four sets.  Added to that was that the losers won 24 games to MJM Automotive's 23.
Cookes Pools & Spas captain Lee Thomas is having, for her, an inconsistent season.  For the fourth time she secured just one singles rubber, and it could be said that that fact cost her team the win here.  More on that later.
The stand-out player was MJM Automotive captain Geoff Wright who has encouraged and cajoled his team-mates into action week after week.  Wright led by example in this game with three wins, and to show the quality of the opposition, all went to five sets!  His first match against opposing captain Thomas was a high class tactical game, with the win coming through good play, Wright winning 10-12, 11-7, 10,12, 15-13, 11-9 and garnering just four more points that his opponent, 57 to 53.  His game against James Chick was tight for the first four sets, but Wright powered away 11-5 in the fifth.  And fill-in Mark Kerr extracted two sets from Wright, but the sets Wright won, he took comfortably, winning 11-2, 7-11, 11-5, 8-11, 11-4.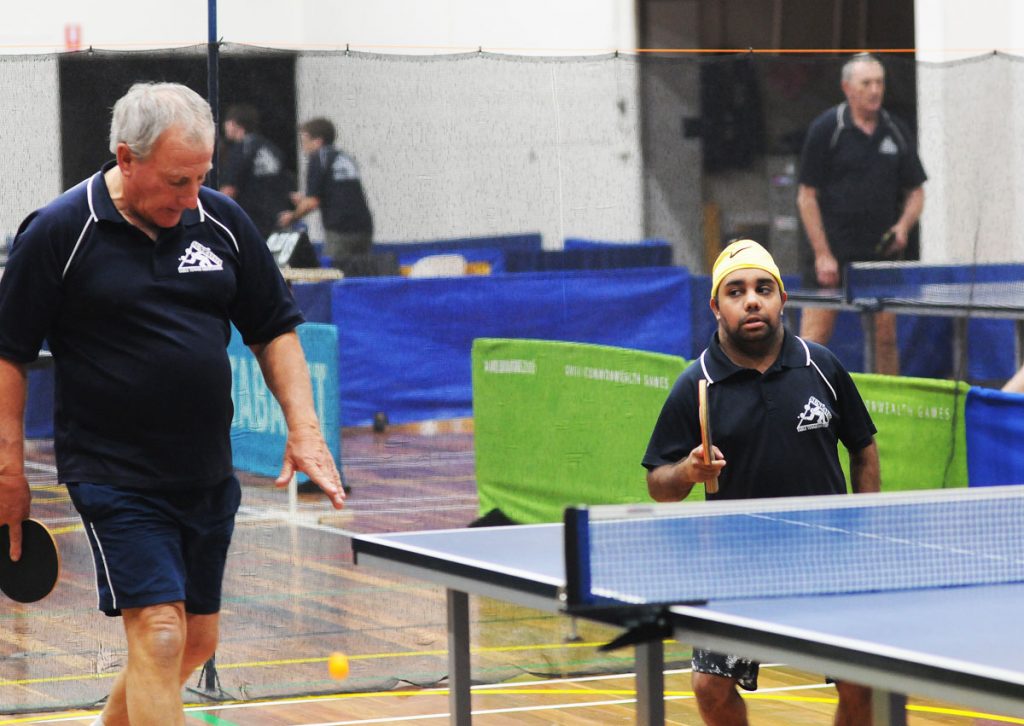 Wright's team-mates Jason Gifkins and Quentin Clark took a win each, Gifkins against Kerr, and Clark the important scalp of Lee Thomas in the ninth rubber to give his side the edge with a 5-4 lead.
The MJM Automotive pair of Wright and Gifkins downed Thomas and Chick in the first doubles to make up their total of six rubbers.  After dropping the first set 8-11, they kept their opposition at arm's length thereafter, winning the final three sets 4, 8 and 6.
So, what of Cookes Pools & Spas?  Well, Thomas although she only took the one singles rubber, went down fighting.  She lost in five sets to Wright, then in five sets to Clark, of whom much has been written in recent times.  Clark, rated as a number three in this competition, is gaining a reputation as one who can topple number ones; he did it to Bernadette Fitzpatrick recently, and now here.
James Chick was the best performed for the losing side – James downed danger man Clark, and Jason Gifkins, both in four sets.  As already mentioned, he went down to Wright in five sets – that was a close game, Wright winning just three points more than Chick in the match 48 to 45.
Mark Kerr, this week subbing for Seval Fuat, like Chick accounted for Clark in four sets, and with his captain Thomas won the second doubles rubber in a close match 15-13 in the fifth.
Final scores:  6 rubbers to 5 and 23 games to 24.
With Liam posing for the press on his unbeaten run, brother Dylan had other ideas in spoiling the party as Weightmans Packaging confirmed their favouritism for the Pennant Three Premiership Flag in this round with a stunning victory against the second placed team Sammy's Slammers; Tankard jumped Mallee Meats for fifth spot on the ladder; and Regional Taxation Services took a close win against Mallee Meats.
– Weightmans Packaging 9 (Dylan Wood 3, Jeremy Corrin, Rohan Reimers 2) d Sammy's Slammers 2 (Liam Wood 2)
Weightmans Packaging have not lost since round two of this competition, and their recent form has seen successive 8-3 wins, and now a mammoth 9-2 victory against a side it is expected is the only realistic stumbling block to their taking the flag.
However, this side is in such good form that in this game, the runaway aggregate leader Liam Wood, who plays at number two for Sammy's Slammers, suffered his first defeat for the season.  It was fitting that this match was the most fiercely contested of the evening, it being the only one to go to five sets.  And who downed the previously impervious Wood?  Now think, who would know his game pretty well?  Yes, that's right, his brother Dylan.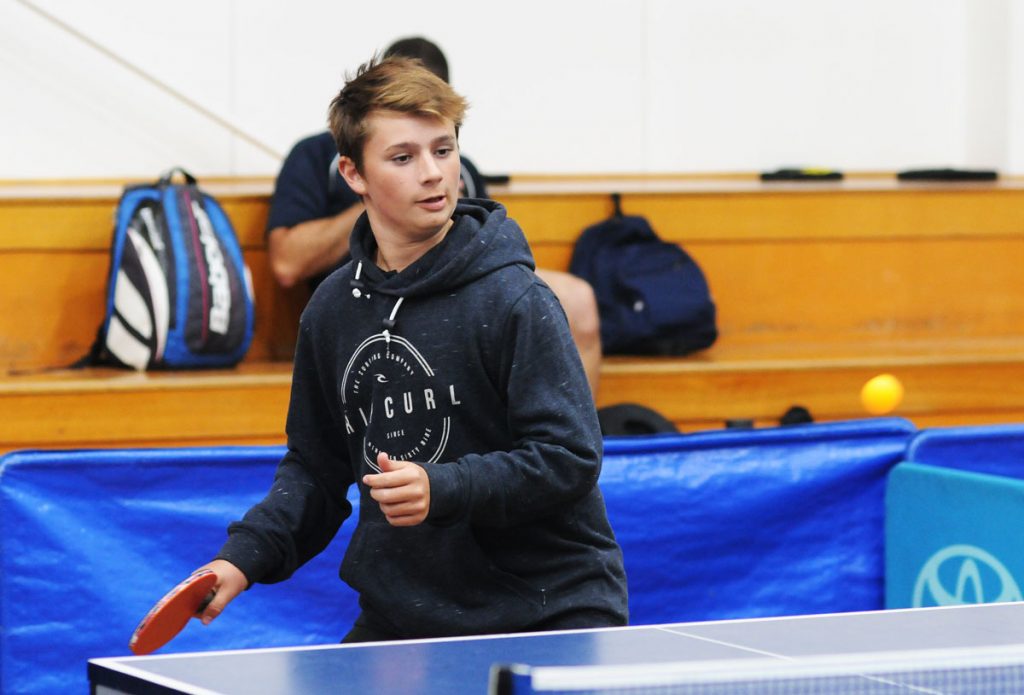 This is their third meeting this season, in round 1 Liam won a close five setter, round 6 was a fairly easy four set win, but Dylan was not taking no for an answer here, coming back from a 2-1 deficit to win 11-6, 7-11, 4-11, 11-9, 11-8.  That win was win number five in a run of six successive games to completely rout David Sergi's side.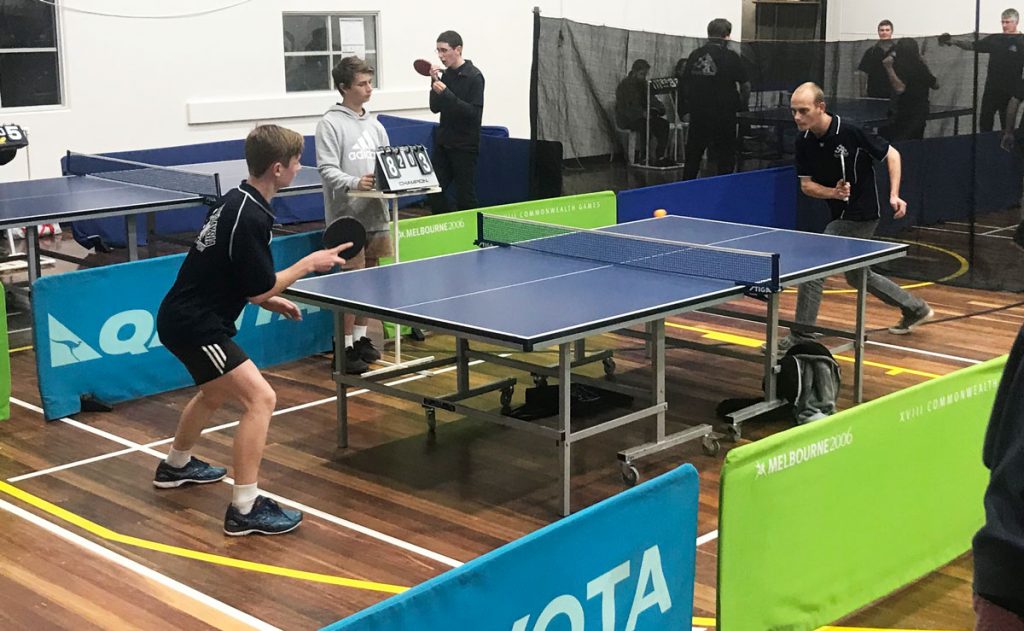 The only two rubbers Sammy's Slammers took were from the bat of Liam Wood, Wood accounting for Weightmans Packaging captain Jeremy Corrin and number three Rohan Reimers in his now usual three sets.
Sergi sensibly has Liam Wood play in both doubles, but on this night that was not much help to Sammy's Slammers.  Both doubles rubbers were decided in four sets; Corrin and Dylan Wood accounting for Sammy's Slammers strongest players Sergi and Liam Wood, then later Corrin and Reimers over Liam Wood and Brice Lock.
So, Dylan Wood came away with three rubbers, and Corrin and Reimers two each.  Wood in particular has lifted his game in the second part of this season, as he won eight rubbers in the first six rounds (average 1.3 per match), and has improved to eleven in the last five rounds (average 2.2 per match).
It is not yet time to lose interest in this competition, indeed, could Weightmans Packaging be peaking too early?
Final scores:  9 rubbers to 2 and 27 games to 13.
– Tankard Dental 6 (John Fitzpatrick 3, Karly Leach 2, Luke Ljubic 1) d MJM Automotive 5 (Tom Morrison, Sabrina Fitzpatrick 1)
Last placed Tankard Dental, spurred on by captain John Fitzpatrick came from behind to take out last round big winners MJM Automotive in this game.
John loves to win as much as the next player, and has been frustrated by five successive scores of 2 wins per game.  He was looking for a perfect 3!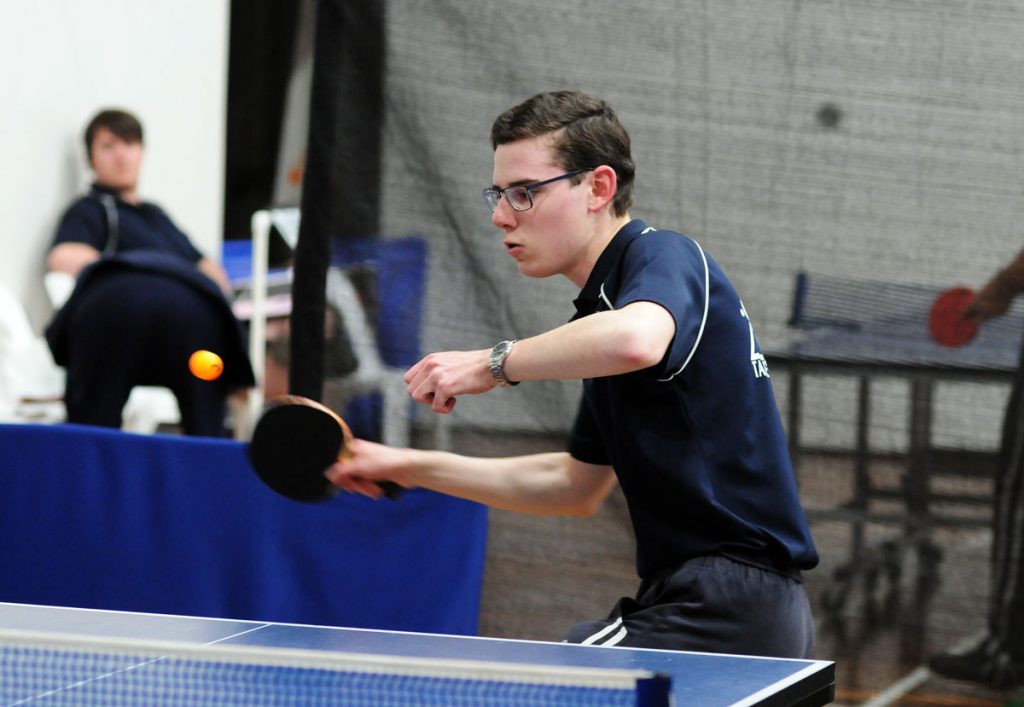 And so he got that here, although his mother Sabrina gave him a bit of scare by taking the first set in their match, his first.  Such was his commitment, after conceding that set 10-12, John did not drop a set in singles play for the rest of the night, the icing on the cake being a real trouncing of MJM Automotive captain Tom Morrison 11-7, 11-7, 11-6.
John's number two Karly Leach was a good back-up to her captain with two wins.  She defeated fill-in Kim Avers in three, stuck with Tom Morrison for two sets, but fell in three 18-16, 14-12, 11-3 and finally downed regular opponent Sabrina Fitzpatrick in four.
Luke Ljubic came up with the final rubber for Tankard Dental, a three set win against Avers.  And just as well too, as both doubles rubbers went to MJM Automotive, as that kept them in the game.  With captain Tom Morrison winning two rubbers, and Sabrina Fitzpatrick two, MJM Automotive fell a rubber short.
Final scores:  6 rubbers to 5 and 19 games to 18.
– Regional Taxation Services 6 (Paul Fitzpatrick 2, Lachlan Prothero, Huseyin Ismail 1) d Mallee Meats 5 (Therese Fitzpatrick, Paul Kealley 2, Arnold Jago 1)
Mallee Meats now have last spot on the ladder all to themselves after this loss to Regional Taxation Services.
In a much better performance than they put in last round, Mallee Meats were in the game until the end, when it was up to the two number threes, Huseyin Ismail for Regional Taxation Services and Arnold Jago for Mallee Meats to decide the outcome.
Regional Taxation Services, upon reflection, might consider themselves a little fortunate to have won this match, as they won fewer singles rubbers than their opponents, and had to rely on both doubles for the win.  The first doubles was straightforward enough, but Mallee Meats came within a whisker of taking the second.  In a high standard match, Paul Fitzpatrick and Huseyin Ismail just pipped Paul Keally, (subbing for Peter Fitzpatrick) and Arnold Jago in five sets 7-11, 11-9, 11-9, 10-12, 12-10.
Paul Fitzpatrick was the best performed for the winners, with two rubbers; he was downed by stand-in captain Keally in a see-sawing five set contest.  Lachlan Prothero and Ismail both took one – Prothero in particular was expecting more, as he has good recent form.  After being defeated by Arnold Jago,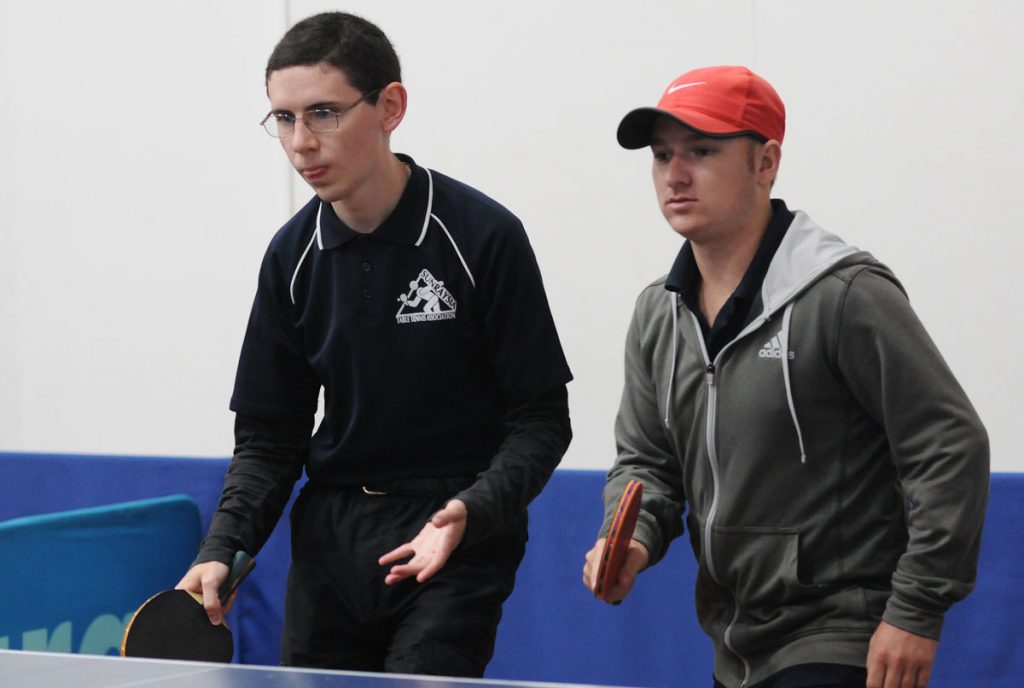 Prothero pulled off an upset defeating Keally in five sets.  After that win, he was a little disappointed in rubber number ten when he lost to Therese Fitzpatrick after leading two sets to one, Therese winning that one 7-11, 11-7, 5-11, 11-2, 15-13.
For Mallee Meats, Keally and Therese Fitzpatrick won two each and Jago one.  It was the loss of the second doubles which really cruelled what had been a very solid performance.
Final scores:  6 rubbers to 5 and 26 games to 20.
In Round 11 Action we saw two excellent close matches that both featured 6-5 results.
– MJM Automotive 6 (Dave Tanner 2, Casey Taplin, Shirley Whitecross 1) d Cookes Pools & Spas 5 (Matt Cherry 3, Miya Lock 2)
Again Cookes Pools & Spas number 1 Matt Cherry was impressive with three singles wins, however it wasn't enough to down MJM Automotive in a match that went the full distance. The doubles matches featured heavily in this result as both five set results in the matches went the victor's way. In the first doubles match the pairing of Tanner and Taplin found themselves in early trouble against Cherry and Lock being two sets to one down before rallying to win the last two sets in a close encounter 11-8, 11-13, 8-11, 11-8, 11-9. This win leveled the match scores at 2 games all. The second doubles match featured Tanner and Whitecross against Cherry and Bettess. In the first four sets there seemed to be a scoring end given the game scores of 11-7, 9 -11, 11-9, 7-11. At this point not even the great Nostradamus could possibly foresee the result which ended up being 11-7 to MJM. This now leveled the match at 4 all. The next two matches were shared and we found ourselves at 5 games all with one match remaining. With Shirley Whitecross playing Kayla Bettess the question would it be youth or experience that would win the night?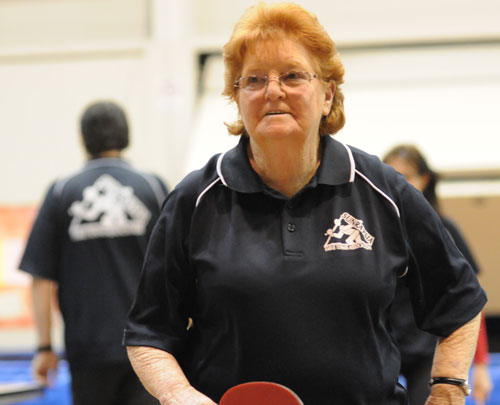 As it turned out Whitecross turned up the heat and won this match convincing in three sets to give MJM a much needed 6-5 win.
– Mallee Meats 6 (Andrew Kremor 3, Jacinta Ljubic, Nathan Beard 1) d Tankard Dental 5 (Matt Sires, Isaiah Bettess 2)
Mallee Meats Skipper Andrew Kremor played well to win his three singles matches but the early night form of teammate Nathan Beard stole the limelight. In the second match of the night Beard played Tankard Dental's Austinn Taylor.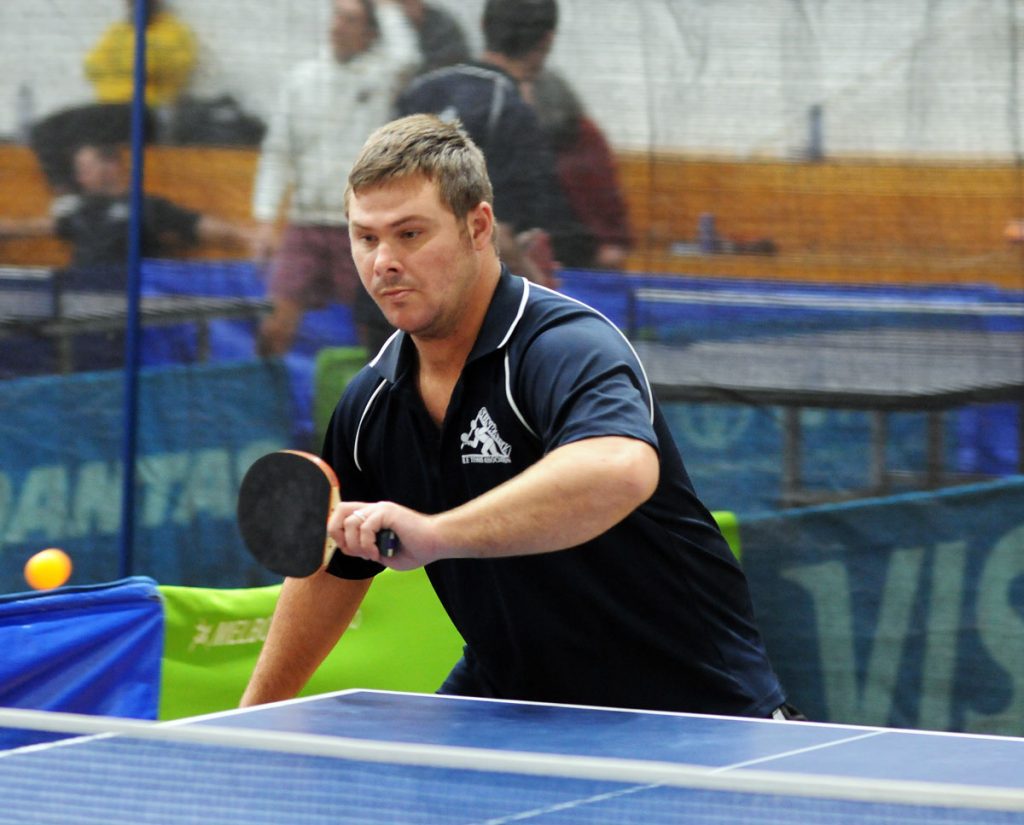 In a tight first set Beard snuck over the line 14-12. Taylor then found his range and took out the next two sets 11-9, 11-8. It seemed that Taylor had the momentum in this match, however Beard steadied and convincing won the fourth 11-3. In a great fifth set battle neither player gave an inch with Beard outlasting Taylor 11-8 that secured an important win for the Butchers. Again Jacinta Ljubic, still riding high from her Country Week success, chipped in with a singles victory and teamed with Kremor to win the second doubles match that really landed a knockout blow to Tankard's chances. Even though Tankard found themselves 3-6 down with two matches to play they battled on and won the last two matches. The end result saw Mallee Meats run out victors 6-5