Read Time:
11 Minute, 45 Second
Close matches were the feature of round four of the Sunraysia Table Tennis "Cash Converters" pennant one competition. As they did in round one Joel Thomas, Matt Avers and Kate Carmichael all won three singles to lead their respective teams to victory.
PENNANT ONE:
– Mallee Bearings 6 (Joel Thomas 3, Mark Ljubic 2) d Tankard Dental 5 (Gavin Carmichael 2, Shane Carmichael, Jackson Tung 1)
Mallee Bearing continued on their undefeated way after recovering from a 2-4 deficit against Tankard Dental. The final score line of 6-5 indicated a close contest. For the victors Joel Thomas again won three matches to lead the singles aggregate and he is the only player not to drop a match.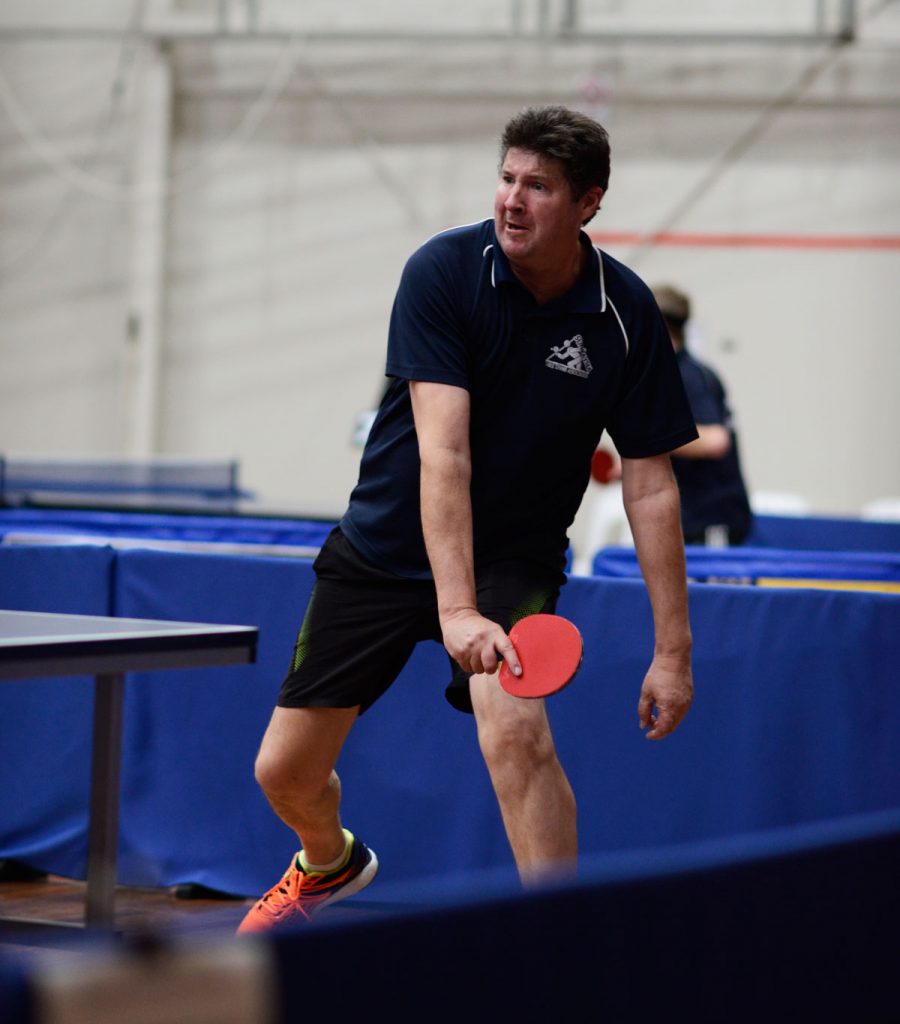 Team mate Mark Ljubic continued to offer good support winning two singles for the fourth round in succession. With his team 2-4 down Ljubic accounted for dangerous opponent Jackson Tung in four sets to commence the comeback by Mallee Bearings.
The first doubles was the highlight match and the only five setter to take place when Tankard's pair Gavin Carmichael and Jackson Tung recovered from a two game to love deficit to go on and defeat Thomas and Ljubic 6-11 8-11 11-8 11-6 11-6.
– Cash Converters 6 (Matt Avers 3, Mark Dorman 1) d Regional Taxation Services 5 (Wayne Carmichael, Reece Kurrle 2, Leslie Ncube 1)
Cash Converters in another close result moved to second on the ladder by defeating Regional Taxation Services 6-5. Success in both doubles was the key to the victory and it was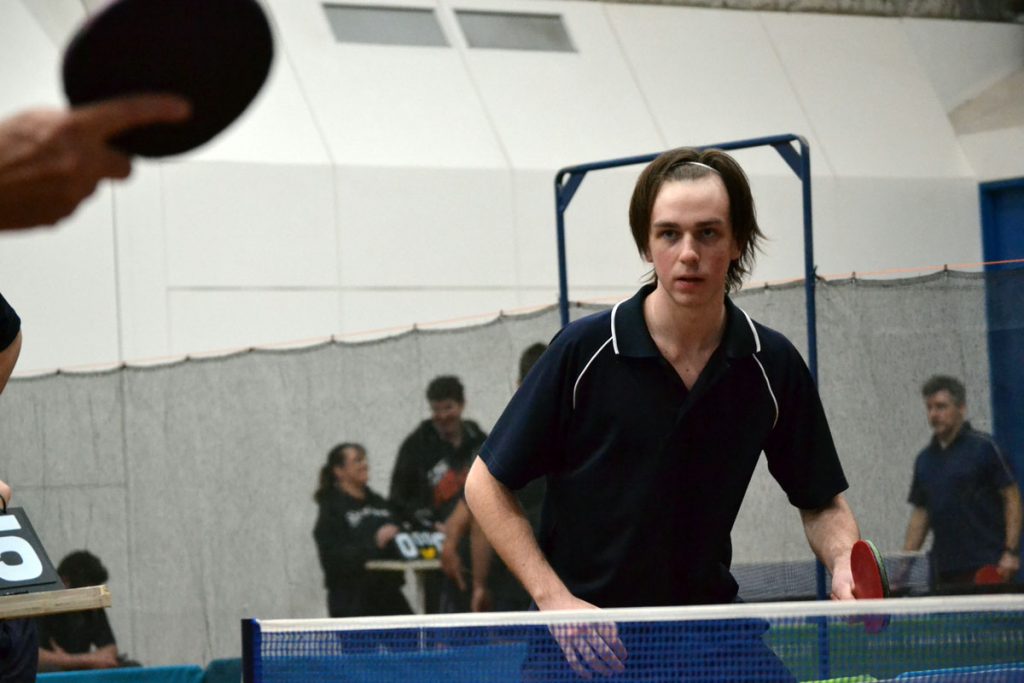 Matt Avers who participated in both as well as winning three singles to make it a successful night for the current Victorian Country Under 18 singles title holder.
For Regional Taxation Services Wayne Carmichael won two singles as did number three Reece Kurrle who displayed his best form for the season.
– Max Miller Carpets 7 (Kate Carmichael 3, Shannon Bowen 2, Leon Brown 1) d Exposed Signage/Apparel 4 (Matt Ljubic 2, Nicholas Dorman 1)
After a quiet round before the school holiday break, Kate Carmichael bounced back this round to win three singles in fine fashion and her team Max Miller Carpets won their second match of the season defeating Exposed Signage/Apparel 7-4.
In the first singles of the night Carmichael defeated Jackson Murphy in four sets. She later combined with Shannon Bowen to defeat Matt Ljubic and Nick Dorman in four sets in the first doubles. Carmichael in a top class singles then accounted for Matt Ljubic in straight sets to give her team a commanding four rubbers to one lead.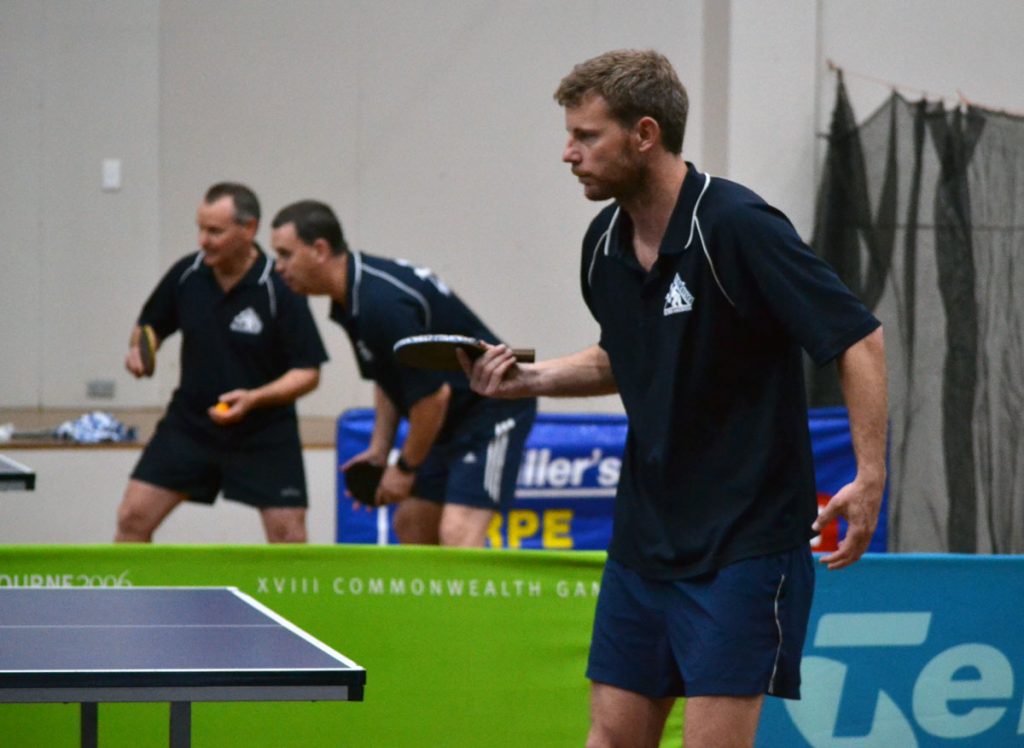 Team mate Shannon Bowen then defeated Jackson Murphy in four sets to give the Carpeter's a superior advantage however Exposed Signage then won three matches in succession to reduce the deficit to 4-5 and give themselves a chance. At this point Carmichael again came to the fore by defeating Nick Dorman in straight sets and when Leon Brown won his first singles for the year over Jackson Murphy, Max Miller Carpets had scored a 7-4 win to retain fourth spot on the ladder.     
PENNANT TWO:
Competition in this pennant is proving very even, with four teams currently on two wins, and all squabbling over second spot, separated only by percentage.
– Mallee Meats 6 (Russell Walder, Sony Sefer 2, Arthur Paar 1) d Max Miller Carpets 5 (Bernadette Fitzpatrick, Tony Malycha 2)
Max Miller Carpets looked to have this game won when leading 5 rubbers to 3 after the second doubles rubber, however Mallee Meats stormed home to steal a 6-5 win.
The game was evenly poised until Tony Malycha swung the pendulum Max Miller's way when he defeated Mallee Meats captain Russell Walder in a thrilling five setter.  Malycha was down two sets to love 8-11, 15-17 but then turned up the wick, and dominated the match in the final three sets 11-8, 11-2, 11-8.
Malycha's captain Bernadette Fitzpatrick followed up with a five set win against Arthur Paar to then make it 4 rubbers to 2.
Then, two rubbers later, Malycha and Fitzpatrick combined to win the second doubles  against Sony Sefer and Arthur Paar to stretch the lead to 5-3.
Mallee Meats however, had kept their best til last, Russell Walder recovering after his loss to Malycha, this time found himself two sets to love down against Fitzpatrick and fought back to take the rubber 4-11, 9-11, 13-11, 11-9, 11-8.  Malycha met his match in Sony Sefer, losing in four, and Arthur Paar finished the job with a straight sets win against Anthony Fox.
Final scores:  6 rubbers to 5 and 25 games to 19.
– Weightmans Packaging 6 (Nick Barlow 3, Andrew Jones 2, Ash Morrison 1) d Cookes Pools & Spas 5(James Chick 2, Lee Thomas 1)
Despite not winning either of the doubles rubbers, Weightmans Packaging took the win here against Cookes Pools & Spas thanks to Weightmans number two Nick Barlow.
Barlow is having a great season, and currently sits as joint leader at the top of the aggregate ladder with Bernadette Fitzpatrick on 10 wins.
Barlow was unbeatable in singles in this game – firstly outlasting Cookes Pools & Spas captain Lee Thomas in the first round of singles winning 11-9, 9-11, 13-11, 11-13, 11-7.  He followed this up with a four set win against Seval Fuat, and in the final round of singles downed opposite number James Chick in five sets again, to level the scores at 5 rubbers all.
Despite Barlow's performance, however, Weightmans Packaging still had to come from behind to take the win.  Captain Ash Morrison had a very quiet night, just scraping a win against Seval Fuat in five sets, then losing to Chick in four, and Thomas in three.
Number three Andrew Jones again had a good night, taking two rubbers.  Jones lost in five sets to Chick before trouncing Thomas in three sets, and after Barlow had levelled at 5 all, Jones sealed the win for his side with a four set win against Fuat.
Cookes Pools & Spas kept themselves in the match with wins in both doubles, one in three sets the other in four, and the performance of James Chick.  Chick only lost to opposite number Barlow, and was the mainstay of the team in this game.
Thomas had an unusually "off" night, losing against Barlow in five sets, getting just 16 points in a three set loss to Jones, but then bouncing back with a three set win against opposing captain Ash Morrison.  Work that one out !!
With this win, Weightmans Packaging now move to outright first on the ladder with three wins, one game clear of four of the other five teams in the competition.
Final scores:  6 rubbers to 5 and 22 games to 23.
– MJM Automotive 8 (Geoff Wright 3, Jason Gifkins 2, Quentin Clark 1) d Pinnacle Packers 3 (Peter Midgley 2, Brendan Alderton 1)
 MJM Automotive captain Geoff Wright has been absent for the first three rounds of this competition, and immediately made his presence felt upon his return in this round.
With his side sitting at the bottom of the ladder with no wins to their credit, Wright rallied his troops to an inspiring 8-3 win against Pinnacle Packers.
Wright was simply unbeatable – three singles wins and partnering his team-mates to both doubles rubbers, the side was set for the boost it needed to get its premiership hopes on track for the season.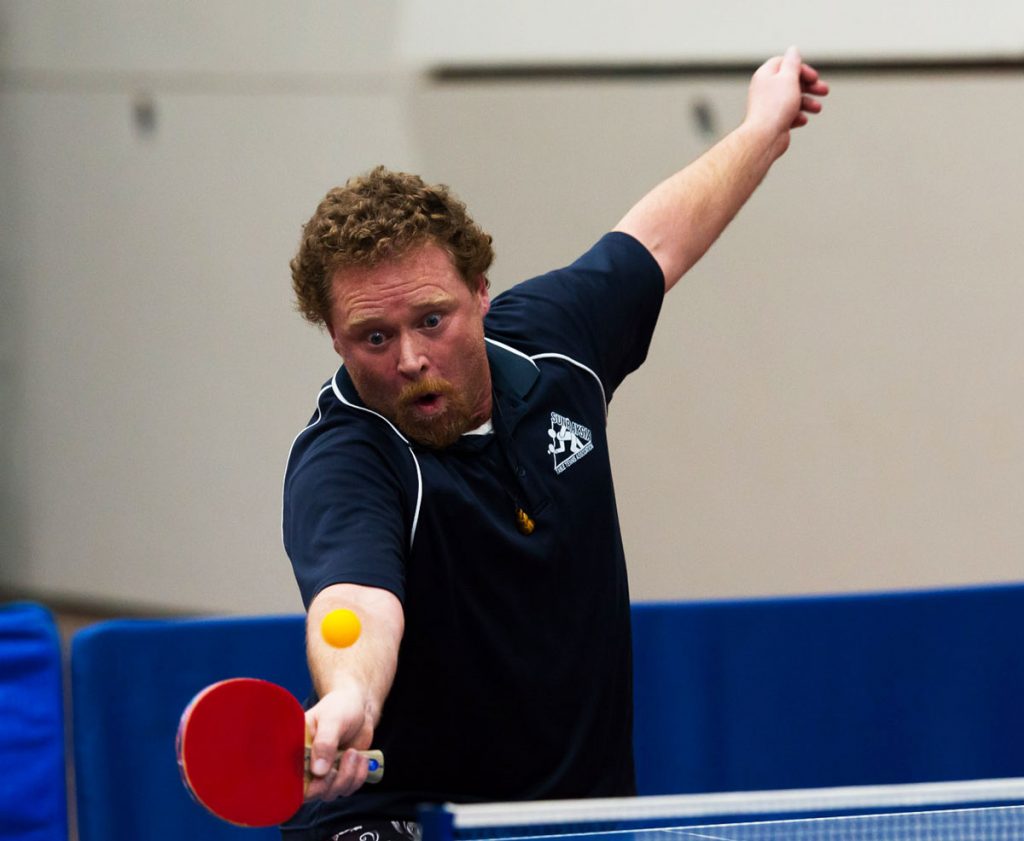 Jason Gifkins had his best night so far, picking up two wins.  After losing to Pinnacle Packers captain Peter Midgley in four sets, Gifkins played a steady game against Kerry Wallace winning that in five, and in the eleventh rubber was too good for the ever consistent Brendan Alderton.
Number three Quentin Clark almost took two rubbers too – he narrowly fell in five sets to his opposite number Brendan Alderton, but came good against number two Kerry Wallace winning a good five setter to take the score to 7-3 in the penultimate rubber.
MJM Automotive took both doubles – Wright and Clark needing only three sets to down Midgley and Alderton, and later Wright and Gifkins defeated Midgley and Wallace in four.
For Pinnacle Packers, only Midgley and Alderton took wins – Midgley against Gifkins and Clark, and Alderton downing Clark in a good five setter.
Final scores:  8 rubbers to 3 and 27 games to 16.
PENNANT THREE:
Sammy's Slammers, Regional Taxation Services and Weightmans Packaging now share the lead in this pennant, with three wins from their four games played.
– Sammy's Slammers 7 (Liam Wood 3, Brice Lock 2, David Sergi 1) d Tankard Dental 4 (John Fitzpatrick 2, Karly Leach 1)
Sammy's Slammers controlled this game from the outset, and Tankard Dental never really got a foothold on the game.
Sammy's Slammers number three Brice Lock had his best night of table-tennis so far,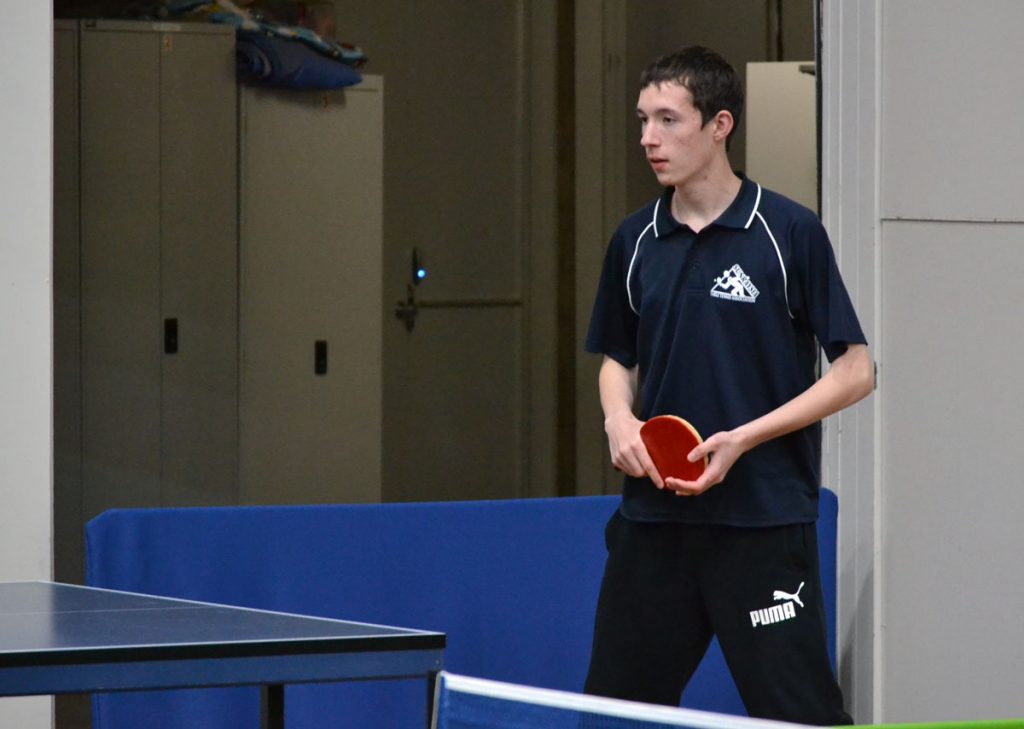 and in winning the first rubber got his side of to a flying start.  Lock was up against Tankard Dental number two Karly Leach, so he knew he was in for a long game.  Nevertheless he took the first two sets 14-12, 11-5, then weathered Karly's comeback when she levelled at two sets all, and in the fifth proved too steady with an 11-7 scoreline in that set.
The second rubber was the first of three that Liam Wood would win for the night.
Tankard Dental took the third rubber courtesy of John Fitzpatrick, Sammy's Slammers then banged on another two rubbers, the first doubles going to Wood and David Sergi over Fitzpatrick and Leach.  Wood then took his second win to give his side at 4-1 lead.  That lead proved the decisive break in the match, as the remainder of the rubbers were shared 3-3.
Wood took his third rubber in defeating Tankard Dental captain John Fitzpatrick, and Lock made it two rubbers when he downed Luke Ljubic in a close four setter 12-10, 11-8, 6-11, 14-12.
So while the number two and three for Sammy's Slammers were clicking up wins, captain David Sergi was held to just one five set win, a win which could have easily gone to his opponent Luke Ljubic.
John Fitzpatrick was the best performed for Tankard Dental with two wins, Karly Leach, after losing in five to Lock early in the night, downed Sergi in the penultimate rubber 9-11, 9-11, 13-11, 11-8, 11-9.
Final scores:  7 rubbers to 4 and 27 games to 19.
– Weightmans Packaging 6 (Jeremy Corrin 2, Dylan Wood, Rohan Reimers 1) d Mallee Meats 5 (Paul Kealley 3, Therese Fitzpatrick 2)
This was the closest contest in this grade this round, with the result coming in the final rubber.
Paul Kealley subbed for absent Mallee Meats captain Peter Fitzpatrick, and played magnificently to take three singles rubbers.  His number two Therese Fitzpatrick ably backed Paul up with two wins to give Mallee Meats a chance of a win.
It was not to be however, as, with both doubles rubbers going to Weightmans Packaging, and Arnold Jago not contributing to the score, Mallee Meats fell one rubber short.
Weightmans Packaging captain Jeremy Corrin played well and improved as he warmed up.  He lost the first set of his first rubber to Arnold Jago 8-11, but then found form taking the next three 12-10, 11-9, 11-3.  After defeating Therese Fitzpatrick in the second round of singles, Jeremy was eyeing off another 3 game haul, but Kealley put a stop to that.
Leading 5 rubbers to 3, Corrin and Kealley played a tense five set contest, Keally winning 11-5, 5-11, 11-8, 8-11, 12-10 to bring the score back to 5-4.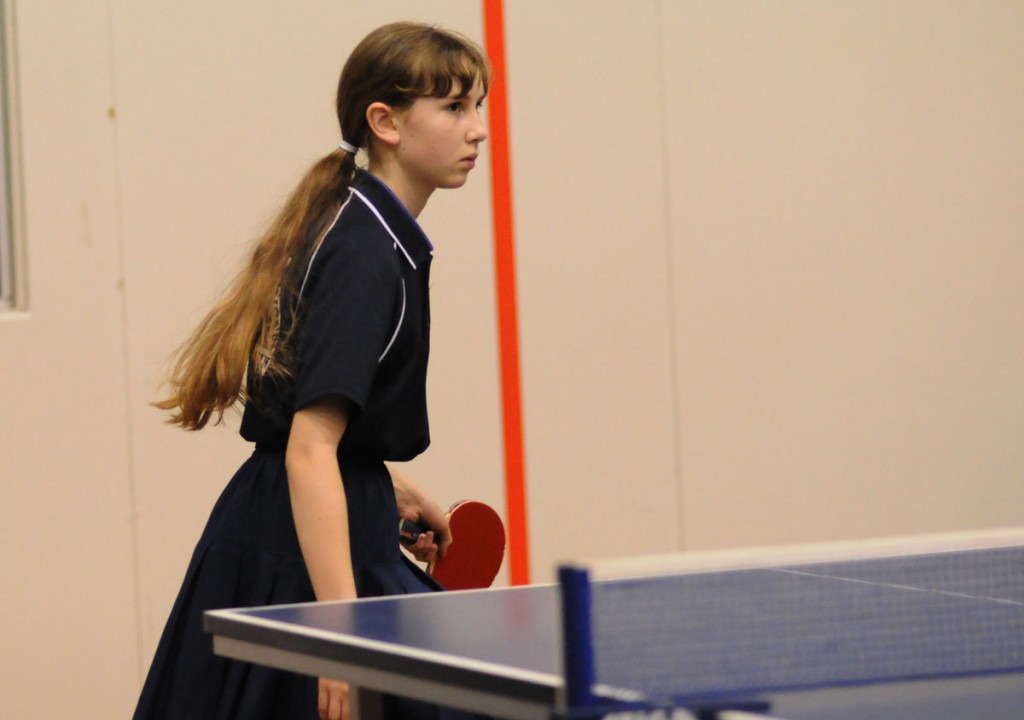 Therese Fitzpatrick then took her second win for the night to square the scores at 5-5 with Rohan Reimers to play Arnold Jago.  Reimers took the decisive rubber in his only win for the night, defeating Jago in four sets 11-7, 12-10, 7-11, 11-4.
Final scores:  6 rubbers to 5 and 22 games to 18.
– MJM Automotive 6 (Tom Morrison 3, Marcus Cimino 2) d Regional Taxation Services 5 (Paul Fitzpatrick 2, Lachlan Prothero, Dave Tanner 1)
MJM Automotive captain Tom Morrison had a stand-out night in leading his team to a 6-5 win against the previously undefeated Regional Taxation Services.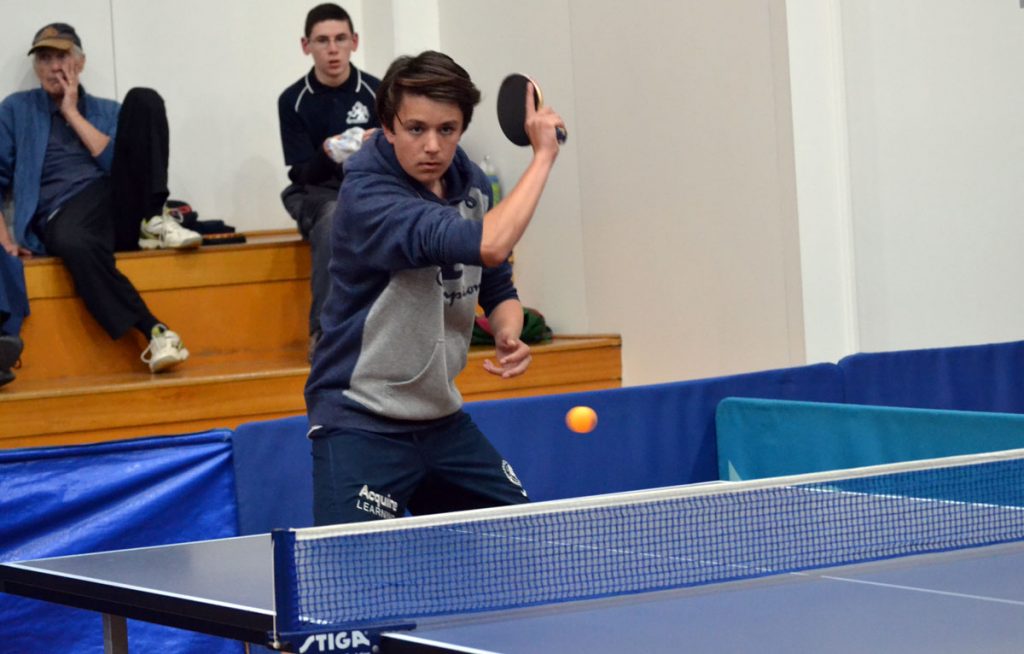 Morrison certainly did not have it all his own way though … Lachlan Prothero had Morrison's measure early in their match, leading 2 sets to love 12-10, 11-3.  Morrison fought back in the final three sets taking them 11-5, 11-8, 11-9.  His most important win came in rubber number nine when he met opposing captain Paul Fitzpatrick.  Another five setter, with Fitzpatrick leading two sets to one, but Morrison once again fought back to eventually win 11-7, 8-11, 8-11, 11-5, 13-11.  That made the score 5-4 and with Marcus Cimino subbing for Sabrina Fitzpatrick, and having a good night to boot, MJM Automotive secured the win with Cimino besting Prothero in four sets.
With a doubles rubbers shared, that was enough for MJM; Dave Tanner filling in for Huseyin Ismail then took the last for Regional Taxation Services with a win against Nick Kiapekos in a very close-run five setter 11-8, 8-11, 11-13, 11-7, 12-10 and leave the score at 6-5.
Final scores:  6 rubbers to 5 and 24 games to 21.
PENNANT FOUR:
– Mallee Meats 6 (Andrew Kremourn, Jacinta Ljubic 2, Nathan Beard 1) d Cookes Pools & Spas 5 (Matt Cherry 3, Miya Lock 1)
– Tankard Dental 6 (Matt Sires, Isaiah Bettess 2, Austinn Taylor 1) d Dunkley Scales 5 (Kim Avers, Karl Whitney 2)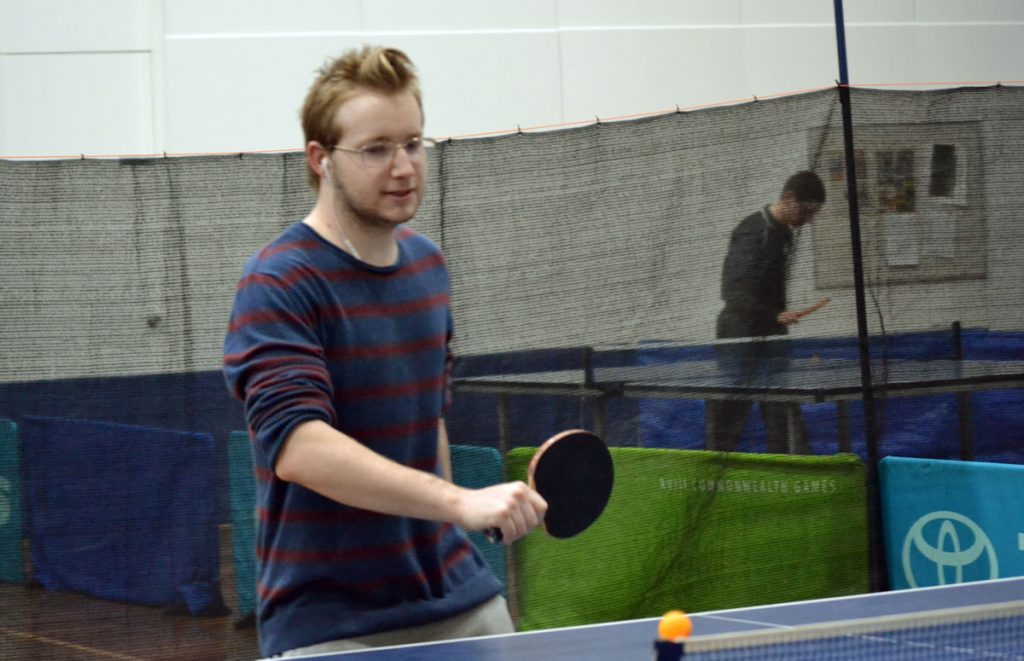 For further information on Table Tennis contact Gavin Carmichael 0408 237 907.