Read Time:
10 Minute, 25 Second
PENNANT ONE:

Table Tennis is up and running again with the commencement of the first senior pennant for 2018.Round one of the "Cash Converters" Sunraysia Table Tennis winter pennant has commenced at the Irymple Leisure Centre with twenty-three teams taking part over four pennants. President Mark Ljubic is pleased with the numbers and in particular he is impressed with the standard in pennant one and the evenness in other grades. Ljubic is enthused by the number of younger players in all grades who are on the improve and all looks well for the coming season.

The highlights of round one featured Joel Thomas, Kate Carmichael and Matt Avers all winning three singles to help their team grab the four points in pennant one results. Carmichael won two five setters by the barest of margins while Avers had to fight back from a two game to love deficit against Matt Ljubic. Their matches over the past year have been a real show case for table tennis with many top class rallies for the spectators.
– Mallee Bearings 7 (Joel Thomas 3, Mark Ljubic 2, Ed Hung 1) d Regional Taxation Services 4(Wayne Carmichael 2, Reece Kurrle 1)
The Mallee Bearings trio of Joel Thomas, Mark Ljubic and Ed Hung won three, two and one singles respectively to score a 7-4 victory over Regional Taxation Services. This victory enables them to head the ladder albeit by percentage. Mallee Bearings were in trouble early trailing 1-3 and later 2-4 before they stormed home winning the last 5 rubbers in a strong display.

For RTS Wayne Carmichael showed glimpses of good form on his return to match play after a recent hip operation and managed to take a game from Joel Thomas before Thomas prevailed in four. 
For Regional Taxation Services Reece Kurrle showed some good signs winning the first match of the night against Ed Hung and then in the first doubles Kurrle partnered Carmichael to an 11-8 13-11 10-12 11-9 victory over Thomas and Mark Ljubic.
– Cash Converters 6 (Matt Avers 3, Mark Dorman 2, Kevin Johns 0) d Exposed Signage/Apparel 5 (Matt Ljubic 2, Nicholas Dorman, Jackson Murphy 1)
For Regional Taxation Services Reece Kurrle showed some good signs winning the first match of the night against Ed Hung and then in the first doubles Kurrle partnered Carmichael to an 11-8 13-11 10-12 11-9 victory over Thomas and Mark Ljubic.
In a close contest Cash Converters defeated Exposed Signage/Apparel 6-5 and it was two crucial five set results which aided the Converters to victory. The first was the match between Converters Mark Dorman against son Nicholas.

A see sawing match resulted with Dorman senior gaining the ascendancy early winning the first two games only to see Nick recover to level the match before the experienced Mark gathered his thoughts to go on and win 11-9 11-6 5-11 3-11 11-8. In a further five set slug fest Converters skipper Matt Avers had his hands full up against the exciting Matt Ljubic. Ljubic with powerful forehands took the first two games before Avers lifted to win in five sets 7-11 4-11 11-3 11-7 11-8. This was an outstanding match and something that is becoming common when these two step up to the table.
For Exposed Signage Ljubic won two singles while Nick Dorman and Jackson Murphy won one each. The doubles were shared and with Avers winning three for Cash Converters and Mark Dorman two it was enough for the Converters to narrowly take the points.
– Max Miller Carpets 6 (Kate Carmichael 3, Shannon Bowen 2, Darren Robinson 0) d Tankard Dental 5 (Gavin Carmichael 2, Jackson Tung, Leslie Ncube 1)
Led by Kate Carmichael winning three singles and Shannon Bowen two, Max Miller Carpets started their season with a 6-5 victory over Tankard Dental. Carmichael continued her excellent form from last season's grand final by defeating father Gavin in the first match of the night. This went to a close fifth, but Kate playing her trusty back hand very well along with some excellent forehands when needed, proved too good winning 12-10 12-10 10-12 10-12 11-9 in a thriller.
Later in the last result of the night she matched up against Jackson Tung and this went to the wire with Tung clawing back to ten all in the fifth before Carmichael took the final two points to win 11-2 4-11 11-6 6-11 12-10.
Overall there were 6 five set results in this match with both doubles going the full distance with a win to each team.     
  PENNANT TWO:

Only one of these matches had a full complement of permanent players, so results here may not necessarily mean too much.
– Mallee Meats 7 (Arthur Paar, James Chick 2, Russell Walder 1) d Weightmans Packaging 4 (Ash Morrison, Nick Barlow 2)
Mallee Meats defeated Weightmans Packaging in a game where Sony Sefer was absent, James Chick subbing for him.  Chick was actually the pick of the players on the winning team – the two games he won, he finished in the minimum three sets, and the one he lost, he went down in five.  Oh, and he was playing for his own team too, Cookes Pools and Spas – and he won all his matches there too!
Arthur Paar, who had a fairly miserable time of it in the last pennant, not able to find form, chipped in with two rubbers here, and captain Russell Walder, usually a model of consistency, could only win one.  That gave his side five rubbers, but when both doubles also came their way, Mallee Meats took the win easily.  In fact the game was won after the second doubles – at that stage, the victors had conceded just two rubbers (Chick going down to Ash Morrison in five, and Walder in three to Nick Barlow).
Final scores:  7 rubbers to 4 and 25 games to 17.
– Pinnacle Packers 7 (Brendan Alderton, Kerry Wallace 2, Peter Midgley 1) d Max Miller Carpets 4 (Bernadette Fitzpatrick 3, Tony Malycha 1)
Pinnacle Packers took this game seven rubbers to four, and like the game just mentioned, had the game won after the second doubles.
Having said that, this could have quite easily been a win to Max Miller Carpets.  Consider a couple of things – six of the eleven rubbers went to five sets, Pinnacle Packers winning four of them, and Pinnacle Packers captain Peter Midgley was restricted to just one singles rubber; both his team-mates Kerry Wallace and Brendan Alderton outscored him, winning two apiece.  Head shaking time!
At the other end of the table, Max Miller Carpets captain Bernadette Fitzpatrick returned with a haul of three singles wins, and in losing both doubles in five sets, gave her team a real shot at a win.
Only Tony Malycha could add to Bernadette's tally, with a three set 11-8, 11-5, 15-13 win against the hapless Midgley.
Final scores:  7 rubbers to 4 and 26 games to 21.
– Cookes Pools & Spas 8 (Lee Thomas, James Chick 3, Seval Fuat 1) d MJM Automotive 3 (Adrian Fox, Quentin Clark 1, Jason Gifkins dnp)
 A couple of disclaimers here – MJM Automotive captain Geoff Wright was absent, with Adrian Fox subbing for him.  Also, MJM Automotive number two Jason Gifkins failed to show, and so his three singles and one doubles rubbers were forfeited to Cookes Pools & Spas.
So with that gift of four rubbers, it was hard for Cookes Pools & Spas not to win, which they duly did, taking four of the remaining seven rubbers.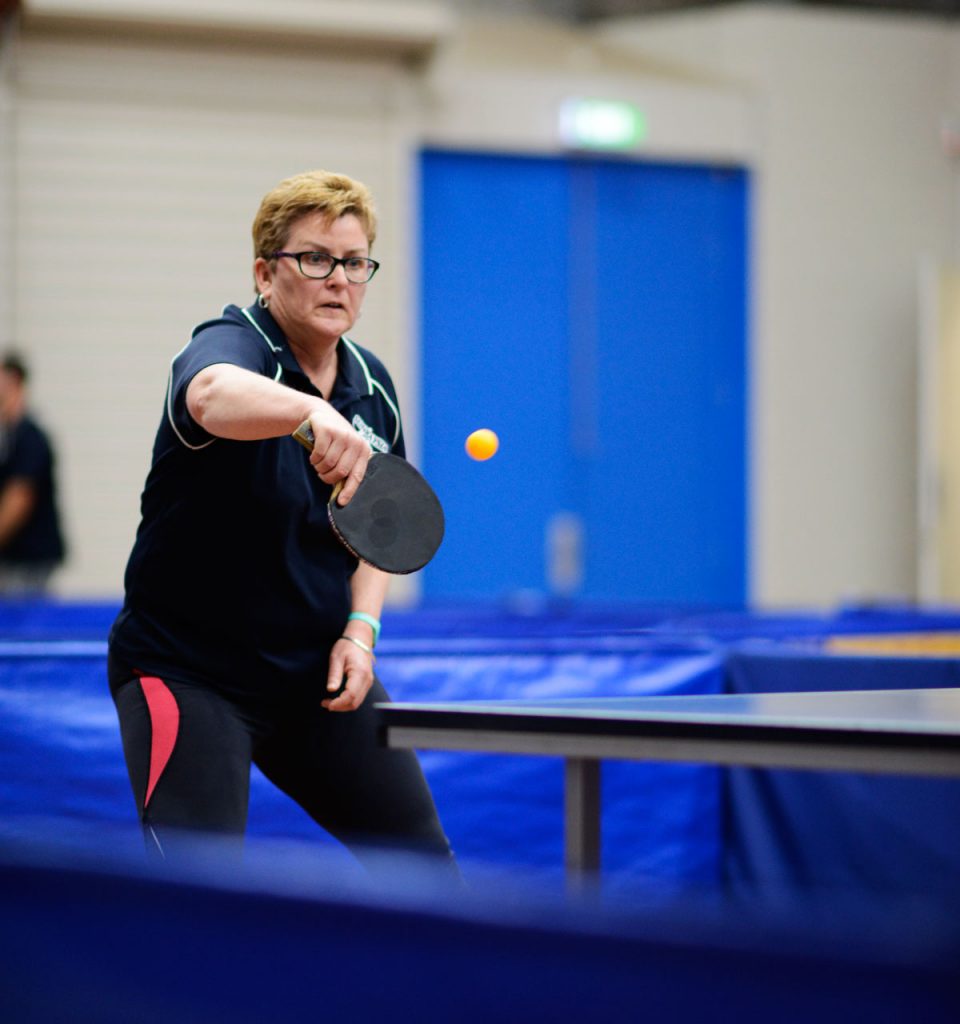 Lee Thomas and James Chick both scored three wins, and Seval Fuat one.  Thomas and Chick benefited in the second doubles with one of the forfeit matches.
For MJM Automotive, Adrian Fox and Quentin Clark both defeated a very determined Seval Fuat in five sets, and in the first doubles they paired to defeat Fuat and Thomas 11-6, 11-6, 10-12, 12-10.
Final scores:  8 rubbers to 3 and 29 games to 16.
PENNANT THREE:

The Pennant Three season got off to a steady start, with all matches keenly contested.
– MJM Automotive 6 (Tom Morrison, Sabrina Fitzpatrick 2, Nick Kiapekos 1) d Tankard Dental 5 (John Fitzpatrick 2, Karly Leach, Luke Ljubic 1)
All six players in this game took one singles rubber during the course of the night, and MJM Automotive proved just a little too strong for Tankard Dental.
For MJM Automotive, both Tom Morrison and Sabrina Fitzpatrick won two rubbers, Morrison defeating Tankard's number 1 and 3, but losing to number 2 Karly Leach.  This turned out to be Karly's only win for the night, and in her usual determined way, Karly did not let Morrison settle into his game, winning 12-10, 12-10, 12-14, 12-10.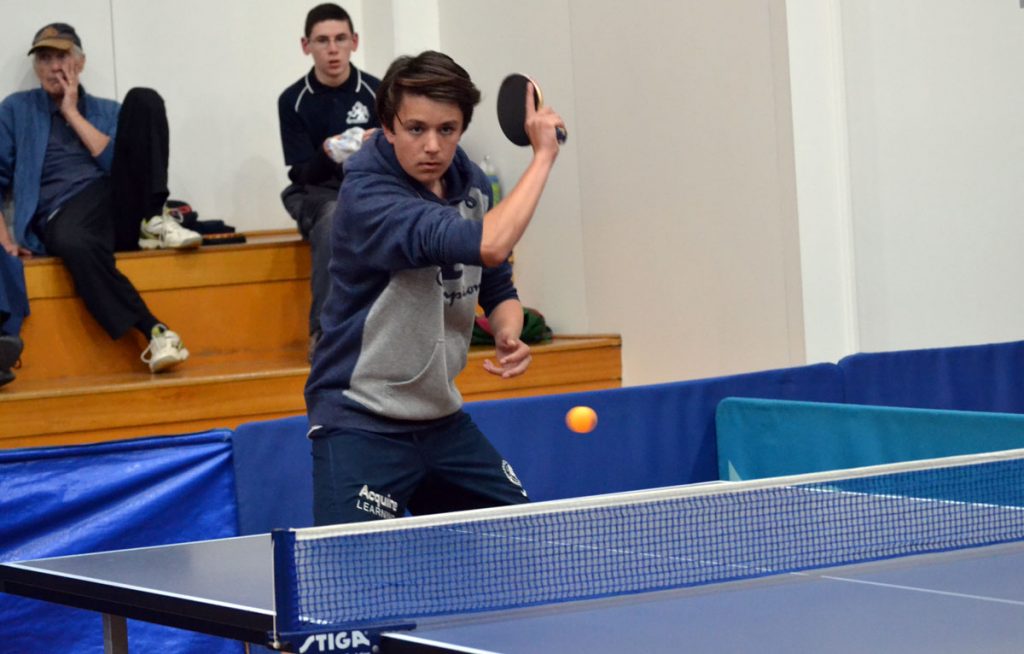 Morrison's victory against opposing captain John Fitzpatrick was crucial, his 12-14, 11-7, 11-7, 11-7 win giving his side to a 5-4 lead after the ninth rubber.  Sabrina defeated Leach and number three Luke Ljubic, but was not match for son John.  MJM Automotive number three Nick Kiapekos won the opening rubber against Leach, but fell to his opposite number Ljubic in a close three setter10-12, 9-11, 10-12.
Tankard Dental took the other four singles rubbers, John Fitzpatrick with two, Leach and Ljubic one each.
With the doubles shared, this game was tight and close all night, and was not decided until the tenth rubber.
Final scores:  6 rubbers to 5 and 20 games to 19.
– Weightmans Packaging 7 (Dylan Wood, Rohan Reimers, Jeremy Corrin 2) d Sammy's Slammers 4 (Liam Wood 3)
Weightmans Packaging took the win here with two wins apiece to each player, but it was Sammy's Slammers number 2 Liam Wood who put everyone on notice that he is going to be a force to be reckoned with in this competition.
In just his first season of competition table tennis, Wood threw down the gauntlet to apparently better-credentialed players.  Liam comes from a tennis-playing background, so he does have some hand-eye co-ordination skills, even so he disposed of both Jeremy Corrin and Rohan Reimers in four sets, and it was only his brother Dylan, playing for Weightmans Packaging, who extended Liam to five sets.  With a win in the first doubles with his captain David Sergi, Wood's influence on this game is clear.
However, even with Wood winning these four rubbers, Sammy's Slammers fell away badly.  Neither Sergi nor Brice Lock could snare a win and so the score card for Weightmans Packaging was a reflection of that.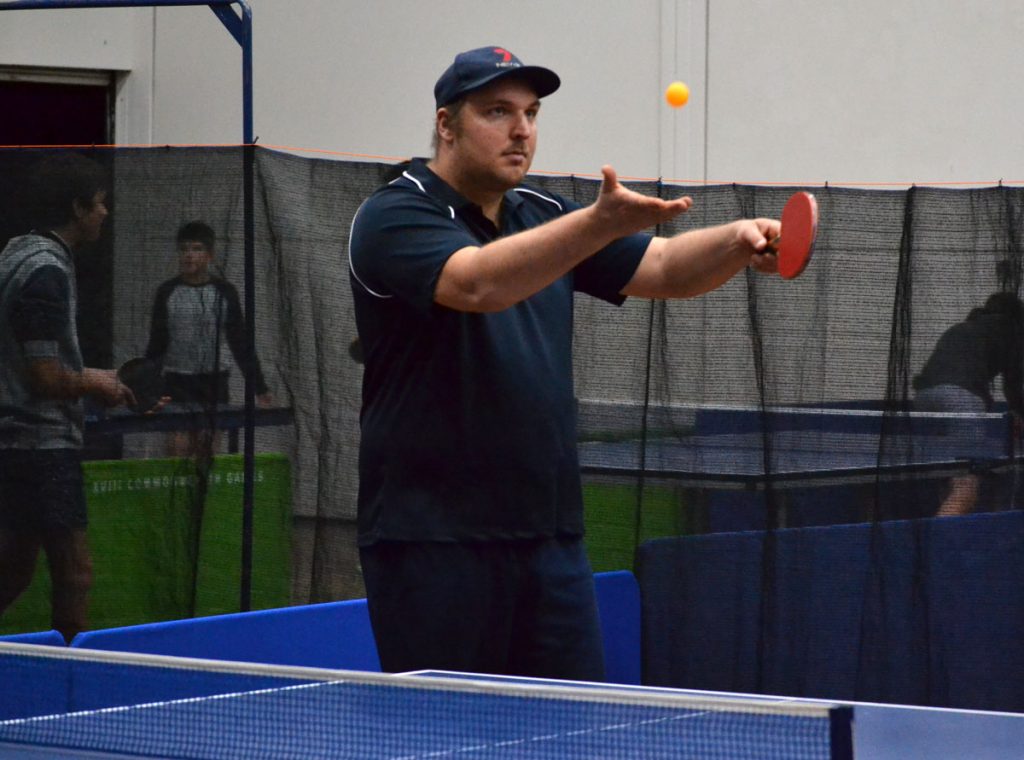 Corrin, Dylan Wood and Reimers all defeated Sergi and Lock, giving them six singles rubbers, and when the second doubles fell their way too, it became seven.
Final scores:  7 rubbers to 4 and 27 games to 19.
– Regional Taxation Services 8 (Paul Fitzpatrick 3, Marcus Cimino 2, Husseyin Ismail 1) d Mallee Meats 3 (Peter Fitzpatrick 2, Therese Fitzpatrick 1)
Thanks to their captain Paul Fitzpatrick, Regional Taxation Services won this game in a canter.
Fitzpatrick dropped only one set in singles play, and this to his sister Therese, and took control of the doubles rubbers.  Despite being two sets to love down in the first doubles against his father Peter, and sister Therese, Paul and Marcus Cimino won in five 9-11, 10-12, 11-8, 14-12, 11-7.  The second doubles rubber also went to the winners, young Fitzpatrick and Husseyin Ismail too good for Peter Fitzpatrick and Kim Avers, winning in four.
So there is five rubbers, Cimino took two good four set wins against Therese and Kim to make seven, and Ismail also downed Avers in the final rubber in straight sets to make it eight rubbers to three.
Final scores:  8 rubbers to 3 and 29 games to 12.
PENNANT FOUR:
– Mallee Meats 7 (Greg Hamilton, Andrew Kremourn 3) d Tankard Dental 4 (Miya Lock, Austin Taylor, Isaiah Bettess 1)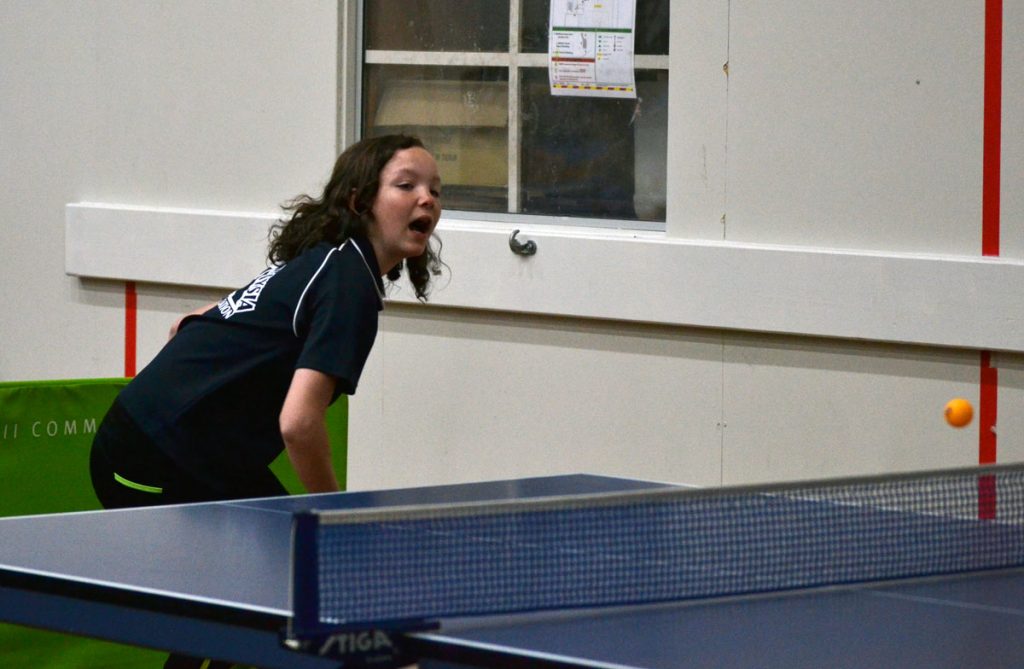 – Cookes Pools & Spas 8 (Matt Cherry, Matt Sires 3) d MJM Automotive 3 (Dave Tanner, Karl Whitney, Shirley Whitecross 1)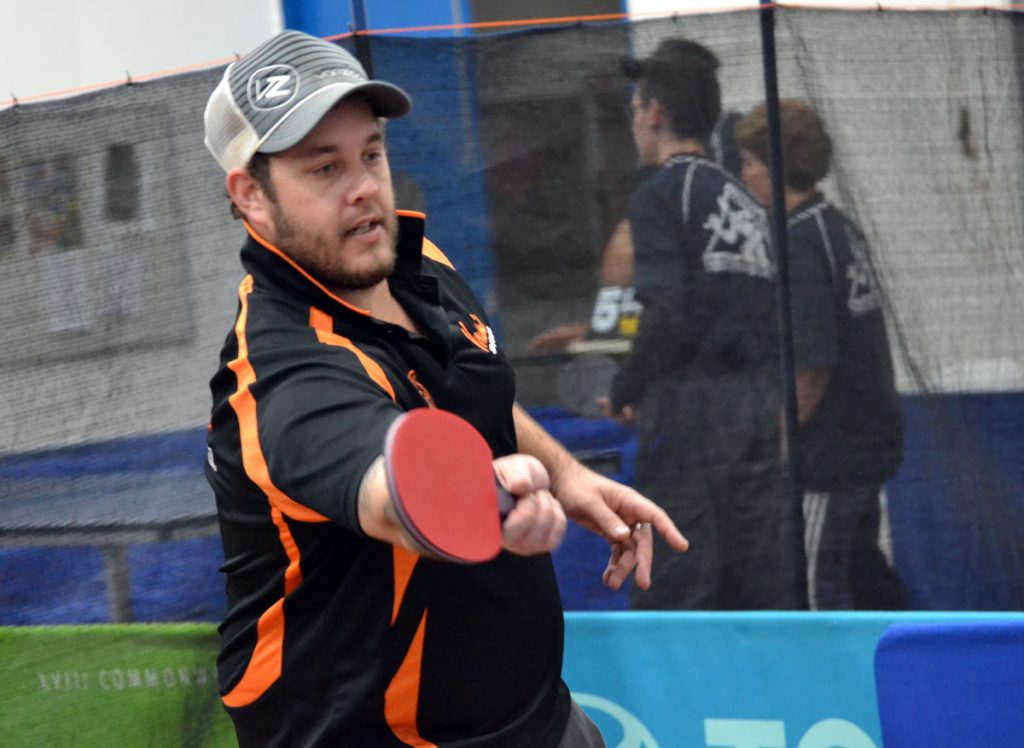 For further information on Table Tennis contact Gavin Carmichael 0408 237 907.