Read Time:
11 Minute, 51 Second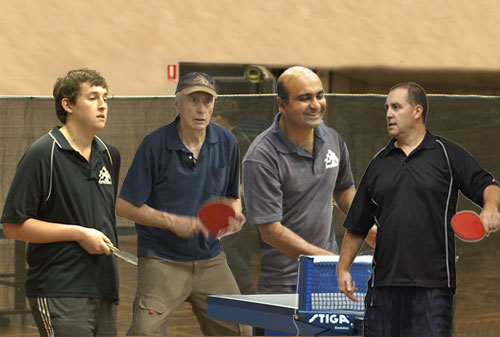 PENNANT ONE
The younger generation showed the way in round seven action of the Sunraysia Table Tennis winter pennant with the three youngest players in pennant one recording excellent singles victories over more seasoned opponents.
Weightmans Packaging seventeen year old Joel Dorman caused the first big upset of the round when he recorded the best win of his short pennant one career when he defeated long time champ Wayne Carmichael in four stunning sets. Carmichael won the first game however Dorman then took control hitting many winners on his way to an impressive 7-11 11-8 11-4 11-7 victory. Dorman, like Carmichael a fellow leftie, has always possessed a style of his own and an excellent attacking game and when on song hits the ball harder than any other player in the competition. In this match he was definitely on and this will be an excellent confidence booster for him for the remainder of the season.
Young Dorman went on to be a match winner winning three singles and teaming with Graeme O'Neill in the second doubles to defeat Carmichael and Kevin Johns 11-6 2-11 12-10 11-8. With the scores at five all O'Neill was able to get his team over the line when he defeated fellow veteran Kevin Johns 11-8 7-11 11-7 12-10 to give Weightmans their first win of the season. Previously they had lost four matches 5-6 indicating how close they had been to breaking through.
For Mallee Bearings Wayne Carmichael won two singles and teamed with Jackson Tung to win the first doubles in a tough five setter against Andrew Cannard and Dorman however they fell one rubber short on the night. Nineteen year old Tung, although overshadowed by Dorman, also had an excellent night himself. In his first match he took on the experienced Graeme O'Neill and in a marathon took the points 4-11 12-10 9-11 12-10 15-13. Later he then recorded his best win in pennant one when he defeated opposing number one player Andrew Cannard winning another exciting five setter 7-11 11-8 11-9 9-11 11-9 an excellent victory!
Thirteen year old Dillon Chambers won three singles for Fishers IGA against Pinnacle Packers however his team went down 5-6 as they were unable to win a doubles. Chambers again played excellent table tennis and for the first time in competition play he defeated both Mark Ljubic and Gavin Carmichael. Against Ljubic he won in straight sets 11-7 11-2 11-6 as his game goes from strength to strength. His win over Gavin Carmichael was even more meritorious given he trailed two games to love. Under pressure in the third he steadied hitting two magnificent forehand winners to take the last two points and stay in the match. He then went on to show maturity beyond his years recording an excellent win under pressure 10-12 6-11 11-9 13-11 11-9 in a titanic struggle. Earlier Chambers team mate Shane Carmichael caused an upset when he methodically accounted for brother Gavin Carmichael for the second time in competition play when he won 12-14 11-7 11-13 12-10 11-8 in an impressive display.
For the second time in as many weeks Mark Ljubic for the Packers played a key role for his team winning two singles and also the doubles he participated in to get his team over the line. In the first match of the night team mate John Gray scored a crucial victory over Gavin Minter 7-11 11-9 6-11 11-6 11-9 to enable the Packers to thwart a brave bid by Fishers.
PENNANT TWO
All results in this pennant were 7-4 and they could have all gone the other way as five setters continue to be the norm for pennant two. In all there were 10 five set matches and of these six were decided by the barest margin i.e. two points. Only two wins separate the top four sides in an even competition.
Spanline vs. Fishers IGA
Fishers took the points here 7-4 over Spanline and in doing so opened up a small gap in second position on the ladder. Skipper Lee Thomas for the second time in three rounds won three singles and in the past three rounds has only lost one match. She along with Peter Midgley are the form players of the past three weeks. Lethal Lee after dropping the first game 4-11 against opposing number one Daniel Jansen fought back to take the match 11-7 11-4 11-3.
Thomas's team mates Robert Chiswell and Nick Barlow continue to offer good support winning two and one singles respectively. Barlow teamed with Thomas in the first doubles winning 11-9 4-11 8-11 11-9 11-9 against Jansen and Anthony Fox in an important result. Robert Chiswell also took the points in another close five setter against Anthony Fox 9-11 11-7 9-11 11-6 11-9.
Tankard Dental   vs. Max Miller Carpets
With number two player Damien Ford again winning three singles ladder leaders Tankard Dental proved too good for Max Miller Carpets winning 7-4 in a tremendous struggle which included five five set matches. Four of the five setters were won by Tankards which indicates the Carpeters were in the contest all the way.
Ford has now won three singles on four occasions in seven rounds. He was able to get his team off to a good start when he won an entertaining match against Ashley Morrison 13-15 7-11 11-8 11-9 14-12. In the first doubles Ford and skipper Andrew Jones won another five setter against Morrison and Abraham McDonnell 11-6 11-4 9-11 8-11 11-7.
In the battle of the McDonnell brothers Abraham scored a five set victory over Samuel in a marathon 12-14 11-4 8-11 11-8 12-10 to claim bragging rights on the trip home to Walpeup. Tankard Dental skipper Andrew Jones scored two singles wins and with his team winning both doubles he would be happy with the way his team is performing.
For Max Miller Carpets Ash Morrison was again their best player winning two singles just missing out on a third in his narrow loss to Ford.
Pinnacle Packers vs. Mallee Bearings      
With a solid 7-4 victory over Mallee Bearings, Pinnacle Packers have given themselves some breathing space in the top four. In an even display Peter Midgley, Arnold Jago and David Balshaw won three, two and one singles respectively to take the points.
Mallee Bearings took an early 2-1 lead courtesy of two five set wins by Sony Sefer and Matt Burns over opponents Arnold Jago and David Balshaw respectively however they were unable to sustain this momentum. The Packers levelled the match when Midgley and Jago combined to defeat Arthur Paar and Sony Sefer 8-11 11-9 8-11 14-12 11-9.
From this point the Packers were able to control the match and run out comfortable winners
PENNANT THREE
Fishers IGA vs. Pinnacle Packers
Top of the table Pinnacle Packers scored a solid 8-3 victory over fourth placed Fishers IGA to go one win clear at the top of the ladder. The Packers Colin Moore continued his consistent season winning three singles for the second time. His match against Laurie Plummer was a beauty which went to five sets in Moore's favour 12-10 9-11 11-8 8-11 13-11.
The first doubles was another five setter when Tom Murphy and Steve Pongrac got together in the first doubles to defeat Laurie Plummer and Gary Hughes 11-13 12-14 11-8 12-10 12-10. This was close all the way and what a marathon it was.
For the Packers fill in Tom Murphy and Steve Pongrac supported Moore winning two and one singles respectively while Laurie Plummer won two for Fishers.
Weightmans Packaging vs. Mallee Bearings
Third placed Weightmans Packaging with a 7-4 win replaced their opponents Mallee Bearings in second place on the ladder. This was a spirited win with skipper Jackson Murphy winning three singles while team mates Darren Greaves and Zubair Shahzad both won two singles each.
This was a big turn around from when these two teams met last round. On that occasion Mallee Bearings were victorious and both Greaves and Shahzad scored ducks. Shahzad, who had his best night for the season, got his team off to a magnificent start with a five set win over Peter Fitzpatrick 7-11 9-11 11-9 11-8 11-9 a great comeback after being two games to love down. Later Shahzad recorded another tremendous victory this time defeating Tahir Shahzad 9-11 10-12 11-5 12-10 12-10 and again coming from two games to love down.
This is a match that Mallee Bearings will need to put behind them. They were successful in both doubles and still sit third on the ladder with a team that on paper looks like it should play finals table tennis. For Weightmans this was a big confidence booster. Jackson Murphy has now opened up a good break in the singles aggregate race.
PENNANT FOUR
Two 6-5 results in pennant four this week indicates close matches with Mallee Bearings recording their first win for the season which could now give them the confidence to get their season up and running.
Fishers IGA vs. Max Miller Carpets
Fishers IGA kept their undefeated run in tact with a 6-5 victory over the hardworking Max Miller Carpets. This was a great match and the closest result for Fishers this season indicating that the other teams may be closing the gap.
The Carpeters had Fishers under pressure early leading at one stage three rubbers to one to get off to a flyer and then later they were up 4-2 before the top team steadied to level the match at five rubbers all when Fishers number three remained calm to win in three sets to give Fishers the narrowest of victories.
Fishers skipper Sabrina Fitzpatrick and team mate Andrew Lewis both won two singles and combined to win the first doubles 4-11 11-6 11-5 11-5 against Brian Hosking and Gabriel McDonnell. Again Hosking won three singles however both Lewis and Fitzpatrick played well against the aggregate leader. Lewis went down in a hard fought three setter 6-11 9-11 9-11 while Fitzpatrick grabbed the first game against Hosking before going down 11-6 5-11 6-11 11-13.
Fishers now remain undefeated after seven rounds and after their defeat of second placed Max Miller Carpets they sit three wins clear of their closest opposition.
Bishop Builders vs. Mallee Bearings
In an exciting result Mallee Bearings recorded their first win for the season defeating Bishop Builders 6-5. Mallee Bearings skipper Karly Leach was instrumental in the victory winning three singles while team mate Mick Bacon won two important singles.
With their team trailing 3-4 Leach and team mate Kerryn Symons lined up in the all important second doubles against Nikki Mayger and Sam Hensgen and what a thriller this was with Leach and Symons leveling the match at four rubbers all by winning 7-11 11-9 11-4 7-11 11-6. Kerryn showed great focus considering news was spreading around the stadium that a date had been announced for her marriage to pennant three player Darren Greaves. Congratulation Kerryn and Darren!!!
Back to the table tennis – the match was now in the balance with the two skippers Mayger and Leach stepping up to the table and spectators witnessed another five set match of concentration. Mayger took the early ascendancy before Leach fought back. In an excellent victory Karly grabbed the points 7-11 11-9 11-4 11-7 11-8. Mallee Bearings were now in front 5-4.
The Builders Jeremy Corrin now matched up against Mick Bacon. In their previous encounters this season Corrin had been able to take the points on both occasions and when he won the first 11-1 it looked like he would take the points again however the determined Bacon turned the match around indicating the improvement he has made since beginning this season. In a tough final three games Bacon was successful 11-8 11-9 11-7 to give Mallee Bearings their first success for the season much to the delight of his team mates.
Sunraysia Table Tennis Winter Pennant results round 7: –
PENNANT ONE:
– Weightmans Packaging 6 (Joel Dorman 3, Andrew Cannard, Graeme O'Neill 1) d Mallee Bearings 5 (Wayne Carmichael, Jackson Tung 2);
– Pinnacle Packers 6 (Mark Ljubic 2, John Gray, Gavin Carmichael 1) d Fishers IGA 5 (Dillon Chambers 3. Shane Carmichael 2)
PENNANT TWO:
– Fishers IGA 7 (Lee Thomas 3, Robert Chiswell 2, Nick Barlow 1) d Spanline 4 (Daniel Jansen 2, Anthony Fox 1);
– Pinnacle Packers 7 (Peter Midgley 3, Arnold Jago 2, David Balshaw 1) d Mallee Bearings 4 (Mathew Burns, Sony Sefer, Arthur Paar 1);
– Tankard Dental 7 (Damien Ford 3, Andrew Jones 2) d Max Miller Carpets 4 (Ashley Morrison 2, Trevor Gebert, Abraham McDonnell 1)
PENNANT THREE:
– Weightmans Packaging 7 (Jackson Murphy 3, Darren Greaves, Zubair Shahzad 2) d Mallee Bearings 4 (Tahir Khurshid, Alex Keegan 1);
-Pinnacle Packers 8 (Colin Moore 3, Tom Murphy 2, Steve Pongrac 1) d Fishers IGA 3 (Laurie Plummer 2, Gary Hughes 1)
PENNANT FOUR:
– Mallee Bearings 6 (Karly Leach 3, Mick Bacon 2) d Bishop Builders 5 (Nikki Mayger 2, Jeremy Corrin, Sam McDonnell 1);
-Fishers IGA 6 (Brian Hosking 3, Gabriel McDonnell, Leonie Dunkley 1) d Max Miller Carpets 5 (Sabrina Fitzpatrick, Andrew Lewis 2)
MALLEE BURGER PLAYERS OF THE ROUND
PENNANT ONE: Joel Dorman
PENNANT TWO: Arnold Jago
PENNANT THREE: Zubair Shahzad
PENNANT FOUR: Mick Bacon
For further information on Table Tennis contact Gavin Carmichael 0408 237 907 or 5023 7907.