Read Time:
10 Minute, 18 Second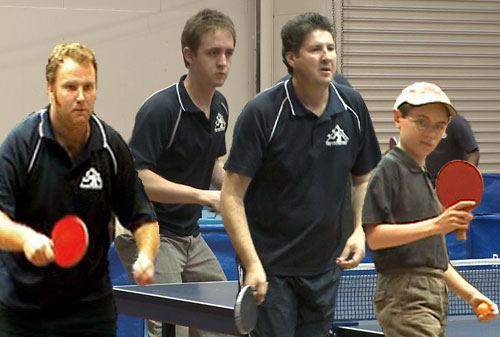 PENNANT ONE
After losing their past two matches Pinnacle Packers have managed to get their season back on track with a hard fought 6-5 victory over the luckless Weightmans Packaging in round six action of the Sunraysia Table Tennis winter pennant.
The Packers have moved to second position on the ladder by percentage with this victory and Weightmans remain winless however it could have been so different for them with a little more luck. They have lost four of their five matches by the barest of margins 5-6 and with still nine rounds to play there is still time for them to make a dash for the four.
The difference in this result was the performance of Packers number two Mark Ljubic. Despite going down to Joel Dorman in his first singles in four sets 3-11 11-8 17-19 8-11 he was able to bounce back to win his next two singles against tough opponents Andrew Cannard and Graeme O'Neill. His record against O'Neill is not good but on this occasion he was able to take control early and along with solid defence and his trade mark unorthodox forehand Ljubic controlled the match to win 11-8 11-4 11-5. The match against Cannard was a real struggle and good viewing for the spectators and played at a time when victory was vital to both teams. Ljubic narrowly grabbed the first as Cannard did the second after trailing 8-10. In the third Ljubic grabbed an early ascendancy and was able to go to a 2-1 lead. The fourth was a beauty with Ljubic retrieving many Cannard back hand smashes; he was able to show great reflexes as Cannard bombarded him with many fine backhands. Ljubic won a classic four setter 17-15 10-12 11-6 14-12 to give his team victory.
Pinnacle Packers skipper Gavin Carmichael won three singles while Joel Dorman was the best performer for Weightmans winning two singles.
The undefeated Max Miller Carpets maintained their undefeated record defeating Mallee Bearings 7-4. The doubles were crucial in this result with both won by the Carpeters as well as both Mark Dorman and Shannon Bowen winning two singles each. Team mate Ed Hung also played well to defeat opposing number three Kevin Johns in four sets.
Wayne Carmichael after being defeated twice in this corresponding match in round one bounced back to win three singles defeating both Dorman and Bowen in four sets. He has now strung together fifteen singles wins in succession and leads the singles aggregate along with Shannon Bowen and Gavin Carmichael while Mark Dorman trails this trio by only one win.
PENNANT TWO
Fishers IGA vs. Tankard Dental
After stumbling last week and suffering their first defeat Tankard dental bounced back this week in the top of the table clash defeating Fishers IGA 6-5. Going into this match both teams had recorded four wins and one loss. The very first game of the night was a beauty with Tankard's Sam McDonnell outlasting Robert Chiswell in a tremendous five setter. In an unusual score line McDonnell managed to get eleven points in all five games. He was successful 11-13 11-7 11-13 11-7 11-7. Fishers skipper Lee Thomas then levelled the match defeating opposing skipper Andrew Jones in four sets.
Spectators then witnessed a classic contest with Damien Ford scoring an impressive five set win over Nick Barlow 12-10 7-11 6-11 11-9 15-13. This was the start of an outstanding night for Ford who went on to win three singles and the doubles when he teamed up with Andrew Jones to defeat Lee Thomas and Robert Chiswell. In his next singles Ford again was successful in a five setter this time at the expense of Rob Chiswell. Again Ford fought back from a one game to two deficit to score the win. Tankard Dental raced to a five-two lead and again it was Ford who secured the all important sixth rubber before Fishers finished strongly.
In his final singles Ford again was in trouble early trailing Lee Thomas two games to love. He was able to grab the third and fourth narrowly before finishing the fifth strongly winning 7-11 7-11 14-12 11-9 11-2 in what was a match winning performance. This was the third occasion in six rounds that Damien has won three singles and he sits second behind Peter Midgley in the singles aggregate.
Max Miller Carpets vs. Pinnacle Packers
Pinnacle Packers after a slow start defeated Max Miller Carpets 7-4 and in doing so moved into the top four. When the Carpeters grabbed an early 3-0 lead it looked like they were heading for their first victory however at this point the Packers stepped into top gear winning the next seven rubbers. In this seven rubbers Peter Midgley and Arnold Jago won two singles each while team mate David Balshaw won a tremendous five set struggle over fill in Damien Ford 11-13 11-7 11-6 5-11 11-9. In addition both doubles were won by the Packers as they recorded their third victory of the season.
For Max Miller Carpets Ashley Morrison continues to be their most consistent player winning two singles including an excellent five set victory over Arnold Jago after trailing two games to love early.
Mallee Bearings vs. Spanline
With a 6-5 victory over Mallee bearings, Spanline retained third position on the pennant two ladder. Spanline were in all sorts of trouble early and actually trailed 1-4 before they reeled off five rubbers in succession. The standout player in this contest was the Spanline skipper Daniel Jansen who won three singles. He accounted for form players Arthur Paar and Sony Sefer in four sets and three sets respectively however he had to draw on all his skill to defeat opposing number three player Matt Burns in a five set struggle 9-11 12-10 11-7 2-11 11-6. Burns almost was able to grab the points for his team when late in the night he took a two games to love lead over the experienced Anthony Fox however it wasn't to be as Fox fought back to win 11-13 7-11 11-4 11-6 11-7 to record his only win for the night however an important win it was.
For Mallee Bearings both Arthur Paar and Sony Sefer won two singles each and combined to win the first doubles however it was not quite enough to obtain the points on the night.
PENNANT THREE
Pinnacle Packers vs. Weightmans Packaging
This was the battle of the to two teams and it proved to be an even contest with Pinnacle packers winning 6-5 despite Weightmans skipper Jackson Murphy continuing his excellent season by winning three singles for the fourth time in five starts this season. Included in his three victories was a five set victory over Henry Hornsby in what was a fantastic struggle. Hornsby grabbed the first two games with Murphy fighting back to win 6-11 4-11 11-7 14-12 11-8. This victory now separates these two by one victory at the head of the singles aggregate with Murphy opening up the narrowest lead over Hornsby. Murphy capped off an excellent personal performance by participating in both doubles victories however his team was to fall one win short.
In an even display the Packers trio of Hornsby, Steve Pongrac and Colin Moore all won two singles and now occupy first position on the pennant three ladder one win clear of their opposition.
Mallee Bearings vs. Max Miller Carpets
Despite Max Miller Carpets skipper Tom Murphy showing his best form and winning three singles for the first time it was not quite enough to get his team the points going down to Mallee Bearings 5-6. The Carpeters remain winless but this was their closest result and will give them confidence going forward particularly if they can pick up a doubles.
For Mallee Bearings fill in Laurie Plummer and Peter Fitzpatrick won two singles each in a match which was close all the way. Fitzpatrick won a crucial singles when his team led 5-4. His match against Karina Sullivan was vital to both teams. The match swayed one players way and then the other. Sullivan took the ascendancy after winning the second and third however the determined Fitzpatrick battled on keeping the ball in play to go on and win narrowly 11-8 3-11 9-11 11-7 14-12 which enabled his team to grab the valuable four points and move Mallee Bearings to second position on the ladder.
PENNANT FOUR
Max Miller Carpets vs. Mallee Bearings
Second placed Max Miller Carpets defeated a brave Mallee Bearings 7-4. Carpeters skipper Sabrina Fitzpatrick won three singles again this round to share the lead in the singles aggregate with Fisher's Brian Hosking. Sabrina also featured in both doubles successfully to cap off an excellent night for her personally. Team mate Andrew Lewis also continued his fine season winning two singles but went down to a determined Karly leach 12-10 11-7 8-11 10-12 11-6 in an entertaining five set slog.
The doubles were crucial in this result and both were won in five sets indicating Mallee bearings were not far away from recording their first win. The first doubles was a beauty when Sabrina Fitzpatrick and Andrew Lewis outlasted Karly Leach and Mick Bacon to win 14-12 7-11 8-11 11-4 11-7. The second doubles could have gone either way as Fitzpatrick this time teamed up with Teniel Lang to defeat Karly Leach and Kerryn Symons 11-9 11-8 9-11 3-11 11-6 in another good tussle.
Bishop Builders vs. Fishers IGA
Fishers IGA continued their dominance in pennant four winning their sixth match 8-3 over Bishop Builders. Skipper Brian Hosking again won three singles and remains at the top of the singles aggregate undefeated. Fill in Young Paul Fitzpatrick fro the juniors also played well in support to win three singles as well. He also teamed with Brian to win the second doubles and it was this form that enabled him to be the pennant four Mallee Burger player of the round……a great effort from a junior who is on the improve.
A real highlight in the match was the singles between Jeremy Corrin and Gabriel McDonnell. In an amazing score line Corrin scored 12 points in four of the five games to win 12-14 12-10 12-10 2-11 12-10. He has been improving since he began last year and his Monday night practice has been a benefit to his game.
Sunraysia Table Tennis Winter Pennant results round 6: –
PENNANT ONE: – Max Miller Carpets 7 (Mark Dorman, Shannon Bowen 2, Ed Hung 1) d Mallee Bearings 4 (Wayne Carmichael 3, Jackson Tung 1); Pinnacle Packers 6 (Gavin Carmichael 3, Mark Ljubic 2) d Weightmans Packaging 5 (Joel Dorman 2, Andrew Cannard, Graeme O'Neill 1)
PENNANT TWO: – Tankard Dental 6 (Damien Ford 3, Sam McDonnell, Andrew Jones 1) d Fishers IGA 5 (Lee Thomas 2, Robert Chiswell, Nick Barlow 1); Pinnacle Packers 7 (Peter Midgley, Arnold Jago 2, David Balshaw 1) d Max Miller Carpets 4 (Ashley Morrison 2, Damien Ford, Abraham McDonnell 1); Spanline 6 (Daniel Jansen 3, Anthony Fox, Seval Fuat 1) d Mallee Bearings 5 (Arthur Paar, Sony Sefer 2)
PENNANT THREE: – Pinnacle Packers 6 (Henry Hornsby, Steve Pongrac, Colin Moore 2) d p 5 (Jackson Murphy 3); Mallee Bearings 6 (Laurie Plummer, Peter Fitzpatrick 2) d Max Miller Carpets 5 (Tom Murphy 3, Karina Sullivan, Leon Brown 1)
PENNANT FOUR: – Fishers IGA 8 (Brian Hosking, Paul Fitzpatrick 3) d Bishop Builders 3 (Nikki Mayger, Jeremy Corrin, Sam Hensgen 1); Max Miller Carpets 7 (Sabrina Fitzpatrick 3, Andrew Lewis 2) d Mallee Bearings 4 (Karly Leach 2, Mick Bacon, Kerryn Symons 1)
MALLEE BURGER PLAYERS OF THE ROUND
PENNANT ONE: Mark Ljubic
PENNANT TWO: Daniel Jansen
PENNANT THREE: Tom Murphy
PENNANT FOUR: Paul Fitzpatrick
For further information on Table Tennis contact Gavin Carmichael 0408 237 907 or 5023 7907.