Read Time:
4 Minute, 1 Second
Winter Pennant 1 – Match Results 18/03/2015
Round 1 Wrap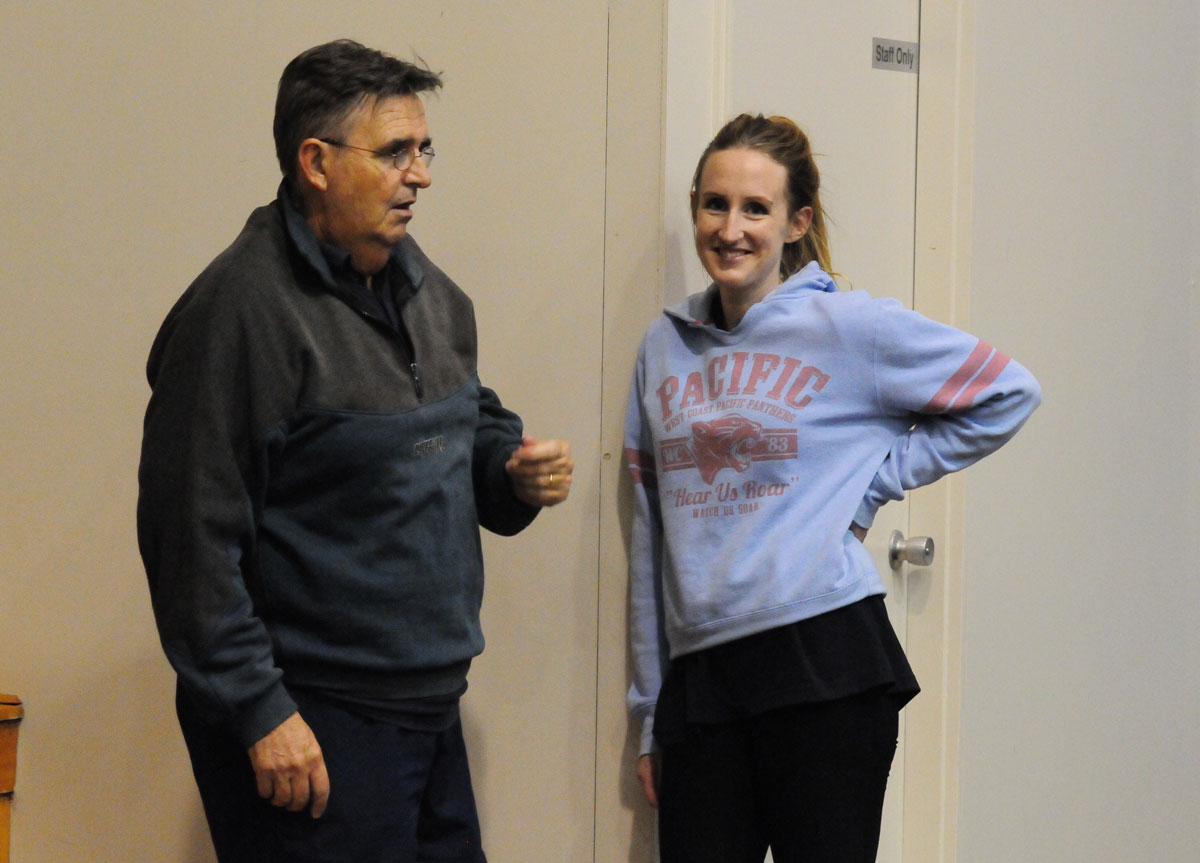 In an interesting team lineup Gavin 'Richie' Carmichael paired up with daughter Kate in what promises to be an interesting season for both and what better way to start with the Dynamic Duo picking up 3 singles each as well as their doubles.
PENNANT ONE:
Table Tennis is up and running again with the commencement of the first senior pennant for 2015.Round one of the "winter "competition started in good conditions last Wednesday with twenty teams taking part over three pennants. Three young players Matt Avers, Leon Brown and Jackson Murphy made their debut in pennant one and will play important roles for their respective teams. Avers and Brown have been promoted from pennant two while Murphy returns after a break from the game.
– Fishers IGA 6 (Leslie Ncube 2, Andrew Cannard, Graeme O'Neill 1)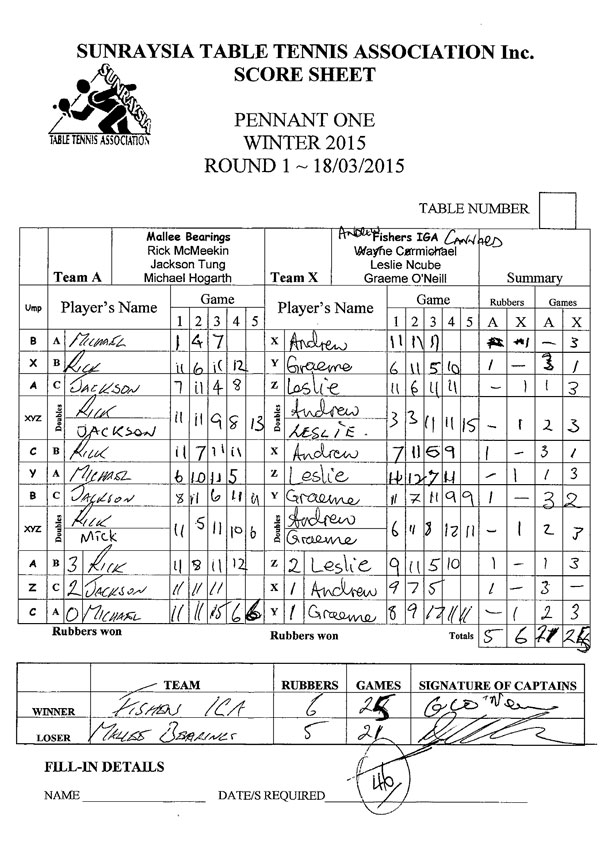 d Mallee Bearings 5 (Rick McMeekin 3, Jackson Tung 2)
Another new player Leslie Ncube who has transferred in his employment
from Queensland already has displayed he will be a key player for his team
Fishers IGA and an asset to the STTA. Ncube possesses a good all round top
spin game with a very solid defence and the ability to attack when required.
With his number one Wayne Carmichael out for two weeks Ncube enjoyed
a good debut winning two singles and partnering fill in Andrew Cannard
in a titanic struggle in the first doubles against Mallee Bearings pair
Rick McMeekin and Jackson Tung winning 3-11 3-11 11-9 11-8 15-13 a
great comeback after a slow start.
Fishers also won the second doubles in five sets and with the scores locked
at five rubbers all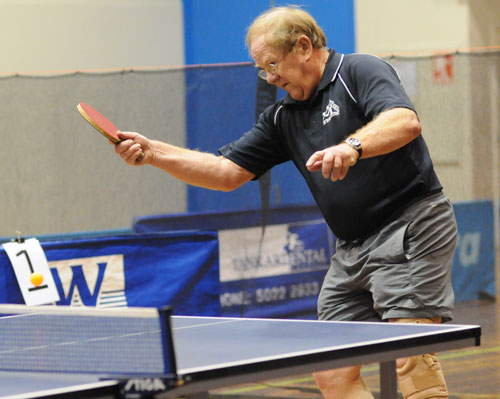 Fishers number three Graeme O'Neill recovered from a two game deficit to win in five sets 8-11 9-11 17-15 11-6 11-6 against Michael Hogarth. Fishers winning 6-5 in a solid start to the season despite Rick McMeekin and Jackson Tung winning three and two singles respectively.
 – Max Miller Carpets 6 (Mark Dorman, Matt Ljubic 2, Kevin Johns 1)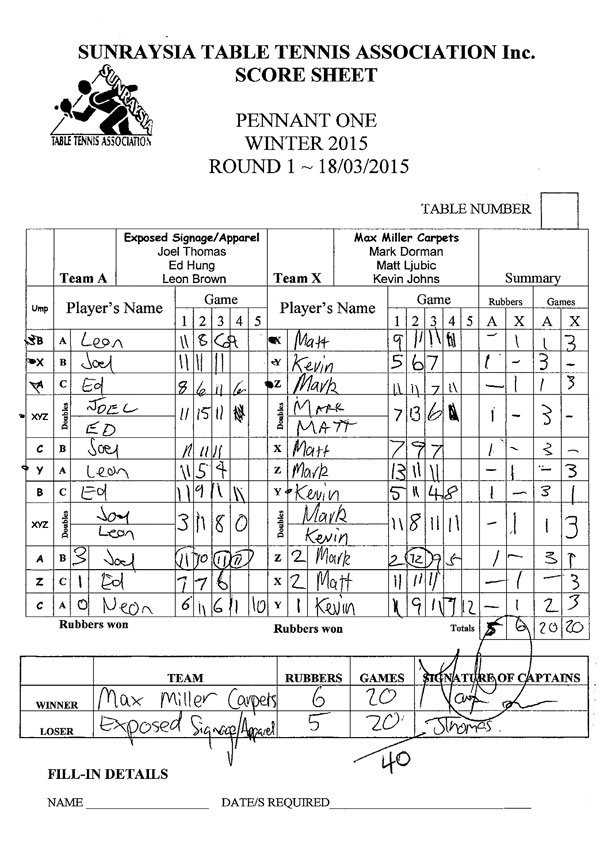 d Exposed Signage/Apparel 5 (Joel Thomas 3, Ed Hung 1)
In another thriller Max Miller Carpets defeated Exposed Signage and Apparel 6-5.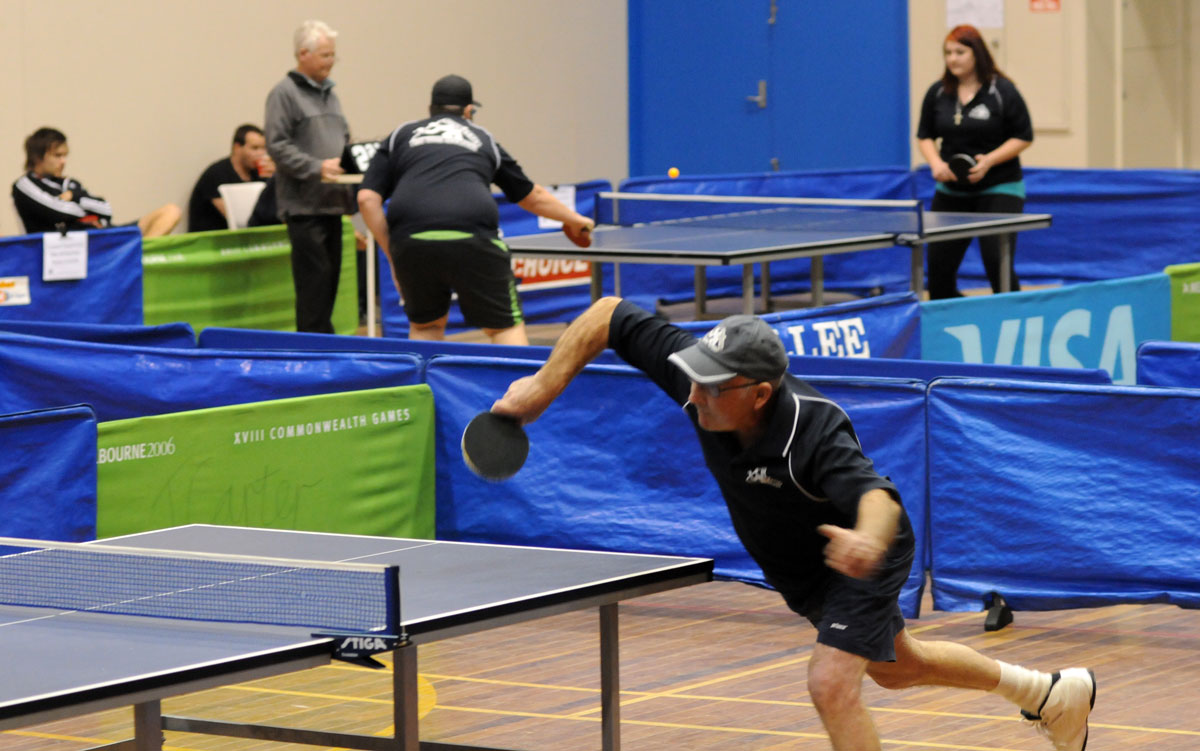 With the scores at five rubbers all veteran Kevin Johns had to
fight off youthful Leon Brown ina lengthy five setter ,Johns
winning 11-6 9-11 11-6 7-11 12-10. Late in the fifth Brown
held a match point however it wasn't to be as the experienced Johns was able to hang on. Leading STTA player Joel Thomas won three singles however it was not enough for his team
to take the points. Both Mark Dorman and Matt Ljubic managed to win two singleseach for the victors while the doubles were shared.
– Weightmans Packaging 7 (Gavin Carmichael, Kate Carmichael 3)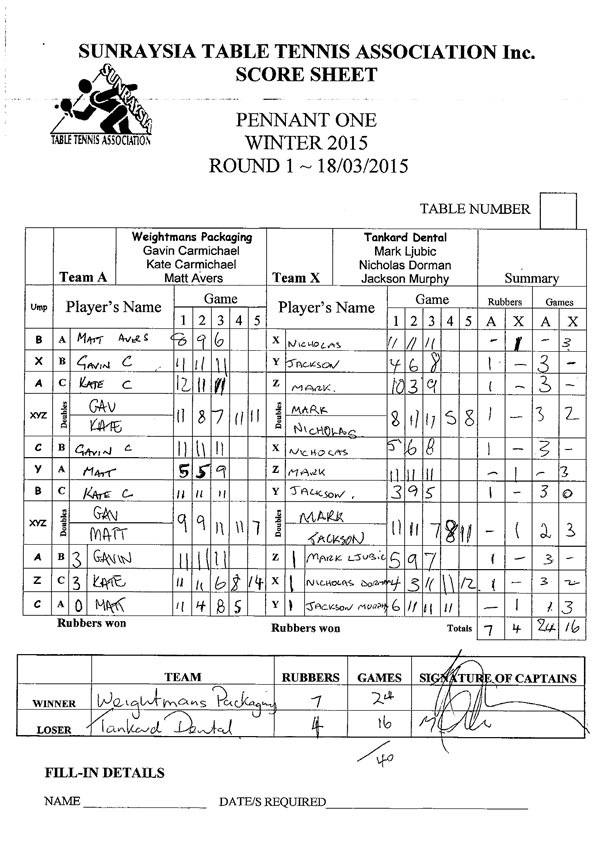 d Tankard Dental 4 (Mark Ljubic, Nicholas Dorman,
Jackson Murphy 1)
In the remaining game Weightmans Packaging started the season
well defeating Tankard Dental 7-4 to take top position on the ladder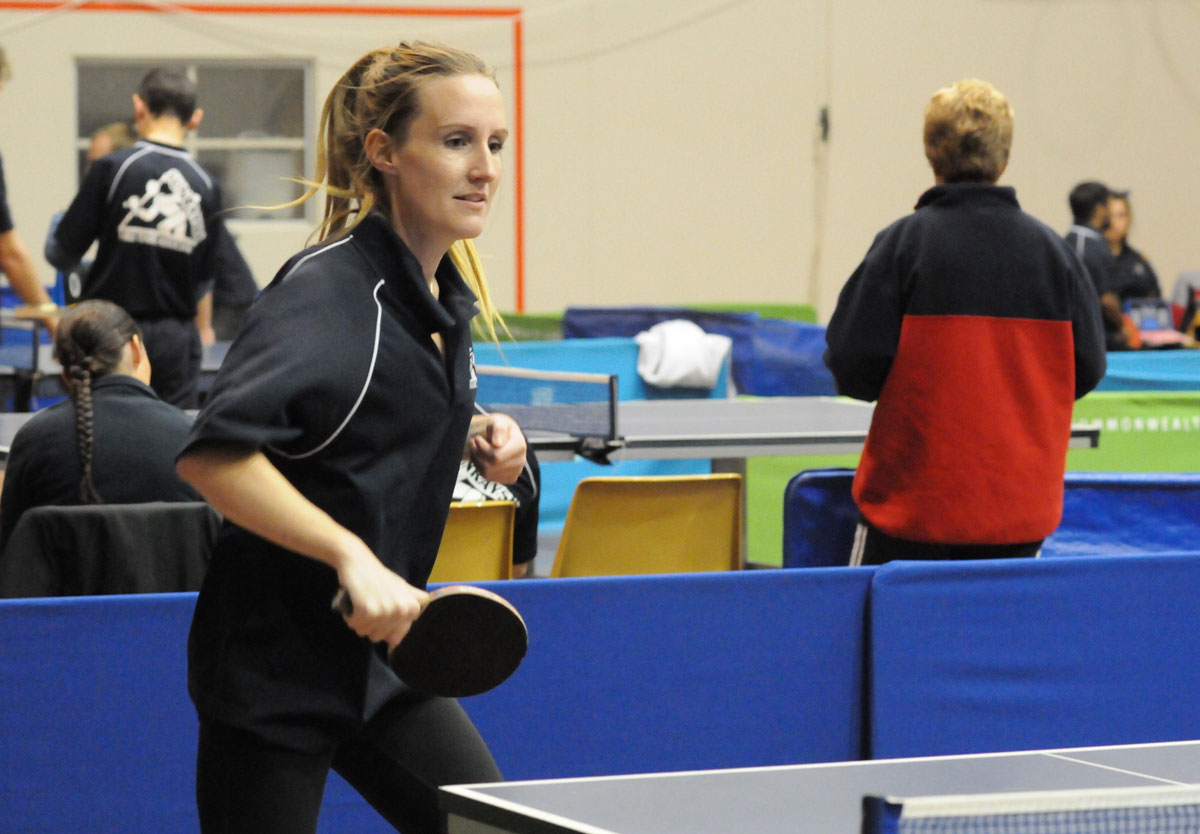 by percentage. Kate Carmichael showed her preseason training to be
beneficial by winning three singles including the defeat of opposing
number one Mark Ljubic in straight sets in an entertaining match.
Later she played Nicholas Dorman in a lengthy five setter taking
the points 14-12 in the final game after both had held match points
in the tense fifth. Carmichael also combined with team mate Gavin
Carmichael to win the first doubles in a crucial result for their team.
Win
Loss
Pts
RUBBERS
GAMES
%
%
For
Agst
For
Agst
R
G
Weightmans
1
0
4
7
4
24
16
175%
150%
Fishers IGA
1
0
4
6
5
25
21
120%
119%
Max Miller
1
0
4
6
5
20
20
120%
100%
Exposed
0
1
0
5
6
20
20
83%
100%
MalleeBearings
0
1
0
5
6
21
25
83%
84%
Tankard
0
1
0
4
7
16
24
57%
67%
| | | | | | | | | | | | | | | | | | |
| --- | --- | --- | --- | --- | --- | --- | --- | --- | --- | --- | --- | --- | --- | --- | --- | --- | --- |
| Pennant 1 | 1 | 2 | 3 | 4 | 5 | 6 | 7 | 8 | 9 | 10 | 11 | 12 | 13 | 14 | 15 | Total | % |
| G Carmichael | 3 | | | | | | | | | | | | | | | 3 | 100% |
| J Thomas | 3 | | | | | | | | | | | | | | | 3 | 100% |
| K Carmichael | 3 | | | | | | | | | | | | | | | 3 | 100% |
| R McMeekin | 3 | | | | | | | | | | | | | | | 3 | 100% |
| J Tung | 2 | | | | | | | | | | | | | | | 2 | 67% |
| L Ncube | 2 | | | | | | | | | | | | | | | 2 | 67% |
| M Dorman | 2 | | | | | | | | | | | | | | | 2 | 67% |
| Matt Ljubic | 2 | | | | | | | | | | | | | | | 2 | 67% |
| E Hung | 1 | | | | | | | | | | | | | | | 1 | 33% |
| G O'Neill | 1 | | | | | | | | | | | | | | | 1 | 33% |
| J Murphy | 1 | | | | | | | | | | | | | | | 1 | 33% |
| K Johns | 1 | | | | | | | | | | | | | | | 1 | 33% |
| Mark Ljubic | 1 | | | | | | | | | | | | | | | 1 | 33% |
| N Dorman | 1 | | | | | | | | | | | | | | | 1 | 33% |
| WCarmichael | dp | | | | | | | | | | | | | | | 0 | |
| L Brown | 0 | | | | | | | | | | | | | | | 0 | 0% |
| M Avers | 0 | | | | | | | | | | | | | | | 0 | 0% |
| M Hogarth | 0 | | | | | | | | | | | | | | | 0 | 0% |
| Fill-In | | | | | | | | | | | | | | | | | |
| A Cannard | 1 | | | | | | | | | | | | | | | 1 | 33% |