Read Time:
15 Minute, 4 Second
ROUND 13
PENNANT ONE:
Going in to the school holiday break fifth placed Mallee Bearings have kept their faint finals chances alive with a victory in round thirteen matches of the Sunraysia Table Tennis winter pennant.
– Mallee Bearings 6 (Wayne Carmichael 3, Thanh Nguyen 1) d Exposed Signage/Apparel 5 (Mark Ljubic, Reece Kurrle 2, Russell Walder 1)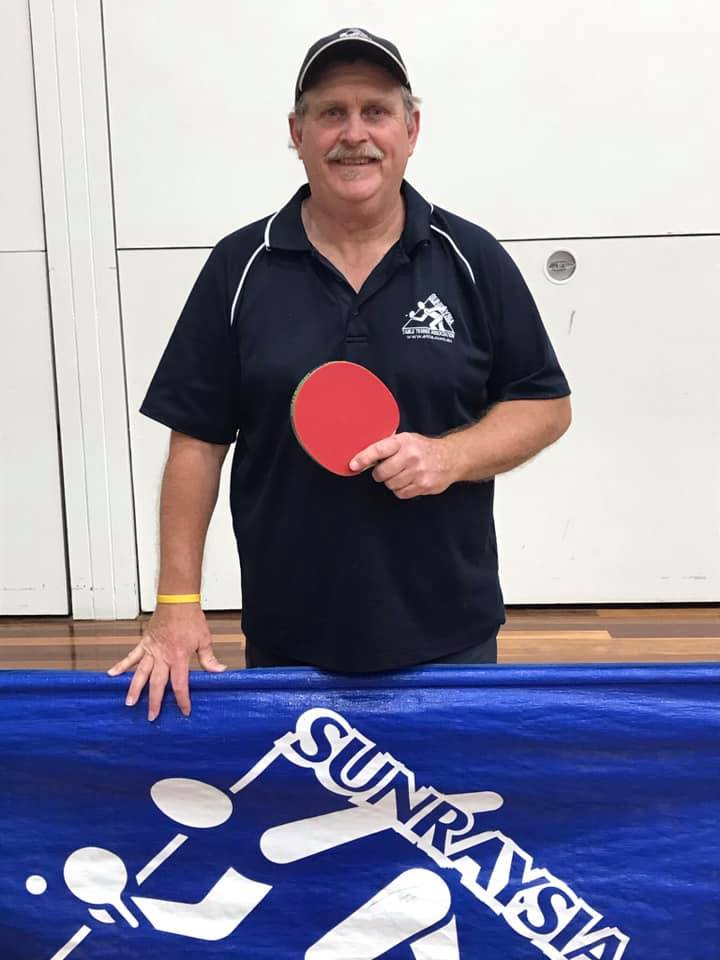 Bearings skipper Wayne Carmichael continued his recent good form at the Victorian Country Championships by winning three singles and taking part in both doubles victories. Despite Carmichael's dominance the match was close against the sixth placed Exposed Signage/Apparel. The all important sixth rubber for Mallee Bearings came from a thrilling five set win by Thahn Nguyen over Russell Walder who raced to a 2-0 lead early only for Nguyen to steadily work his way back to victory and four points for his team with a five set score line in Nguyen' favour of 4-11 7-11 11-5 11-4 11-4.
For the Exposed team Mark Ljubic and Reece Kurrle won two singles while Russell Walder won one however it was the doubles which proved to be the difference in Mallee Bearings scoring the 6-5 win.
– Tankard Dental 5 (Kate Carmichael, Dylan Wood 2) d Regional Taxation Services 4 (Matt Ljubic 3, Kevin Johns 1)
Second placed Tankard Dental met fourth placed Regional Taxation Services. Both sides were short a player and in the abbreviated format the four points were going to be sorted by the doubles if the singles matches went as expected. The doubles match did not disappoint and Tankards Kate Carmichael and Dylan Wood were able to prevail over Matt Ljubic and Kevin Johns in a great four set tussle with first year pennant one player Wood performing very well. The final score of 11-9 11-6 10-12 13-11 in Tankards favour indicates a close match.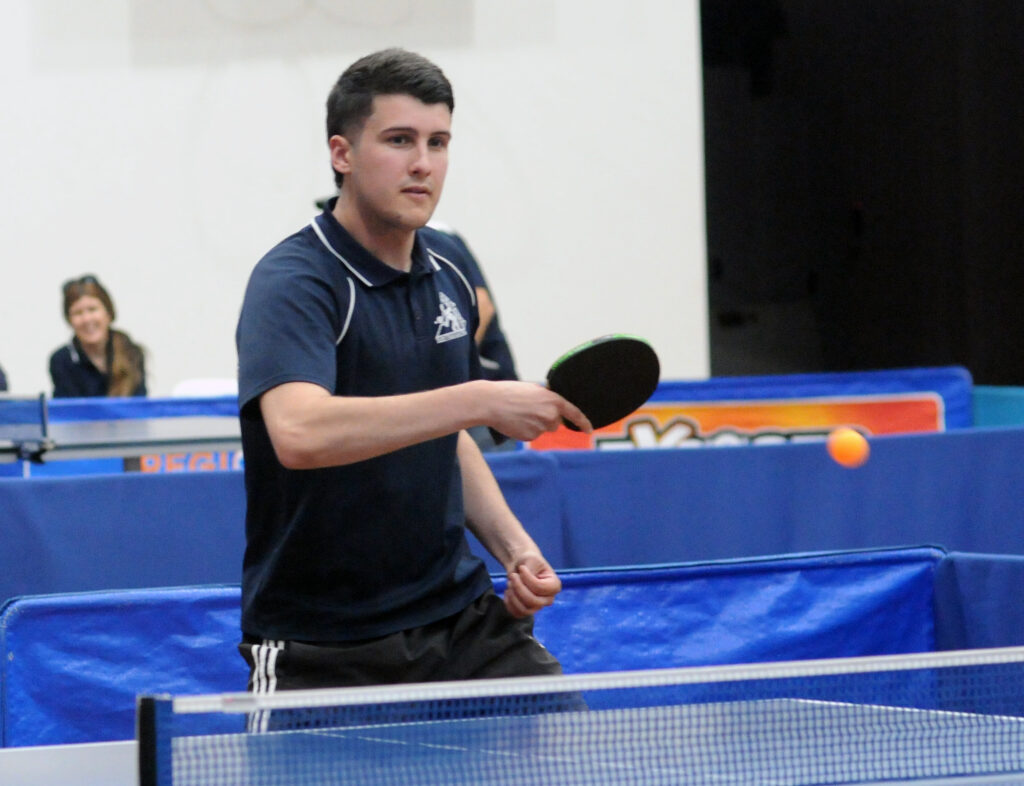 Despite his team going down Matt Ljubic maintained his unbeaten singles run, against Kate Carmichael he dropped the first game however he then steadied to win in four games. With the match level Tankards Dylan Wood then lined up against the experienced Kevin Johns and by now Wood was on top of his game and won in three sets to give Tankard Dental the valuable four points as they look to hold second position on the ladder with two rounds remaining prior to the finals commencing.
– Max Miller Carpets 7 (Kate Carmichael 3, Leon Brown 2, Ed Hung 1) d Cookes Pools & Spas 4 (Jackson Tung 2, Gavin Carmichael 1)
Ladder leader Max Miller Carpets continued on their winning way recording their twelfth win on the trot this time against third placed Cookes Pools & Spas. The 7-4 victory came despite losing captain Shannon Bowen before the match. He was replaced by Kate Carmichael who played a key role in the victory by winning three singles. With the scores locked at four rubbers all Carmichael played opposing number one Jackson Tung and this proved to be a top class five setter , late in the match Tung recovered from a deficit to grab a match point only for Carmichael to stay calm and grab the fifth 13-11, a great match.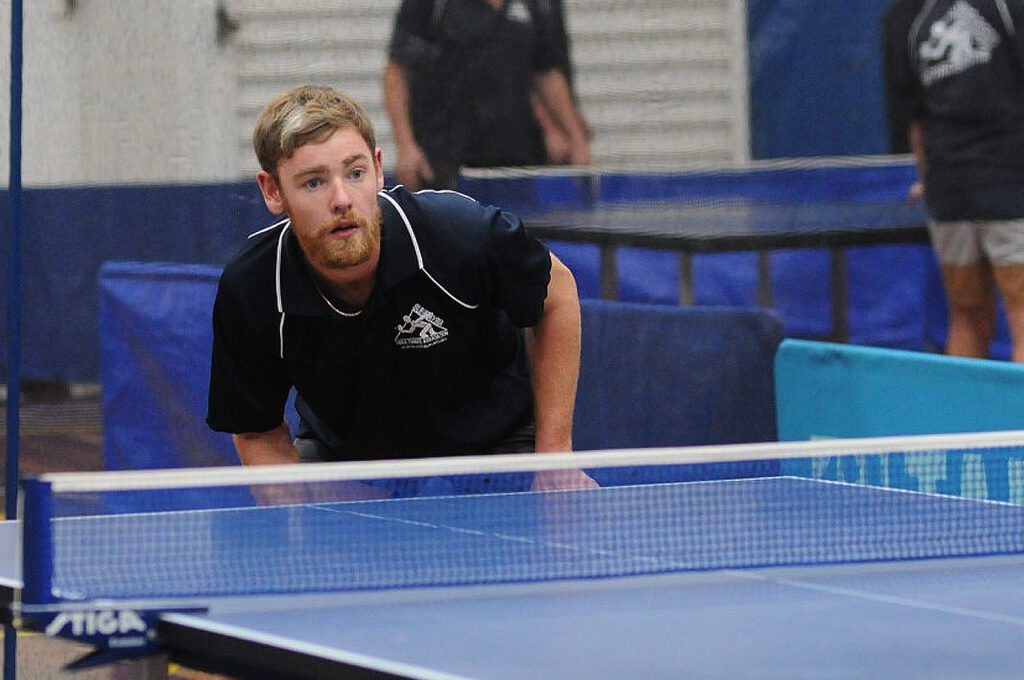 The Carpeters then finished strongly with Leon Brown winning his second singles in four sets over Gavin Carmichael while Carpeters number three Ed Hung defeated Lee Leeson in five sets. A solid team effort by the ladder leaders.
PENNANT TWO:
Three 7-4 results this round – top side MJM Automotive defeated Max Miller Carpets, second placed Pinnacle Packers too good for bottom side Weightmans Packaging, and in the match that had the most interest, fourth placed Mallee Meats are now a game clear of fifth placed Cookes Pools & Spas.
– MJM Automotive 7 (Casper McCarthy, Andrew Jones 2, Therese Fitzpatrick 1) d Max Miller Carpets 4 (Raymund Manzanares 2, John Fitzpatrick, Jamila Belbaze 1)
This was the third time these two teams played each other this season, and the last chance for Max Miller Carpets to test themselves against the runaway ladder leaders. Worryingly for Max Miller Carpets, who lie third on the ladder, they have not defeated either of the sides above them on the ladder, and whilst they are assured of a spot in the finals, they must worry that they have not managed to topple either MJM Automotive or Pinnacle Packers.
Max Miller Carpets won the first rubber of the match; John Fitzpatrick defeated his sister Therese in five sets in a very entertaining opening clash.
MJM Automotive however, struck back with a run of four wins; captain Casper McCarthy a four set victory against Jamila Belbaze, Andrew Jones then defeated Max Miller carpets captain Raymund Manzanares in straight sets, McCarthy and Therese Fitzpatrick won the first doubles in four sets against Manzanares and John Fitzpatrick, and McCarthy defeated John Fitzpatrick in four sets the first rubber of the second round of singles coming back from a set down.
That pretty much sealed Max Miller Carpets' fate. Both sides won three of the six remaining rubbers, and so the gap remained three rubbers at the end.
Max Miller Carpets were forced to work for their wins too – Manzanares needed an extra set to subdue MJM Automotive number three Therese Fitzpatrick; Jamila Belbaze had to work hard four the first four sets to get the upper hand against Andrew Jones, winning 11-6, 10-12, 11-8, 8-11, 11-2 and finally Manzanares won the clash of the captains, a good five set win against aggregate leader McCarthy 11-9, 6-11, 8-11, 11-8, 11-4.
MJM Automotive responded with wins by McCarthy and Jones in the second doubles, a five set win against Manzanares and Belbaze. These two pairings are the best performed doubles partners in this competition and the win by McCarthy and Jones sees them having won eleven of their
twelve games together, edging the Max Miller Carpets pair by three games, they having won eight times from twelve outings. The finals two rubbers went to MJM Automotive, Andrew Jones avenging his defeat at the hands of John Fitzpatrick the last time they met, with a four set win this time, and in the final rubber, in the battle of the number threes, Therese Fitzpatrick trounced Jamila Belbaze in straight sets 12-10, 12-10, 11-9.
Final scores: 7 rubbers to 4 and 28 games to 18.
– Pinnacle Packers 7 (Jeremy Corrin, Rohan Reimers, Tom Morrison 2) d Weightmans Packaging 4 (Paul Kealley 2, Tom Morrison 1)
After eight rubbers, this match was locked at four rubbers each, but Pinnacle Packers won the final three rubbers, the head to heads.
Pinnacle Packers were without their number three, Ryan Hensgen, Ryan replaced by Tom Morrison. Weightmans Packaging were without their captain Jason Gifkins, who last week suffered a knee injury, and their number two Andrew Kremor. They were replaced by Paul Kealley and Tague Morris respectively.
Morrison got Pinnacle Packers off to a good start with a good five set win against Morris. These two younger players are only appearing as fill-ins, but are holding their own against established players also. Morrison won this match 12-14, 14-12, 11-3, 10-12, 11-8. Pinnacle Packers captain Jeremy Corrin made it two in a row when he defeated the Weightmans Packaging number three, and Corrin and Rohan Reimers made it three out of four after the first doubles result went their way in five sets against Kealley and Morris.
Weightmans Packaging responded with two wins of their own, Tague Morris getting a surprise win over Pinnacle Packers captain Jeremy Corrin in five sets, Morris dominating the last two sets taking them 11-4, 11-7, and Paul Kealley a straight sets win against Morrison, to add to his win against Reimers in the first round of singles.
After Reimers defeated Peter Fitzpatrick, and Weightmans Packaging the second doubles, both in straight sets, the scene was set for the final three singles to decide the outcome.
In the first rubber, Paul Kealley could not hold back a determined Jeremy Corrin, still smarting from his defeat by Morris earlier, and lost in five sets. Morris could not replicate his Corrin game and fell to Reimers in
three, giving Pinnacle Packers the match, and in the final rubber, Morrison won his second five set encounter, this time against opposite number Peter Fitzpatrick.
Final scores: 7 rubbers to 4 and 24 games to 20.
– Mallee Meats 7 (Quentin Clark 3, Marcus Cimino 2, Isaiah Bettess 1) d Cookes Pools & Spas 4 (David Sergi 2, Terry Martin 1)
Of the three matches this round, this was the most anticipated. Both sides were on four wins going into the round, were also equal on the number of rubbers won and lost, and were only separated by the number of games won and lost. So, amongst those fine margins, Mallee Meats was ahead on the ladder, but something had to give, one of the sides would end up a game clear by the end of this round.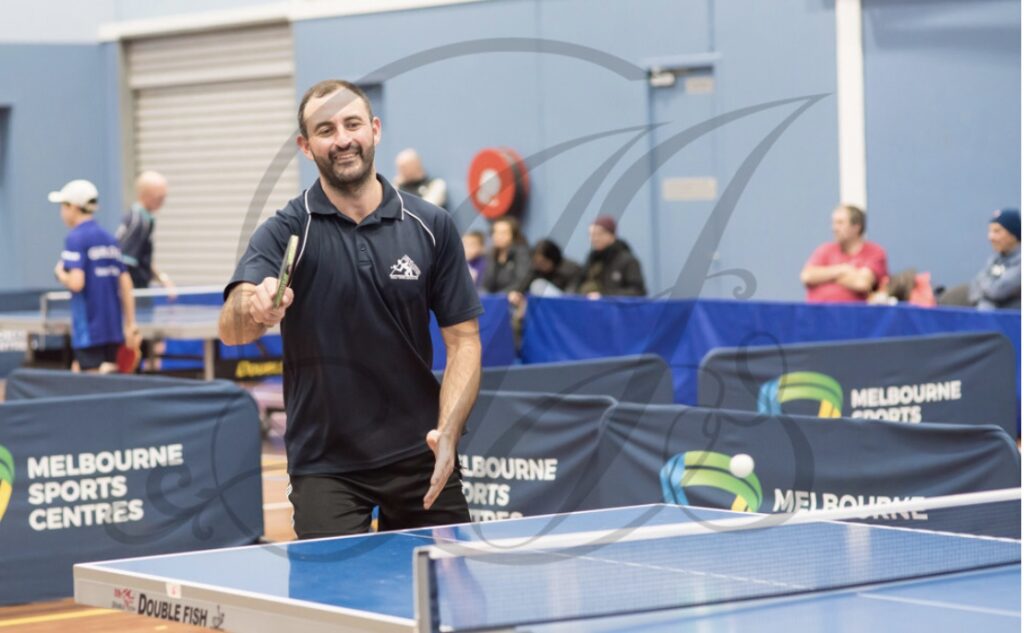 With wins in two of the first three rubbers, Mallee Meats started well. Marcus Cimino won in straight sets against James Jarvis and Quentin Clark similarly against David Sergi. The riders to these two wins was that the Mallee Meats players were higher ranked than their opponents. Having said that, number three Isaiah Bettess looked like he might make it three wins when he led Cookes Pools & Spas captain Terry Martin two sets to one13-11, 5-11, 11-5. Martin finally got going though to take the last two sets 5 and 5.
Cookes Pools & Spas made it two rubbers all when they took the first doubles, Martin and Sergi winning in five against Clark and Cimino.
Mallee Meats again won two of the next three singles, number two Cimino defeating Martin in four sets and Clark in straight sets against James Jarvis. David Sergi prevented a run of three wins, defeating Bettess in three sets.
Mallee Meats kept their best for last. They won three of the last four rubbers – Clark and Bettess outlasted Sergi and Jarvis to win in five, Quentin Clark, the only player this round to win three singles, defeated opposing captain Martin 11-4, 4-11, 6-11, 11-9, 12-10, and Bettess was rewarded with a five set win against Jarvis. Cookes Pools & Spas could only respond with a four set win by Sergi, who was too good for his opposite Marcus Cimino.
Final scores: 7 rubbers to 4 and 26 games to 19
PENNANT THREE:
Do you suffer from triskaidekaphobia? Well give your black cat to the neighbour, put your ladder in the shed and get out your four-leaf clover and lucky rabbit's foot to get ready for round 13 action.
Tankard Dental 7 (Shaun Gifford, Nick Kiapekos 2, Phuong Hung Nguyen 1) def Sammy's Slammers 4 (Ben Hosking 2, Dave Tanner 1)
In the context of the season this was a huge match. This was a must win game for Tankard Dental to keep their finals hopes alive. With the pressure on Tankard's Shaun Gifford was again in superb form in winning three singles and with Nick Kiapekos and Phuong Hung Nguyen contributing two and one singles respectively to get the job done. For Sammy's Slammers Ben Hosking returned after a two-week hiatus to claim two singles victories and Dave Tanner had a quiet night and only contributing one singles victory of his own.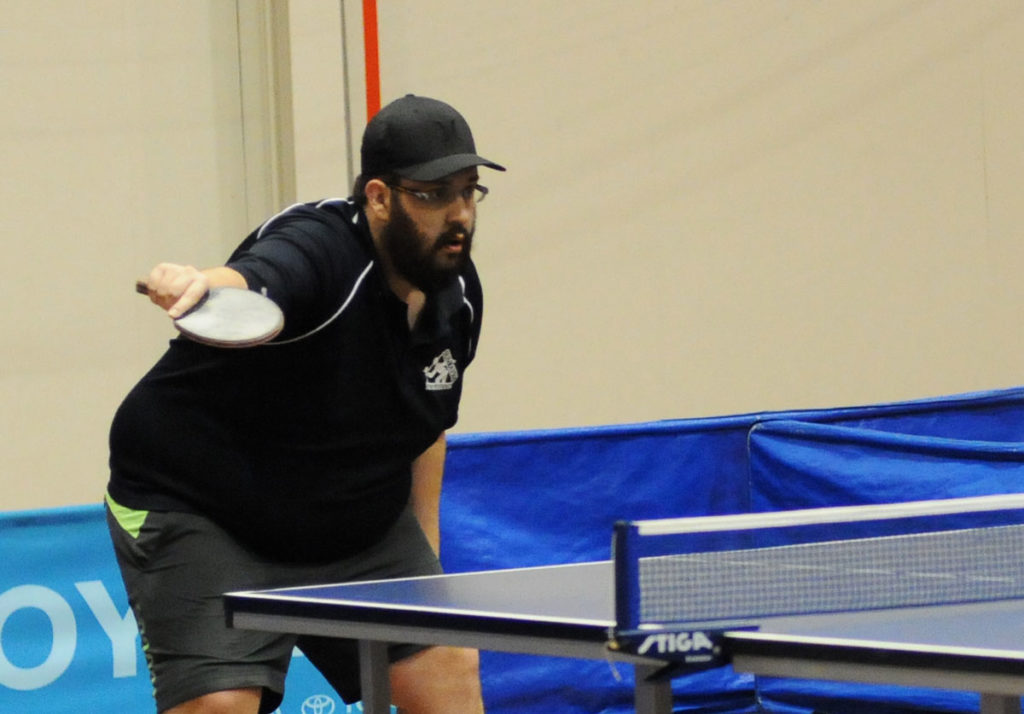 The match of the night saw Hosking take-on Kiapekos. Hosking started well in narrowly taking the first set 13-11 before Kiapekos hit back to take the second 11-7. The third set saw Hosking rising to the challenge to take this 11-9 before Kiapekos hit back in the fourth to take this game into a deciding set. The last set saw both players miss chances to take a significant lead. In the end it was Hosking that would prevail 11-9 in a very close win.
In another entertaining during the evening Maria Starikov played Phuong Hung Nguyen. In recent times these two have played some very close matches and this was no exception as this match went down to the wire. Starikov started the match well taking full advantage of Nguyen's attacking mistakes in taking the first 11-3. The next two sets saw Nguyen find his range with these attacking shots to claim there sets 11-7, 11-9. Starikov fought hard in the fourth set to claim this 11-8 to set up a fifth set. The last set saw the best attacking play from Nguyen as he blasted through the tight defence of Starikov to claim the final set 11-4.
Overall Tankard Dental have prevailed 7 rubbers to 4 (26 games to 14) against Sammy's Slammers. This win now sees Tankard Dental one win outside the top four with two matches remaining.
Mallee Meats 8 (Steve Pongrac 3, Nhat Dat 2, Ildi Healy 1) def Weightmans Packaging 3 (Sabrina Fitzpatrick 2, Jacinta Ljubic 1)
In the top of the table clash Mallee Meats have trounced Weightmans Packaging in an impressive display. Captain Steve Pongrac lead the way with three singles and two doubles victories and was well supported by Nhat Dat and Ildi Healy winning two and one singles respectively. For Weightmans Packaging Sabrina Fitzpatrick won two singles and Jacinta Ljubic one in a disappointing evening.
In what previewed to be the match of the night opposing Captain's Pongrac and Fitzpatrick squared off late in the evening. Pongrac stated like a house on fire in taking the first two sets comfortably 11-4, 11-6. The third set was a lot closer with Fitzpatrick doing her best to hold on, but it would be Pongrac that would take the set 14-12 and the match.
The final analysis shows a big win for Mallee Meats 8 rubbers to 3 (25 games to 12) over Weightmans Packaging. This win for Mallee Meats has secured top spot on the ladder and a double chance leading into the finals. On the flip side this loss has seen Weightmans Packaging now in a three-way tie on seven wins and they must bounce back if they wish to play finals.
MJM Automotive 8 (Karly Leach, Levi Williams 3, Marita Grace 2) def Dunkley Scales 3 (Rodney Galvin 1)
MJM Automotive have hit top form and have secured a big win against Dunkley Scales. MJM did have an early setback with Alicia Tyers unavailable this week; however, Marita Grace filled her place admirably. MJM's Karly Leach and Levi Williams both won three singles matches and Marita Grace won two singles in a powerful display. For Dunkley Scales Rodney Galvin won one singles; however, lost the other two in close five set matches.
The first match of the evening saw an entertaining match between Wendy Simpson and Marita Grace. Grace got off to a bright start in winning the first set 11-4 before Simpson found form to take the second 11-6. Grace must have liked the end she was playing at during the first set and when she returned to the same end in in the third, she took this set comfortably 11-5. The fourth set Simpson bounced back to take 12-10 and set up a fifth set. It would be Grace who would take the fifth set 11-8 and get her team off to a dream start.
The third match of the night saw Levi Williams take on Rodney Galvin. The first two sets you could have been forgiven that there was a scoring advantage at one end as Galvin breezed through the first set 11-3, only to find Williams repeat this feat 11-3 in the second. Galvin then steadied to take the next set 11-9 to set up a handy 2 games to one lead. This lead was short lived as Williams gained the upper hand to take the fourth 11-6 and then the fifth 11-7 to win the match and now have his team lead three rubbers to nil.
Dunkley's doubles pairing of Galvin and Simpson took on Leach and Williams. Leach and Williams have been in very good doubles form however this game did not go to script as Galvin and Simpson outplayed their opponents in a classy display winning in straight sets 11-7, 11-7, 11-6. In the second doubles match Galvin teamed with Jim Vale to defeat the pairing of Leach and Grace in four sets 11-3, 13-11, 4-11, 11-6. The doubles matches were undoubtedly the highlight for Dunkley Scales this evening.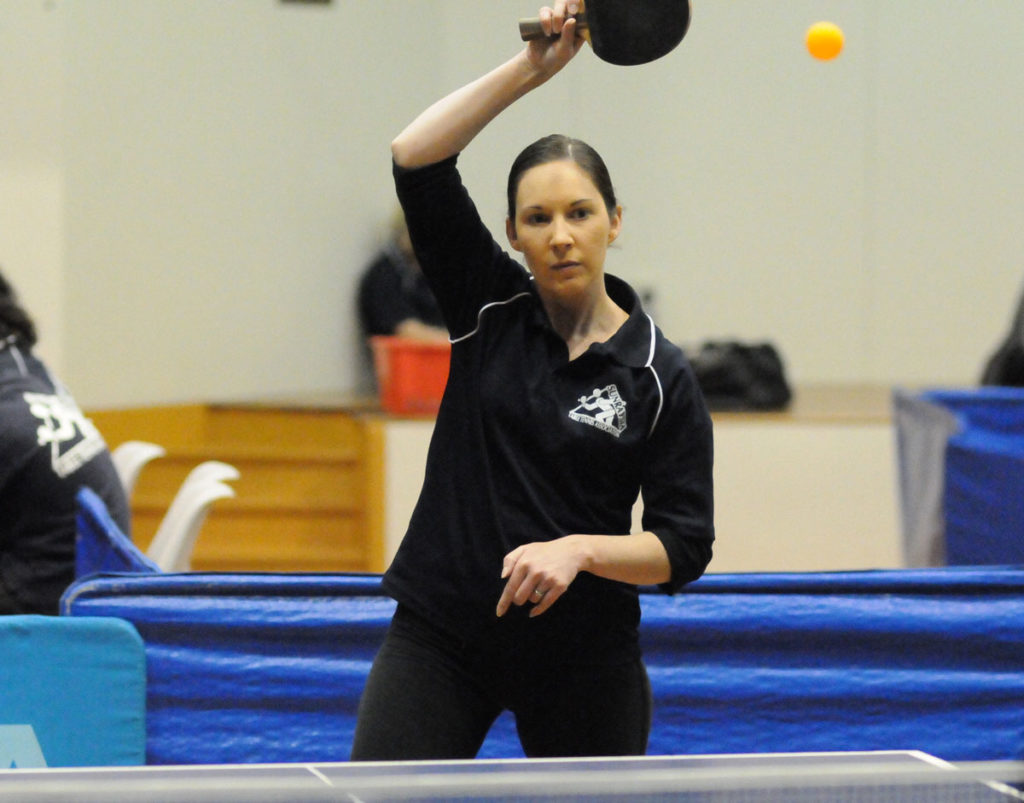 The 'Battle of the Captain's' match saw Leach play Galvin. Before this evening Leach sits only one game behind on the individual aggregate and one could have expected a comfortable win for Leach. I don't think Galvin takes too much time to read the statistics and was out of the blocks quickly to take the first set 11-9. Leach then gained control of the match in taking the second and third sets 11-4, 11-6. Galvin then lifted the intensity of his play to take the fourth set 11-3. Leach remained cool and calm and won the big points in securing the fifth set 11-4 in a very good match.
Overall MJM Automotive have won 8 rubbers to 3 (25 games to 15) against Dunkley Scales. With this win MJM have now leapfrogged into second spot on the ladder.
Have an enjoyable two-week break from regular Wednesday night competition play. Also don't forget about the Red Cliffs Doubles evening on Monday 4th July. This night is great fun, and you will be paired with players from other grades – a great way to meet plays from all grades. I am sure Gavin will have all the details on Facebook for you all.