Read Time:
9 Minute, 41 Second
PENNANT ONE:
With players keen to get back in to action after the school holiday break round five matches of the Sunraysia Table Tennis pennant featured some close results as well as Matt Ljubic still remaining undefeated in singles after a full round of matches.
All teams have now played each other once and the top three teams are separated by one win.
-Tankard Dental 6 (Kate Carmichael 3, Mark Dorman 2) d Cookes Pools & Spas 5 (Jackson Tung 2, Gavin Carmichael, Lee Leeson 1)
Tankard Dental took top position from Cookes Pools and Spas with a hard fought 6-5 win.
Skipper Kate Carmichael led the way winning three singles for the third time in five rounds and received solid support from Mark Dorman who won two singles. At one stage Cookes took a 4-2 lead however Tankards then strung together four wins in succession to take the well earned four points in an excellent comeback.
This Tankard win pushed Cookes from first place to third on the ladder.
– Max Miller Carpets 7 (Shannon Bowen 3, Leon Brown 2, Ed Hung 1) d Mallee Bearings 4 (Wayne Carmichael 2, Ashley Morrison 1)
The quiet achievers of the competition Max Miller Carpets with a 7-4 win over Mallee Bearings have moved to second place on the ladder. After losing their first match of the season to Tankard Dental the Carpeters have won four on the trot , a better record than any team.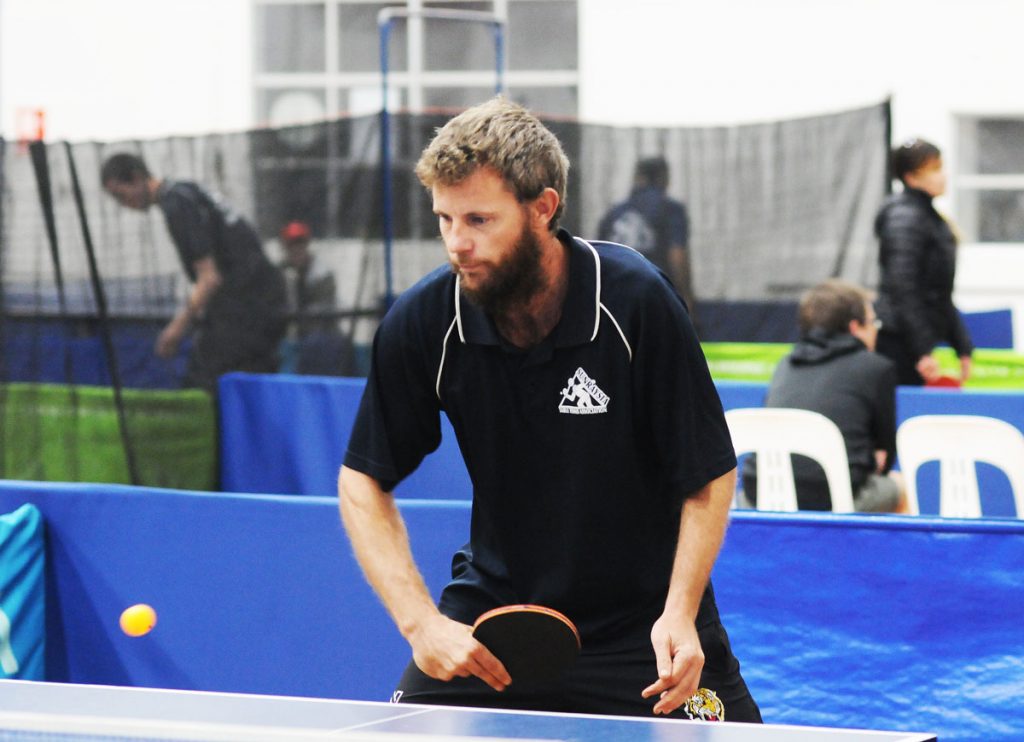 In this contest it was a real team performance with skipper Shannon Bowen winning three singles including a four set win over Wayne Carmichael while Bowen's team mates Leon Brown and Ed Hung won two and one singles respectively. Brown has been in consistent form winning two singles each round while Hung appeared down and out against last round hero Thahn Nguyen however despite trailing 9-10 in the fifth Hung steadied to win 2-11 5-11 11-9 11-9 12-10 in a thriller.
Overall there were five five set matches indicating a close tussle.
– Regional Taxation Services 7 (Matt Ljubic 3, Andrew Cannard 2) d Exposed Signage/Apparel 4 (Reece Kurrle 2, Sang Mang, Michael Hensgen 1)
With a 7-4 victory over Exposed Signage/Apparel , Regional Taxation Services have moved to fourth on the ladder albeit by percentage.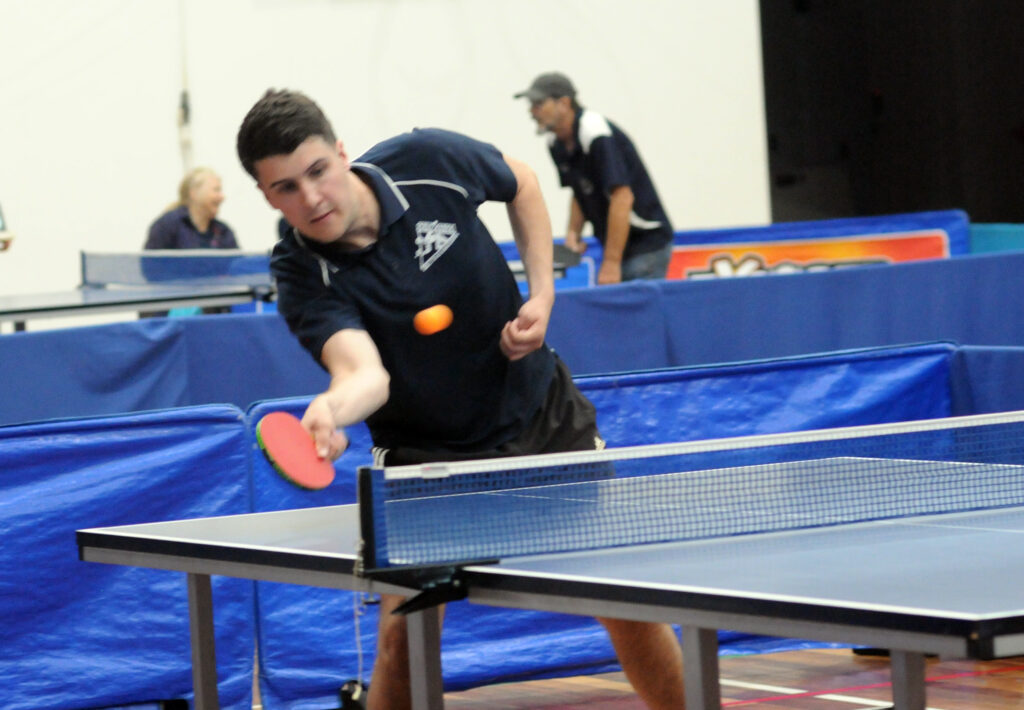 For the fifth time in five rounds Matt Ljubic won three singles while sub Andrew Cannard won two. Ljubic has been in very good form and leads the singles aggregate by two from Kate and Wayne Carmichael.
Ljubic also took part in both doubles victories setting up a good win for his team.
Reece Kurrle for Exposed continued his recent good form with another two singles victories.
PENNANT TWO:
The teams first, second and third on the ladder all won this week, thus spreading the field, leaving the bottom three sides to squabble for fourth spot.
– MJM Automotive 9 (Casper McCarthy, Andrew Jones 3, Therese Fitzpatrick 2) d Mallee Meats 2 (Marcus Cimino 1)
Top of the table side MJM Automotive met fourth placed Mallee Meats in this round five clash.
The MJM Automotive trio of Casper McCarthy, Andrew Jones and Therese Fitzpatrick played an almost perfect match, completely overpowering their opponents on the way to a 9-2 scoreline.
They took eight of the nine singles rubbers on offer, one of the doubles, and narrowly missed taking the other doubles.
There was plenty of good table tennis though … MJM Automotive captain Casper McCarthy had a set taken from him by Mallee Meats number three Isaiah Bettess, Mallee Meats number two Marcus Cimino then took him to five sets in the second round of singles, but Casper finished off with a flourish, downing his opposite number, the hapless Quentin Clark (more of that later) in four sets.
Andrew Jones won his three singles rubbers too, and now sits equal second on the aggregate with his captain Casper McCarthy. Jones was taken to five sets by Clark, but he disposed of Bettess and Cimino in straight sets.
Number three Therese Fitzpatrick had another great night out with two wins. After falling to Cimino in the first round of singles in straight sets, Therese went blow for blow against Clark, eventually getting the better of him 11-6 in the fifth set. Then in the final round of singles, she took on an old sparring partner from Pennant Three days, Isaiah Bettess. This was a close contest, Bettess leading two sets to one after three sets, but Therese powered back to close the match out 11-9, 11-9 in the final two sets.
McCarthy and Jones won the second doubles against Clark and Bettess in straight sets, conceding just 16 points in the process. Earlier McCarthy and Fitzpatrick lost to Clark and Cimino in a high class match 9-11, 11-8, 9-11, 11-8, 9-11.
Mallee Meats? Not much to say really. Cimino defeated Therese Fitzpatrick in the first rubber of the night, and he and Clark took the first doubles. At that point the scores were 2-2, but then the rot set in …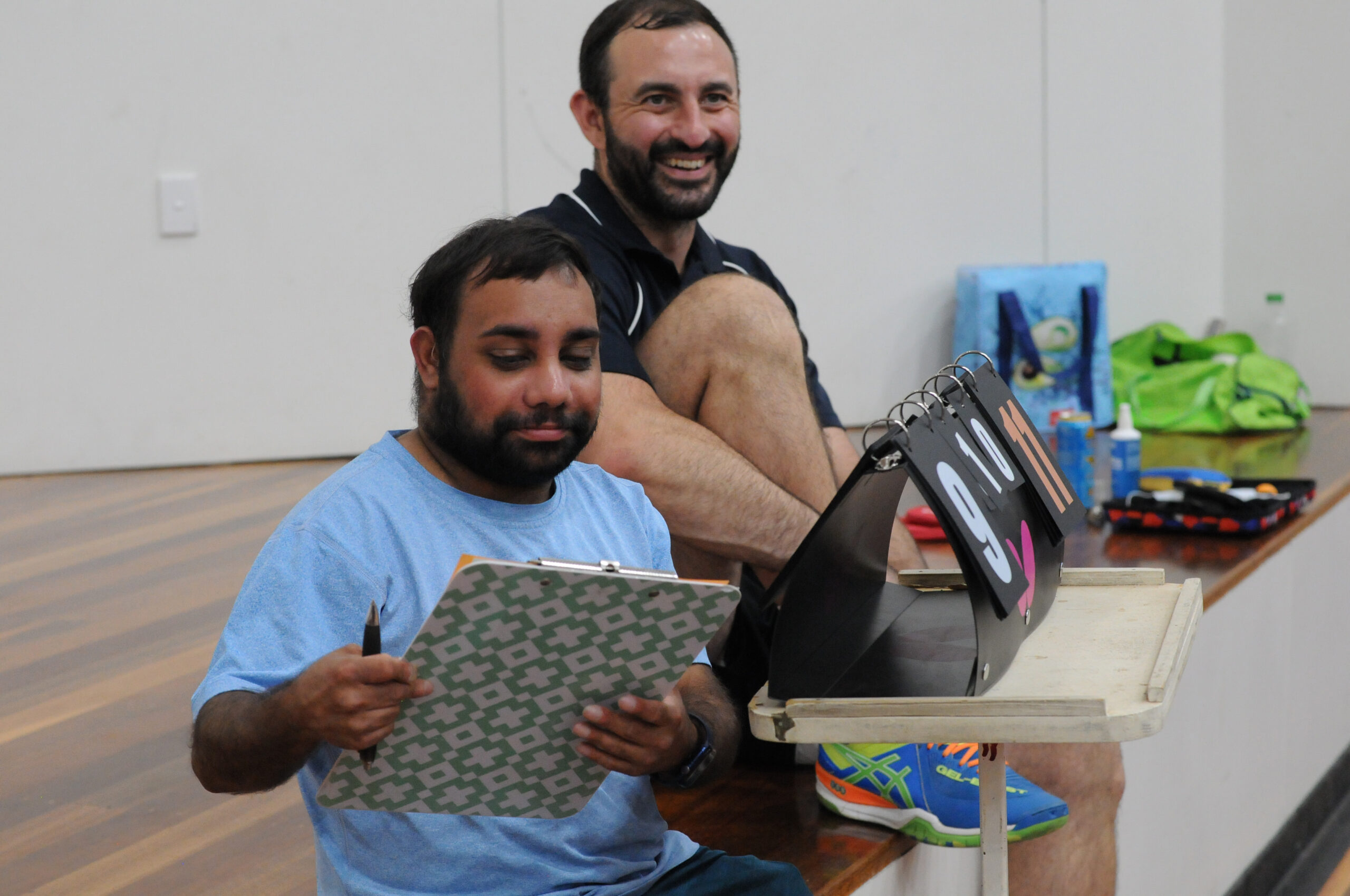 Clark was unbelievably disappointed at the end of this match. He has won just one singles rubber in the last two rounds, a feat equalled by only two other players in the grade …
This loss saw Mallee Meats drop to fifth on the table, jumped by Weightmans Packaging, who, although also losing, did not lose so badly!!
Final scores: 9 rubbers to 2 and 29 games to 16.
– Pinnacle Packers 7 (Jeremy Corrin, Rohan Reimers 2, Tom Morrison 1) d Cookes Pools & Spas 4 (Terry Martin 3, David Sergi 1)
Pinnacle Packers kept their season ticking along with a strong win against bottom side Cookes Pools & Spas.
Cookes Pools & Spas captain Terry Martin put up a spirited fight against his opponents with three singles wins, but he could not conjure a win in either doubles with his teammates.
Pinnacle Packers then, were the better all-round team. Captain Jeremy Corrin and number two Rohan Reimers each won two singles rubbers, and Tom Morrison, subbing for Ryan Hensgen, took a win against his opposite number, Jamie Kealley, who was subbing for an absent James Jarvis.
Corrin and Reimers won the first doubles easily in three sets against Martin and David Sergi. The second doubles also went the way of the Pinnacle Packers side, Corrin and Morrison combining well to defeat Martin and Kealley in four sets.
Apart from the three rubbers won by Martin, only David Sergi could add to the Cookes Pools & Spas tally, with a solitary win against Morrison in five sets.
Final scores: 7 rubbers to 4 and 26 games to 13.
– Max Miller Carpets 7 (Raymund Manzanares, John Fitzpatrick, Jamila Belbaze 2) d Weightmans Packaging 4 (Jason Gifkins 3)
The Max Miller Carpets trio of Raymund Manzanares, John Fitzpatrick and Jamila Belbaze continue to improve as each round of this competition goes on. Belbaze in particular, is becoming a bit of a stand-out for this side. She took the first set from Weightmans Packaging captain Jason Gifkins, led for much of the second set, but lost it 15-13. Gifkins went on to win the next two sets too, but one had the feeling that had Belbaze won that second set, the result may well have been different.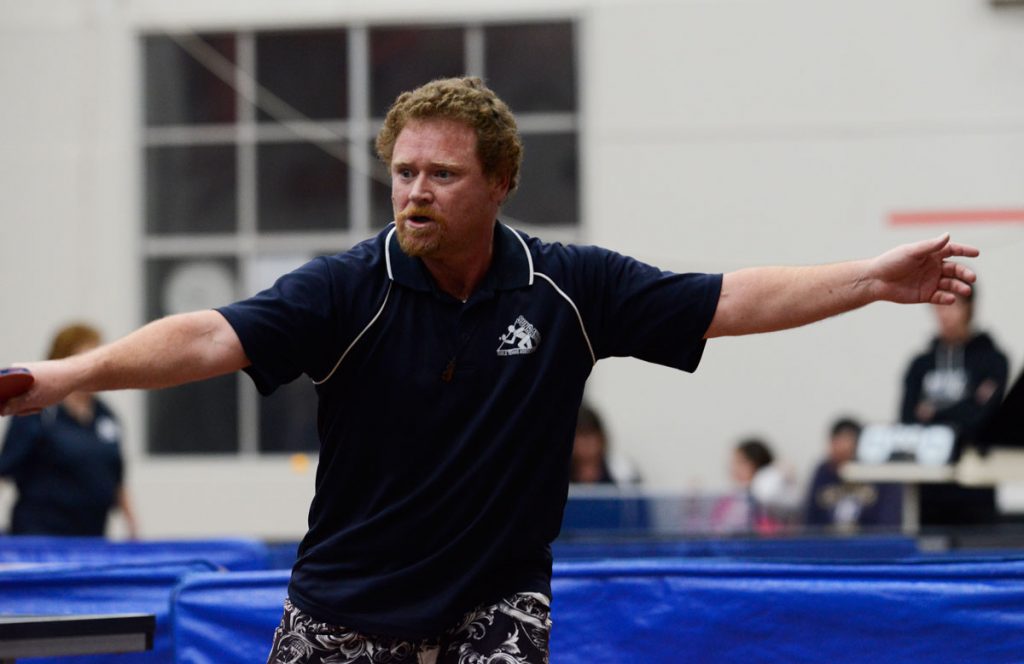 In this round, each member of the team won two singles rubbers (all falling to aggregate leader, Weightmans Packaging captain Jason Gifkins), although they all took a set from Jason.
Manzanares and Belbaze won the first doubles, a great contest against Gifkins and his number three Peter Fitzpatrick. Gifkins and Fitzpatrick took the first two sets 8 and 6 and looked to be cruising. Manzanares and Belbaze struck back 11-6 in the third to let their opponents know the game was not yet over. The remainder of the match was very tight, the Max Miller Carpets pair taking the last two sets 11-9, 12-10. At the conclusion of that match, Max Miller Carpets led 3-1, which became 4-1 after the next rubber when Manzanares defeated Fitzpatrick. The match was pretty much over at that point, a three game deficit so early in the contest a big hill to climb. Weightmans Packaging did win three of the remaining six rubbers, to salvage some pride.
Final scores: 7 rubbers to 4 and 24 games to 17.
PENNANT THREE:
This week we welcomed Jordan Cole to our club. Jordan along with Luke Ljubic had busy nights as they both filled in for two teams each. Maybe in a first time in club history these two players played one match in the same team and then played against each other in the other match. It had been reported these additional matches did cost Luke's Dad a small fortune at McDonalds on the way home.
Mallee Meats 7 (Nhat Dat 3, Jordan Cole 2, Luke Ljubic 1) def MJM Automotive 4 (Karly Leach 2, Alicia Tyres 1)
Mallee Meats Nhat Dat was on fire as he took all before him in claiming three singles victories for the first time in Pennant 3. Dat was well supported by fill-in players Jordan Cole and Luke Ljubic. For MJM Automotive Karly Leach contributed two singles while the ever reliable Alicia Tyres contributed one singles victory for the fifth week in a row – now that's consistency.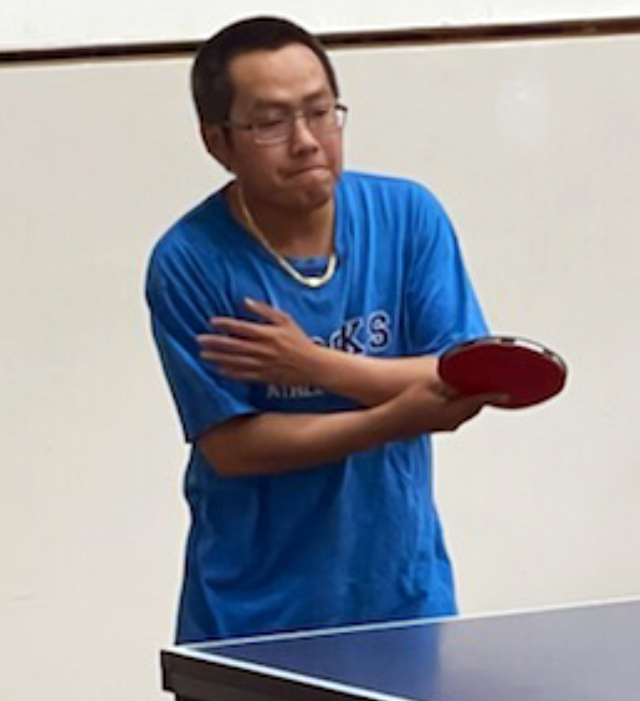 The match of the night was between Dat and Leach who played out a classic five set match. Dat started brilliantly in taking the first two sets comfortably 11-5,11-4 before Leach could settle. It was a different story in the next three sets as Leach ground out the third set 11-8 and the fourth 11-7 to set up a thrilling last set. The last was point for point with Dat prevailing in a tie-break 12-10. In the final analysis, Dat's efforts were crucial in delivering his team victory.
Mallee Meats now sit comfortably on top of the ladder after securing a 7 – 4 win over MJM Automotive (24 games to 18).
Dunkley Scales 6 (Luke Ljubic 3, Rodney Galvin 2) def Sammy's Slammers 5 (Ben Hosking 2, Jordan Cole, Maria Starikov 1)
Dunkley Scales have secured a hard fought win over Sammy's Slammers. For Dunkley Scales Luke Ljubic won three singles and Rodney Galvin secured two important singles also and then teamed in a doubles win to deliver their side victory. For Sammy's Slammers it was a very good team effort with all players contributing wins; however, they just fell short on the night.
The match of the evening was the match between Ben Hosking and Rodney Galvin. Galvin is fast becoming known as the King of the Five Setters due to the number of his matches that go the full distance. The 'King' was off to a fast start as he took the first set 11-8 before Hosking hit back to level taking the second 11-9. The third set was tight with Galvin just shading Hosking 12-10. The next two sets saw Hosking find his range to win 11-5, 11-7.
In another five set classic Maria Starikov was able to defeat Jim Vale 8-11, 8-11, 11-6, 11-7, 11-7 in a great comeback from two set to love down to keep her team in the hunt.
In the final analysis Dunkley Scales have pipped Sammy's Slammers at the post in winning 6-5 (24 games to 19).