Read Time:
14 Minute, 54 Second
PENNANT ONE:

Max Miller Carpets are the premiers of the Sunraysia Table Tennis "Cash Converters" summer pennant. Their solid 6-4 win over opponents Regional Taxation Services highlighted that they were deserved winners of the Kevin Johns and Bill Rowe Perpetual Shield.

Going into the match the Carpeters had finished ladder leaders and had only been defeated twice while Regional Taxation Services finished second on the ladder and had suffered three defeats so there was not a lot between both teams.

The Carpeters had an ace up their sleeve given that skipper Matt Avers had been undefeated in singles play throughout the season so the pressure was on RTS.
– Max Miller Carpets 6 (Matt Avers 3, Darren Robinson 1) d Regional Taxation Services 4 (Wayne Carmichael 2, Andrew Cannard 1, Leon Brown 1)
Regional Taxation Services started the grand final in fine style with Andrew Cannard up against the in form Reece Kurrle and it was Kurrle out of the blocks early leading 12-6 before Cannard stormed back to take the first 17-15 and in a case of déjà vu Kurrle raced away to a 12-6 lead and again Cannard was able to claw his way back and amazingly win 17-15 16-14 a great fighting win.
Matt Avers then won the first of three singles for the grand final to go through the season undefeated. His defeat of Leon Brown was expected however the RTS number three put up a fantastic fight before going down 15-11 23-21. Brown has been a big improver in this competition and finished the best number three.
Wayne Carmichael then took RTS to a 2-1 lead when he accounted for Darren Robinson 17-15 15-7, the first being an entertaining game full of excellent shots from both players.
The first doubles was crucial to both teams and it was Avers and Robinson for the Carpeters who took the points against Wayne Carmichael and Andrew Cannard to level the match, the next block of three singles went two to one in favour of RTS which gave them a 4-3 lead, the highlight here was the win by Leon Brown defeating Darren Robinson 16-14 15-11 which was a crucial victory for Regional Taxation Services.
The second doubles was again vital for both teams however it was Max Miller Carpets pair Matt Avers and Reece Kurrle who scored a comfortable 15-8 15-10 victory over Wayne Carmichael and Leon Brown, the scores now four rubbers all.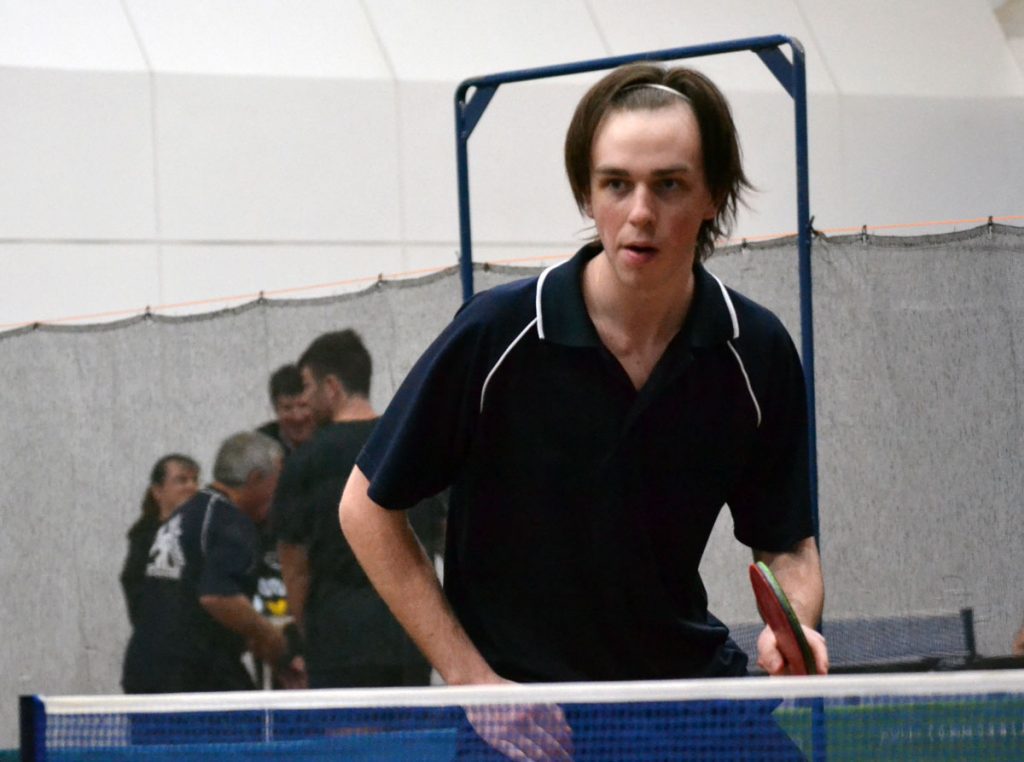 In the clash of the captains Matt Avers versus Wayne Carmichael spectators witnessed a great struggle in the first with Avers narrowly grabbing the game 17-15, Avers then lifted in the second to win 15-7. This was his 36thwin in succession in singles matches through the season going through undefeated.
With the Carpeters up 5-4 Regional Taxation Services number two Andrew Cannard stepped up to the table against regular hitting partner Darren Robinson. Cannard knew victory was the only option to keep his team in the race for the flag. This was the match of the night with Cannard narrowly taking the first surviving a barrage of forehands from Robinson, the two veterans then traded blows over a further two games with Robinson levelling the match at one rubber all, the third was close and tense with Robinson able to hold a slender lead and go on to win 13-15 15-13 15-13 to give his team the premiership. The trio of Matt Avers , Reece Kurrle and Darren Robinson had been worthy winners.
PENNANT TWO:

Exposed Signage & Apparel are the winners of the Pennant Two Summer Competition for 2018.
– Exposed Signage/Apparel 6(Paul Kealley 2, Thahn Nguyen 1, Dylan Wood 1) d Max Miller Carpets 2 (James Chick 2)
Too strong … just too strong.
That just about sums up the difference between Exposed Signage & Apparel and Max Miller Carpets in this Grand Final match.
Both sides came into the grand final off the back of 6-0 wins in the previous week's semi-final, but the difference between these two sides became apparent fairly quickly.
Exposed Signage & Apparel had been a bit inconsistent throughout the season …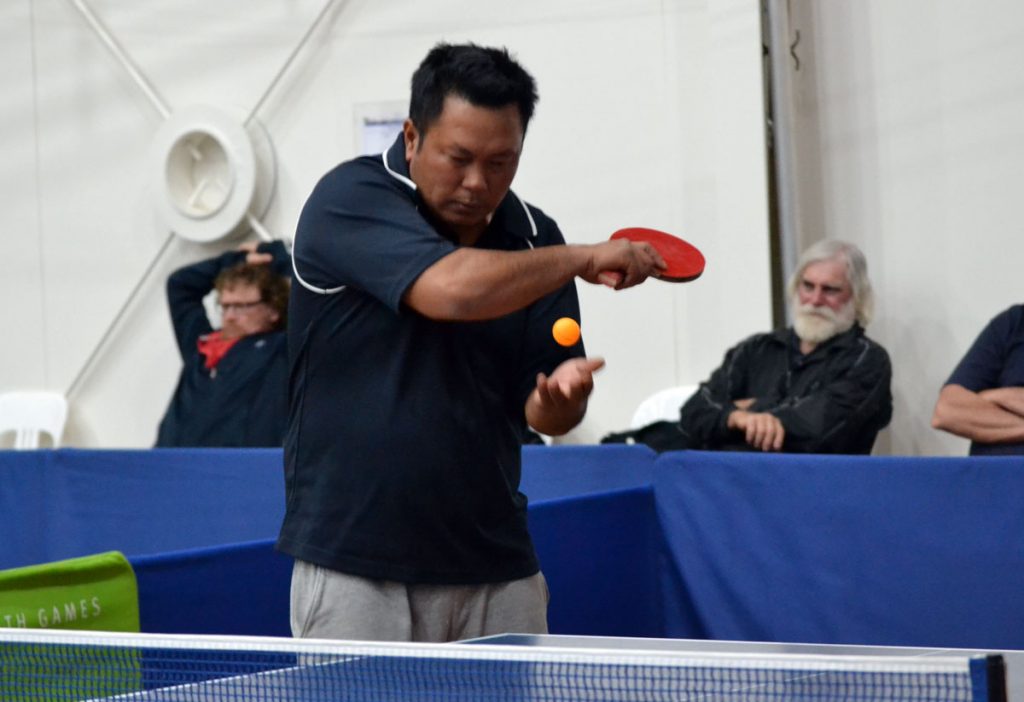 captain Thanh Nguyen had an up and down season, scoring 3 singles wins on two occasions, and at the other end of the scale, leaving winless after round 4, and only 1 win after round 9, the rest of the time scoring 2 wins per round. Number two Paul Kealley finished thirteenth on the aggregate, and in doing so below a couple of number three's. Number three Dylan Wood had a good season; after starting with five wins from six rubbers in the first two rounds, he settled down and finished the best performed number three in the competition. Due to their overall consistency, this team was seen as a possible grand final contender throughout the season.
Max Miller Carpets on the other hand, were generally at or near the bottom of the ladder. After the completion of round 7 they had won just one match, and that back in round 3. At that point captain James Chick had won 15 singles rubbers, number two Liam Wood 10, and number three Peter Fitzpatrick just 1. But from that point on, the team clicked, they won their last three matches, and whilst Chick was absent for one of them, Wood stepped up winning 3 rubbers in each of those games, and even Fitzpatrick somehow managed to conjure 4 wins.
The result of all this last minute winning was that Max Miller Carpets snuck into the finals, and then progressed to the Grand Final after defeating Kevin Johns Weightmans Packaging in the semi-final. Nguyen's team got serious in the semis too, downing Pinnacle Packers 6-0.
So whilst they both had impressive run-ins to the Grand Final, when the match started, Nguyen and his team-mates were looking to make every post a winner.
Impressive as Liam Wood had been in that late season surge, neither of his singles rubbers in this match produced the result he sought. Nguyen and Wood played in rubber number one, and as always Wood chased everything down, but Nguyen had too many shots in reply to the ambitious youngster. The score-line of 15-12, 15-12 was a true reflection of the difference. Later Wood met Paul Kealley, with a similar result. Where Kealley had proved beatable during the season, he certainly lifted here and defeated Wood with an almost identical score to that of his captain, 15-12, 15-11.
Until those final few round of the competition, Max Miller Carpets had shown that doubles play was not their forte. Perhaps wins in doubles play in those finals rounds gave them a false sense of their ability in doubles, because here, they had no luck at all. Nguyen and Kealley proved too strong for Chick and Wood to win fairly easily 15-10, 15-10. The second doubles was no different really – this time Nguyen and Dylan Wood had too much for Chick and Fitzpatrick, and whilst the Max Miller Carpets pair made a better fist of the second set, it was not enough to stop the inevitable 15-9, 15-12 loss.
Max Miller Carpets were not left winless though. Captain James Chick was in Grand Final mode too. After dropping his first set to Dylan Wood 12-15, he settled into the match, improving as he went, and took the final two sets 15-13, 15-6. Later on he totally dominated Nguyen 15-11, 15-7 in a very impressive display of spin and power table tennis.
Exposed Signage & Apparel's other two rubbers came with firstly Paul Kealley, then Dylan Wood defeating Max Miller Carpets number three Peter Fitzpatrick.
Final scores: 6 rubbers to 2 and 13 games to 5.
PENNANT THREE:

Mallee Meats denied Sammy's Slammers a third straight premiership in a cliff-hanger.
– Mallee Meats 6 (Marcus Cimino 2, Rachel Fitzpatrick 2, Leonie Dunkley 1) d Sammy's Slammers 5 (Rohan Reimers 2, Emily Carmichael 2)
Mallee Meats finished second on the ladder at the end of regular competition, Sammy's Slammers fourth. Mallee Meats were therefore entitled to a bit of favouritism, however it was generally agreed that that favouritism was negated by the absence of their captain Tom Morrison for this most important match of the season.
Morrison was replaced by Marcus Cimino who it could be argued was a bit more consistent that Morrison, even though he finished below him on the aggregate. Whilst Morrison scored 3 wins in a round six times, to Cimino's four, Cimino scored 2 in the balance of his matches, whereas Morrison had a couple of 1's littered amongst his tallies.
Sammy's Slammers were not without their troubles – number three Nick Kiapekos was away, and Luke Ljubic filled in there, and number two Peter Lock, who had to pull out mid season, again had Emily Carmichael in his spot. Carmichael certainly has the ability, but having come into the season in round 7, she was certain match-shy and had won only 4 rubbers in the final four rounds.
Perhaps it was those uncertainties which made this such a great match – of the four grand finals matches played on this night, this was the only one to go to the full eleven rubbers.
Mallee Meats Rachel Fitzpatrick drew first blood downing Sammy's Slammers number three Luke Ljubic. Rachel raced through the first set 15-5, but Luke lifted his game in the second, and really extended his opponent, just losing the second set 16-18.
With wins in the next four rubbers, Sammy's Slammers then took control of the game. Captain Rohan Reimers defeating number three for Mallee Meats Leonie Dunkley in a similar way to which Rachel Fitzpatrick had just defeated his number three, Rohan winning 15-9, 17-15.
Emily Carmichael came out firing and shot down Marcus Cimino 15-7, 15-13, then she and Reimers combined in a close, entertaining doubles rubber against Cimino and Fitzpatrick. There was nothing between the two pairs for the first two sets, but Reimers and Carmichael had the better of the third set to win 15-13, 12-15, 15-10. The fourth of this run of four in a row featured Rohan Reimers again, this time against Rachel Fitzpatrick. Rachel had her chance to topple the opposition's captain, but
admitted "I lost patience". In a remarkably close match, in which both players scored almost the same number of points, Reimers got them needed to win 16-14, 12-15, 16-14.
That made it 4-1 to Sammy's Slammers and things seemed to be going along quite nicely. Even though Mallee Meats took the next rubber, their frame of mind probably didn't change too much because Marcus Cimino having lost a singles and doubles to this point, struggled to a three set win against Luke Ljubic 15-9, 12-15, 15-10.
And when Emily Carmichael defeated Leonie Dunkley in two sets 15-5, 15-12, Sammy's Slammers were in sight of victory.
Perhaps the second doubles was the turning point of Mallee Meats. Cimino, who was having a hard time of it so far, and Leonie Dunkley who had not won a rubber, admittedly against better ranked players, took a confidence boosting two set win against Rohan Reimers and Luke Ljubic 15-6, 15-9. Perhaps the thinking then was, "well, that puts the win off for one more rubber".
The next rubber, rubber number nine, featured the two captains. Despite losing the second doubles just moments before, Reimers had been playing well. Cimino, on the other hand, needed to find something, and fast if his team was to remain in this match beyond this rubber. Reimers took the first set 15-11, and seemed to be continuing his domination, but that first set loss fired Cimino up, and the further this match went, the better Marcus got. Cimino took chances, and they began to come off, and he levelled the rubber with a 15-12 win in the second set. The third set was all one way traffic, Cimino in a class of his own now, running away 15-4 to make the score 4-5.
Next up, the two number two – Emily Carmichael with two wins so far, and Rachel Fitzpatrick with one. Rachel got the better start, and took the first set 15-13. She led by four points midway through the second set and seemed to have it safely in her keeping, however Carmichael powered back to the match with some great shots and equalled the match. And so to the third set. Once again Rachel was quick out of the blocks and led handsomely. Once again a big lead was in danger of being swamped by Carmichael who fired up again, but this time, Rachel held on, and thanks to that bigger lead, won the set 15-9. Incredibly, that levelled the match at 5-5, and the effort of the whole season was to be determined in the next rubber.
It was up to the two number three's then, to decide the grand final, youngster Luke Ljubic for Sammy's Slammers and the more experienced Leonie Dunkley for Mallee Meats.
The first set was very close, Ljubic played his free-flowing style of game, and found enough holes in Dunkley's game to keep the score close,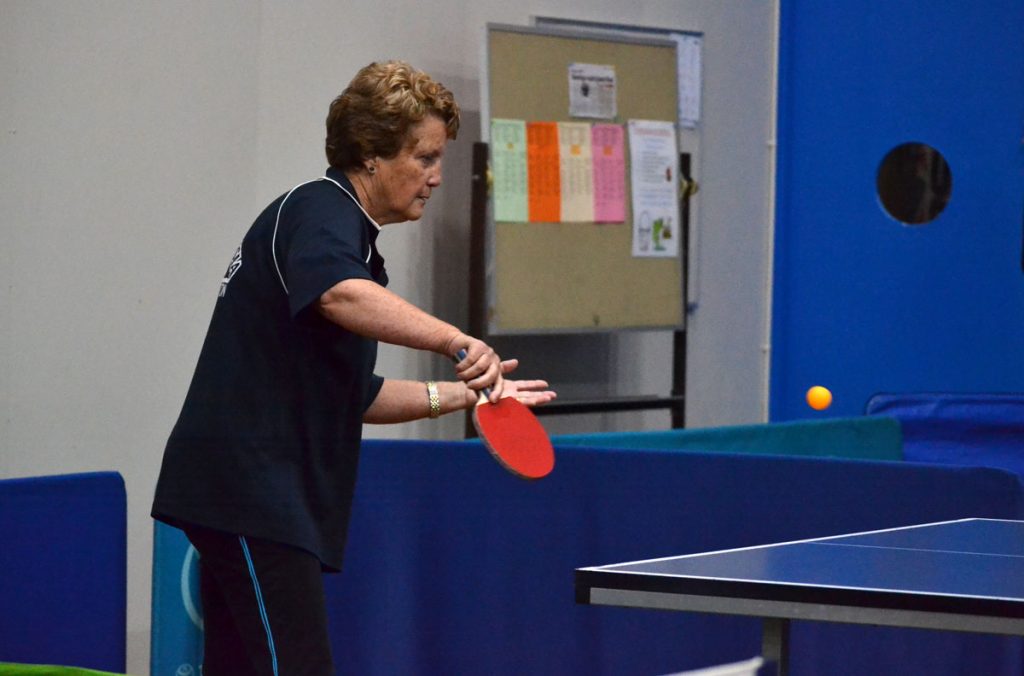 Dunkley winning it 15-13. Dunkley took control in the second set however, and Luke could do little to stop Leonie who was now in full flight. Dunkley went on to take the set 15-5.
A fantastic match finished off a great season for Pennant 3. This pennant has seen teams most closely matched of the four pennants. During the season, of the thirty matches played, there were no fewer than seventeen 6-5 results, so it was truly fitting that the grand final should end the same way.
And look at the game score, the winners scored 14, the losers just one less at 13.
Final scores: 6 rubbers to 5 and 14 games to 13.
PENNANT FOUR: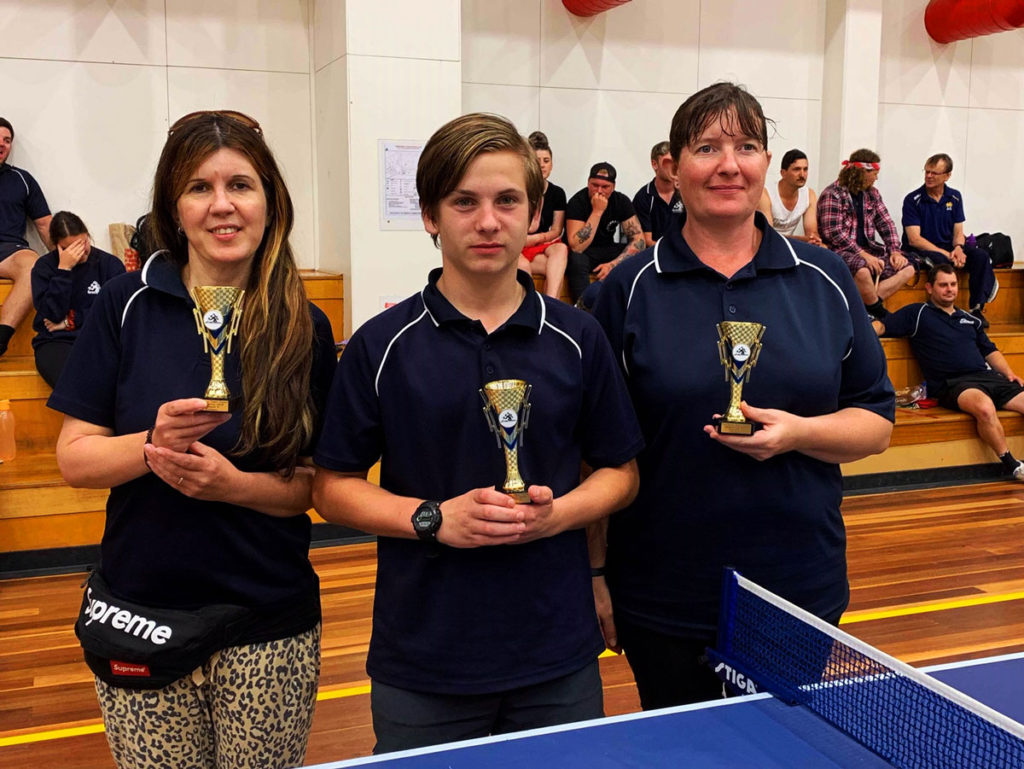 – Mallee Meats 6 (Isaiah Bettess 2, Jacinta Ljubic 1, Hollie Lock 1) d Dunkley Scales 2 (Ben Hosking 1)
Well we have finally made it to the last round of the year – yes the Grand Final. Mallee Meats took on Dunkley Scales in a winner take all affair. Dunkley Scales were cruelled an early blow when their Captain Miya Lock was forced out due to ill health. Filling in for Dunkley's was Dave Tanner who is fresh off winning the super 8's competition only last week. The last time these two teams met was round 10 where Mallee Meats secured a hard fought 7-4 win in a game that could have gone either way. So with this result we could have expected another close and intriguing tussle. The first game of the night featured Mallee Meats Hollie Lock against Dunkley Scales Rylie Sindely. Lock was out of the blocks early and took the first set 15-6 and again repeated this feat in taking the second and the match 15-9. The second game saw Isaiah Bettess play Dave Tanner. In their most recent meeting in the Super 8's competition Tanner was able to beat Bettess quite comfortably. Could he repeat the dose? Well the answer is no!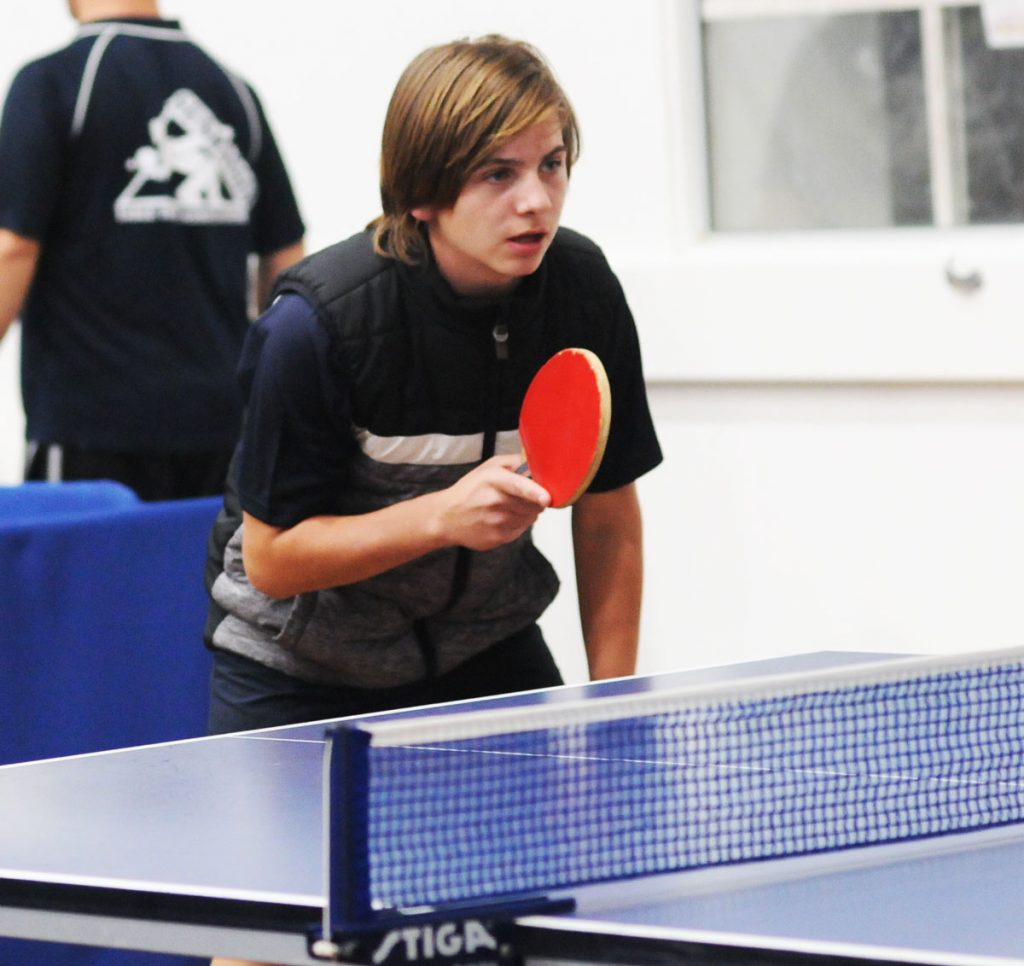 Bettess played a great game mixing staunch defense and attack to win this 15-12, 15-10 and thus giving Mallee Meats a 2-0 lead going into the third match. Next up was Dunkley's Ben Hosking against Meat's Jacinta Ljubic. In previous meetings Hosking has never been defeated by Ljubic. As we all know finals are a different game when compared to regular season fixtures and had Ljubic been playing possum in these earlier encounters? In a surprise Ljubic took the first set 15-7. Hosking was unable to break through the defense of Ljubic as each well hit shot of his just kept on finding its way back into play. Hosking tried to mix his game up in the second but Ljubic met each challenge and went on to record an emphatic win in taking the second 15-8 and the match. With Mallee Meats now holding a commanding 3-0 lead Dunkley Scales needed to win the first doubles match. The combinations of Bettess and Ljubic took on Tanner and Hosking. The first set saw many momentum swings in a closely fought set before Dunkley's took it 18-16. The second set saw Mallee Meats settle to take this 15-7 to set up the only three set match of the night. With the momentum clearly with the Butcher's they prevailed in the third set 15-10 to leave Dunkley's premiership dreams in tatters as they now trailed 0-4. Mallee Meats Captain Isaiah Bettess then consolidated his team's dominant position in defeating Rylie Sindely to have his team on the precipice of winning the title. Dunkley Scales fought off the inevitable with consolation wins to Tanner against Ljubic and Hosking against Lock. The final blow was delivered in the second doubles match featuring Bettess and Lock against Hosking and Sindely. Mallee Meats won this match 15-10, 15-10 and with it secured the six rubbers needed for victory. Well done to Mallee Meats on winning the inaugural Fast Fifteens title in defeating Tankard Dental 6-2. This is the first premiership for Jacinta Ljubic and Hollie Lock and the second for Isaiah Bettess. Well done to all players who played this year. We hope you have a great Christmas and we look forward to seeing you all again in the new year.